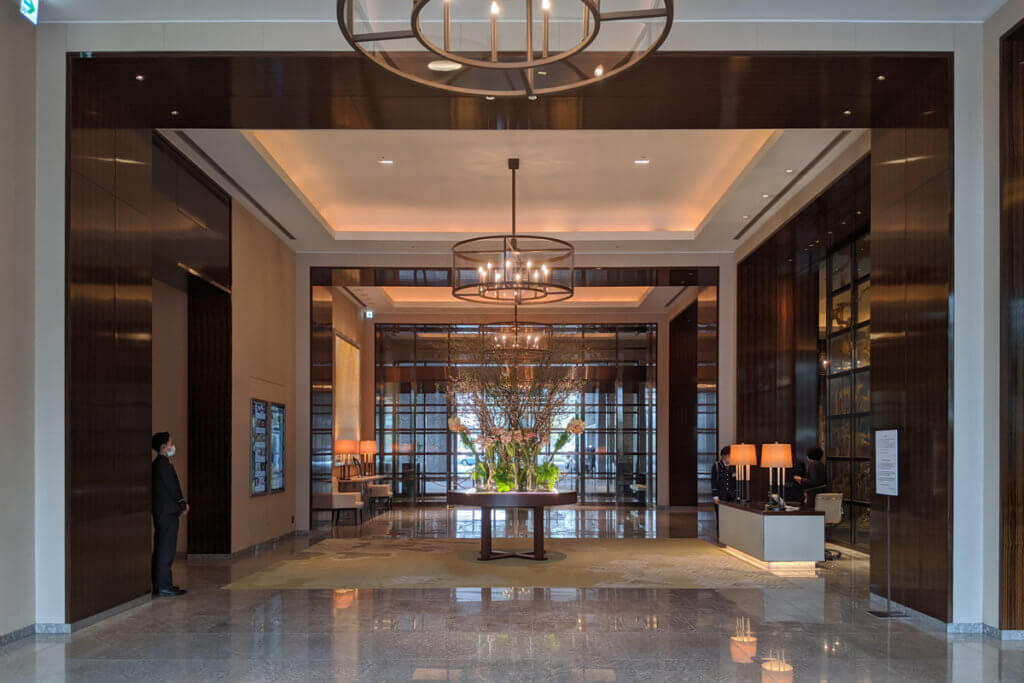 Travel is off the menu these days.
How about a staycation?
It's not a good idea at this time of Coronavirus, except that we had a hotel reservation made. We were supposed to move out from Japan. So, we planned a staycation in one of Tokyo's luxury hotels before leaving the country. Our plan uncontrollably shifted, but our hotel booking was still valid.
We decided to go ahead with our staycation plan. Moving out from a country to another is serious work that one must spend time and energy into. Postponing the moving is another headache. We told ourselves, we needed a good time somewhere away from the boxes in our apartment.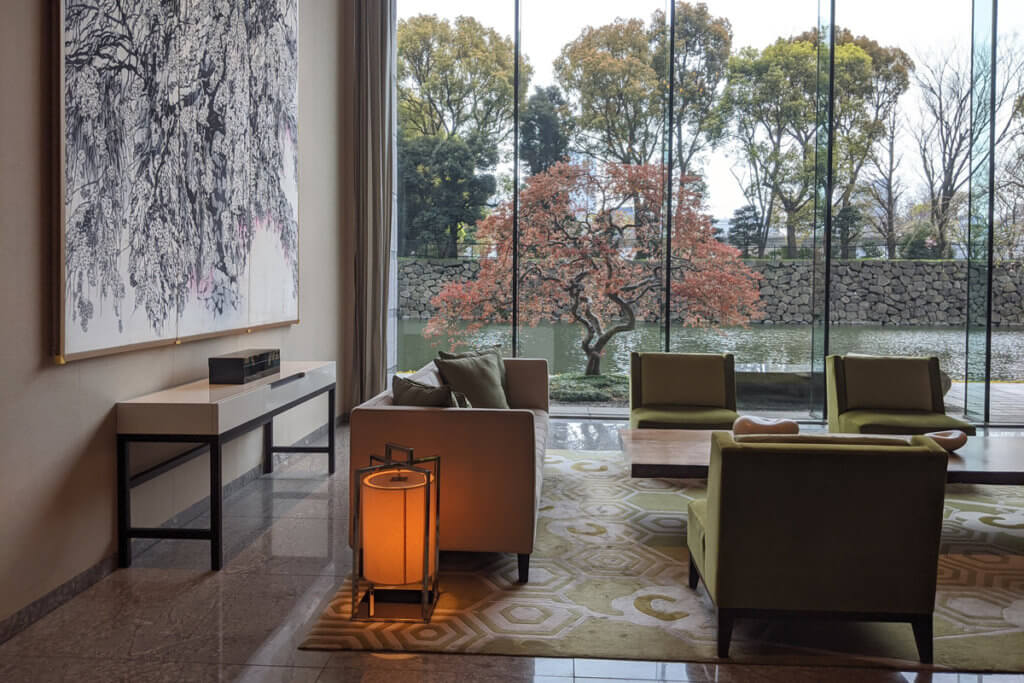 In time like this, this hotel looked a bit different. All hotel staff, everyone of them, were wearing mask. There's alcohol hand sanitizer located at some points of the hotel. The lobby was quiet compare to normal days. The Palace Hotel Tokyo has a great reputation for hospitality, location and good food. It is never quiet on ordinary days.
Was hotel check in in time of Corona virus different? It was. We got our body temperature checked by the staff. Should our body temperature was above 37.5C, probably we all be (kindly) rejected to check-in. Would we get our money back if our check in deny? That I didn't know. I didn't bother to ask. I was too happy that we had this staycation.
Our deluxe standard room was facing the Imperial Place, just like what we opted in reservation. The hotel rate for rooms facing the Imperial Palace is higher than those are not.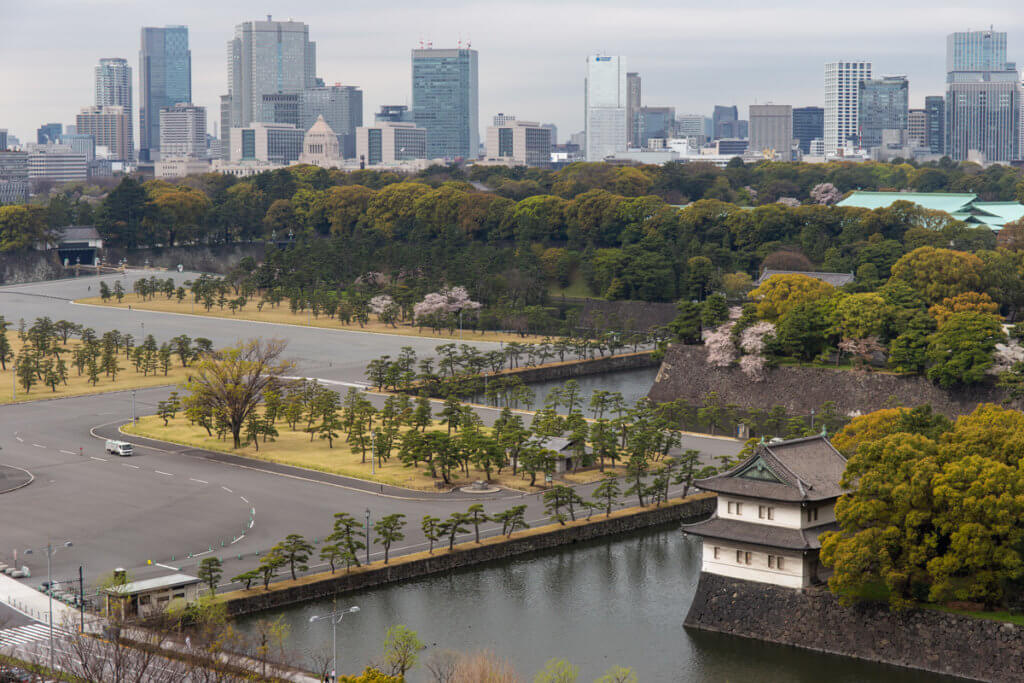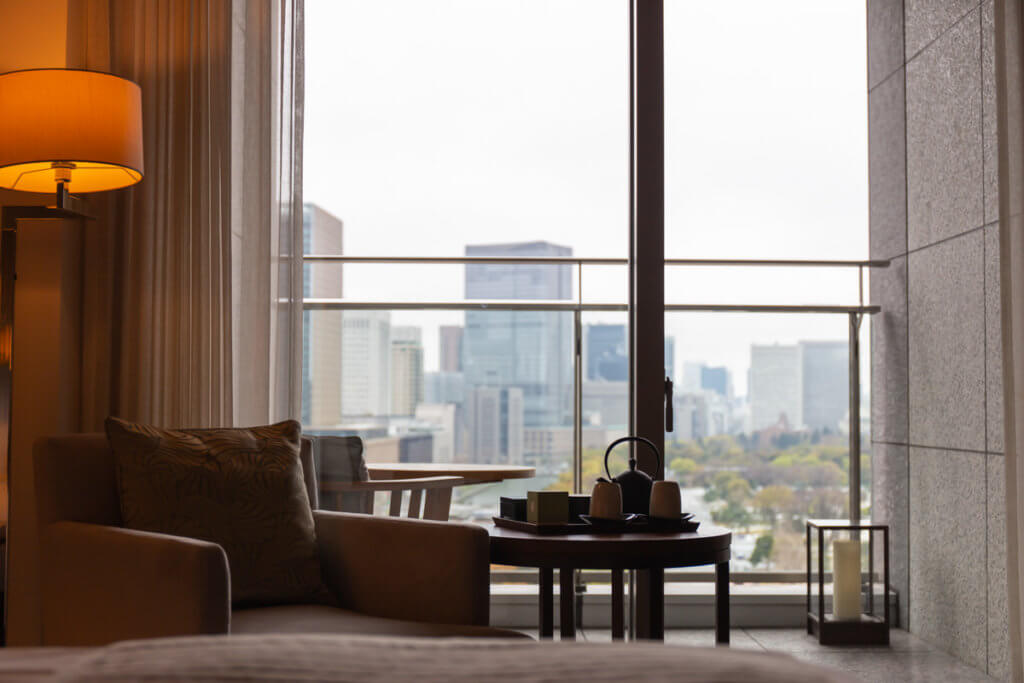 For Japanese standard, this deluxe room is huge (don't think of yoga stretches, though). At a first glance, I thought the bathroom was an open plan but it's not. There're doors and shade, separating the bathroom from the room.
There's a nespresso machine and coffee capsules in the room. We had some extra capsules. That's so generous of the hotel.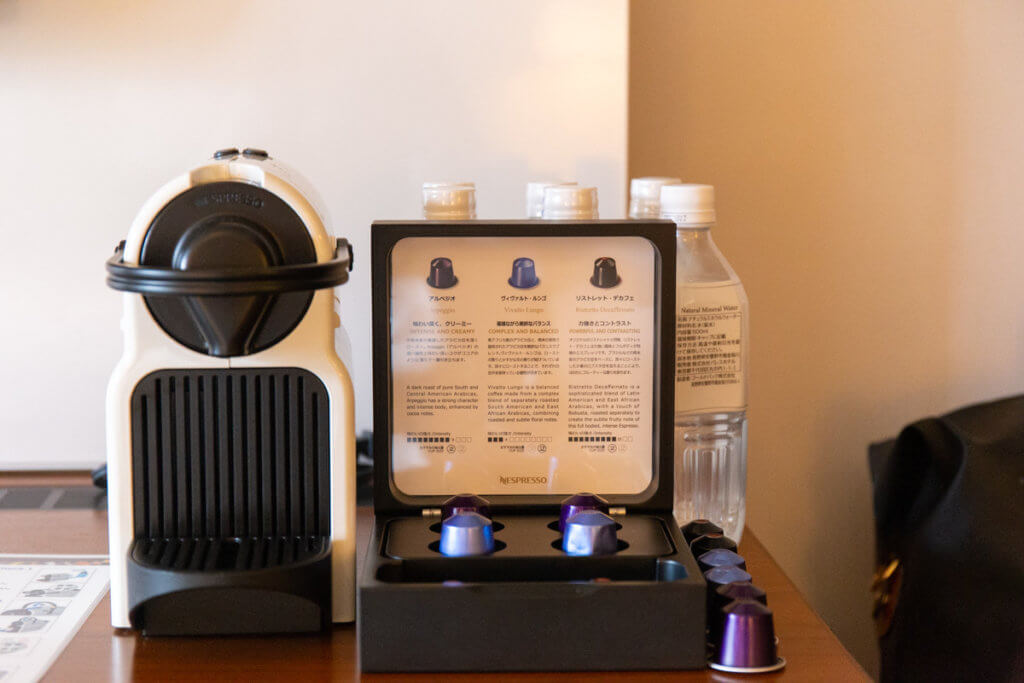 A nice Japanese tea set to enjoy high quality of green tea.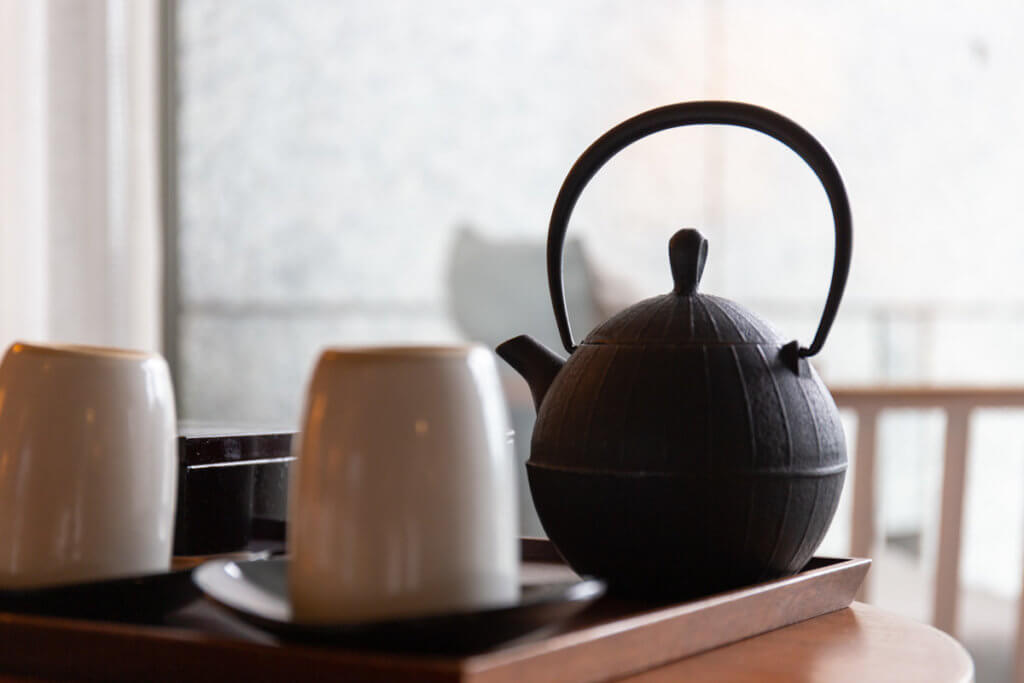 The minibar.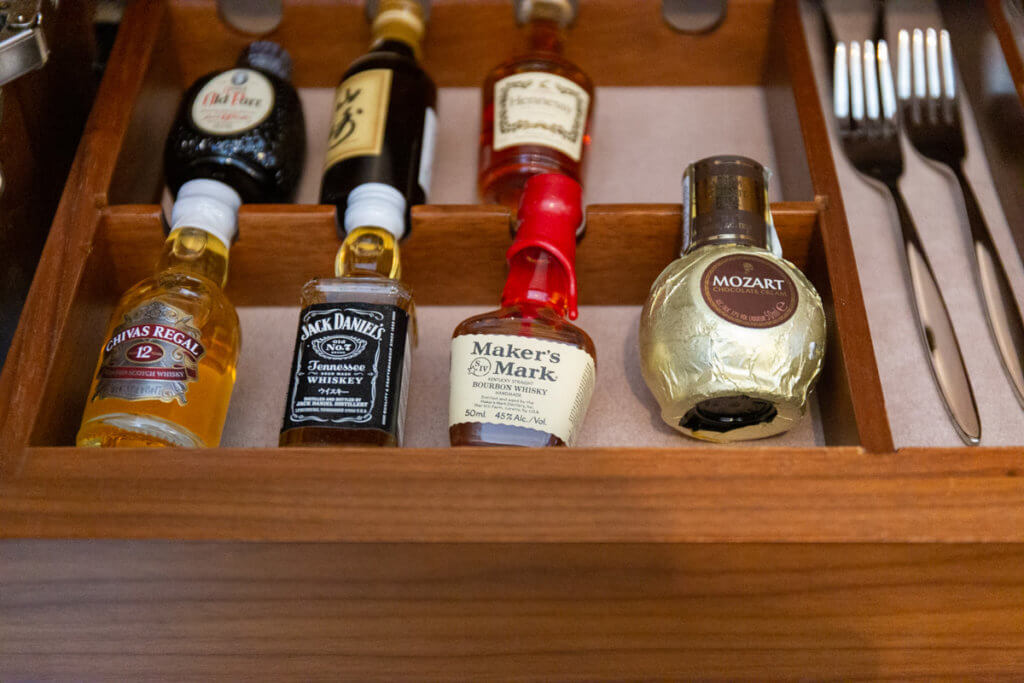 In-room slippers.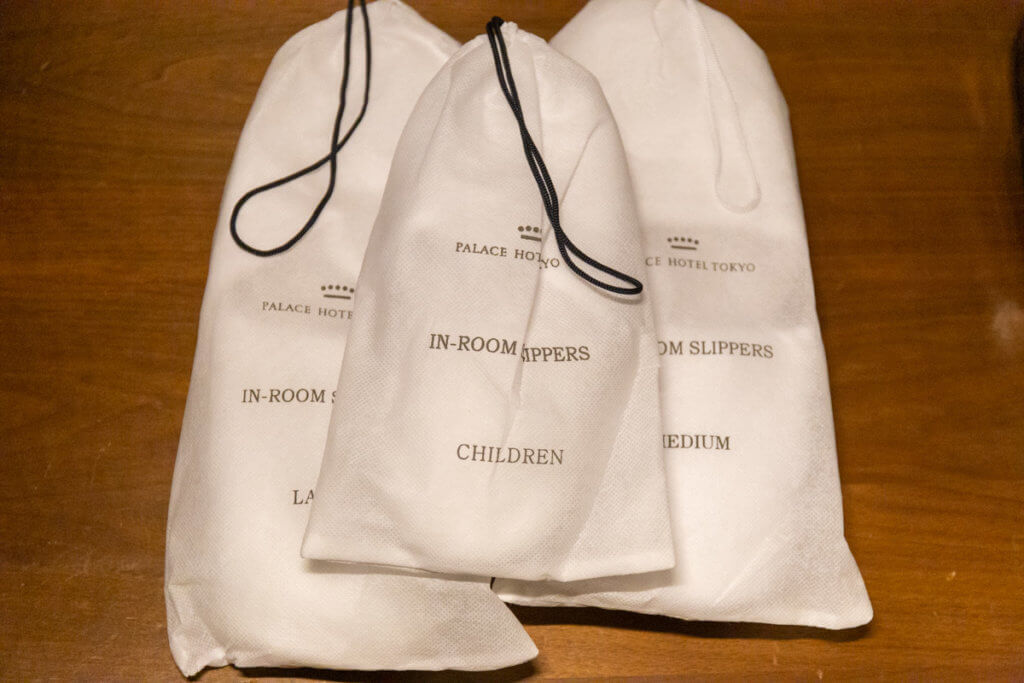 Our little girl had her own in-room slippers which she loved so much. We've been staying in many hotels, not all hotels pay attention to children's needs. A little touch like this (children slipper, toothbrush & toothpaste) really won our heart.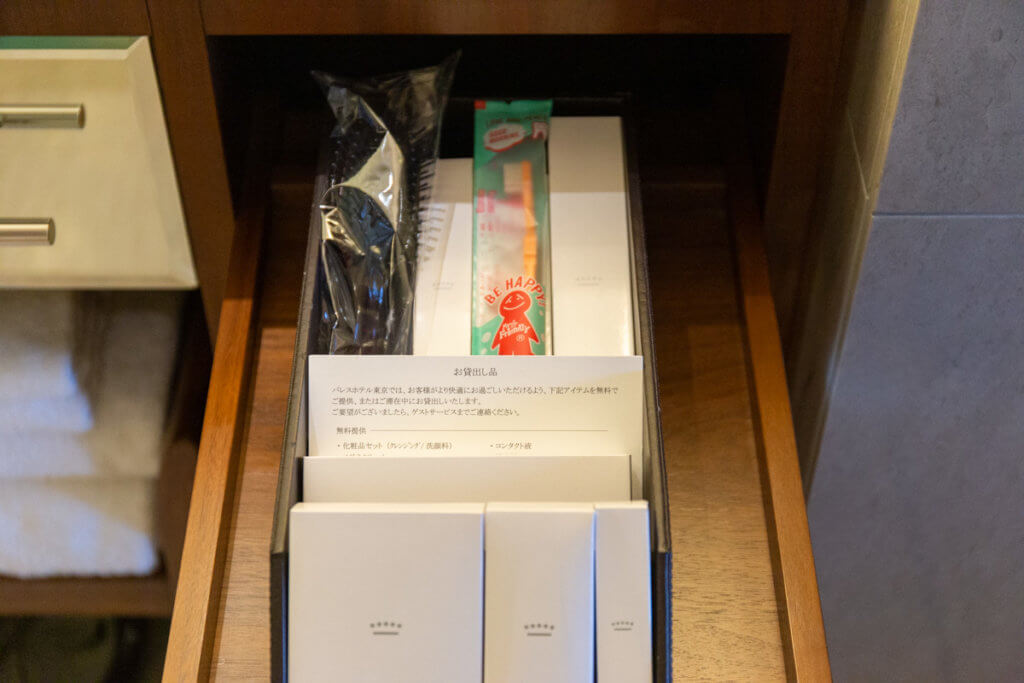 At night, we could see Tokyo Tower in a distance from our room.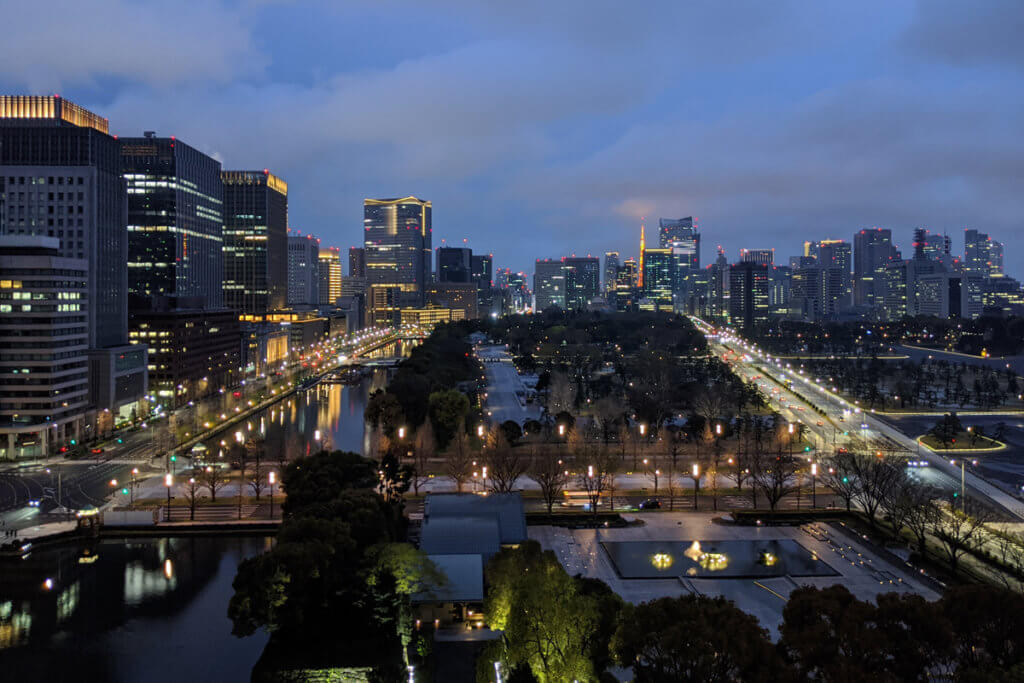 We retired to bed feeling happy and could not wait to have breakfast. "The food must be nice", we told ourselves.
Because of the virus, the breakfast was served on the table. There're only two options American of Japanese. We both opted for American breakfast, because of eggs benedict. I'm a huge fan of egg benedict.
First thing on the menu was a bowl of fresh fruits. Hanna chan finished this bowl by herself. She loves fruits…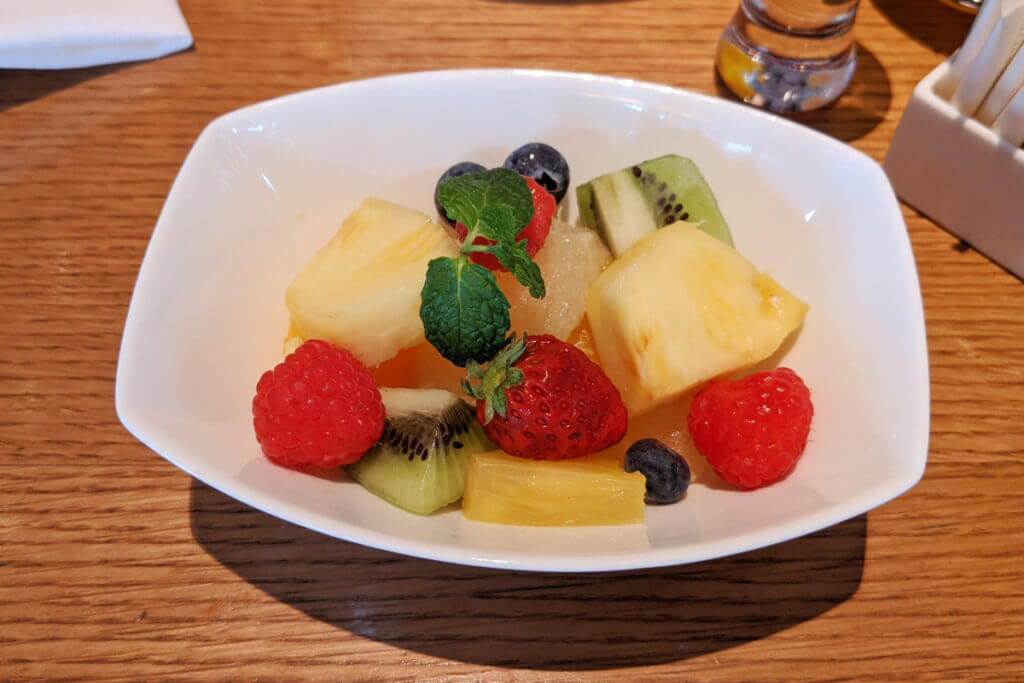 …and fresh pressed orange juice.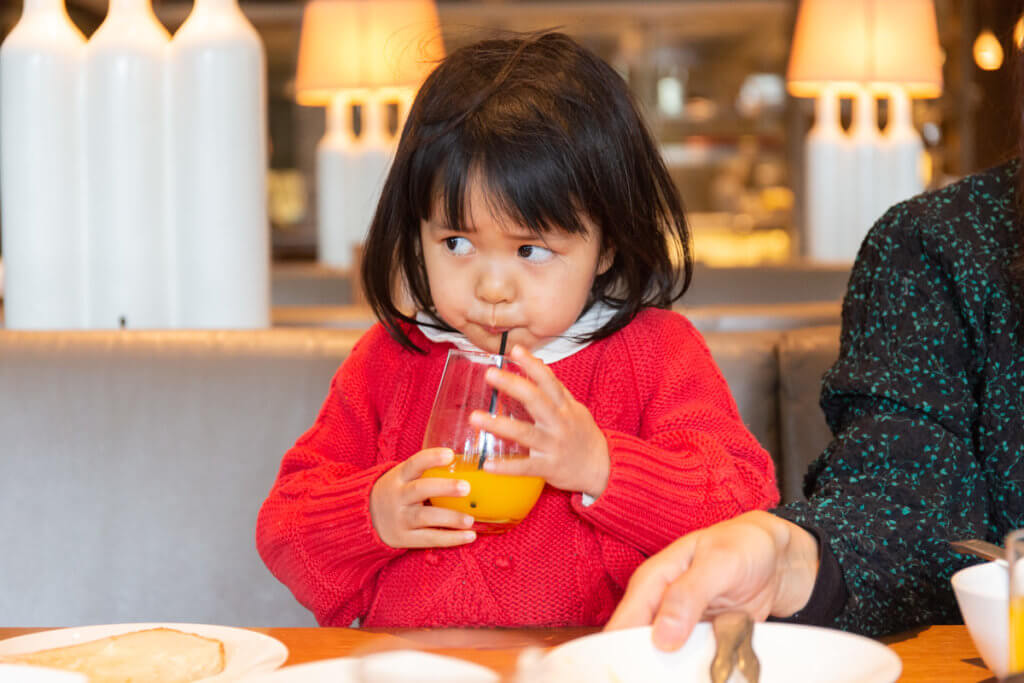 We had something green on the table: a bowl of greed salad, cherry tomatoes, duck breast and smoked salmon.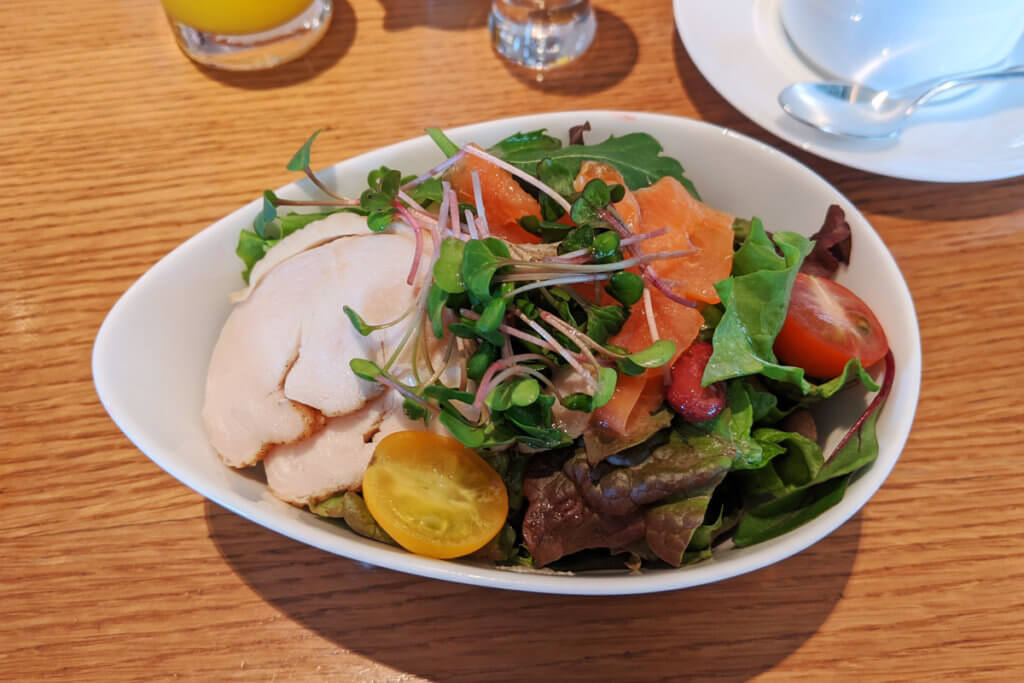 Then the champion of the day: eggs benedict. The eggs were perfectly poached that ooze yolk the moment I sink my fork in, and the bread was crispy just like I wanted it.
This picture was so unjust (taken with mobile phone) but trust me it was the best eggs benedict I ever tasted in Tokyo.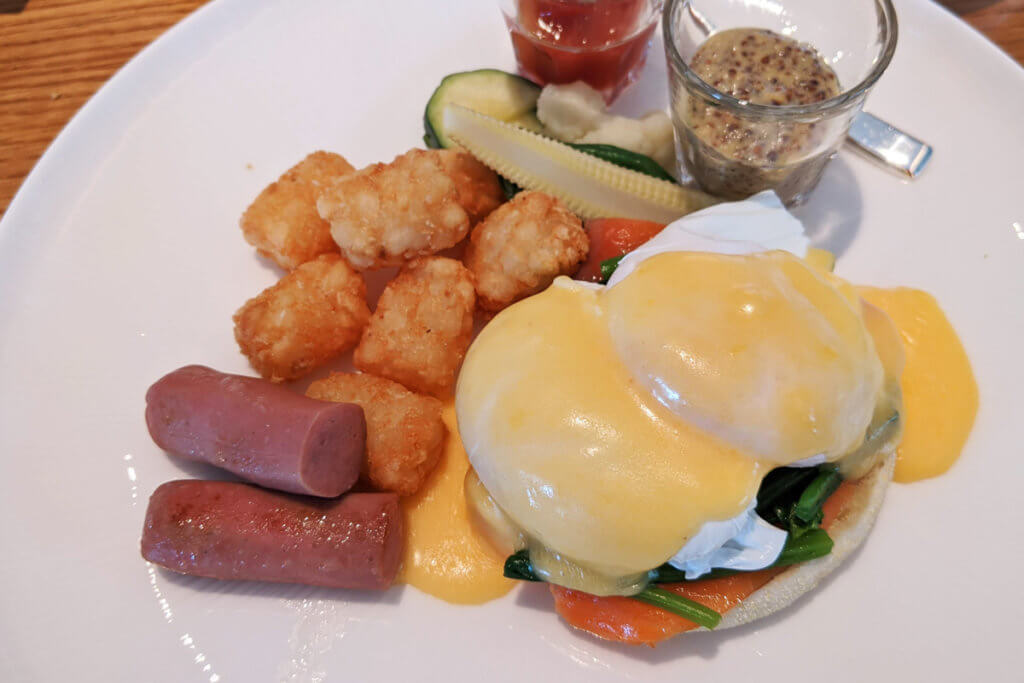 Baskets of bread.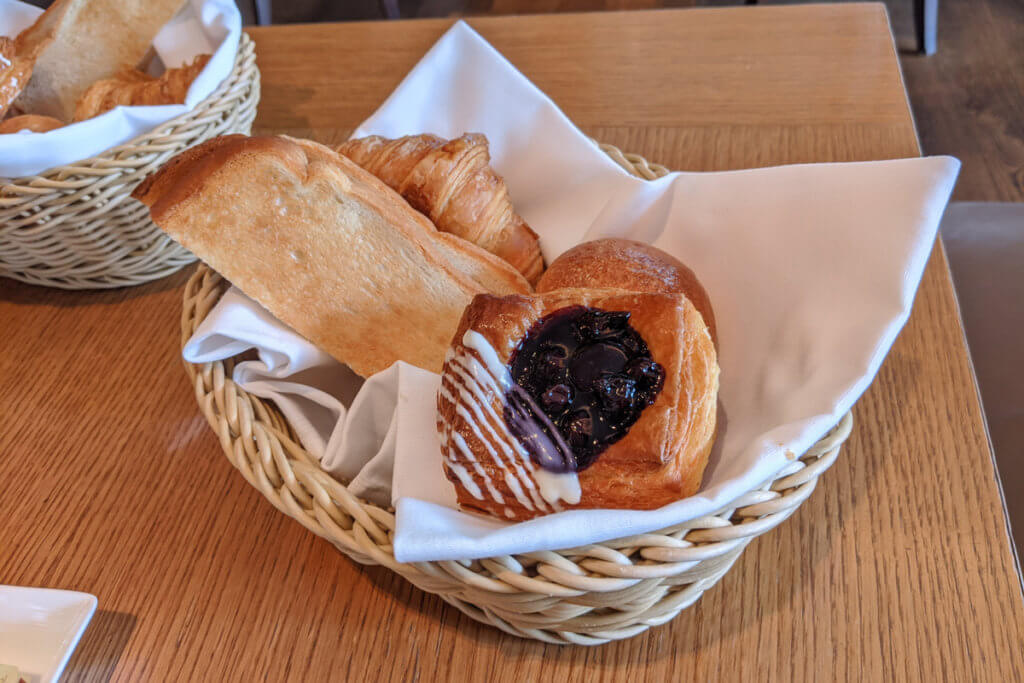 On sunny day, we would opt dining outside and enjoy the view. Today was a cold morning.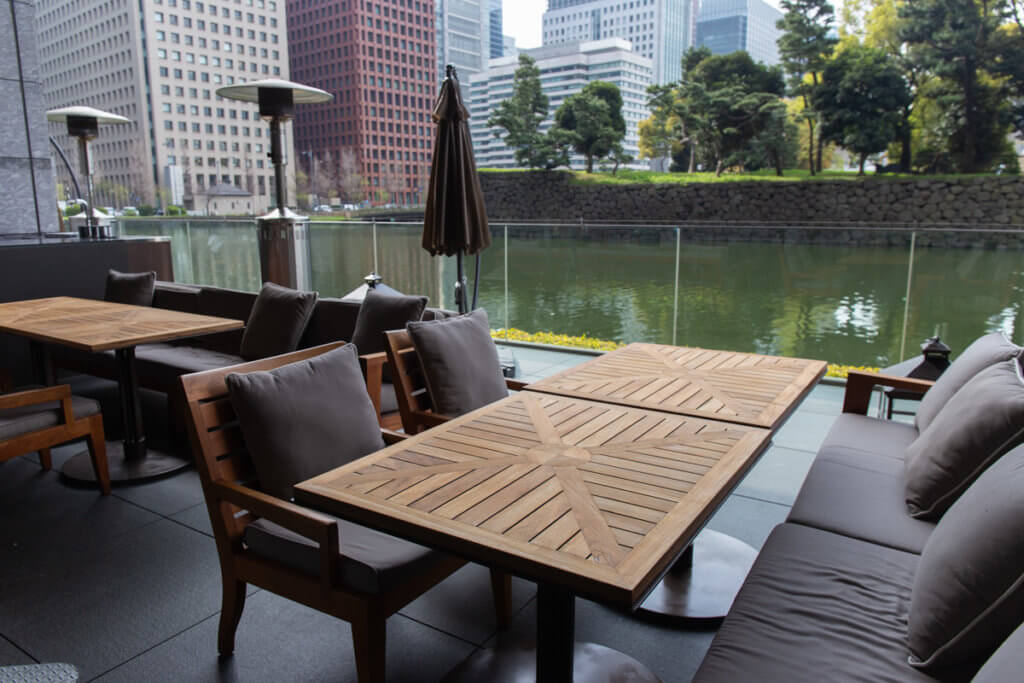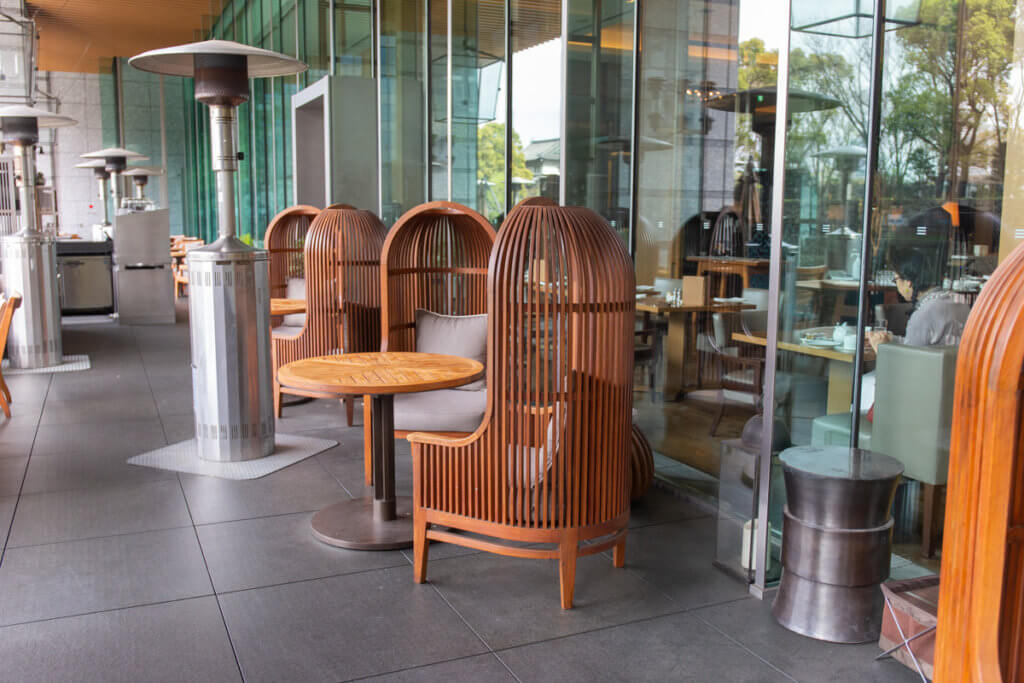 We were glad that we did not cancel our hotel reservation. The staycation was short yet it gave us comfort that we needed the most at this period of time. It was a great stacation at Palace Hotel Tokyo.
Will we come back? Of course, we will…for a breakfast or brunch at the terrace of Grand Kitchen on a sunny day. I would love to have eggs benedict again.