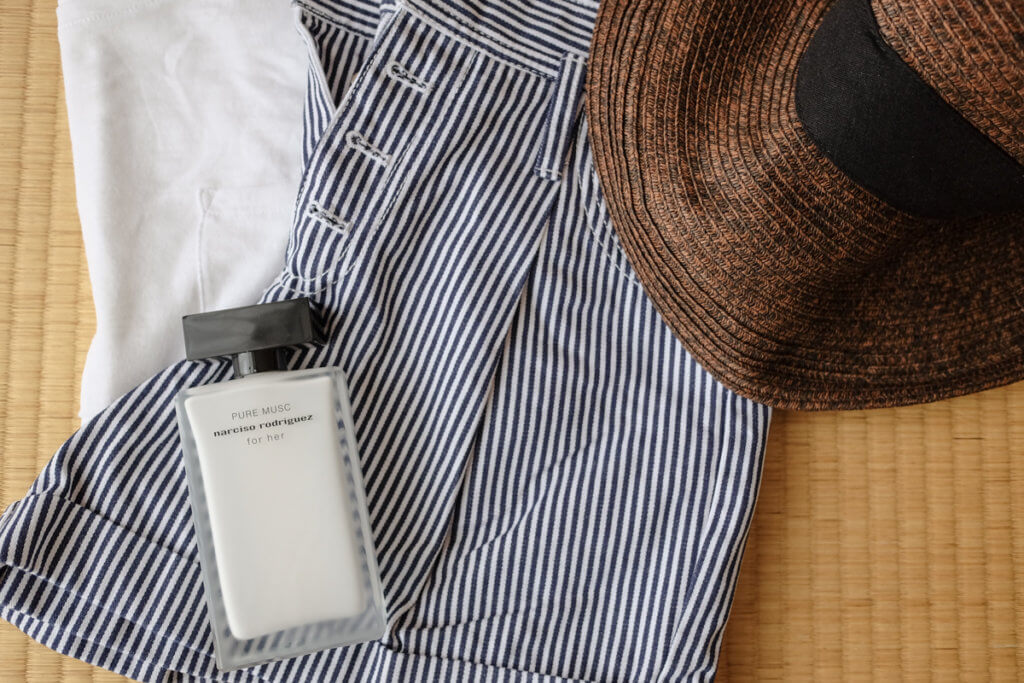 Summer…
The heat and humidity can be unbearable. Wearing perfume can also be a challenge in this season or is it? The heat easily melts the fragrance away. "Wear citrusy scent", said a perfume enthusiast. A good citrus perfume is also hard to find. If there is one, it is often pricey yet moderate longevity.
I stay away from citrusy scent this summer and venture out into something floral fresh and clean. I seek something that does not have citrus as its middle or based notes.
Then, I came across Narciso Rodriguez brand. Narciso Rodriguez's name is not a stranger to perfume enthusiasts. I heard Narciso Rodriguez's name way too often before finally decided to buy one of its collection.
Pure Musc For Her Eau de Parfum is my first bottle from Narciso Rodriguez. Honestly, I went to a store to get a bottle of Narciso Rodriguez For Her Eau de Toilette but changed my mind after looking at Pure Musc.
The Pure Musc For Her EDP bottle captivated my eyes because of its packaging, a white bottle. I tried to peak the juice inside the bottle but I could not see anything….just the white bottle nothing else. That alone sparked the curiosity in me. I know that all other Narciso Rodriguez perfume bottles are not see-through but the Pure Musc is the most eye captivating of all other packagings.
Then, I sprayed the perfume, once on the right wrist and another one on the left. I don't sample perfume on a piece of paper. That doesn't do justice to the scent. I always ask the staff to spray on my wrist rather than on a tiny piece of paper. I love to smell a perfume develops on my skin before deciding to buy it.
Pure Musc's opening was rather strong. It surprised me. Then the scent settled down on my skin, about 5 minutes later. It developed nicely on the skin. It didn't take long for me to finally decide to buy 100 ml.
Narciso Rodriguez Pure Musc EDP is a clean and fresh fragrance. White floral appears rather strong on the first note but settling in quickly. The musk is soft, smooth and rather powdery, which what make this scent luxurious and shift away from most of the musk scents that I come across.
What I love the most is its "soapy" scent that appears after 30 minutes of wearing it. The scent reminds me so much of luxury soap that five stars hotel provides. Because its a luxury soap scent, Pure Musc can be worn in all seasons, day and night.
Pure Musc EDP has been one of my signature scents this summer. It's day and night perfume. I love this scent. I get a lot of compliments from my Japanese husband, who doesn't like perfume. Narciso Rodriguez Pure Musc for Her is a luxury soap scent that I can't get enough of. I think I'll finish a bottle before the end of the year and definitely I'll get another one.
Perhaps, I should try a different kind of Narciso Rodriguez?
Can you recommend other Narciso Rodriquez's perfume to try?