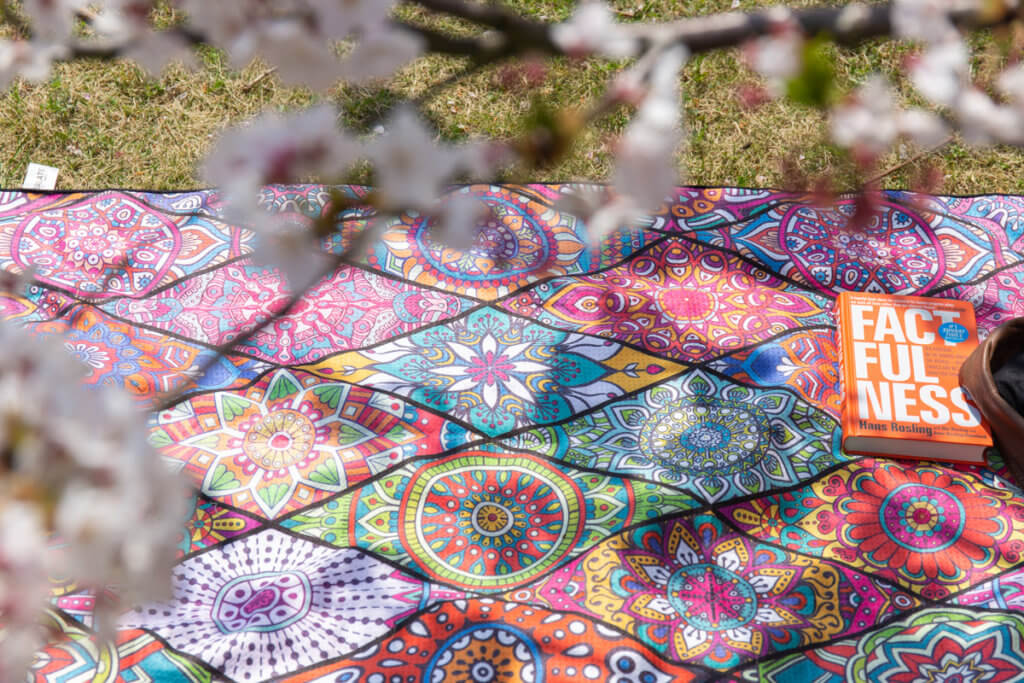 When picnic by the beach is off the list for the time being, picnic at off the beaten path, away from the crowd is not. I have a perfect spot and perfect tree for "an isolation picnic", where we don't have to bother about social distancing.
We accidentally found this spot several years ago on our morning run. We always come back to this spot every spring if we are still staying in Japan. This spring, somehow, our moving plan is postponed. It's a great time to come back to our hidden spot, relax and have a picnic.
We always love picnic, be it at a public park or beach. Going to the beach now off the chart but we were still able to go out of the apartment to have "isolation picnic" away from people.
Before no-picnic advisory was issued, we headed to our most favourite hidden spot and lay a pretty Tesalate beach towel on the lawn. There was a problem: the lawn was still wet from last night's rain.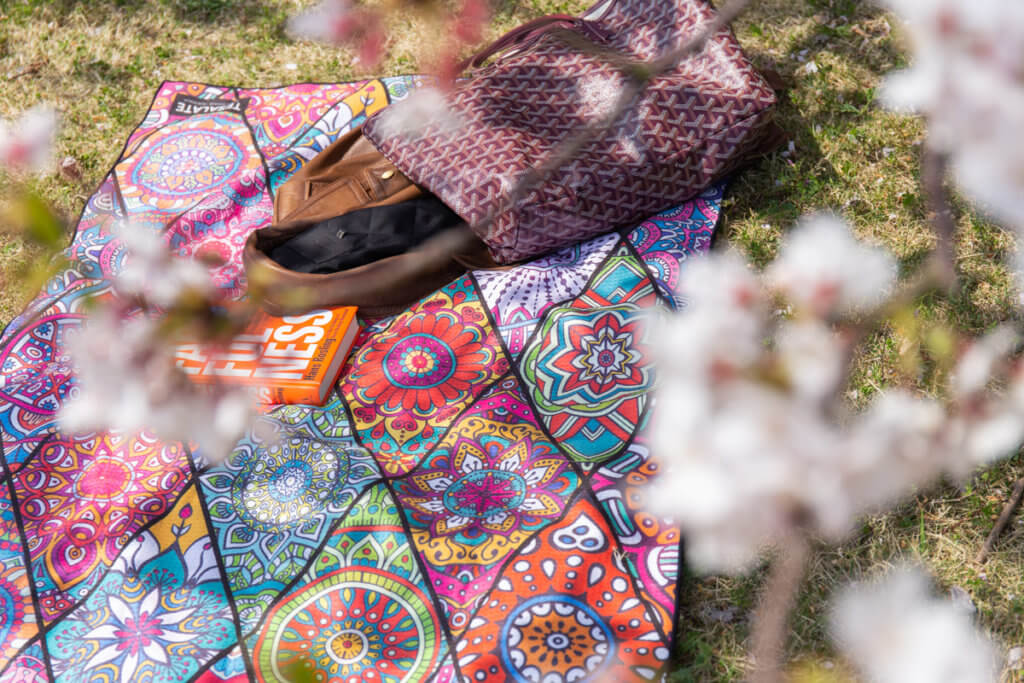 It may not be a problem. Tesalate has special fabric that is ultra absorbent. It can absorb up to 1 litre of water and dry quickly. It's a perfect time to test Tesalate pretty towel if it lives to its claim.
The lawn was wet, I could feel it on my feet yet I still carried on sitting on Tesalate. A minute later, I realised the lawn was too wet to sit on. So, I moved to a different spot. I could feel Tesalate towel was rather damp but not wet at all, surprisingly. There's no wet soil on the towel either.
Tesalate beach towel is so thin that I thought it was already wet soaked. It's still dry. We could sit comfortably on a new spot without feeling the dampness of the towel. That's so great. I could not believe a beach towel that's so thin could dry quickly, without any trace of water on it. There're dry lawn particles left on the towel, we're fine with it.
In Japan, we usually used plastic mat for picnic and layer it with blanket on winter. So, when I received Tesalate beach towel from PR, I did not have any idea that it would work well on lawn. It does work well on lawn. We had a great picnic on a dry towel.
Hanna chan loved this towel so much that she kept asking me "what colour is this, mama". It was not just a picnic time, it was a study time for her. Who'd had thought a pretty beach towel could be a study material: colours and shapes. I'm going to spread Tesalate towel at home a lot after this picnic.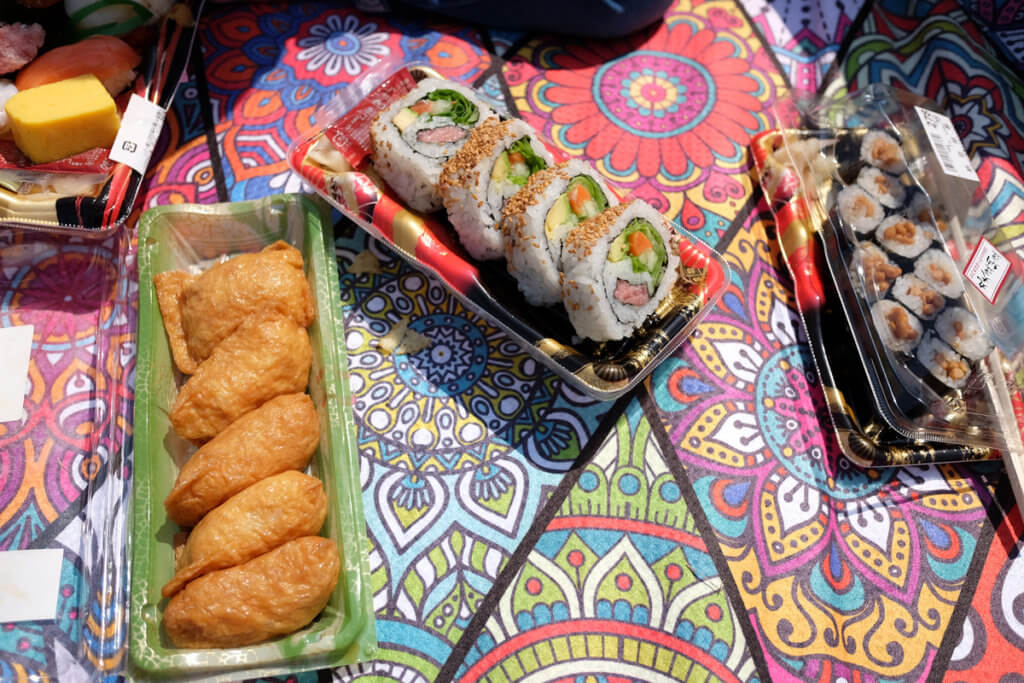 Tesalate towel is made in Australia. It's dedicated for beach, pool side, travel and yoga. What makes this towel great is its fabric and pretty vibrant colour. It's so thin that it's easy to roll and pack. It fits nicely in a handbag or simply to carry as it is. This beach towel as good as it claims….and works well on lawn.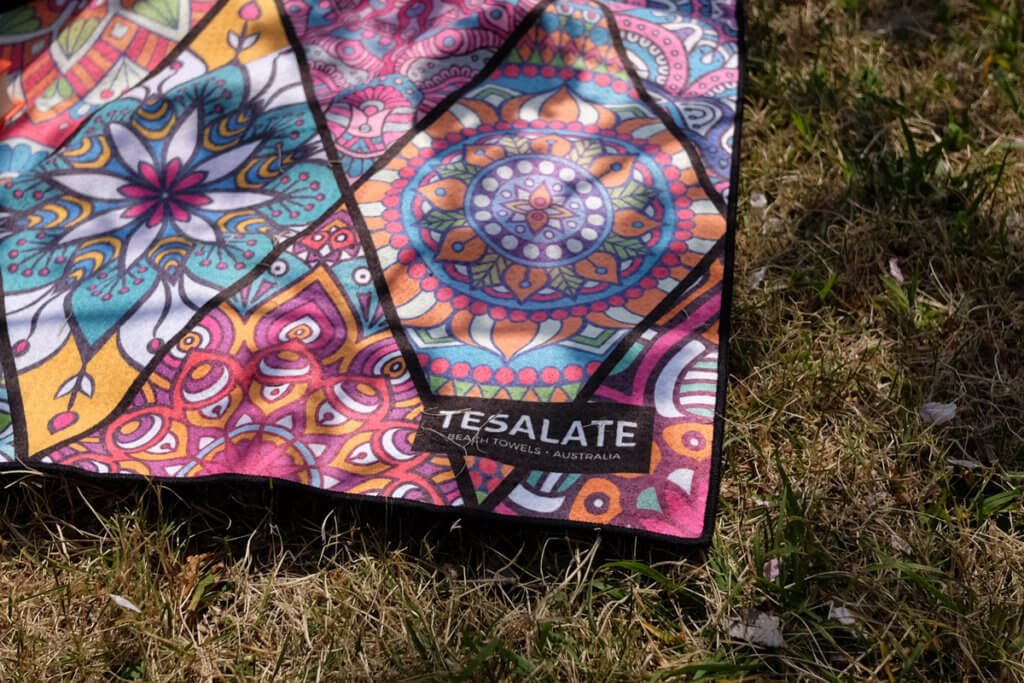 I have yet an opportunity to spread this Tesalate beautiful towel on beach but I'm sure it does what it claims. I can't wait to head to the beach when this outbreak is over.
Is it still allowed to do picnic in Japan? No, it's no longer allowed. The pictures in this blog were taken nearly a week ago after we found that we'd stay couple more months in Japan.
Disclaimer : This is a sponsored post