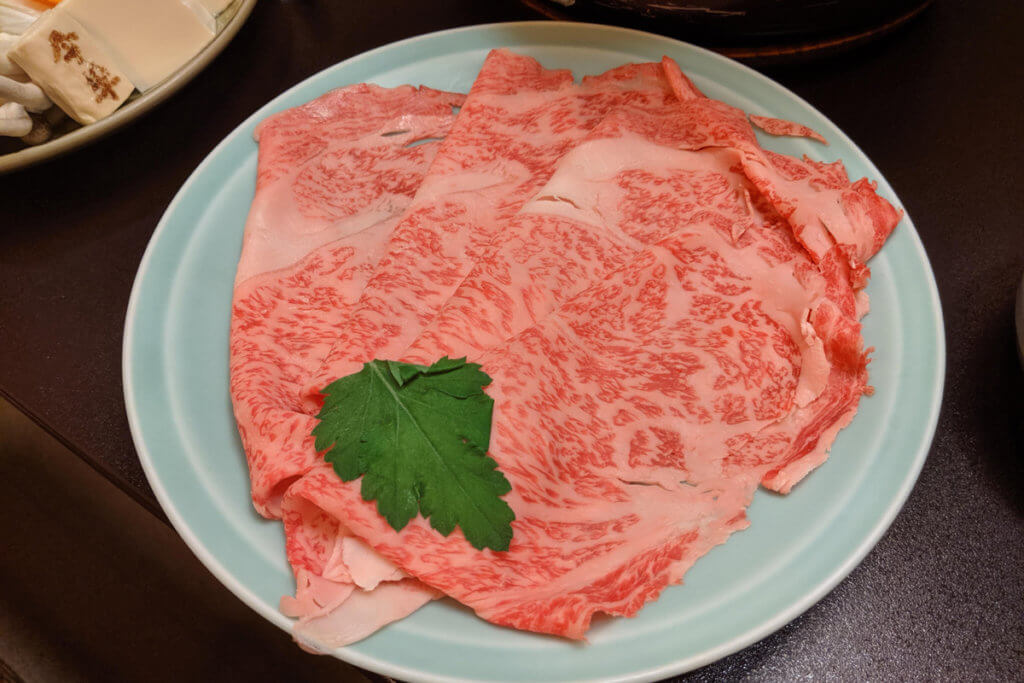 Hello,
If you have been following TiptoeingWorld, you'd have known that recently I've added a review section in the blog. We have been dining in many places and sipping good coffee here and there. So, I want to share our experiences with you all. Hope this type of mini restaurants and meals review can be a reliable source of reference for you to choose where to dine when you visit Tokyo (or other cities in Japan).
We recently dined in Imahan, a famous Japanese beef sukiyaki and shabu shabu restaurant. It's a chain restaurant (far above McD type of chain restaurant). We chose the one in Yurakucho, central Tokyo. Because Imahan is a famous restaurant, it's almost impossible to dine in this restaurant without any reservation. We booked a table two weeks before dining. We were lucky enough to get a private room. Honestly, dining amongst the businessmen worried me a great deal. Our daughter is far from Japanese toddler type who can sit quietly while eating. She barely can stop walking, let alone sitting.
Like many other Japanese fine restaurants, Imahan looks modest from the outside. It's located on a basement floor of an office building. Don't be fool from the location, it's not a to-go-to restaurant on daily basis. The moment ladies in kimono at Imahan greeted us, I instantly knew that we'd have a great fine dining experience.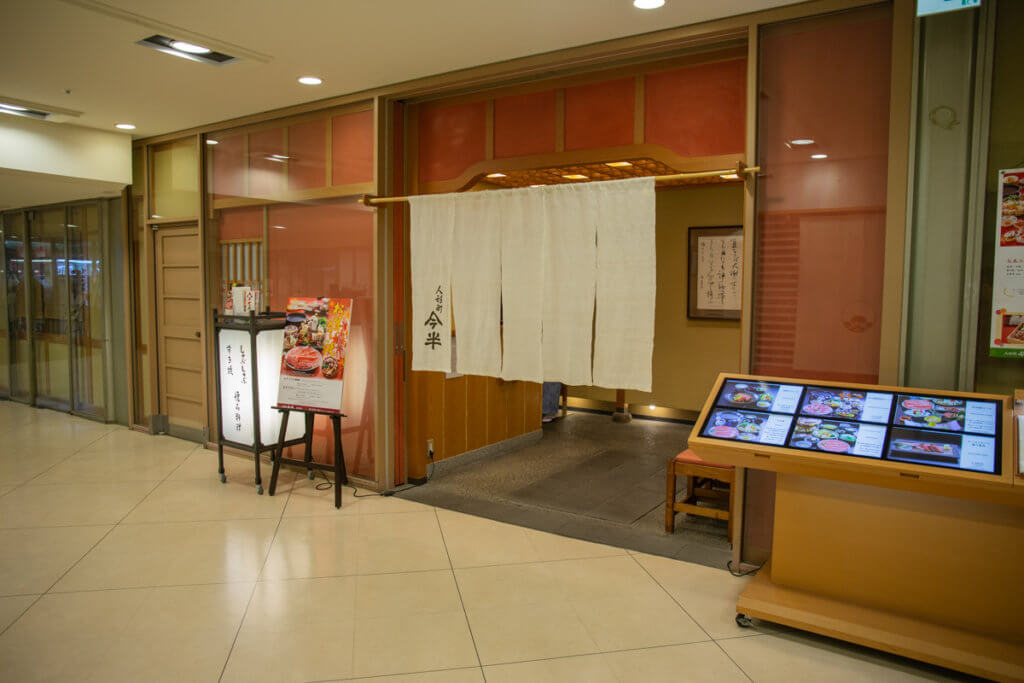 And, I was right. We were directed to a private room of four where none else but us in the room. It's so thoughtful of the restaurant to secure a private room for us. Is Imahan a family friendly restaurant? Surprisingly, YES!
We chose a set menu of wagyu beef that came with appetizer and dessert.
First meal was a set of vegetable, a tiny cut of beef and fish that laid nicely on plates.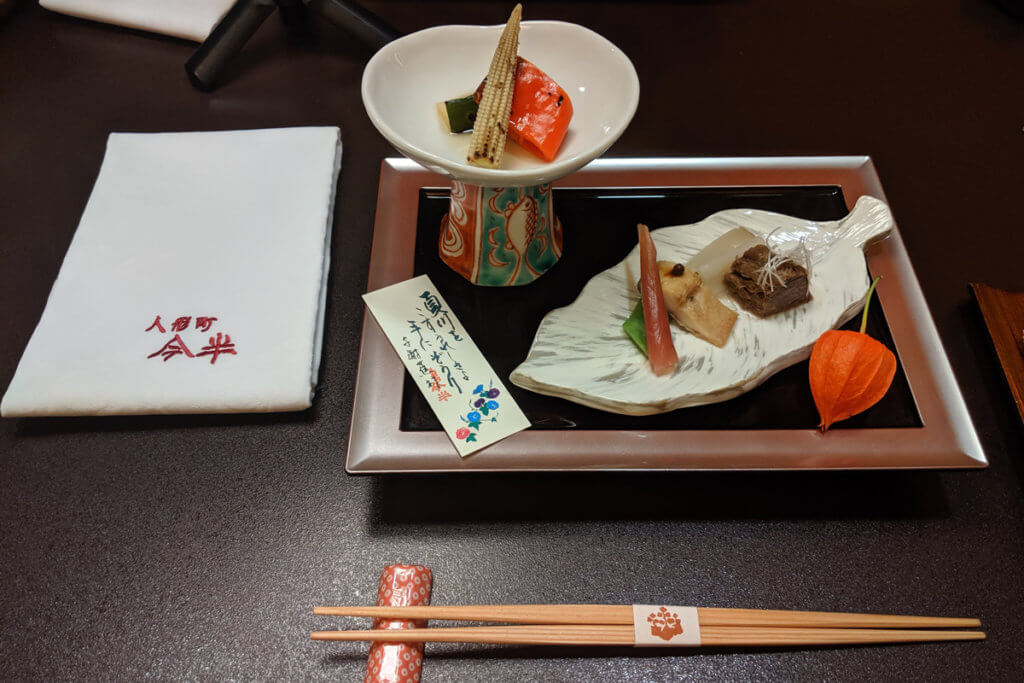 Then came the second dish, a selection of different fish cut. The way chef cut the fish here in Japan is always amazed me. Impeccable, that's how I sum it in words. Look at the size of these fish cut.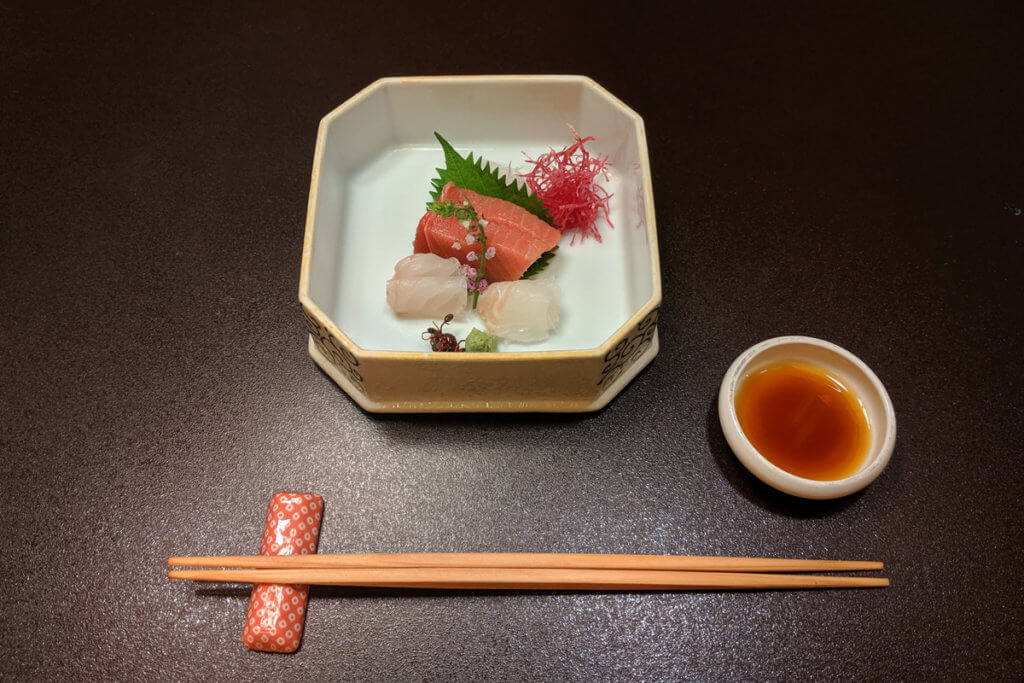 Then came the third dish, corn soup in a whiskey type of glass. Tiny size, just enough to get the taste of late summer.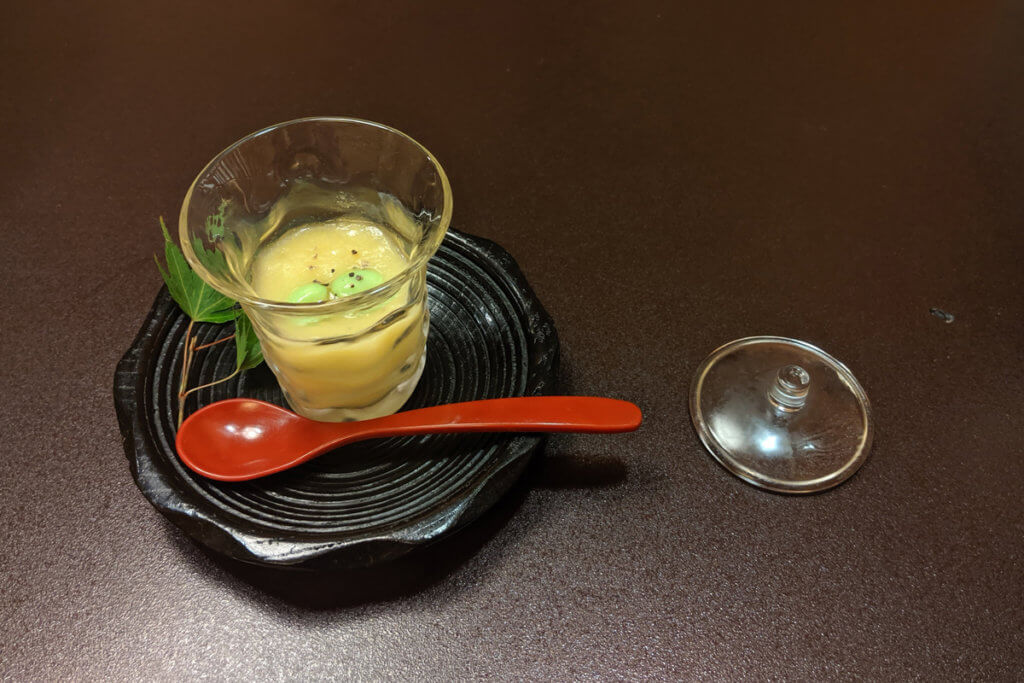 The main dish came after three batches of small portions of meal…small yet satisfying.
The waiter came to turn the stove on and poured the soup on the bowl. A few minutes later he helped us cooking the vegetables and explained how long the veggie and meat must be cooked. He didn't stay the entire main course. We continued cooking by ourselves after "a short training session".
The meat came a few minutes after we started cooking the veggies. These tiny cut of marble beef looked so yummy. My mouth watering just by looking at it.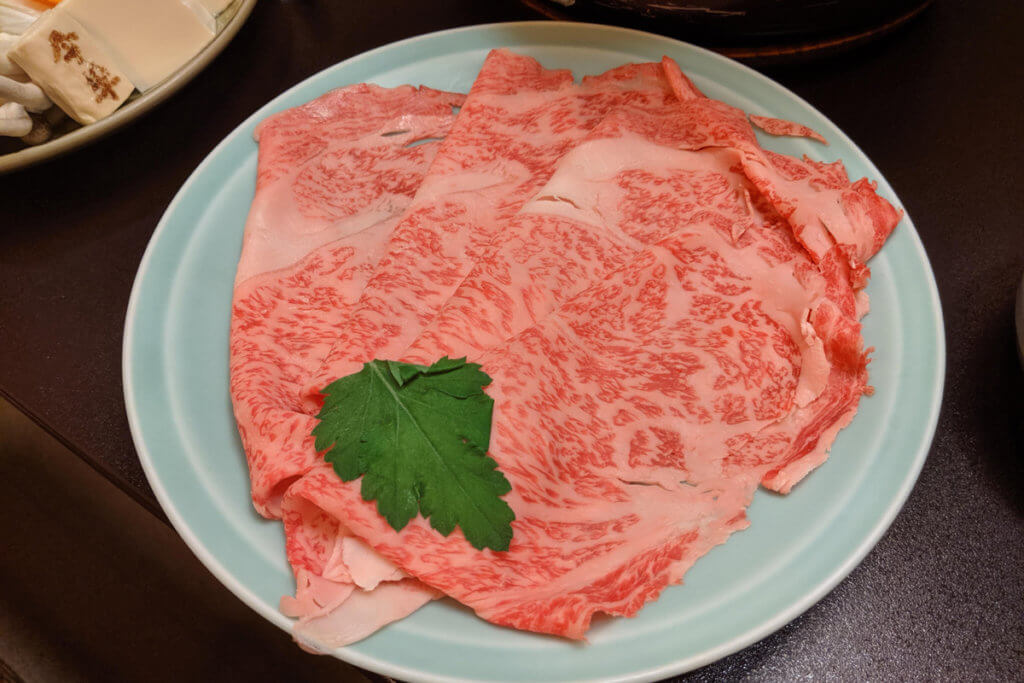 There were two different kinds of sauce for the main dish. The gold color sauce on the left was made from sesame. It tasted nutty, a bit salty and had a good smell. The other sauce was soy sauce, tasted salty (like ordinary kitchen sauce).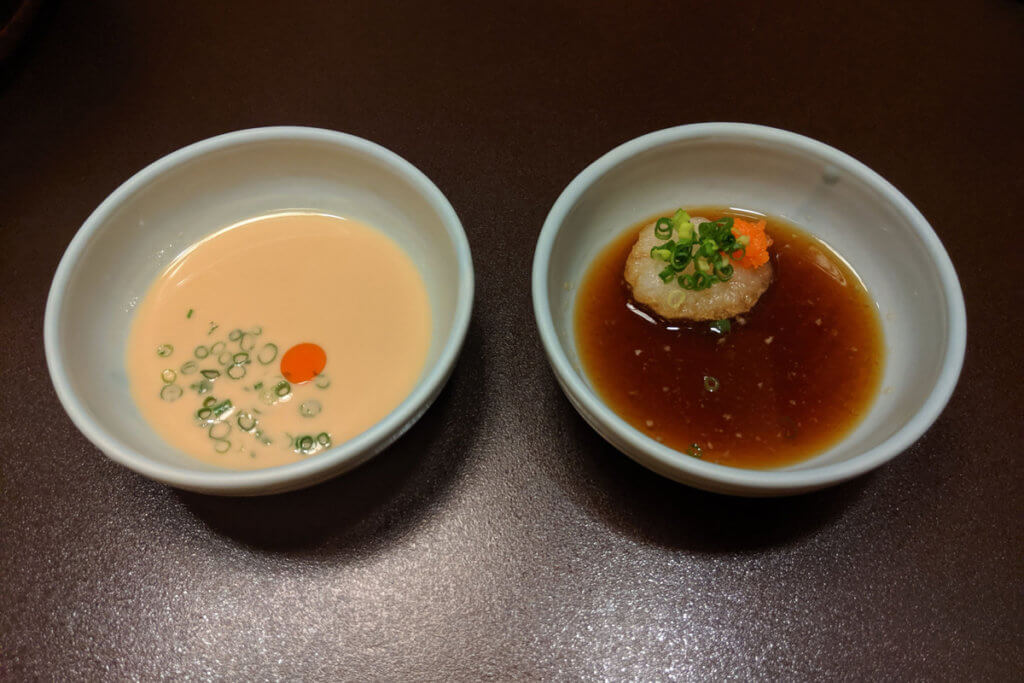 "Do not cook the meat too long else it will lose its texture", the waiter told us. We strictly followed, of course. It took only a few seconds to cook the meat.
Here's the final result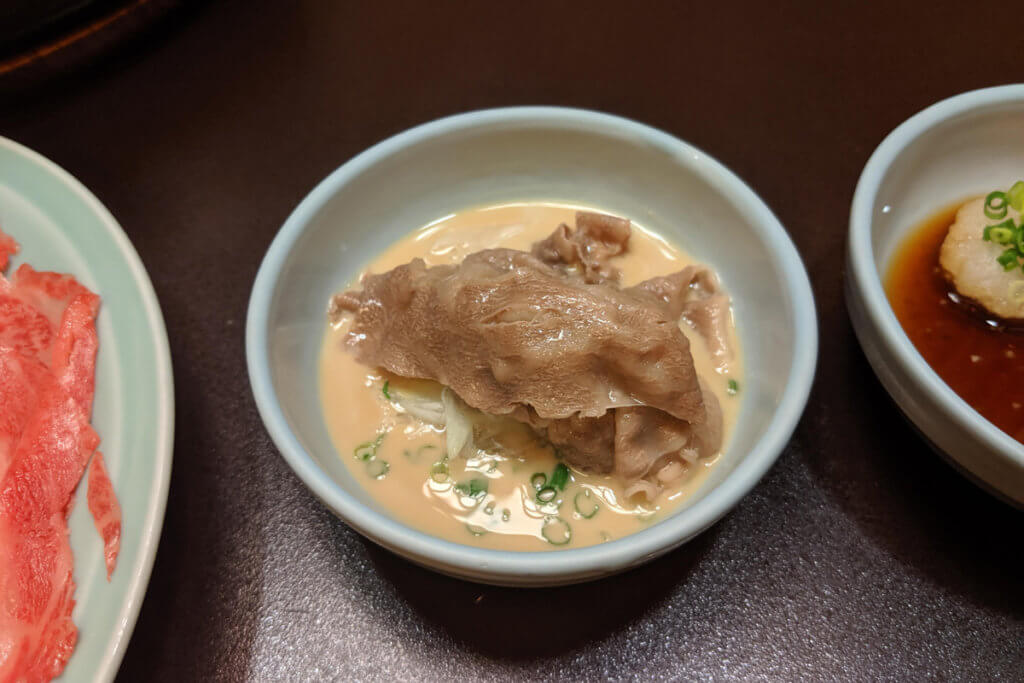 After a few bites of the meat, I could easily comprehend why Imahan is popular. The meat selection is superb. It's the champion of the dish. It's tender and so juicy.
Trust me, the meals might look small but it kept coming, one portion to another. I was full by the time we finished the main course. Then came the next dish, the carb. Here in Japan, the carb is always served after the main dish. This time we had ramen noodle in beef broth.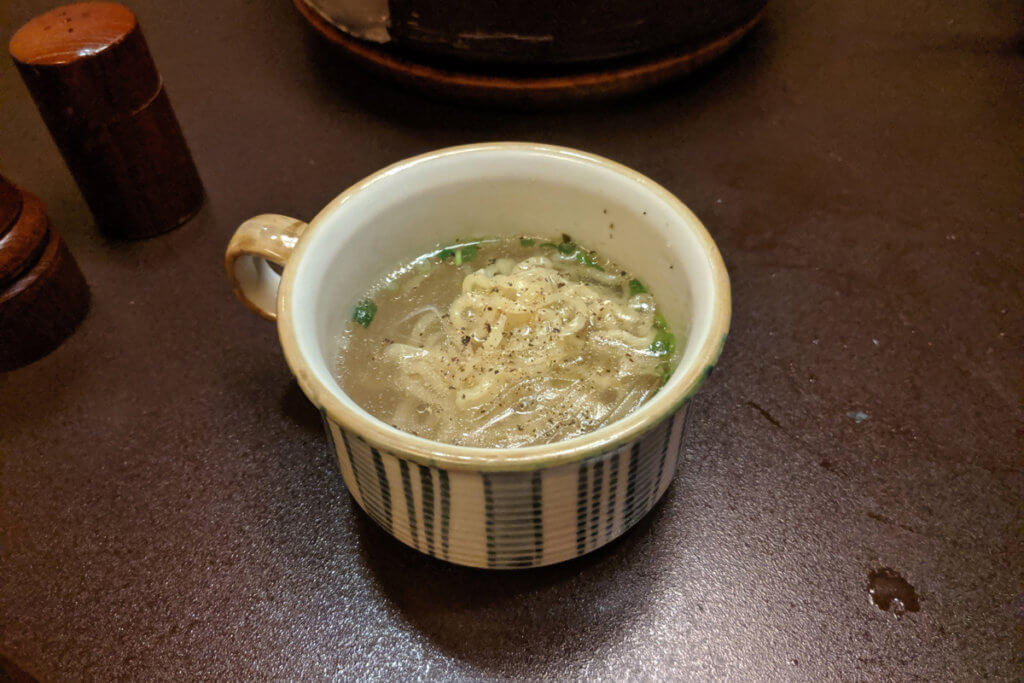 The last meal was dessert. Thankfully, it was a bowl of fruits in tiny cut. I was feeling full. By this time, our daughter woke up, saw the fruits and asked for a taste. She finished all! I was glad not to eat anything else after the ramen.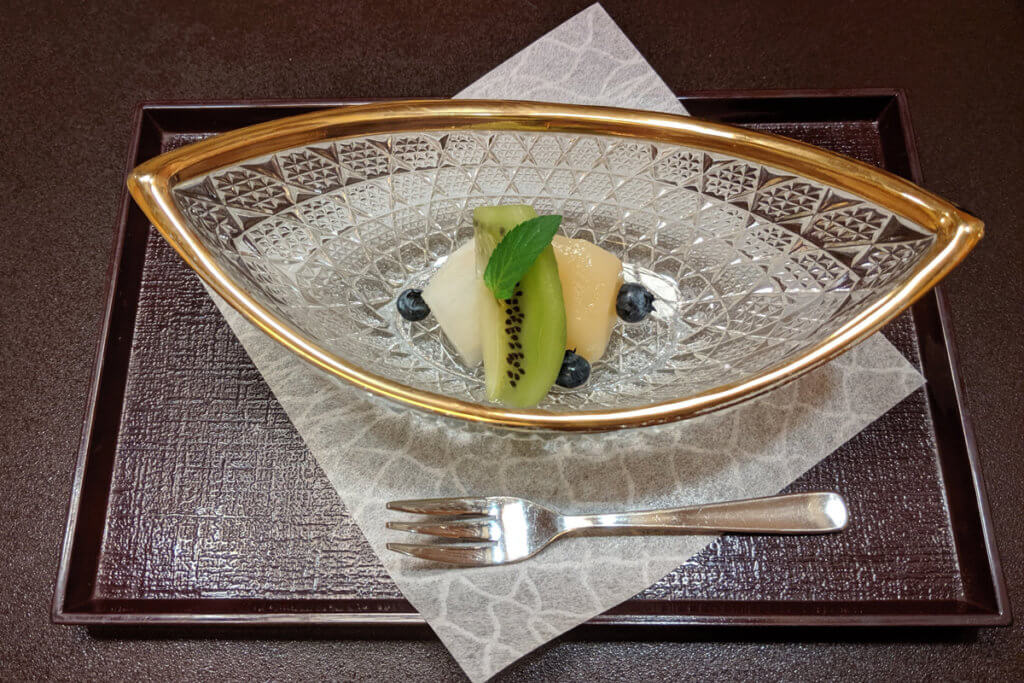 Imahan is known for high quality meals. I easily go along with what anyone said about Imahan. It costed us only 27,000 yen (approximately USD 250) set of shabu shabu for two. There's no surprise why Imahan is popular. Exquisite meals and excellent service at a decent price. The plus point for us is the ambiance. It has a private room that can accommodate a small family like ours.
If you are in Tokyo, Imahan is one of shabu shabu restaurants I would recommend to dine in.