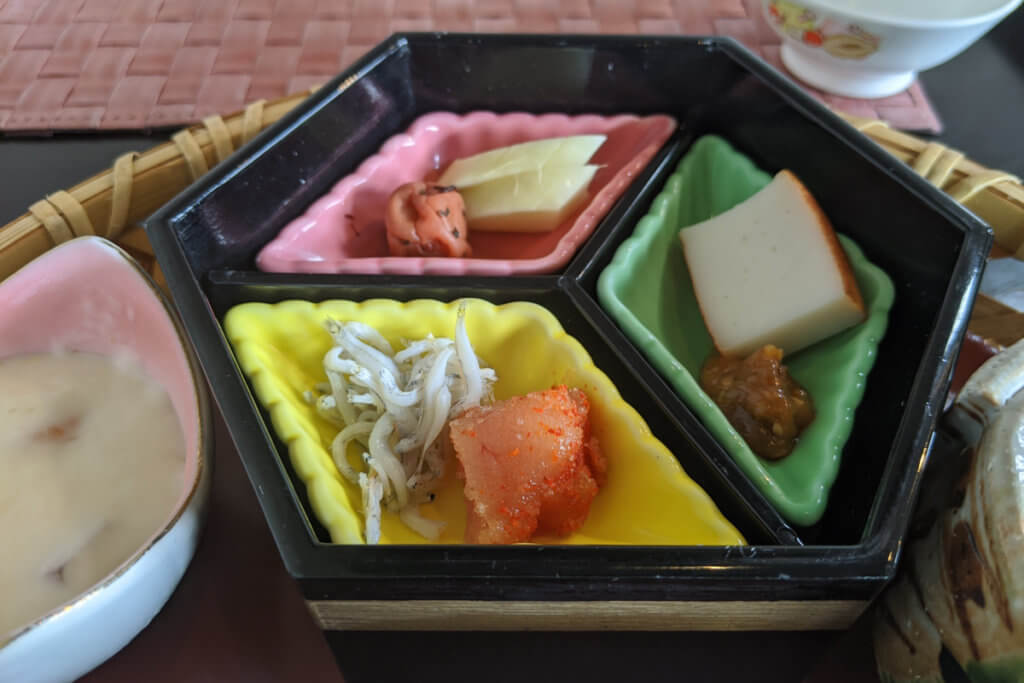 Travelling sounds scary amid the pandemic let alone staying in a hotel, but it's summer now, a holiday season. After restraining from travel for quite sometime, it's not a surprise if the call to explore a new place finally surfacing. This time we followed that call and headed to Hakone.
We had two staycations in Tokyo amid this pandemic and learnt that hotels in Japan impose strict healthy measures to all guests before even reaching the receptionist counter. So, having learning from our previous experience, we booked a room at Tensui Saryo Hotel in Hakone.
Hakone is only a few hours away from Tokyo. It's a perfect getaway place for couples or family with children for a day or two.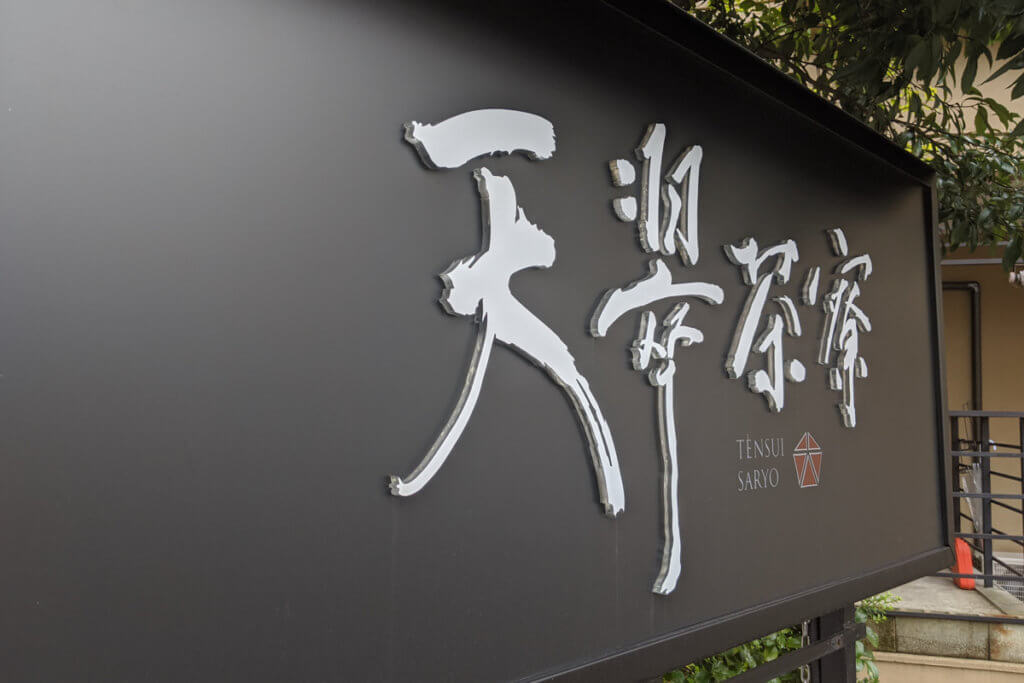 Situated within 5 minutes walk from Gora Station, Tensui Saryo Hotel has a perfect location for family with a toddler like us. In Japan, the distance between the hotel and the train station is one of major factors for us to decide whether a hotel is good or not.
The Tensui Saryo Hotel accept a family. Many hotels, especially 'ryokan' or traditional Japanese hotels, do not accept family with toddlers and small children. As strange as it sounds, many places in Japan consider toddlers as a disturbance for other guests because of their energy(read: running around, screaming and tantrum). It meant a lot for us that this 'ryokan' was willing to accept us this holiday season.
We arrived at nearly 2 pm at the hotel. Lucky for us, our room was ready before 3 pm, so we could do an early check in. Like in all 'ryokan', this hotel provided us with in-house 'yukata' or light kimono. They also prepared tiny yukata for our daughter, a thoughtful service that instantly won our heart.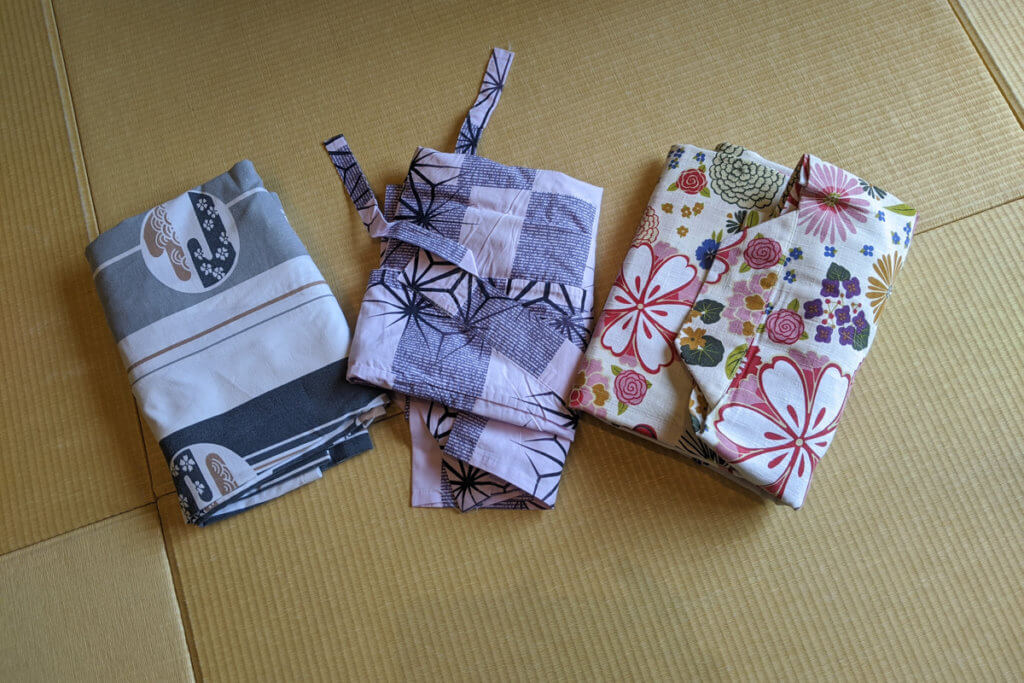 Our room rate came with dinner and breakfast that must be reserved in advance. Because we wanted to soak our body in 'onsen' or hot spring, we chose an early dinner at 0545 pm.
The hotel lobby is connected with a foot bath bar that only opens at 5 pm onward…they accept toddler guest, yessss. So, we immediately planned for a drink later in the evening.
To our surprise, this hotel was not as small as we initially thought it was. From the entrance and its lobby, it doesn't look like a big hotel. The guest rooms are located at the back of the hotel.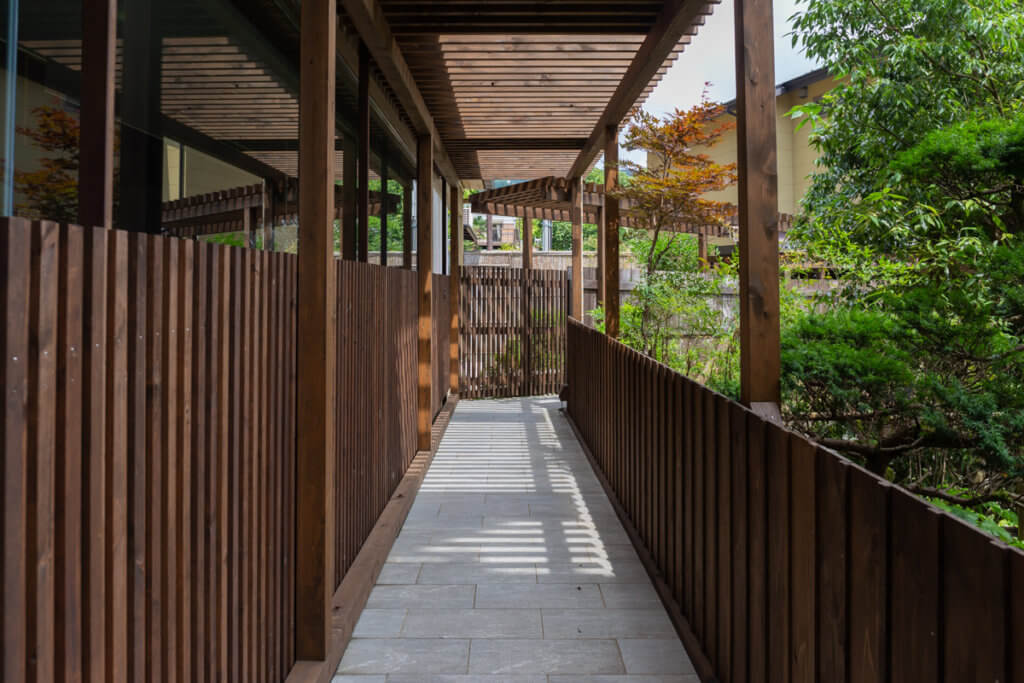 We got a room at the corner…perfect for us. We didn't have to feel guilty if Hanna chan "sang" (read: screaming)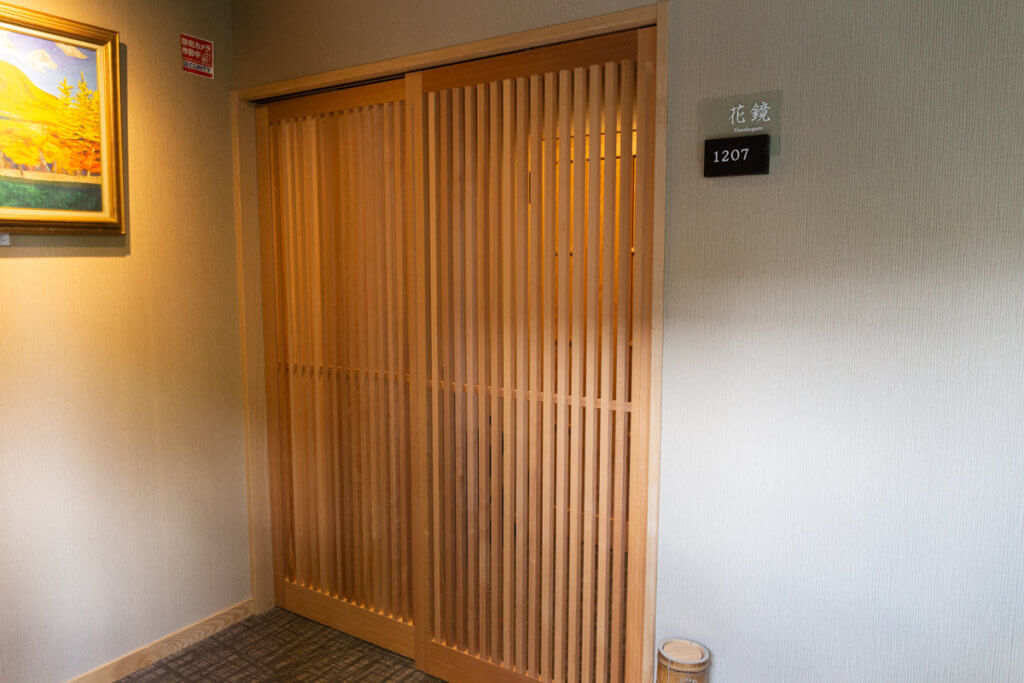 The room is a semi traditional Japanese room with a living room, where a sofa and TV are and bed. A manual coffee grinder 'Kalita" and coffee beans are laid out nicely next to the TV.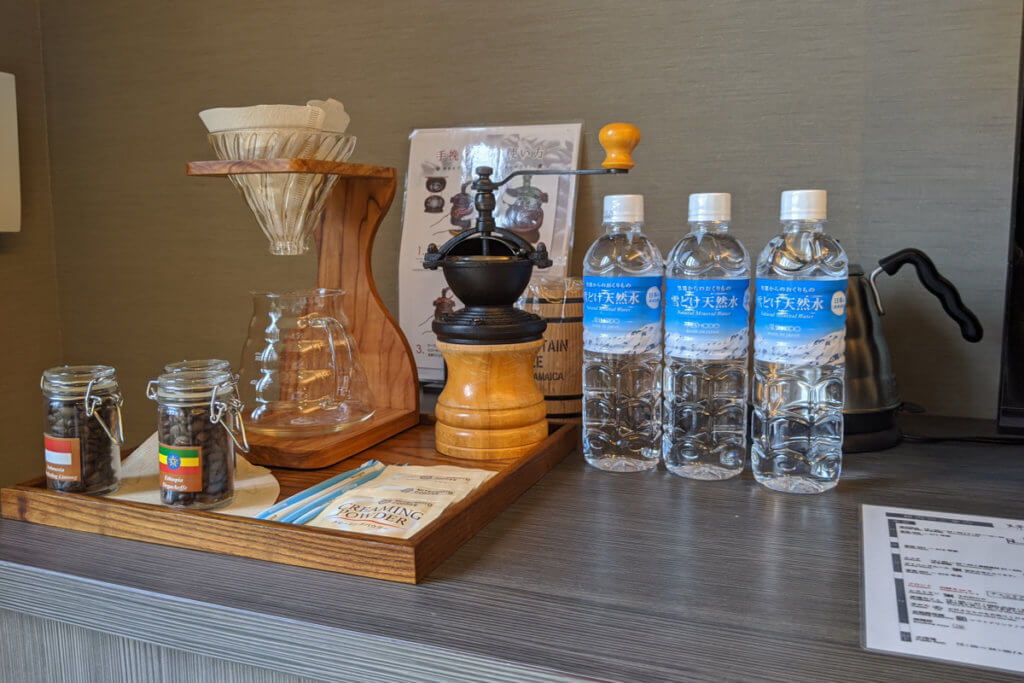 There're sliding doors connecting the living room with the bedroom.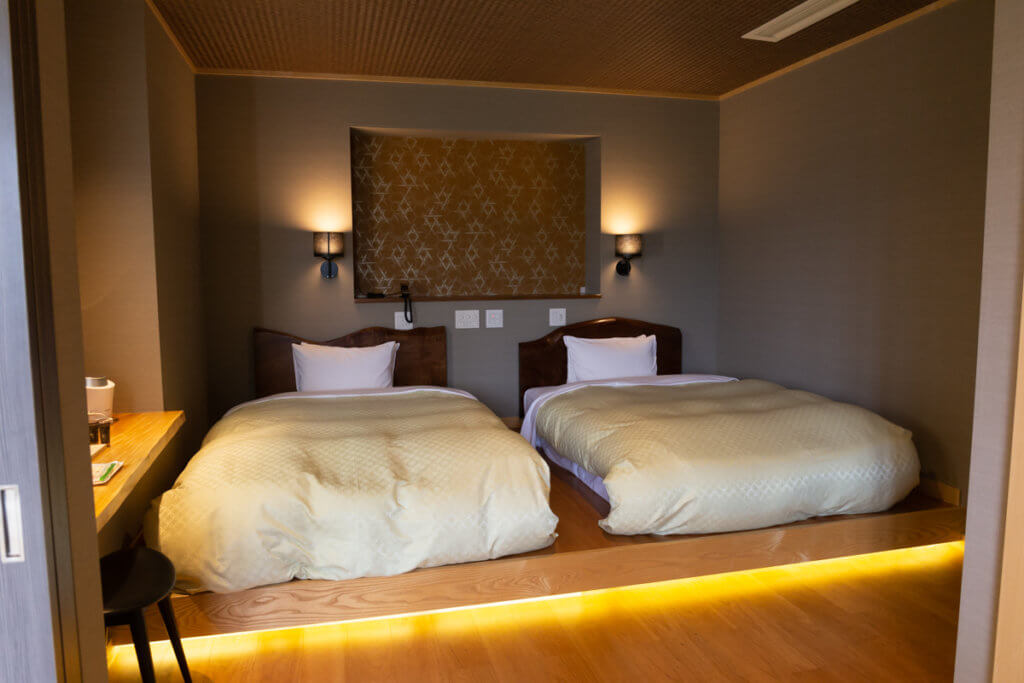 I found the sink at the corner of the bedroom was a little bit strange placement. Hotels usually place the sink adjoining with shower room but this one sits close to the bed.
On the table, a set of amenities. This hotel did not forget a toothbrush for our toddler. What a thoughtful service!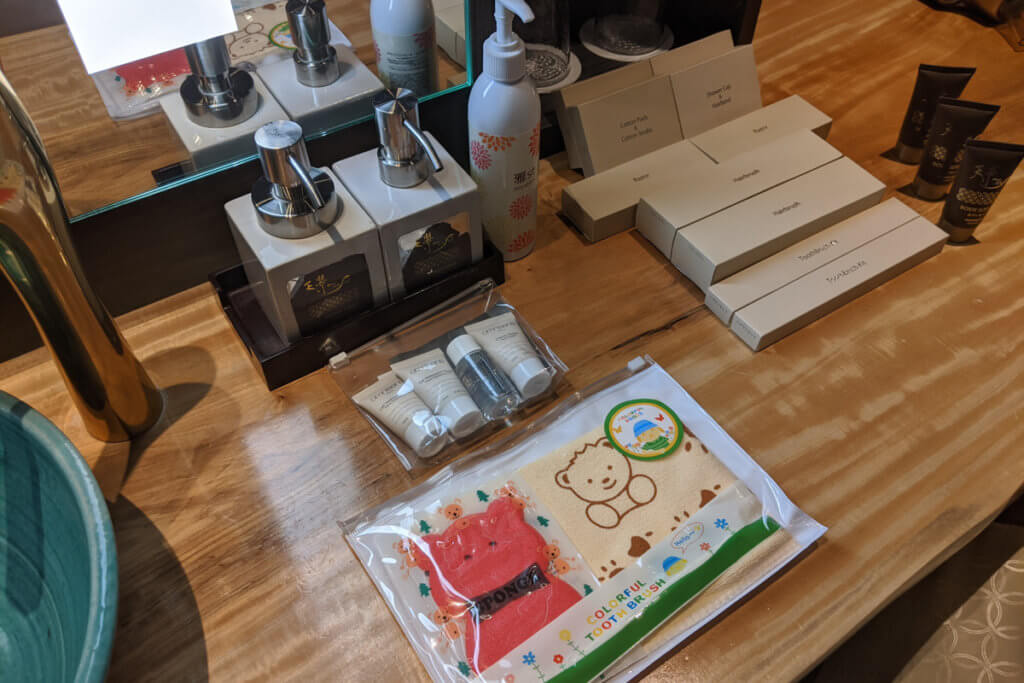 There's a patio with a pair of chairs and a table. The patio is facing the valley,,,,The best thing of all of these is an 'onsen'.
The onsen was covered by wooden lid to avoid dust and insects from getting inside the water. A tiny net was there for us to clean the water out.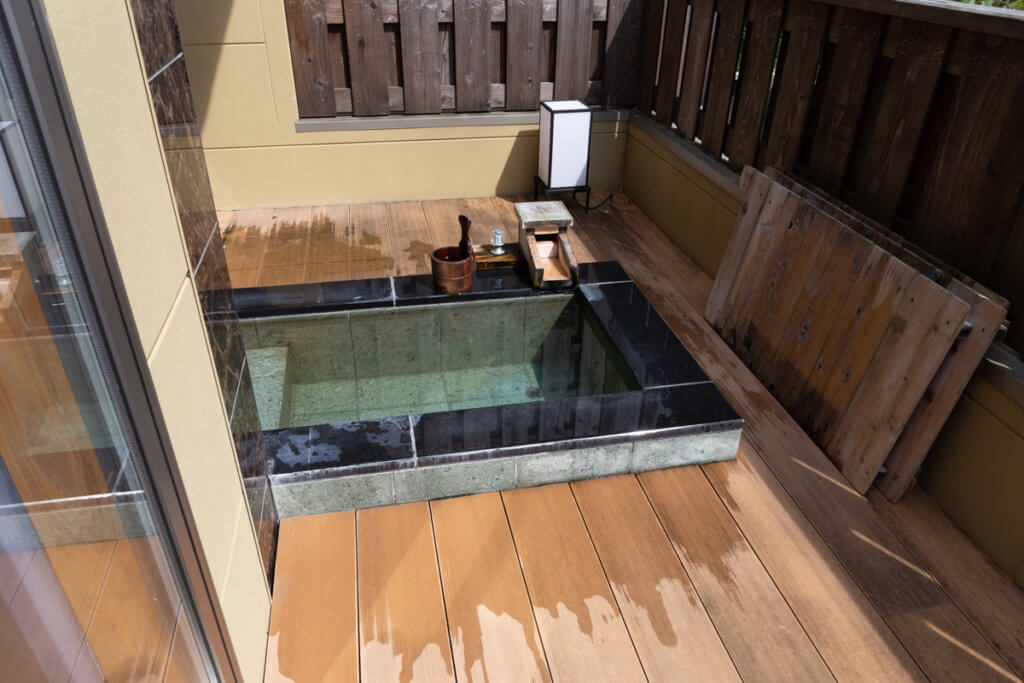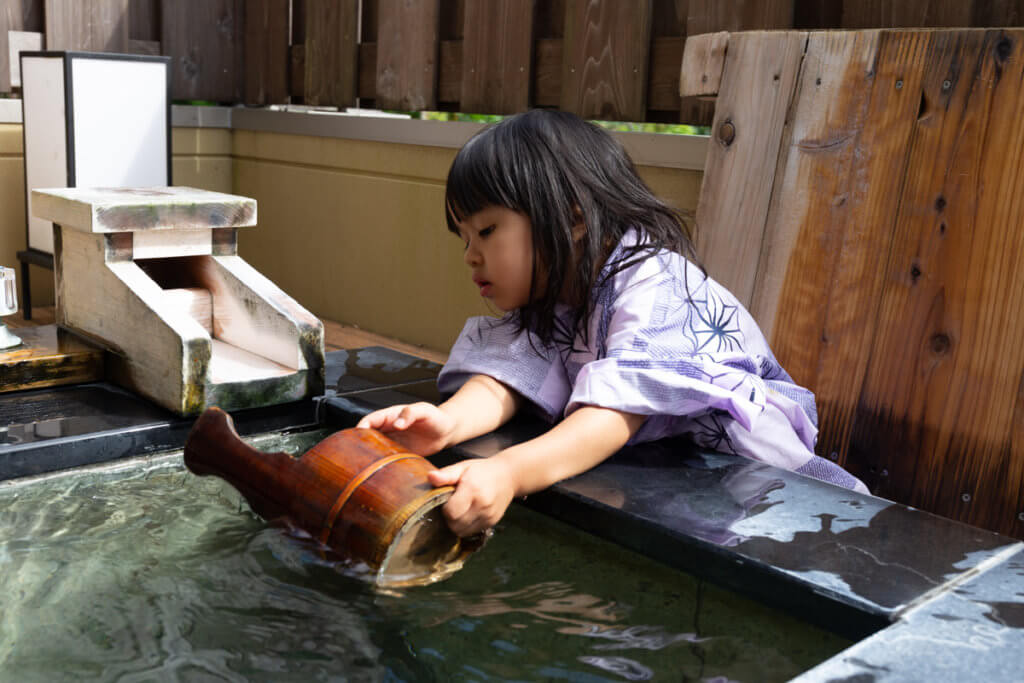 In the evening, we went to the foot bath bar for drinks. This time we didn't get our body temperature checked anymore but the staff sanitised our hands. This moment was so precious to us because never a toddler would be allowed sitting in a bar anywhere in Japan. OK, it's more like a lounge rather than a proper bar but still, to allow a toddler to sit like this,,,,, Toddlers are not discriminated against at this hotel. What a gem! She could bath her feet like an adult. The water temperature was not that high.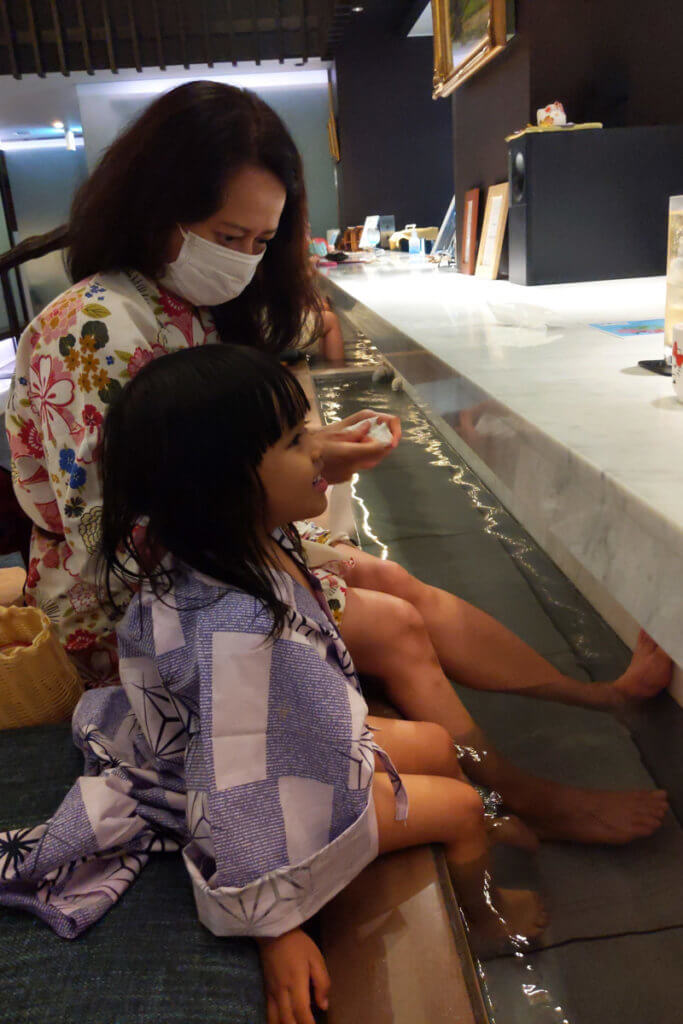 Let's talk about the food. A traditional Japanese dinner is something we look forward to when staying in 'ryokan'. We have stayed in numerous ryokan, the meals never disappoint us be it dinner or breakfast. I wrote about Tensui Saryo's dinner here. We were absolutely certain that the breakfast would be great too.
….and by the look of the food, it certainly would. The breakfast was served on the table. It was a huge breakfast.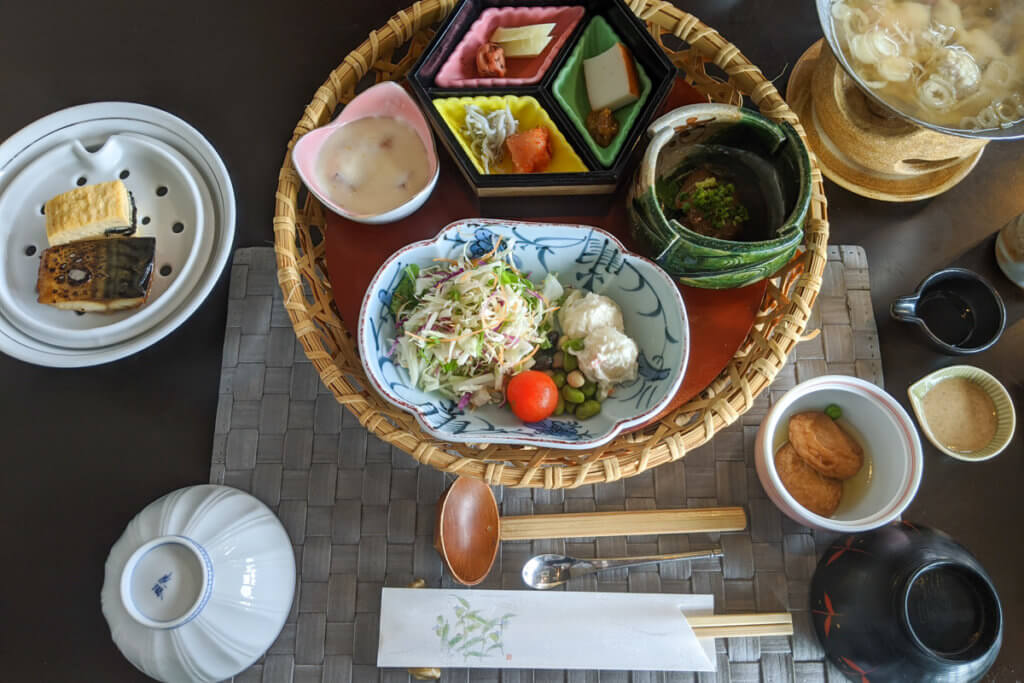 In the picture, are: anchovies, spicy pollack roe, fish cake with red miso paste, 'umeboshi' salted Japanese plum and pickle, and yogurt.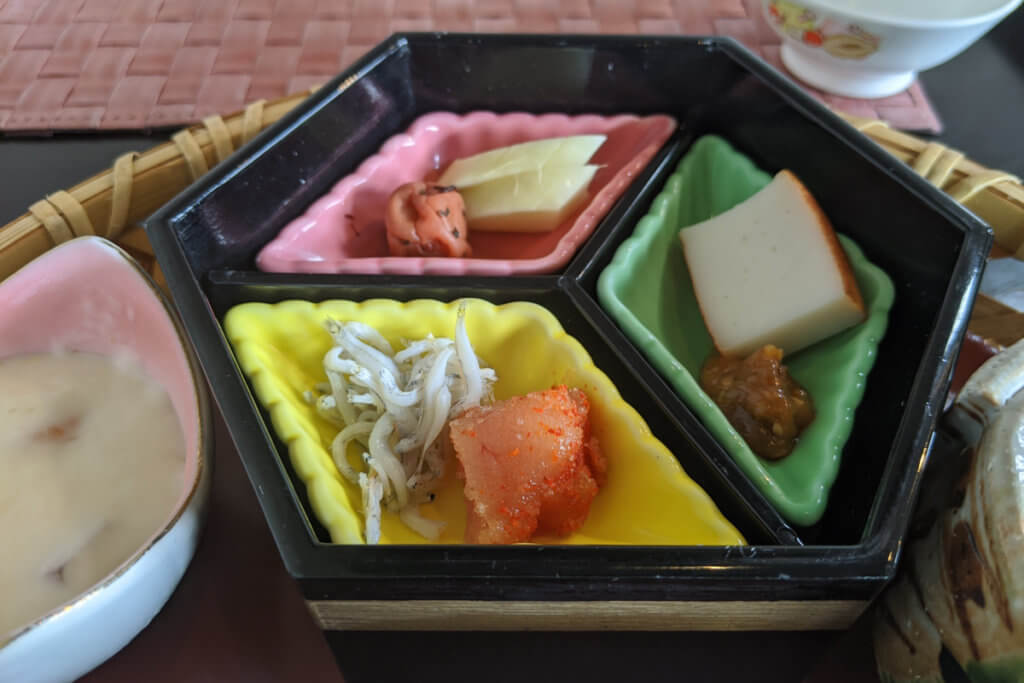 White miso soup with fish ball, leek and tofu.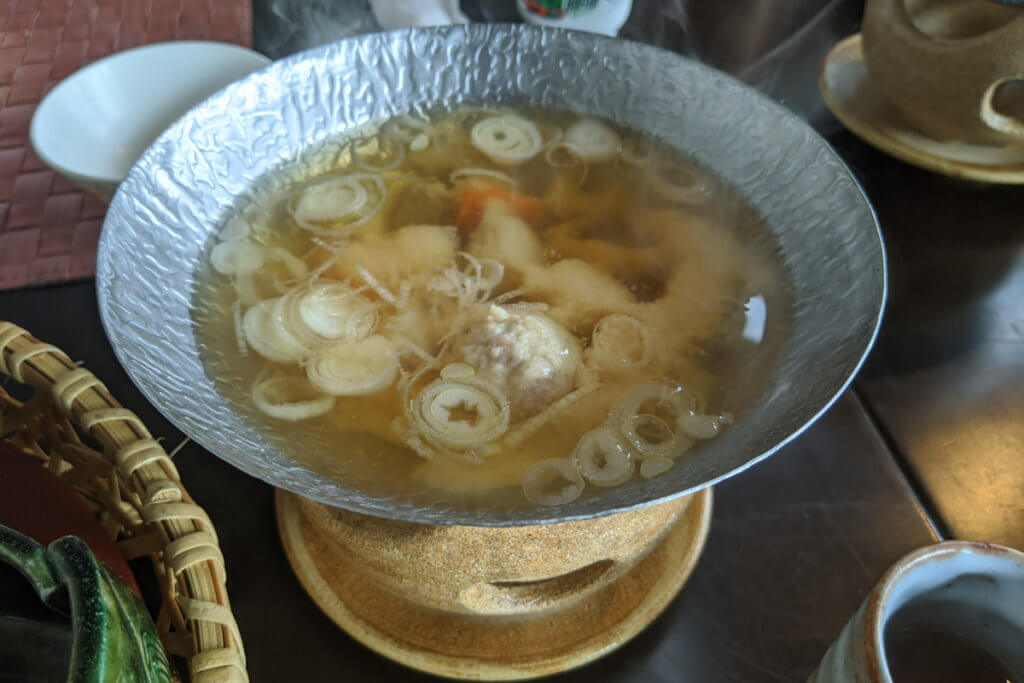 Tamagoyaki or Omelette and grilled mackerel.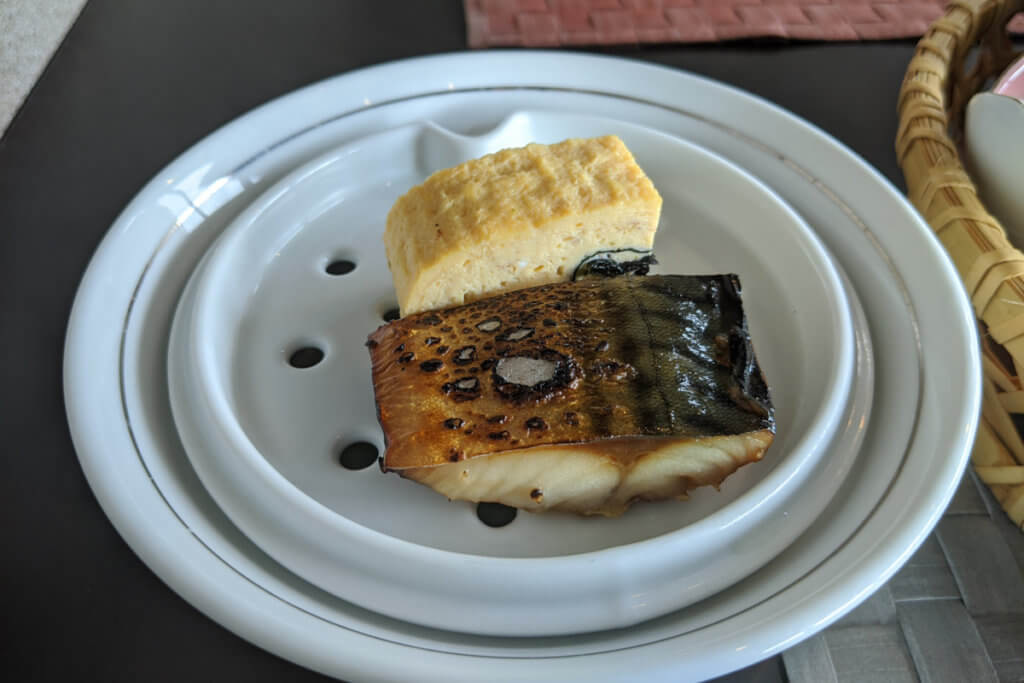 …..and of course, steamed white rice.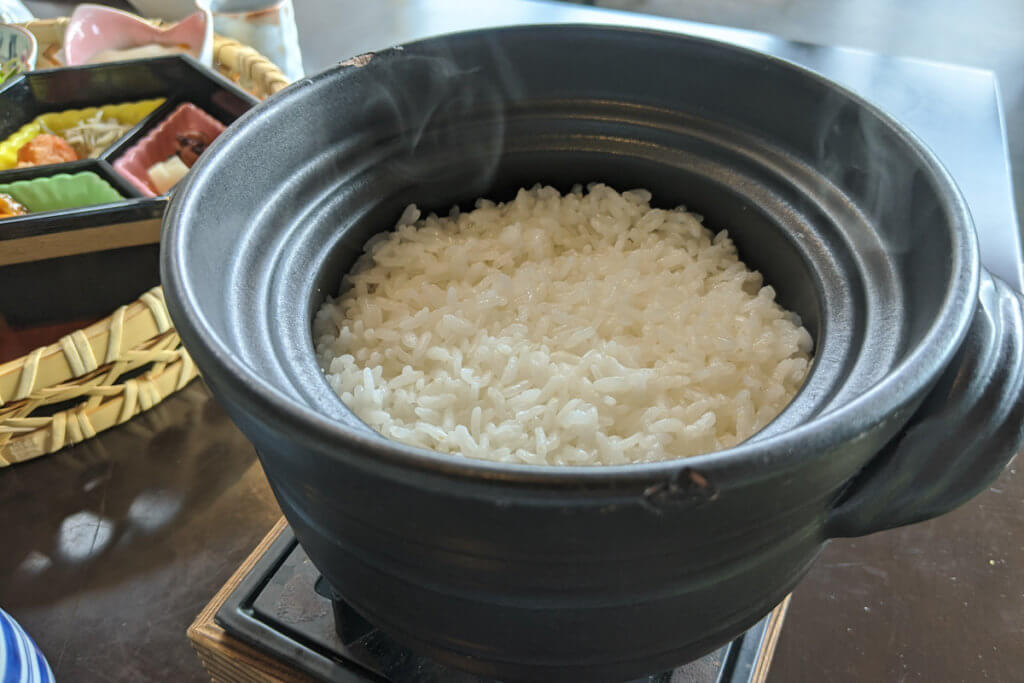 We didn't spend a lot of time for the breakfast because the time was set for only 45 minutes. This arrangement was made to allow the staff to properly do necessary cleaning (and sanitising) the table, etc., after the breakfast. Yes, there's social distancing between tables.
Guests must come on time, else they will lose the time or even miss the breakfast. The guest who supposed to dine at this table didn't come on time, so she only had limited time to enjoy the breakfast.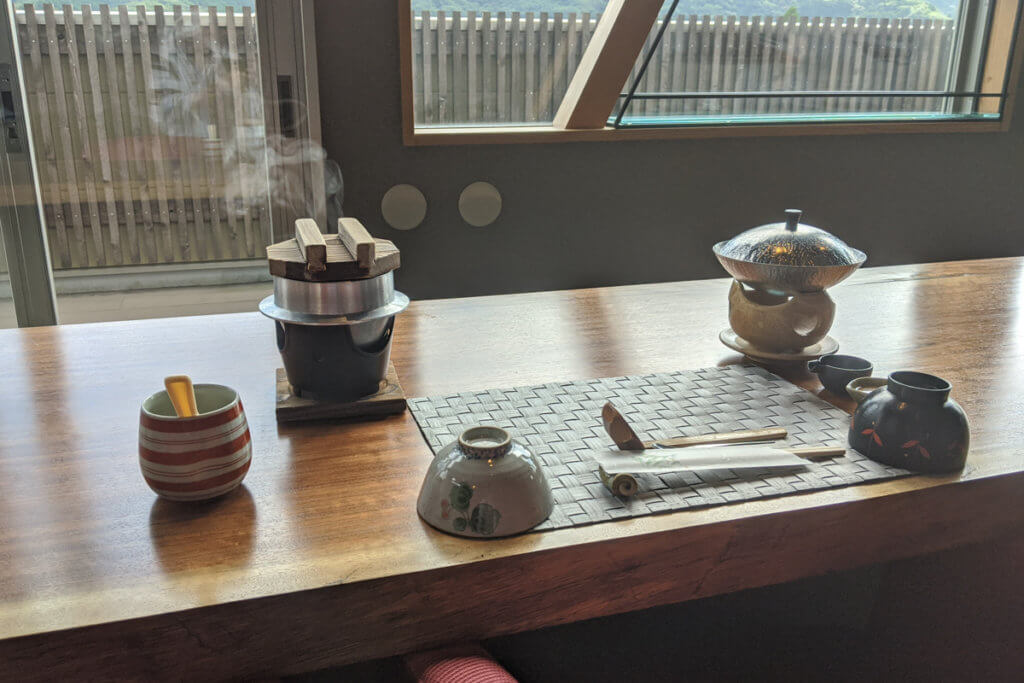 Is Tensui Saryo worth staying in? Absolutely, yes. Great location, spacious room, friendly service, excellent meals at a reasonable price.
Is it safe to stay in hotels in Japan? There's no COVID-19-free assurance in any hotel anywhere in the world right now. What I can say is that in Japan, hotels impose strict protocol to prevent the spreading of the virus within the premise.
Have you any experience staying in a hotel amid this pandemic? Do write in the comment section. I would love to hear from you.