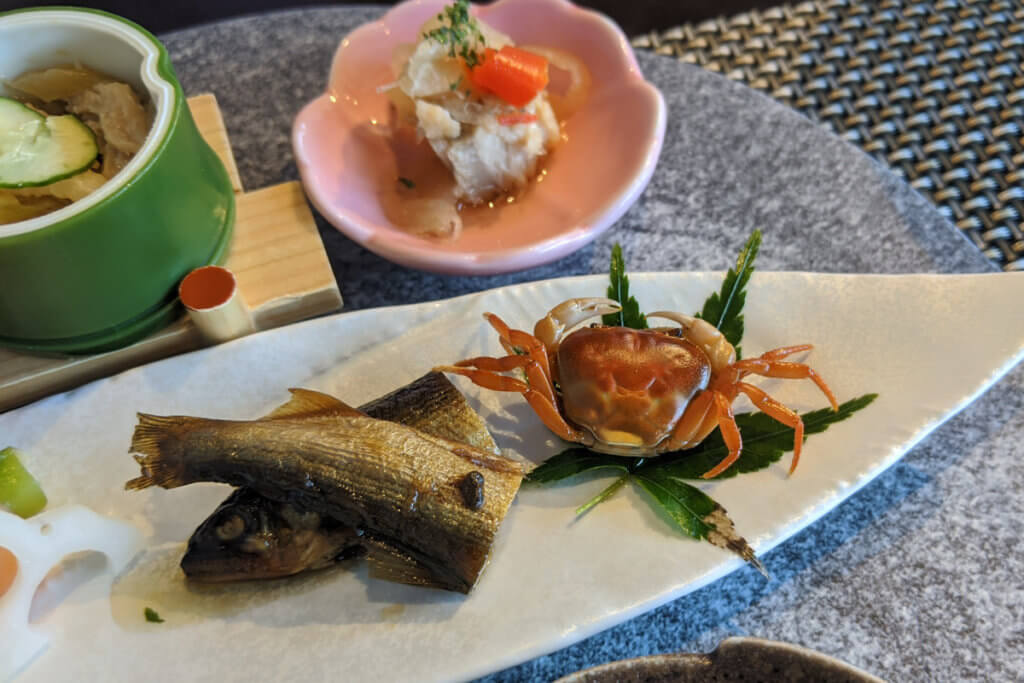 Food is a part of hotel services that make a memorable stay. In most of traditional Japanese hotels, the room rate is often inclusive of breakfast and dinner because most of the traditional hotels are located either in secluded area or there isn't any restaurant nearby.
We have stayed in numerous tradition Japanese hotels throughout our stay in Japan. I can confidently say, the food served at traditional Japanese hotels is impeccable. Never once I felt disappointed with the food served at any traditional Japanese hotels that we ever spent the nights in. Our recent stay in Hakone attests my firm belief that the food at a traditional Japanese hotel is beyond delicious.
We had a short, yet memorable stay at Tensui Saryo hotel in Gora, Hakone. Our room rate came with breakfast and dinner. Needless to say, we eagerly looked forward to dinner as soon as we checked into our room. The dinner time was set at 0545 pm and 0730 pm. We chose the earlier time so we could have time to soak our body in 'onsen' or hot spring after dinner.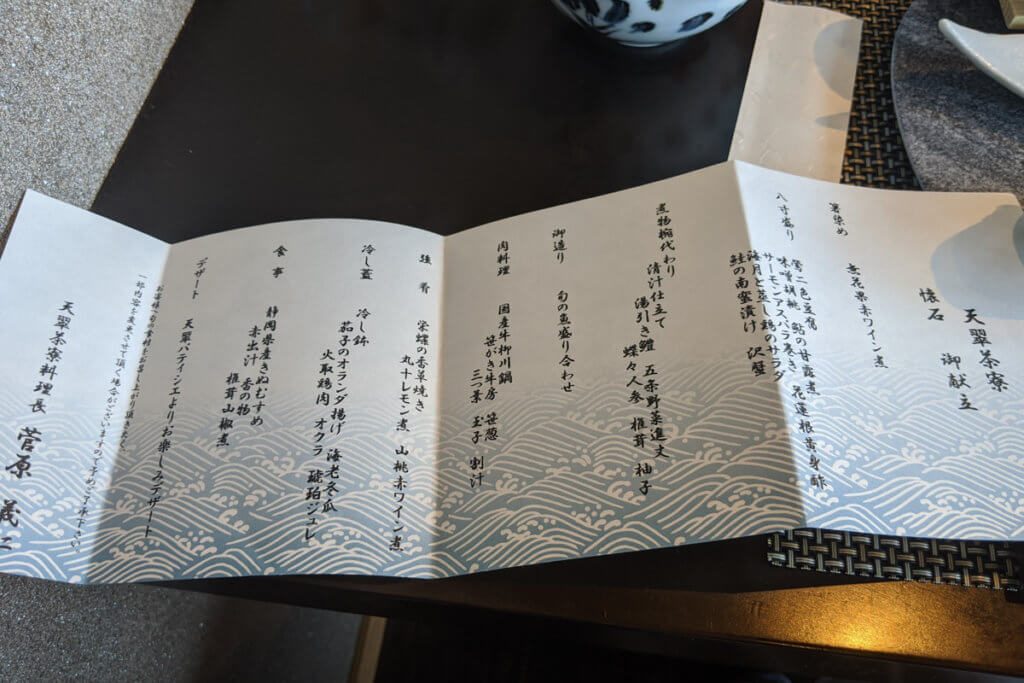 The food was already arranged on the table by the time we arrived at the restaurant. The menu was printed on a Japanese-style paper and placed on the table. We would have more than 5 courses tonight.
…started with an assortment of appetizers that were nicely laid on a plate. Tiny bites, huge taste they were that I couldn't wait for the next course.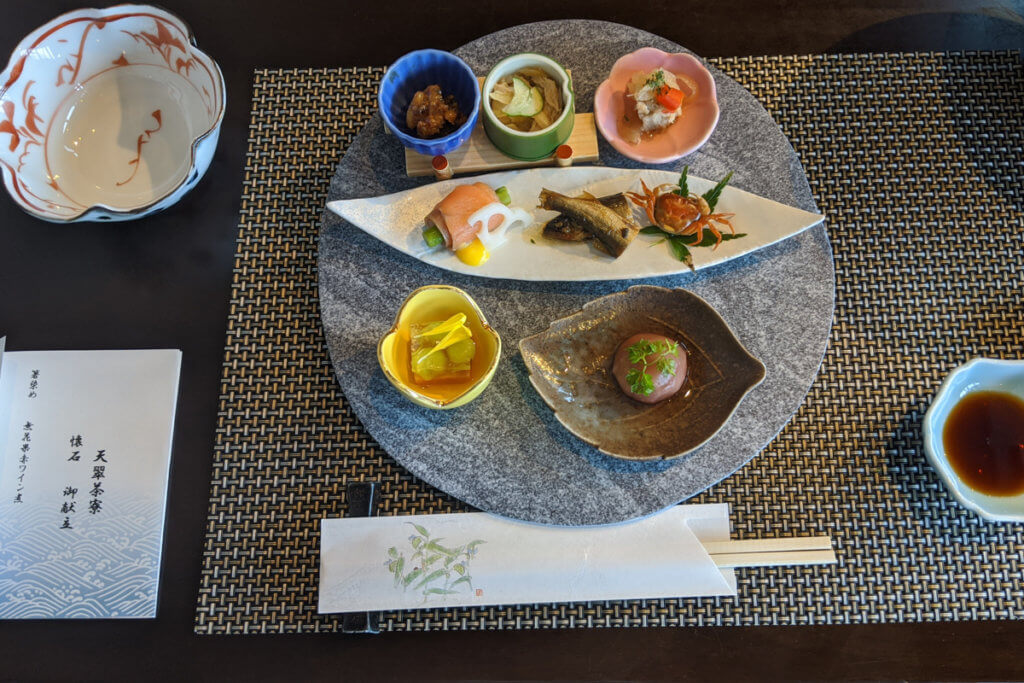 Here's a closer look at what were the appetizers. That tiny crab was edible soft crab, it wasn't for artistic purpose.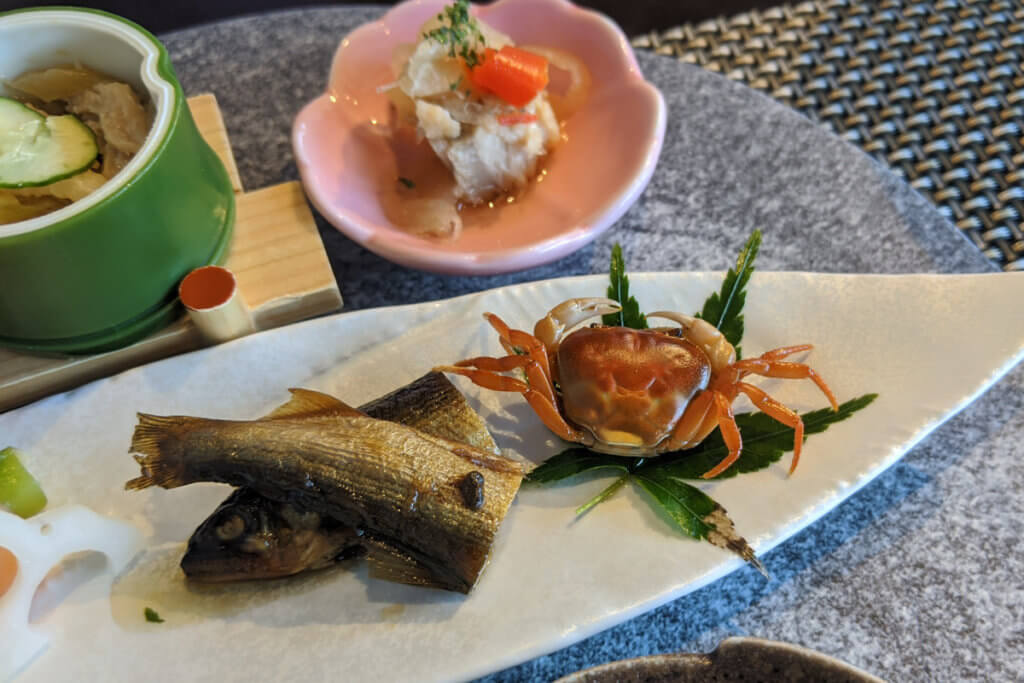 Next on the menu was sashimi, thinly cut raw fish. Although Hakone is 720m above sea level, this sashimi tasted fresh just like those come from the fish market.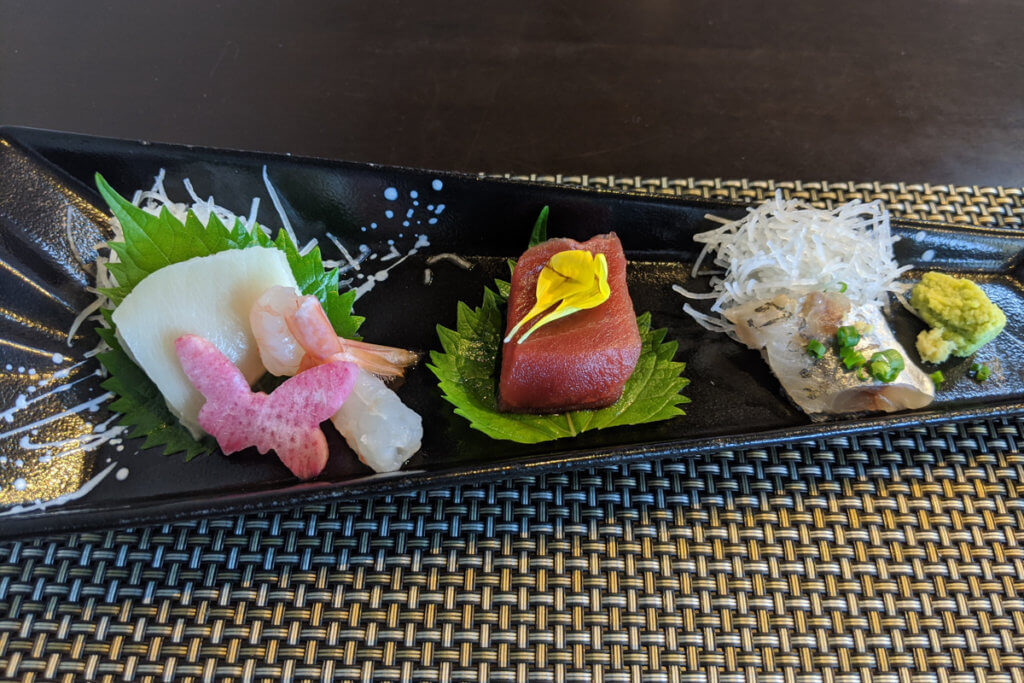 Then 'nabe' or hot pot. We needed to cook it with egg yolk and garnish it with parsley.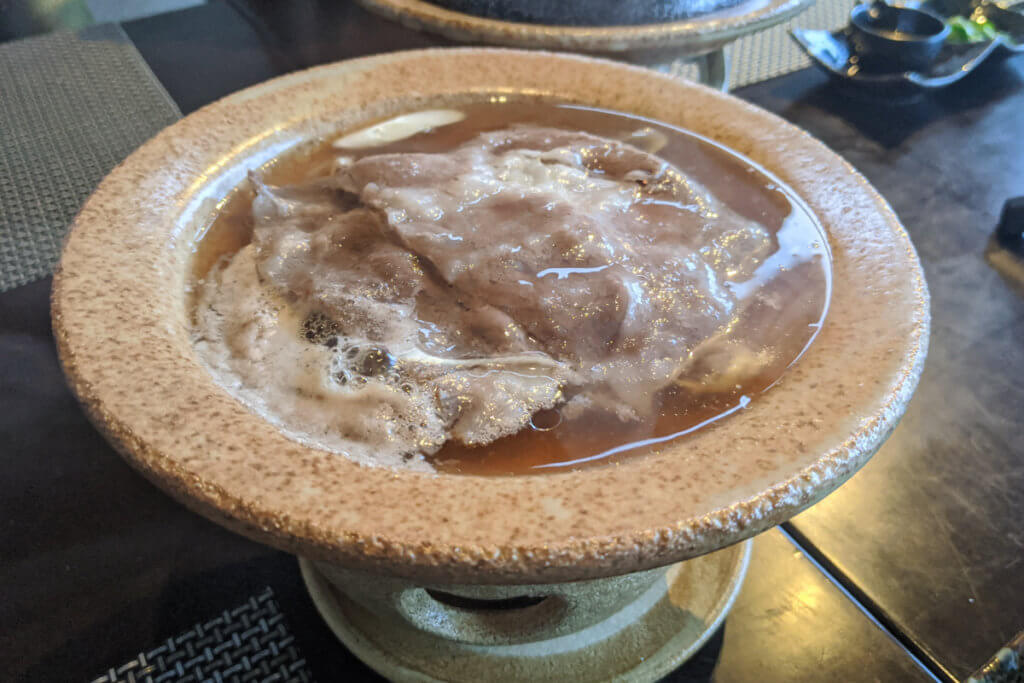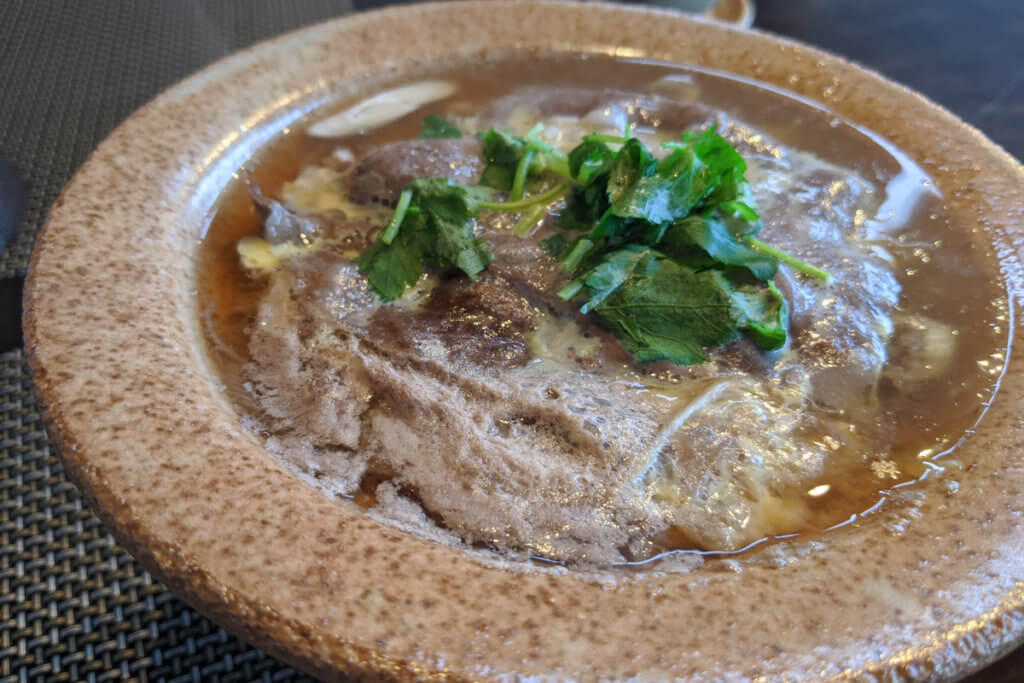 Next was 'chawan mushi' or white egg custard. This 'chawan mushi' was a summer special dish. Instead of the usual white egg custard, this was more like corn pudding with the taste of 'dashi' or stock made from kelp.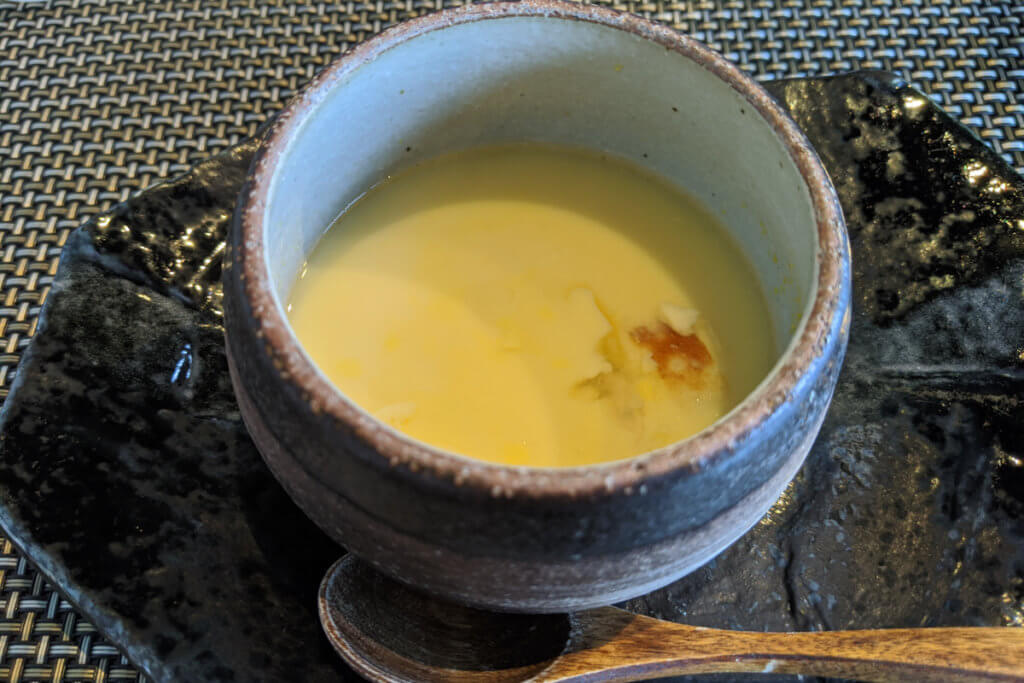 The next menu made me think that we already reached the dessert but we had yet reached the main course. I meant, usually, fruits were served for dessert but those mini fruits were only to neutralise 'nabe' after taste. Next to the dessert was a turban shell or known as 'sazae' in Japanese. The muscle from the shell was thinly sliced that we could easily pick up with a chopstick. A surprise was hidden inside the shell, flavourful miso soup and a thin cut of pumpkin. No spoon necessary,,, just take the soup from the shell. Yummmm……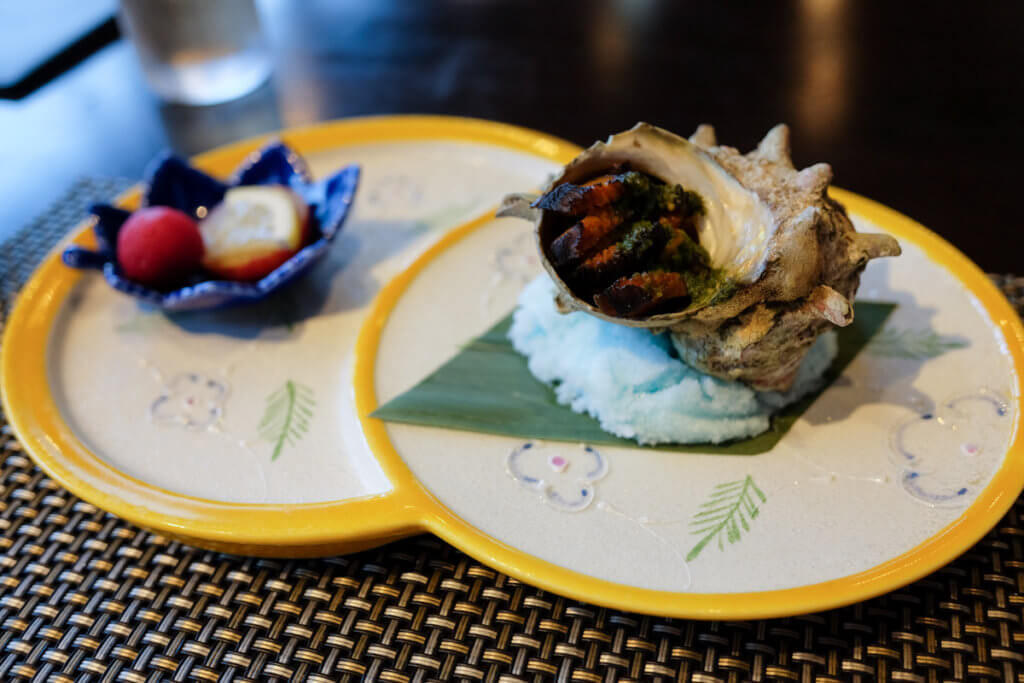 Then came the main course, chicken with baby okra and chicken meatball wrapped in zucchini bathed in dashi jelly.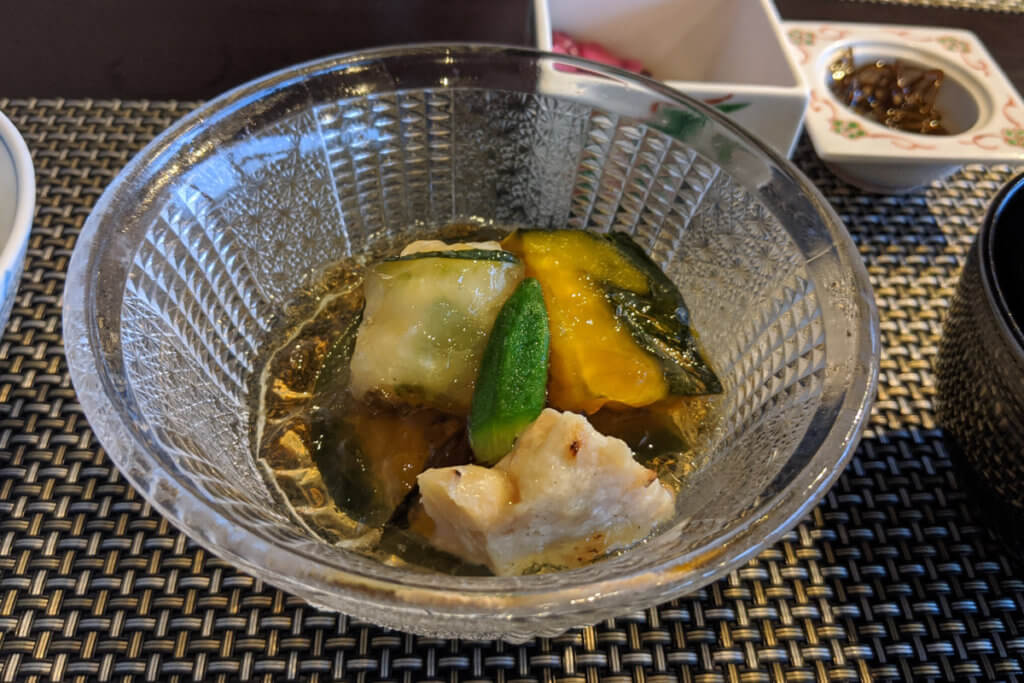 … there's always pickle in traditional Japanese cuisine.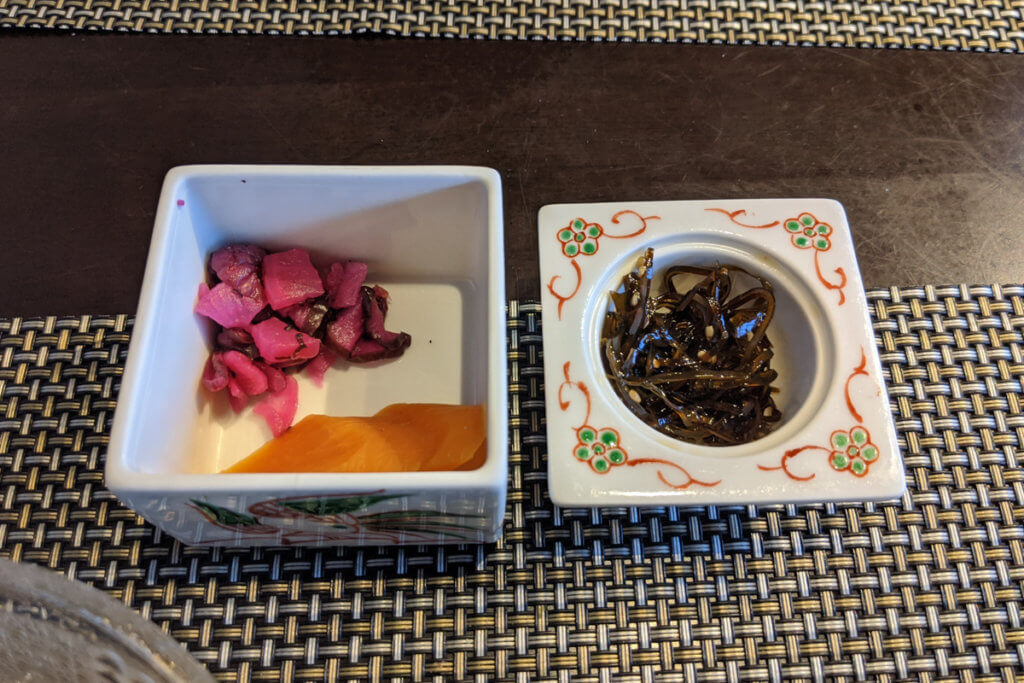 …of course there's always miso soup, traditional Japanese soup made with dashi stock from kelp and miso paste. There are different types of miso, this one used red miso. If red miso is coffee, it is full-bodied and strong..that's why I love it.
This main course came with steam rice like normally it is in a traditional Japanese menu.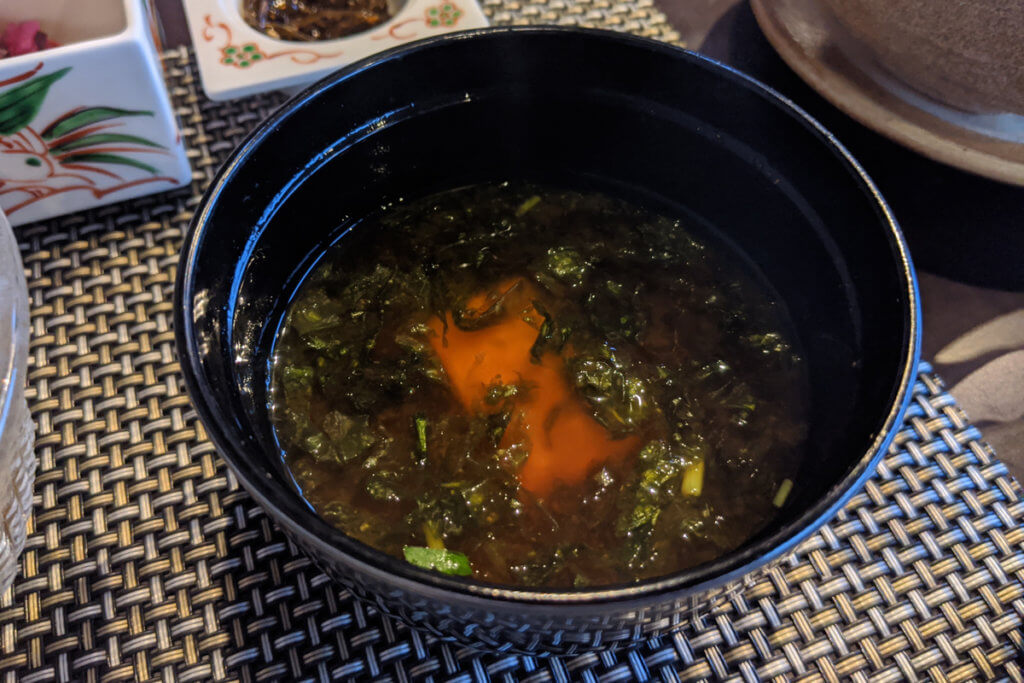 Then finally, the dessert…something sweet to close the dinner with.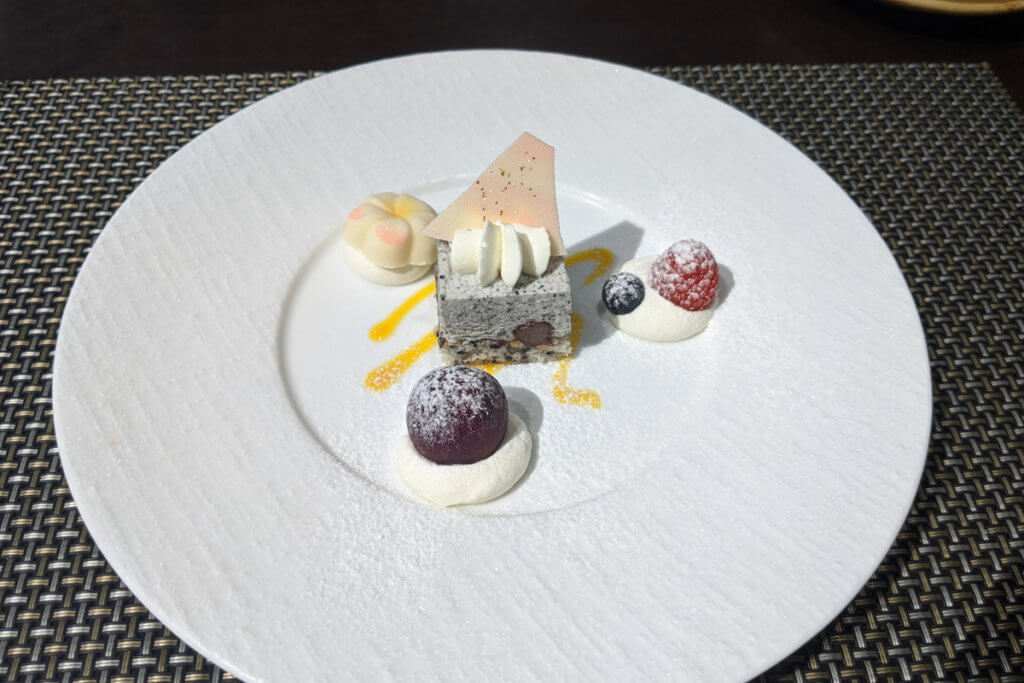 … Then came a surprise treat from the hotel: fruits platter. "Happy anniversary" was written on the plate. I knew my husband intentionally told the hotel that it was our anniversary but it wasn't. It was his birthday.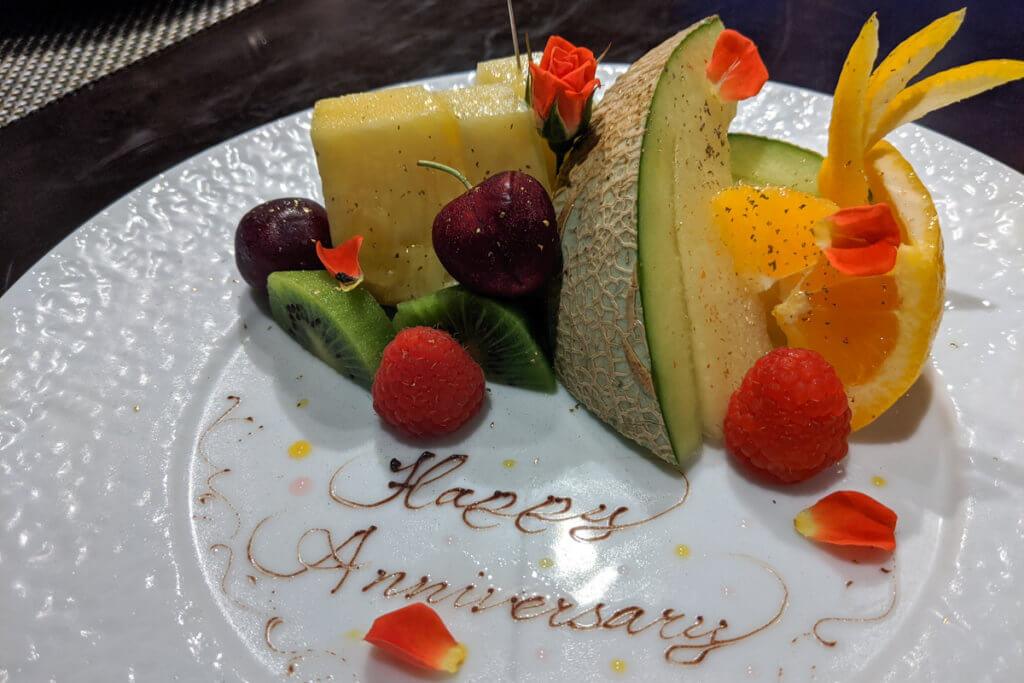 I remember the first time I had a lavish traditional Japanese dinner. Just by looking at the size of the food served on the table, I thought I would be needing additional food after dinner. I mean, the food is always thinly sliced and come in small portions. That was before I reached the dessert. I couldn't chew another bite after the dessert.
Traditional Japanese dinner always involves many courses. Don't judge the food by its size, read the menu (or just look at how many things written there), you won't be needing anything else after taking the last food on the menu..dessert.