W Retreat Koh Samui gets famous not long after its first launch. We really wanted to spend lazy days in this resort. Our wedding anniversary was the strongest reason to choose W Retreat which we may not choose for a "just holiday". W Retreat indeed an excellent place for a romantic getaway. It's secluded, private and beautiful. We love our stay here except for price. It's over priced compare to other luxury hotels service (updated opinion).
Our room, Ocean View Retreat has fabulous view of ocean. It's a little bit far from the beach but there's always buggy to take us to the beach or to restaurants.
Red Bear sitting nicely with his tie. I asked W Retreat to arrange heart shaped flower petals, flower bouquet, fruits platter and a tiny cake. Tiny cake and flower petals were complementary. Flower bouquet costed THB 1,500. Fruits platter was not very fresh. In the end the manager waived fruits cost after we complained. Thanks so much for hearing our inputs, W Retreat.
This red bear wore tie at day time and kimono at night. The card was signed by W Retreat staff members which made it so personal for us.
We spent a lot of times in the pool, even in the rain we swam. This was the same flower bouquet as in the room. We placed it here for picture taking purpose.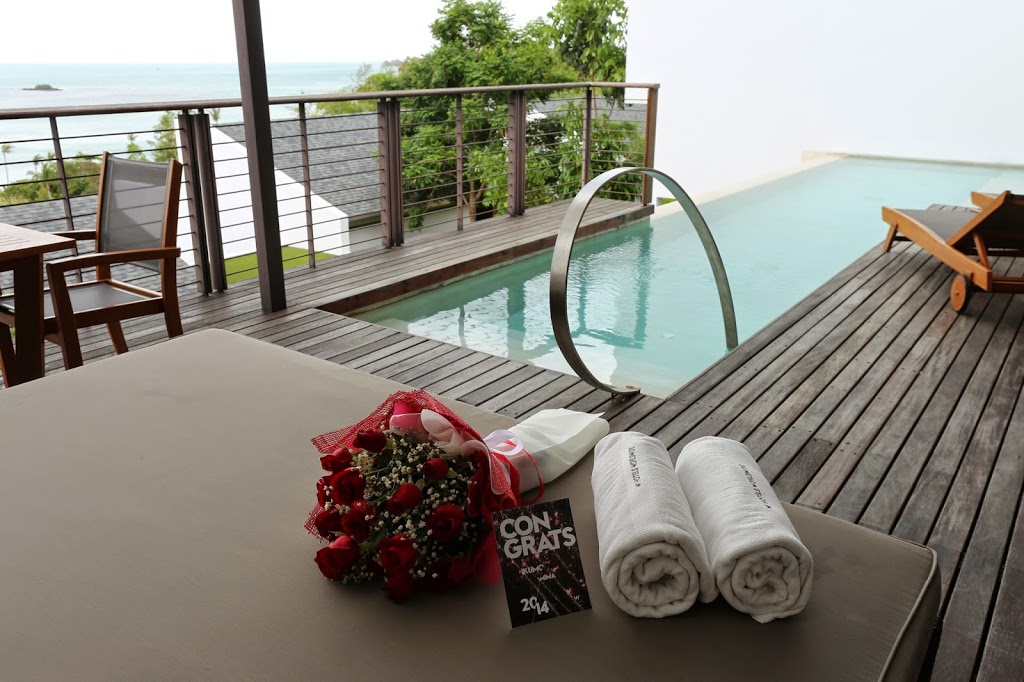 Dinner in Kitchen Table,, trust me we ate more than this that night. Foods were so tasty, thanks to the fresh ingredients used. Fried fish cake so greasy but the salad could quickly neutralized icky feeling.
Me, gaining weight (a lot), looking chubby and sleepy. 
Walking path to Retreat lobby.
Our first sunrise in Koh Samui…lovely.
W Retreat's daily breakfast was always fantastic. There were wide selection of foods and fruits but the best of all was free flow W's fresh orange juice. It's naturally sweet. I couldn't get enough of the juice.
This soup was delicious and light taste. I thought chicken and fish taste could never get along well, but the chicken broth complemented the fish cake taste well, made it not so 'fishy'.
Hubby's fave: pancake
We had these fruits every morning of our stay..heaven! I wish mango in Japan is as cheap as in Thailand.
Morning boost drink: mango, yogurt and a a little bit of spicy thing…so refreshing.
W Retreat's pristine beach,,beautiful and calm. Staying guests can do kayaking here, the kayak is provided for free by the hotel. Somehow the beach is not for swimming, even for walking inside the water one better wears walking boot provided by W. So many small sea creatures inside the water.
Public pool…none swam here..everyone was too much in love with their private pool. That's me, I didn't gain that much weight really, it was the light made me looked bigger.
Namu, Japanese restaurant…of course we don't want to eat Japanese food when in Thailand. Posing won't hurt thought 🙂 
Illy hot americano at Sip bar.
Sunset view from our balcony, gorgeous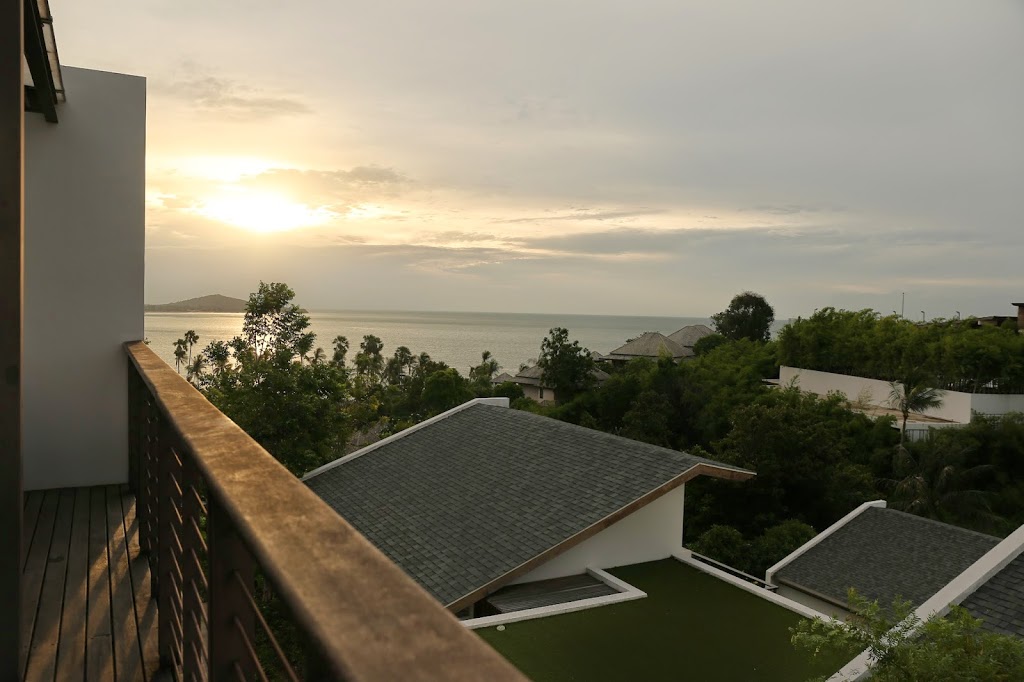 Sip Bar at night..so quite, only us were there..
The very famous Woo Bar
We moved to Ocean Front Garden room for a late check out. Although the room has spacious garden and only few steps to the beach, we didn't particularly like this room. Room size is the same as the Ocean View but Ocean Front has no view other than the garden. It has so many mosquitos. Glad that we didn't book this room.
We were extremely disappointed for not getting SPG points for staying in a very expensive resort just because reservation was made through booking.com. I've been a member of booking.com for a long time and felt more comfortable using booking.com for hotels reservation. Besides, as a preferred guest, by far I never enjoy any SPG benefit. Early check in and late check out can always be provided to guests in extremely expensive hotels or resorts.
So, this is going to be the last time I ever consider myself as a SPG member.
Thanks for reading.