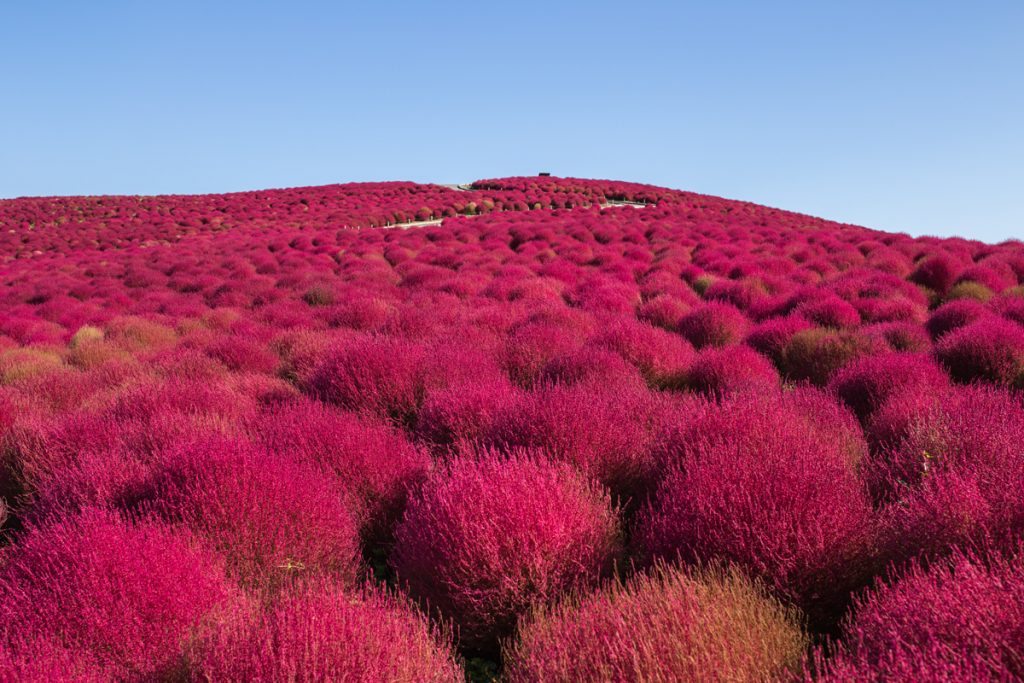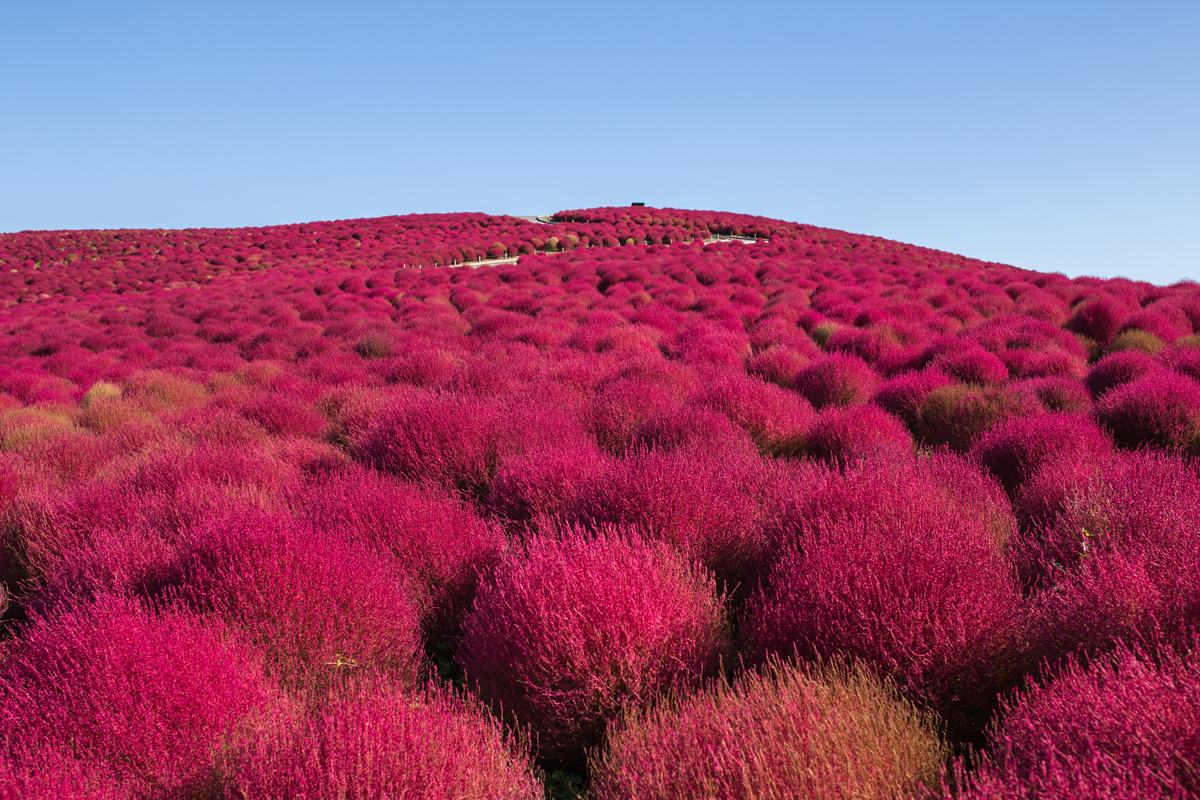 I have not been around the world much yet I made up my mind that Hitachi Seaside Park is one of the best parks ever exist on the planet. Be it in spring or autumn, Hitachi Seaside Park never fails to charm me. Every time I visit the Park, I fall in love all over again and I don't want to leave the place.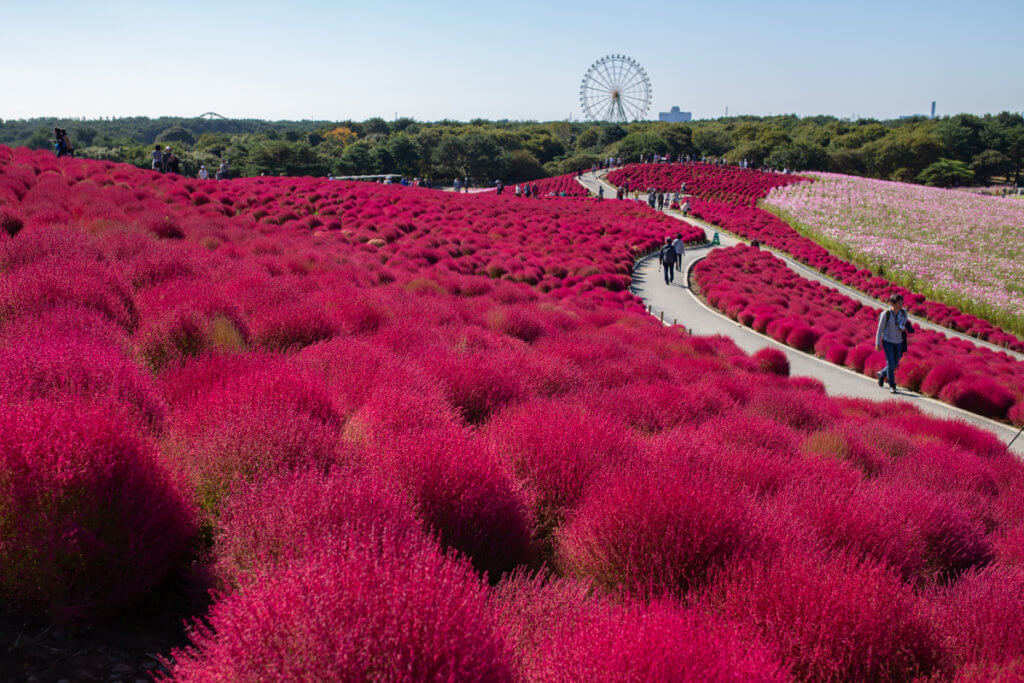 We came to Hitachi Seaside Park for the first time in 2014. Our first visit was in spring when baby blue eyes nemophila blue were in bloomed. We went back to the park in summer and in autumn within the same year. Those are the three best seasons to be in Hitachi Seaside Park.
Unlike in spring, Hitachi Seaside Park in autumn 2014 was quiet. There was small number of people admiring the beauty of the red kochia. Those days were gone now. Hitachi Seaside Park is one of the must visit places in Japan by late October to early November.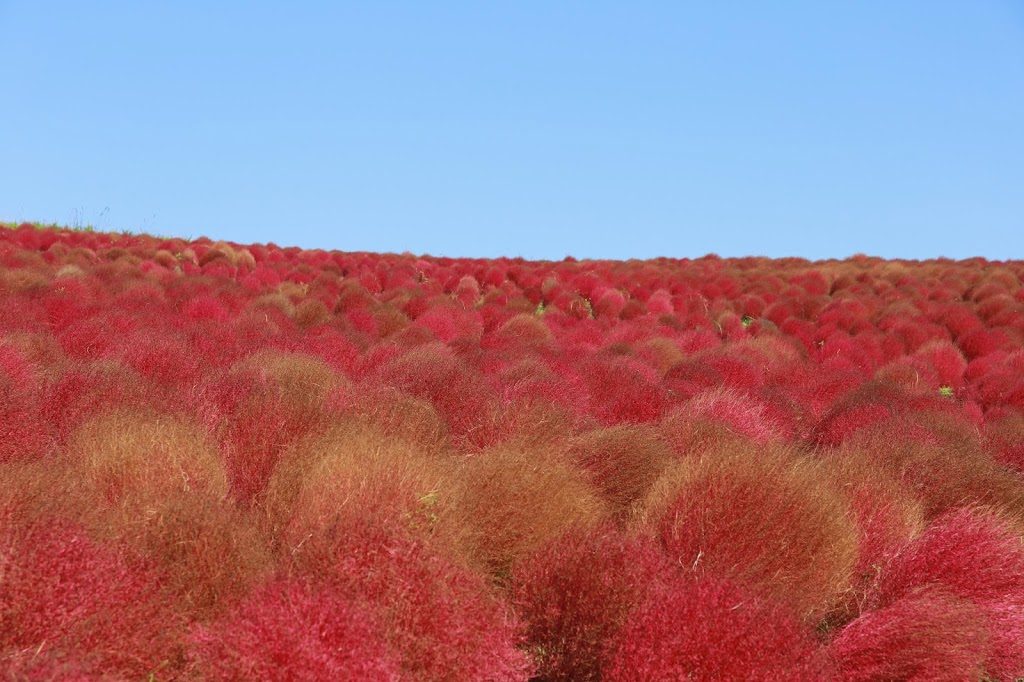 The pictures you saw above were taken from our previous visits, a few years ago. I intentionally re-post the pictures here for two reasons. First, I wanted to show you how quiet Hitachi Seaside Park was in autumn 2014. There were barely people shown on the pictures above. We didn't even arrive early to beat the horde of the crowd.
Here is the picture of Miharashi hill at the Hitachi Seaside Park in 2019. I'm surprised looking at how crowded the Hitachi Seaside Park in autumn nowadays is, as I edited the pictures recently taken. I always come up with the best time to visit but to see the red kochia late October, I cannot suggest the best timing to be at the Park.
Second reason, I want to show you all how strong red kochia is. This year Japan was hit by the violent Hagibis typhoon. Despite being hit by high speed wind, the red kochia were still standing. They were not at their best but still charming as ever. I could not take fluffy red kochia as none of the plants stood straight up anymore. So, I used old pictures of red kochia that I took several years ago.
None could look good after being hit by 162 km/hour wind speed. These cosmos were the living proof how violent the typhoon was. None of the cosmos stood tall anymore. They all leaned to where the fierce wind blew.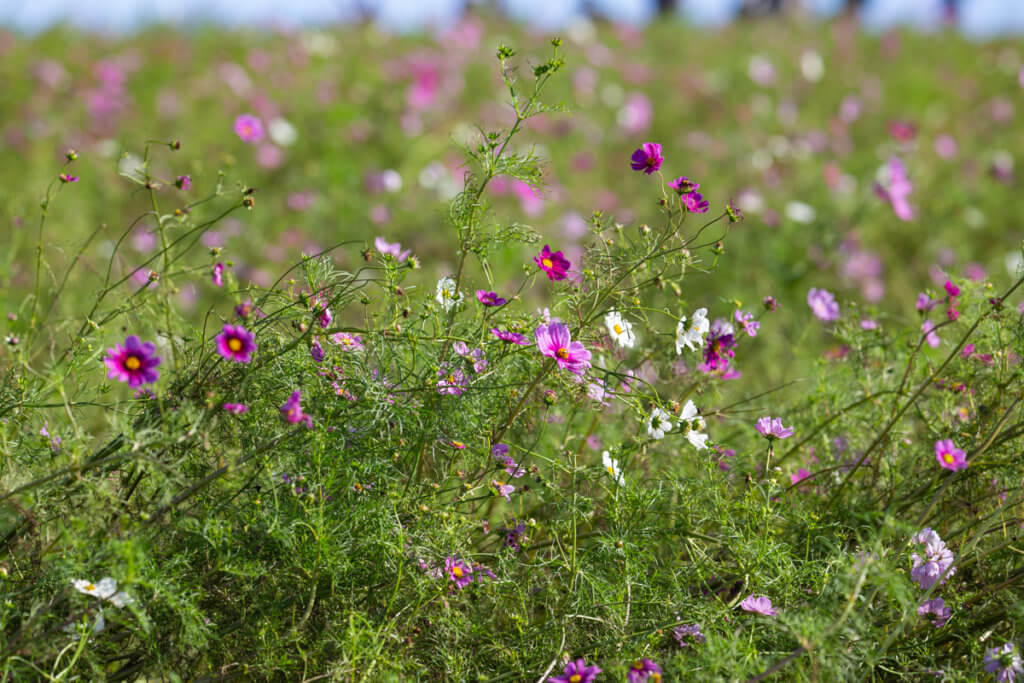 "If there're a little bit of red kochia standing, that'll be great,,,,if not, it's also fine", we told ourselves on the way to the Hitachi Seaside Park.
The moment we saw Miharashi hill, was in red…we turned like excited children who saw playground. The red kochia were still alive, bursting red colour.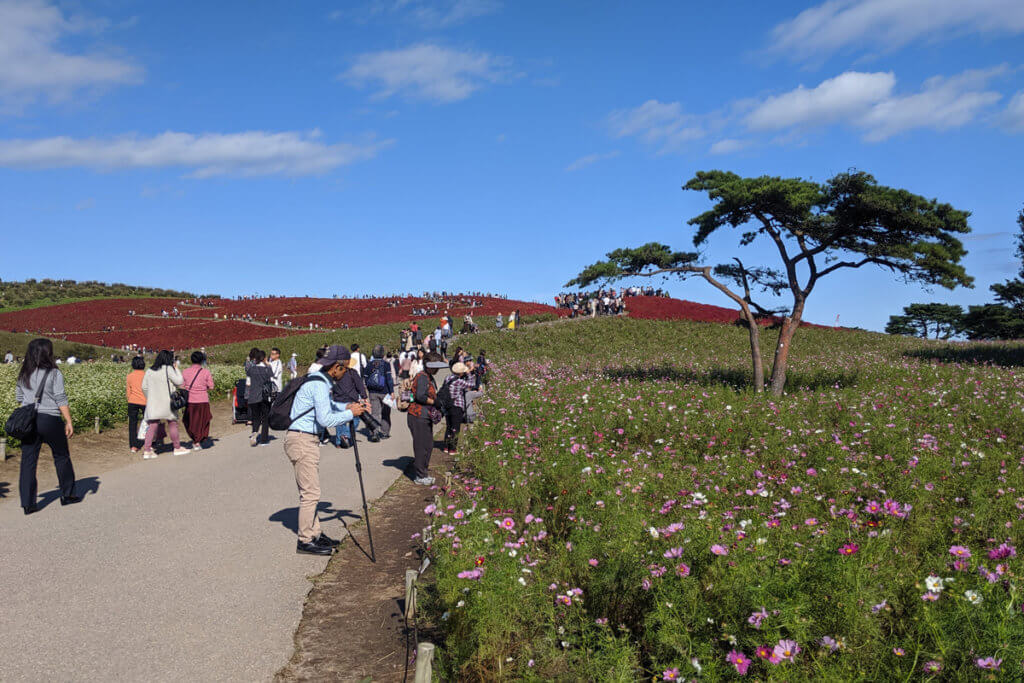 It's such a blessing that red kochia survived the fierce Hagibis typhoon. It shocked everyone actually. Almost every local discussed about red kochia's strength amidst the fierce typhoon. Everyone admired how strong the red kochia were. I normally heard Japanese said "kirei"/beautiful or "kawaii"/cute when seeing the red kochia. This time, I could only hear "sugoi"/ great from the local. It was not the time to admire the beauty of the red kochia but it's the will to survive that made people love red kochia even more.
Our visit this time was solely to take picture of our little girl. It's her first time visiting the Hitachi Seaside Park in autumn.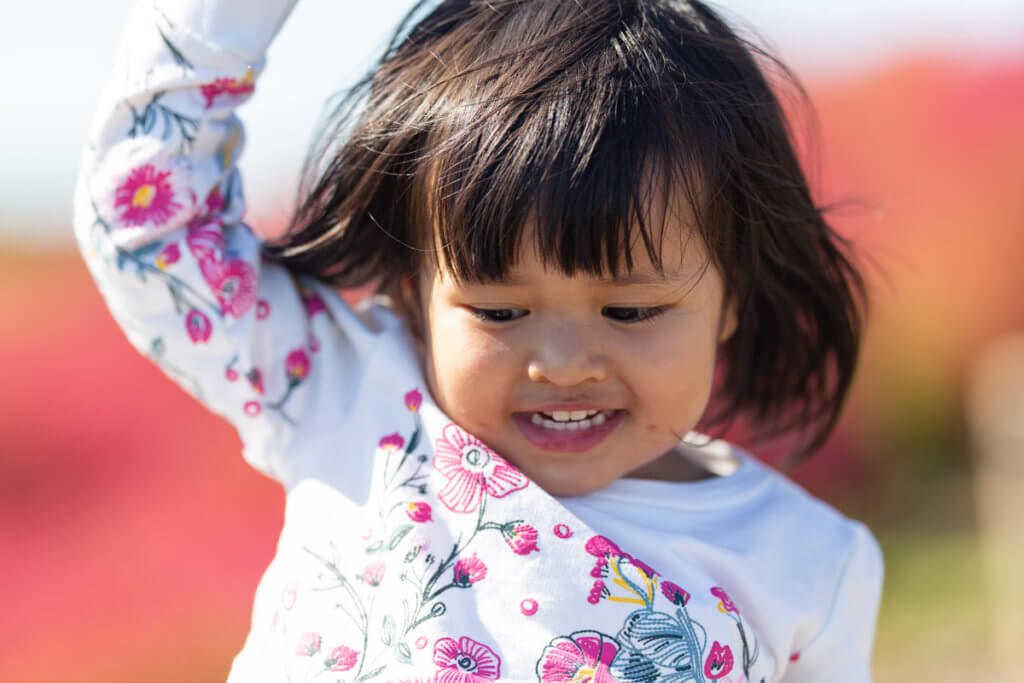 Of course, I also wanted to be taken picture of.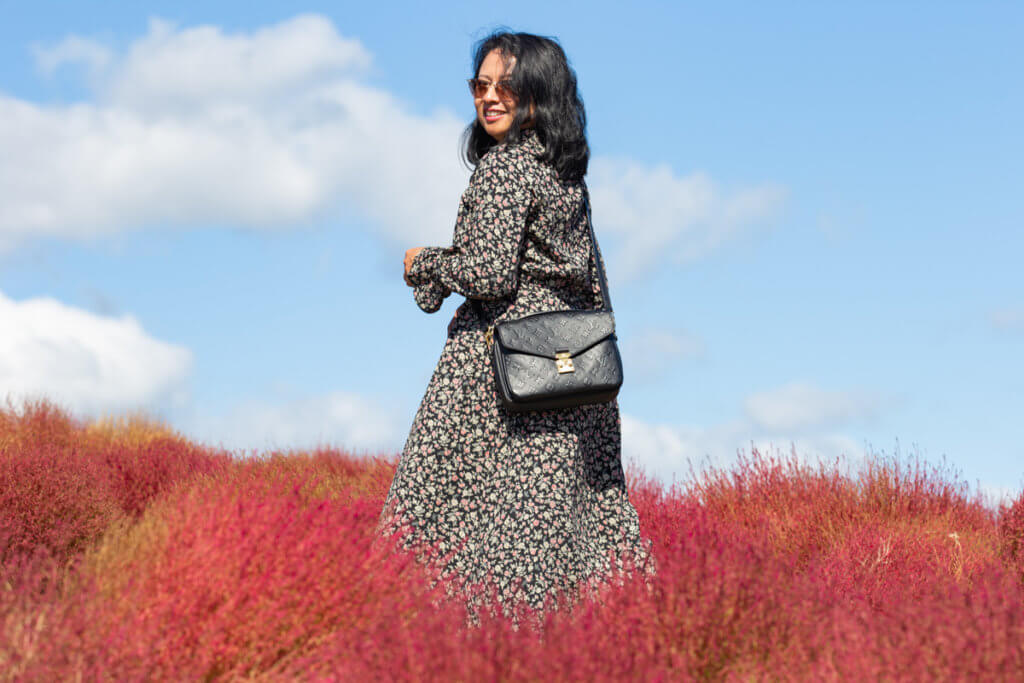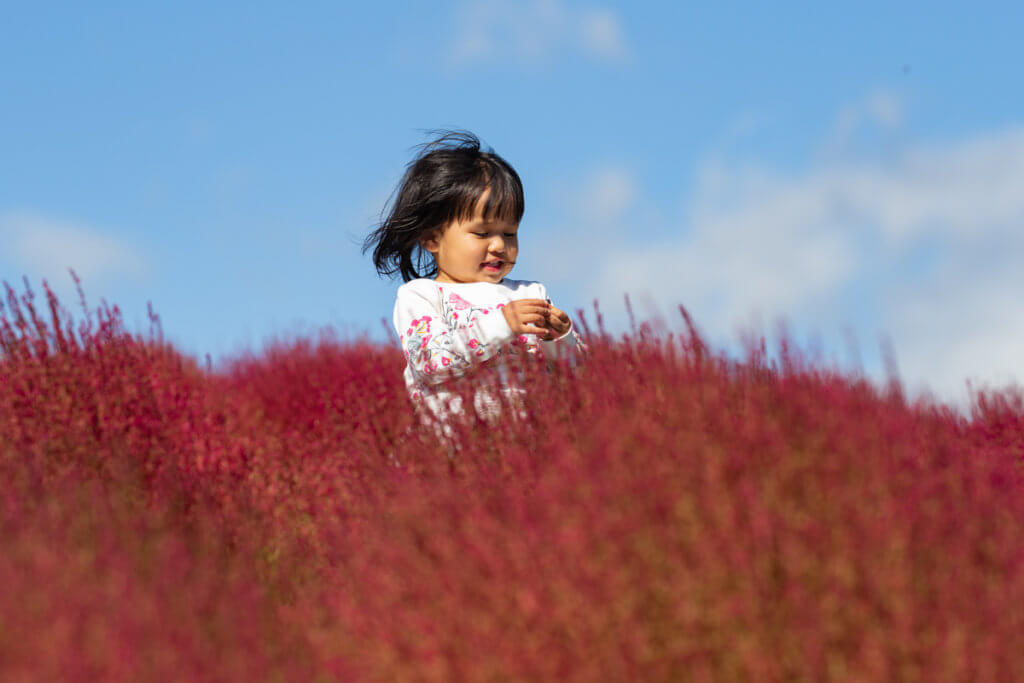 How could we take picture without anyone else in the frame? Patience is a virtue…that what was happened. We waited for people to leave the spot. There was only a few seconds for me to pose and for my husband to shoot before someone else passed by or wanted to take picture at the same spot. We did not bother much about choosing the most astonishing red kochia, like we normally did. If we got a good angle, we were good to go. Perhaps that was also the reason why none else bother to take picture as the same spot as we did.
Will red kochia be better next autumn? Let's see..until then let's wait for the nemophila blue or baby blue eyes next spring.
Things You Need To Know
Red kochia or summer cypress in Hitachi Seaside Park usually turns to red third week of October. Of course it's not a fix timing, it always depends on the temperature.
Best time to visit is 0930 am or before 10 am to avoid horde of visitors. Alternatively, after 0330 pm to the closing time. The crowd will start to disappear after 0400 pm.
Getting there: by JR Joban Line to Katsuta station, then take East Exit to busstop no 2, near Lawson.
In peak season, autumn and spring, entrance ticket can be purchased from the staff located at the bus stop close to Lawson. Ticket price is 1,080 yen for bus to/from station/Hitachi Seaside Park and entrance ticket. Keep the ticket with you and use it to get on the bus.
There're food stalls selling different types of food from bento to cake.
Moslem travellers be advised that all food are not halal certified, although some are selling seafood bento.
No vegetarian meals within the premise except sweet potato.