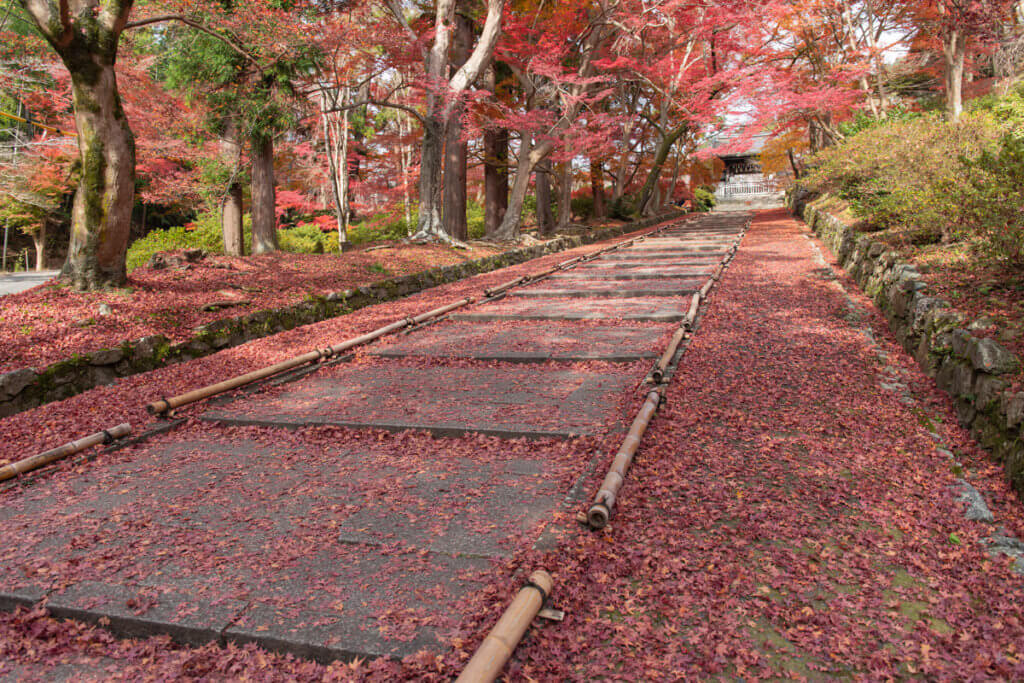 There are many stunning places to see during autumn foliage season in Japan. Kyoto is one of the best. What makes autumn in Kyoto different than in other Japan's cities is the autumn foliage turn temples and shrine into picturesque places.
I'm writing this blogpost to share some of my thoughts about Kyoto these days.
We visited Kyoto for several times before our little girl was born. We went to the most popular places and less popular yet culturally important for the local. This time our intention was only to visit some outskirt spots of Kyoto and take pictures of our daughter. We strike through Kiyumizudera Temple, and Arashiyama bamboo forest and headed to Rurikoin Temple and Kifune shrine instead.
This time we were less ambitious unlike we used to be before having Hanna chan. Every time we stopped in a place, we spared a time for Hanna chan to walk around, played and enjoyed the scenery. Our travel style has drastically changed after having Hanna chan. Nowadays, we are willingly avoid popular places, just to keep our daughter away from accidentally being "kicked" by the passerby. Because Hanna chan is always want to walk and run here and there, most of the case she will hit other people then fall.
I will write Rurikoin Temple and Kibune separately.
How Is Kyoto Nowadays?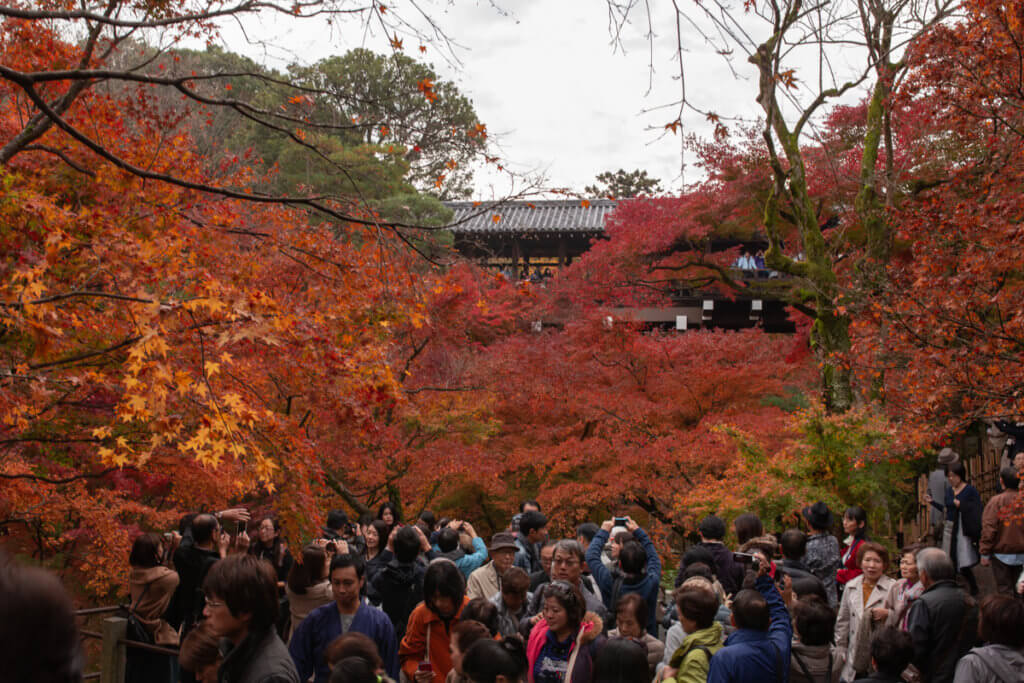 Overtourism is a real thing. Kyoto nowadays is extremely crowded. Train to famous spot is always packed with people regardless the time. The bus even worst. Carrying a backpack in a bus? There's no space for a backpack. We stood a few centimetres away from other people back and sometimes our backs greeted each other when the bus driver hit the break. The traffic, hmm.. It takes a longer journey by bus within the city centre that we wanted to scream "opened the door" to the bus driver.
How to Beat the Crowd?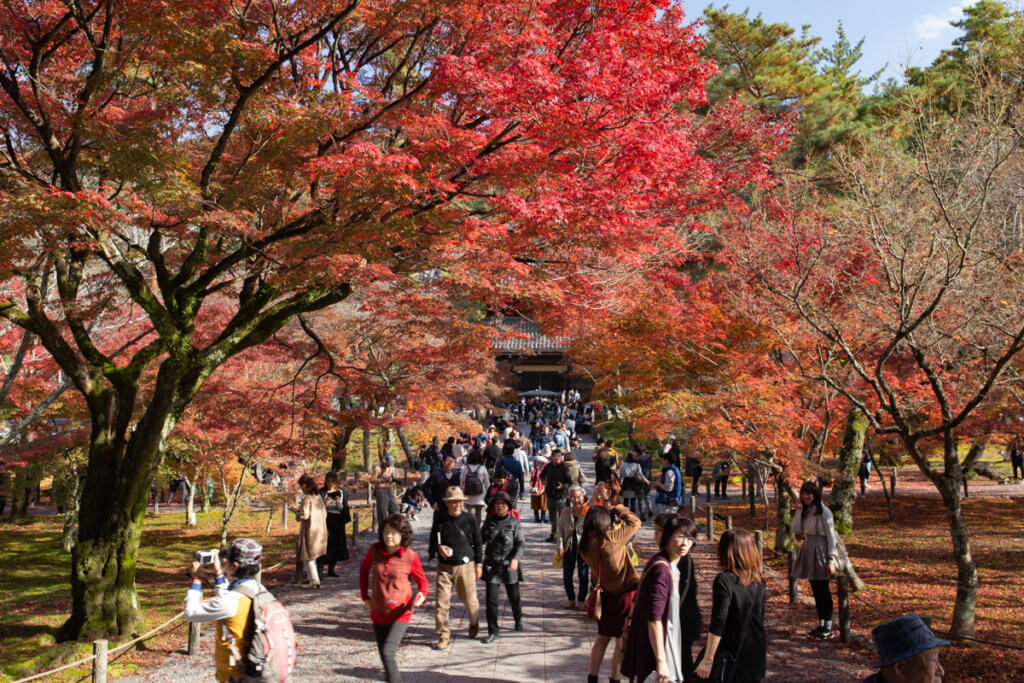 "Arrive early to beat the crowd", so people said. The question is: how early can you be? 5 am? 4 am? It depends on the place that you are planning to visit. Take the Fushimi Inari Shrine for instance. We came there once at 0730 am, there were already many people taking pictures. The next day, my husband went back to the Fushimi Inari Shrine at 0500 am, arriving at the thousand gates. There were already photographers with their tripod and of course, bloggers. My husband stood together with other photographers, mostly waiting for the people to leave the spot.
How to beat the crowd? In autumn I can no longer tell "arrive early". In June – August, I can say "arrive 4 am and wait for the sunrise.
When is the Best Time to See Autumn Foliage in Kyoto?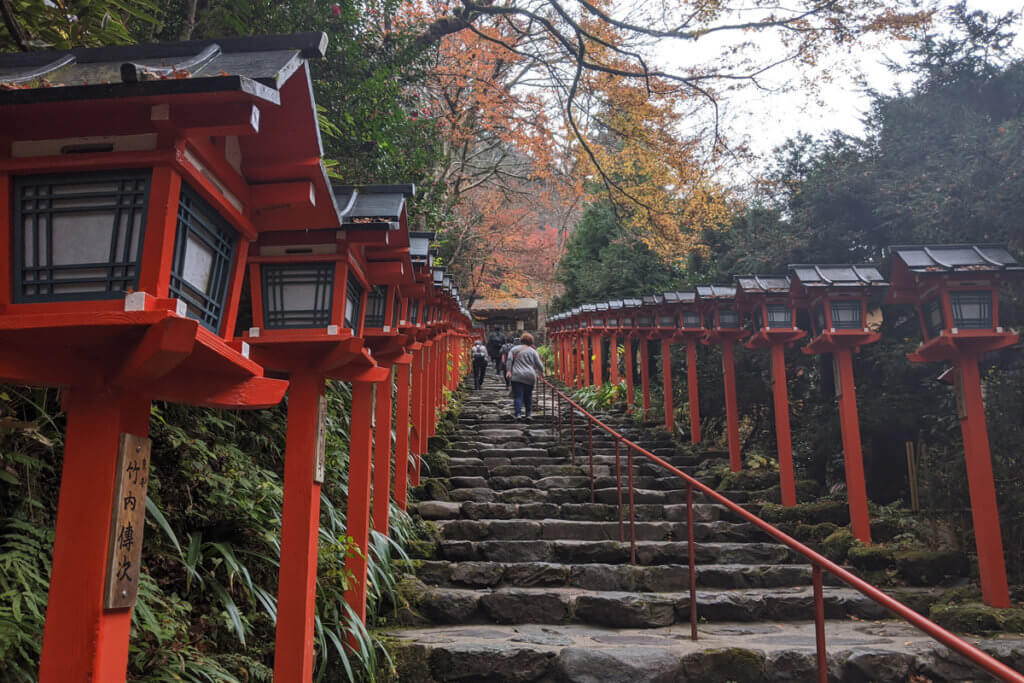 This is the most asked question about autumn foliage in Kyoto. We chased autumn foliage twice in Kyoto. The first time was in 2015 and a few days ago. The autumn foliage does not show up at the same time. This year, the autumn foliage showed up extremely late, by the end of November.
If you are staying outside Japan, it's difficult to tell the time because the foliage rely so much on the temperature. This year, the temperature decreased very slow which affected the foliage. Fortunately, we are staying in Tokyo. We can easily check the foliage in Tokyo and try our luck to pick the best time. This year, we were more than lucky. We arrived in Kyoto when the foliage turned completely to yellow and red. They were all at their peak.
Where to Stay During Autumn Foliage Season ?
Autumn foliage season is a peak season in Kyoto. People from around the world flock to Kyoto to chase autumn foliage. The hotel rates hike tremendously that can break a bank. Since we know the hotel rates in Kyoto on off-peak season, we did not think of staying in a hotel during autumn foliage season. It was not worth it.
Airbnb will be one of the best options available but you need to book early. It's wise to stay within walking distance to one of the famous spots, so you can save time to commute.
Our Airbnb stay was located within 10 minutes walk to the Fushimi Inari Shrine. It's so easy to reach to the Fushimi Inari Shrine. The best thing was it was one third of the hotel rate.
How was autumn in your country?