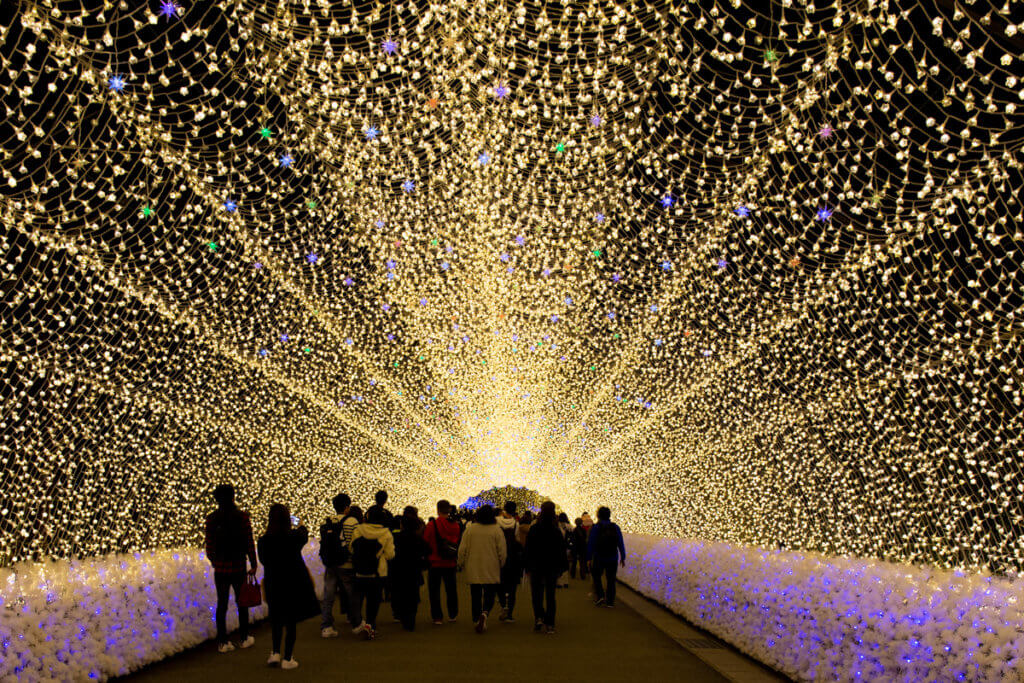 It's December.
December means illumination season kicks off all over Japan. If you have been following TiptoeingWorld for awhile, you are familiar with "bright lights" of Tokyo in December.
I'm going to show you something extra in this blogpost. We went to Nagoya, Mie Prefecture to see one of the best illuminations in Japan. Nabana no Sato is located within botanical park. The illumination theme always resembles the nature, be it flowers, forests or waterfalls. It's one of the most creative illumination themes ever.
Nabana no Sato is known world wide. It's different from many other winter illuminations in Japan that only last until midst of January at the longest.
Nabana no Sato illumination period starts from midst October to first week of May. It's the longest illumination in Japan. It's more than just winter illumination.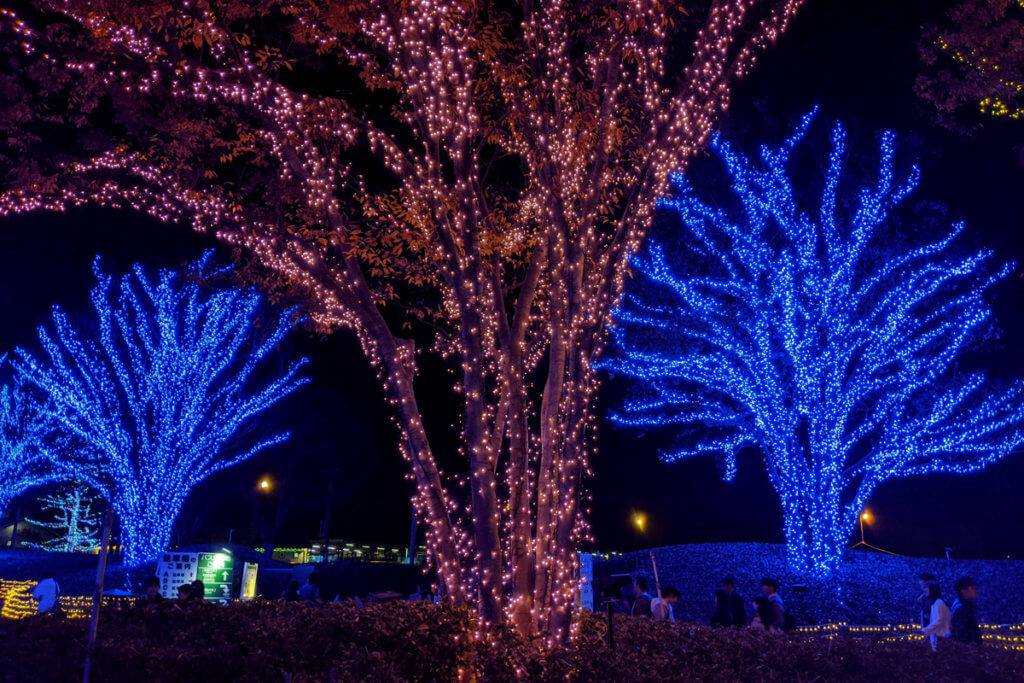 The illumination experience starts right before entering the park. These trees are located right outside the entrance gate of Nabana no Sato. That is not the main show of Nabana no Sato. Let's say, it's just an introduction to varieties of lights inside the park.
The autumn foliage were still there when we visited Nabana no Sato at the end of November.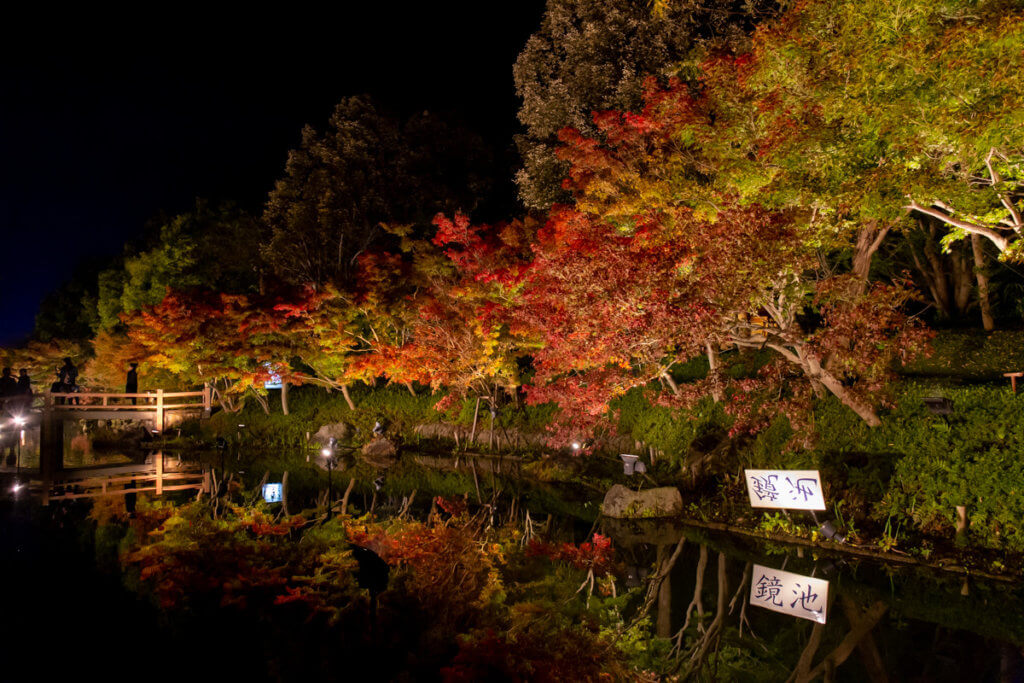 These LED lights are installed in an artificial river (or pond). The lights change colour following the rhythm of the music. This side of the park has less people around for some reasons. First, it's too dark to take picture. Second, it's not the most famous spot of Nabana no Sato.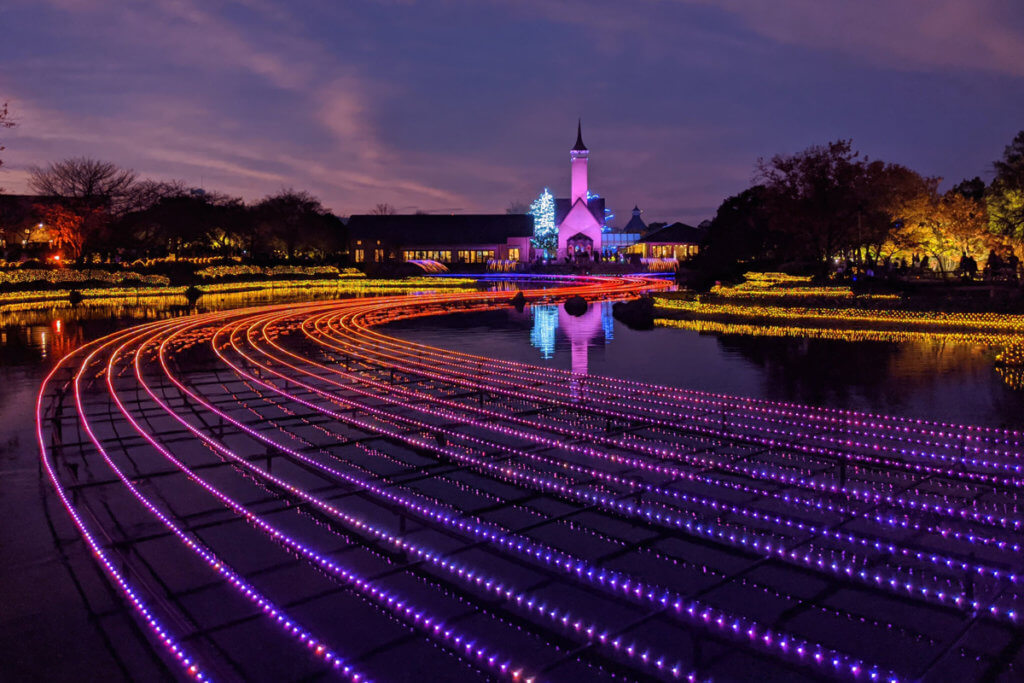 The most famous and popular spot of Nabana no Sato is the flowers tunnel. Let's just say it as a flowers tunnel because the shape of the LED lights resemble flowers.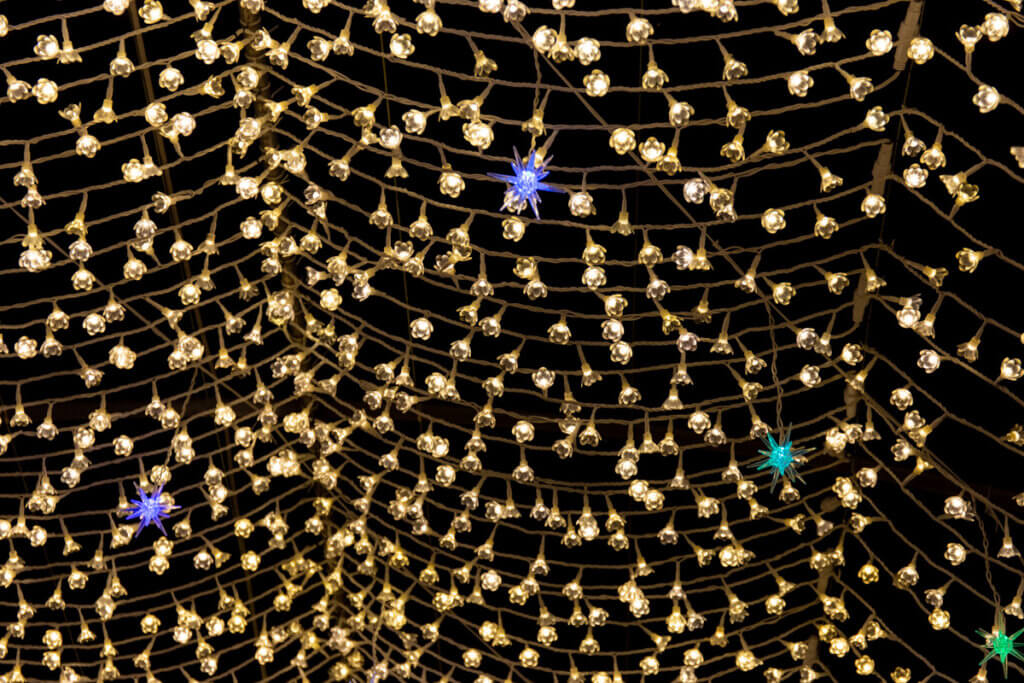 These are the LED lights at one of the illumination tunnels in Nabana no Sato. These lights are arranged in such a way that mimicking flowers tunnel in spring. This part of the illumination is the most stunning of all illumination spots within Nabana no Sato.
This tunnel was the reason we came to Nabana no Sato. This tunnel is also the main reason for people to visit Nabana no Sato. The size of the crowd swarming the flowers tunnel shows how popular this tunnel is.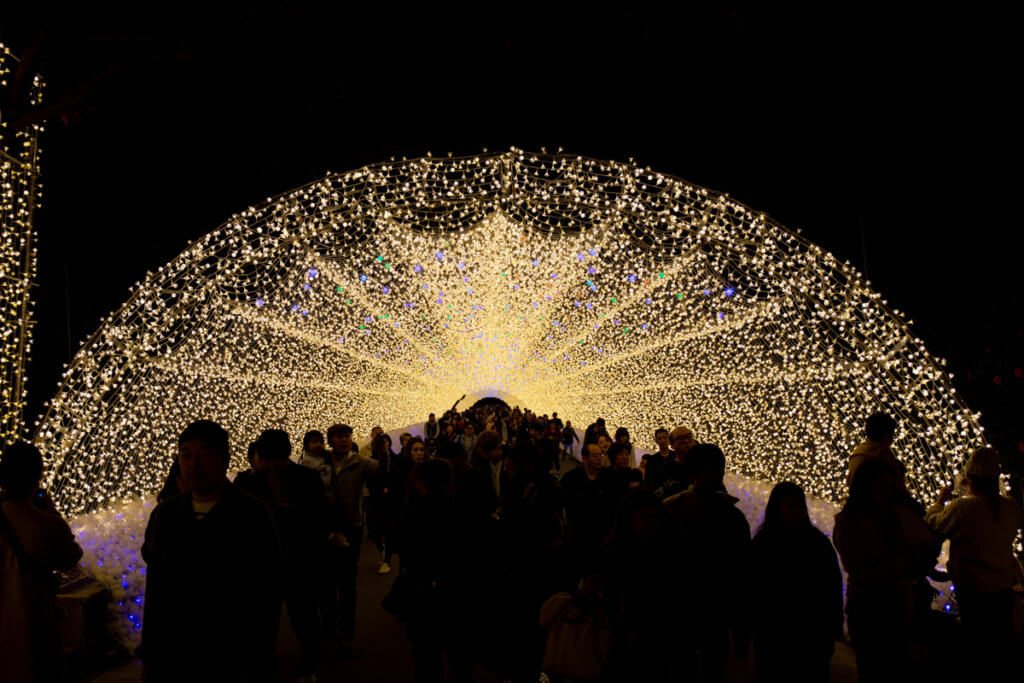 There's no way to avoid the crowd regardless how patient you are. We stayed within the tunnel for nearly 45 minutes, because Hanna chan did not want to leave the place. There were always people passing the tunnel, stayed there to take some pictures.
I guess it needs more than patience to wait for the tunnel to get quiet. You will need a huge luck. This time was not our lucky night.
There is another flowers tunnel located next to this one. To get there, you will need to pass different illumination spots starting from a wall of LED lights that lead to a projection mapping site. The projection mapping is an impressive show. It deserves a visit too.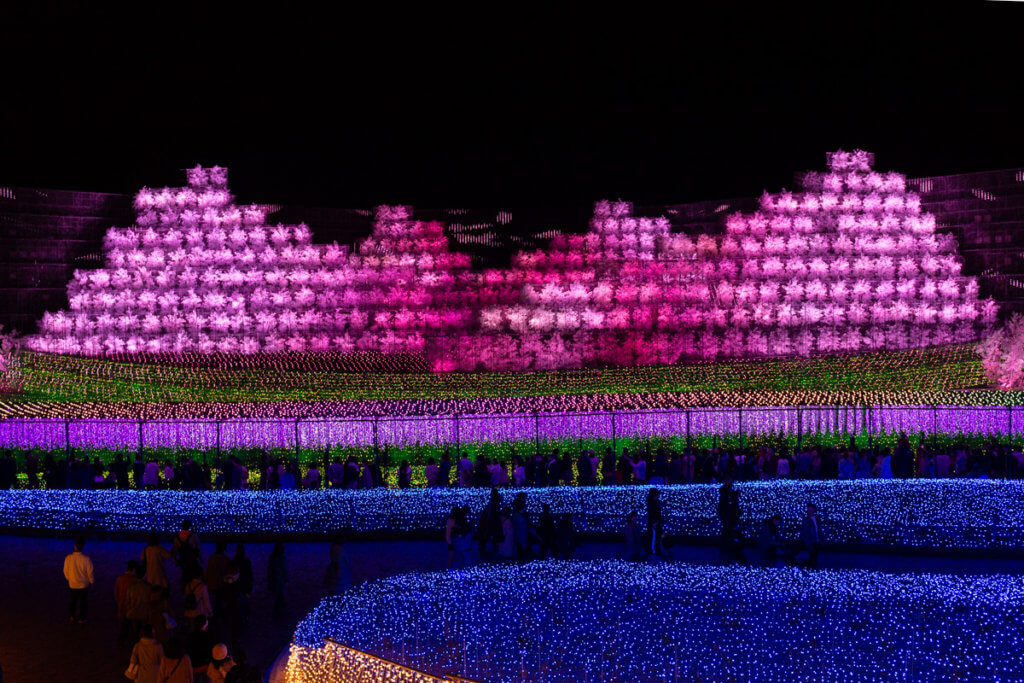 This year, the projection mapping shows four season cycles. The show starts from spring, summer, autumn and winter. There's an audio background played during the projection mapping. The rhythm changes according to the change of the season. It is adjusted in such away that it plays our emotion to the state that we did not want to leave.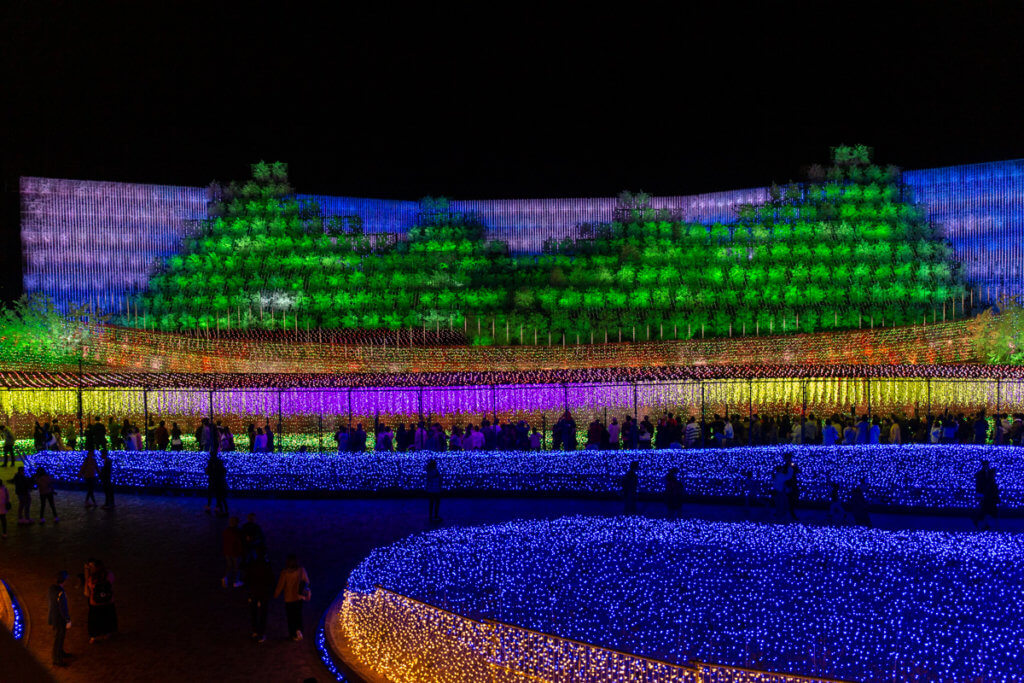 There's a wisteria shape LED lights located in front of projection mapping show. I call it as a wisteria illumination because they reminds me so much of wisteria in spring.
This wisteria light colour changes according to the projection mapping show. At one time the colour changes to yellow, purple then grey.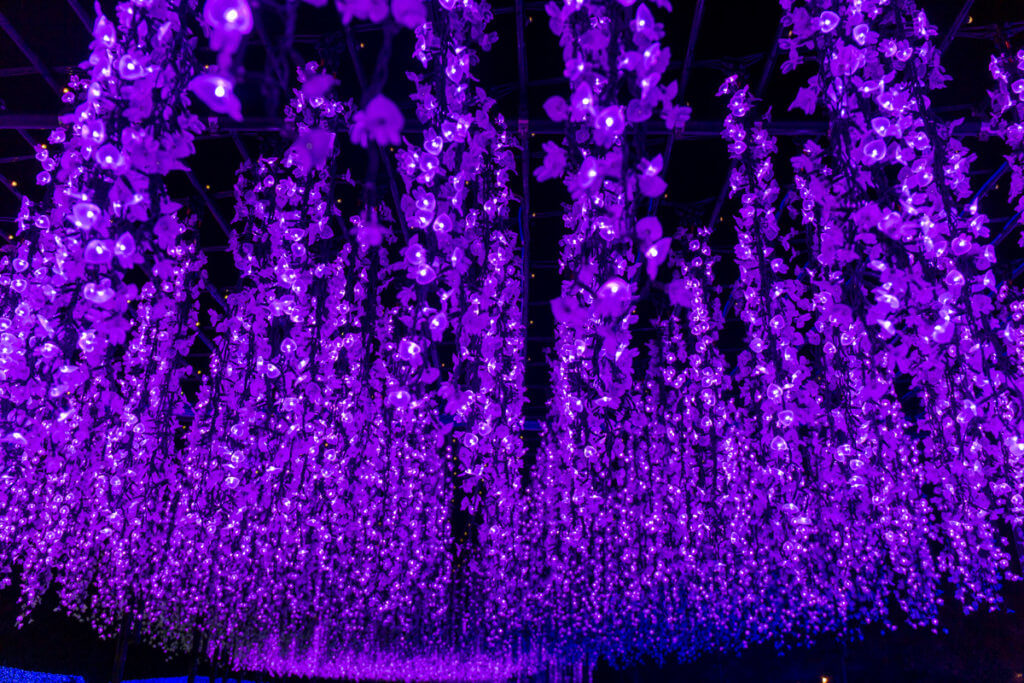 We spent 2,5 hours going around Nabana no Sato. The park is a huge place to explore. Hanna chan had the fantastic time exploring around the area.
How about dinner? Is there any restaurant within Nabana no Sato?
There are some restaurants and many food vendors in Nabana no Sato. We chose to dine in Japanese restaurant serving seafood because our ticket came with 1,000 yen dining coupon that we could use inside the restaurant. We did not have to wait to get the table at 0730 pm.
This was what my husband ordered. It tasted surprisingly good. It's oyster on a bed of rice, clams as a side dish and pickle.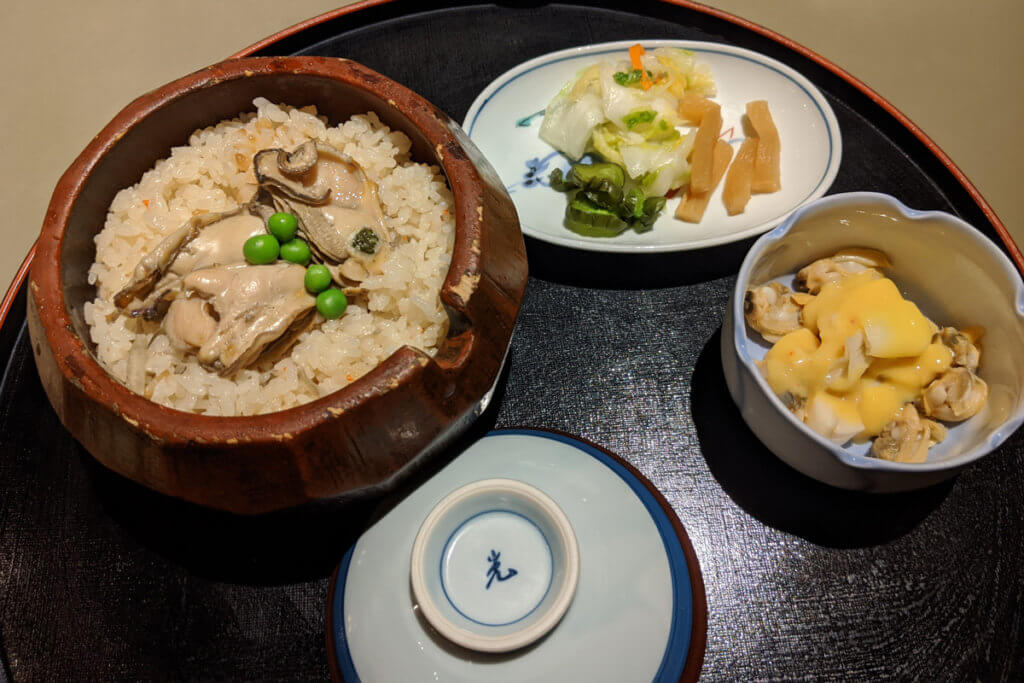 Has winter illumination started in your city?
Practical Information
Entrance ticket : 2,300 yen / adult. Ticket inclusive of dining coupon worth 1,000 yen
Getting there : 25 minutes by Kintetsu express train to Nagashima station, continue by taking a direct bus to Nabana no Sato. The bus stop is located in front of Nagashima train station.
The illumination starts at 0500 pm ends at 0900 pm.
The park opens at 0900 am. You can go around the park and see botanical garden before the illumination starts.