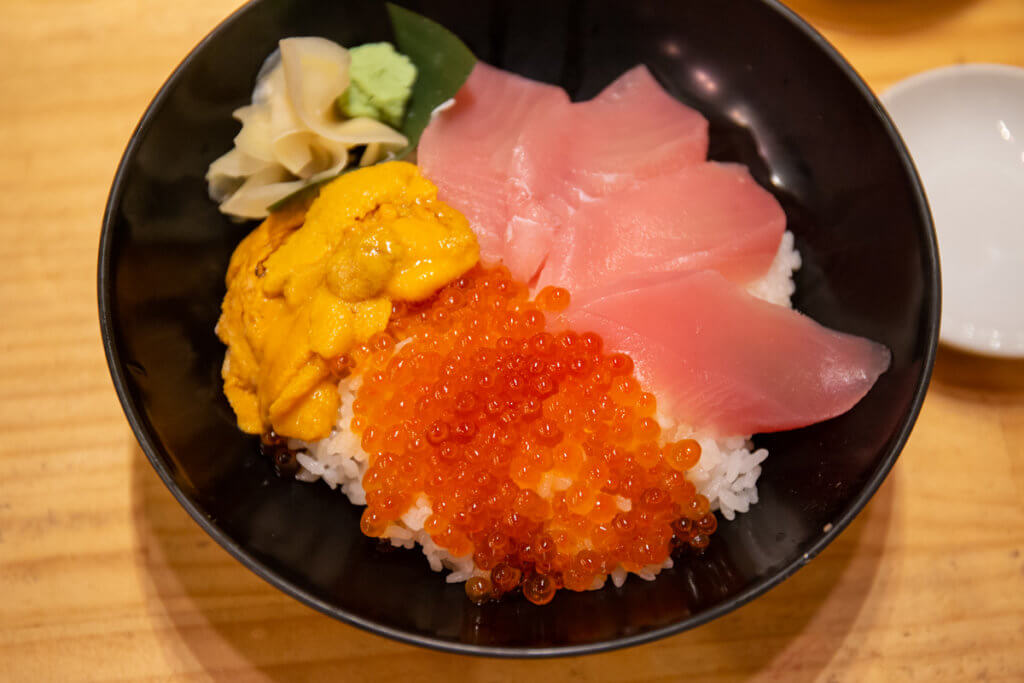 Hello,
If you have been reading TiptoeingWorld for awhile, you know that we love dining outside. And, I love to share with you if the food is worth paying for.
We recently went to Tsukiji fish market for a brunch. This time, we wanted to have fish bowl in a popular restaurant. We also wanted to check if the quality of the fish (read: freshness) is as high as before the main fish market relocated to Toyosu.
Tsukiji fish market has long gone. What we have in Tsukiji now is outer fish market, where restaurants and street vendors are. Tsukiji outer fish market still exists without no sign of getting less visitors.
Honestly, we doubted the quality of the fish served at any restaurants in Tsukiji outer fish market. I meant, when the fish market was still there, all restaurants could easily source the fish and other seafood from the market. Winter or summer the quality of the fish served at restaurants in Tsujiki outer fish market were always high. This time we were so unsure, yet we wanted to try. So, off we went for seafood hunting.
It was slightly over 10 am when we arrived at Tsukiji fish market. Instead of choosing a restaurant, we decided to wander around Tsukiji outer fish market. It had been quite awhile since our last visit to Tsukiji. The outer market was still crowded with overseas tourists, just like before the fish market relocated. I think it's one of the places in Tokyo where you can hear many different languages spoken.
After wandering for awhile, we finally decided to dine. This time we avoided popular restaurant chains like Sushizanmai, because we wanted to try something new. We chose Itadori Fish Market. It's also a popular chain restaurant that we are familiar with.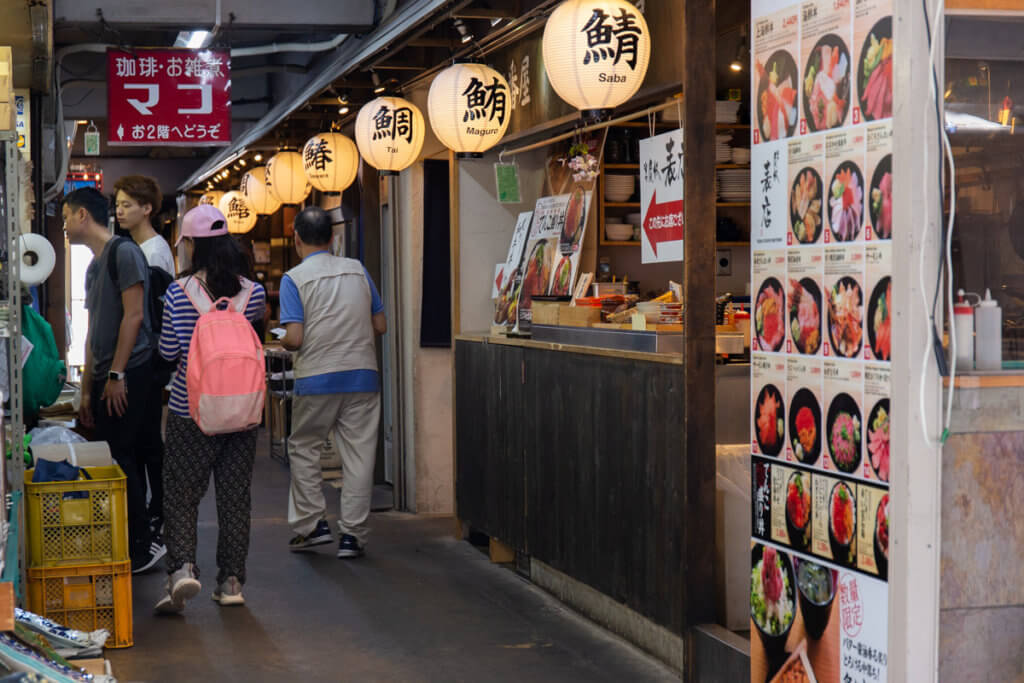 We dined in one of this chain restaurants last year, when we visited Japan for holiday from Spain. We had unidon or sea urchin bowl. I can still recall how delicious the taste of the sea urchin bowl was. It was one of the best I had ever tried.
The picture below is the unidon bowl we tried last year. There were five different types of sea urchins from five different regions in Japan. It's one of the food worth queuing up for at Tsukiji.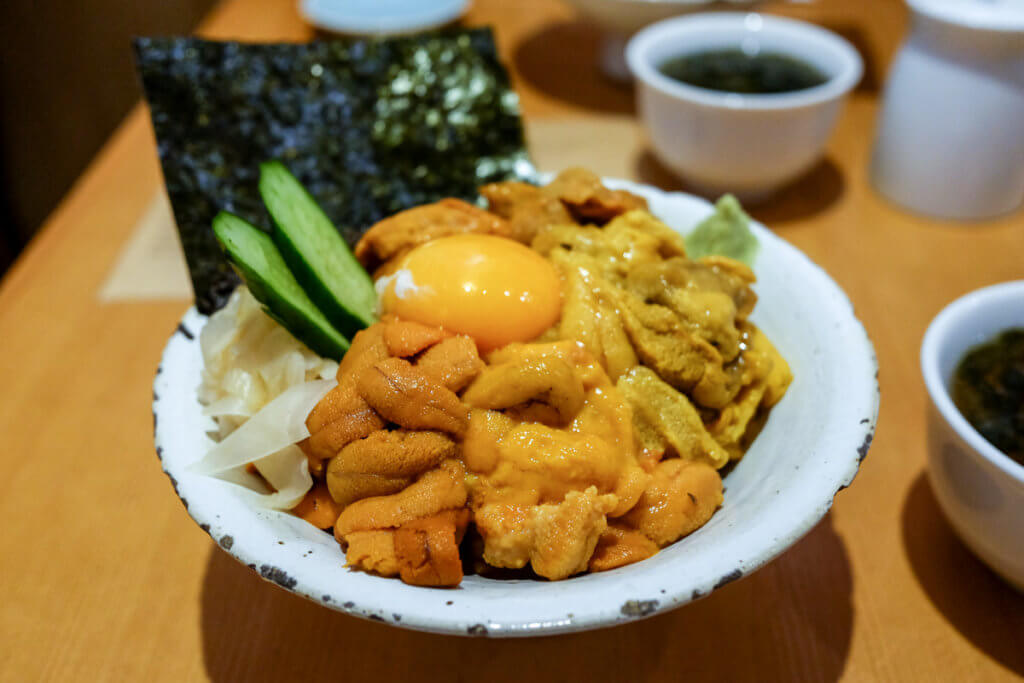 Itadori Fish Market looks modest from the outside, rather small in fact. It's not a tiny, cramped restaurant that we initially imagined. It's a two floors restaurant. There's a sushi bar with more than 10 seats at foyer of the restaurant, a large dining area for 20 people or so and a rather small dining space. We got a table in a small dining space, the best spot for a family with a toddler like we are.
Itadori fish market has wide varieties of menu, three pages menu. All are kaisendon, fish on a bed of rice or fish bowl. Surprisingly, there's also money exchange service inside the restaurant. I'm not sure if it's open for public or limited only to dine-in customers who don't have Japanese yen in cash.
In less than 15 minutes, we had our fish bowls served. This was what I ordered: raw shrimp, tuna, salmon, octopus scallops, fish roe and sea urchin on a bed of rice. Ginger pickle and wasabi were placed together in the same bowl. This kaisendon costs 2,440 yen or approximately $22.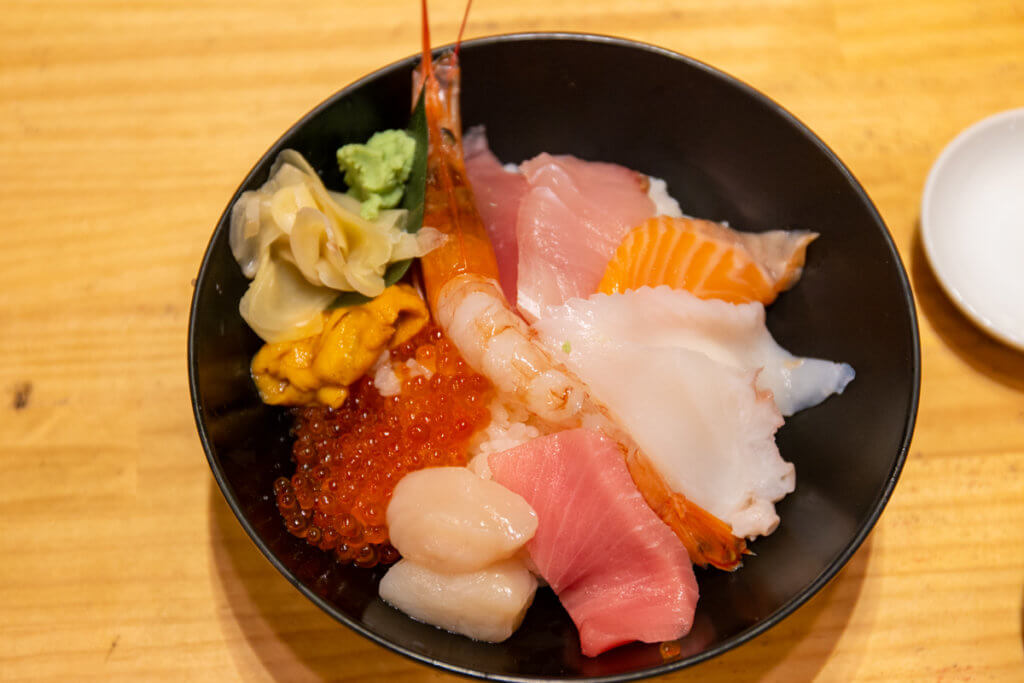 The taste: excellent!
Gone all my doubts about the quality of the seafood after the first bite. Everything inside the bowl was fresh. That sea urchin was juicy and sweet. The octopus was thinly cut, properly prepared and easy to chew. The scallops were delicate and sweet, not chewy at all. The tuna was yummy too although it was not the best tuna cut but it's still tasty. The rice portion was slightly too much to finish. So, I gave half of it to my husband. He's a rice person, like many other Japanese.
My husband also ordered kaisendon with a more simple choice of seafood. Tuna, fish roe, sea urchin, ginger pickle and wasabi in the bowl costs 2,180 yen. He said it's better to limit choices of seafood in kaisendon to enjoy the flavour of each fish. Well, I thought he wanted to have a bigger portion of each seafood instead of having a little bit of everything.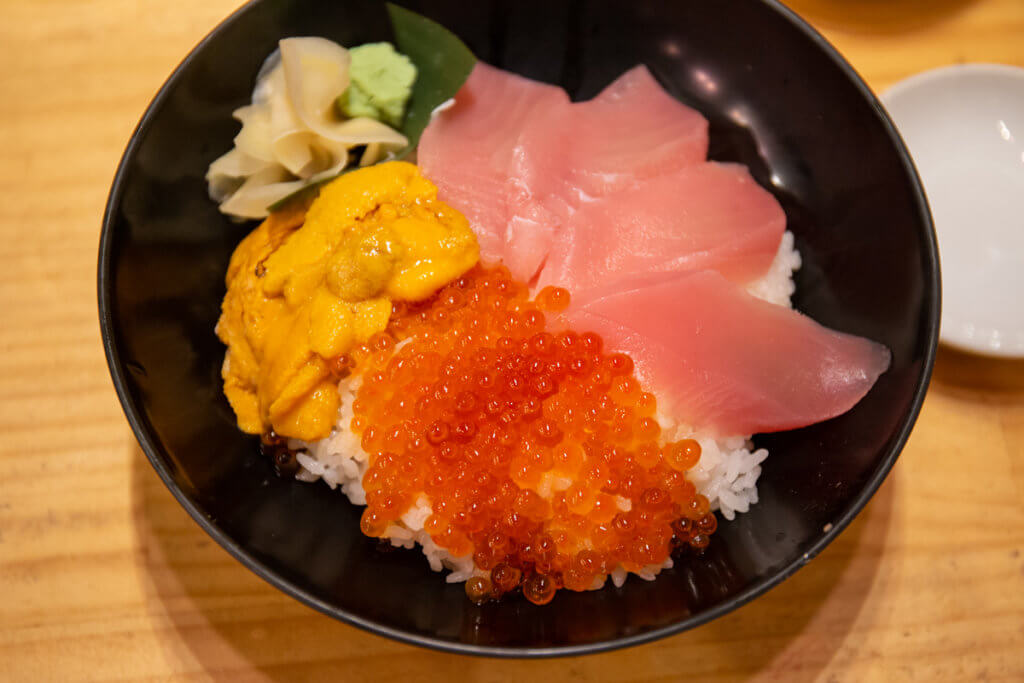 He too agreed that the tasted of the kaisendon was perfect, just like we remembered it the last time we ate at Tsukiji outer fish market. I tried a little bit of sea urchin from his bowl. His sea urchin was better, tasted sweeter.
It was 1230 pm when we finished eating. The restaurant was already full house! It was right decision to dine before 12 pm, before everyone else think "oh, it's time for lunch". Should we decided to eat after 12 pm, we would have to wait for a table.
Is the food worth trying? Obviously, yes. Fresh seafood, tasty, great cut of fish, better yet big portion.
Best time to dine? Before 12 pm. Best of the best before 10 am. Early bird get fresh cut of fish, plus no queue.
How much it costs for Kaisendon? Price varies, depends on type of fish served in a bowl. If kaisendon has fatty tuna belly cut or sea urchin, the price is more expensive.