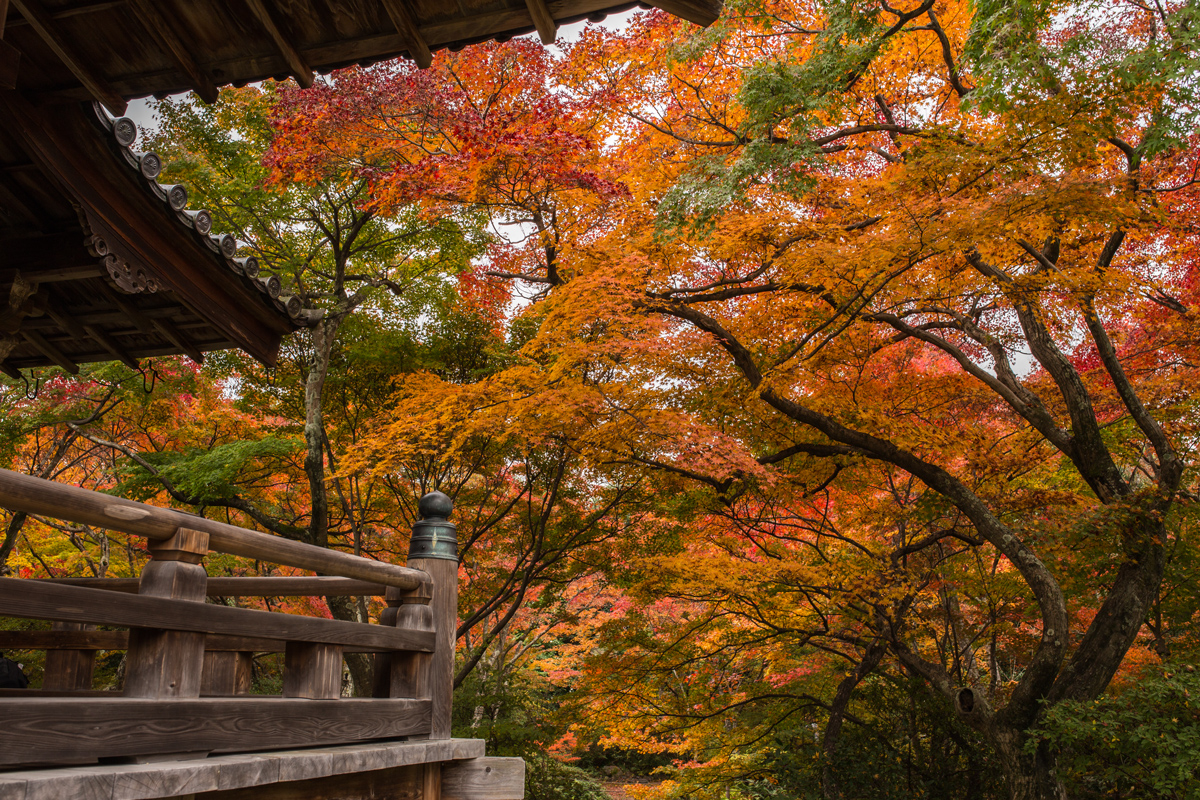 If there is one place one should never skip while visiting Japan for the first time it will be Kyoto. The World Heritage Sites, bamboo grove, Gion, traditional Japanese houses, the food are to name some of the experiences Kyoto can offer to travellers from around the globe. When in autumn, temple and autumn foliage are two things we all want to see from Kyoto.
We've been to Kyoto several times but never in autumn. This year we were so compelled to visit Kyoto in autumn with one thing in mind: chasing autumn foliage. There were so many places to visit yet so little time. We got to be realistic with the time without losing the quintessential of autumn in Kyoto. So we worked on travel itinerary that jam-packed with list of places to visit.  The great thing about having travel itinerary was that you would be able to manage time wisely without losing the sense of having holiday.
As much as we wanted to visit every popular sites, we were short on time. Two days one night were all we got. So, we divided the list of places to see based on walking distance: Eastern area on the first day and Northwest on the second day. Since it was a peak season, we avoided taking bus, stuck in traffic jam then the time slipped from our hands. Taking trains and walking were the most effective way (and the cheapest) to capture Kyoto's autumn quintessential even if it meant coming back home with stiff legs.
There are many places for autumn foliage sighting in Kyoto. Some of them are popular in all seasons and some others are only known to the local. To our surprise the local known places are even more stunning than the more popular sights and of course less crowded too. There is no best hours to visit autumn foliage sites because those places will be crowded the minute admission locket opens.
Here are Kyoto's best places for autumn foliage sighting:
East of Kyoto:
Kiyomizudera Temple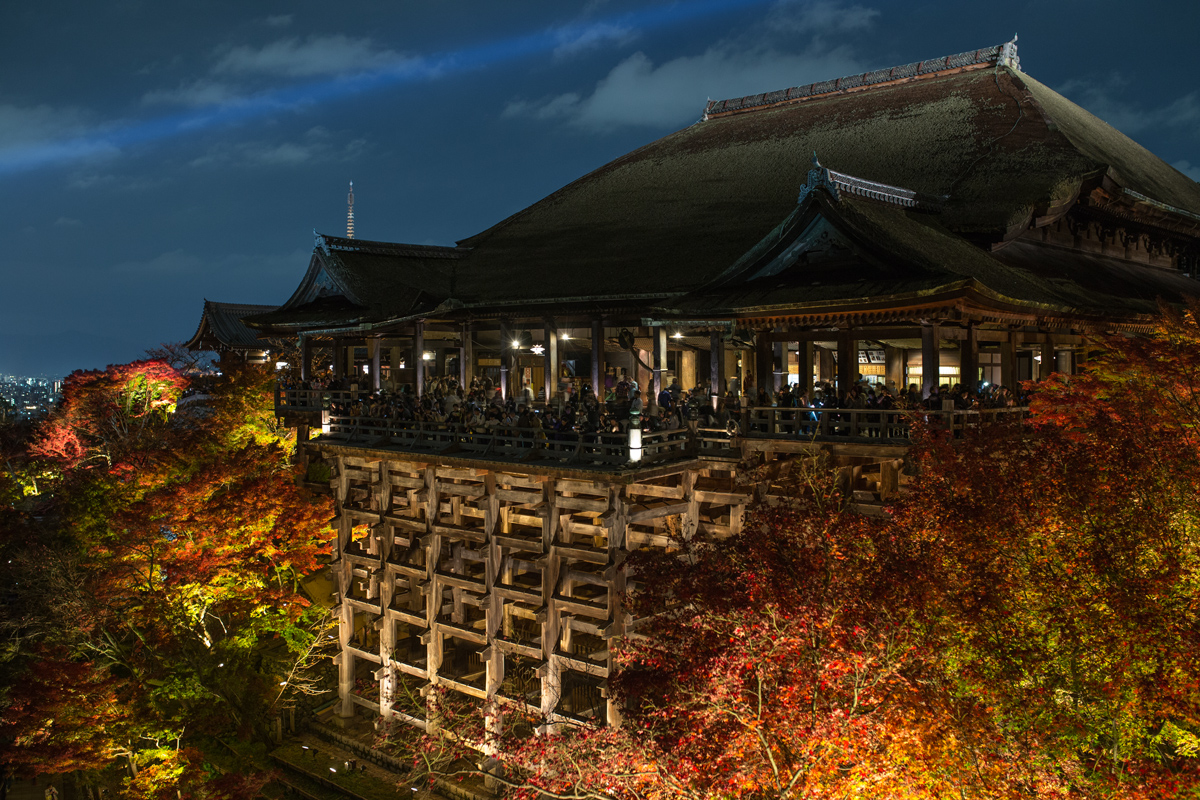 There's no place can represent Kyoto better than Kiyomizudera Temple. Needless to say Kiyomizudera is Kyoto's icon. The colourful foliage is lighted up right after the sunset and it's the highlight of the Temple in autumn. Taking pictures, however, is a huge challenge because of the horde of people.
Admission fee: 400 yen for the nighttime viewing
Byodoin Temple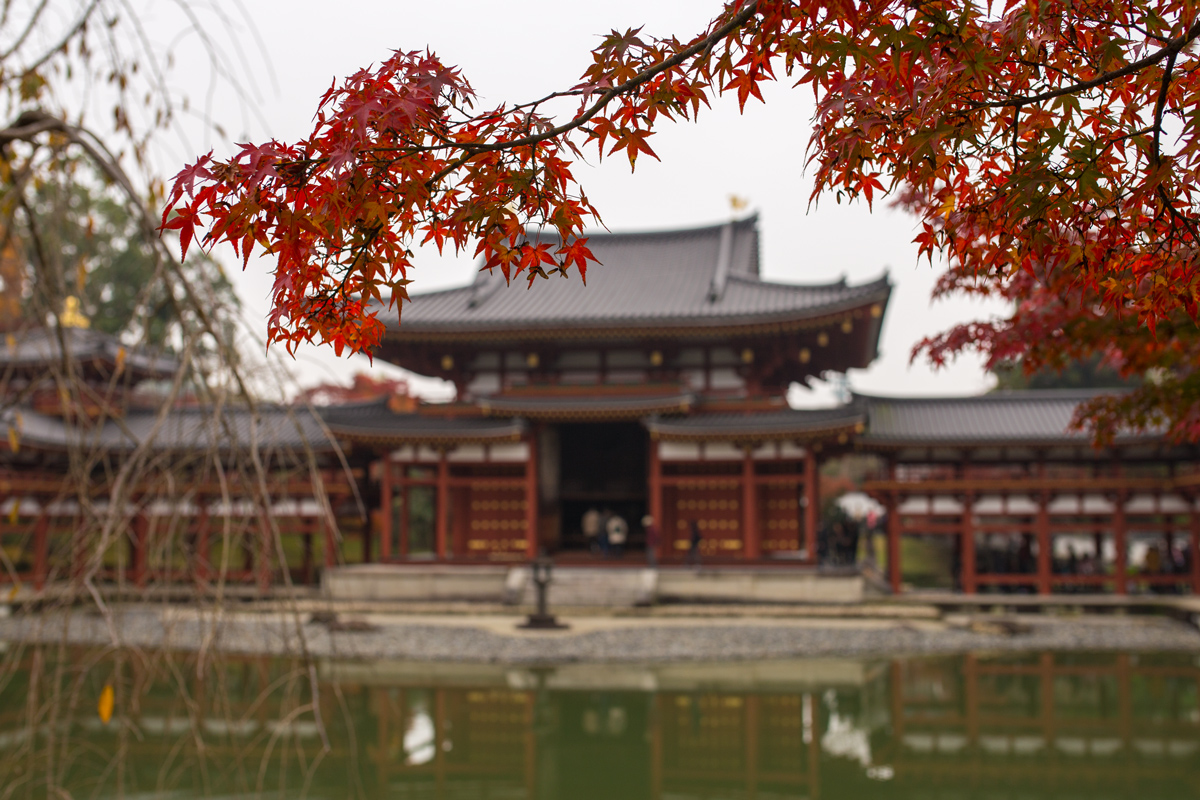 "I've been to this place" was the first impression I had as soon as I saw the temple. It's not dejavu but I've have seen the place too many times…on a 10 yen coin.
Byodoin Temple is one of Kyoto's popular World Heritage Sites and never quiet from visitors. It is located in suburb area of Kyoto, Uji city. Train from Kyoto Station to JR Uji Station runs only twice in an hour.
Admission fee: 600 yen
Tofukuji Temple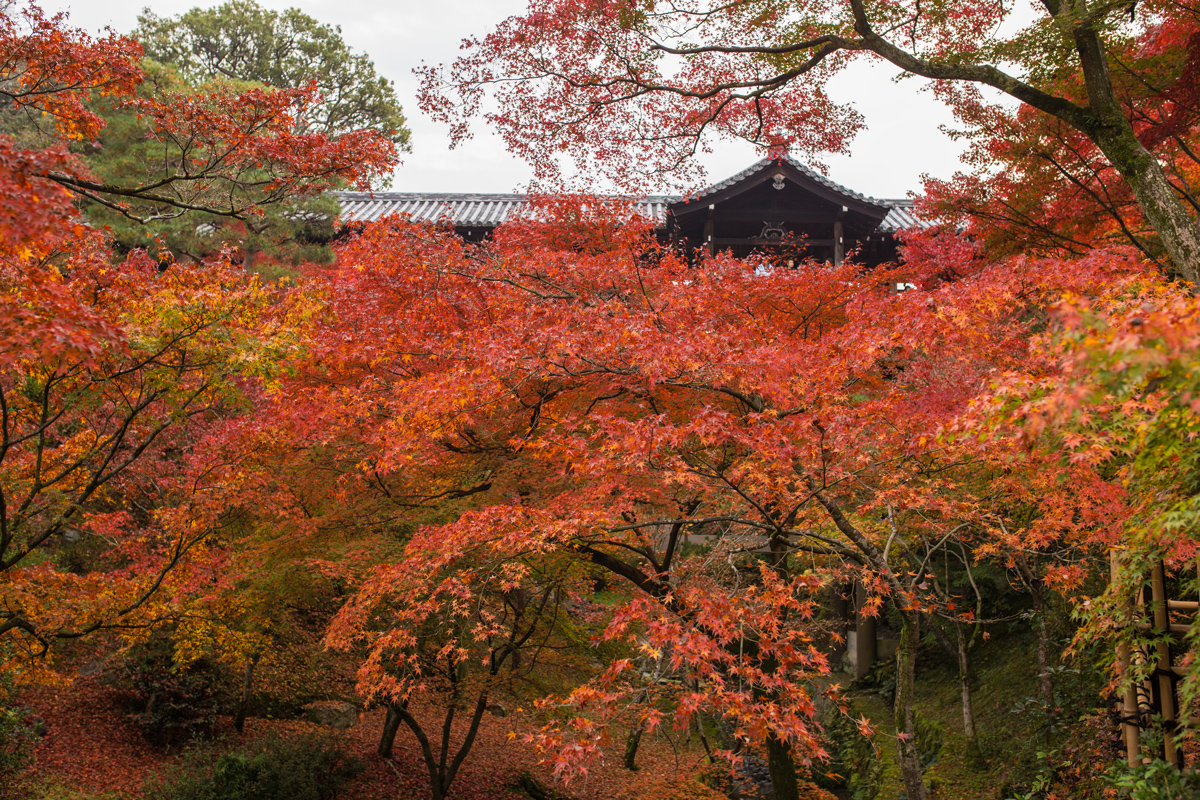 Tofukuji is the most popular place for "kouyou" (autumn foliage) in Kyoto. The Tsutenkyo Bridge overlooking the valley of maple trees is the highlight of the place. It is a place where everyone want to take picture from. There were couple of times people fell down from the bridge while taking picture and it isn't allowed to take picture from the bridge ever since.
Admission fee: 400 yen for Tsutenkyo Bridge
Ginkaku (Jishoji) Temple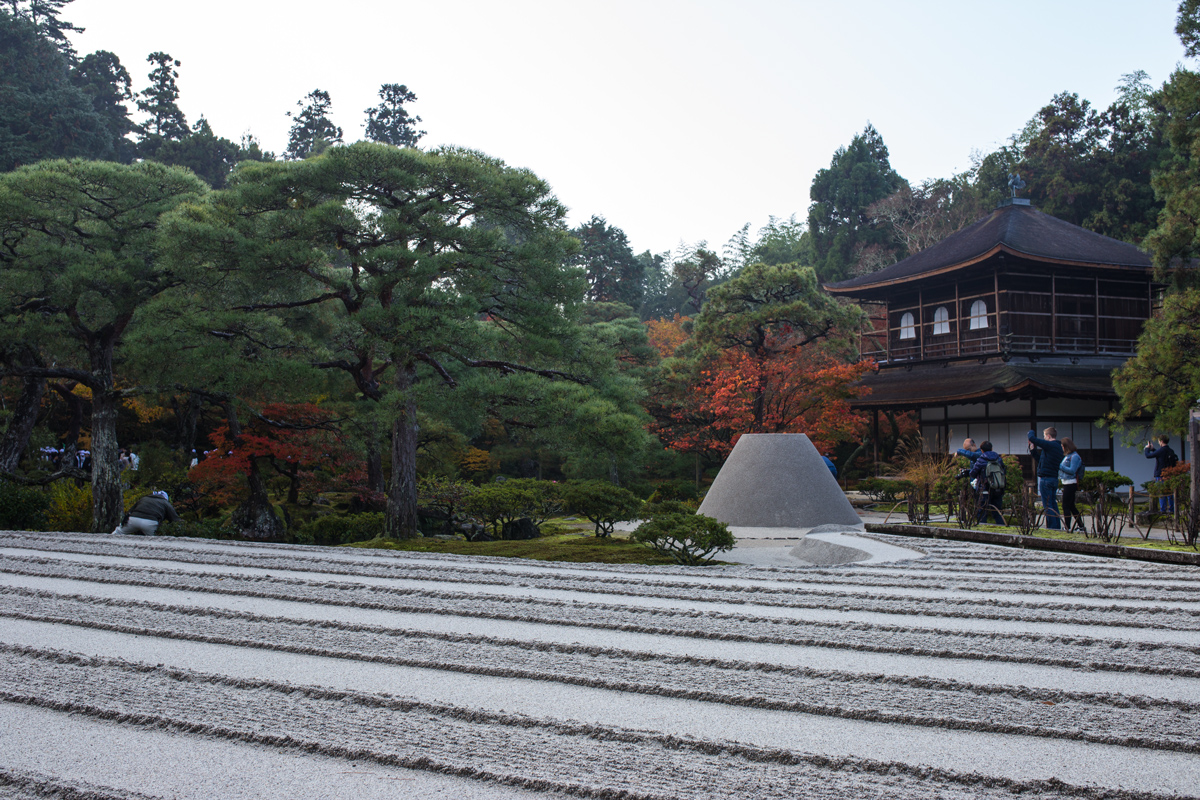 The Silver Pavilion, Ginkakuji Temple, is one of must visit World Heritage Sites in Kyoto. "Momiji" (maple trees) colour starts changing colour slightly earlier than many other Kyoto's autumnal places. Many leaves had gone while in other places colour just started to change by the time we got there.
Admission fee: 500 yen
Honenin Temple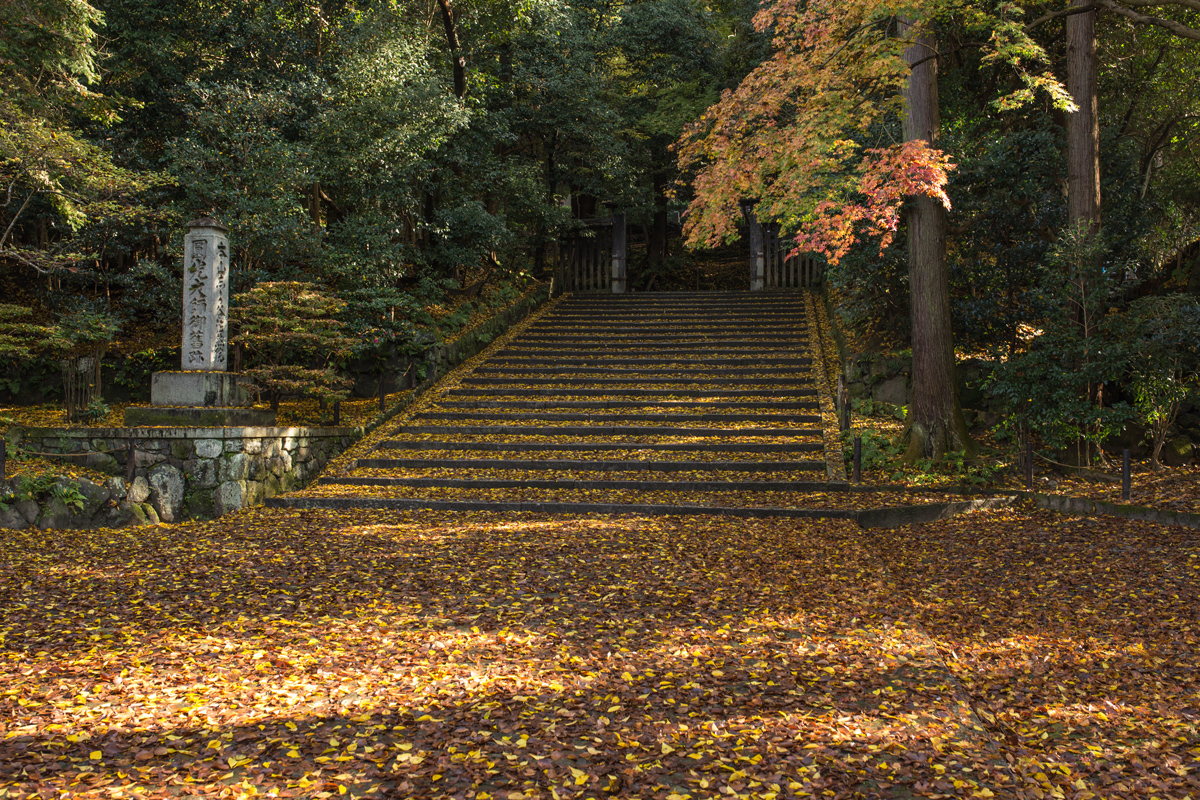 Unlike many other autumnal sites, Honenin is dominated by yellow colour of ginkgo trees which equally gorgeous as maple trees leaves. Honenin Temple is off the beaten path which make it easy to take pictures. There is no entrance fee to go around this Temple.
Anrakuji Temple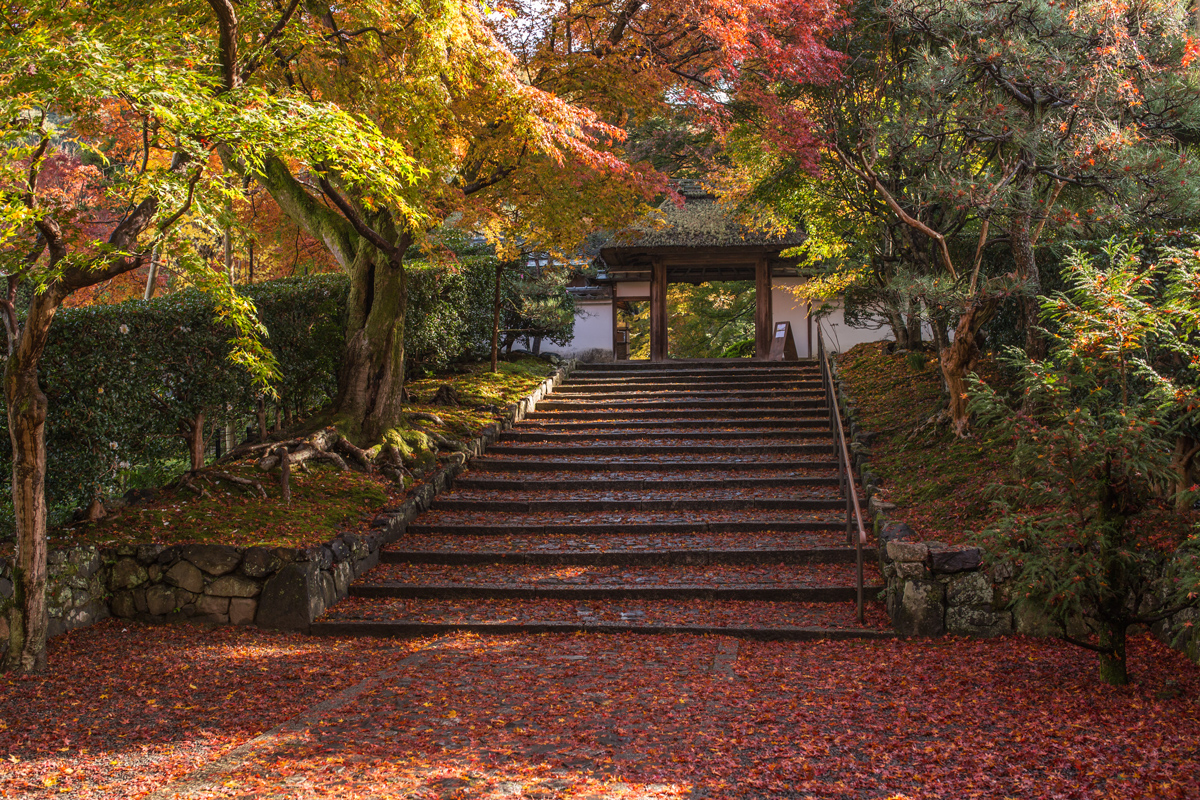 Anrakuji Temple is located adjacent to Philosopher's Path. Japanese photographers love Anrakuji Temple in autumn. It is one of autumnal most sought after sites in Kyoto.
Admission fee: 500 yen
Eikando Zenrinji Temple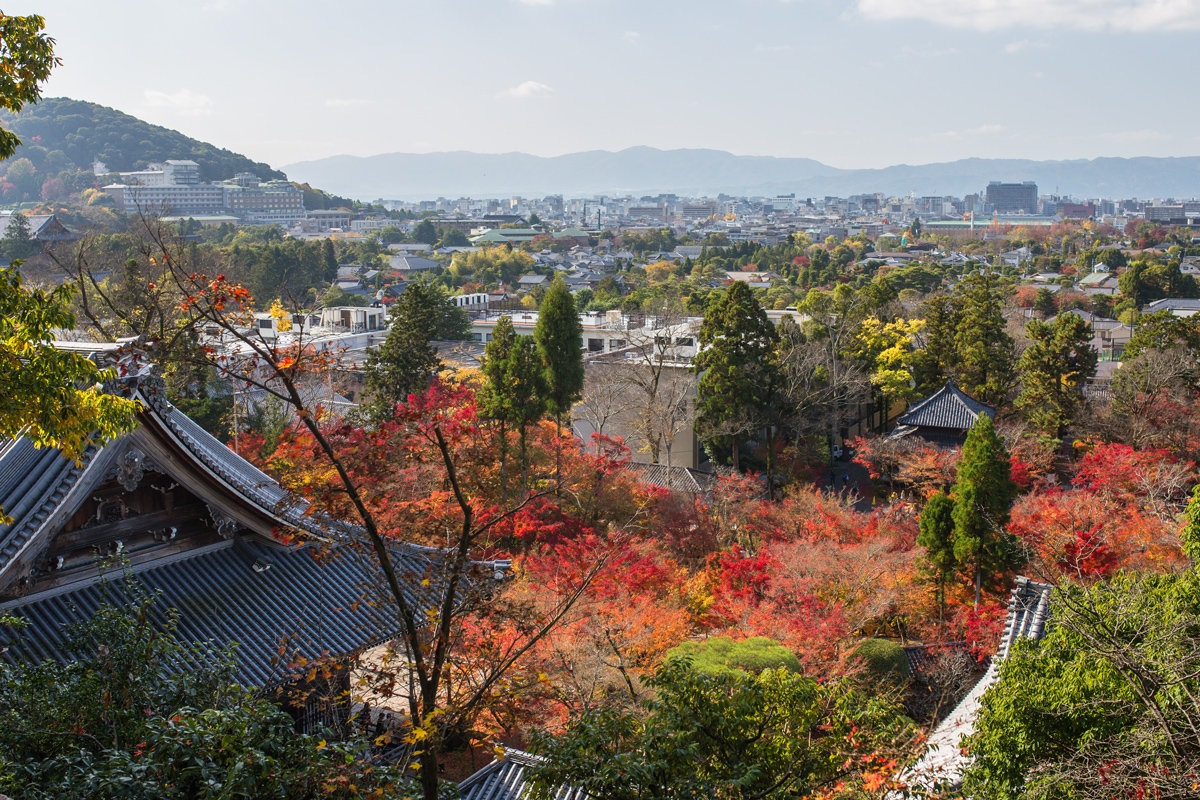 Temple, five stories pagoda, traditional Japanese garden, pond and of course autumn foliage are what make Eikando Zenrinji Temple a must visit site in autumn. The crowd within the premise alone tell how popular this site is, for a strong reason: it's beautiful. Compare to other autumnal sites, entrance fee of Eikando Zenrinji Temple is the most  expensive but worth every penny spend.
Admission fee: 1,000 yen
Nanzenji Temple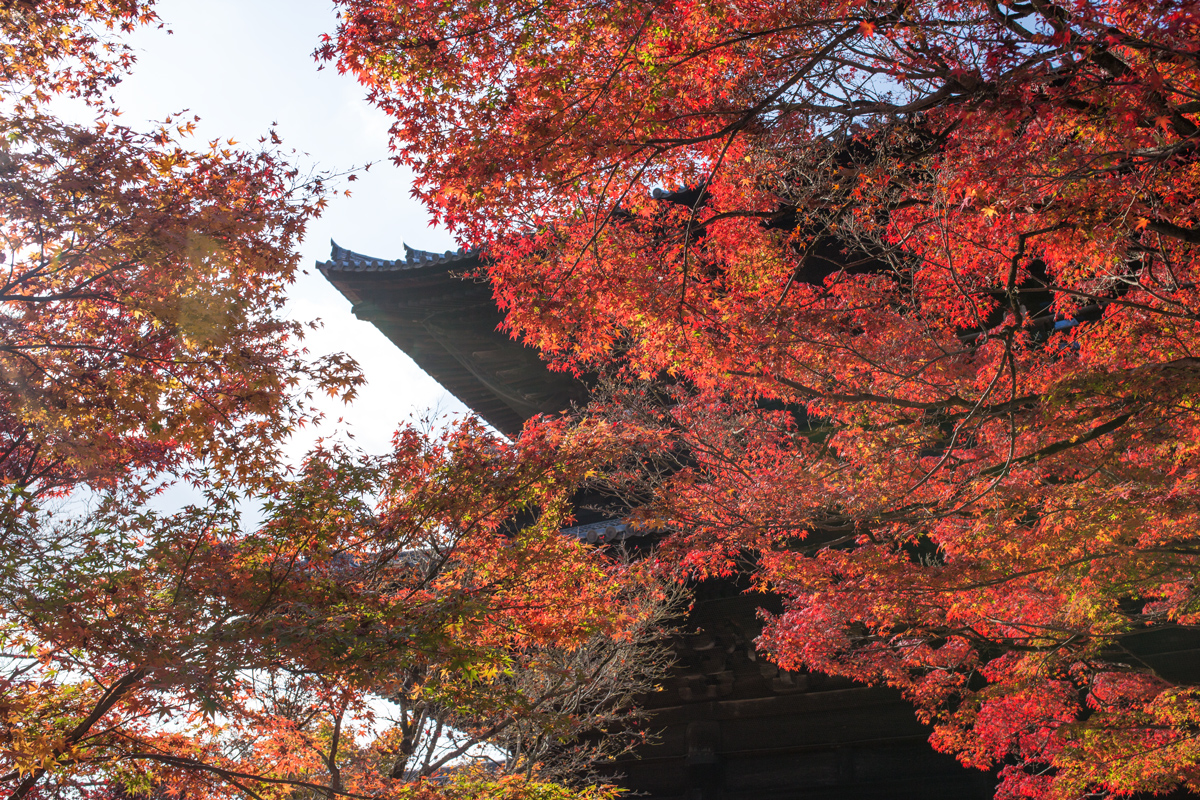 Nanzenji is a place to get temple and autumn foliage in one place. The place may not be as huge as other sites but it is a gorgeous place that should not be missed in autumn. The bonus is no admission fee to enter the place.
Northwest of Kyoto:
Daikakuji Temple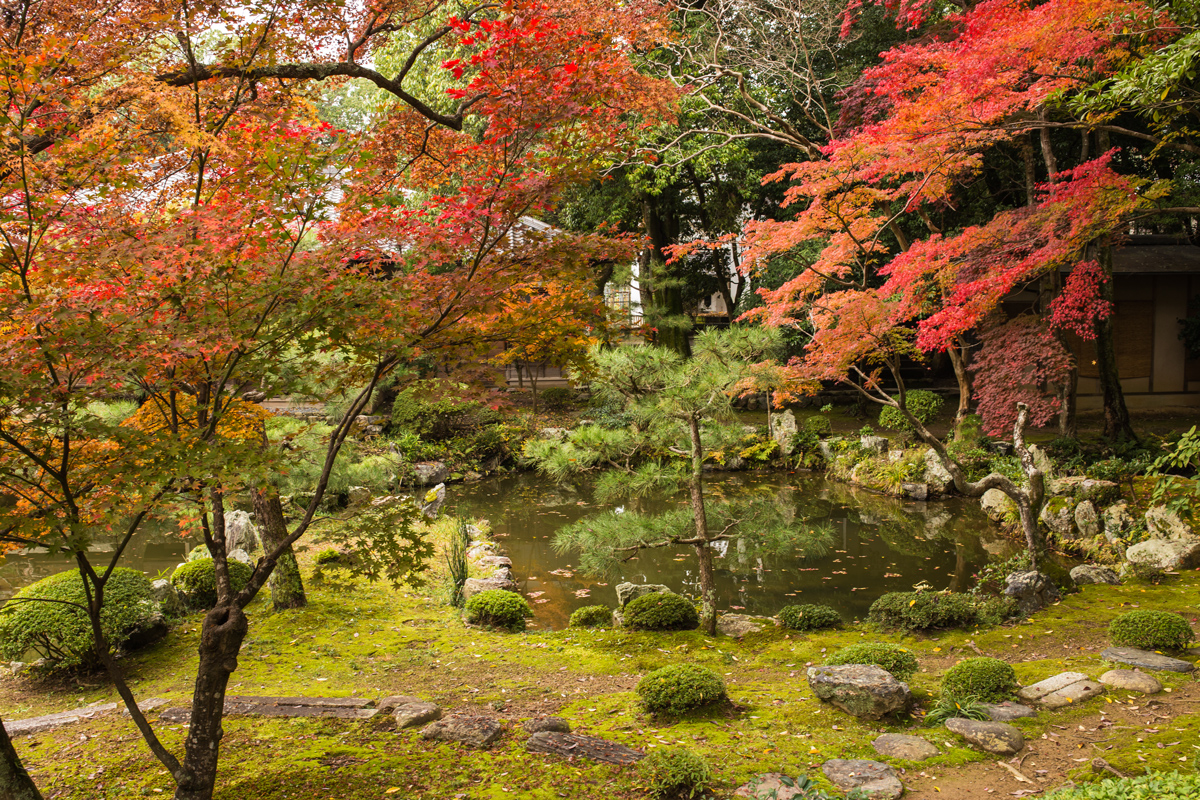 Daikakuji Temple was used to be a residence of Emperor Saga. The Temple is adorned by exquisite traditional Japanese garden. In November, the garden is bursting the autumnal colour which elevates the beauty of this site.
Admission fee: 500 yen
Hokyoin Temple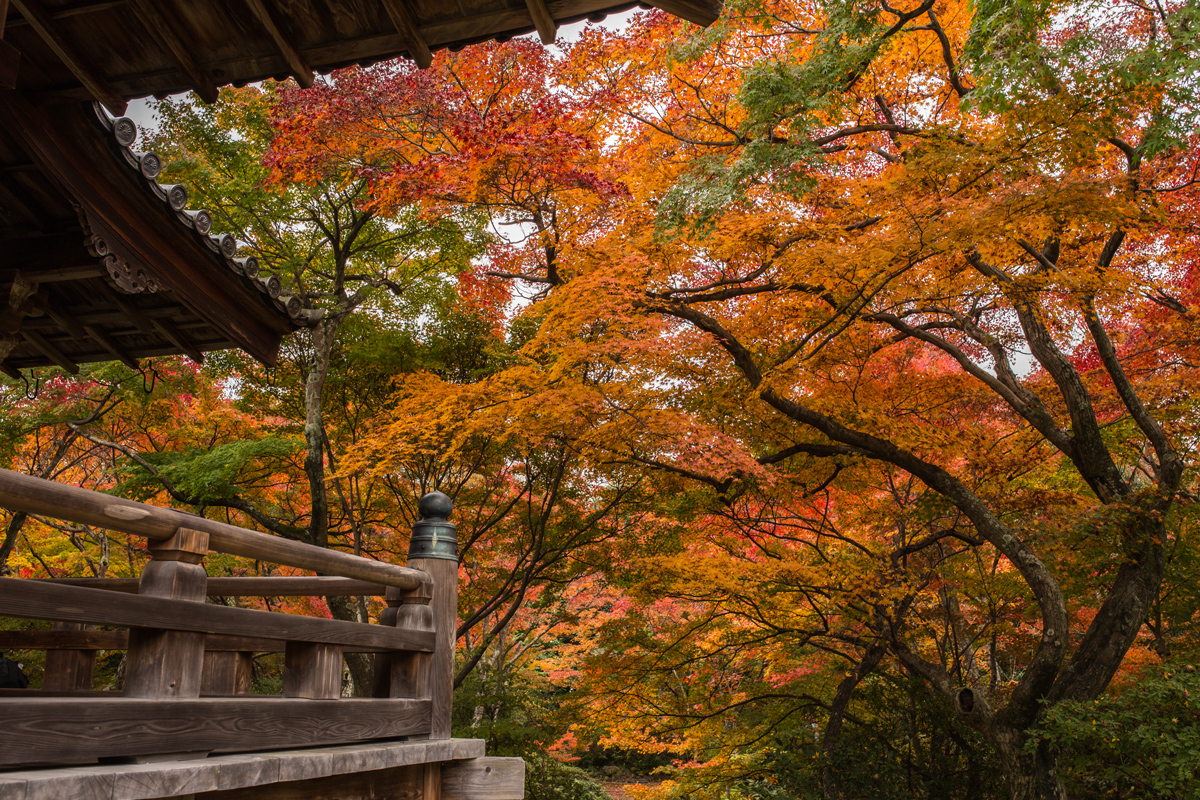 Amongst heart captivating autumnal sites in Kyoto, Hokyoin Temple is the most stunning amongst all. Maple trees gives a burst of colour to the already mesmerising temple, forcing us to stay like forever. If we visit Kyoto again in autumn, Hokyoin will be the first place to visit on our list. The great thing is Hokyoin Temple is the least crowded place amongst all popular autumnal sites in Kyoto.
There were only small number of visitors by the time we visited the place. Most of the visitors were local which made many gazing in wonder at me, probably thinking "how this foreigner knew about Hokyoin". Hokyoin Temple was the only place we spent the time most to take pictures (without stranger faces in the frame).
Admission fee: 500 yen
Why Hokyoin Temple is The Best Autumn Foliage Site in Kyoto
Adashino Nenbutsuji Temple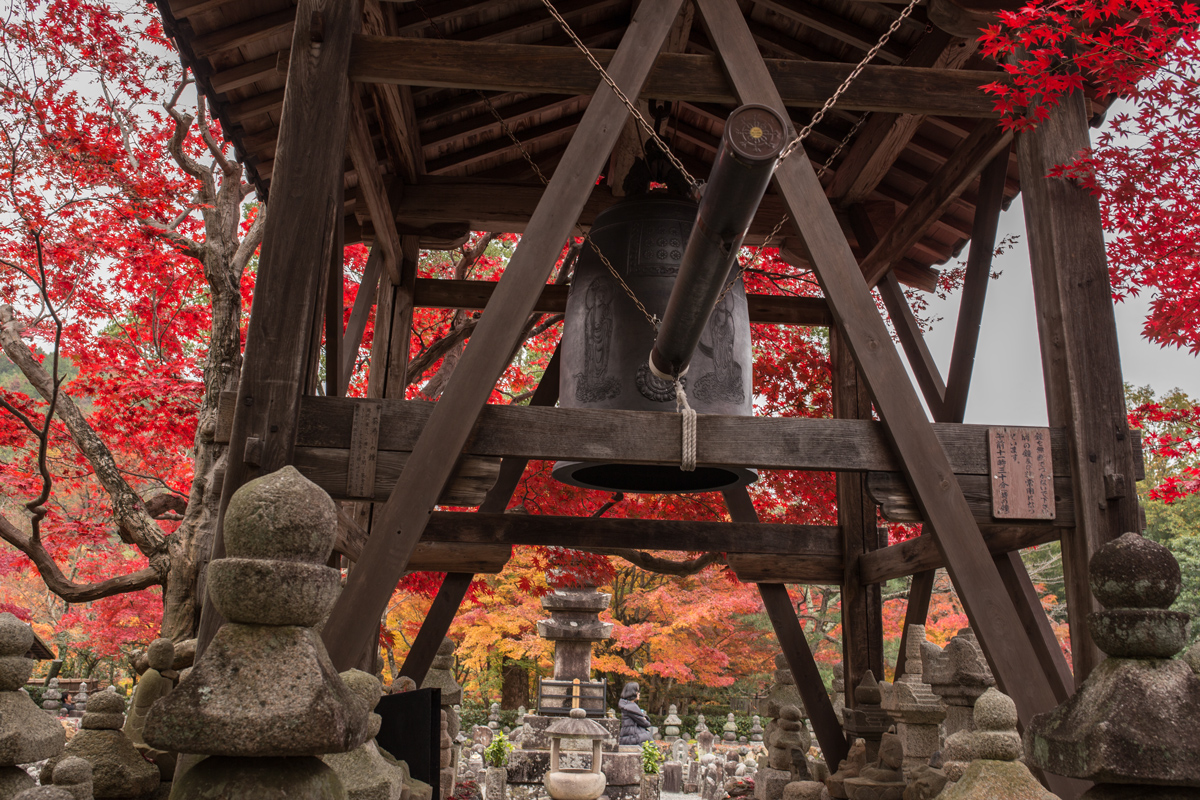 Adashino Nenbutsuji Temple is within walking distance from the Hokyoin Temple. Its location is slightly up the hill and hidden from the passerby of the main road.
Admission fee: 500 yen
Kyoto Bamboo Grove: Adashino Nenbutsuji Temple
Katsuragawa Togetsukyo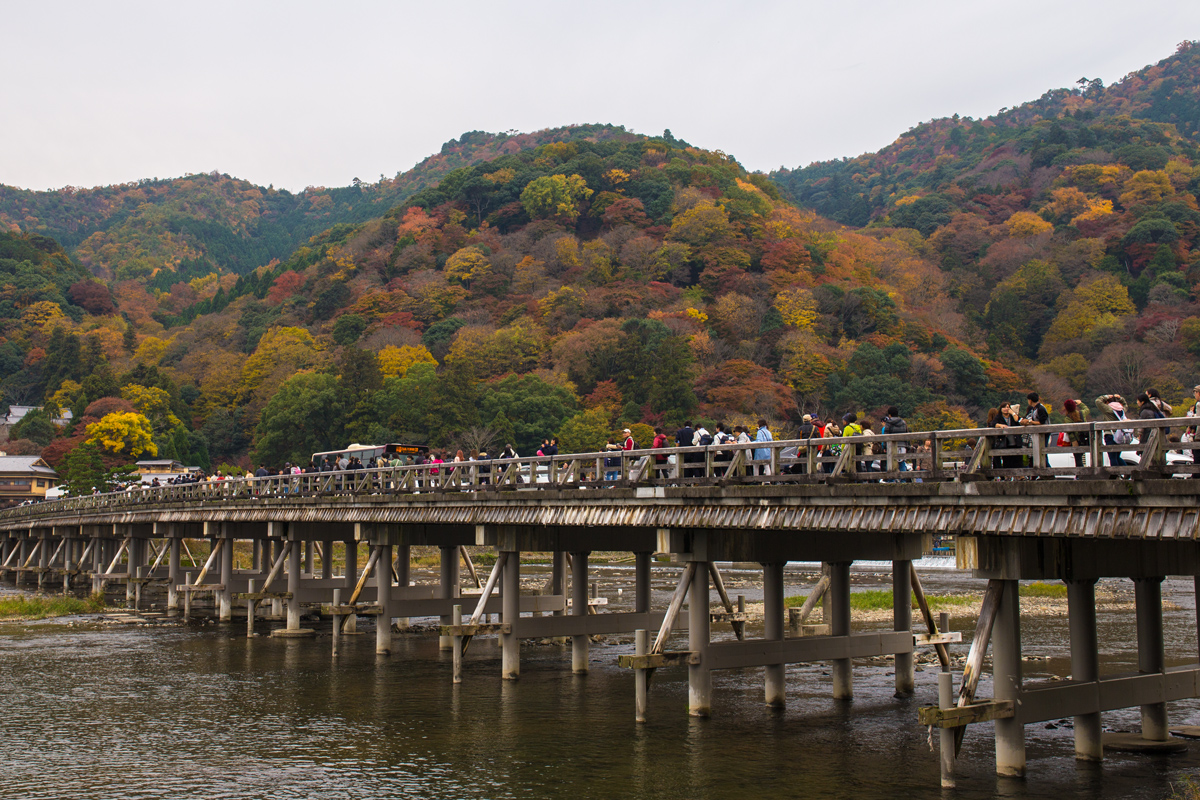 Kyoto visitors is no stranger to the Katsuragawa Togetsukyo. This place is located within Arashiyama vicinity where one of Kyoto's icons the bamboo grove is located. It is beautiful in autumn when the entire maple trees up the hill change colour. Because of its popularity this place is five times more crowded in autumnal foliage season.
Where is your favourite autumn foliage sighting spot in Kyoto?