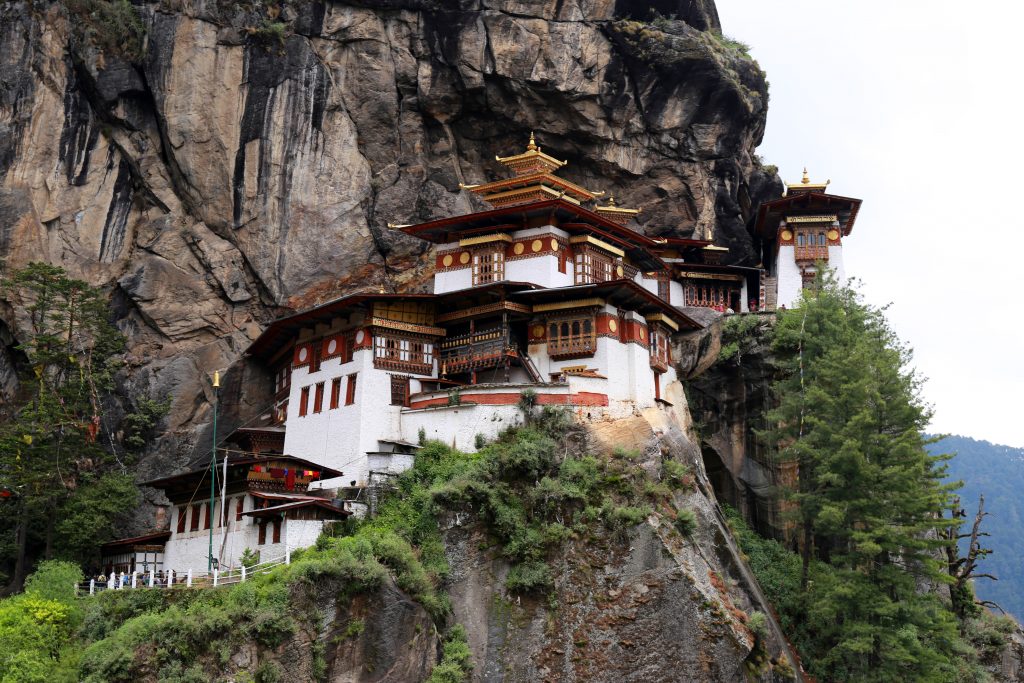 Bhutan main highlight is Tiger Nest or known as Paro Thakshang Monastery. The Tiger Nest sits on a hanging granite cliff at 3,000 meters height. above sea level. Wikipedia says that the Tiger Nest was built by the reincarnation of a Holy Guru Rinpochen who flew on a tigress back to reach the top of the cliff, performed meditation until he emerged in different incarnated form.  The Tiger Nest is an icon of Bhutan, a highlight of Bhutan visit. It's only a natural thing to visit Tiger Nest on top of our list of things to do while in Bhutan.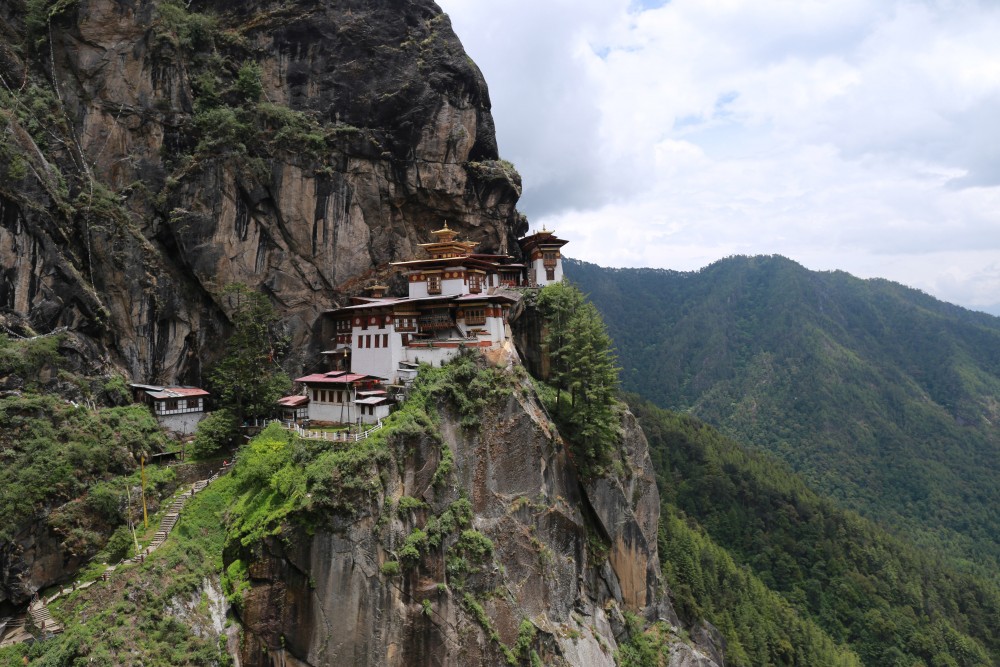 The hike to the Tiger Nest is an epic experience for both of us. Distance wise from the foot of the hill to the top is not that far but the steep path really killing us. We are not an avid hiker, in fact this was our second hikes in our entire life. Our first hike was Diamond Head Honolulu which took us less than an hour. That was an easy peasy hike. Riding a horse was an option for those who do not want to hassle with the hike but not us. Not that we didn't want an easy way but riding a horse to the top of the hill? Seriously it waas scarier than the possibility of getting heart attack on the hike. I meant hiking path was known for being narrow and steep. What if the horse jumped into the valley? No thanks I did not think for any second to ride the horse even though Ikumo persuaded me to.
Entrance route to the hill was not tough at all. The struggle started after passing by this unknown structure. We stopped for picture taking for awhile since none was there. Apparently this was not of anyone else interest but ours.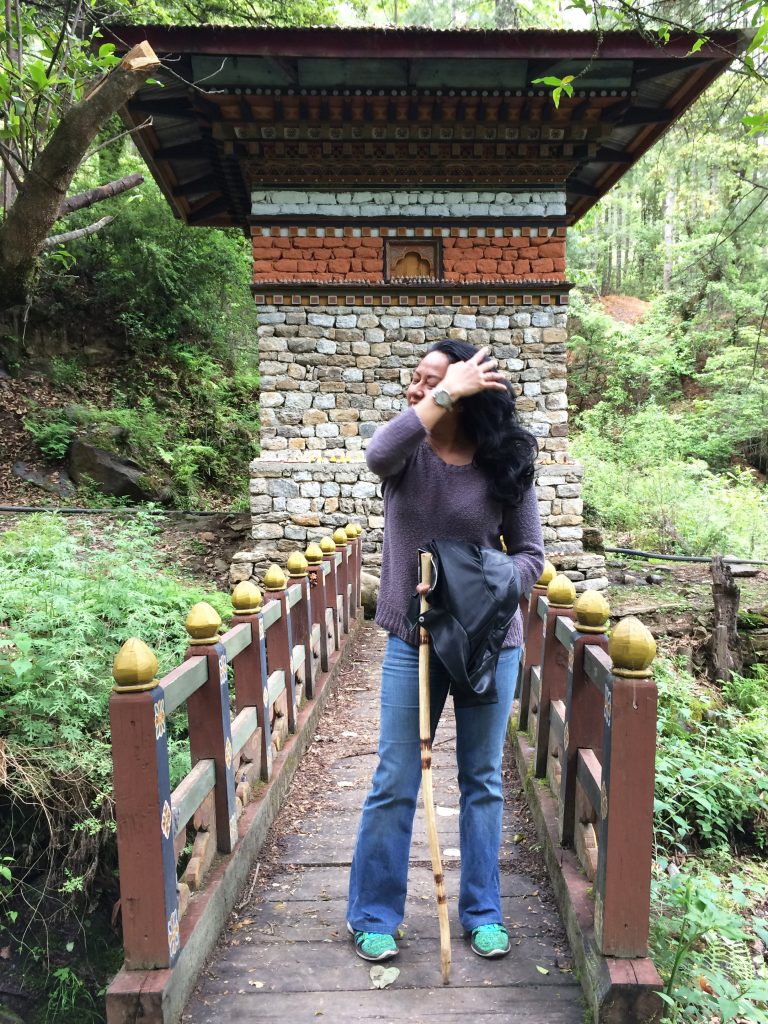 There was not any single sign of which way to take. We relied on an Indian family in front of us as to which direction to lead. They hiked in such an incredible speed that a member  of the family behind who was our only sign of direction. We followed the lady in yellow who screamed names from time to time in Hindi perhaps calling out her family to wait for her. Oh she was also faster than we were.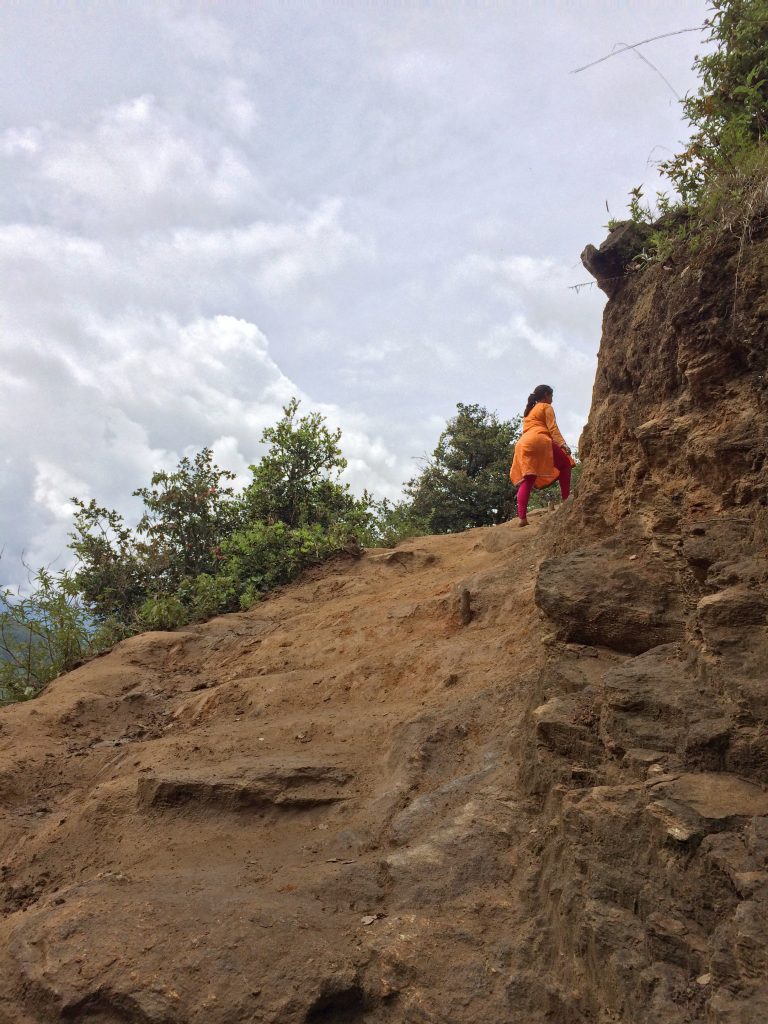 Then the lady in yellow finally could catch up with her entire family and stopped. We carried on and left them behind. We were on our own for 15 minutes or so then we heard a loud sound of Hindi song. An entertainment on the hike it was. I felt like dancing with the beat. We followed the source of the sound and met another family of 6 energetic Indians who seemed to breath normally despite taking the steep inclination. They sang and climbed at the same time. We stopped again. This time a little bit longer as we could feel our heart beating much faster. My face turned so red, I was panting, it was not even half way yet. We opened a bottle of water and drank liked we had not drank for a day. A liter now gone by almost half. That was the only water we had. Ikumo said I drank too much we should had drink sip by sip. Then he took a long sip of the water. I could barely protest as I was still out of breath. We promised ourselves (in silence) not to drink for another 20 minutes and must stop every 5 minutes walk to catch breath for few second only.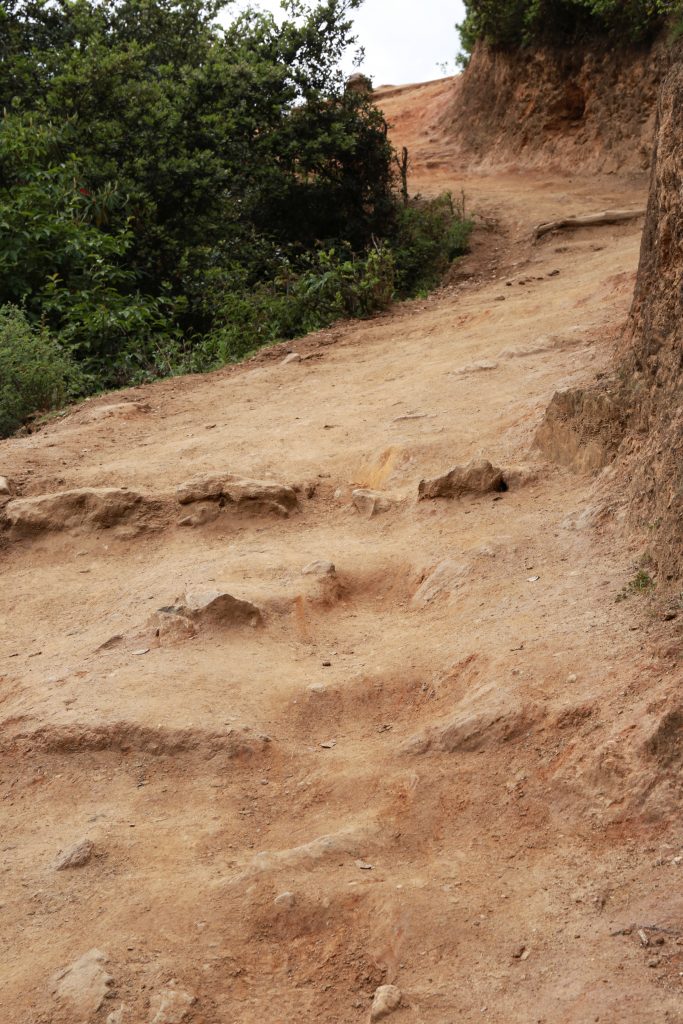 We walked passed by another hikers with children in the group.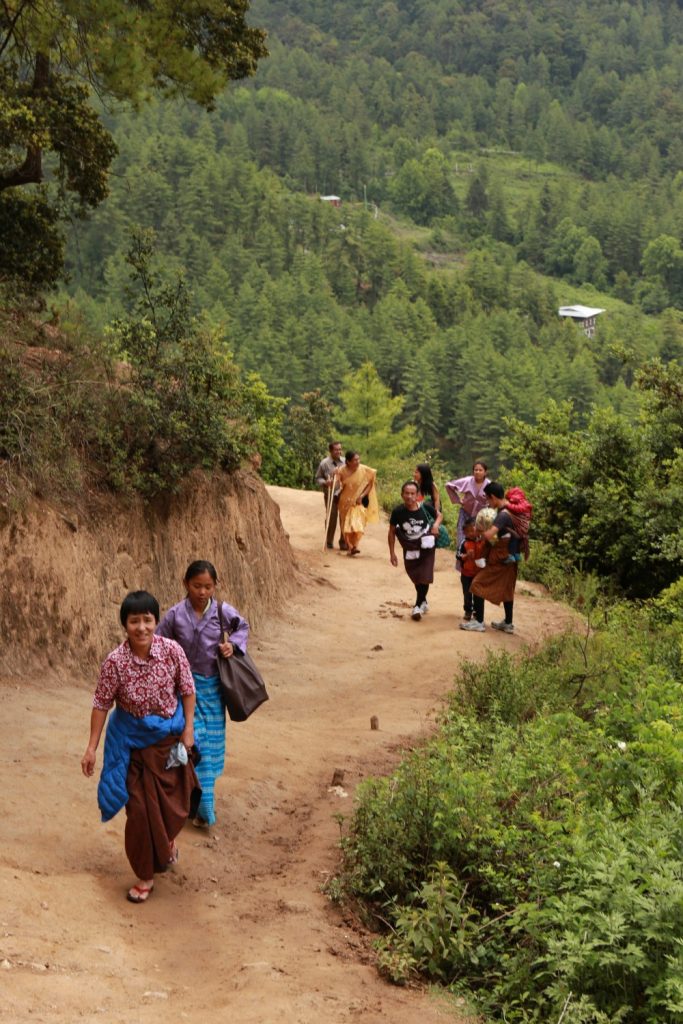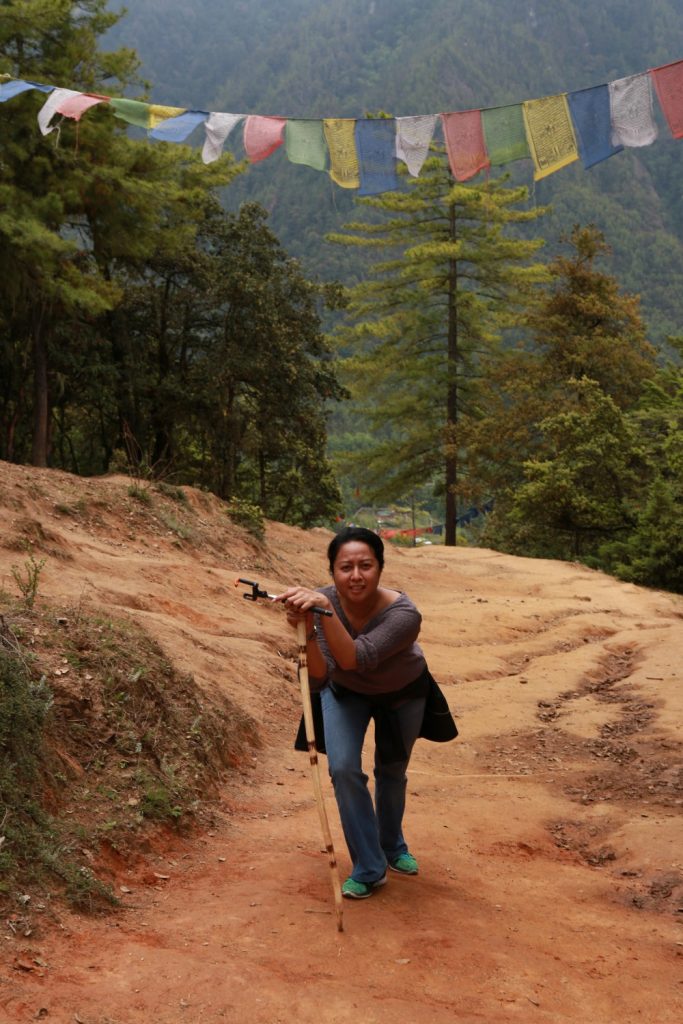 It was only us at this point.  We still stopped from time to time and felt a bit worry if rain would falling down. Secretly we hoped the wind would blow the cloud away from the Tiger Nest and reveal bright blue sky.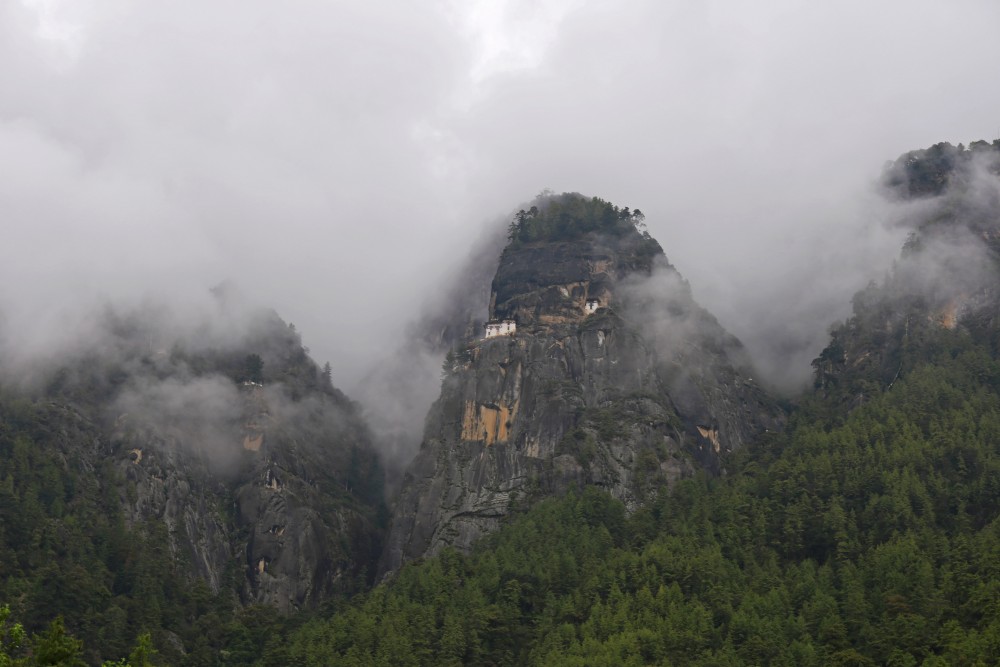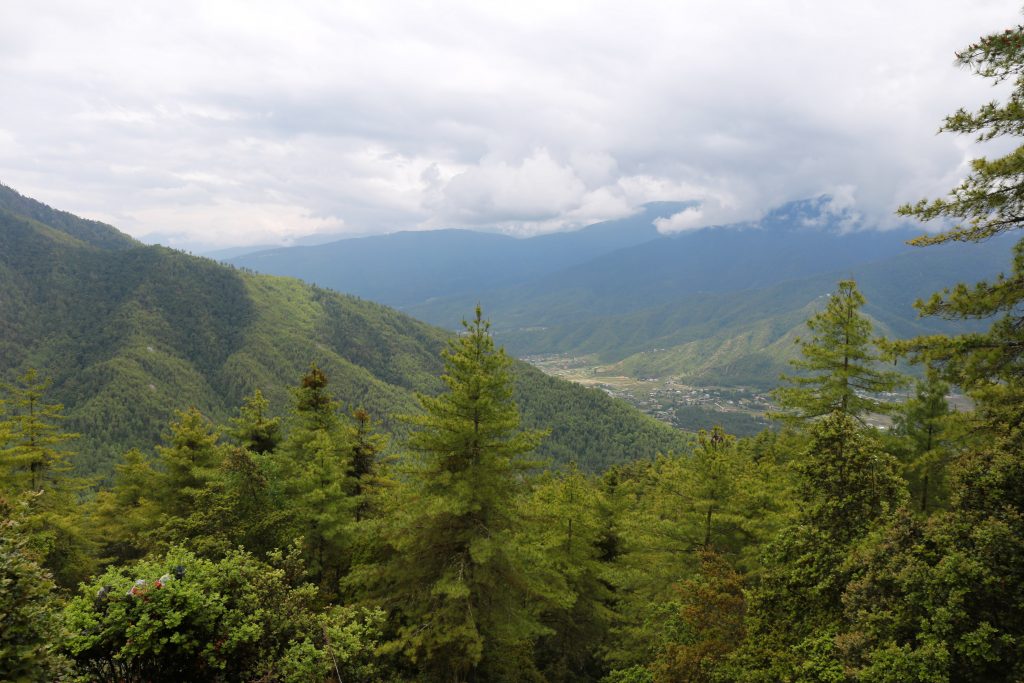 We carried on and followed the family who sang Hindi song. We all found benches to sit on. We chose not to sit letting our shaky feet straight while stopping for awhile. Tiger Nest still far but within the sight now. We carried on the hike without anyone following up closely behind.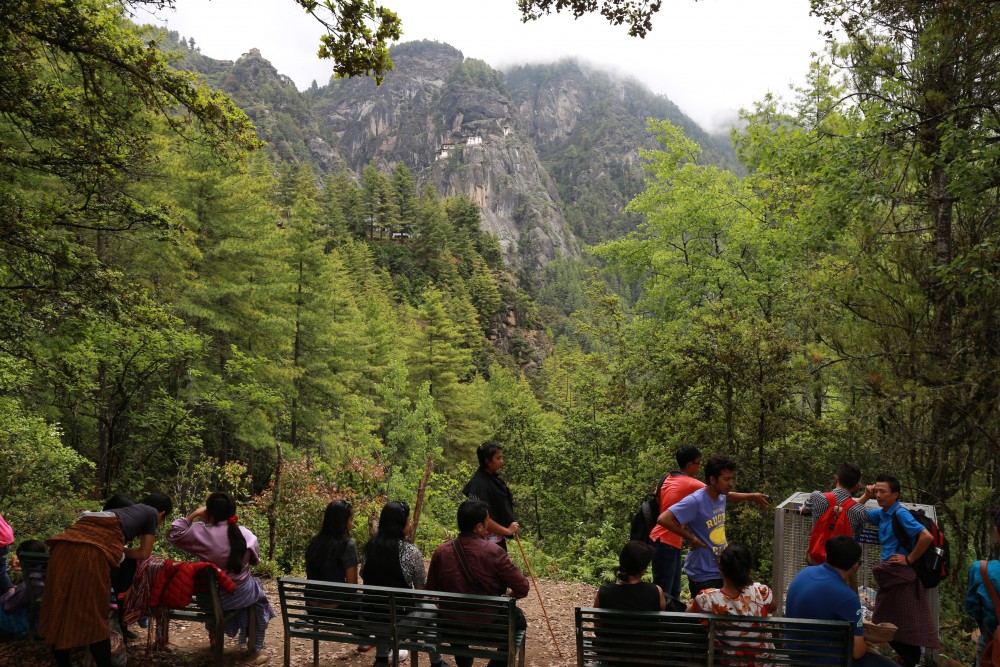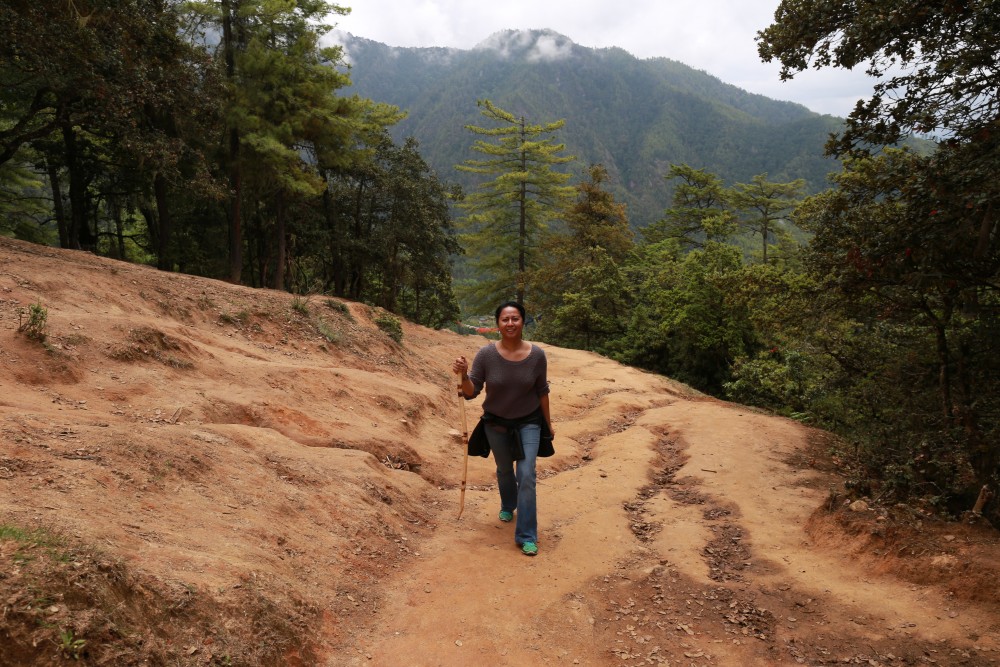 The song had gone after awhile now. We were on our own with horse turd to follow. Then we met another group with a local tour guide who stopped for a rest. We also decided to stop and overheard the conversation. We all reached a bottom low when the guide said "we are not half way just yet". But then we picked up our motivation again when he said "once you passed half way point the hike would be much easier". But the group still did not move so we left them behind and continued on.
We lost track of how long we had been walking by now but we didn't stop at all until we reached at this point. We were still far from the half way point but the Tiger Nest could be seen from this point.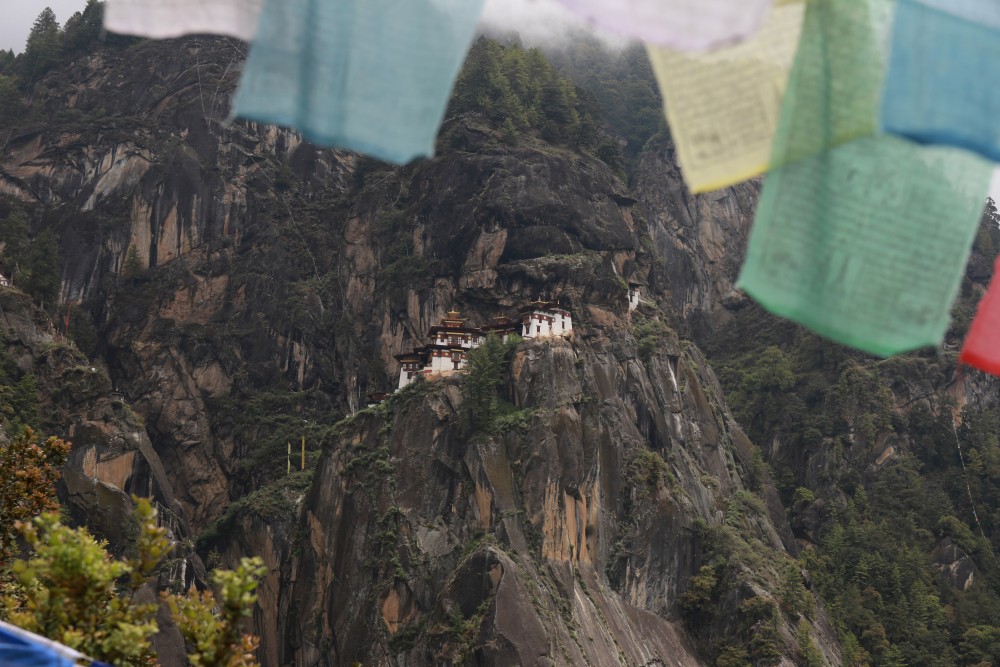 There was a couple sat on huge rock. The husband seemed to motivated her over and over, she didn't budge. I was thinking to follow her but Mr Jap read my mind. "Once you sit you'll take more than 15 minutes to rest" he said. The other lady immediately woke up then the couple carried on walking. So did we. We walked faster than they did then we left them behind.
Finally, mid point of the hike (yeah we made it).. We finally sat down facing this praying wheel. At this point we only have about 300 ml water left.
The next route was way much easier than the previous 1 hour plus hike. But we still stopped from time to time until we heard an Hindi song from the distance. The energetic family now catching up with us. They were so fast we left them far behind like forever. We then walked faster trying to prove we could be faster. It was officially a race between a biracial family of Japanese and Indonesian with an Indian family.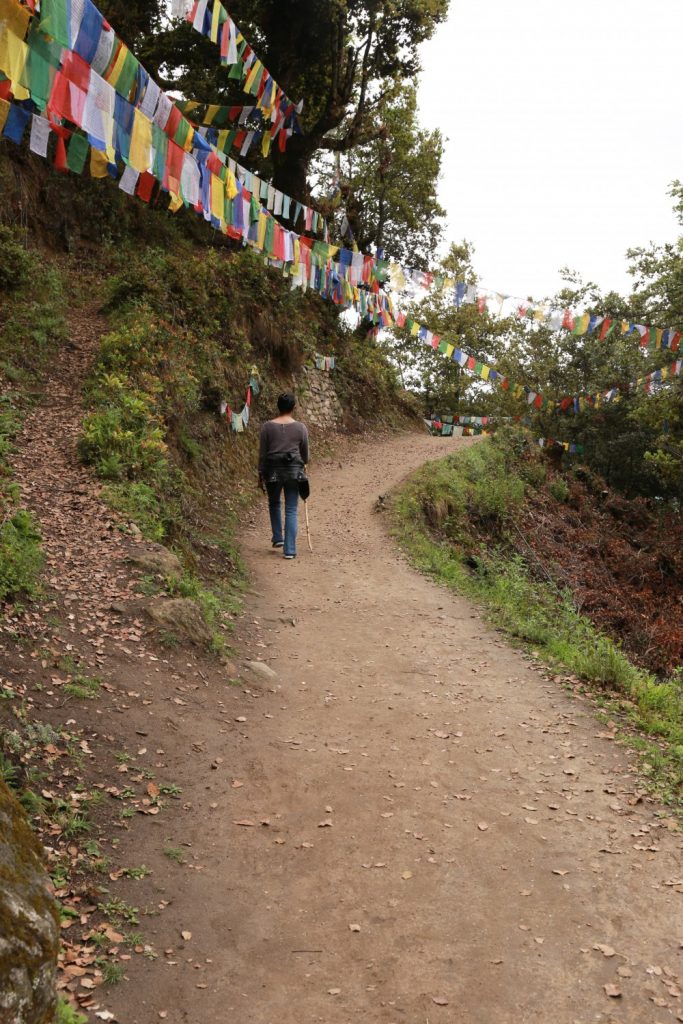 The Hindi song, the only entertainment on the hike, has gone by now only silent and our panting breath. We walked faster as we reached at this point, getting excited after finding the rail like this we knew we came closer to the Tiger Nest.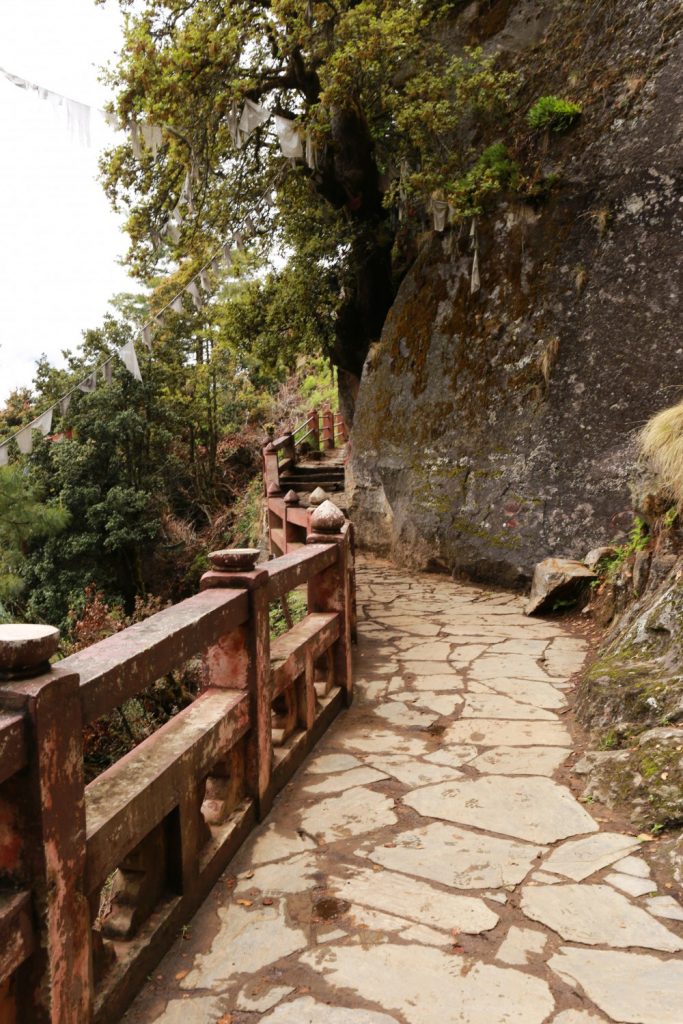 And we finally reached to the top of the hill, the closest point of Tiger Nest. We stopped and immediately took pictures while sitting (taking pictures were excuses, we finally sat for more than 5 minutes to rest). The cloud blanketed the Tiger Nest had gone by the time we reached to the top. Blue sky revealed itself only for few seconds.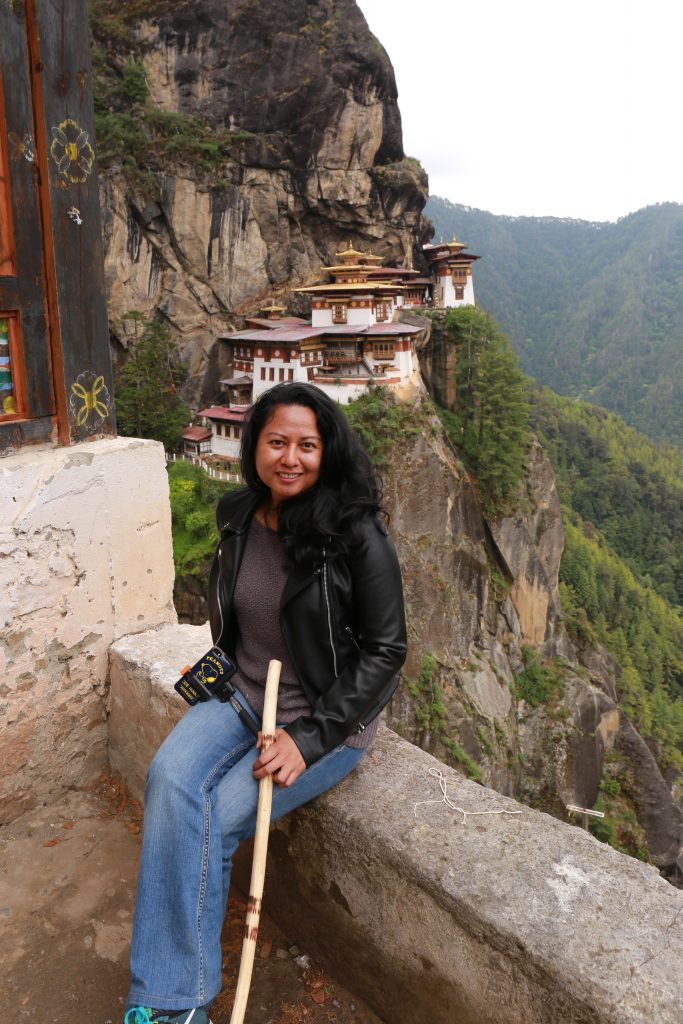 Tiger Nest was now right in front our eyes. It's miraculous how Tiger Nest was built centuries ago. It's beyond any logical thinking one can possible have. If it is not because of a miracle I do not know what is. I felt so happy that I made it to the top. No, I felt incredibly blessed for finally I could see Tiger Nest with my own eyes. It was a long time ago I dreamed of going to Tiger Nest. The dream now has come true. And it was not without incredibly effort. It is a reminder dreams do come true when you put your best effort.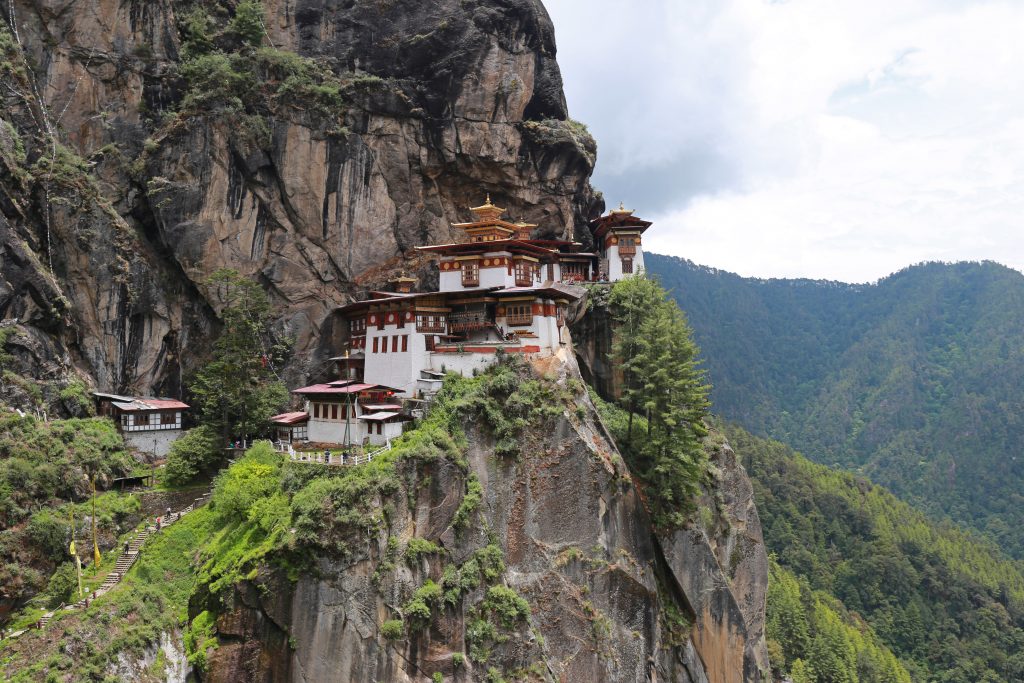 We rushed to the Tiger Nest before it closes for lunch. We practically had 30 to 35 minutes left to reach the Tiger Nest. We did not stop at this time and finally could enter the monastery. Taking pictures is not allowed at all times and all visitors must store all their belongings (mobile phone too) in lockers. We did not think for any second to sneak iPhone out, afraid of being reported to the security staff. We lingered for awhile in the monastery. Each of the rooms is adorned with images of Buddhist deities and offerings. The monastery has balconies with breathtaking view of the surrounding valleys.After quite some time, we decided to return. It took only 1,5 hours for the downhill trek but the path seemed steeper than the uphill hike even though it was the same path we took.
Trekking downhill was not less epic than the climb. It was a great decision to buy a hiking stick. It was only 50 ngultrum or $80 cent. And I was so glad for not having long toe nails that would definitely be broken by now. We arrived at the parking lot and returned our hiking stick to the place we bought it. We did not need it after this neither would we bring it back to Tokyo.
Total time spent to hike the Tiger Nest was 4 hours (up and downhill) or 17,433 steps (based on iPhone steps tracking) but we were absolutely worn out. No energy left to wandering around Paro.
How about you, have you ever been to Tiger Nest? What was the toughest hike you ever took? How did it feel?