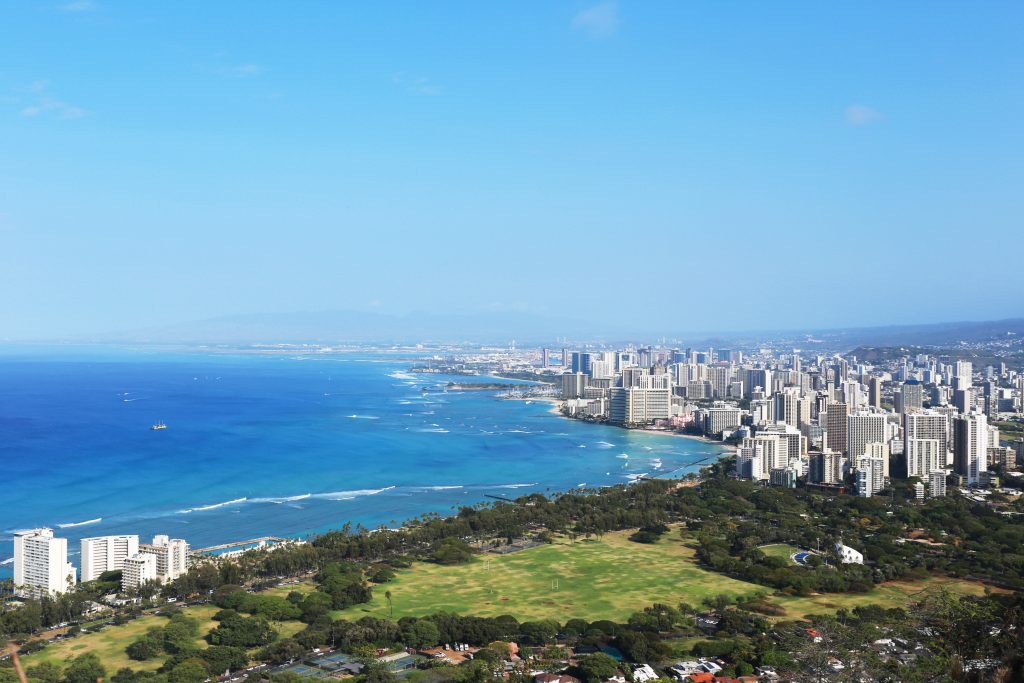 Pristine beaches, clear blue sky, glittering sunshine, fresh dry air and breathtaking view from thousand meters above sea level are just few of many other reasons to list down Hawaii as one of our favourite destinations. Last week in Hawaii was the best time we had in five months after cocooning so long in a bitter winter. The weather this time of the year was just perfect for us, and the time of visit could never be better: a week before the Golden Week, a big holiday in Japan when many Japanese either fly to Hawaii or Thailand. Flight ticket in and out Japan is enormously expensive within Golden Week even a week after.
This trip was an advance celebration of our wedding anniversary. Our anniversary is in June but  Ikumo's schedule within that month is so packed with meetings which he can never avoid of attending. He could only take annual leave more than a day this April.
We spent four nights in Honolulu, Oahu and one day travel to Maui as part of our trip with HIS, a reputable travel agency in Japan.  We initially wanted to organise everything by ourselves but after researched here and there we finally decided joining HIS tour was cheaper than traveling independently. Everything was efficiently organized by HIS from pick up time to hotel check in. Plus point everyone on the tour was always punctual.
It took us 6.5 hours to reach Honolulu from Tokyo. We departed on Tuesday at almost 10pm, touched down at 10am on the same day. Luckily both of us could get proper sleep on board and survived the day without jet lag despite 18 hours time different. We got a nice surprise: Holiday Inn Waikiki Beachcomber upgraded our room to a suite and a complimentary sparkling wine on the room.
We were not tempted to open the sparkling wine, opted for quick shower & headed up straight to Waikiki Beach without waiting for our suitcase delivered to the room. The advantage of always pack clothes for a day or two on your hand carry luggage, you are always ready to go.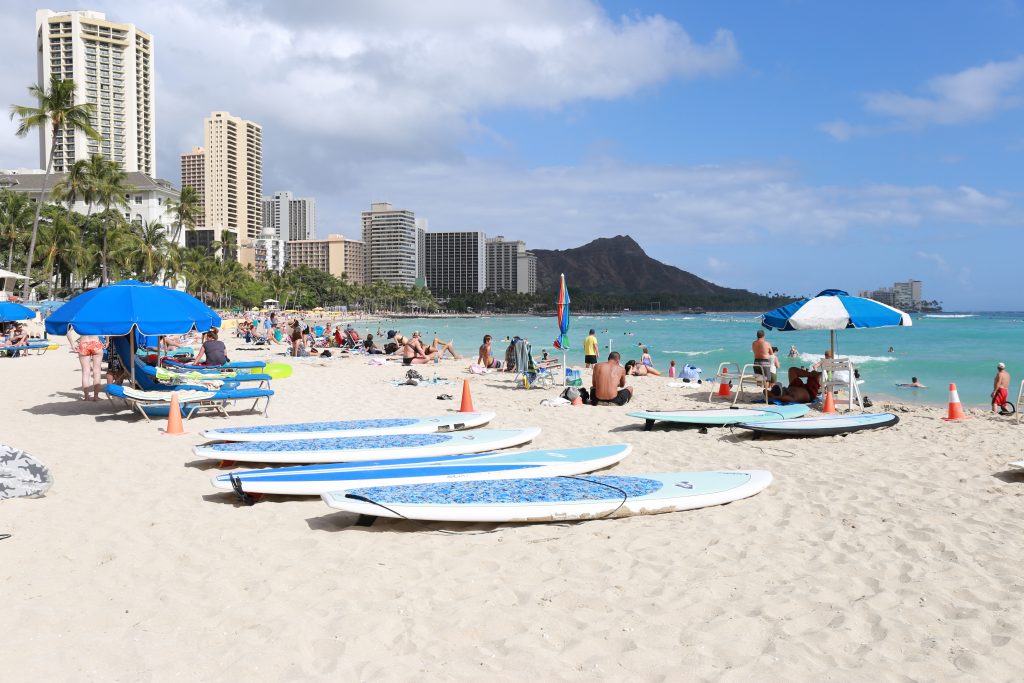 Waikiki beach was swarmed by people. The heat was a blessing for sun tanning seekers, not for us. This hungry couple chose to get lunch instead. Then we took Lea Lea Trolley to China Town for free ride. Lea Lea trolley is HIS free shuttle that allows tour guests to go around Honolulu city. Huge benefit of riding Lea Lea Trolley is free WiFi. The Lea Lea Trolley serves three different route, one of them stops exactly in front of Diamond Head entrance gate.
We hiked Diamond Head on the 2nd day of our stay. It took us 40 minutes to reach the observation deck with 4 – 5 stops for picture taking. It was already very hot although it was still 8 am. We finished two bottles of water within a hour. Breathtaking is the word for the view and the trail. We could hear not only our panting breath but also many passerby, motivating each other to keep going. The fit ones jogged all the way up without stopping.
Most famous scenic point of Diamond Head summit is a view over Waikiki beach.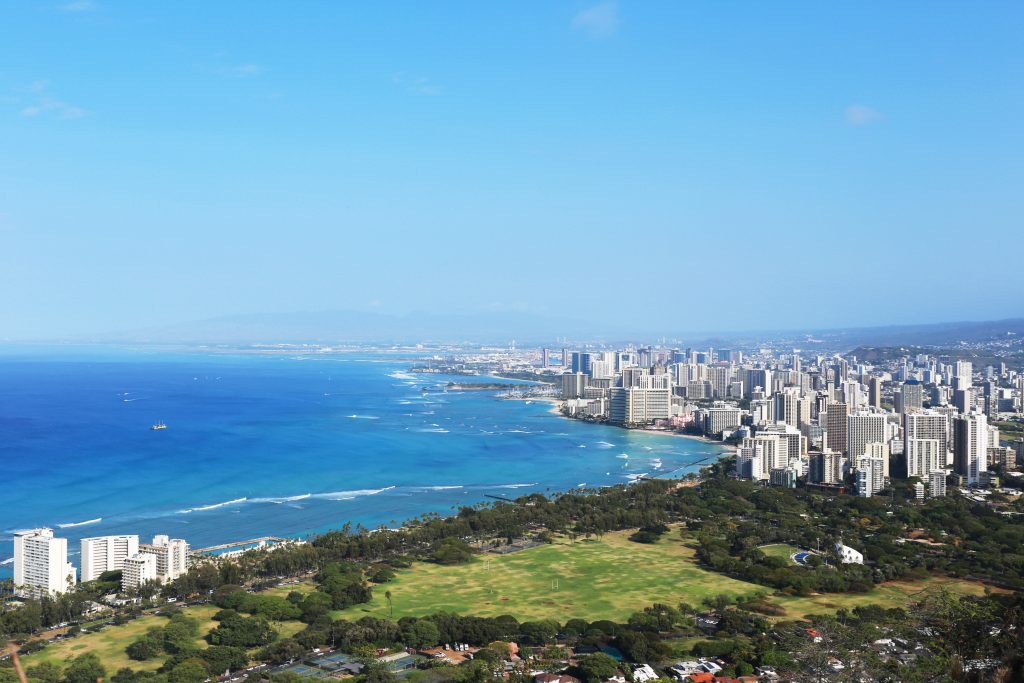 It took us only 20 minutes on the way back. We rushed back to hotel, changed our sweaty clothes and went to Hanauma Bay. Although this bay is a snorkeling site, we chose to sit by the beach, chatted and soaked our feet in salty water instead.
We headed back to Waikiki, just in time for an early dinner at Roy's. Our lucky day it was for finding a table outdoor without reservation. We ordered the same dinner set, opted for different dessert: chocolate melt & macademia nut pie. Huge portion it was, neither one of us finish the dessert. We both stuffed to bursting.
The next day started as early as 0420am for our one day trip to Maui.  First thing on the itinerary was Haleakala National Park then Iao Needle, Outlet Mall and Banyan Tree Park. We were impressed by everyone joining the tour (two other couples). They were extremely punctual. A senior couple even brought a timer, a reminder of the time he said. The tour was never a minute late, in fact always two or three minutes earlier as everyone always gather at the meeting point ahead of time. Bravo!
It always amaze me how massive Banyan tree is, a single root tree can create many other trees sharing the same root.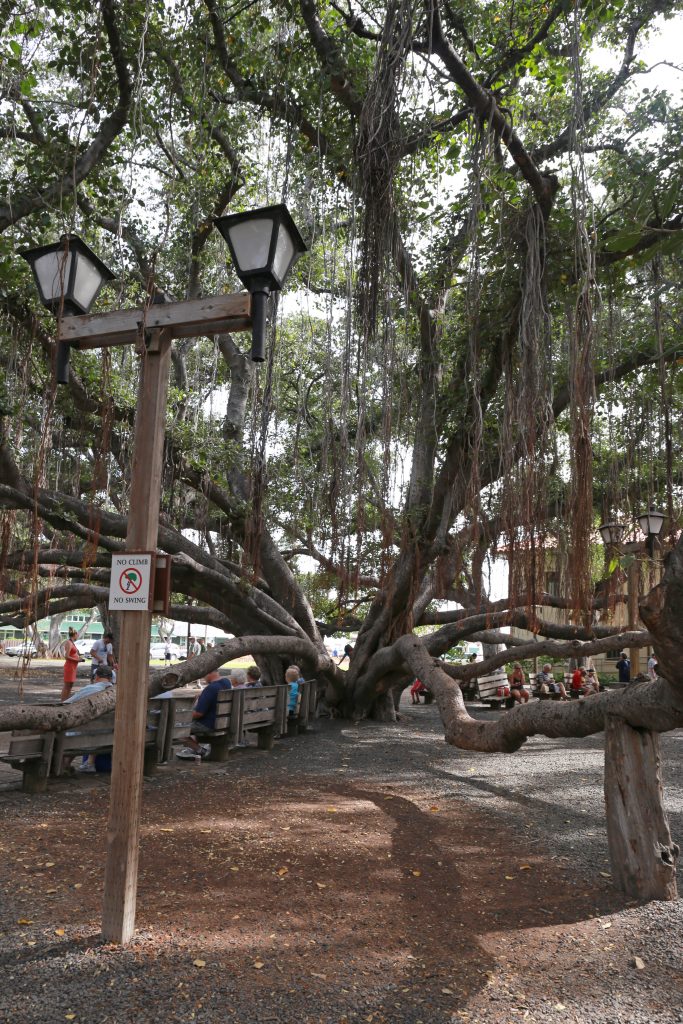 We spent our fourth day in Kailua beach, even more stunning yet less crowded beach than Waikiki.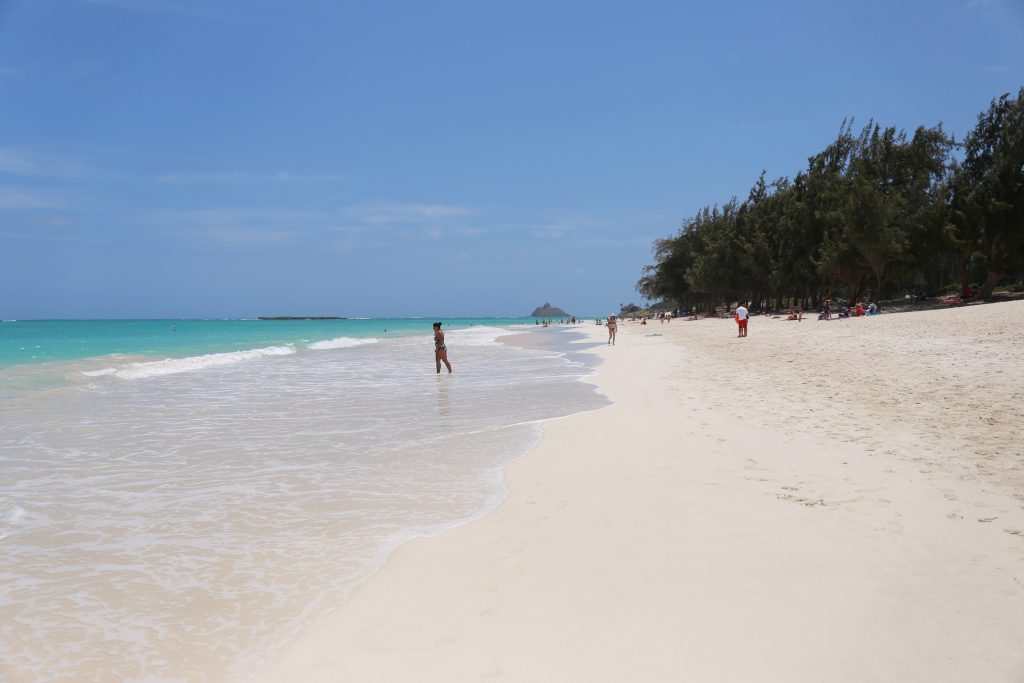 Against what my mother told me: don't jump in skirt. I was too happy, obediently jumping as Ikumo asked. I jumped for our marriage, happiness and grateful heart. It took over 50 jumps to get this picture. Other pictures are either out of focus or I appeared in strange squat pose.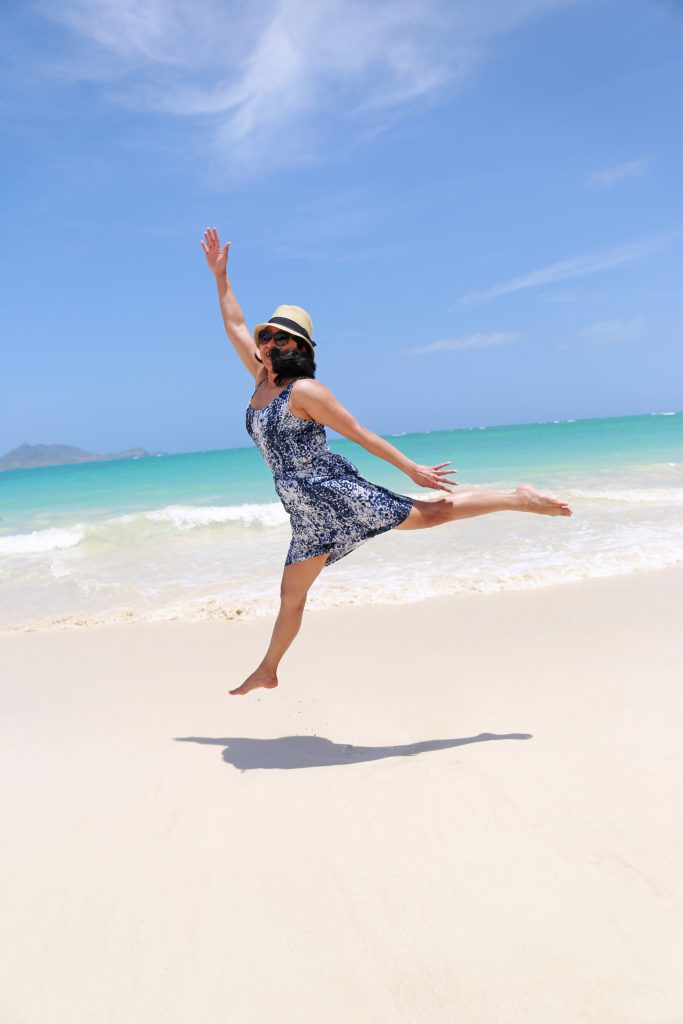 We headed up to Kailua shopping mall for lunch and coffee.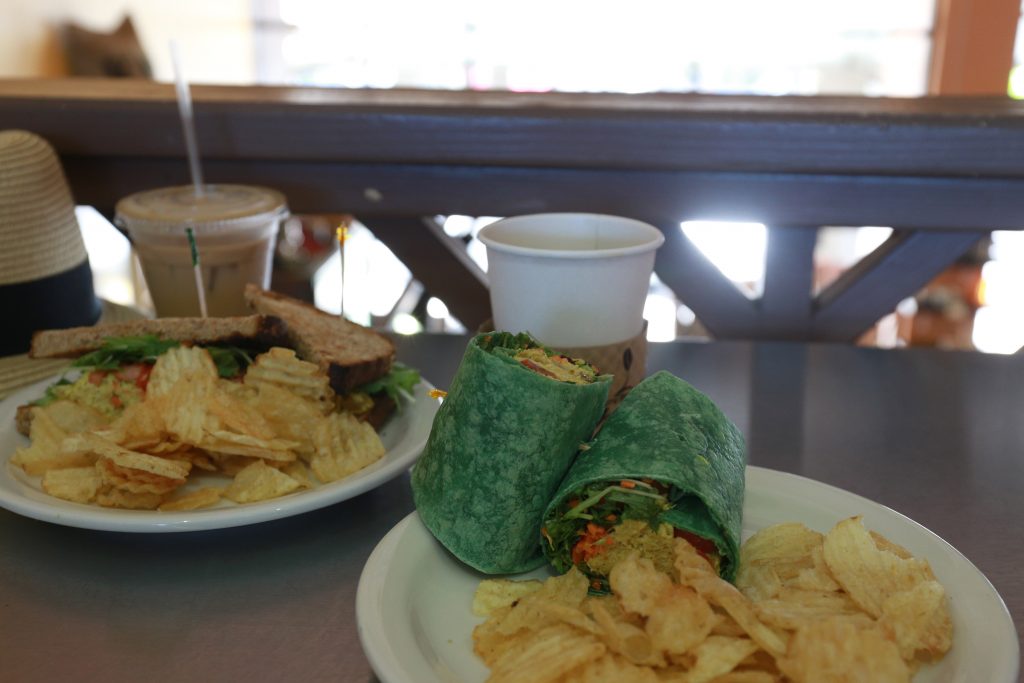 Then headed straight back to hotel and rest. Called it a day, at least for me. Ikumo got urgent emails he gotta reply. I would not complain. Rather drawn myself into Cheryl Strayed's inspiring story: Wild.
Our last few hours in Waikiki beach was wisely spent by the beach and coffee.
It was nice finally be able to visit Hawaii, an island where most Japanese would go for shopping (if not for the beach). Ikumo is thinking of going back again to Hawaii, staying in Maui instead of Honolulu. It sounds like a good a idea for the time being. But clearly not within this year. 
How about you, will you visit Hawaii more than once (in a year)?