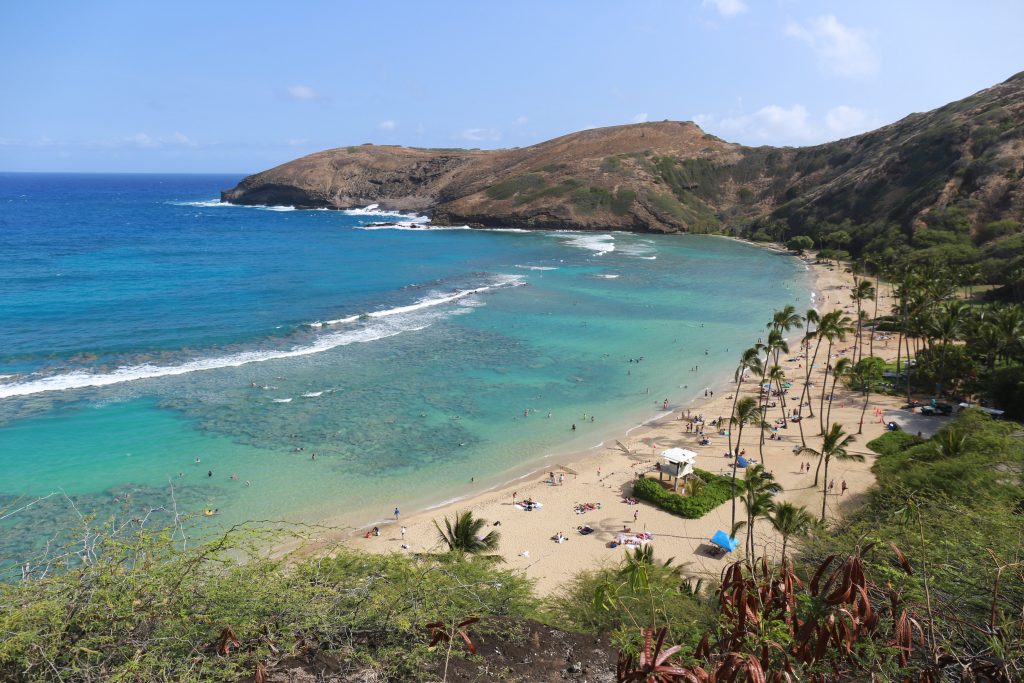 Oahu is known as "Gathering Place" of Hawaii other than its beauty scenery. It is where Honolulu, capital of Hawaii is located,  a home of Hawaii International airport and also the most populous island of Hawaii.
Here are top five things to do while in Oahu:
Diamond Head
The strenuous hike really paid off as soon as you reach Diamond Head summit. Breathtaking view over Waikiki beach, blue ocean, Diamond Head crater and Makapuu Lighthouse really are worth the hike and a total of 175 steps stairs climb. There are many scenic points at Diamond Head but its summit offers the most stunning view of all. The best time to visit Diamond Head is early morning or before 0730am as the fiery sun can drain your energy while hiking. Take a bottle of water (or two) on the hike to prevent dehydration on the way up. Diamond Head opens at 6am to 6pm.
Getting There: The Bus #23 towards Hawaii Kai – Sea Life Park stops at Diamond Head Rd + Opp 18th Ave. Cost: $2.50 (one way/person). Entrance ticket for visitors: $1 for walks in, $5 for car.
Hanauma Bay Nature Preserve
Hanauma Bay is known for its marine ecosystem, thus, the most popular snorkeling site in the island. It is mandatory for everyone to see short video (4 minutes) before reaching the shore. The video is about history of the Bay, its marine ecosystem and not to disturb the life of the ecosystem.
The Bay located Opens at 6am to 6pm, entrance fee: $7.50 (adult), free for children under 13 years old. Extra $20 for snorkeling set rental. At 0430pm, coastal guard will start announcing closing of the beach, all snorkeling rented must be returned before 0500 pm. Locker is available at the shore (with charge).
Getting There: The Bus #22 reaches the closest entrance of Hanauma Bay. It also stops at Hanauma Bay crater, one stop before the exact entrance. If you get off at the crater, you will need to take 10-15 minutes walk to the entrance gate of Hanauma Bay. Shuttle (extra charge) to reach the shore is available after the entrance gate if you don't want to walk downward slope path
Kailua Beach
With its turquoise water, soft white sandy beach and less crowd, visiting Kailua Beach really worth your time in Oahu. Finding picnic spot by the beach is easy. Plus it has many trees under which you can sit quietly. This beach is popular not only for tourists but also the local. It is located slightly far from the city center but, luckily, accessible by The Bus.
Getting There: The Bus #57 towards Kailua Sea Life Park stops at Kalaheo Ave + Kailua Rd. It takes 5-10 minutes walk to reach the Beach from that bus stop. Make sure to get transfer ticket in case you need to go to nearby place (Kailua Town Center) for dine out or coffee (Morning Brew ice latte worth trying after soaking in afternoon heat).
Waikiki Beach
Most famous tourists site in Honolulu is Waikiki Beach, always swarmed with people. The best time to be at the beach is in early morning. Famous photo shot point is where Diamond Head is. Waikiki Beach is easily accessible. The Bus runs regularly to Waikiki area: #19 and #20.
Waikiki Beach is so popular amongst the Japanese tourists as one of shopping destinations. Here you can find affordable brand like Forever21, H&M to Harry Winston. If you are coffee junkies (such as I am) check out for Honolulu Artisan Coffee located at Moana Surfrider Westin Resort Waikiki. They offer wide varieties of Kona Coffee. Try Nutty Hawaiian Latte for extra sweet morning.
China Town
Oahu China Town is one of the oldest China Town in United States which has old architecture. Like many China Town in other parts of the world, Asian restaurants, herbalists and cafes.  There were not many tourists wandering around China Town while we went there. Many of the tourists prefer going to different points of interest within the area: Kamehameha Statue, Kawaihao Churc and Taishakyo Mission Shrine are to name some of them. We found Mama Nita Scones while wandering around the area. Not only Mama Nita has delicious scones, the small cafe is a nice place to hangout for awhile. I really love its organic blueberry scone.
The view from Mama Nita's balcony.
Going around Oahu is easy. Most of the route is accessible by "The Bus" (local bus name). And The Bus offers a transfer ticket to cash paying customers (upon request). This transfer ticket can be used for another two stops (on the same bus route) within two hours after getting on The Bus without any extra payment. It's very cheap way of getting around the city:  $2.50 only. The transfer ticket, however,  is not valid for return trip/round trip.
The great thing about Oahu is the local people are friendly and helpful. What really impressive is The Bus drivers, they seem to always remember which stop the tourists on The Bus want to get off. We were once reminded not to get off at Hanauma Bay crater. If not because of the driver, we would have taken different stop and waited for a hour or two for the next bus.
The Bus does not pass that frequently at some of tourist spots, like Kailua Beach Park for instance. Check The Bus schedule before going to the place and double check with the driver on the schedule. Missing The Bus may cause you 1,5 hours or 2 for the next bus.
I know I have not captured all spots of Oahu. Which other thing(s) would you recommend to do while in Oahu?