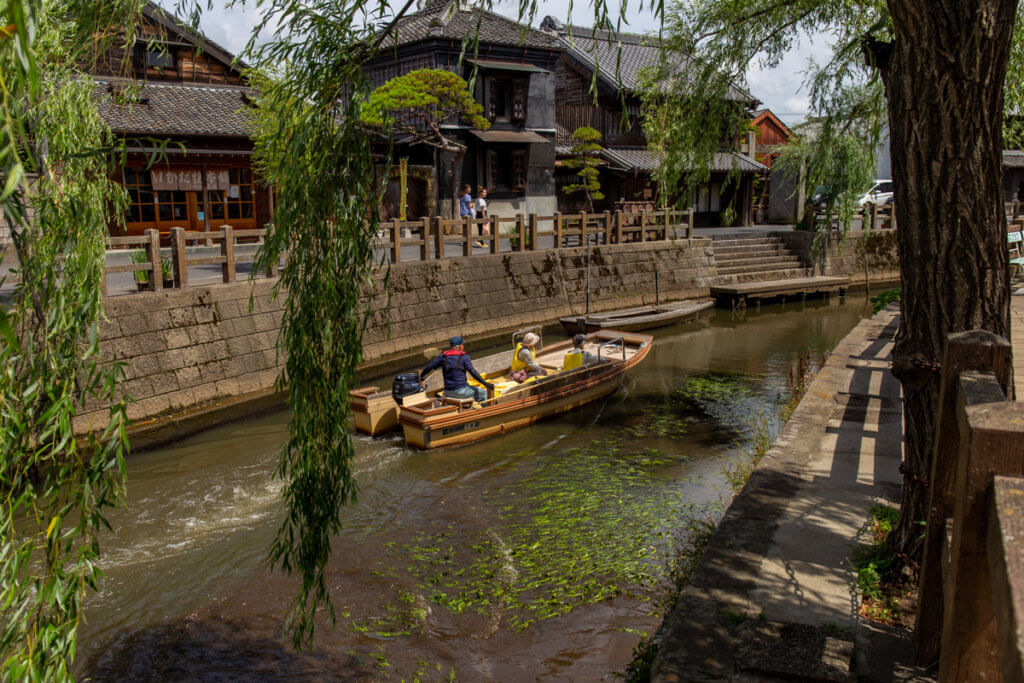 Sawara is an old historical town located in Chiba prefecture, Greater Tokyo. The name Sawara may sound strange for many tourists because it's rarely featured by media for several reason. One, a little media coverage. Media caters what tourists like the most: popular places. Unfortunately, for Sawara its "heyday" was in the past and known only by the locals. Two, its located slightly far from Tokyo. I'm a bit half-hearted picking up distance as the reason because people will be excited going extra miles to see popular places anyway. But then again, if it's not popular, why bother coming. It may sound cruel but it's the fact of tourism nowadays. Try to hashtag travel on IG and see what appears, you'll understand why I said it.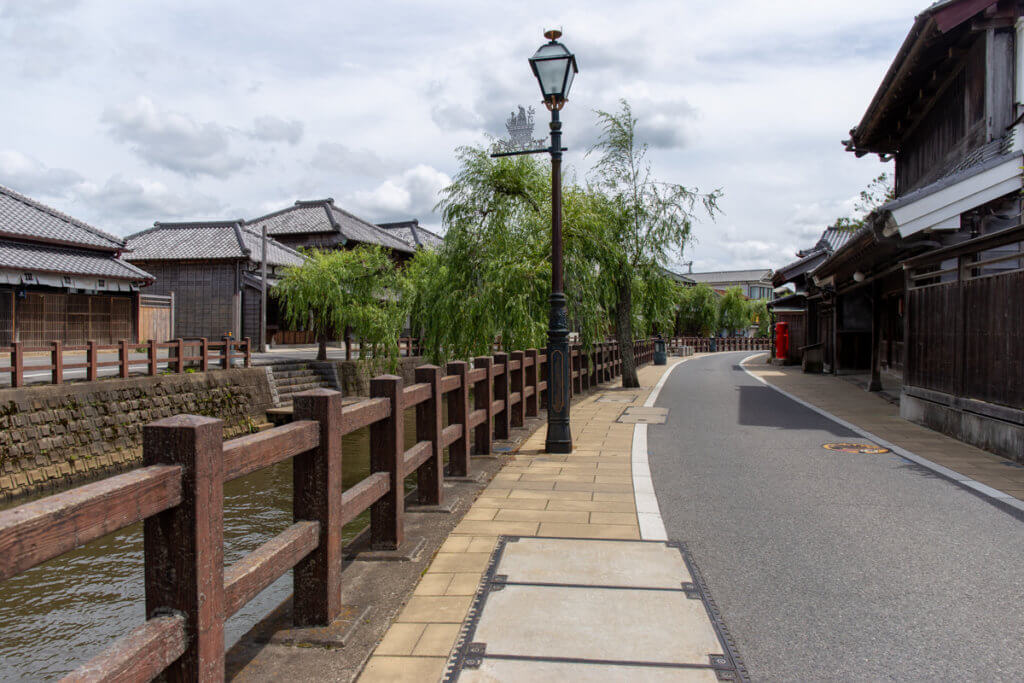 Why we visited Sawara? It's not because we no longer have a new place to visit around Tokyo but because Sawara is a worth visiting place for three reasons: first, to see what Edo era was like ; two, to take sightseeing boat tour and three, to eat unagi (broiled eel). I will write a separate blogpost for unagi, because good food deserves a special attention.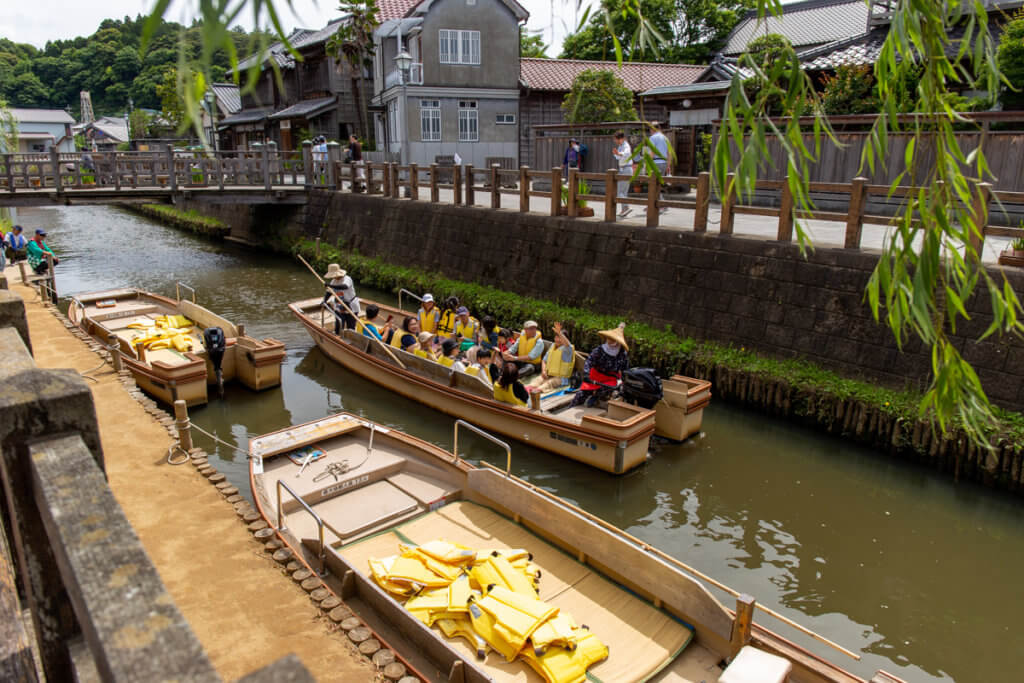 Koedo or little Edo that Sawara was once called. The old town of Sawara resembles Edo period especially along the 500 metre stretch by Onogawa River where the old houses are located. Those old houses were once old merchant houses. Today, the old houses serve as private residential, stores or restaurants.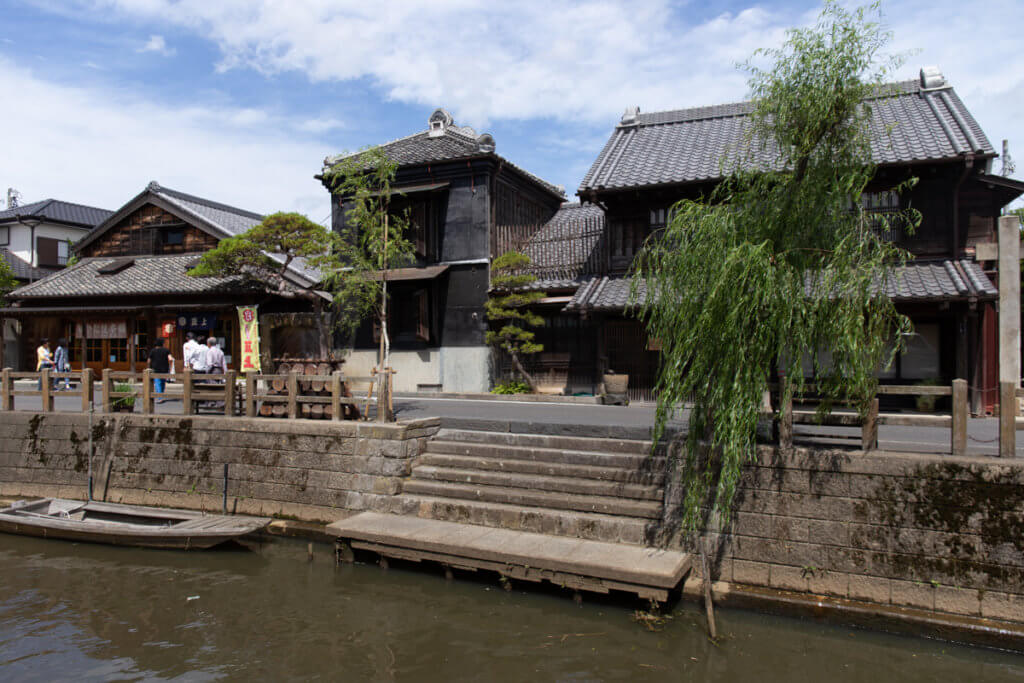 Highlight of the old area is former residential of Tadataka Inoh who made an accurate map of Japan for the first time in the early 19th century. The house was built in 1793 and entrance is free.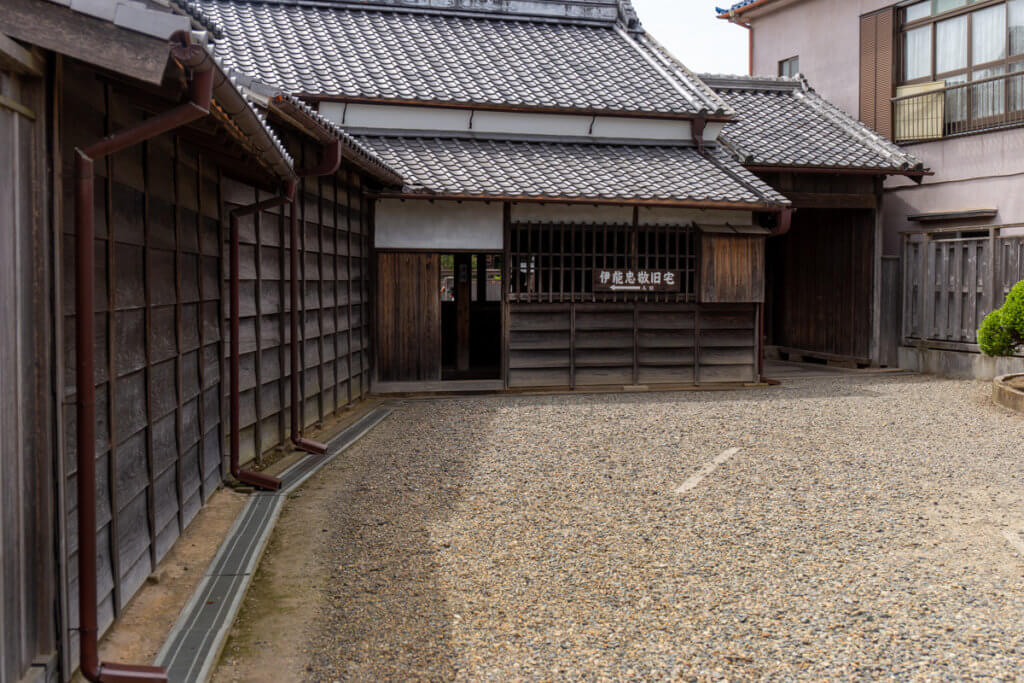 The sightseeing boat station is located right in front of Tadataka Inoh house or by Ja-Ja Bridge. There's a small clock tower next to the bridge and that is the pier.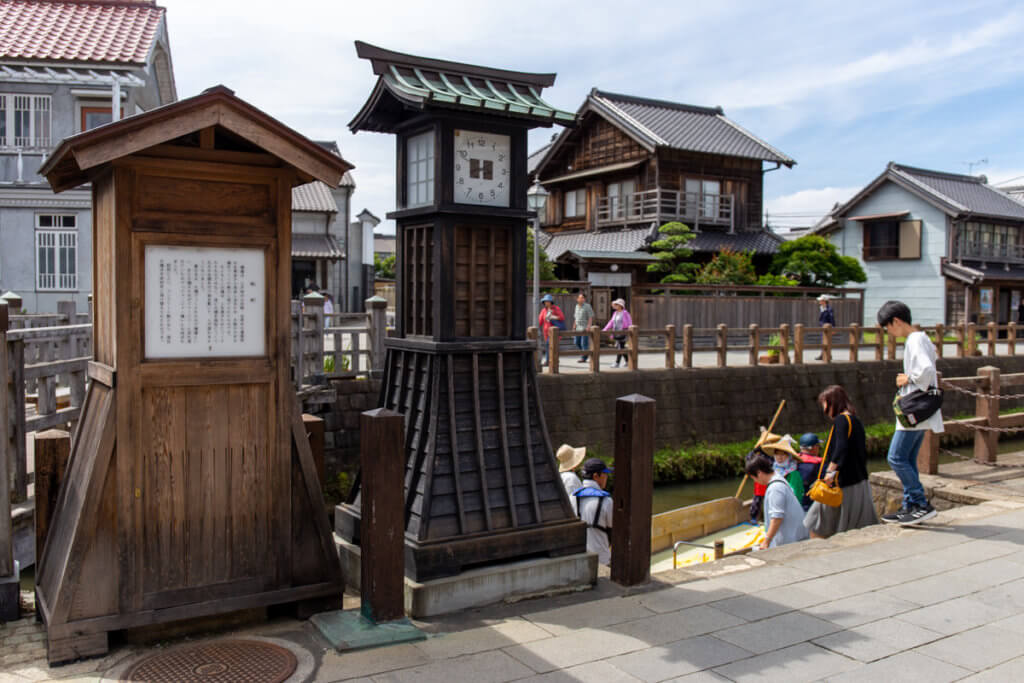 The ticket counter is located adjacent to the pier. Ticket costs 1,300 yen/adult/ride.
Unlike many other boat tours I took, Sawara boat ride is unique. It's a traditional fishing boat that has been modified to fit 11-14 people in one sitting. The bottom boat is tatami (Japanese mat made from rice straw) and we have to take our shoes off. The boat embarks after everyone put life jacket on.
How long it takes to get on the boat? We waited for 20 minutes to get on the boat. The queuing time may be longer over the weekend or peak season.
How long the boat ride lasts? 30 minutes. It's a guided tour with brief explanation of each important landmark located by the river. Unfortunately, it's in Japanese.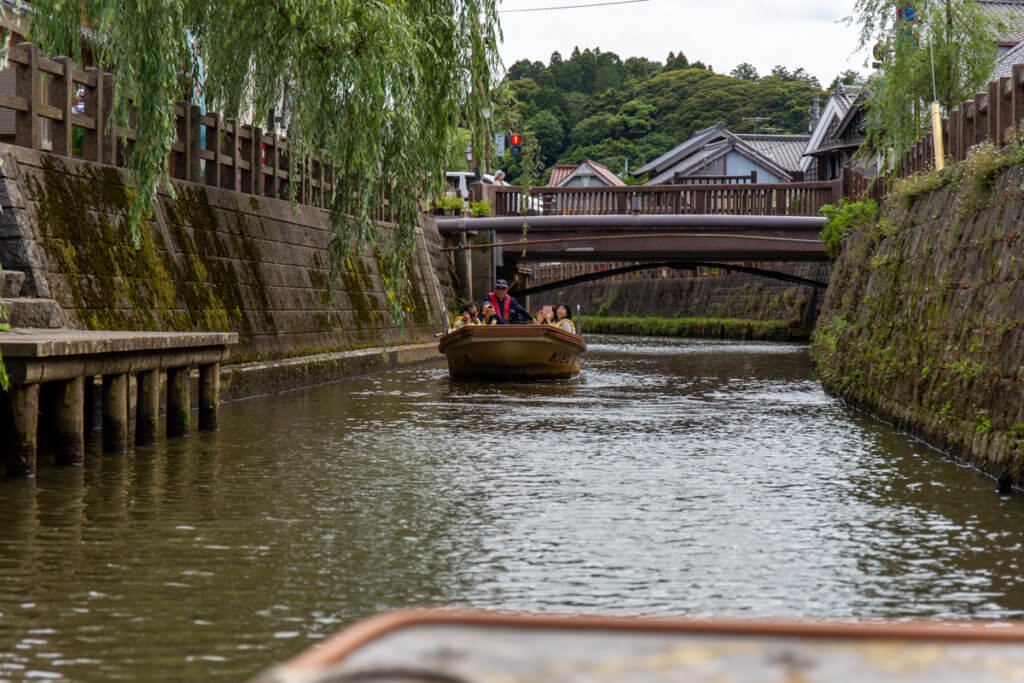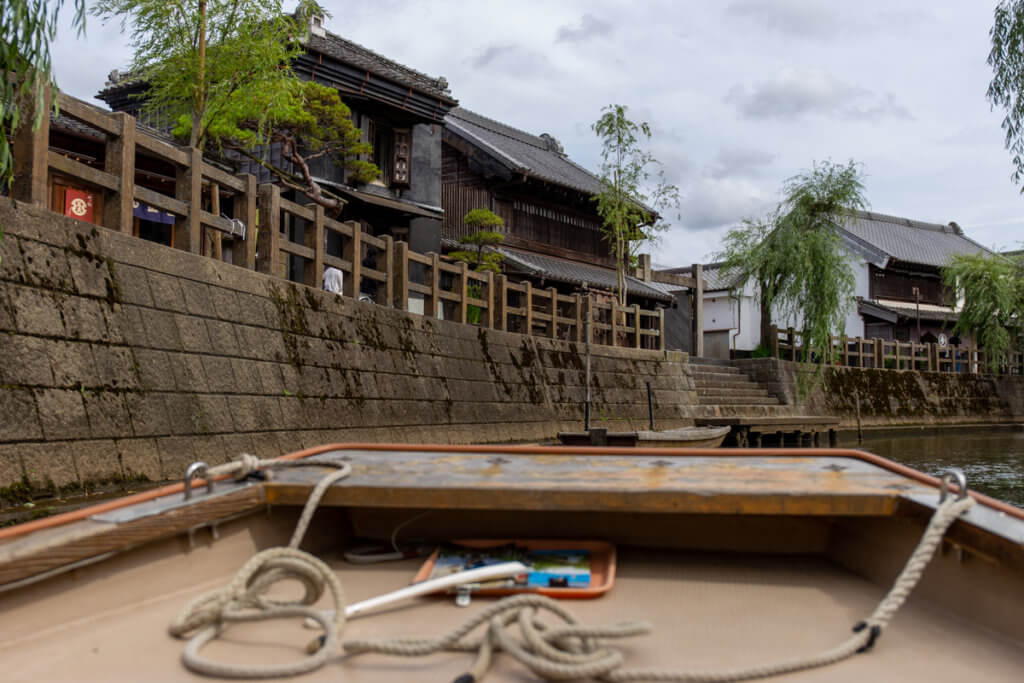 Is the sightseeing boat ride worth taking? Of course, it is. It's the highlight of Sawara. It's only the only boat ride with Edo period setting that is close to Tokyo and Narita airport. The ride lasts 30 minutes yet, it's enough to convince us to come back for another ride.
How to get to Sawara? From Tokyo Station, take a Kantetsu Highway Bus bound for Hokota and get off at Chukei-bashi (6 times a day). Or take Sobu rapid line, get off at Chiba or Narita and take Narita line to Sawara Station. From Narita Airport, take Narita line, get off at Narita and change to another Narita line bound for Choshi.
Are you interested in visiting Sawara?