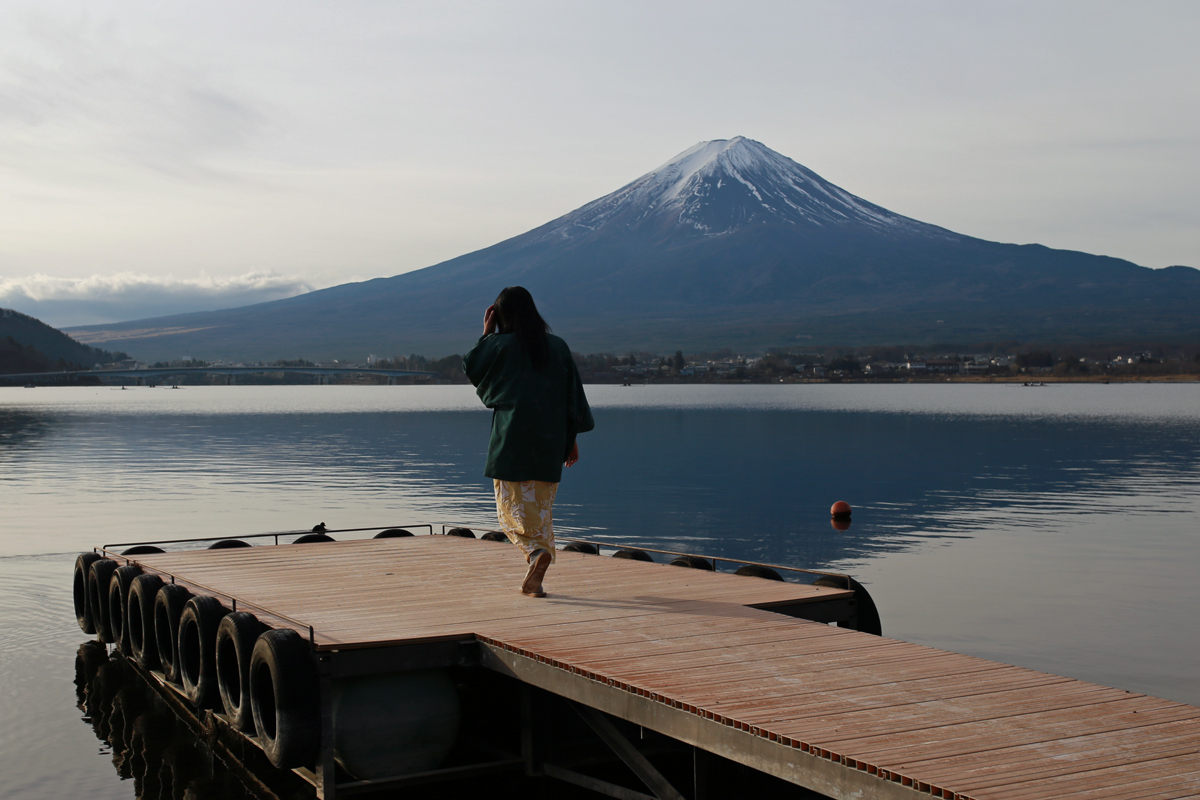 The most famous place to take picture of Mount Fuji is none other than Kawaguchiko. Kawaguchiko is a small city located on the foot of Mount Fuji. It is famous of its stunning lakes. There are five lakes within this city but Lake Kawaguchi is the most famous amongst the five.  Kawaguchiko is easily accessible from Tokyo either by train or bus and it is not far.
Like many other people, we went to Lake Kawaguchi to take picture of Mount Fuji and its reflection on the lake. Lucky for us it was sunny when we arrived at Kawaguchiko. Mount Fuji could be seen from every corner of the city. First thing on our list was getting 2 days Kawaguchiko Pass at Kawaguchiko station. Going around with the Pass is definitely much cheaper than single ticket. Surely, we picked up Kawaguchiko map, the English version, from the station too.
Unlike other trips, this time we had nothing called "itinerary" neither "places to see list". It was a completely itinerary-free trip. We did not even check which place to go first when in Kawaguchiko. The only reference we had was the map we got from the train station. Tourists map is always a great thing to have in any trip. It listed down popular sightseeing spot and how to get there. Worry not where to go when in Kawaguchiko. We actually did not want to go to many places this time as this was one of those lazy staycations.
First place to visit was Kachi Kachi Mountain where we could ride cable car or ropeway. Kachi Kachi Mountain is named after a Japanese folklore, a rabbit befooled a mean raccoon and killed it with a very smart trick. There is no better place to get the view of Lake Kawaguchi than from the height. There was already a long queue when we arrived at the foot of Kachi Kachi Mountain. It took us nearly 20 minutes to get on the ropeway.
The view of Lake Kawaguchi and the city was so stunning as we ascended to the mountain.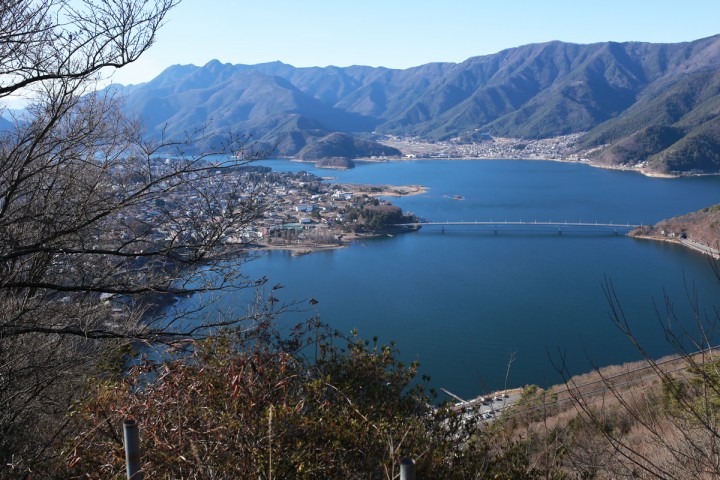 There are rabbit statues within the vicinity. It is said touch the rabbit feet three times for strong legs and good health, touch its head three times for wisdom. So I did touch the feet and the head. I am much wiser person now, wise enough to run three times a week.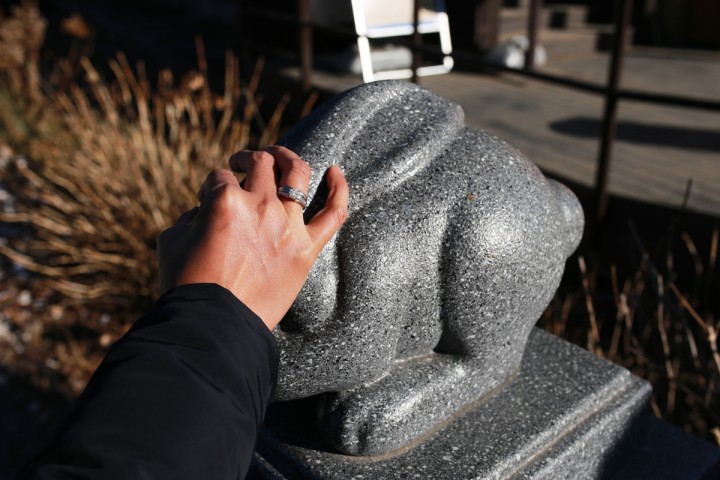 Stone throwing for luck. Yes, my stone passed the hole landed just behind the two rocks.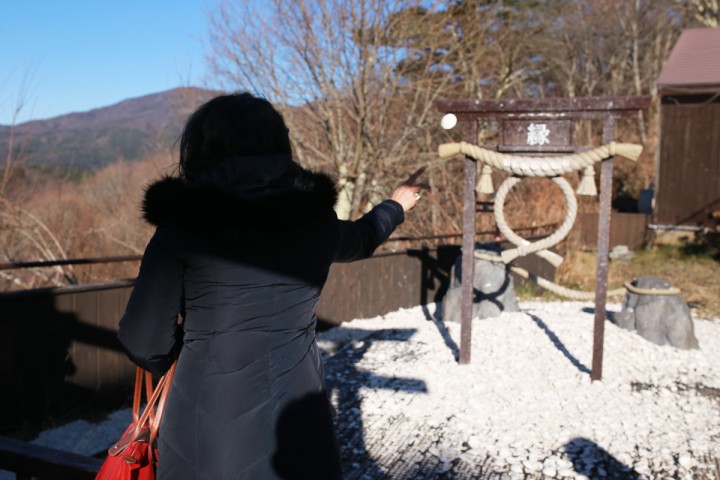 In principle one can hike to Mount Tenjo from the top of Kachi Kachi Mountain on a clear weather. it will take three hours hike to the top of Mount Tenjo and another three hours to get back to Kachi Kachi Mountain. We had no plan to hike any mountain this time, so we passed. Might be we would hike in near future when the wind was not as chill as in the winter. This time taking pictures would suffice.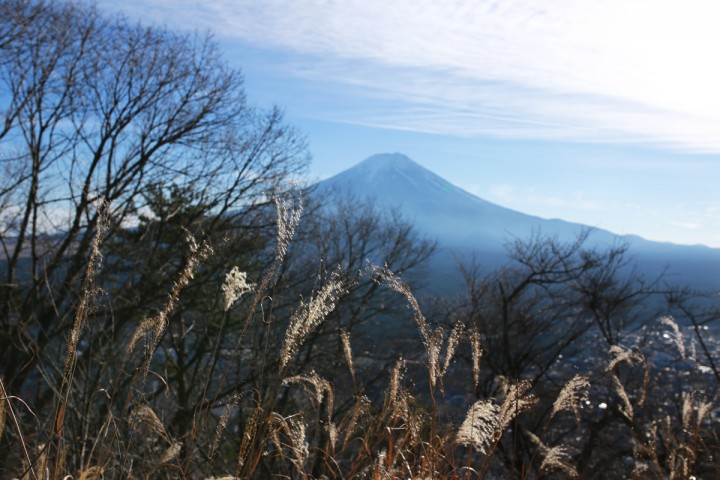 Ropeway ascending to Kachi Kachi mountain.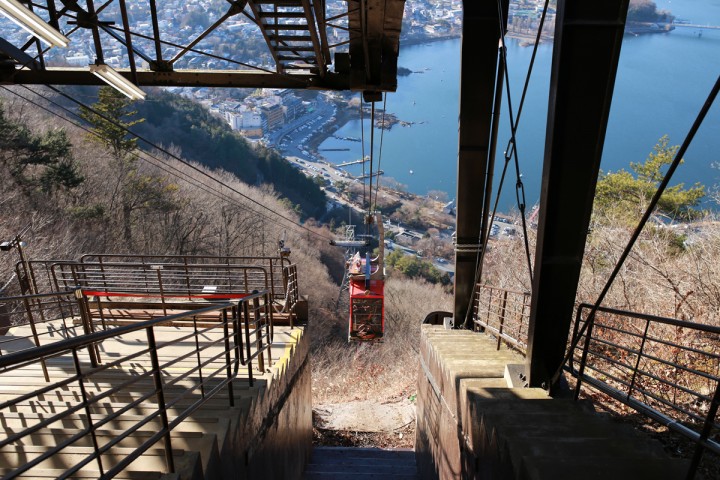 We then rushed to the hotel. Ikumo promised me there would not be any better place than our hotel. He was so right. The hotel is right in front of Lake Kawaguchi and Mount Fuji. We did not realise just yet how gorgeous our room was. I was a bit surprised as soon as I stepped into the room. It was a huge room that I nearly screamed. I meant how big a hotel room could be in Japan. It turned out Ikumo had been preparing for this for quite sometime as a surprise staycation. This Japanese style room has tatami mats, dining table and wardrobe. Like a traditional Japanese room, there is no bed but a traditional Japanese bedding "futon" nicely stored inside the wardrobe. Welcome drink was served inside the room, prepared by hotel staff.  There, we enjoyed our welcome drink with Mount Fuji view. Nothing nicer than staying in a room with the view.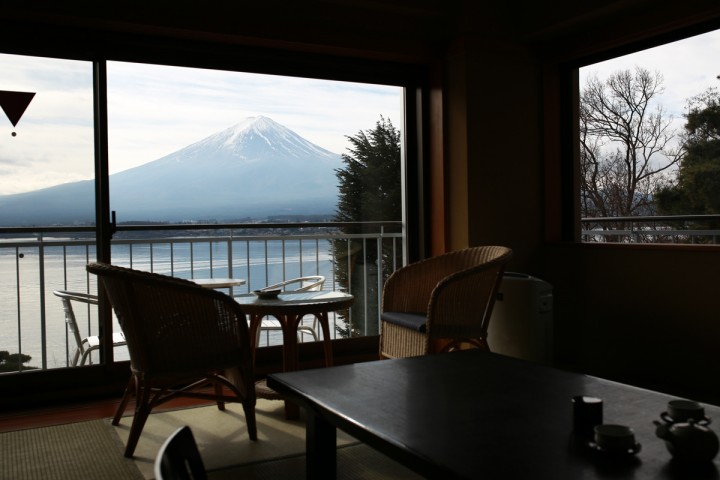 We then rushed to the lake as soon as we took the last sip of our green tea. Sunset was so gorgeous even though we could not see Mount Fuji reflection on the lake. The wind was too strong this time. Never mind we could see Mount Fuji perfectly clear.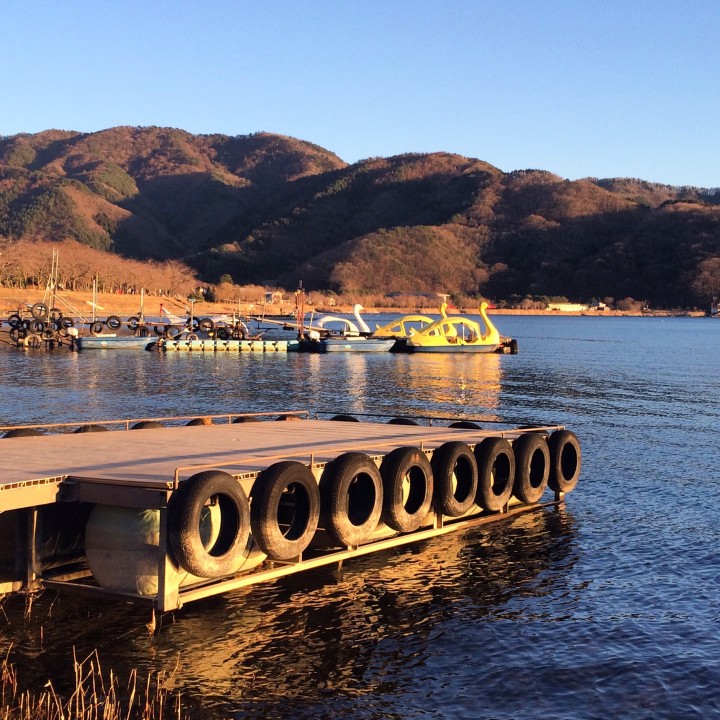 In Japan, no traditional hotel without "onsen" or hot spring. Onsen is one of services sought after by the Japanese when staying in traditional hotels. So, I really wanted to check on onsen first before deciding to dip into the hot bath, might be taking few pictures. There were already many people there. Gone my wish taking pictures of the onsen but that's alright, better luck tomorrow morning. This time I could only bath in the onsen. It felt so good staying in 44C hot water in the winter.
We had dinner in the room, a traditional Japanese food that seemed never stop coming. We had black bean agar and ginseng soup as starter.
Then a large pot of sukiyaki that was cooked on spot by our room attendant.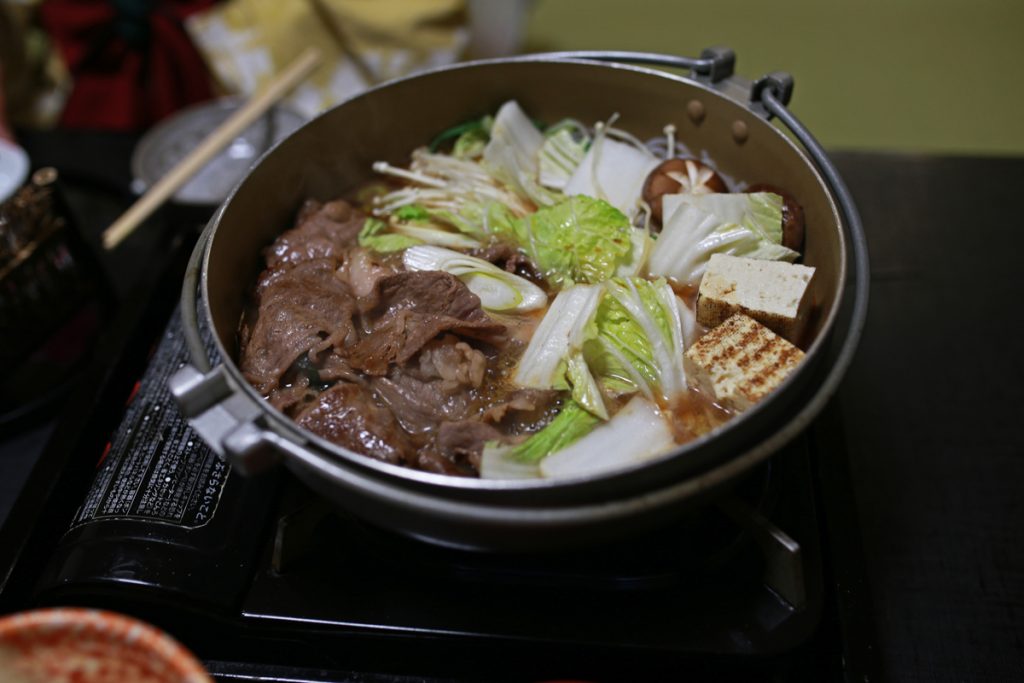 Next on the menu sashimi, raw fish platter.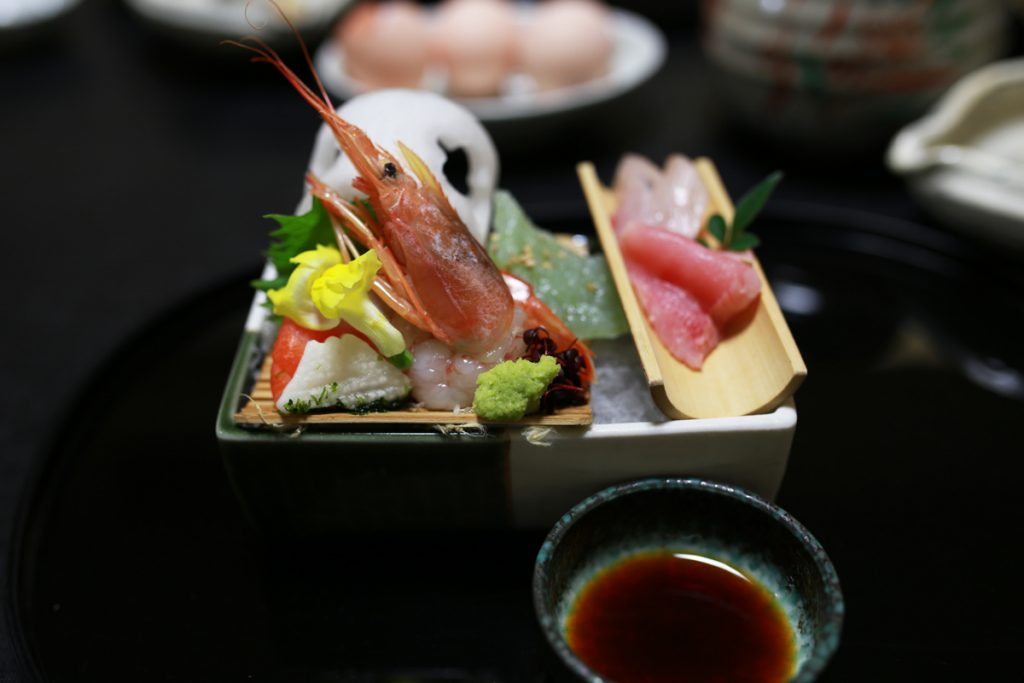 Finally, the main course. Frankly I always has difficulty to tell the main course when it comes to Japanese set menu. There just too many of dishes to count.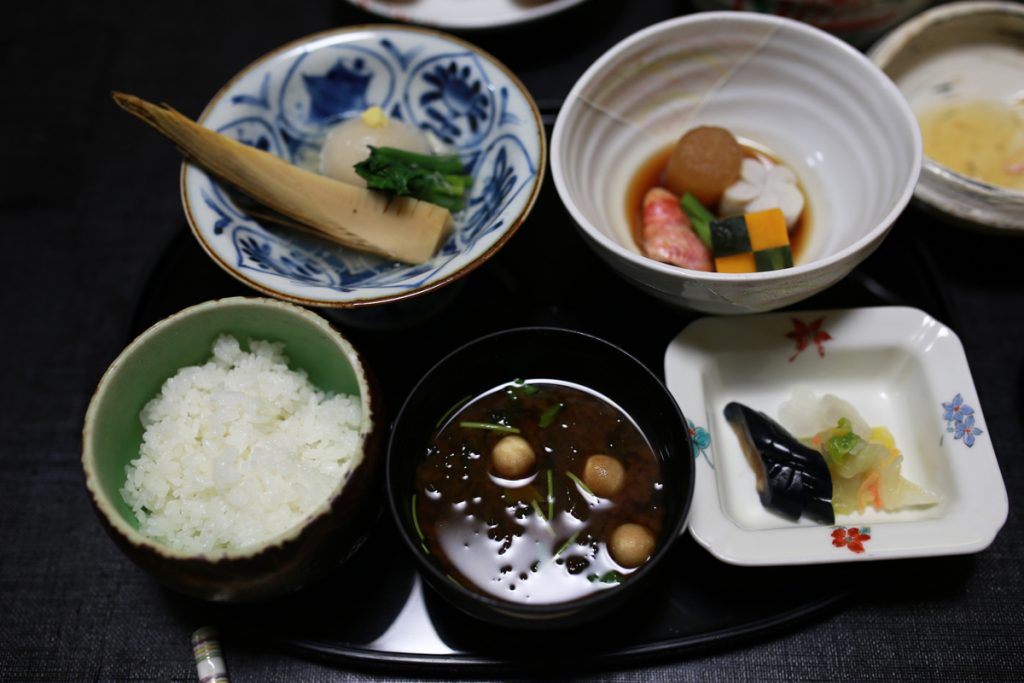 And the dessert was azuki, red bean, raspberry sauce and mochi, glutenous ball. Sweetness closing it was.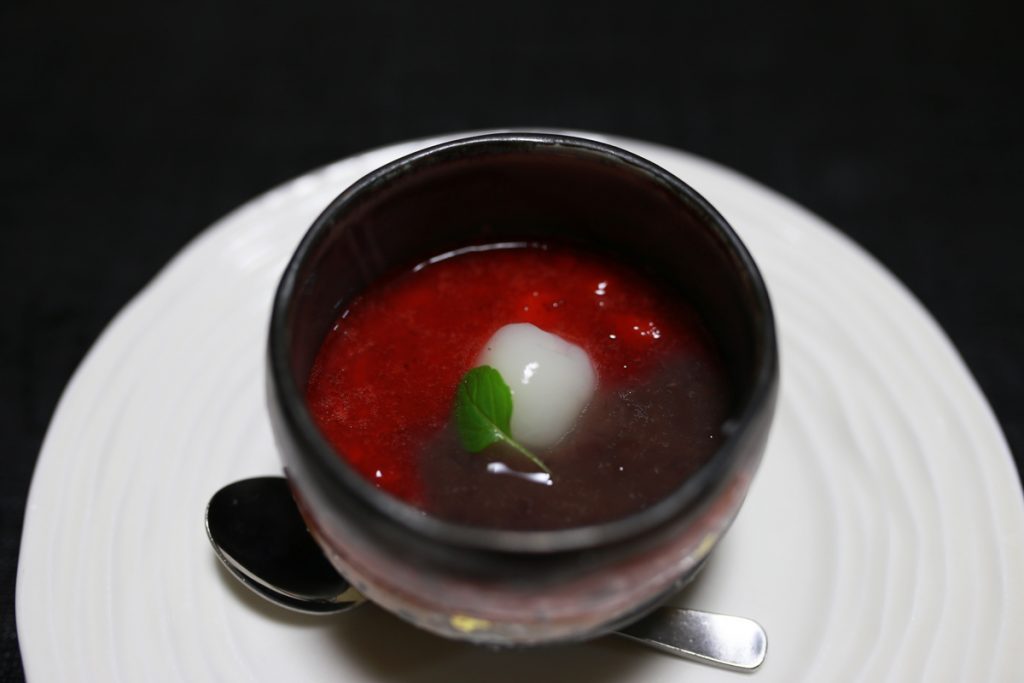 The hotel staff came and made the bed. It took less than 5 minutes to store the table inside the wardrobe and made the bed. Efficiency is always superb in Japan.
Thanks to huge dinner we could yet sleep. It took awhile to digest the food, only after midnight we managed to sleep.
….And woke up very early in the morning (before 5AM)  to take picture of Mount Fuji. Mount Fuji and city light looked awesome.
We decided to get picture by the lake. I was still in yukata, a kimono-like dress that came with a light jacket provided by the hotel.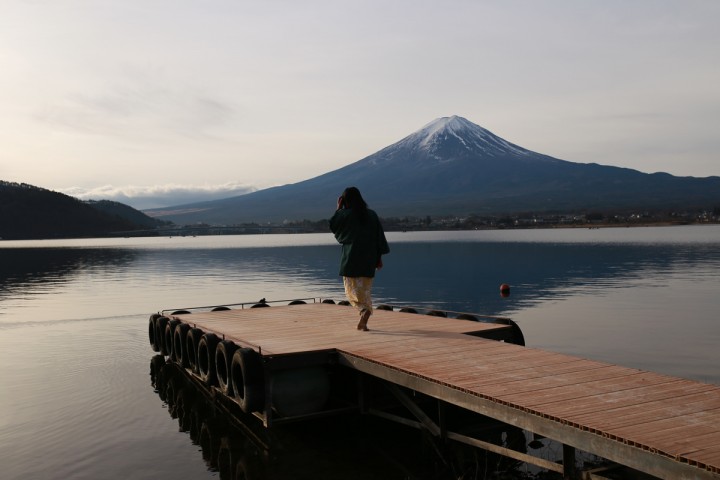 Next thing on the list was to go to the onsen again. This time I was lucky. There was not anyone at the onsen but me. The indoor and outdoor onsen were mine alone for 30 minutes. I spent 10 minutes to take pictures of the indoor and outdoor onsen before finally soaked my body in the hot bath.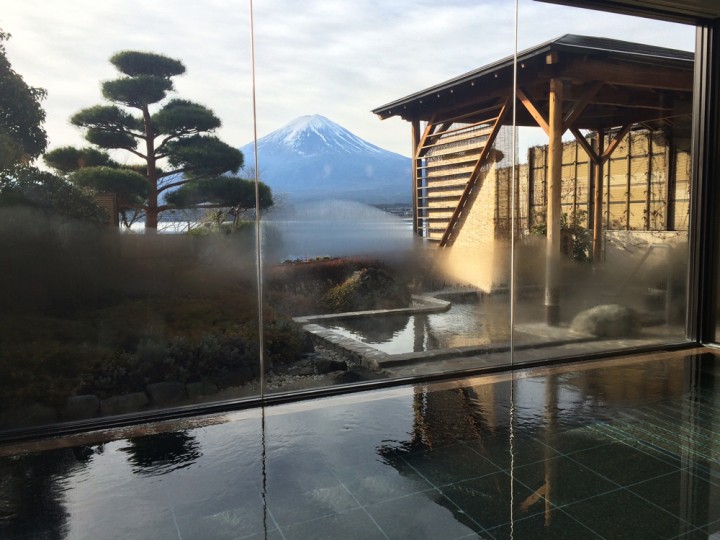 Mount Fuji was visible from indoor onsen but the view from outdoor onsen was even better. I liked outdoor onsen more than indoor. Chill air and hot water would always be a good combination.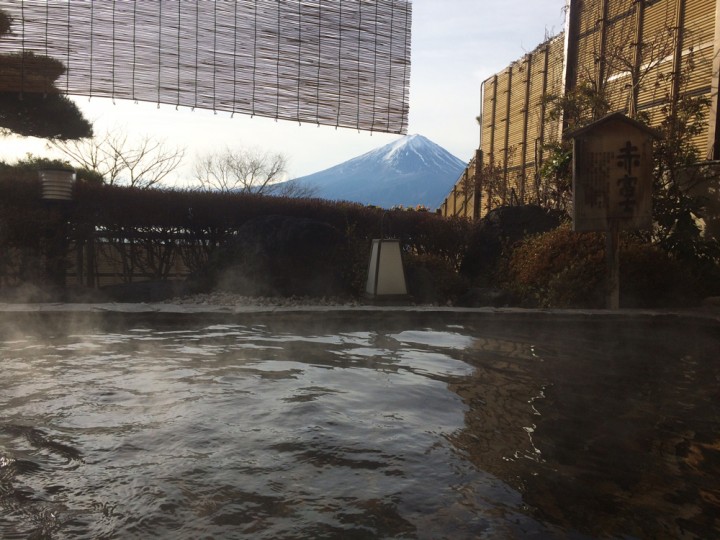 I would not trade a solitude morning like this with anything else. 20 minutes went by quickly in the onsen. It's time for breakfast.
There were many options for breakfast but for us Japanese style breakfast meant fish.  Here to a fishy morning.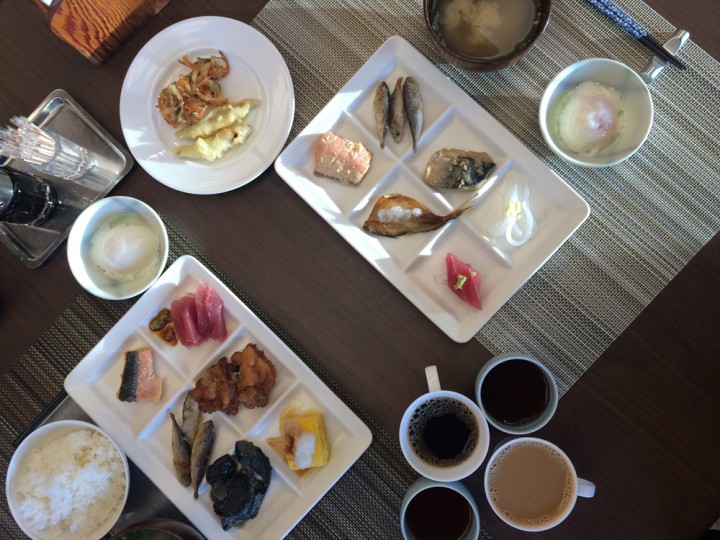 As much as we wanted to stay the clock was ticking fast to check out time. We back on the road heading to our next direction.
This place is famous in spring because of the garden. Winter meant dry and brown here. It had its own beauty too.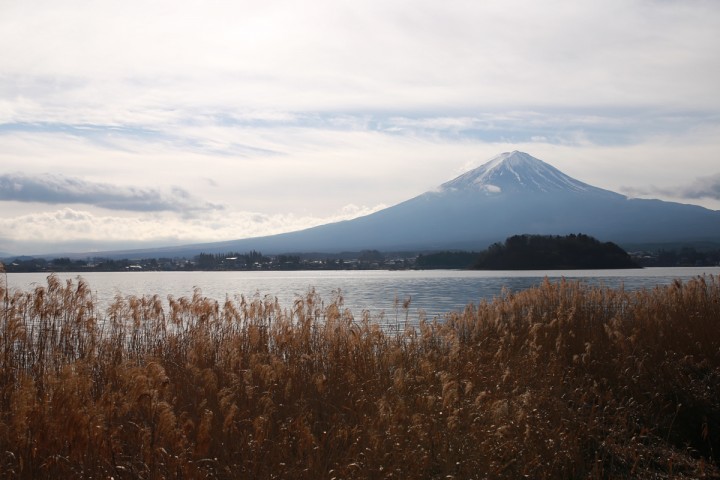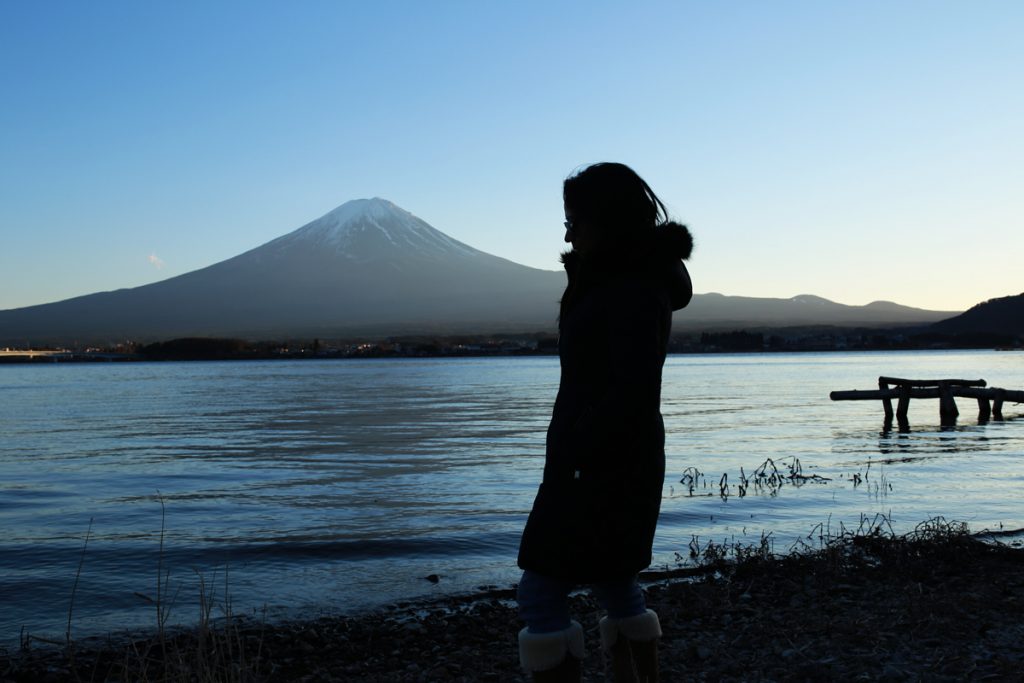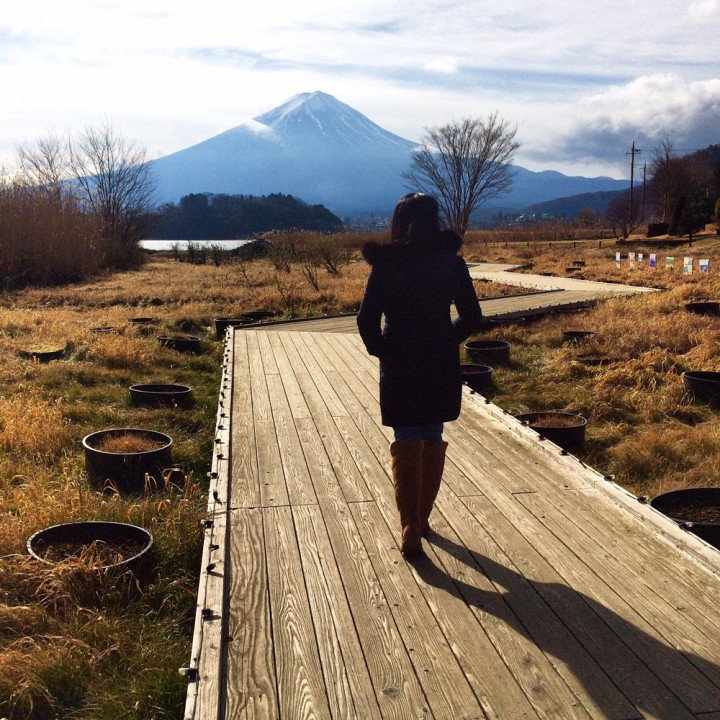 The next place to stop to was Ice Cave.  Ice Cave is famous for housing nature made ice stalactite. There was not many stalactite when we were there. I guess global warming ruins the stalactite or does nothing to help the ice to form. The cave is slightly dark, narrow and cold. We had to duck to pass certain path. Taking picture was a challenge because of low light.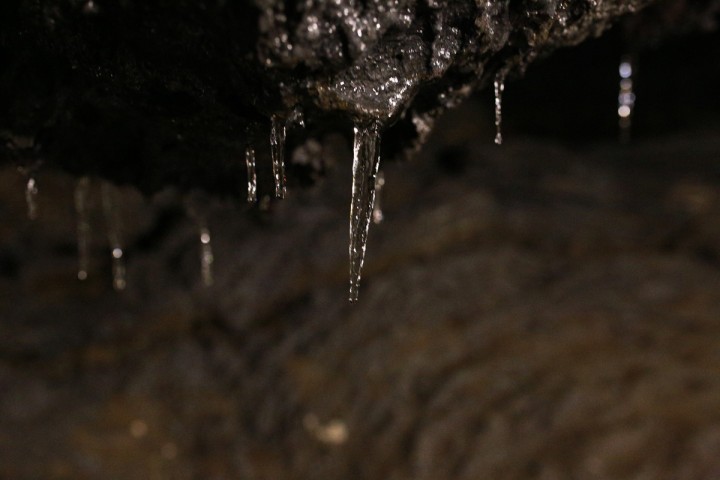 This is the most famous spot of the cave where tons of nature made ice blocks are. It looked like there were more ice here before but melted because of warm temperature. Some of the ices were melting when we were there. This winter did not do any help to preserve the ice let alone creating new ones.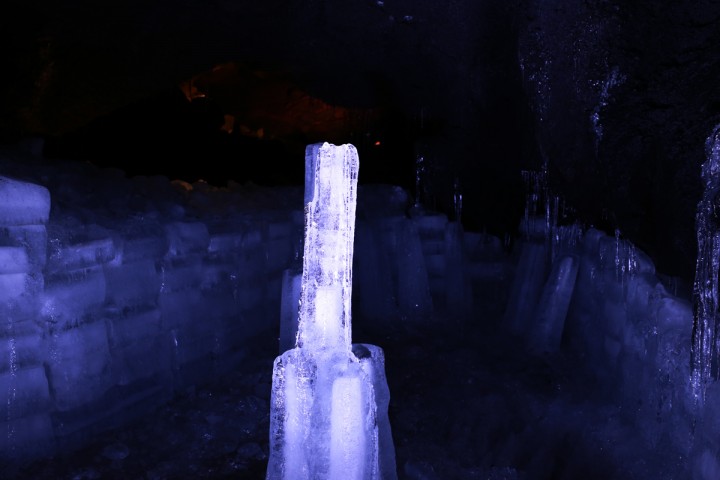 We rushed back to train station trying to catch express train to Tokyo. We made it and got into this cute train.This train will be replaced with new one in near future. It is said this is outdated model.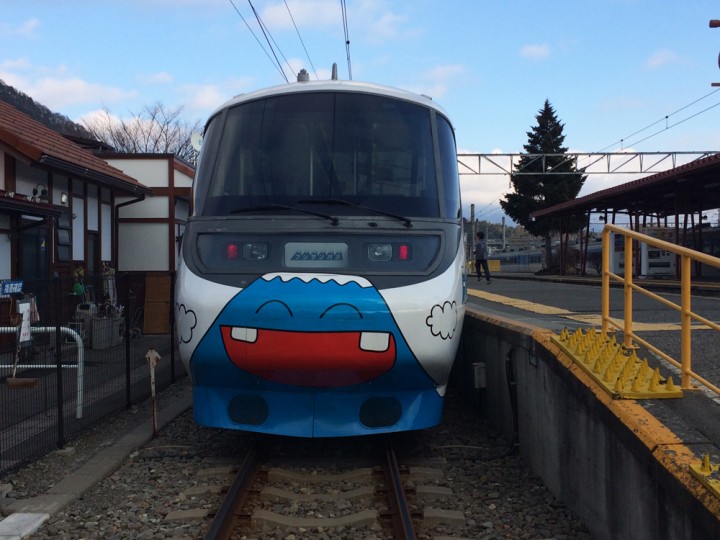 We will definitely visit Lake Kawaguchi in the future, may be when new train starts operating. It is not only because of Lake Kawaguchi's beauty but also short distance between Tokyo and Kawaguchiko makes this town comes on top on our weekend gateway list in the future.
What about you, are you interested in visiting Kawaguchi Lake?