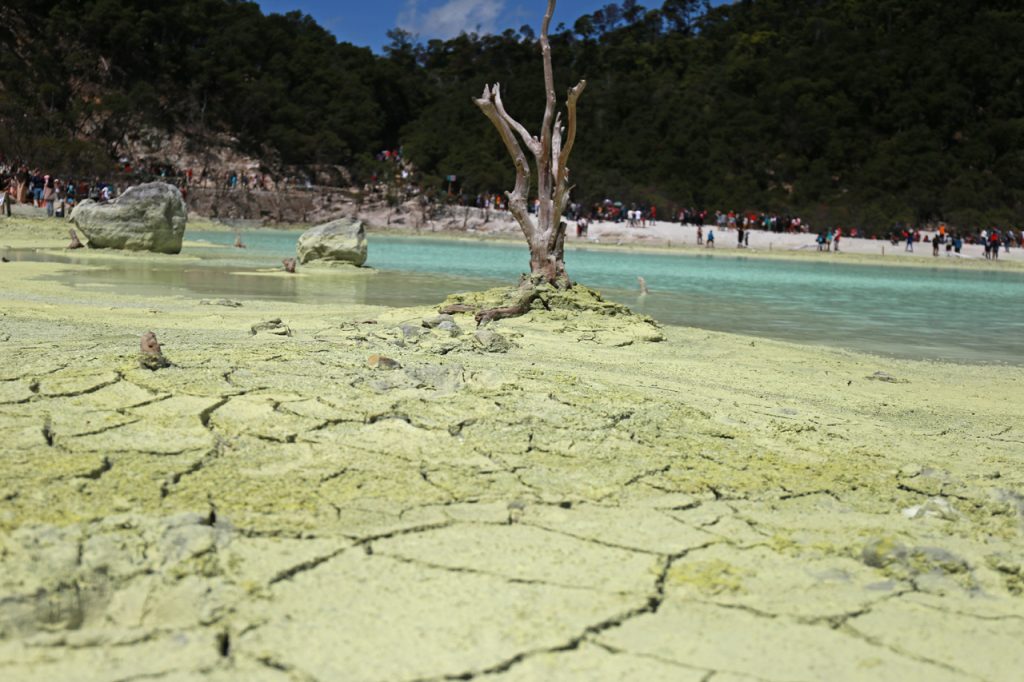 Flying back to home country is always a joy for those who are staying abroad. No matter how much I love Tokyo I always want to visit my home country, Indonesia, for a short trip or a two weeks holiday. Indonesia is a beautiful country with thousands of places to explore, be it beaches, mountainous or lively city like Bandung. Bandung is a popular city in Java which is known for factory outlets, food adventures and its beautiful natural surroundings. Since Bandung is located only 2.5 to 3 hours drive from Jakarta on normal traffic, Bandung is top weekend-getaway destination for Jakartans.
We are lucky that my mother is staying in Bandung. We could spend holiday here in Bandung without any necessity to visit any other city in Indonesia during this peak season. This July is the busiest season of the year in Indonesia because of Holy Eid Idl Fitr which is celebrated nationwide. Although Indonesia is not an Islamic country, majority of its population is Moslem and live in Java island. During the Holy Eid season, people travel to different city to meet their family and relatives. If there is a bad time to visit Indonesia, it will be during Holy Eid season. For us, visiting Indonesia during Holy Eid is always special as it is the best time to meet family and relatives. And of course Holy Eid means tons of food. The first few days of our stay were all about family. Then, it finally came down to explore the city. We do not plan to visit any other city than Bandung and Jakarta at this time.
We have Kawah Putih or White Crater lake on top of must see list, a famous tourists spot that takes 2 hours drive from Bandung (on normal traffic). White Crater is famous for its stunning white greenish turquoise or white bluish. The colour changes from time to time depending on the concentration of the sulfur and temperature. White Crater has high acidity therefore swimming or even soaking your feet into the water is prohibited at all times.
We went to Kawah Putih two days after Holy Eid. This was an extraordinary time to travel any where in Indonesia, so even we went there as early as we could be, it took us 2.5 hours drive from Bandung city center to Kawah Putih. We took tollway and started experiencing what traffic jam was like after 40 minutes of getting off from the tollway. It was a terrible traffic jam for us but my brother said we were lucky to reach Kawah Putih less than 3 hours in a peak season like this day. After driving for couple of hours, we finally reached the entrance gate of Kawah Putih. It took another 20 minutes drive from the entrance gate to the parking space at the nearest point to Kawah Putih. The parking area was nearly packed when we got there, luckily there was a car getting out. We got that space in a matter of a minute.
The White Crater nestles in a valley around 3 minutes walk from the parking space. There was an announcement that kept playing over and over again advising visitors to spend only 15 minutes at maximum at the White Crater area or leave the area anytime if ever feels difficulty to breath or nausea.
We did not think the sulfur could be that bad until we reached the stairs to the valley. It smell liked thousands of rotten egg. The man with green mask clearly well prepared for the smell.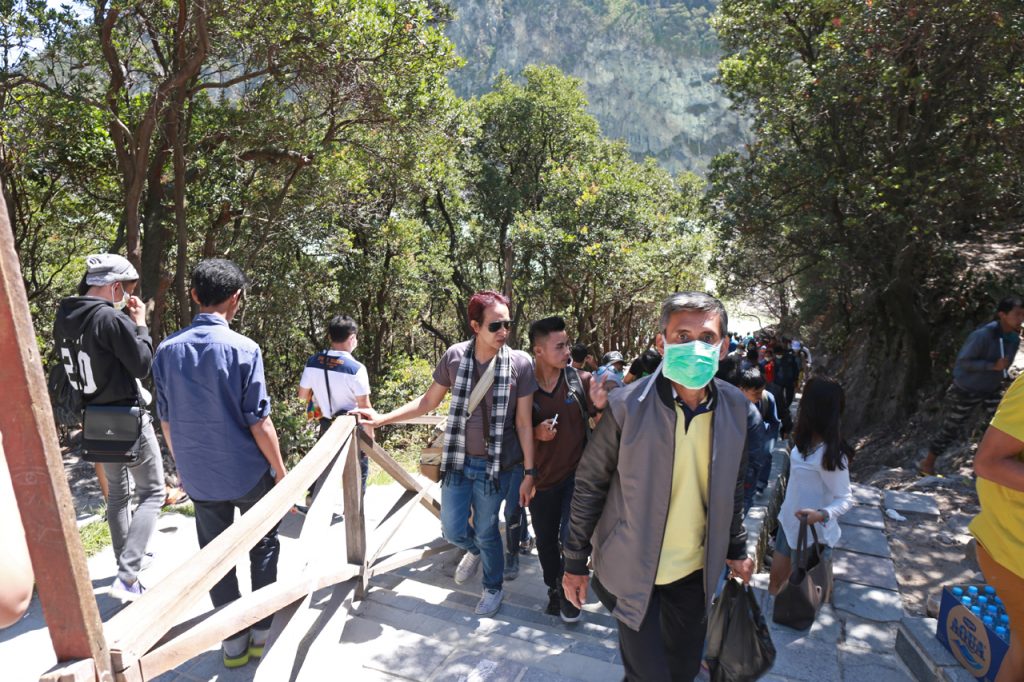 We stopped for awhile in front of this "Goa Belanda" (Dutch Cave). There was no explanation why the Cave is close but the smell of sulfur was so strong from where we stood.  My mom started feeling dizzy and overwhelmed with the smell. She had to went back to the waiting area up the hill. My brother, Mr. Jap and I continued on exploring the area.
Kawah Putih was once surrounded by forest. When it turns to a tourist spot, local government paved way to the valley to reach the Crater.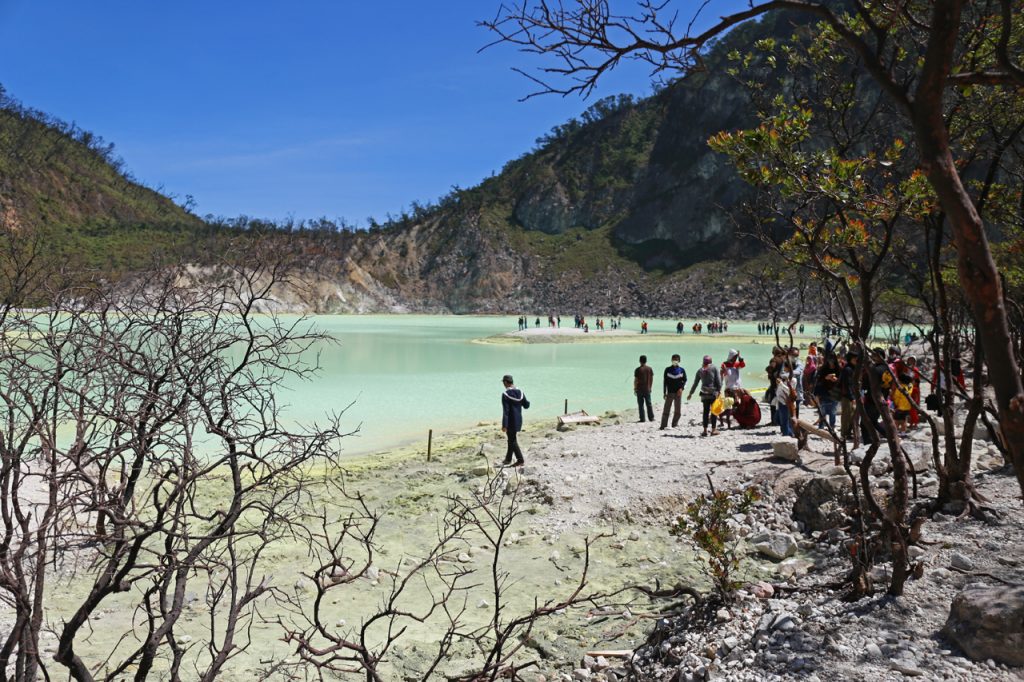 We reach to the nearest part to Kawah Putih but could not reach anywhere near the water because of barricade rope. It did not stop us from taking close up pictures.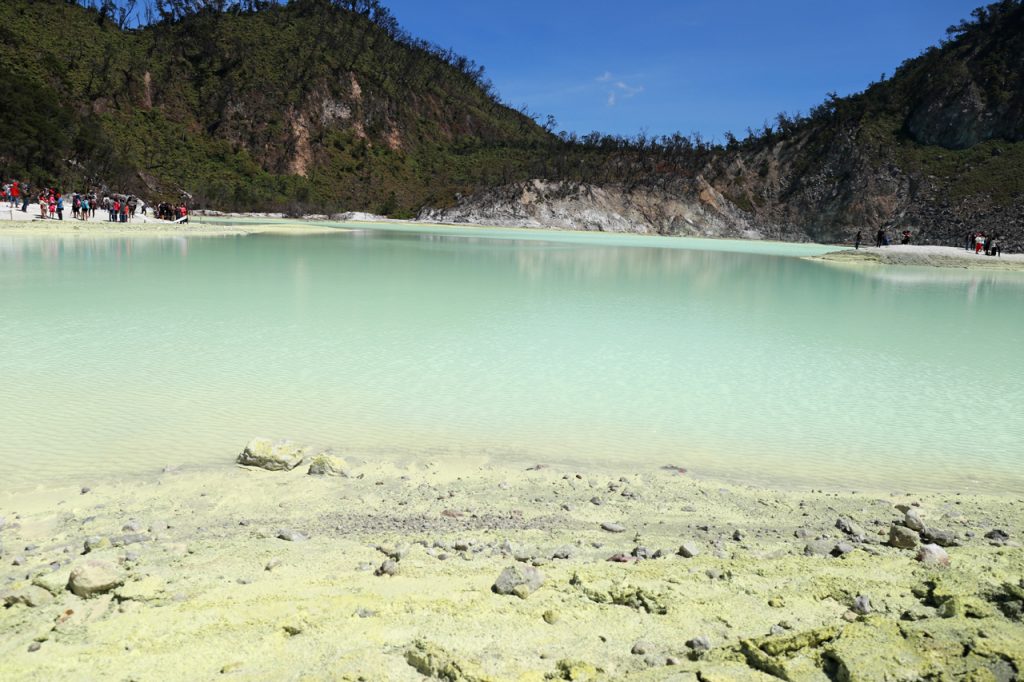 The sand is also greenish because of acid contains from the lake. If it is not because of the smell I would have thought this crack is because of the heat and lack of rain.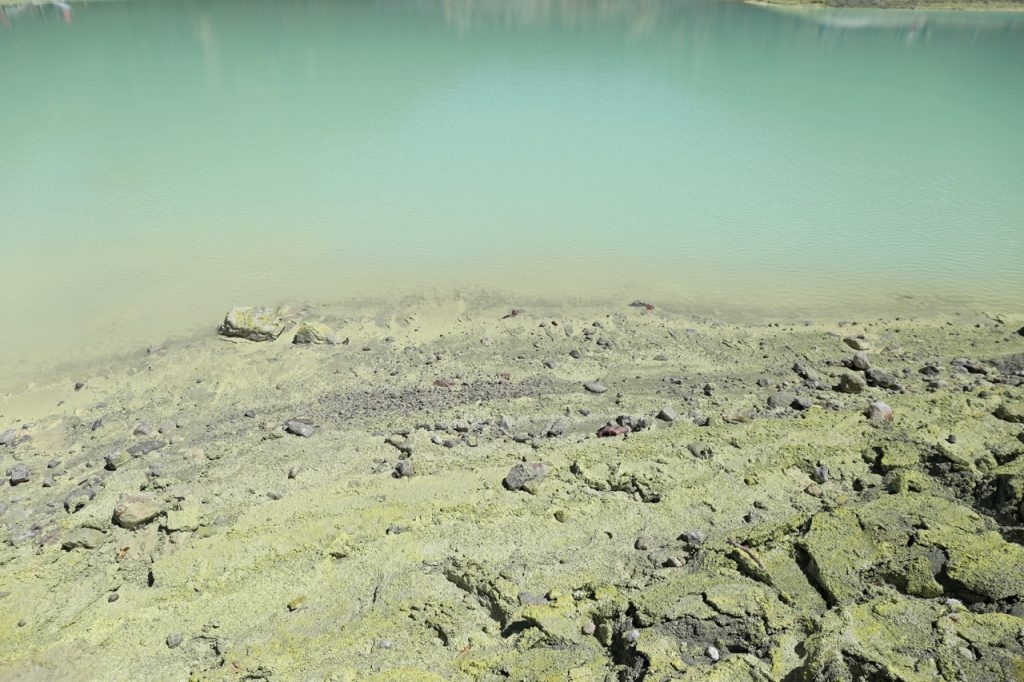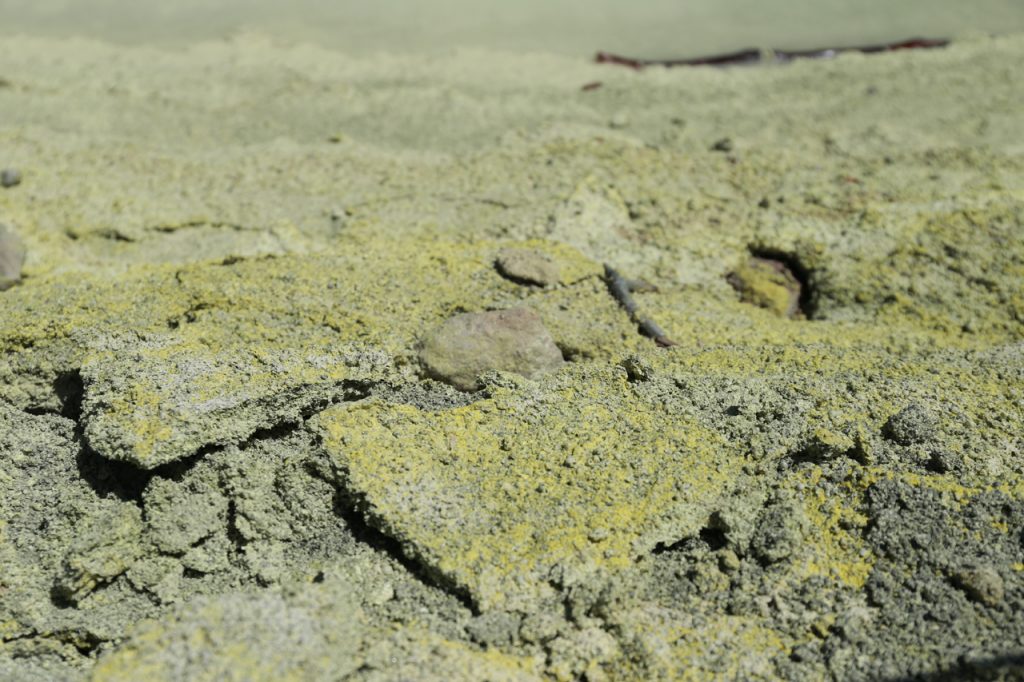 This tree is a living proof that there was a life close to the Crater once. I tried to step on the sand, it turned out the surface was too soft to step on. The greenish sand by now covering the bottom of my shoes.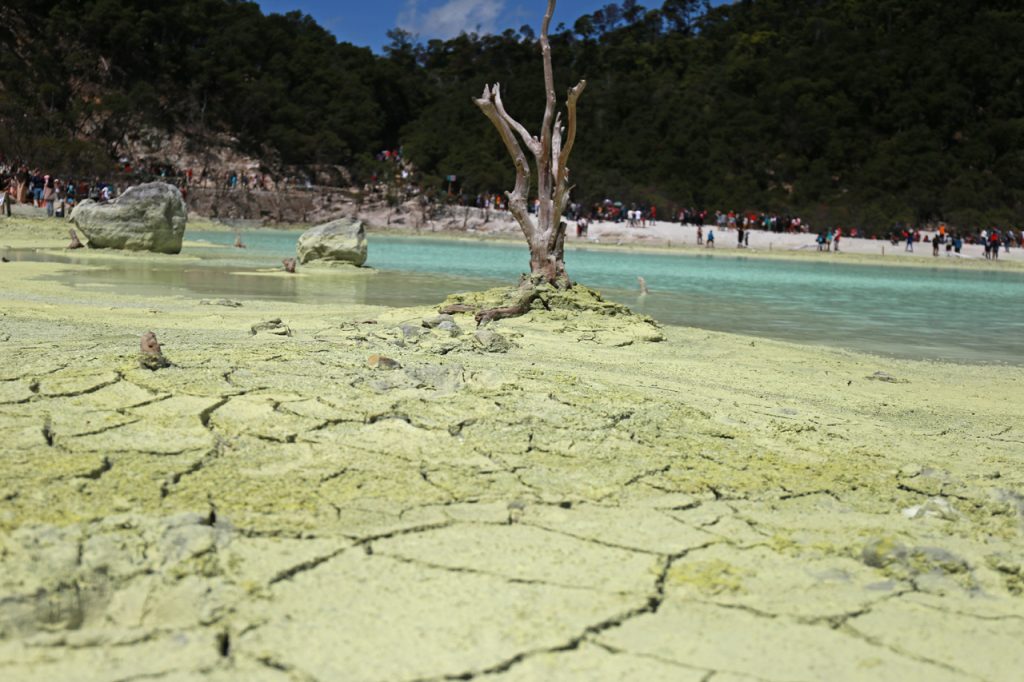 We were carried away by time and spent more than 20 minutes in the White Crater valley, much longer than we supposed to. We felt just fine. When more people came, we finally decided to leave the valley and headed back home. As we suspected earlier, the road was already crowded with cars and motorcycles when we got out from the main entrance gate of Kawah Putih. We decided to stop for an early lunch at Ciwidey Valley resort when we saw its spacious parking lot. Finding a parking space could be a challenge in a busy day such as today.
The restaurant served wide varieties of local food. We opted for Nasi Liwet set for five and a plate of deep fried carp fish. Nasi Liwet is white rice steamed with coconut milk and chicken broth, often served with chicken and other condiments like chili sauce and salad.  Our Nasi Liwet was served in a large pot. It seemed like a small portion but we left quite a lot of rice in the end.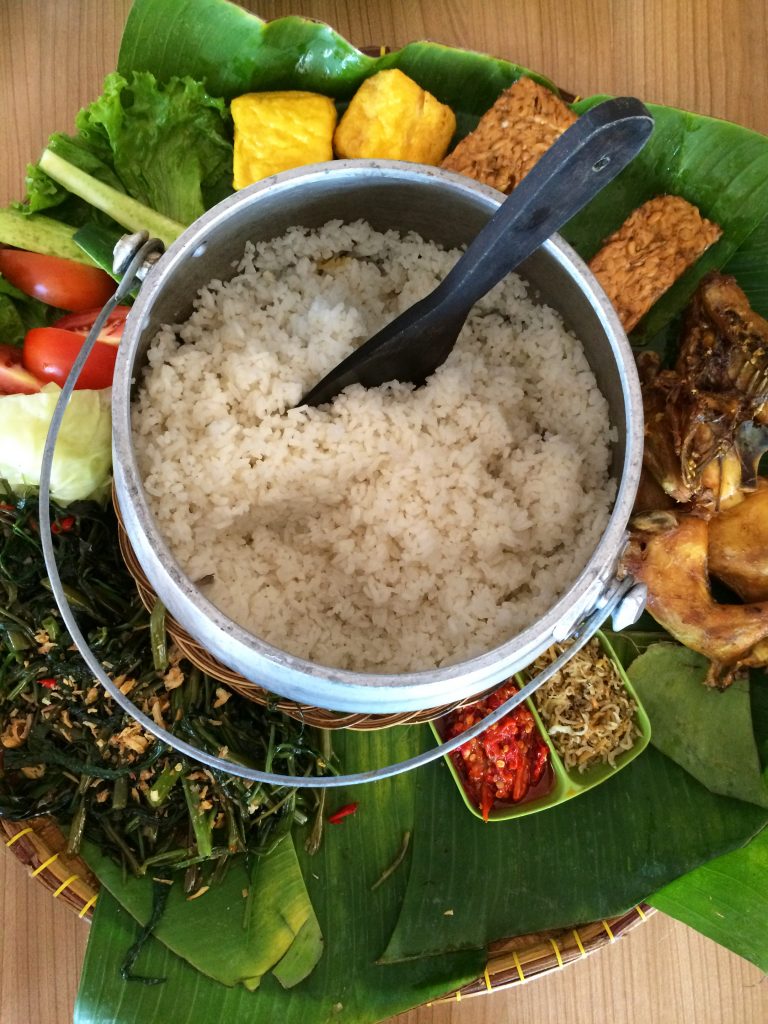 The traffic seemed to get better when we finished our lunch. It was time to drive back home. A thought of another stop crossed our mind as soon as we spotted out strawberry gardens at the sideline of the road. Those strawberry gardens are open for public. With a decent charge, people can enter the garden, pick and eat as many strawberries as they want. My mother, however, warned us  that those strawberries are probably the most sour fruit we would ever try in our holiday. That was a strong warning. So we skipped the fun of strawberry picking and headed straight back home for nearly the next 3.5 hours.
The traffic was bad but the stunning view of Kawah Putih was really worth the drive.
Have you ever visited a volcanic crater? What is the colour of the crater?  Does it have a strong smell?