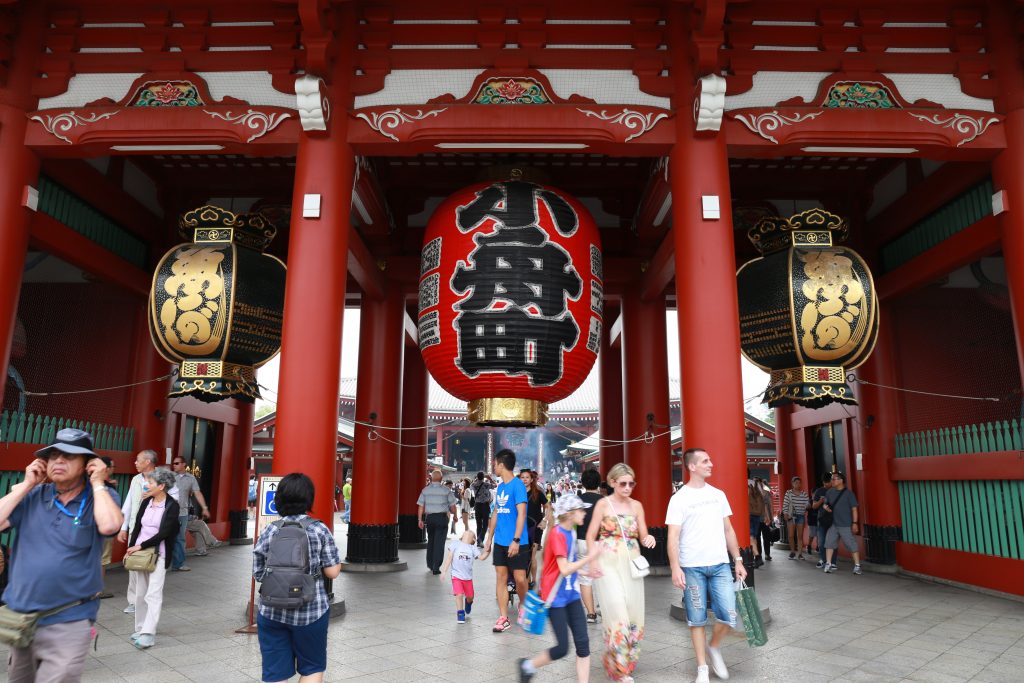 It feels like yesterday when I packed my things and moved in to Tokyo. One and half years flew quickly. I heart Tokyo as a home now. It's so easy to fall in love with Tokyo, a place where almost everything is well organised, clean and safe. I always love wandering around the city, finding new place for coffee, capturing the beauty of Tokyo or simply sit in a park observing the passerby. One of the best things about Tokyo is you always feel like home. None gaze at you for being different than the majority as you stroll along the busiest street of Tokyo. If you follow me on instagram, you will find out how much I love the city from my page.
My family and friends are amongst those who enjoy my stories around Tokyo. Some of them are great fans of Japan and have Tokyo in their bucket list for years.  When old friends called to let me know that they would be in Tokyo a few days , I instantly scribbled a day out itinerary in my head.  I could not wait to show them around. When they asked the best place to buy small souvenirs for colleagues and families, I could not think of anything else than Nakamise shopping street. Not only this place has so many varieties to choose from, its location in Asakusa temple makes Nakamise street a great place to go to. I also wanted to take them to see some other tourists spots, hangout places and an old side of Tokyo.
I started my day from Tsukiji fish market. I never get bored of going around Tsukiji in the morning. Where else I can get affordable fresh shushi for breakfast? Sushizanmai is always my top choice when it comes to eating sushi in Tsukiji market. A forever favourite sushi of mine is fatty tuna belly. This time I opted for broiled fatty tuna belly. It is macro delicious that it does not need any sauce to eat with. It tastes so soft and juicy thanks to the belly fat. I ate more than one portions of fatty tuna belly.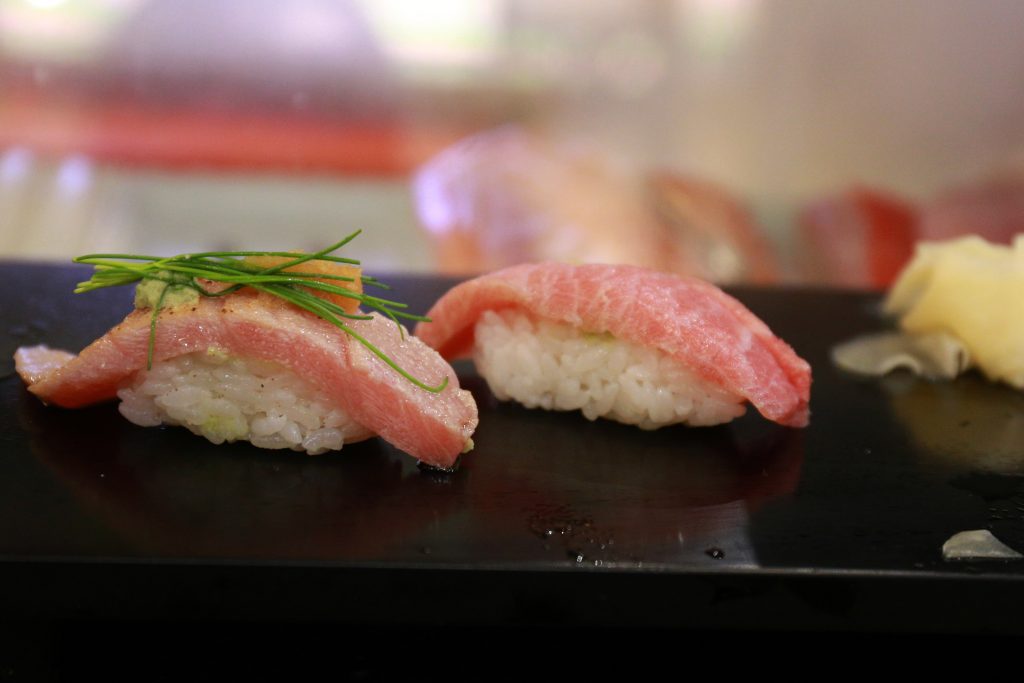 Next on the list, sea urchin roll. Oh, I rarely ordered sushi in a large portion in a one go. I always prefer ordering piece by piece so I don't over eat at the end. I spent nearly $25, most of the money went to fatty tuna belly and sea urchin. It worth every single penny spent.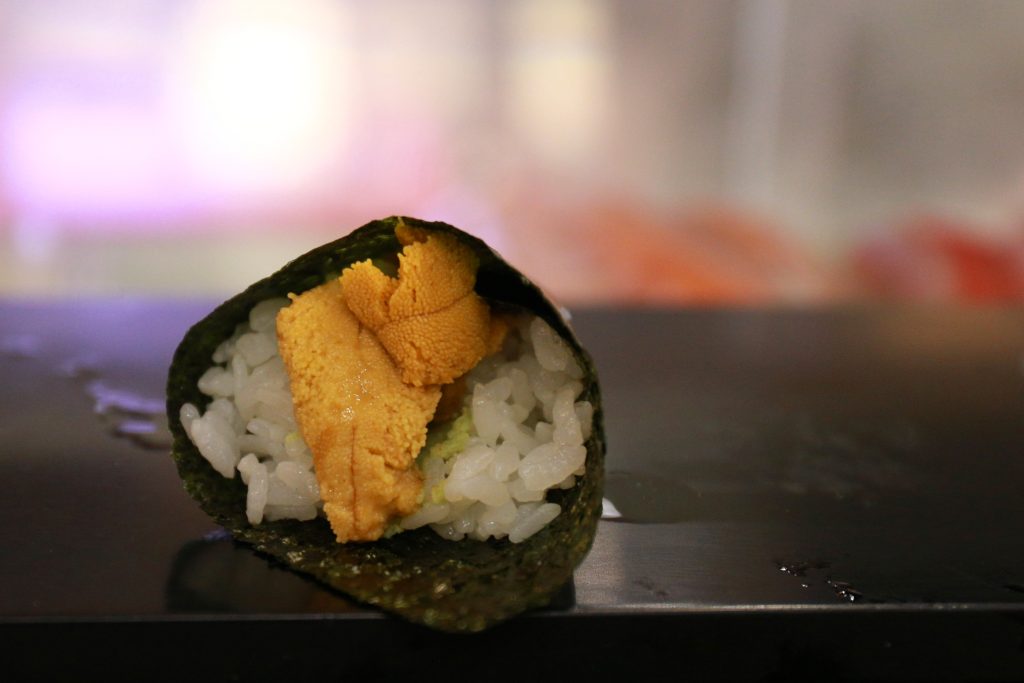 Then I combed through the outer market and found grilled scallop in the making. I would had queue for this delicious thing if I was not too full of sushi.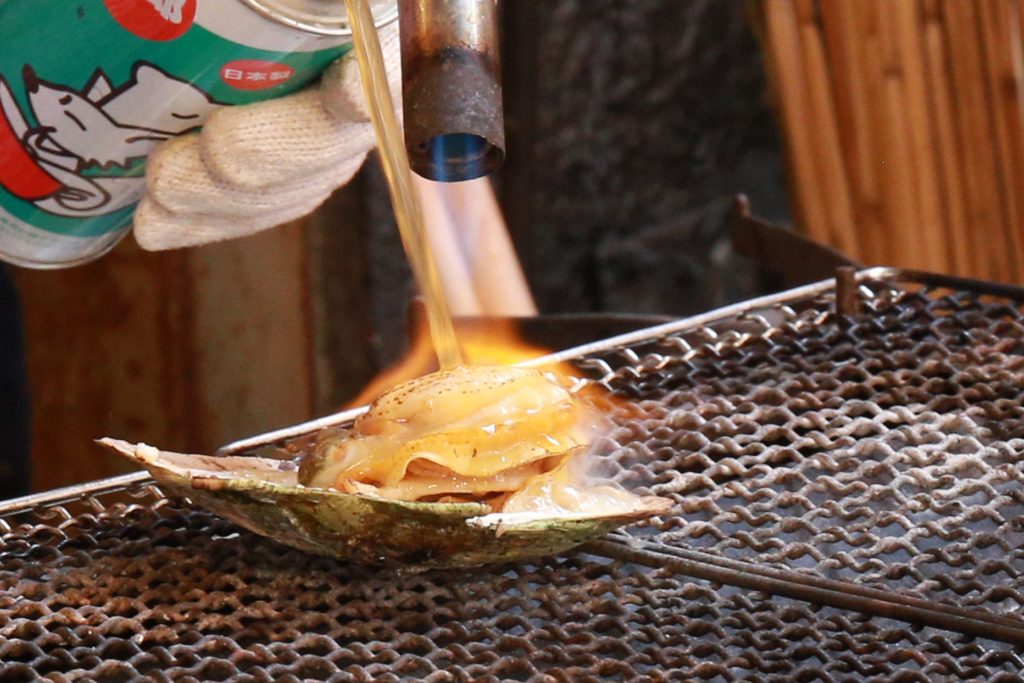 Then I headed up straight to Asakusa Sensoji temple to meet friends.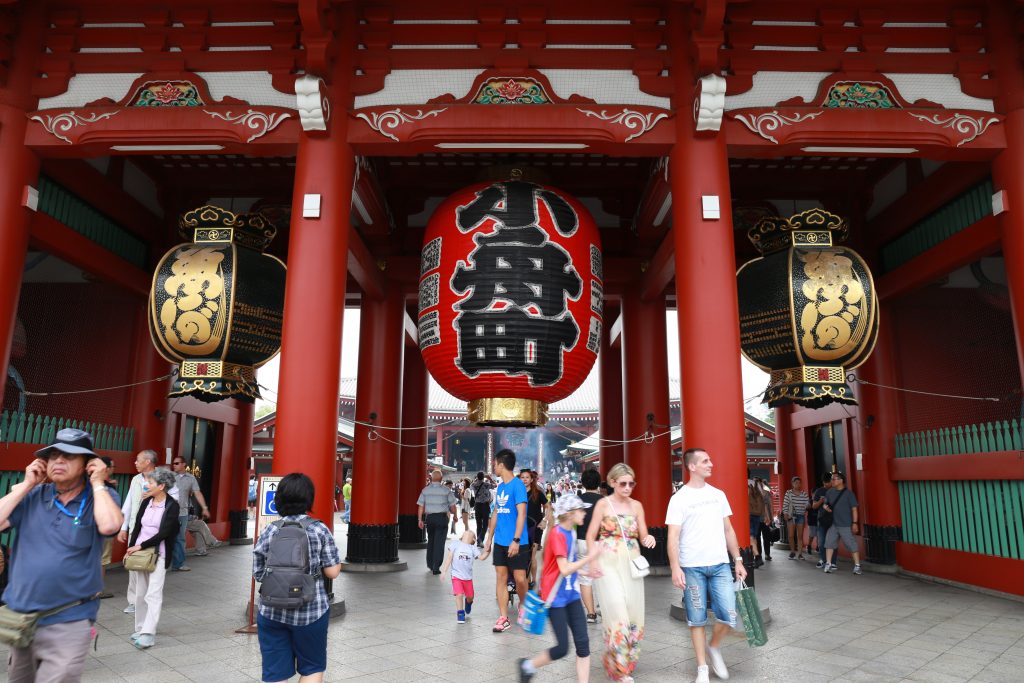 As expected we lost time in Nakamise street, drowned in the sea of cute things. We stopped from one store to another, checked the price and framed those cute things. We skipped "No Picture Taking" stores.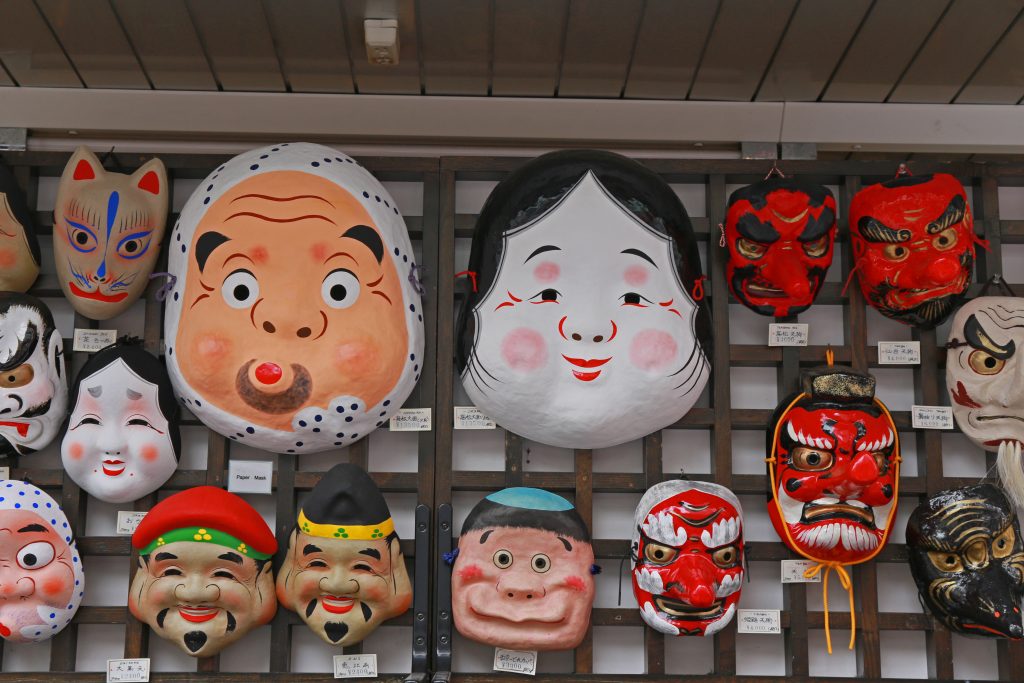 I could not resist the temptation of buying these cute dolls. I bought 3 of them. Each costed me 350 Yen ($3). There are many stores selling this type of cute dolls at different price. The only way to get a cheaper price, when bargain is not an option, is to check one store to another.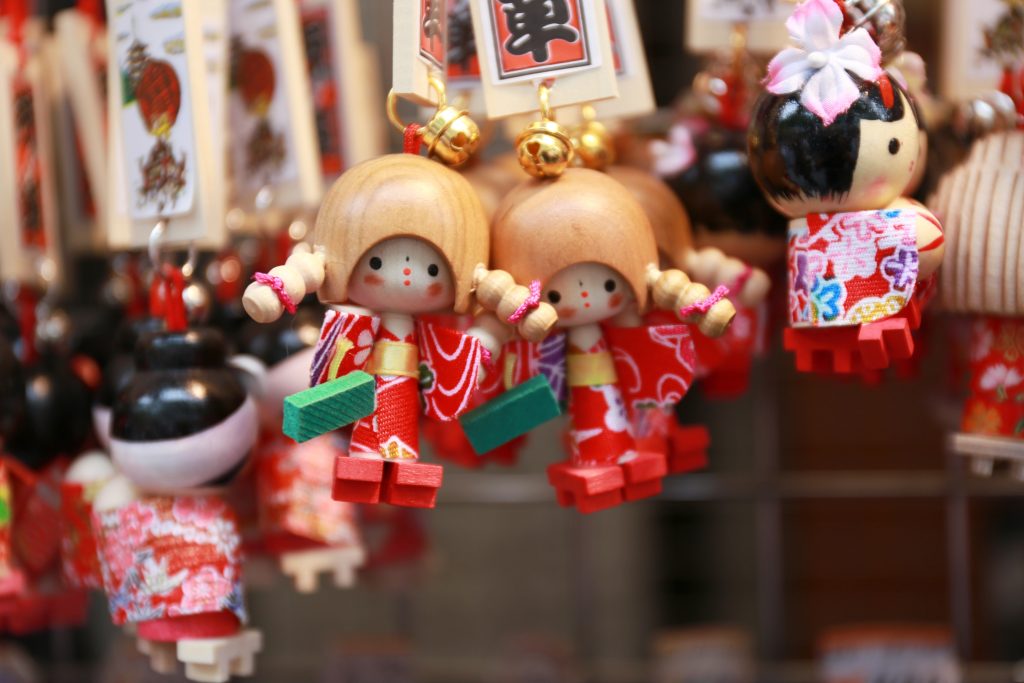 Like any other day in Asakusa temple, I never skip black sesame ice cream. This time we opted for ice cream sandwich: green tea, strawberry and black sesame (320 Yen each). I took another black sesame ice cream cone after finished shopping. This sandwich was just too small.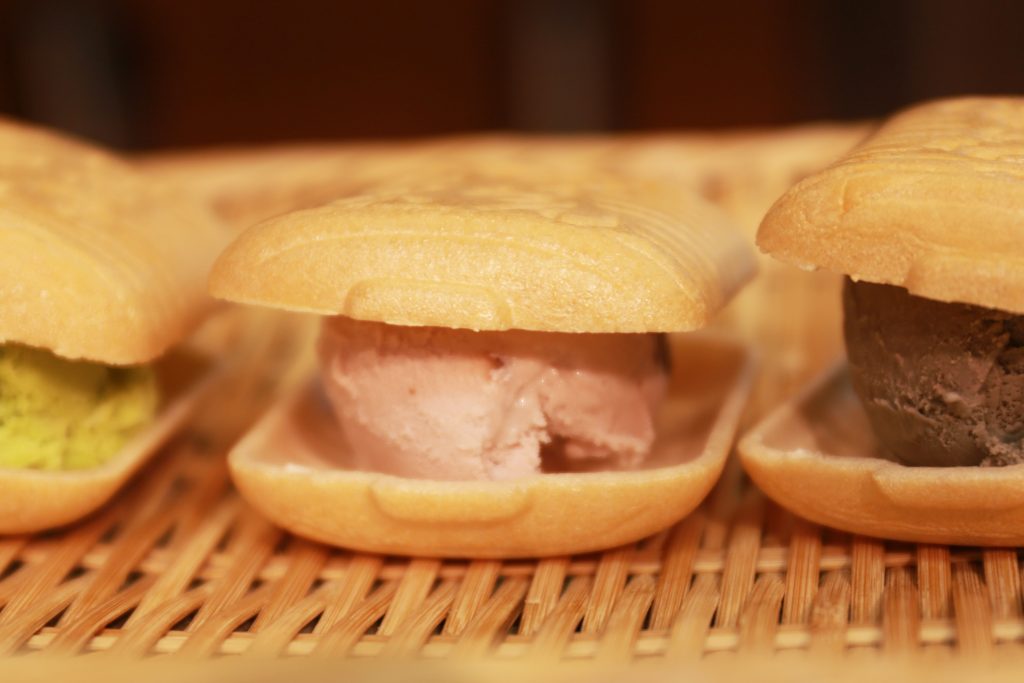 Small alleys next to Nakamise are also shopping area, less touristy. Most of the stores here are dominated by clothes, bags, tea set shops and small restaurants. Surprisingly, we could find cheap bags made in China at this alleys , not replica of branded items for sure.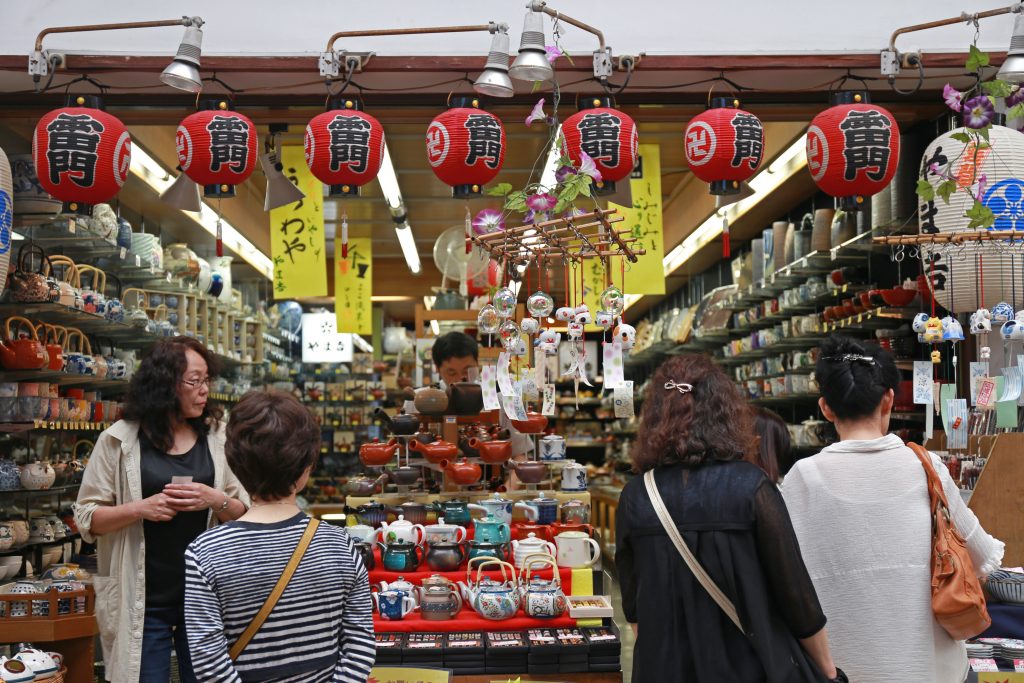 A 5 stories pagoda and Hozomon, is a photography spot in Asakusa temple.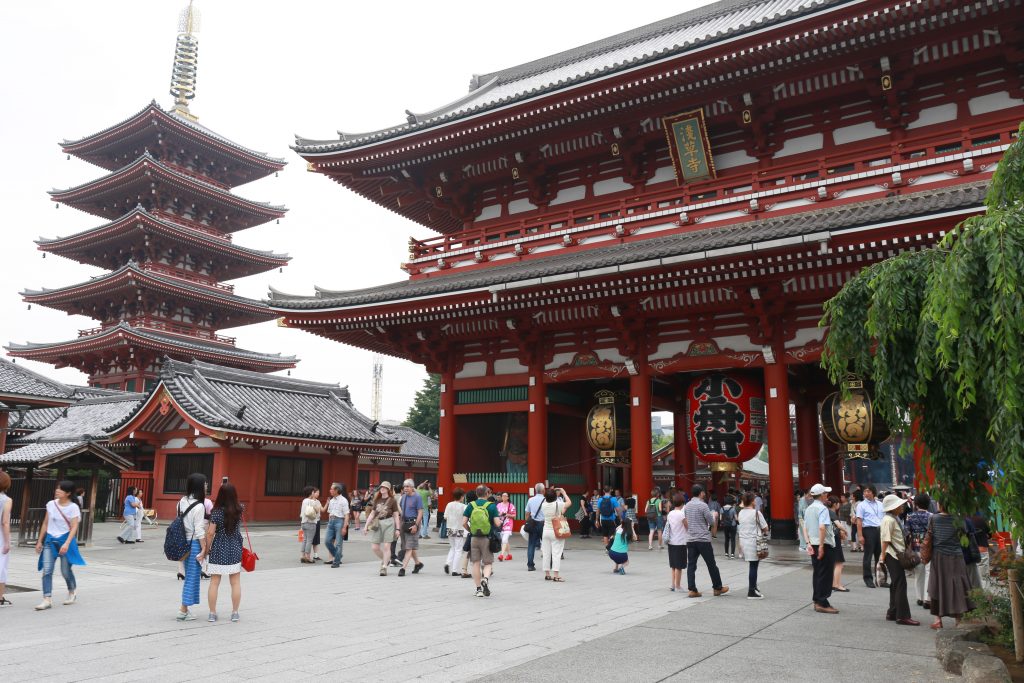 We moved to Solamachi plaza at Tokyo Sky Tree for another souvenirs shopping at characters shops then lunch. No pictures taking here for the sake of time. We then went to Meiji Jingu Harajuku after lunch. But coffee first.
I chose Omotesando Koffee because of the place. This cafe sits a typical old Japanese house, the barista works from 3×3 cubicle, serving one of the best coffees in town. I always find joy in walking to this cafe as the neighboruhood gives a glance of an affluent life of Tokyoites.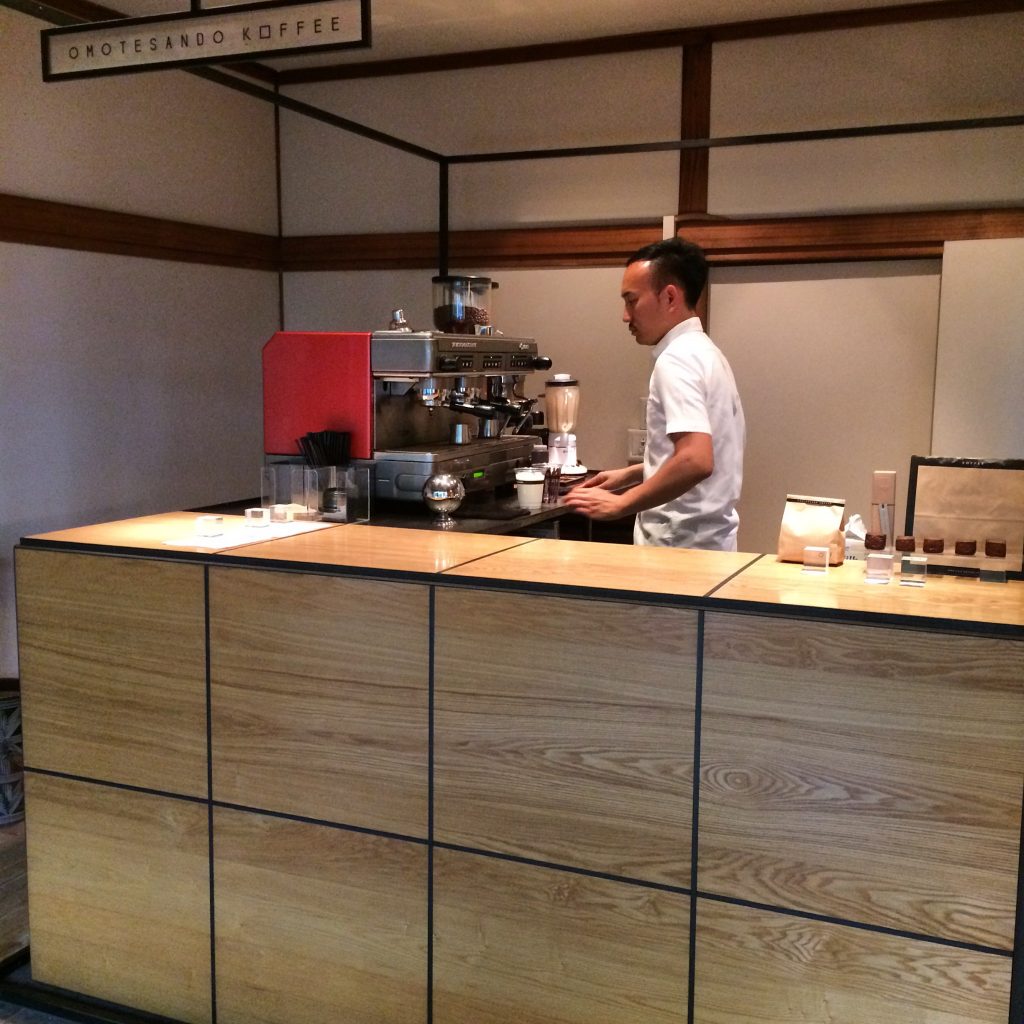 What could be better than an ice mochacinno in a muggy day. Temperature was not that high (less than 26C) but the humidity could not keep us away from sweat. The cafe was quiet when we were there, the benches were ours for 15 minutes. Most customers ordered for a takeaway.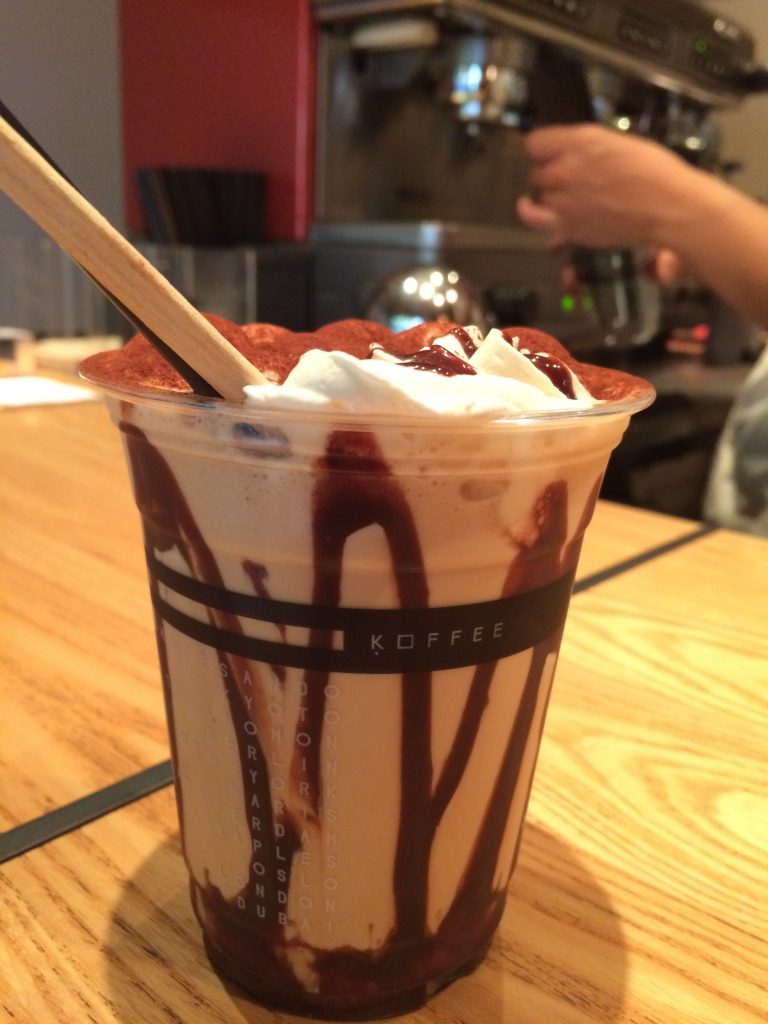 It took us less than 15 minutes walk from Omotesando Koffee to Meiji Jingumae shrine, an important Shinto shrine in Japan.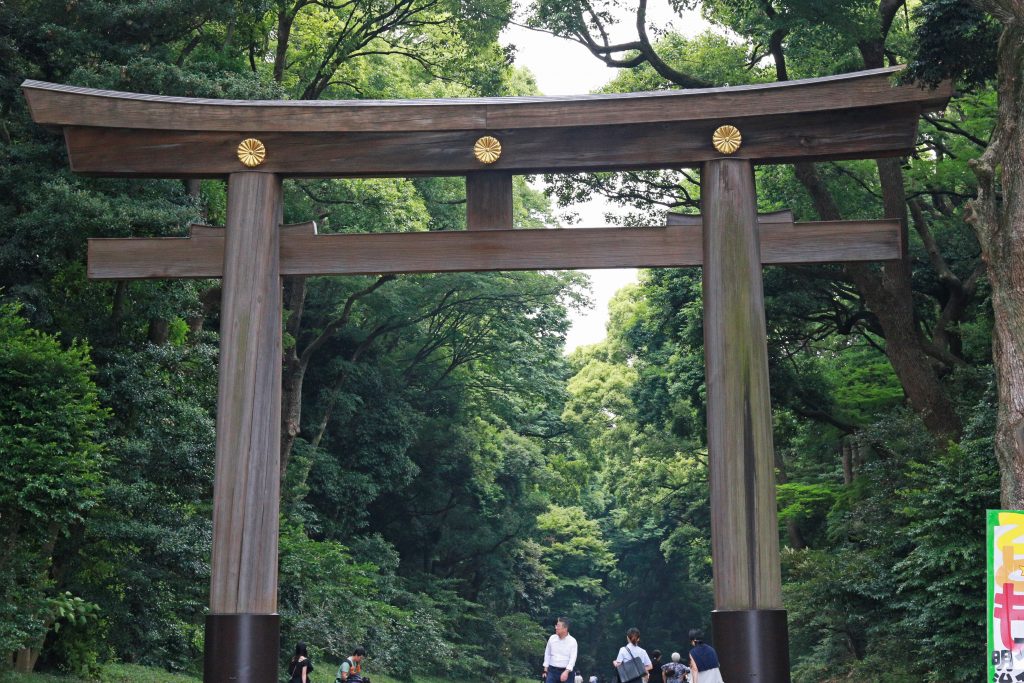 Harajuku station.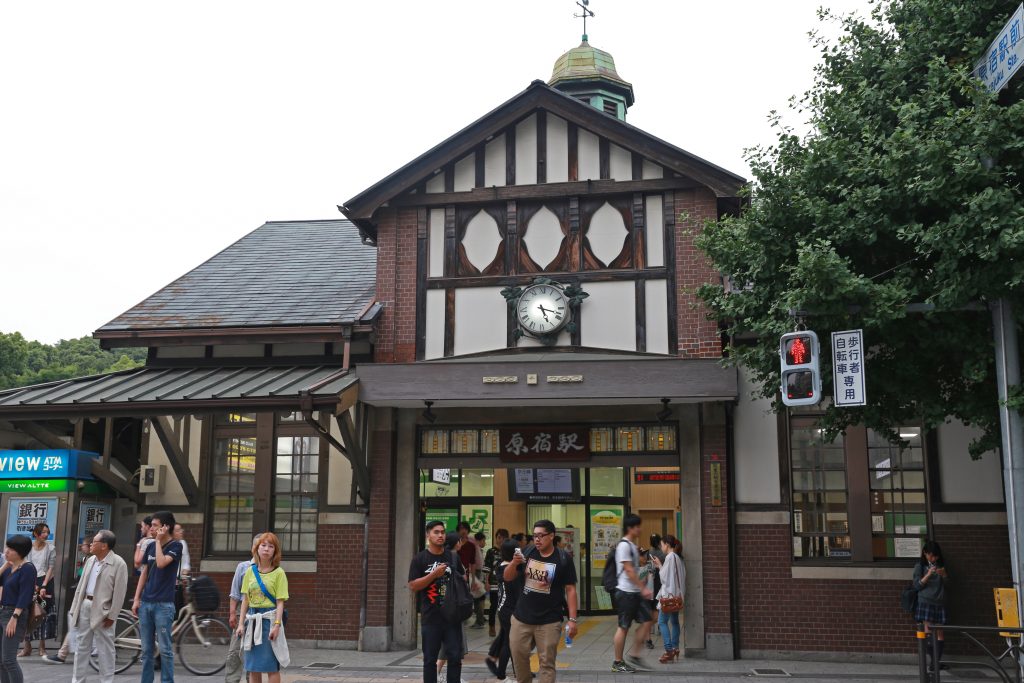 =
We went to the most famous street of Harajuku, Takeshita Street. This area is famous for its young crowd, shopping, dining or simply passing by the street. Majority of the stores is clothes, sweets and accessories.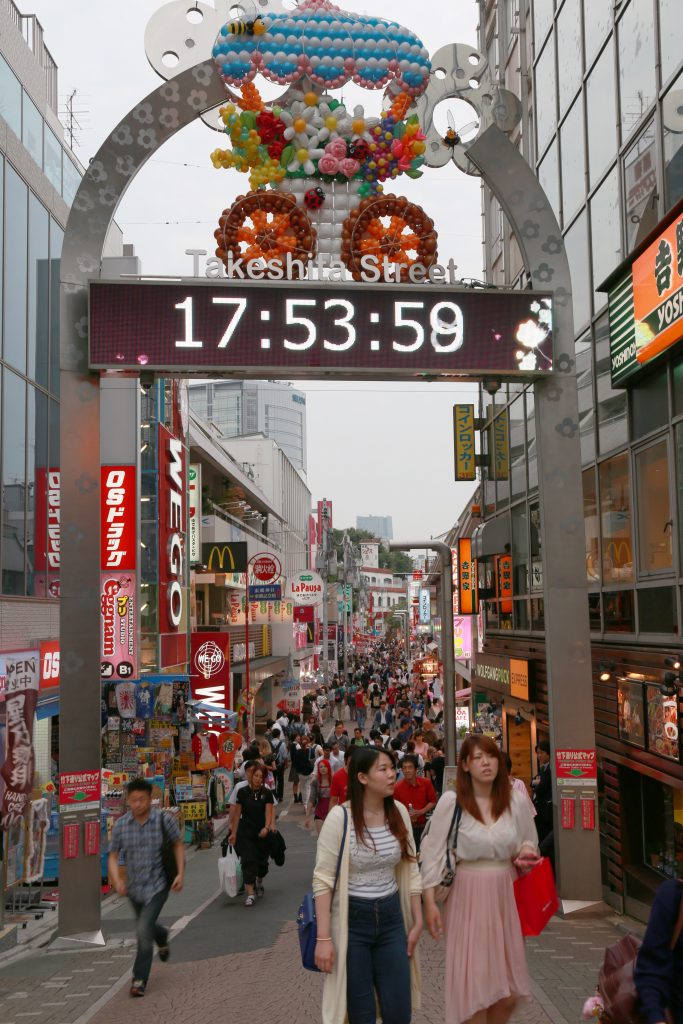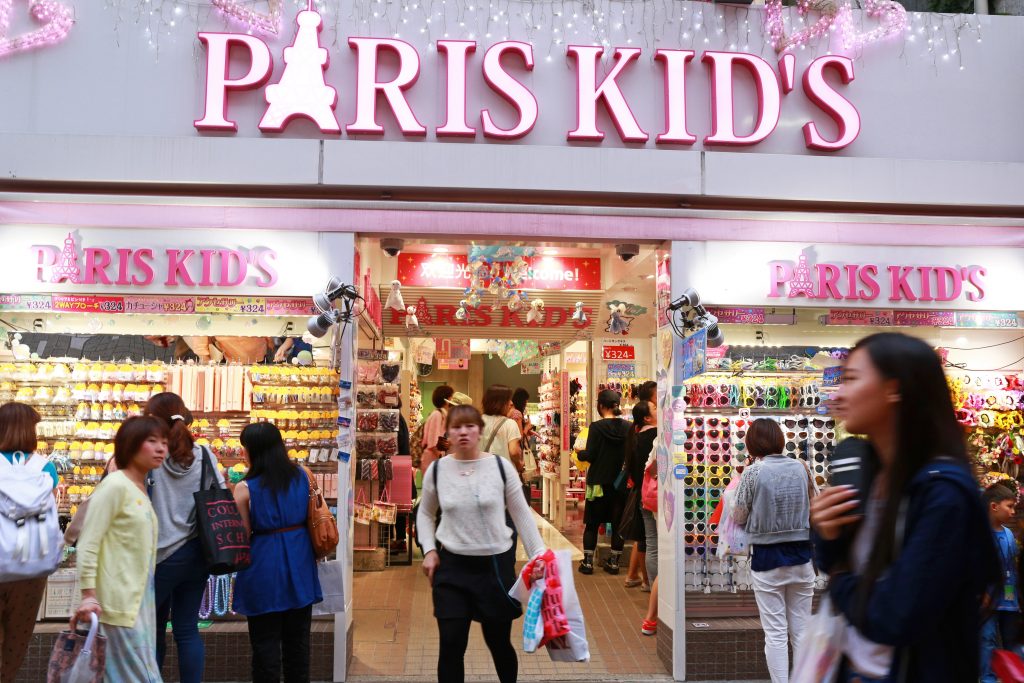 The famous 100 yen store, Daiso. None ever skips Daiso when in Tokyo, so did my friends. They bought nice colourful tiny fabrics and fake eyelashes.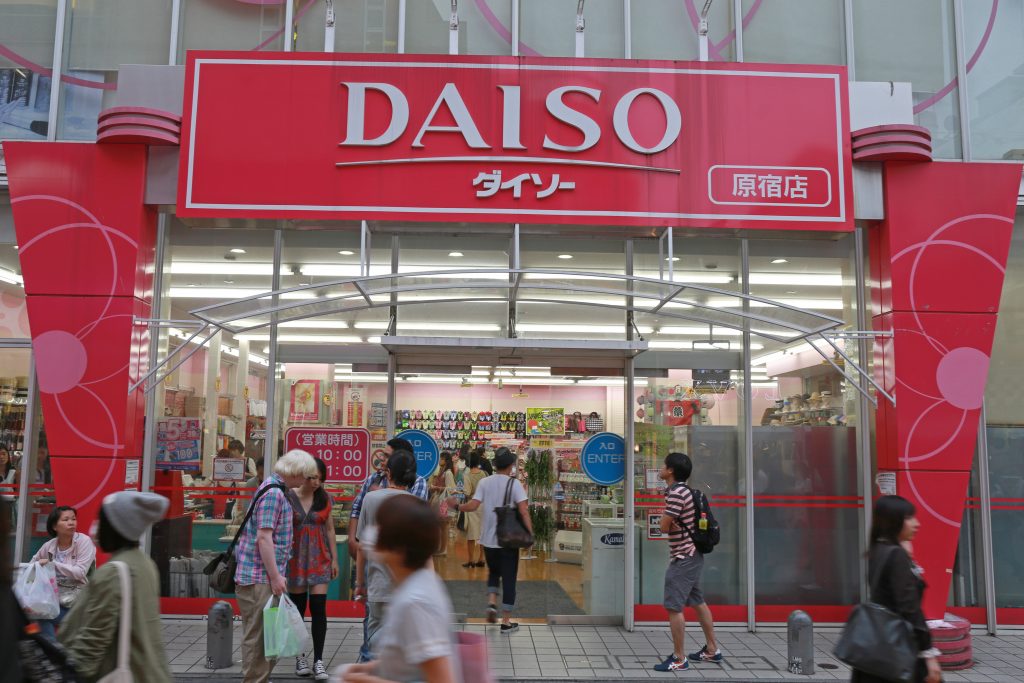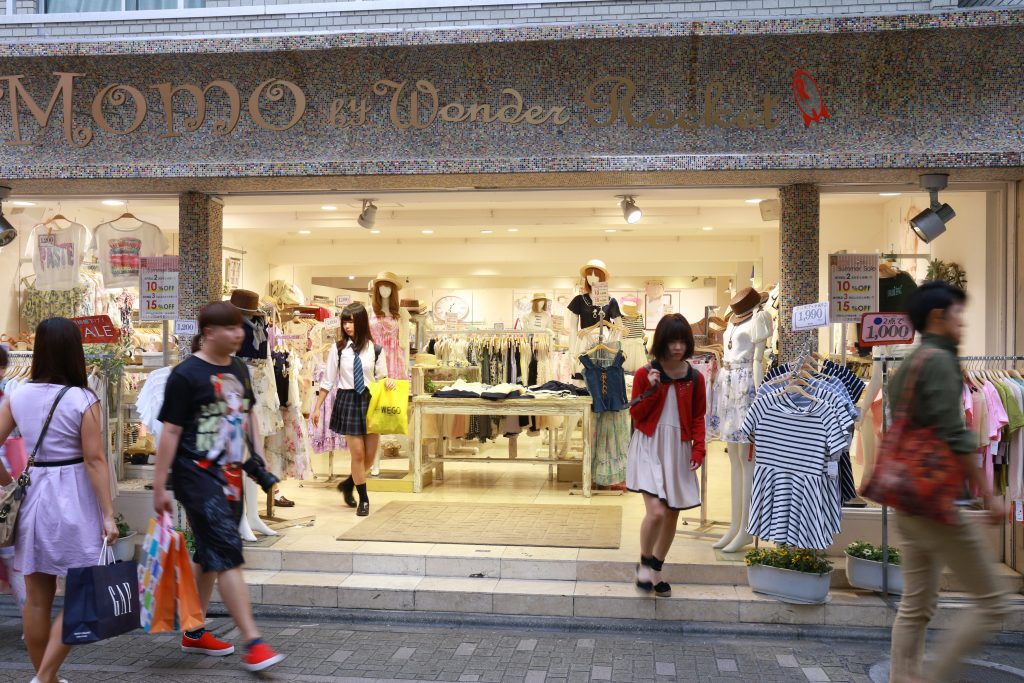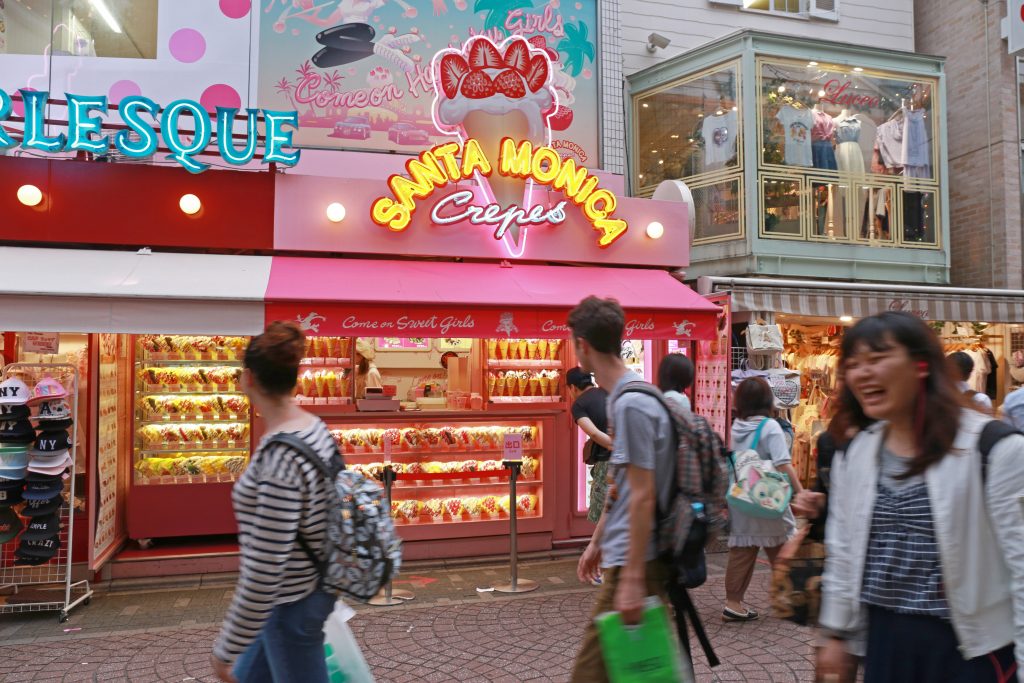 I never had a chance to frame this graffiti. I did not hesitate for once when seeing a girl texting in front of the graffiti. She did not care either for her eyes fixed on the mobile phone.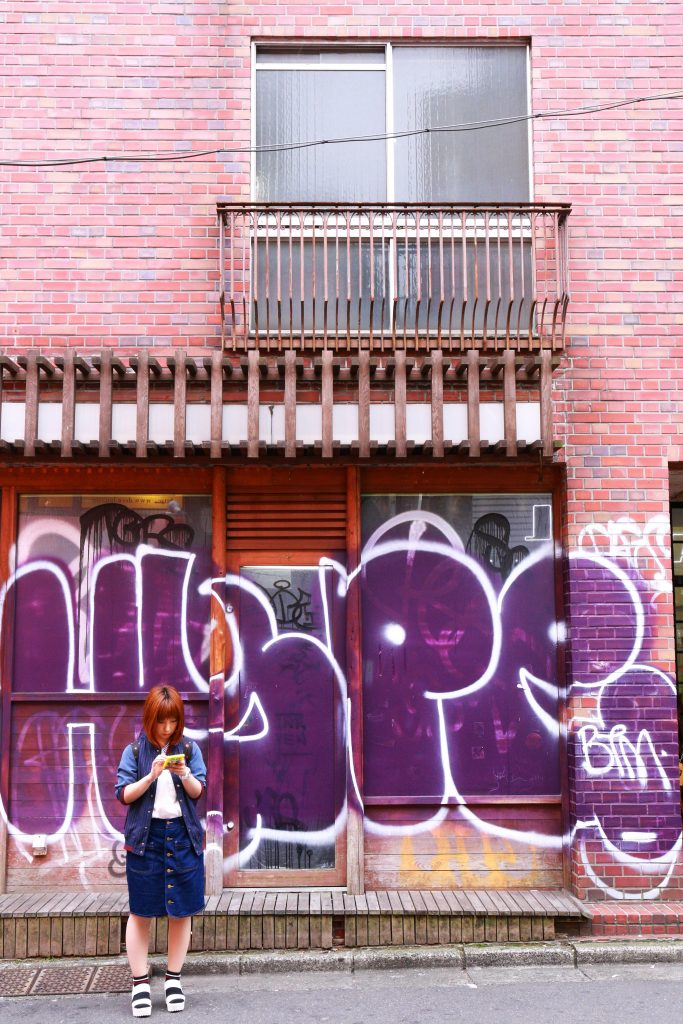 For an old side of Tokyo, I chose Yurakucho area.  This old side of Tokyo always come to life after office hours.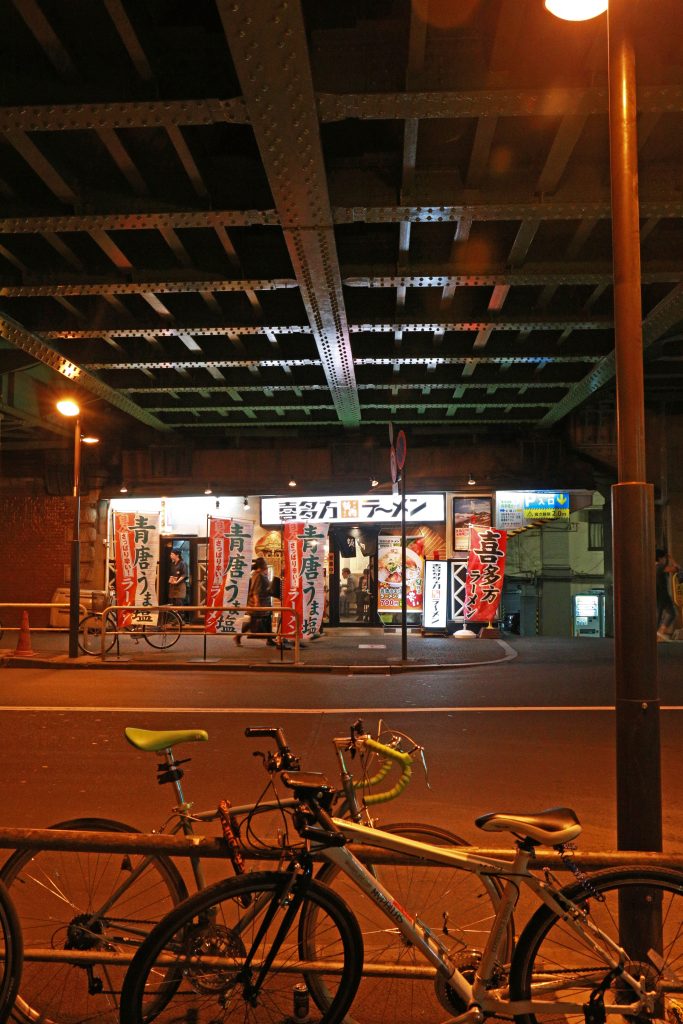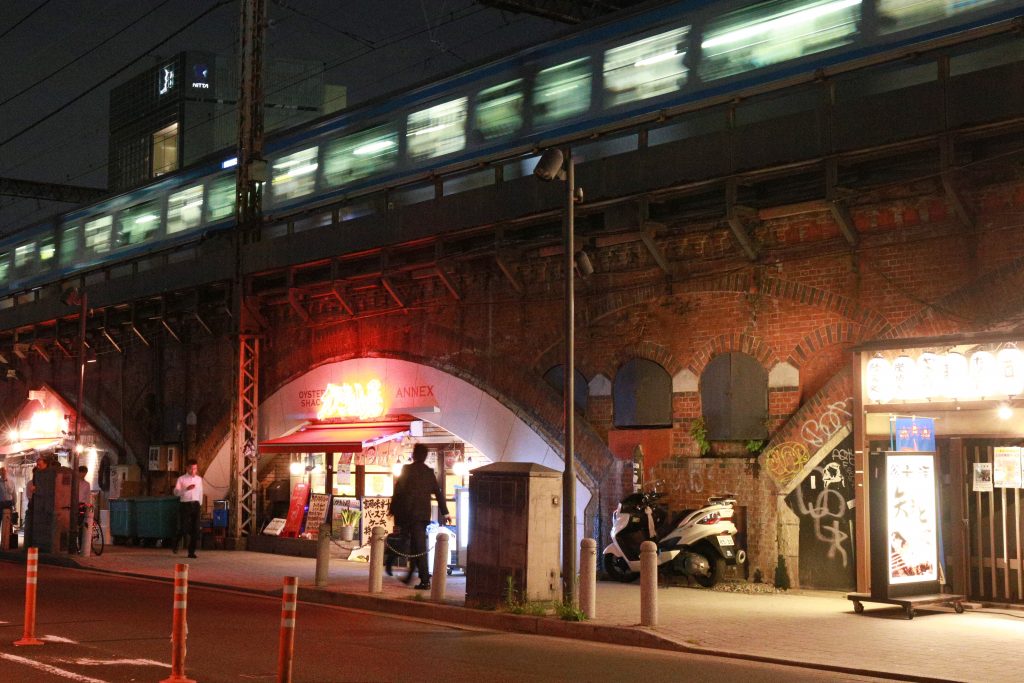 It was almost 7pm when we bid farewell. I felt happy for going around the city I now call my home with friends from my home country.
What places in Tokyo you love to wander around the most?