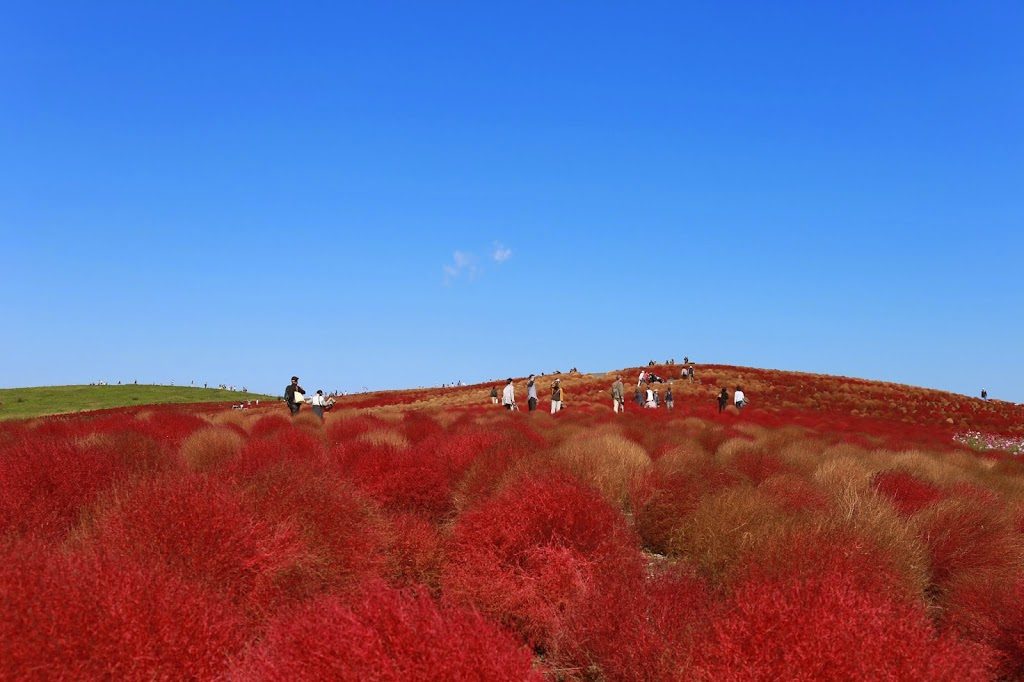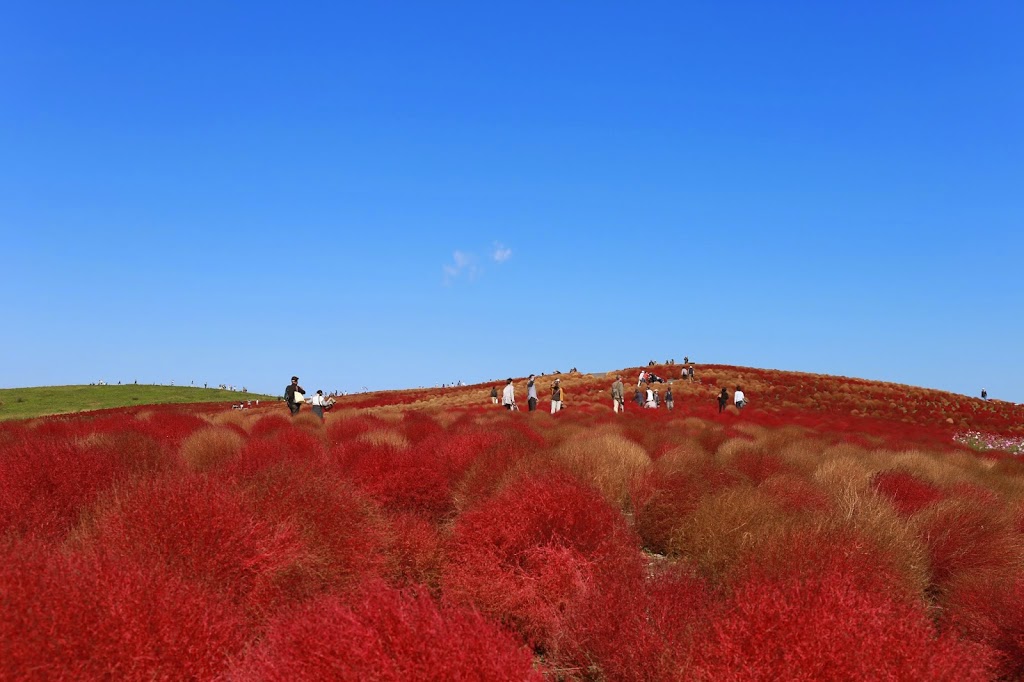 Around 32,000 kochia scoparia turn to red in autumn, forming a breathtaking red carpet under the blue sky. Most people know Hitachi Seaside Park for Nemophila blue or baby blue eyes in spring but autumn in the park is equally beautiful. Because there are not many people know about kochia scoparia, the park is not as lively as it is in spring. It is somehow a blessing for pictures taking purpose.
Kochia scoparia is green at the beginning of its life. It turns red as soon as the temperature drops. At the end of its life cycle, this plant turns to brown.
We went to this park by the end of October. Although most of the plants were still red at that time, many of them already brownish. It was a perfect colour for us as we did not want to see red only.  A combination of colour is a great thing. There were also cosmos flowers adjacent to the kochia but almost dying at that time.
Brown, red, green and blue in perfect harmony.
It is not allowed to step inside the plants area. Visitors are to walk on this walking path only.
There's no strict law imposed at the Hitachi Seaside Park but be mindful of the environment. The local is watching. You do not want end up in local news as a troublesome tourist. 
Let's get up close and personal. Kochia scoparia is not that beautiful under a micro lens.
Kochia scoparia at the end of its life cycle, brown yet still charming.
Cosmos flower also blooms in autumn in this park.
THINGS YOU NEED TO KNOW
Different types of flower bloom all year round in Hitachi Seaside Park
Wind can be a bit strong in autumn as kochia scoparia located up the hill. Wear proper autumn cloth (jacket included)
The park is only 1.5 hours away by train from Tokyo station
Entrance ticket is only ¥410 for adult, ¥210 for senior and ¥80 for children. There's no ticket counters but machines where you can self-purchase the ticket.