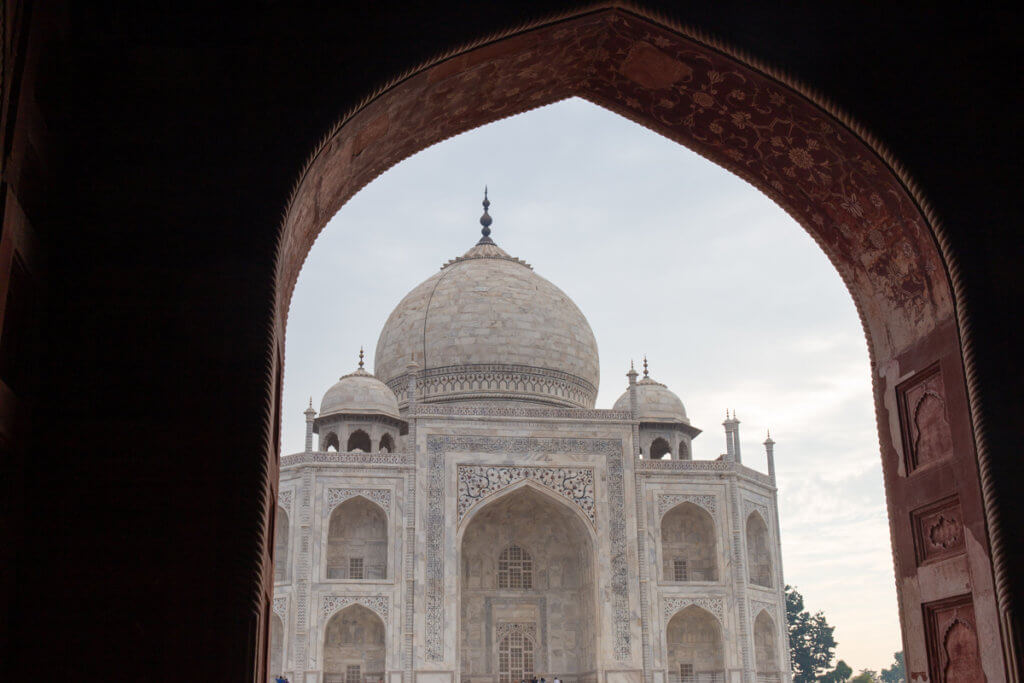 If you visit India for the first time, to see Taj Mahal must be on top of your to do list. Honestly, I cannot think any other place more iconic in India than the Taj Mahal. Visiting Taj Mahal is like putting a stamp on your passport that says "I've been to India".
"The construction of Taj Mahal was started in 1632 by Mughal Emperor Shah Jahan as a tribute to his most favourite wife, Mumtaz Mahal and to house her tomb. The Emperor's tomb also lays inside the Taj Mahal, right next to his wife. The construction is believed to have been completed in 1653. It's regarded as one of the most sophisticated Mughal architectures. Its ivory white marble mausoleum has the most spectacular view amongst all structures in the complex"
I visited Taj Mahal for the second time recently. My first visit was 11 years ago. Needless to say, there have been so many changes. Getting in Taj Mahal nowadays is much more organised than in the past with a stricter security check.
If you plan to visit Taj Mahal in the near future, this is a must read guide: best time to visit in a day, which gate to enter, what to bring, what not to bring, dress code, and is Taj Mahal a kids-friendly-place.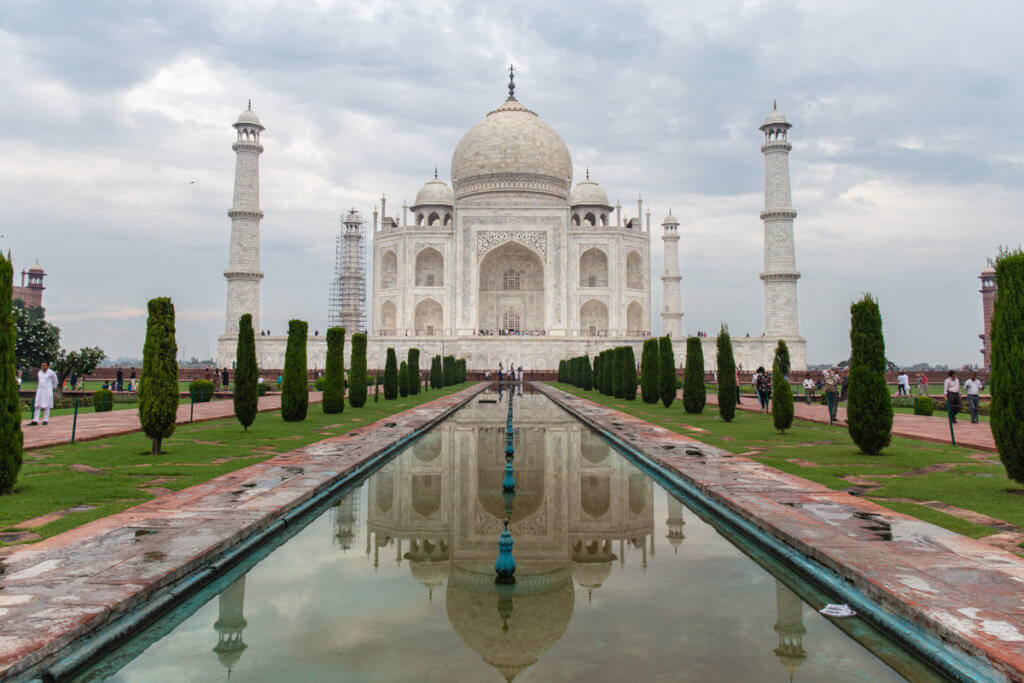 Let's start with must-bring items:
Passport, for ID check 
Camera 
Mobile phone 
Umbrella or hat to protect you from fierce sunshine or rain 
Indian rupees, if you plan to pay the entrance ticket by cash bring the exact amount. Credit card payment is accepted, however, it takes time and sometimes you may have machine errors
These items are not allowed inside the Taj Mahal :
Water, unless it is provided by the official counter after purchasing the entrance ticket or baby/toddler water in a special bottle
Tripod, of any size
Drone
Extra camera battery / power bank
Children toys
Foods and snacks
In case you happen to bring any of not-allowed items, you'll need to leave it at the deposit counter.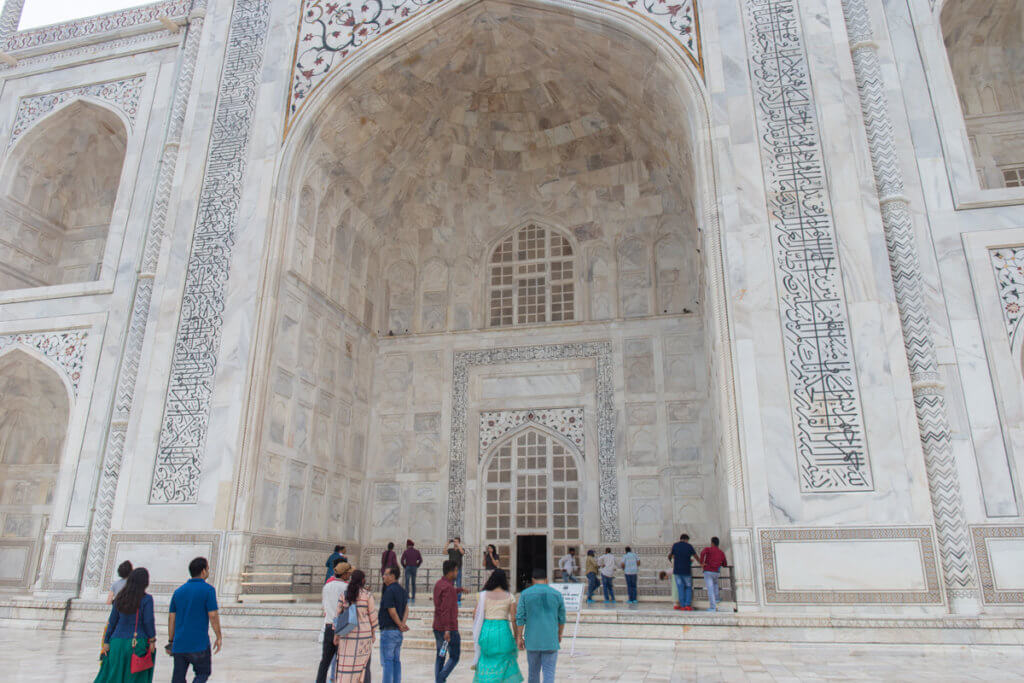 Getting to Taj Mahal
Taj Mahal is located in Agra that is located on the Golden Triangle of the Tourist Circuit (Delhi – Agra – Jaipur).
The closest airport to Agra is Indira Gandhi in Delhi although Agra has its own airport, there's no direct flight to Agra. You'll need to transit in Delhi, given the transit time and strict security check I do not recommend to travel by air. It's best to travel by road. There's a newly constructed Yamuna expressway that allows you to reach Agra from Delhi in just under 3 hours.
Alternatively, Agra can be reached by train. It is connected to Delhi and Varanasi by NH-2, to Jaipur by NH-11 and Gwalior by NH-3.
Taj Mahal Operating Hours
The Taj Mahal opens 30 minutes before sunrise and close 30 minutes before sunset. The ticket booth opens an hour before the sunrise and closes 45 minutes before sunset.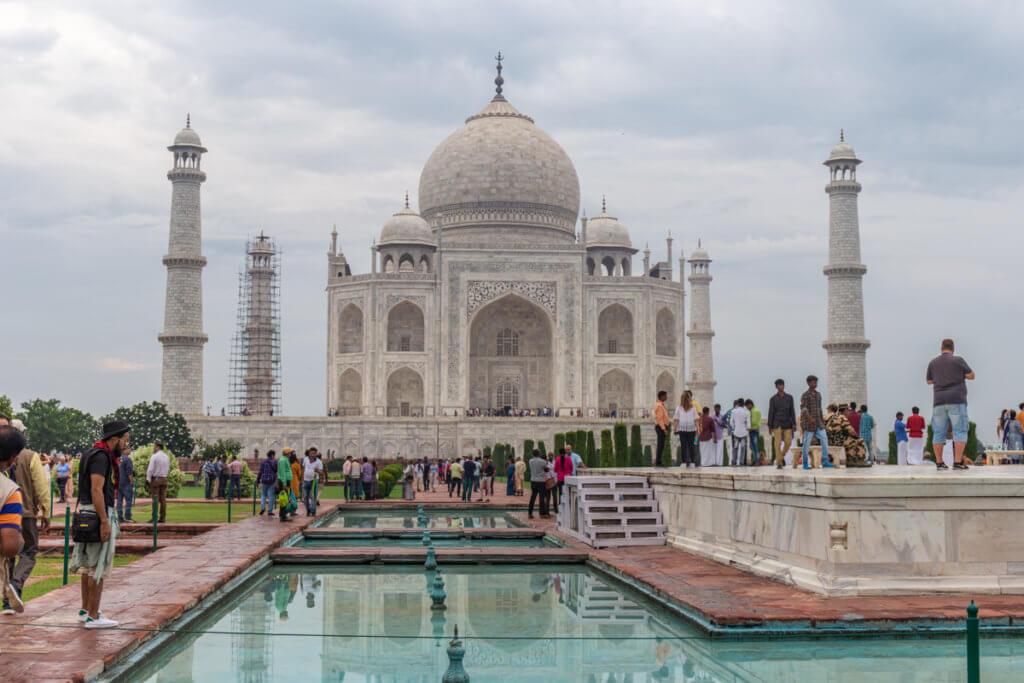 The Best Time to Visit
Early birds get the better view. Taj Mahal early in the morning is gorgeous, and of course less people. Better yet, you can avoid the fierce heat, especially if you are there in April – September. Be as early as 6 am, when the ticket counters open to catch the sunrise.
The Taj Mahal opens from Saturday to Thursday and close on Friday.
Choose An Overnight Stay in Agra
If you want to catch sunrise at the Taj Mahal, overnight in Agra is the best option. There are many good hotels and hostels located within a few kilometers away from the Taj Mahal.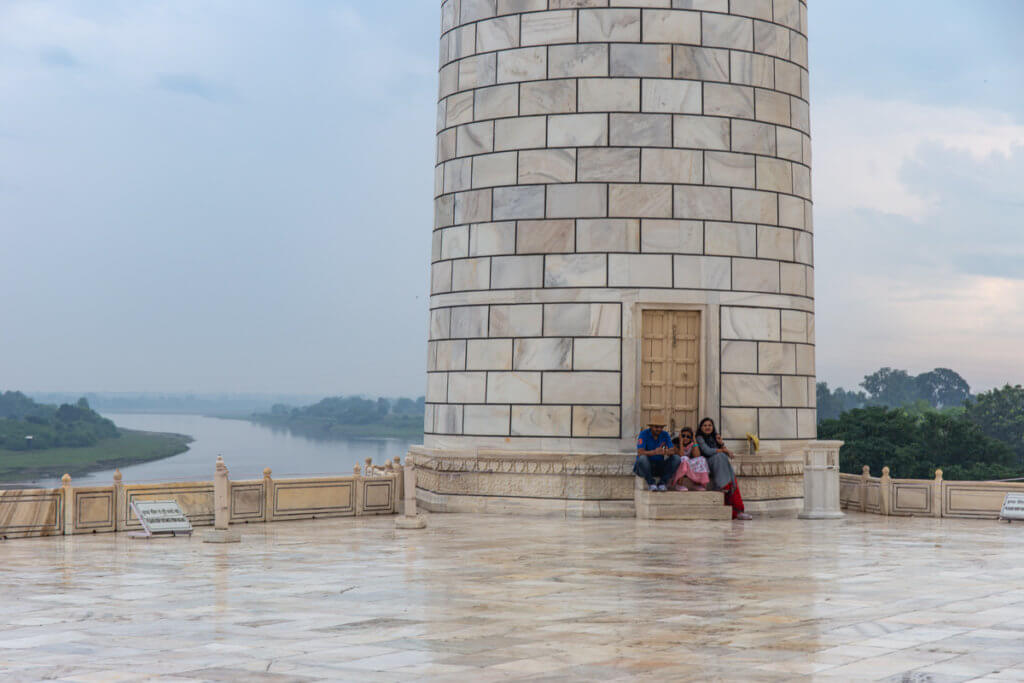 Buying The Entrance Ticket
A ticket booth is located conveniently close to each gate. Buy the tickets with exact amount of money. A queue starts to form before the ticket booth opens.
There are some booths: for local, foreigners and the last booth is to get free mineral water and shoes cover for visitor. Be sure to get free mineral water provided by the locket as you cannot bring any other water to Taj Mahal.
Shoes cover must be worn inside the mausoleum and the mosque.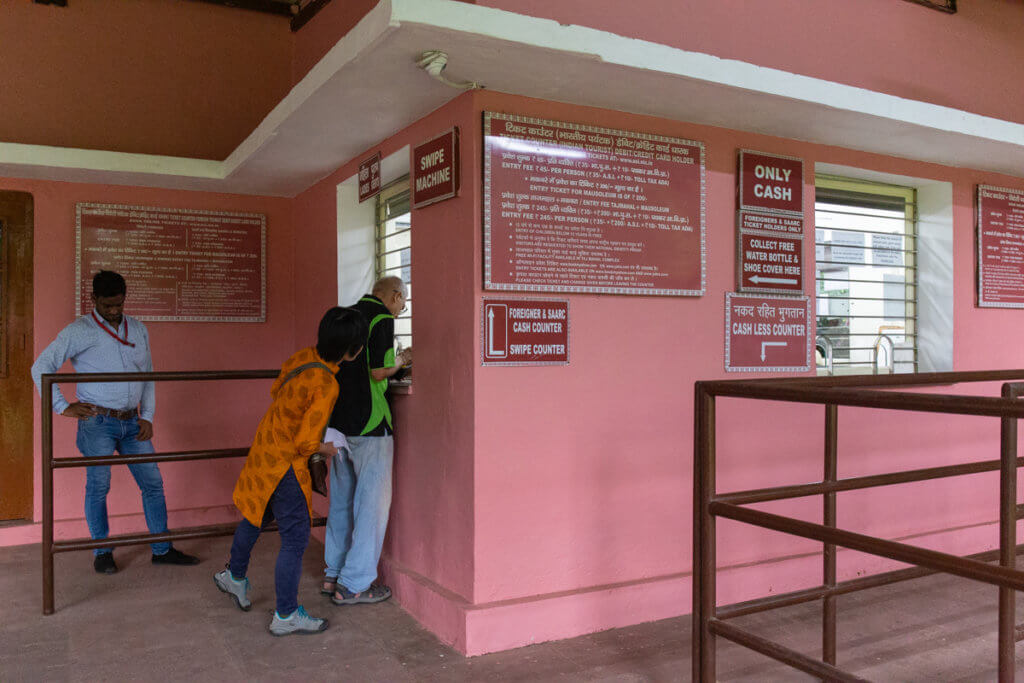 The Entrance Fee
Foreigner: 1,000 INR / person
Citizens of SAARC and BIMSTEC countries : 540 INR/person
No entrance fee for children under 15 years old.
Additional 200 INR is needed to enter mausoleum. Ticket counter is located in front of the mosque / adjacent to the mausoleum.
There'll be no ticket but coin. You'll need to keep the coin and use it later to exit Taj Mahal.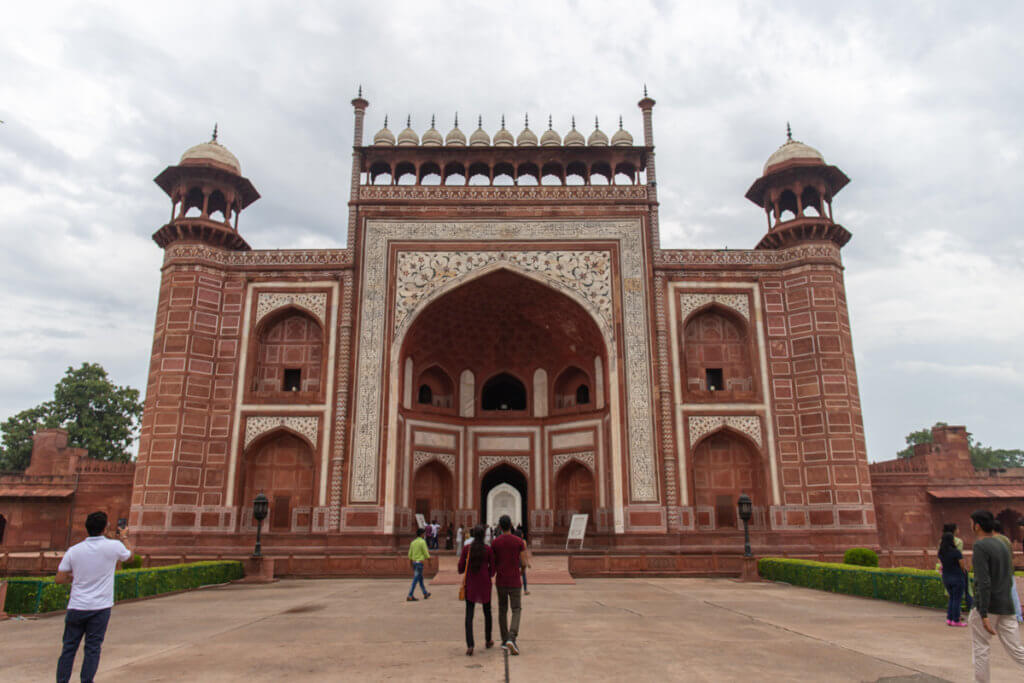 Choose The Entrance Gate Wisely
There are 3 entrance gates to enter Taj Mahal. Be sure to read all information, ask the hotel staff and choose the gate wisely. There's always a queue at each gate and security check after the entrance. Carry less thing, leave backpack at the hotel to speed up security check process.
The East Gate, is the most popular gate for foreigners, the closest entrance to the mausoleum and less crowded in the morning . We waited less than 5 minutes to enter despite there were two tour groups queuing in front of us.
The West Gate, is the main entrance. It faces Agra city and, most favourable amongst local tourists. It's more crowded than the East Gate especially after 8 am.
The South Gate, faces Mumtazabad/ Modern Taj Ganj on the south. No entrance is allowed from this gate. It is only accessible for exit.
Wear Light and Colourful Clothing
There's no specific dress code enforced at the Taj Mahal. People dress varies but never I saw any lady wearing hot pants or miniskirts walking around the Taj.
I'd recommend to wear light cloth because of the heat, humidity and lack of shades.
Never Lose Sight of Your Toddlers / Kids
You start taking pictures of the Taj Mahal, your children start chasing the squirrels. While your hands are on the camera, eyes fix on the marvelous Taj Mahal, your children running around. "Don't go too far", you said. In a split of a second you lose sight of your children. It happens but Taj Mahal is not a place where you can afford to lose sight of your children. They can fall down anytime or lose themselves in a crowd.
My 2 years old only had something in her mind, how to chase squirrels. I could not think of anything else than followed her steps closely. Forget anything else, your toddlers/kids safety should always be a priority.
Wait for Your Turn for Pictures Taking and Do It Fast
There's always a queue forms at the best spots of the Taj Mahal. It's always unclear who comes first. What I did was to remember who was standing in front of me.
Sometimes after queuing for a few minutes, some people cut the queue, take the spot and pose. It happened to us but it was fine. It's always happen in popular tourists spot.
Be patient to wait for your turn and mindful of other people in the queue. Ask for people's help to take a family picture. There'll always someone who is willing to help.