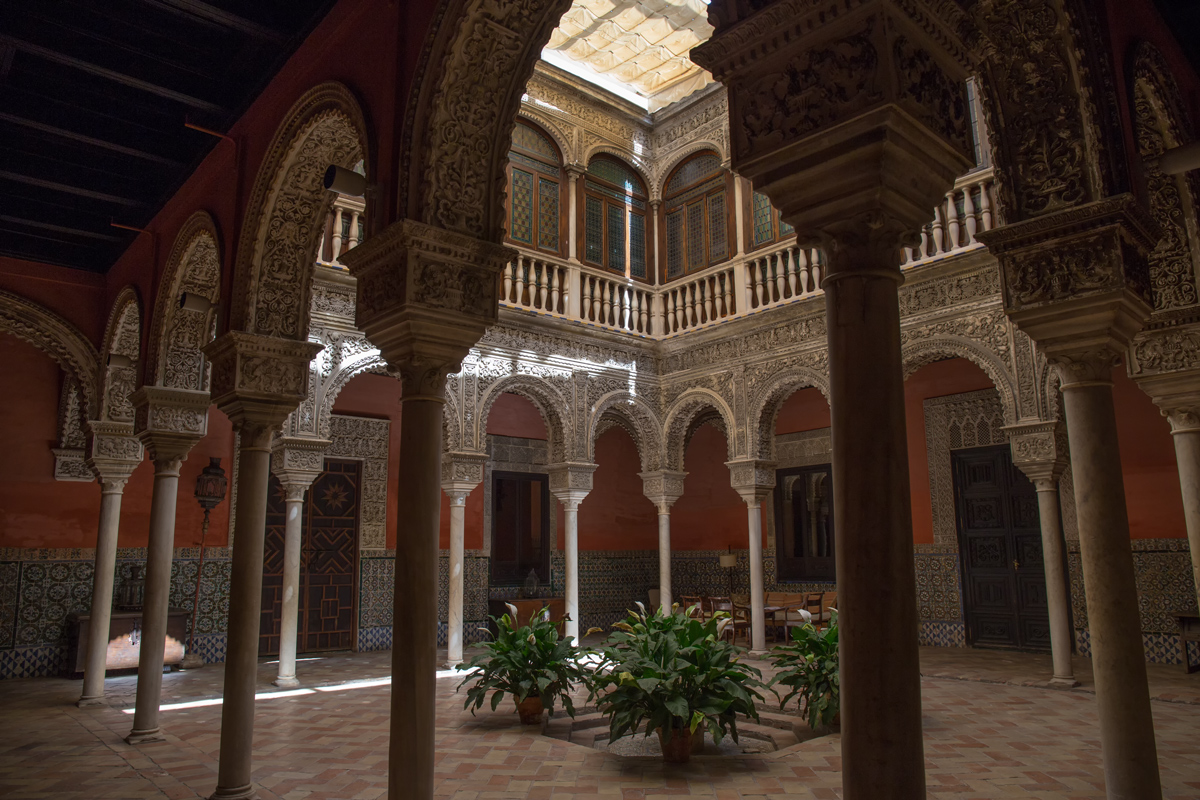 With a harmonious blend of cultures, it's only right to say Seville is a city with character.  Other European cities may be proud with gothic renaissance romantic influences but with a touch of Islamic and Christian influences, Seville stands out amongst other cities in Europe. The trace of Islamic and Christian influences, known as mudejar in Spanish, can be easily seen in the architectures in Seville.
Central historical district is a home to many mudejar influenced architectures like the Real Alcazar of Seville is being the most famous and some palaces. The palaces were used to be the residence of noble / high profile persons in the past. Some are still privately owned by the descendants. Lucky for travellers, those beautiful palaces are open for public and located within walking distance from one to another.
Here are 5 places to visit in Seville:
Casa de Pilatos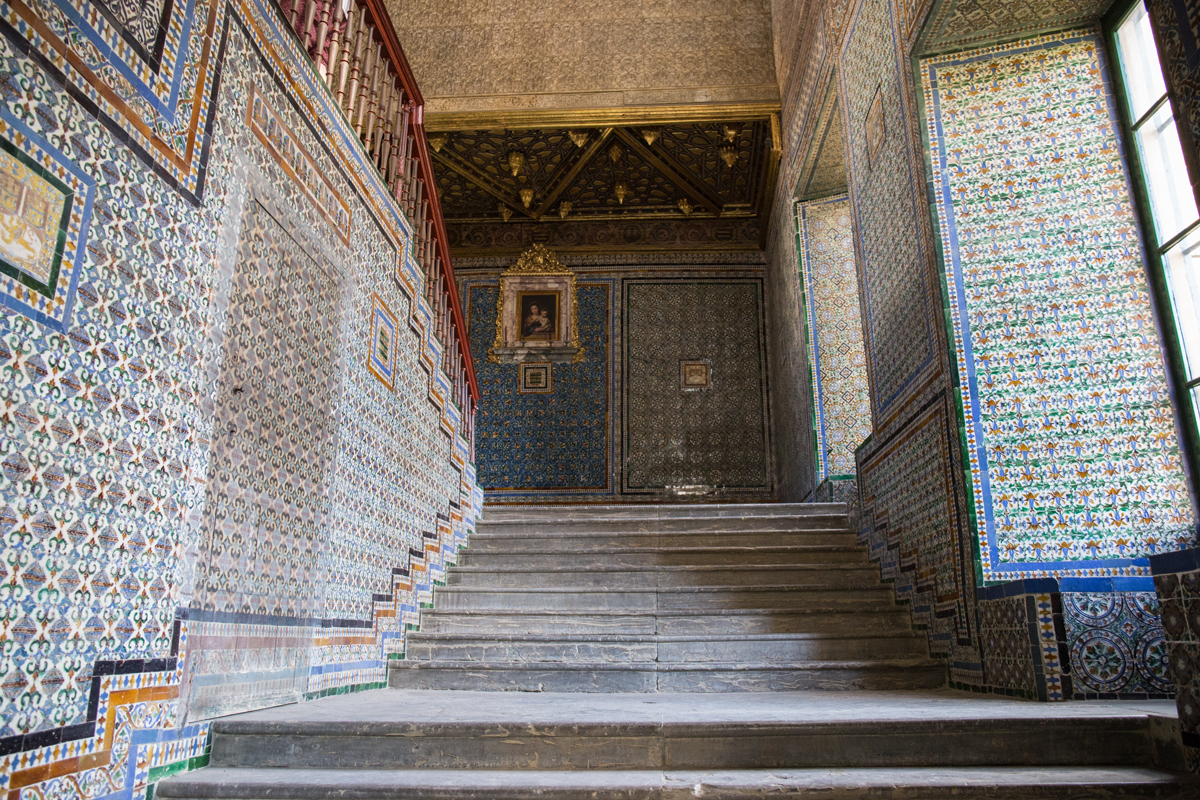 Casa de Pilatos is the most beautiful amongst other palaces. The Palace is not only influenced by Islamic architecture during the Christian era of Spain but also has a touch of renaissance style. It's a harmonious marriage between mudejar gothic and renaissance romantic. It's not a surprise if Casa de Pilatos has more visitors compare to other palaces.
Opening Hours: 9am to 6pm daily (November to March) ; 9am to 7pm daily (April to October)
Entrance Ticket: 8 euros (ground floor only), 10 euros for both floors. The ticket inclusive of an audio guide / person (English, Spanish, French, Italian, Portuguese, German and Japanese)
Palacio de Lebrija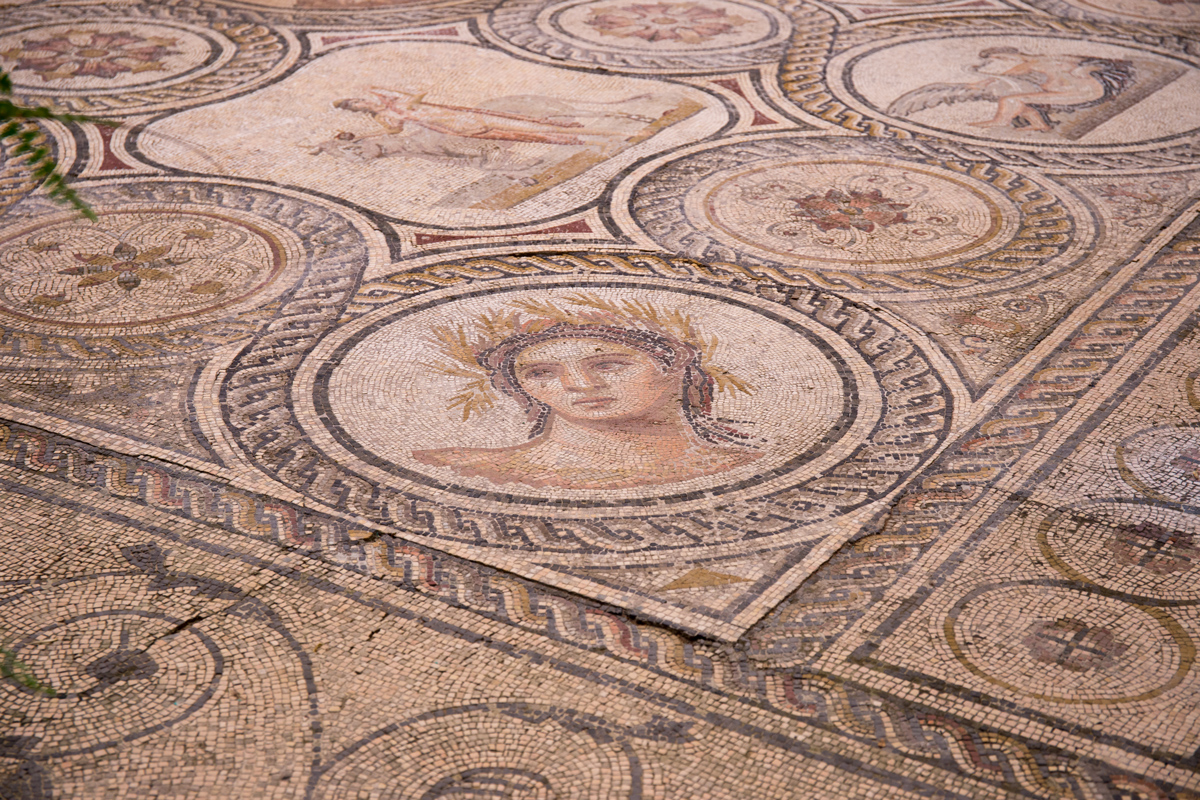 Casa de Librija  (Palace of the Countess Librija) was used to be the residence of  various noble persons before it was bought by the Countess Librija in early 1900. Like many other medieval buildings in Seville, this Palace is thick with mudejar influence. What differentiates it from the other is the colourful marbles excavated from the Roman ruins Italica. The guide called it "the Roman Tiles". The tiles representing stories of Zeus and God Pan. The Countess' library on the 2nd floor stores hundreds of books and her hand writing journal. It is another thing to admire about this palace. The books and her journals are well kept as if untouched by the time. Casa de Librija is still owned by the descendant of the Countess.
Opening Hours: varied on each day depends on family schedule. Closed weekend. Entrance is only with guided tour and limited to 6 – 8 people on hourly basis.
Entrance fee: 8 euros for both floors
Casa de Salinas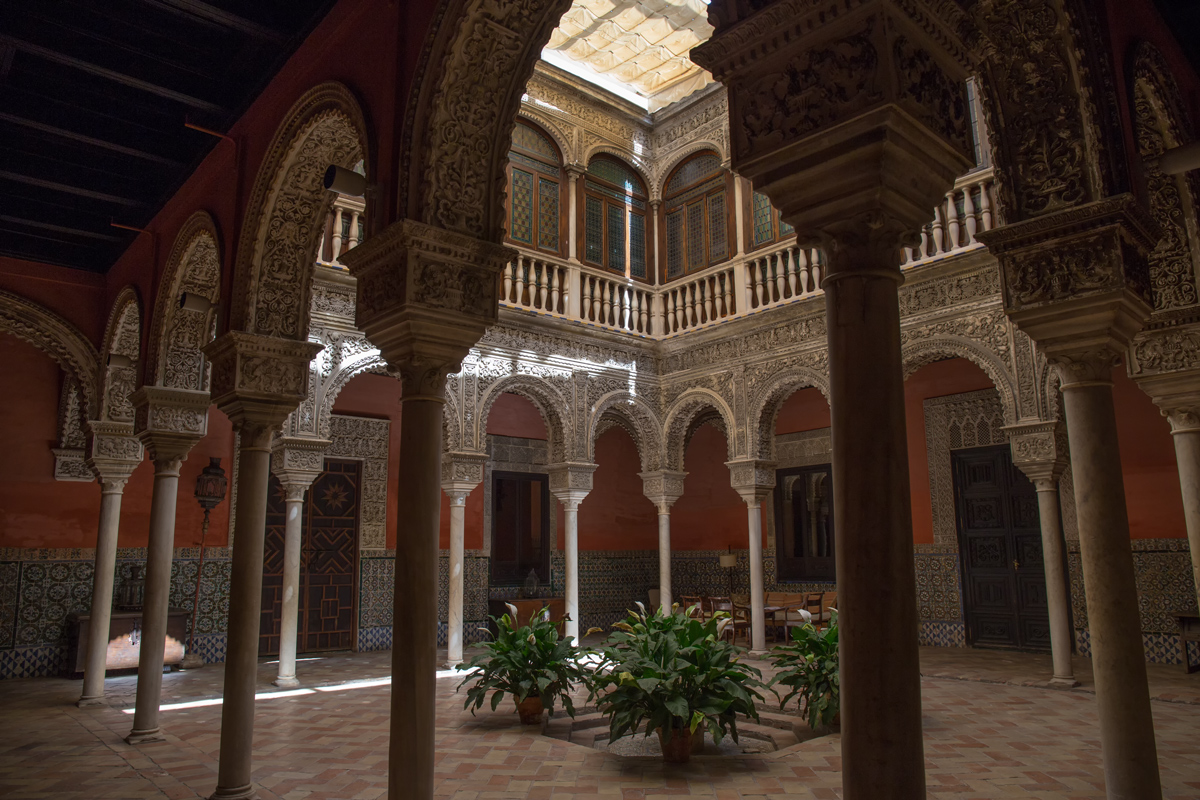 Casa de Salinas was built in 16th century. Currently, this mansion is privately owned by the Salinas family. It showcases the beauty of mudejar works from the moment we stepped into its courtyard. Entrance is only by a guided tour for a limited number of people.
Opening hours: varied on daily basis
Entrance fee: 6 euro / person
Palacio Las Duenas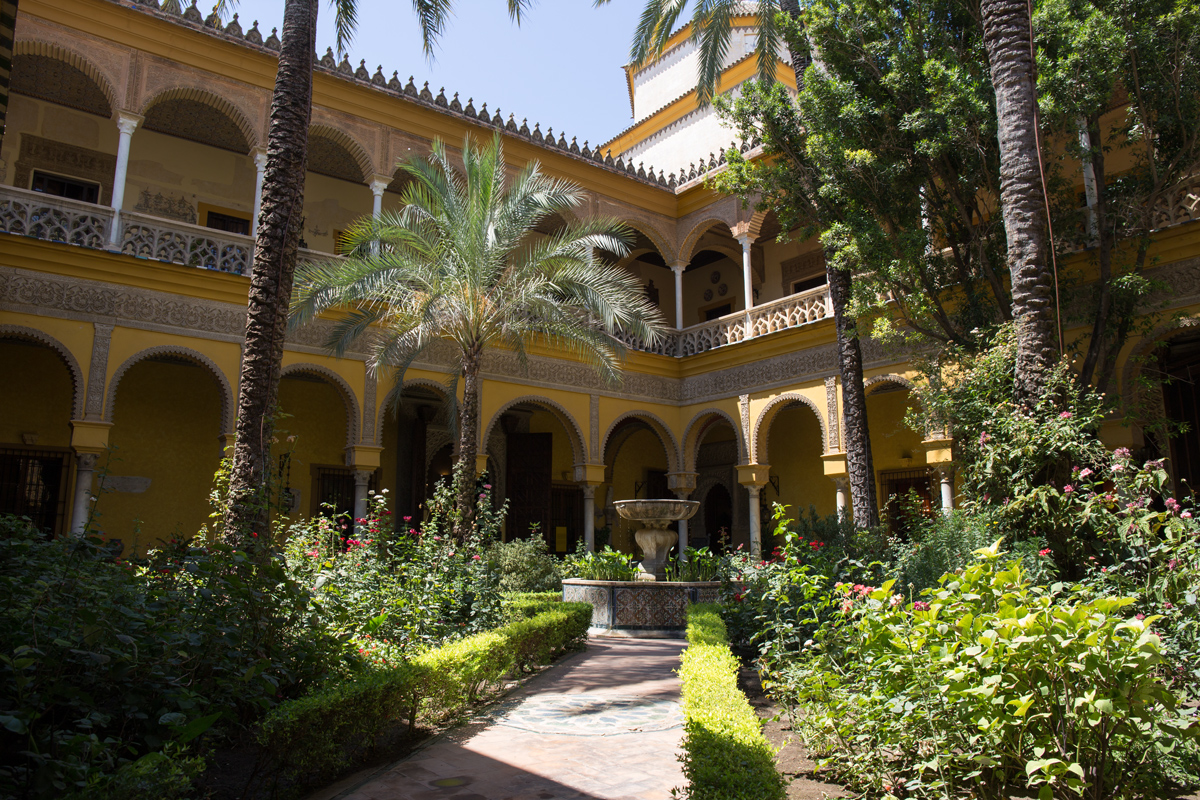 Compare to other palaces, Casa las Duenas has the most beautiful garden and courtyard. It was built between 15th to 16th century. In 19th century Casa las Duenas turned to a guesthouse which received high profile guests from all over the world.
Opening hours: 10am to 8pm, (April to September), 10am to 6pm (October to March)
Entrance ticket: 8 euro / person, additional 2 euro for audio guide, 6 euro for children from 6 to 12 years old. No admission fee for children under 6 years old
Algaba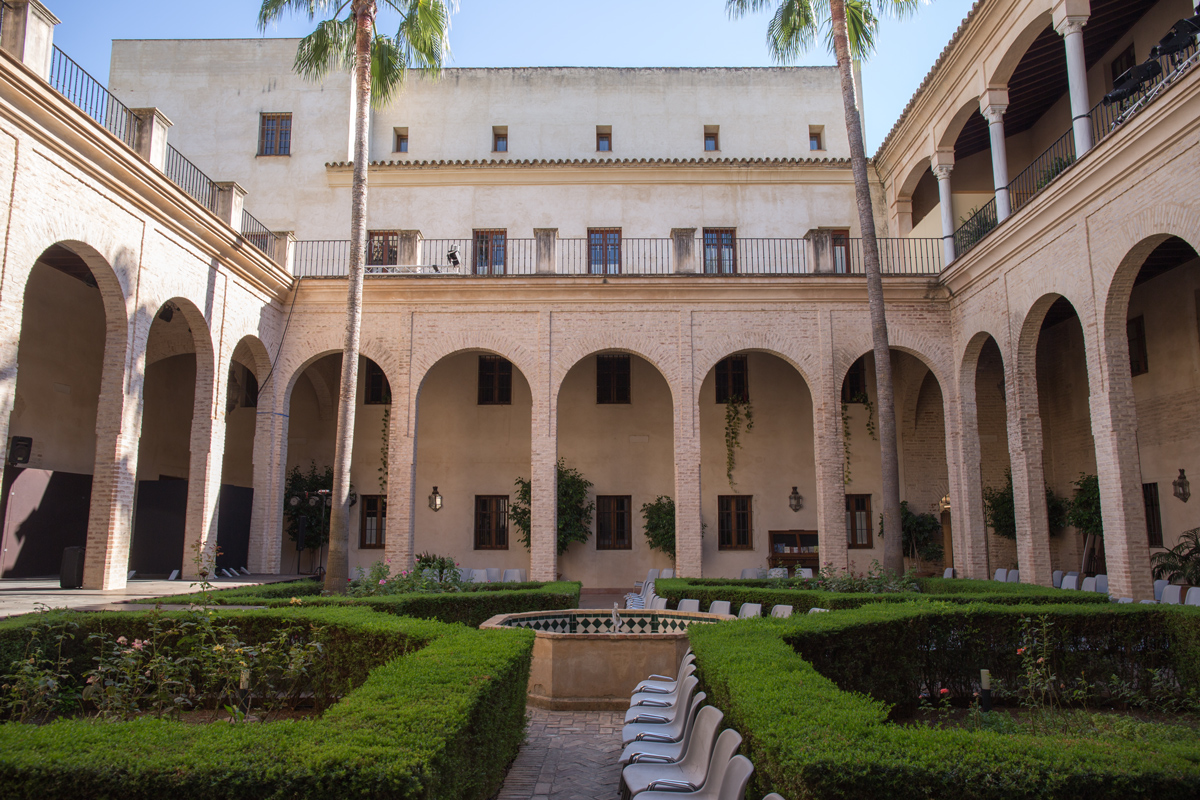 La Algaba shows mudejar gothic influence in its two main buildings: the Church of Santa Maria de las Nieves and the Chapel of the Immaculate. Its courtyard is often used for various events like concert. No admission fee to enter the building.