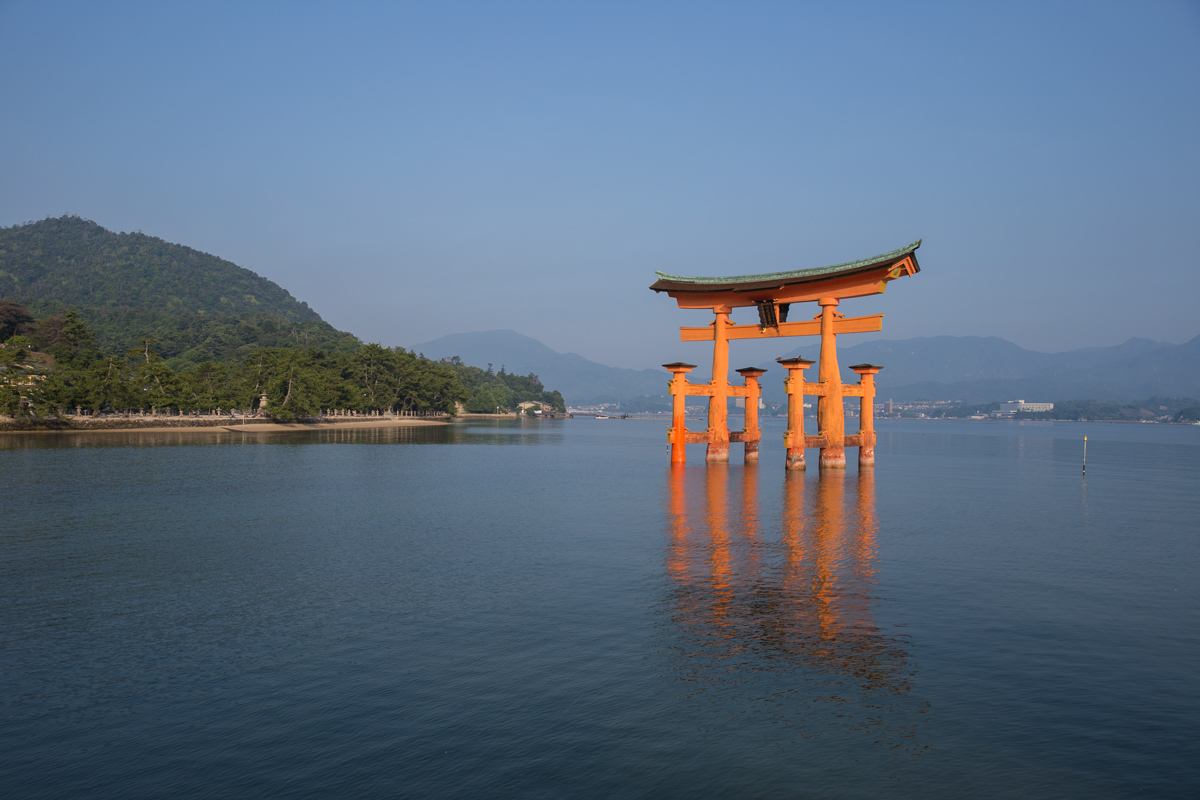 Hiroshima has a dark and sad history behind. The city suffered from atomic bomb in the past. Now is known as one of tourists destinations in Japan. Beautiful landscapes, history and good food are to name some of attractions Hiroshima offers.
Hiroshima was the last city we visited in Japan this year. As much as we wanted to explore more of the city centre and enjoy the local cuisine, 48 hours were all we had to get the best of the city.
Was a two days trip enough to explore the city? Yes, it is more than enough provided with a proper trip itinerary in hand.
How to get to Hiroshima? I'm all about riding train when it comes to travelling in Japan. Nozomi bullet train operates frequently from Tokyo, Kyoto or Osaka to reach Hiroshima. Tokyo – Hiroshima round trip tickets for a reserved seat cost 38,000 yen / person. If you are a JR pass holder, you may use Hikari shinkansen instead. It runs slower than Nozomi shinkansen. The first Nozomi shinkansen leaves Tokyo as early as 6 am. It's better to book a reserved seat rather than just get into the train. In peak season, there's possibility not to get seat away from smoking rooms. Reserved seats are more expensive but you can relax knowing that you and your friends / family members will be sitting next to each other.
How to get around the city? Like most of cities in Japan, going around is convenient by train, bus or tram. Suica (pre-paid e-money / smart card) however cannot be used in Hiroshima, which uses ICOCA card instead. The city now is still trying to integrate Suica card as payment method for public transportation.
Here are things to do in Hiroshima for a two days trip:
DAY 1:
Visit the Atomic Bomb Dome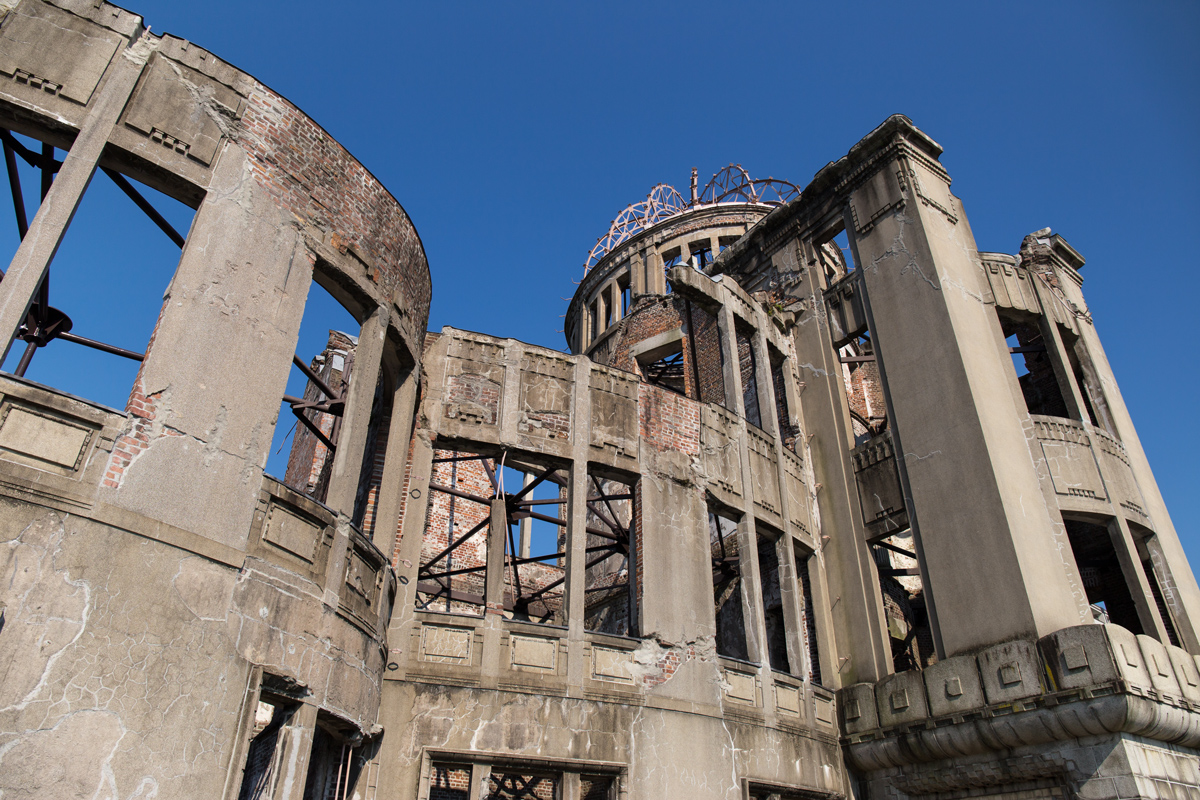 I've heard the name Hiroshima since I was in school. It was the first city of Japan I have ever known by history. It's only fair to visit the Atomic Bomb Dome as the first thing to do as soon as arriving in Hiroshima to see with my own eyes the remnant of the World War II. There are Cenotaph of Atomic Bomb victims and Hiroshima Peace Memorial Museum located within walking distance from the Dome. These are spots to visit after the Atomic Bomb Dome.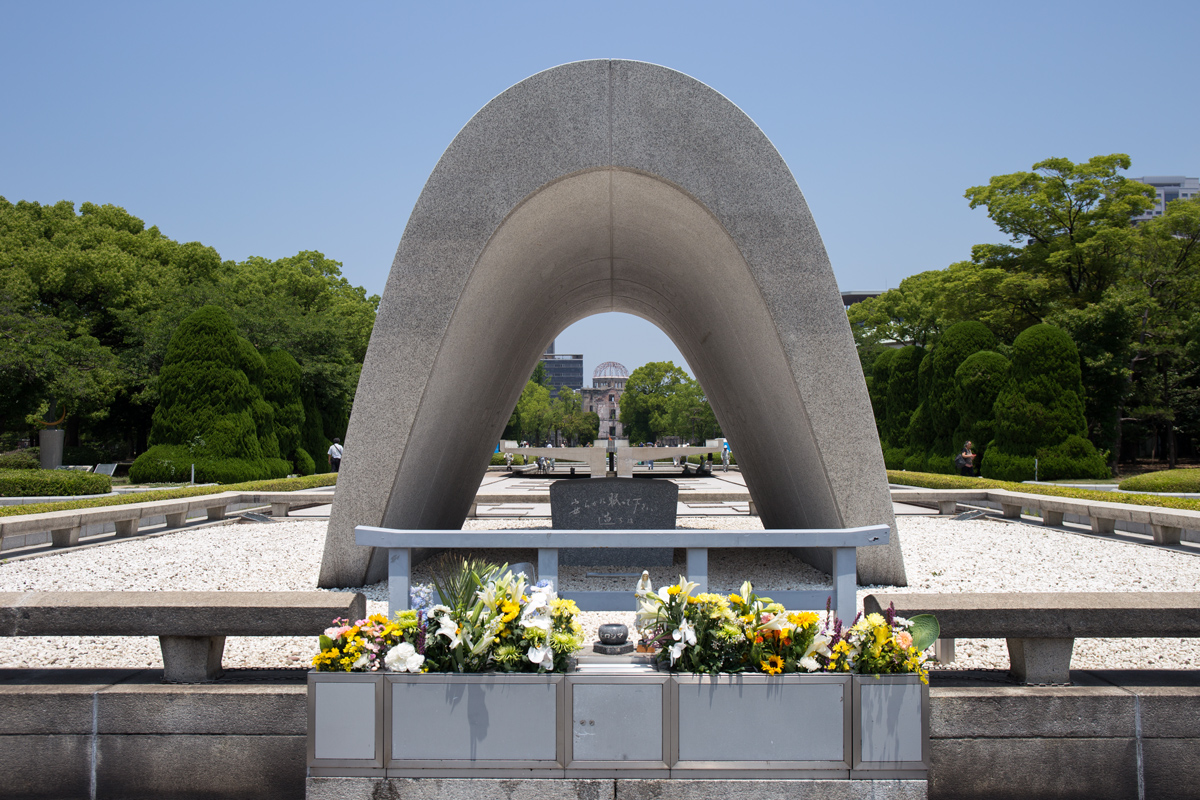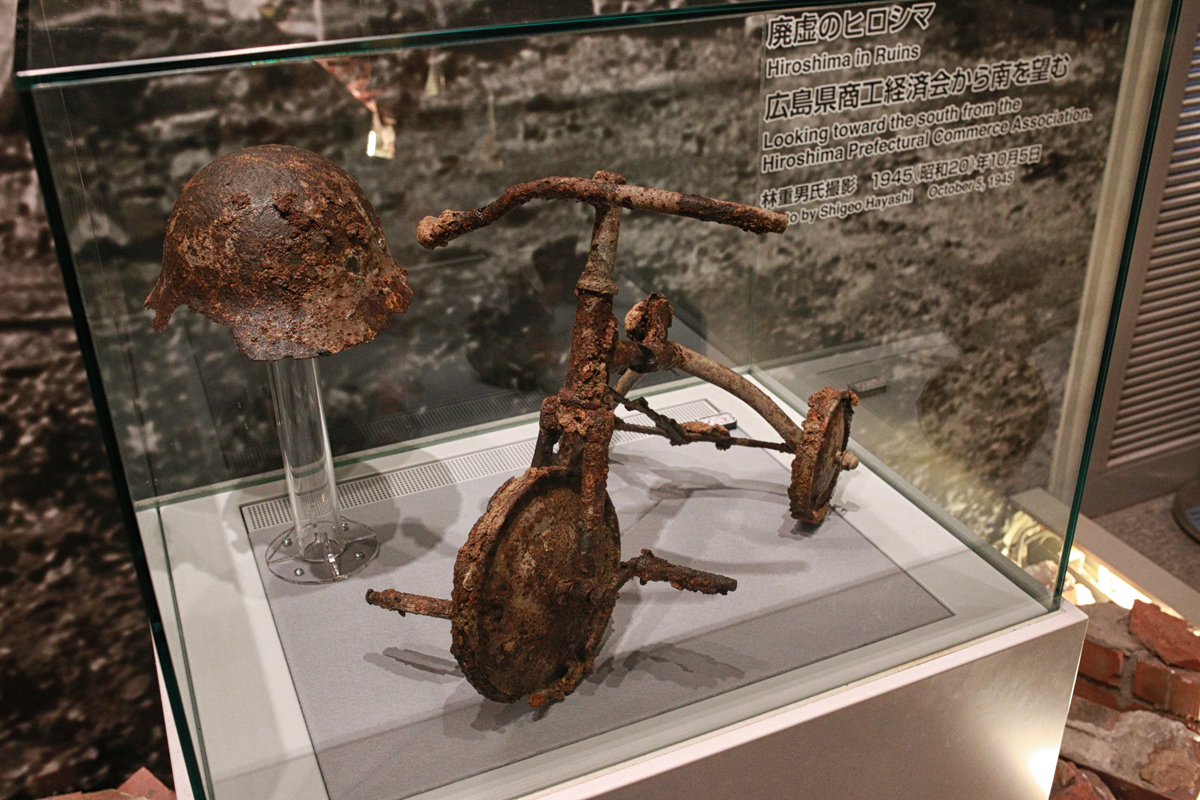 Enjoy the Most Famous Local Cuisine : Okonomiyaki 
Okonomiyaki or Japanese pancake / omelette is extremely popular in Hiroshima. Many regarded Hiroshima is a home to the best okonomiyaki. Okonomiyaki is a pancake batter mix with cabbage, pork belly, squids or any other items top with fried egg and okonomiyaki sauce.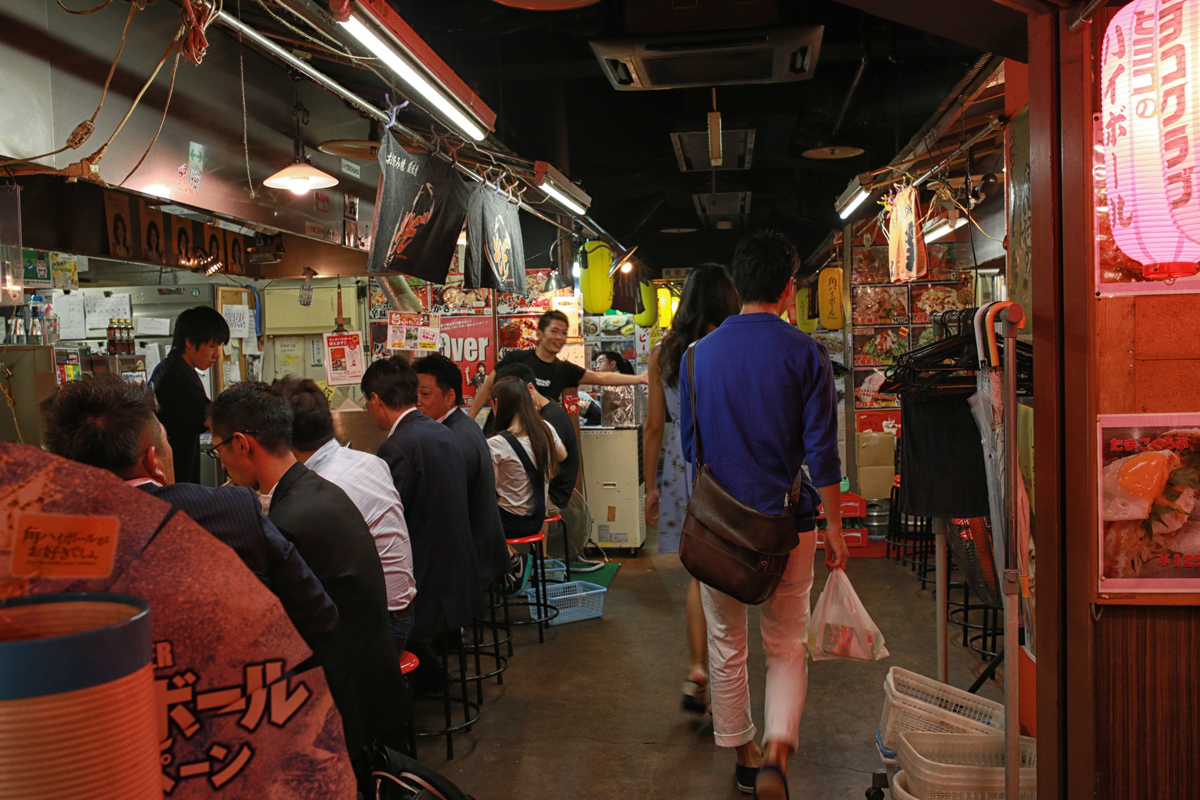 Visit Shukkei-en Garden 

Shukkei-en Garden was built in Edo period (17th Century) and loved by the Imperial Family. It's a fine Japanese garden and a pleasant place to rest and relax after wandering around the city.
Relax and Enjoy Hiroshima Sunset from Orizuru Tower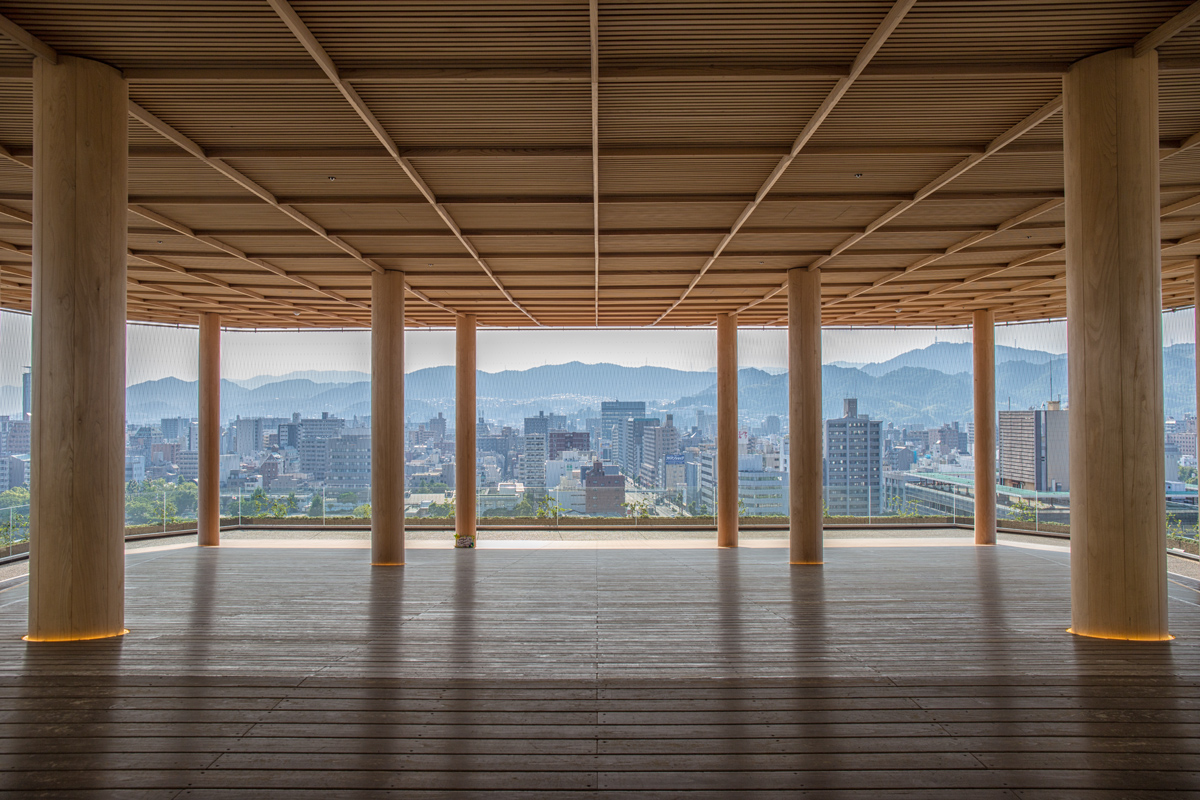 Orizuru Tower is a new building in town but has gained its popularity in no time. It's a new spot for photography enthusiasts. Entrance fee is a little bit expensive (1,700 yen/person) but it worth paying for the great view. There's origami center in the building where visitors are given a chance to create an orizuru (crane origami).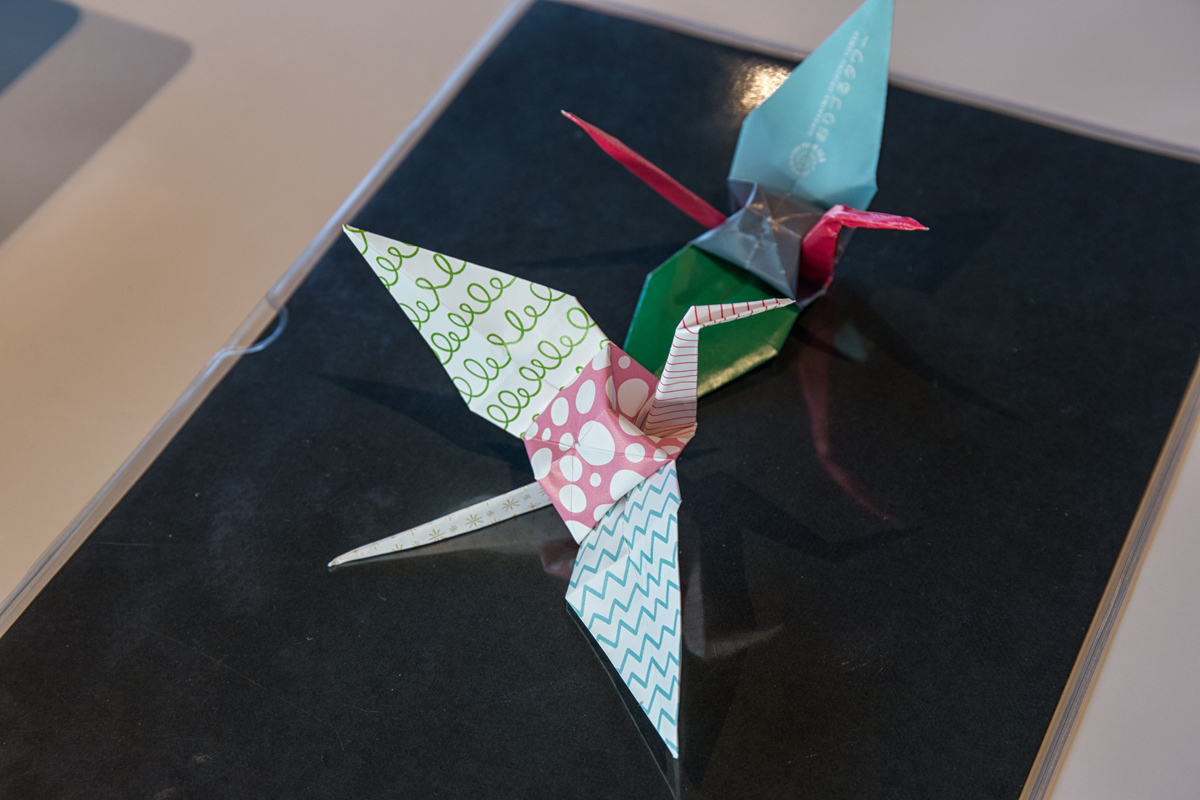 Ride the Historical Trams around the City 
Despite Japan's reputation as one of the most advanced technology countries when it comes to public transportation, Hiroshima still uses old trams from post WW II. It's one of the city's prides. When visiting the historical city, why not riding its historical trams?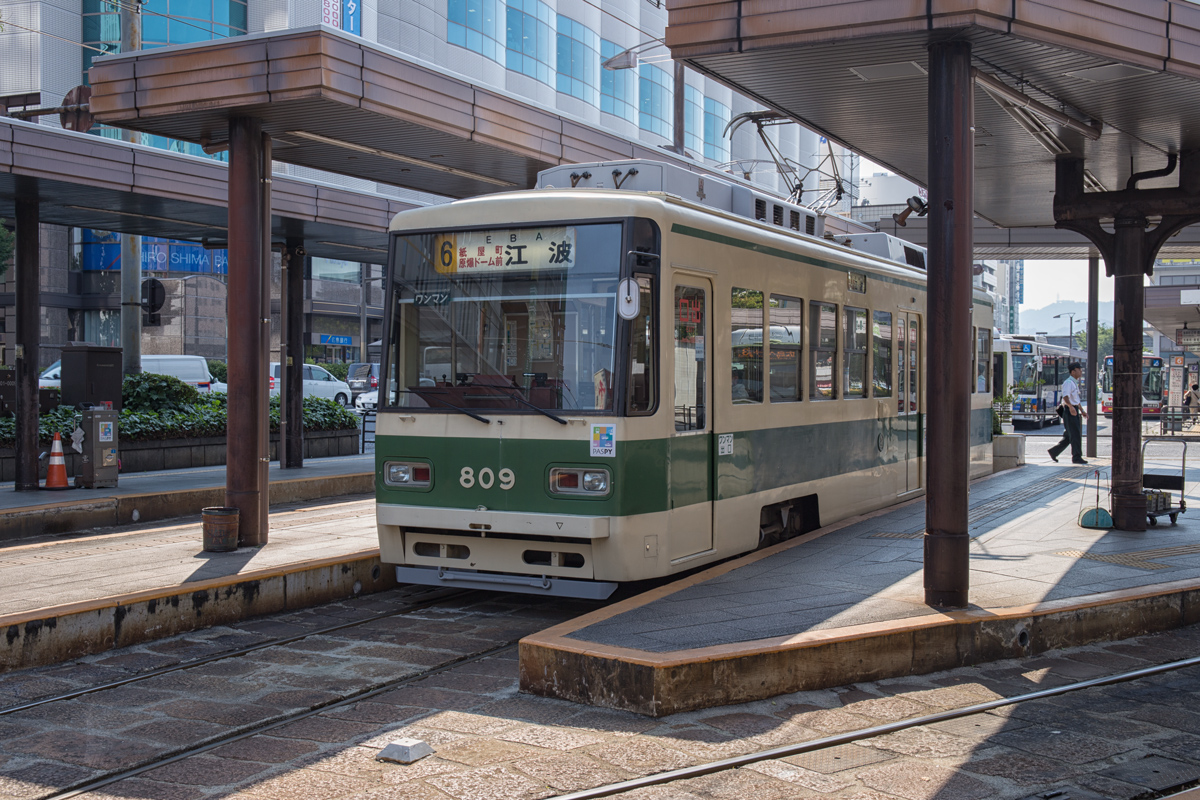 DAY 2
Explore Miyajima Island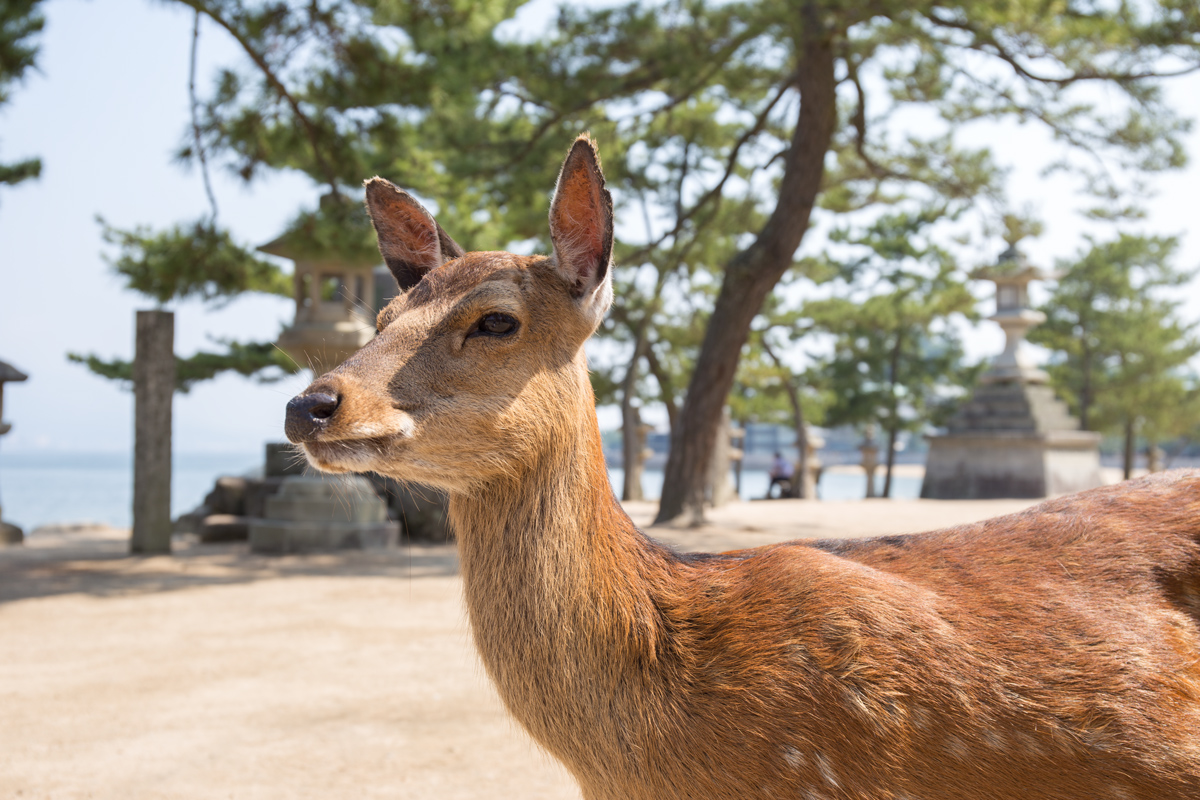 Slightly located outskirt of Hiroshima city, Miyajima Island is a must visit place while in Hiroshima. Miyajima Island is a home to one of the most photographed shrines in Japan: Itsukushima Shrine. There are many things to do in Miyajima island. It's great if you allocate ample time to wandering around the island. The island is a home to wild deer. Unlike in Nara where people are allowed to feed the deer, it is forbidden to feed deer in Miyajima island.
Itsukushima Shrine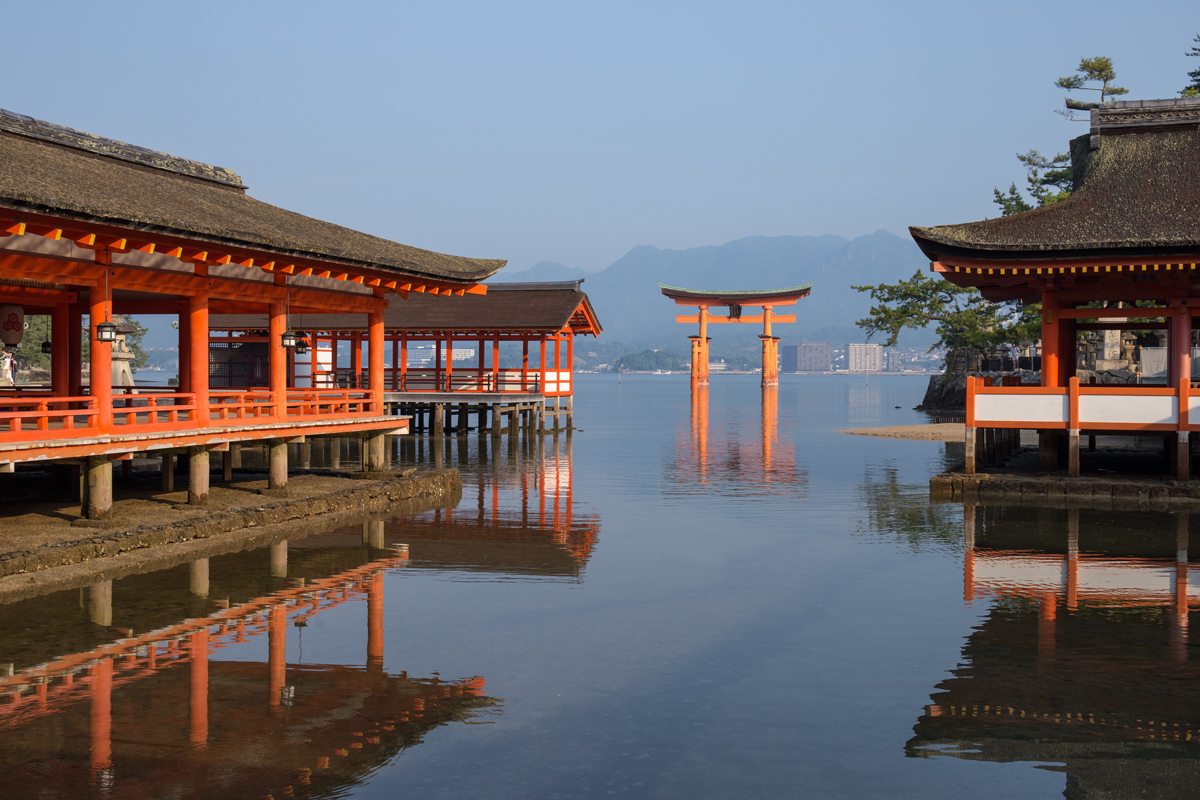 The Itskushima Shrine is known for its floating gate which has been featured in many Japan's travel magazines. It's best to visit Miyajima Island early in the morning when most of tourists are still enjoying breakfast in the city. The first ferry operates at 0625 am to the island.
When we arrived at the island by 0640 am, the tide had started getting lower. By 0730 the closest area to the shrine became dry.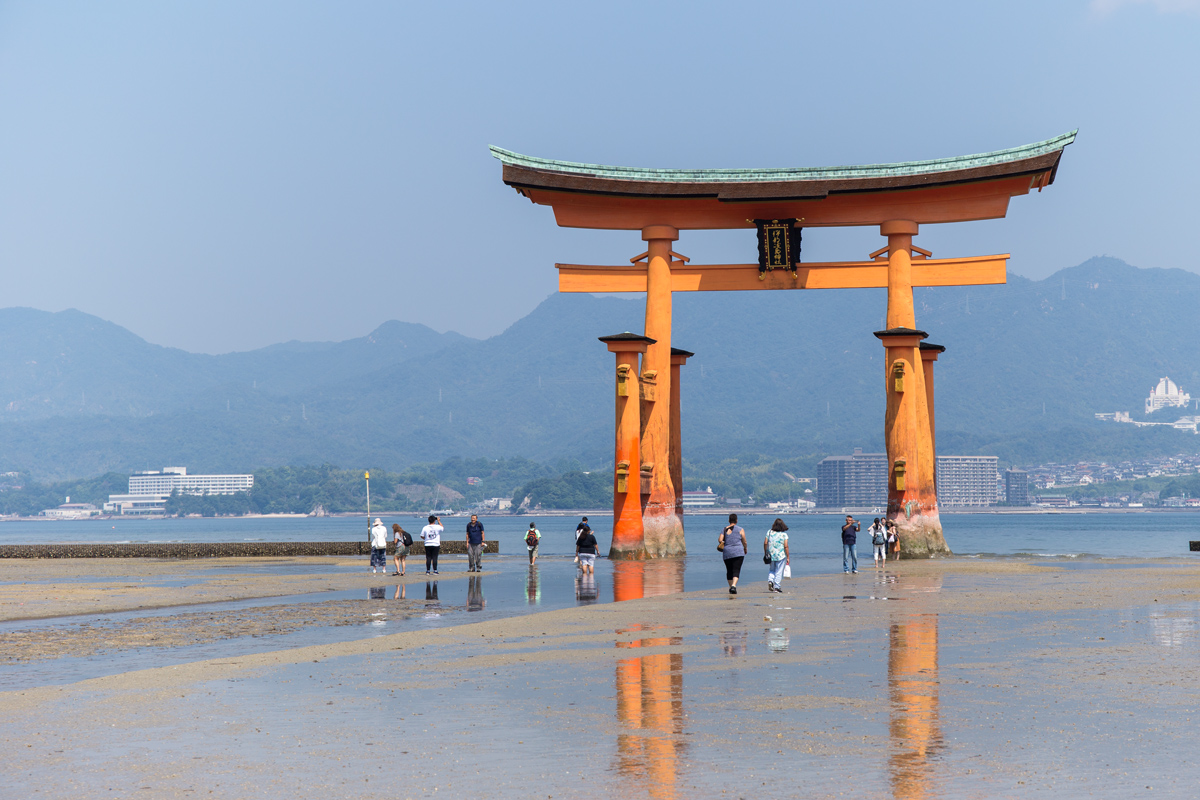 What time usually is the low tide? There's no certain answer to this question as the tide changes everyday. Sometimes the tide is low at 6 am. However, tide cycle usually is around 12 hours. Staying at least six hours in the island will give you opportunity to see both high and low tide. When the tide gets low people can reach the gate by walking. It's best to bring sandals if you plan to walk to the gate.
The other reason to come early to the island is the sun. At 10 am the sunshine becomes too bright which makes it difficult for pictures taking.

Explore Momiji Dani Koen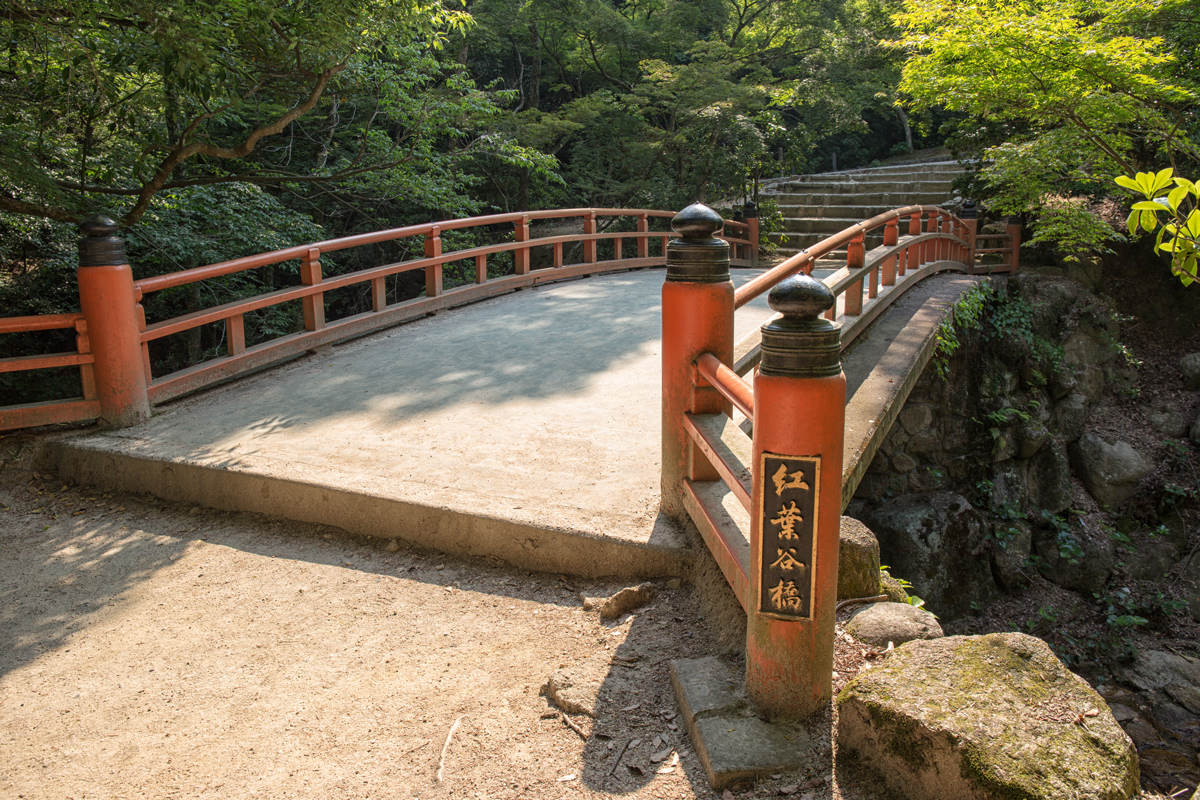 Momiji Dani Koen is popular in autumn for its stunning foliage but it does not mean the garden loses its charm in summer. It's a nice place to take a stroll and enjoy the beautiful scenery.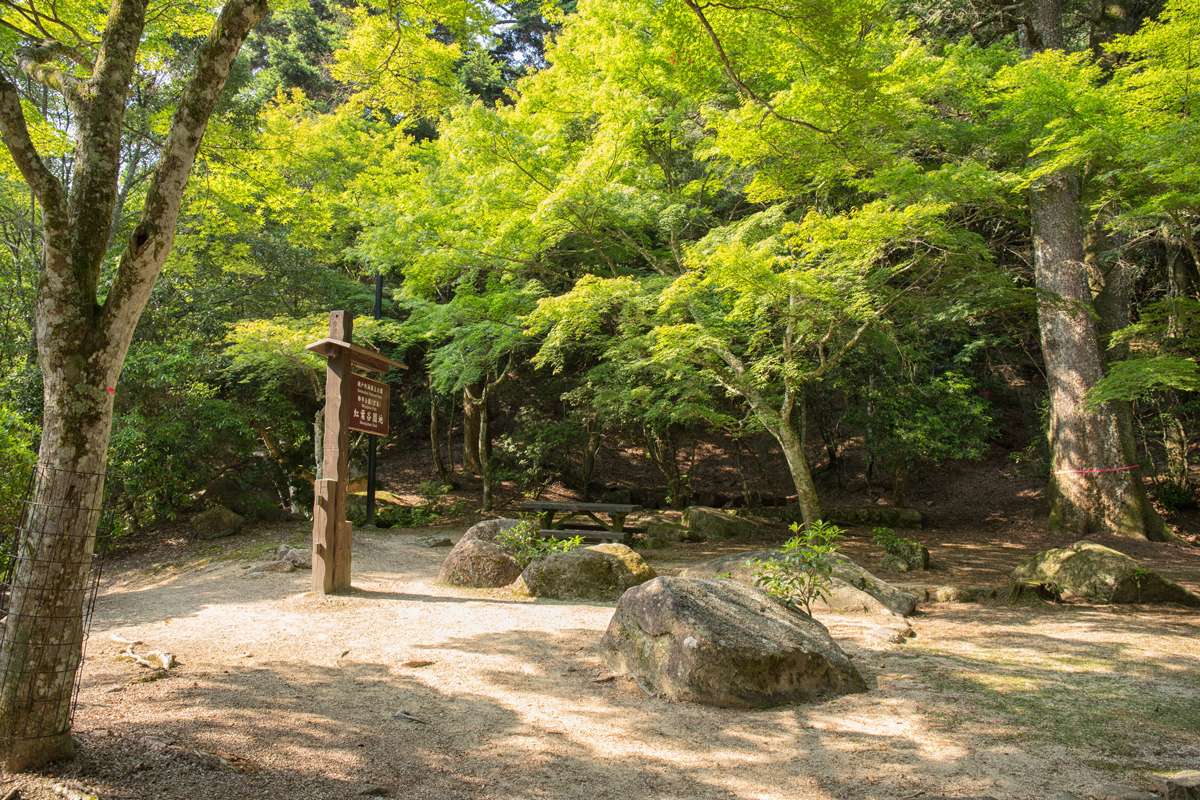 Enjoy Miyajima Cuisine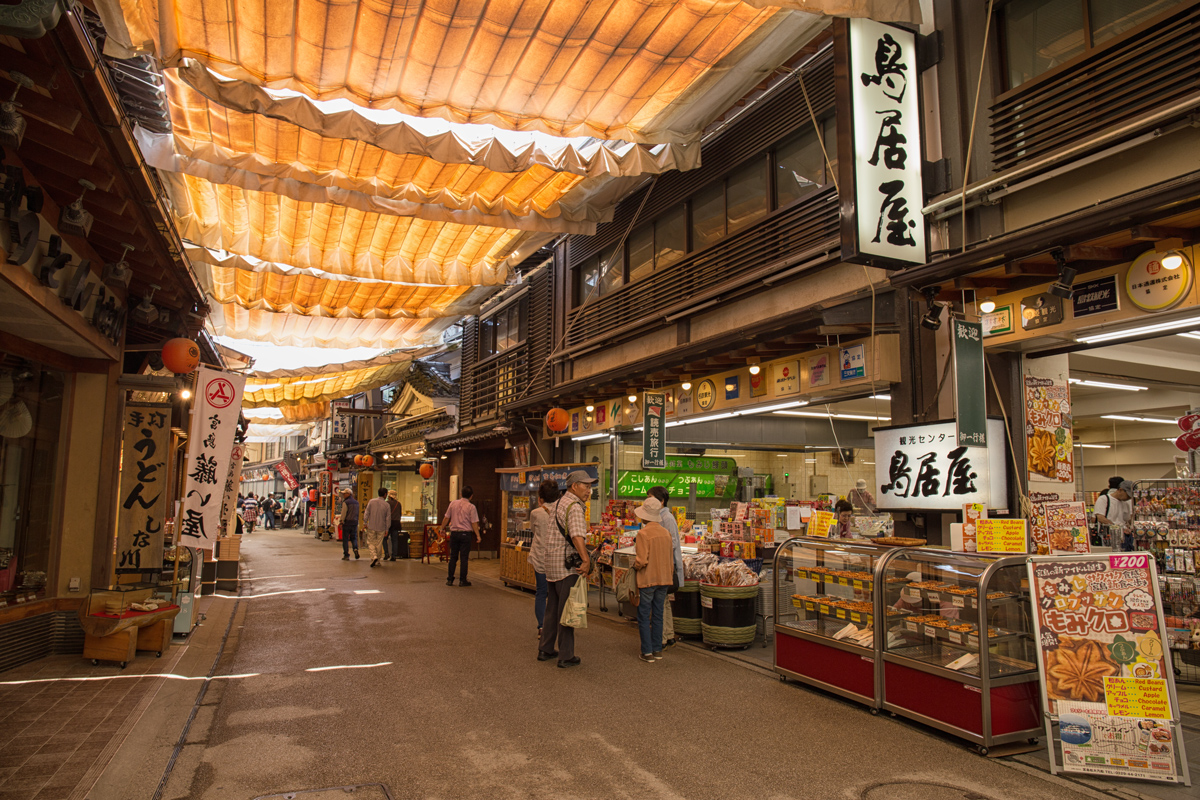 If Hiroshima is popular for its okonomiyaki, Miyajima is known for fresh oysters and momiji manju, a type of steam bun in maple leaf-shaped with azuki (red bean) paste filling. Momiji manju is a popular omiyage (souvenir) from Miyajima island. Nowadays, there are various filling to choose from custard, green bean, green tea, chestnut to cheese. Restaurants and food stalls are located in a shopping street few metres away from the ferry terminal.
There is one more interesting place to visit while in Hiroshima city. Kintai kyo Bridge is located around an hour away from Hiroshima city. It is located in Yamaguchi Prefecture, bordering with Hiroshima. Check out Kintai Kyo Bridge post for more pictures and story.
Will you include Hiroshima in your travel plan to Japan? What interests you the most about Hiroshima?