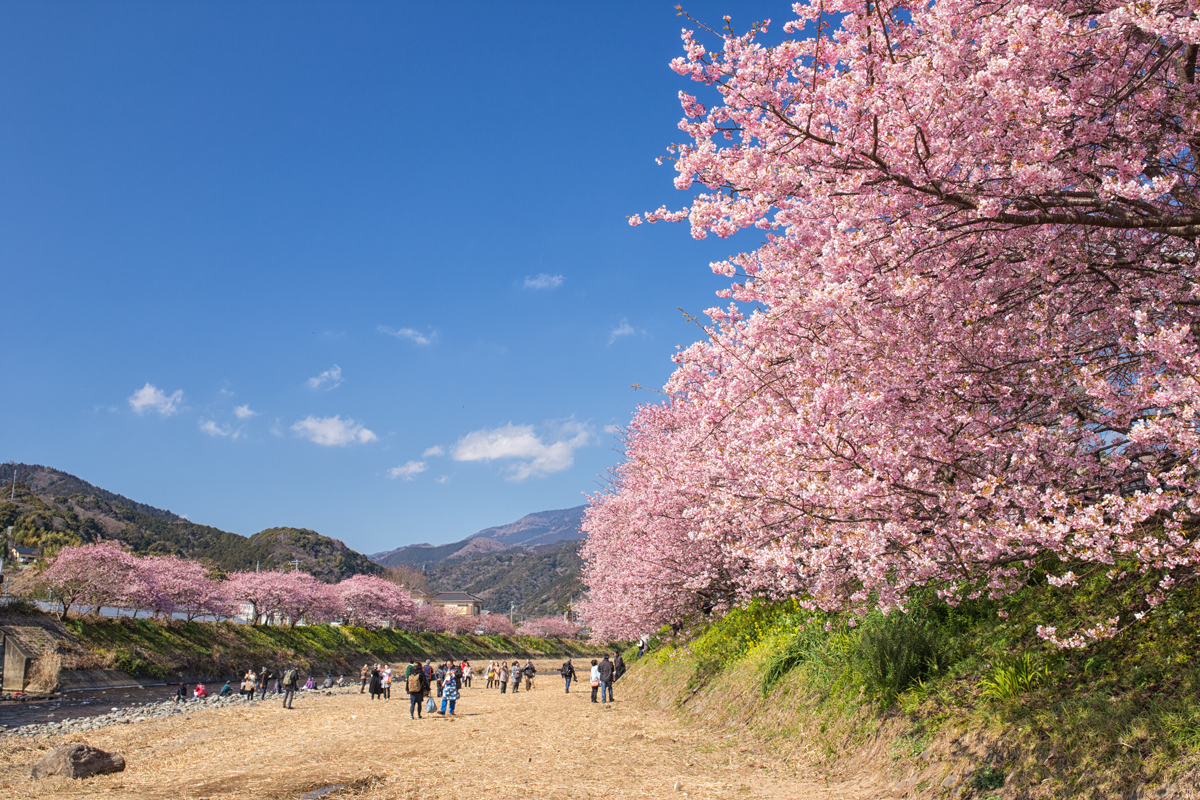 Spring is around the corner. Japan's iconic flower Somei Yoshino sakura has yet blooming. In winter, there's famous pink sakura named Kawazu Sakura. It's known as early spring sakura or early blooming sakura instead of winter sakura. This stunning flower is originated from Kawazu, Izu Peninsula. Kawazu Sakura tree (or Kawazu-zakura as pronounced by the local) was found at Kawazu river in 1955. The nearby resident spotted out the young plant and realised it was a sakura tree then took the tree and planted it in his garden. Thanks to the local people and government's effort there are thousands of Kawazu Sakura trees now in this city. The original tree can still be seen today where it was first planted in Kawazu.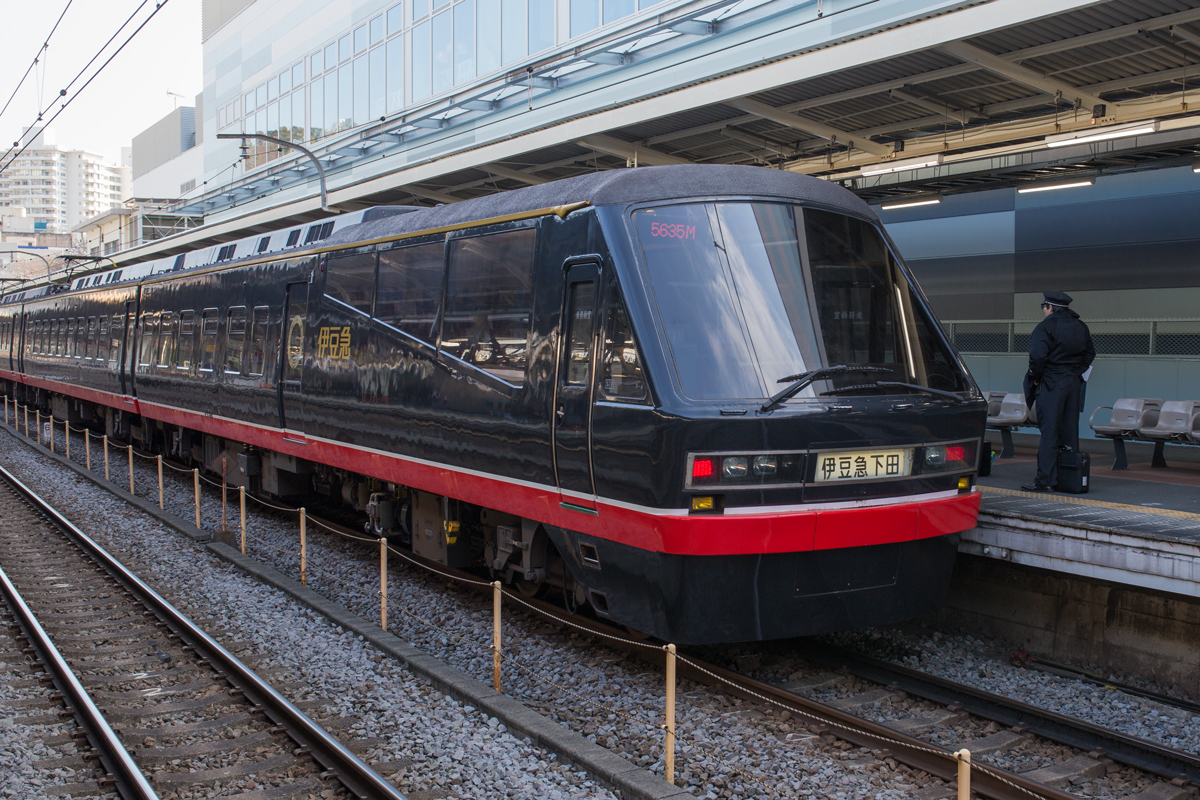 Kawazu Sakura usually blooms from mid of February to early March. That's the time when Kawazuzakura Festival is usually held. The best time to visit is at the peak or when most of the flowers have popped up although the festival itself last up to a month. The only way to find out the best time is by watching the news. This year, the Kawazu Sakura popped out a little bit early, mid February the Kawazu Sakura has reached its peak.
We travelled to Kawazu on February 16th as soon as we heard the news that Kawazu-zakura has fully bloomed. We departed from Tokyo station, took Tokaido local train to Atami station then changed to Ito line connecting to Izukyu Line (Kurofune) heading to Kawazu. It took a longer time to travel by this local train but we wanted to experience riding Kurofune Train, the Black-ship Train. Unlike regular local trains, Kurofune Train is designed to allow passengers to enjoy sea view as the train traverses to Kawazu. The interior of this train looked nothing but a sightseeing train, so nicely designed. Of course we could choose express train over Tokaido local train but then we would have missed riding the old Kurofune Train.
After nearly 4 hours train ride we finally arrived at Kawazu station. In no time we headed straight to the river bank where the most famous spot of the Kawazu-zakura were. For photography enthusiasts, when sun shining brightly and clouds were there, timing was everything. Few times we stopped on the ways trying to capture canola flowers with the sunshine.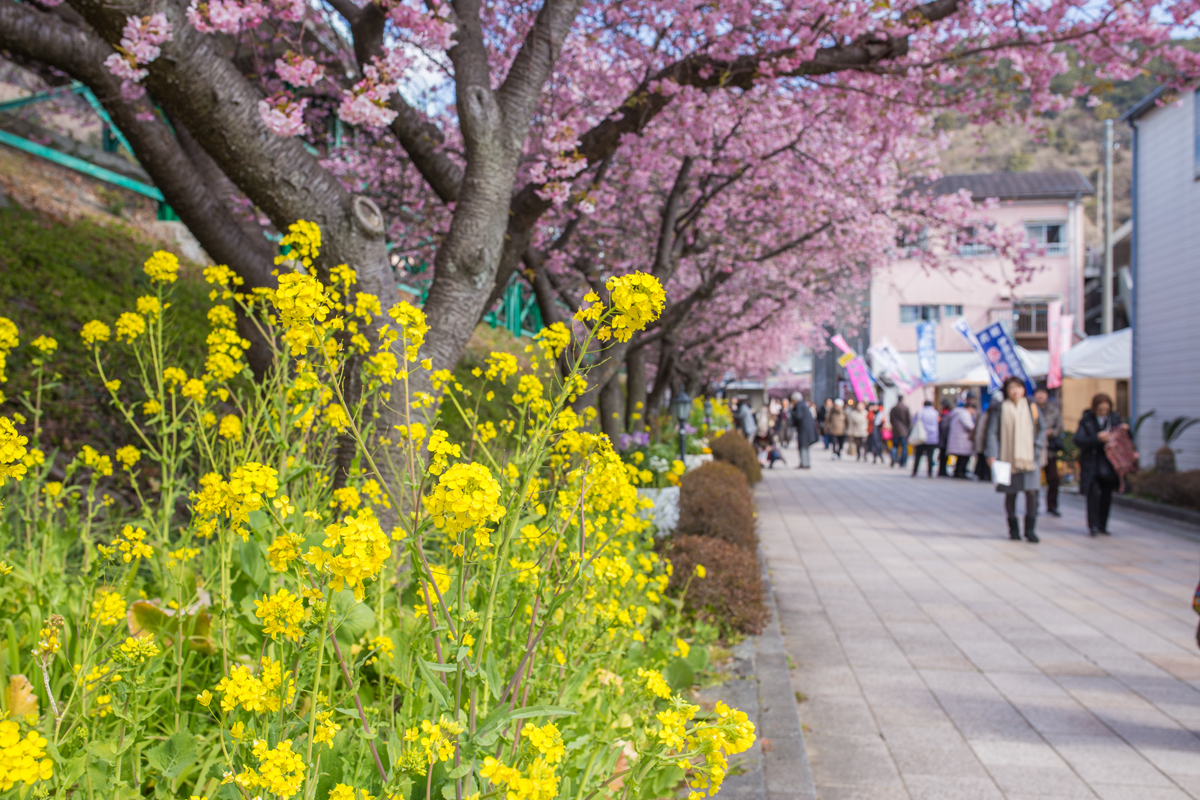 The most photographed site here is from the Hama Bridge that facing the Kawazu Zakura trees stretch along the river side.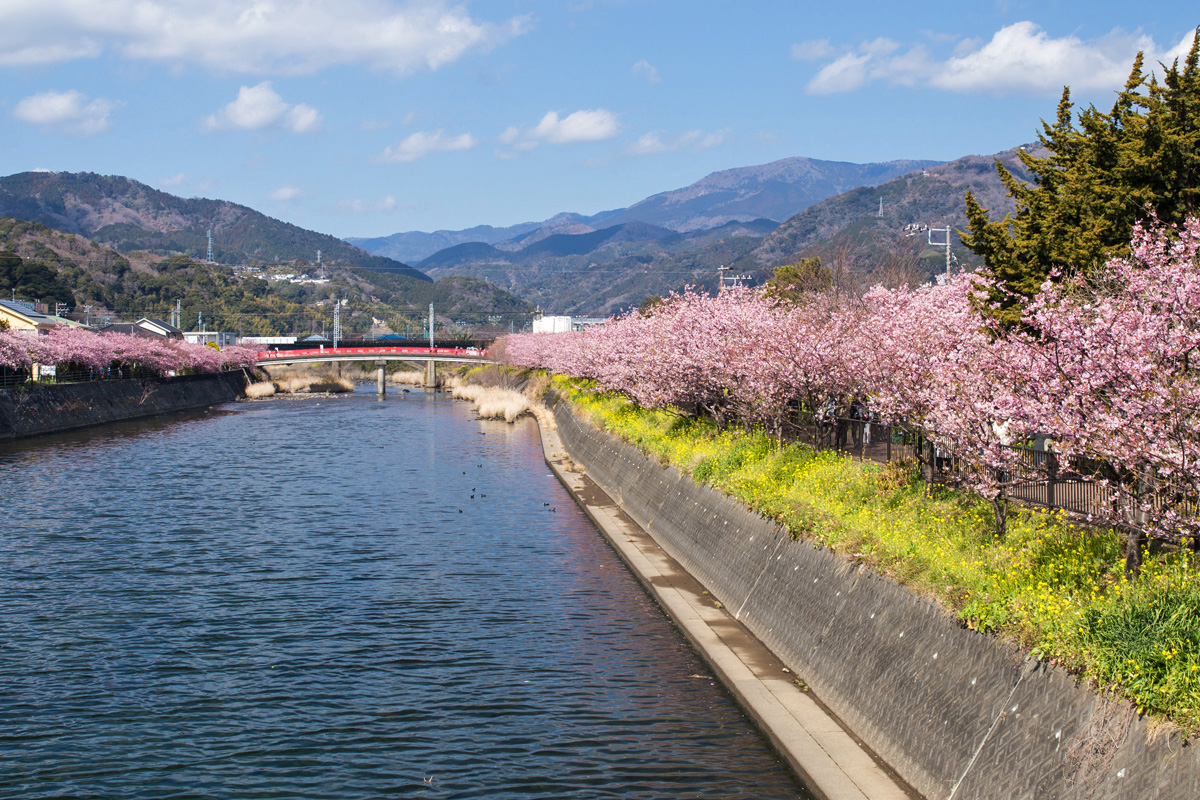 This tunnel of sakura was stunning beyond words.
Before moving to Japan, I had always wondered if the pink cherry blossom was the edited version of the white sakura. I was once oblivious that there are different types of cherry blossoms. This Pink sakura is as real and stunning as the most famous white sakura somei yoshino. What makes this Kawazu-zakura even better is it lives longer than somei yoshino which only lasts for a week.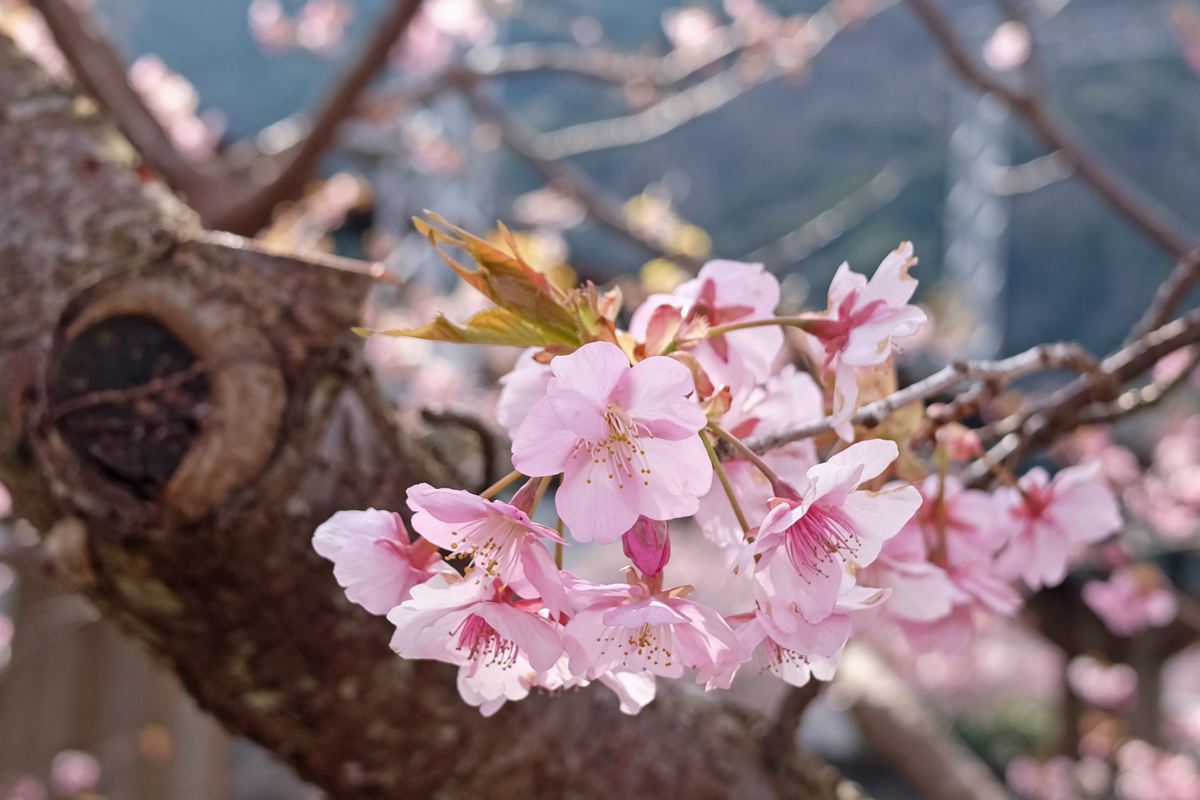 The green leaves are the most visible difference between Kawazu Sakura and Somei Yoshino other than the colour. Leaf never appears when Somei Yoshino flowers bloom unlike this Kawazu Sakura.
The flowers tunnel is only 250m long but the Kawazu-zakura stretches along the river, 3km long in total.
This was one of those lucky shots I every took. Initially, my camera was fixed on the flower then I heard the sound of the train travelled from the distance. In a split of seconds, I adjusted the camera's focus. Voila, train was in frame.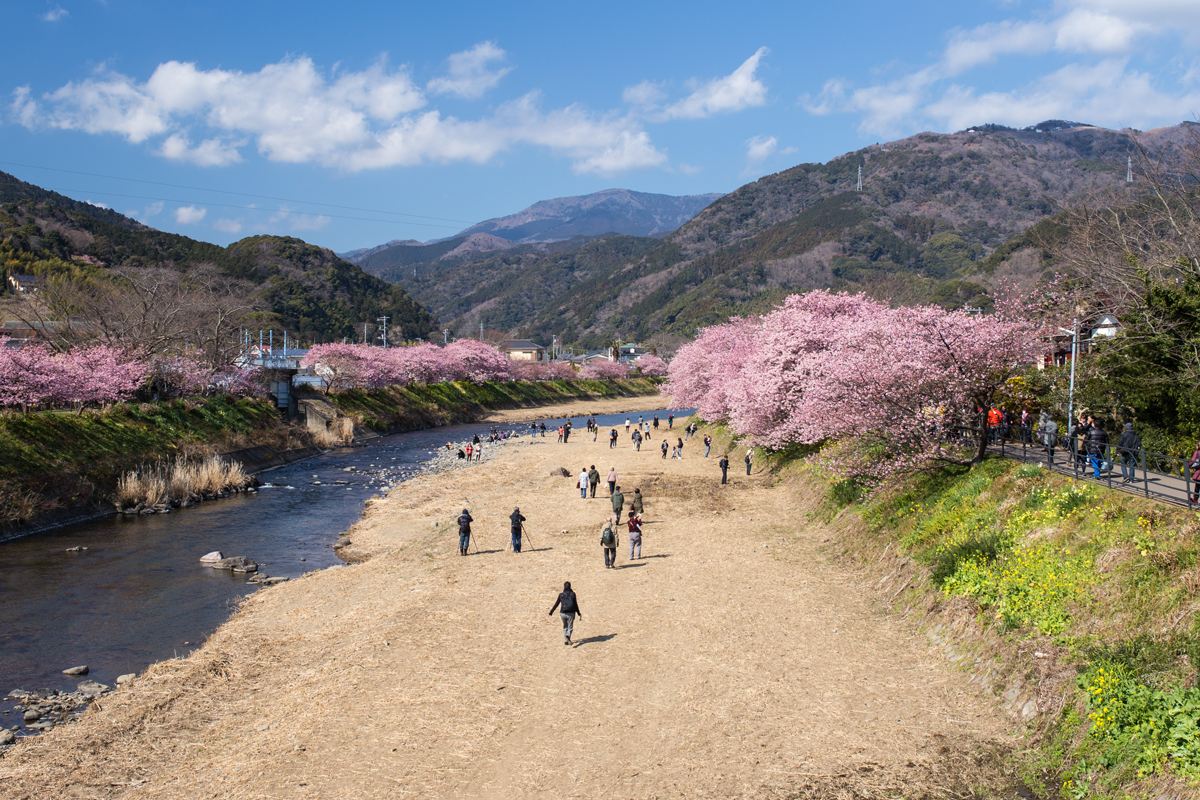 The view of the river bank from the Kinomiya Bridge.
This picture was taken from the Hosenbashi Bridge. We were allowed to stroll along the river bank, even sat on the river stones. One thing that always amazes me is how clean Japan always be regardless the numbers of visitors and food vendors. We strolled along the Kawazu-zakura path together with thousands other visitors, the path was spotless. No garbage! Cleanliness seriously is a habit.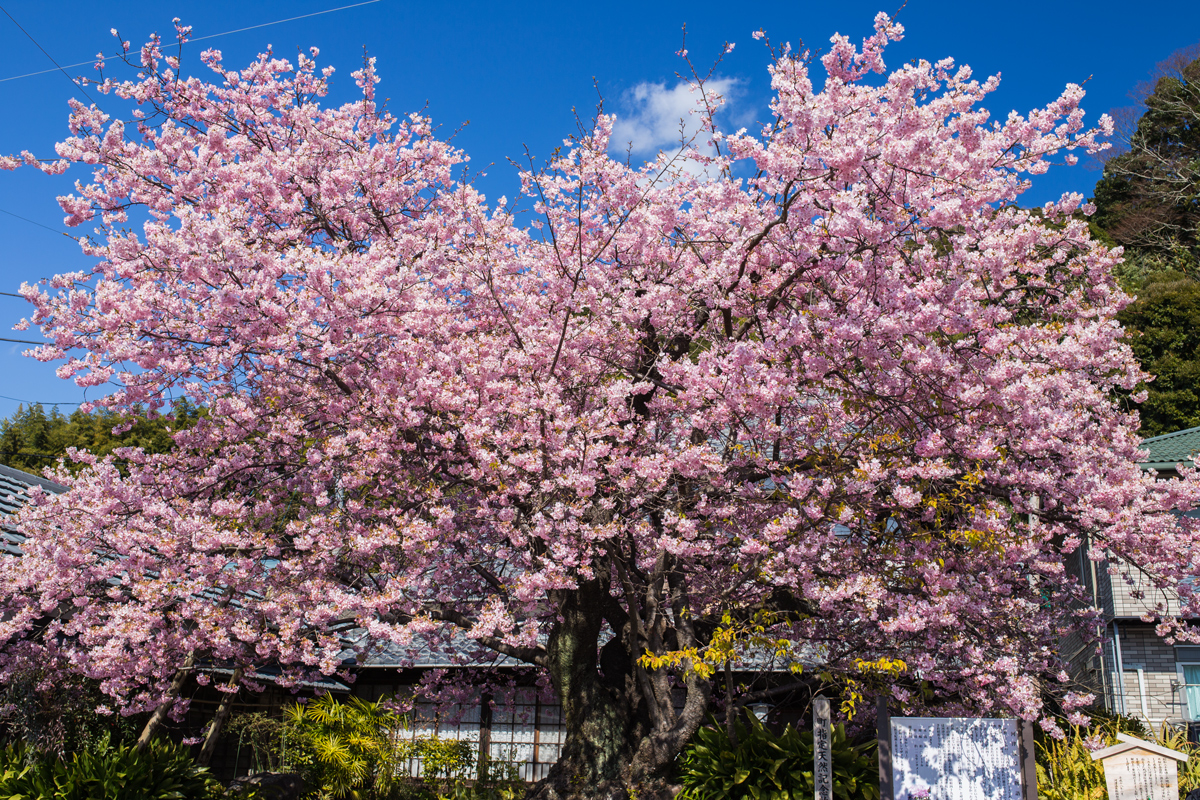 The Hosenbashi bridge is the closest point to this original first tree of Kawazu Sakura. The tree is still standing strong on a private property until today. There's a warning sign not to enter the house front yard. Many other houses also display a warning sign of private property, a clear sign someone might once get to excited, stepped on local's house yard or even trying to park the car inside the local's house. This tree is located a bit far from the train station but easy to find thanks to the sightseeing map.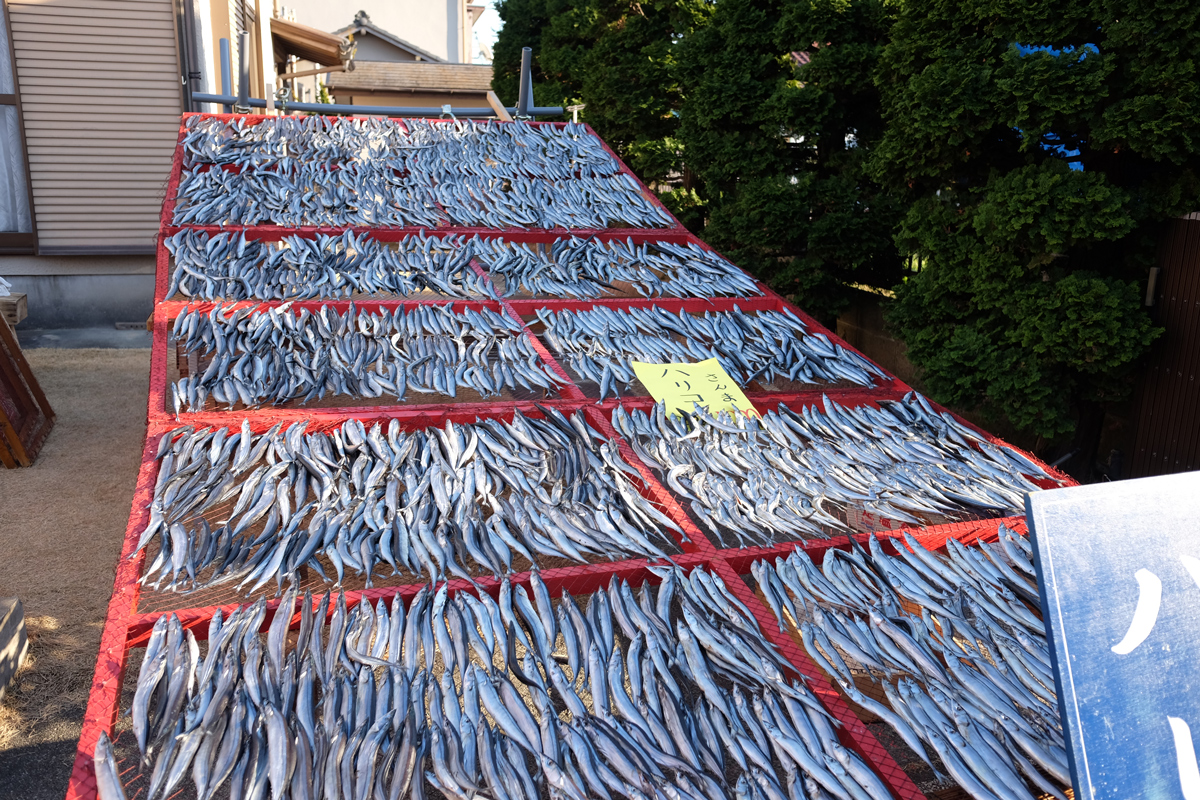 Kawazu is neighbouring with a fishery town. Fish products are common items sold by the street vendors. Dried fish seemed pretty popular item amongst the local travellers visiting this Kawazuzakura Festival. Travel like the local, as people say. So we bought a package of dried fish for 1,000 yen ($9).
The Kawazu Sakura Festival was also a time to enjoy local street food like octopus ball "takoyaki", fried chicken "karaage", fried noodles, squid skewer, ice cream and Sakura glutinous ball "manju" at a very reasonable price. I was a little bit surprised finding out some street vendors sold pressed orange juice for 300 yen ($2.5) which was made by using Hurom slow juicer. There was no other drink better than freshly pressed orange juice for 300 yen at the festival.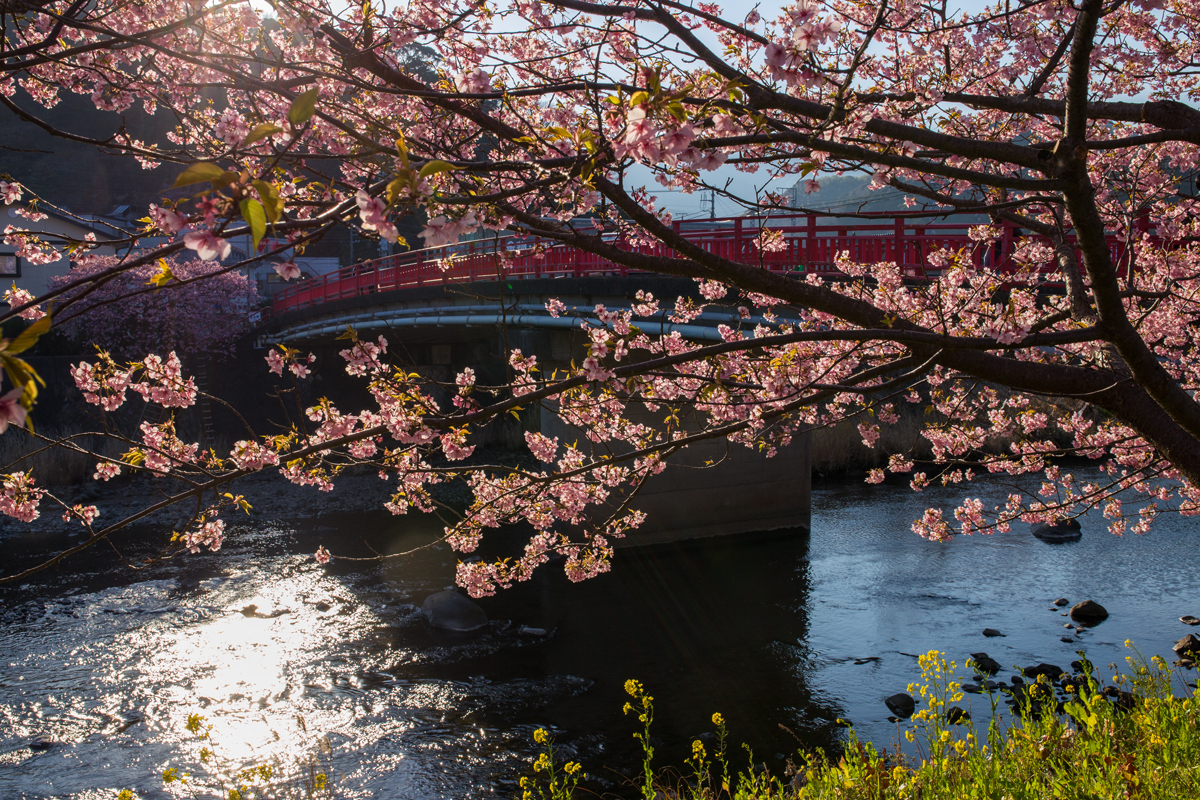 The festival started getting quiet at 0230pm. The crowds slowly had gone and street vendors were ready to call it a day. It was the time for us to purchase tickets coming back home. We did not reserve any express train ticket much earlier because we intended to spend as much time as we like at Kawazuzakura Festival. The worst time to go back to Tokyo is from 2 to 4 pm. Unless we reserved the tickets right after we arrived in the morning it was impossible to get express train within these hours. Taking local train within these hours means standing up for 2 hours train ride.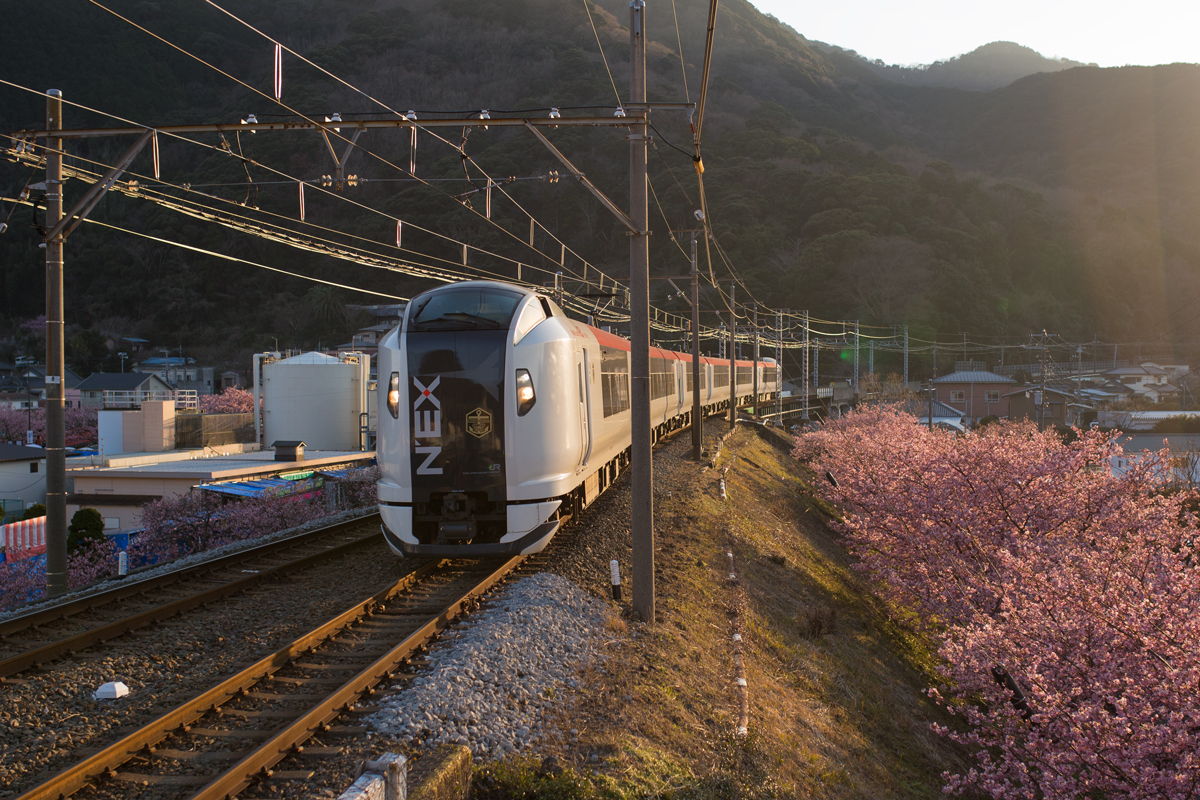 We could easily get two express train tickets back to Tokyo. The express train definitely ran faster than the local and had only few stops on the way to Tokyo. It was more convenient taking express train because of its reserved seats, unlike taking the local train where we had to be fast to fight for the seat. It took only 2 hours 30 minutes from Kawazu to Tokyo by express train.
If you happen to visit Japan this end of February or first week of March, Kawazu-zakura Festival is definitely worth seeing.
Thanks for reading.