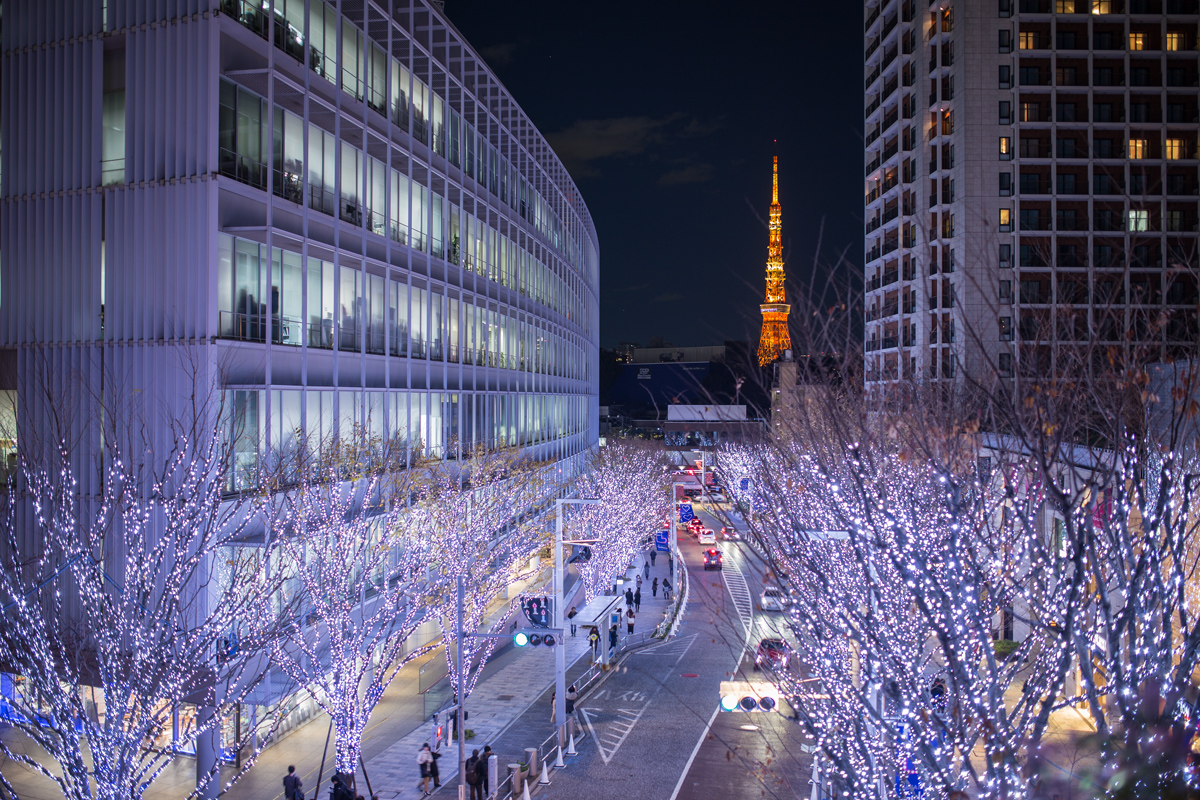 Tokyo celebrates early winter in the most exuberant way: illumination festival. The illumination festival is a winter attraction that is awaited by many.
The temperature may decrease rapidly, wind gets more chilly this December but when the streets are lid up with thousands of LED light, the warm and romantic feeling strike every passerby' heart. Needless to say December in Tokyo can be even more romantic than the Valentine's day. I am on board with the romantic feeling that does not involve spending. I mean strolling along the illumination path hand in hand is absolutely more romantic than a box of chocolate the Valentine's day associates with.
Tokyo's illumination festival kicks off as early as end of November and lasts until Christmas in Tokyo. Some illumination festivals last until Valentine's day in attempt to attract a large number visitors. I got several questions on the Tokyo's illumination festival, so I thought you may raise the same questions, too.
Here are some of the questions:
What is the best timing to visit the illumination spot: by time means the best hour. The phrase: early birds catch more warm applies to the best time to visit the illumination spot. Some of the spots have a limited space for picture taking. It's better to come before the illumination starts and secure a place to take pictures. Because it's winter, days is shorter. Many places start lit up at 0500 pm.
Is it difficult to reach the illumination spot? Do we need to walk a lot from the station?  Tokyo's robust infrastructure allows you to reach every part of the city but you will definitely need to walk from the train station to the illumination site. Some sites are located 10 to 15 minutes walk from the nearest train station. When strong wind and low temperature are involved, reaching the spot can be challenging especially if you come from tropical (warm) weather. Dress well to the season: warm and comfy walking boot, hand gloves, winter scarf are a huge help to keep you warm at all times.
Is there any entrance fee? These 8 most stunning illumination spots in central Tokyo do not have any entrance fee. You can roam around as long as you like.
Which one is the best illumination spots in Tokyo? I recommend these 8 illuminations sites because they are all equally gorgeous, strategically located in central Tokyo thus are worth visiting.  Each spot, however, has a different attraction to offer.
The Caretta Shiodome for instance, by size, it is not as huge as other sites but it is a place where we want to visit at every illumination festival. Not only the LED lights are always a display of Christmas spirit, the 5 minutes illumination show is quite an attraction.  But if I have to choose only one or two must-visit illumination festival sites in Tokyo, Shibuya and Nakameguro are on top of my list.
Here are the best illumination spots in Tokyo for 2016-2017 winter:
Ao no Dokutsu Shibuya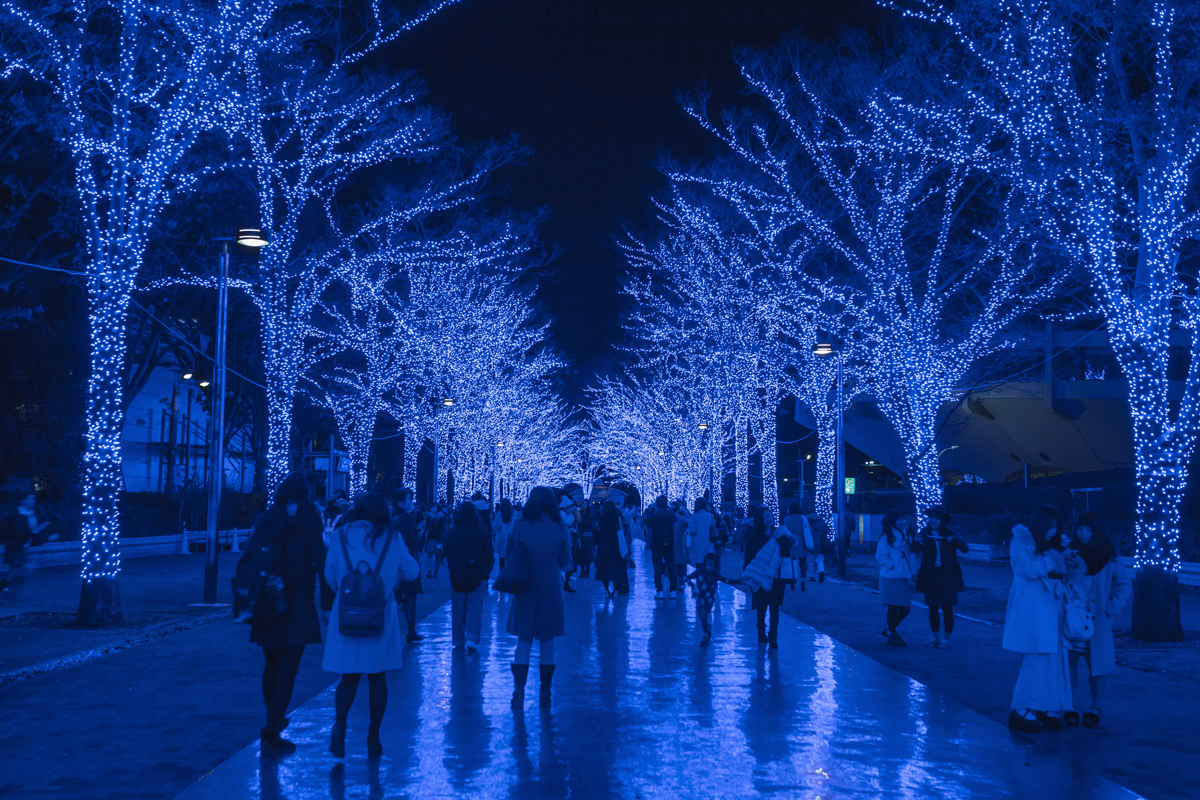 This very first year of illumination in Shibuya takes Ao no Dokutsu as its team. Ao no Dokutsu "Blue Cave" theme was first used for Nakameguro's illumination in 2014.  A total of 550,000 blue LED attached to the trees starts emitting blue light from 0630 pm. The mat on the ground reflects the light from the trees and turn the walking path into ice cave-liked shape. This illumination spot is located within Yoyogi Park, Shibuya ward and extends to Shibuya koen street.
Illumination period: 21 November 2016 – 09 January 2017
Getting there: 3 minutes walk from Hachiko exit of Shibuya Station, or 7 minutes walk from JR Harajuku Station.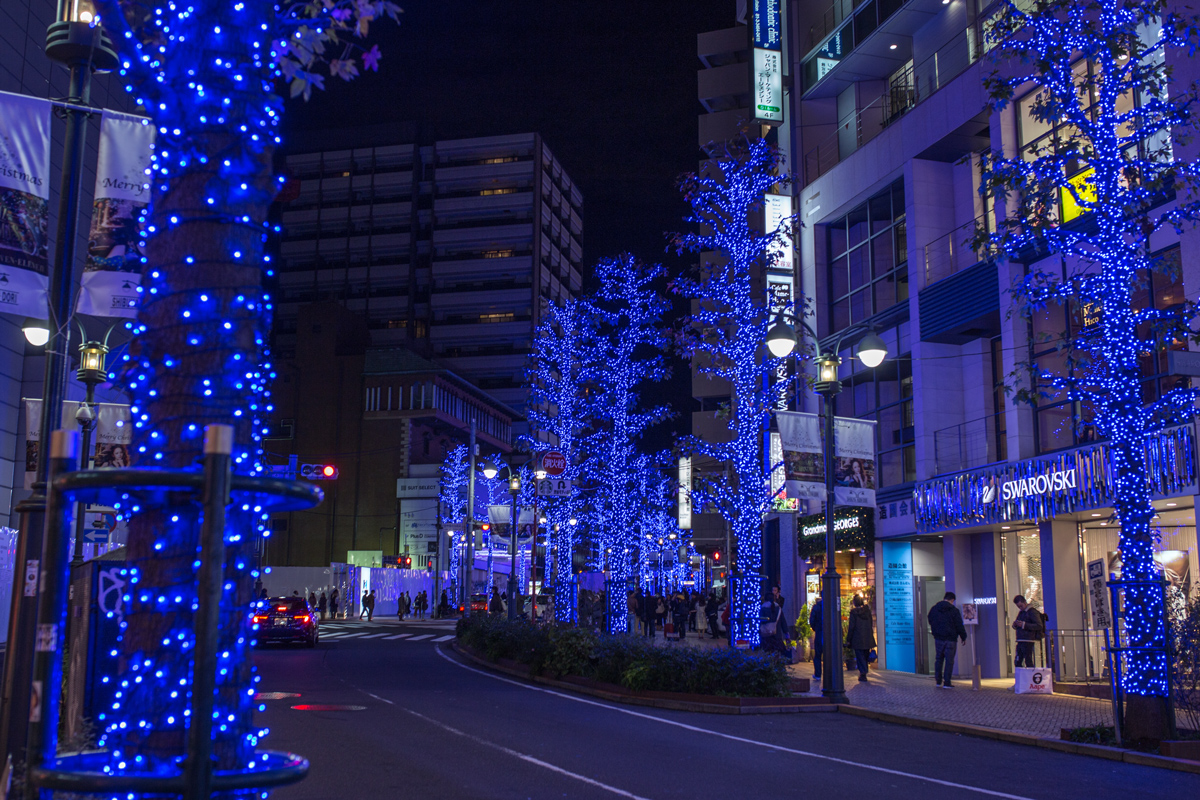 Nakameguro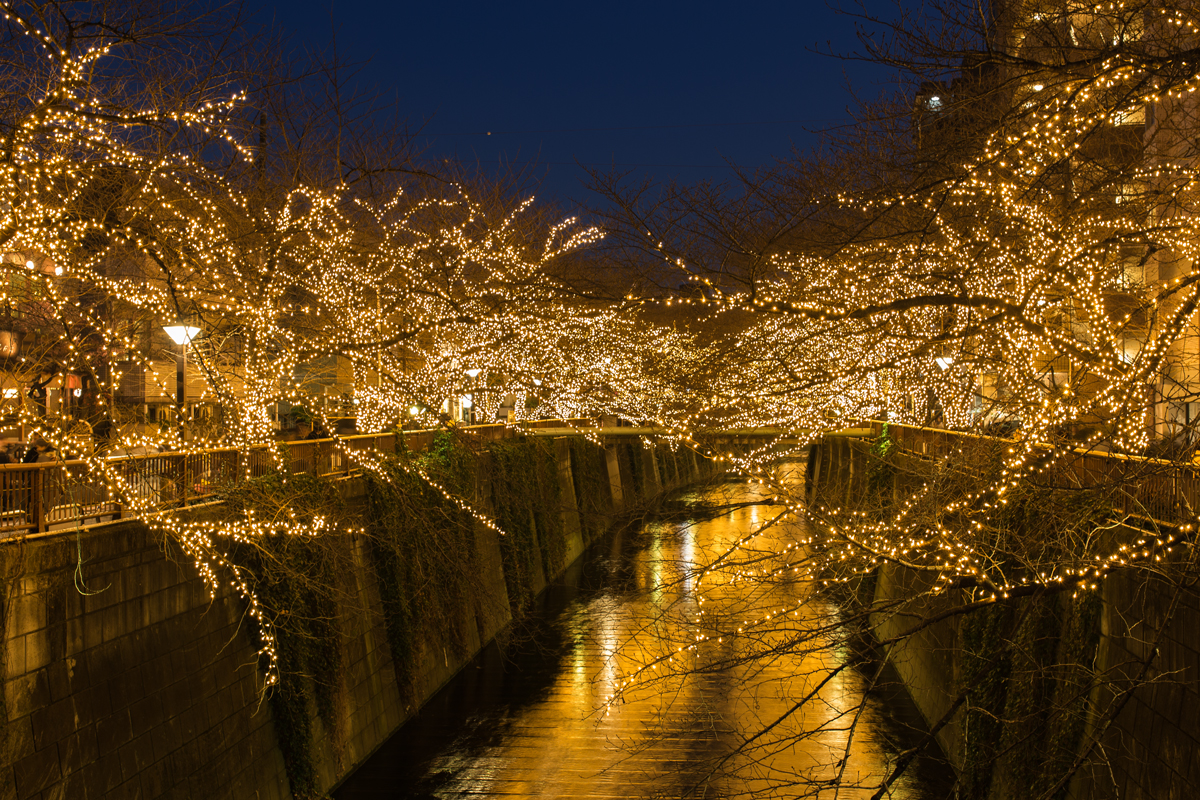 Nakameguro illumination has been annual winter festival. Unlike 2014, this year's illumination theme is "Minna no Illumi" which means illumination for everyone. More than 400,000 LED light attached to the sakura trees and emit gold colour which turn the Nakameguro river bank into a magical path to stroll along. Nakameguro is one of the most crowded illumination spot in Tokyo, after Shibuya.
Illumination period: 16-25 December 2016.
Getting there: 1 minute walk from Nakameguro Station (H01) on Tokyo Metro Hibiya Line and Tokyu Toyoko Line.
Caretta Shiodome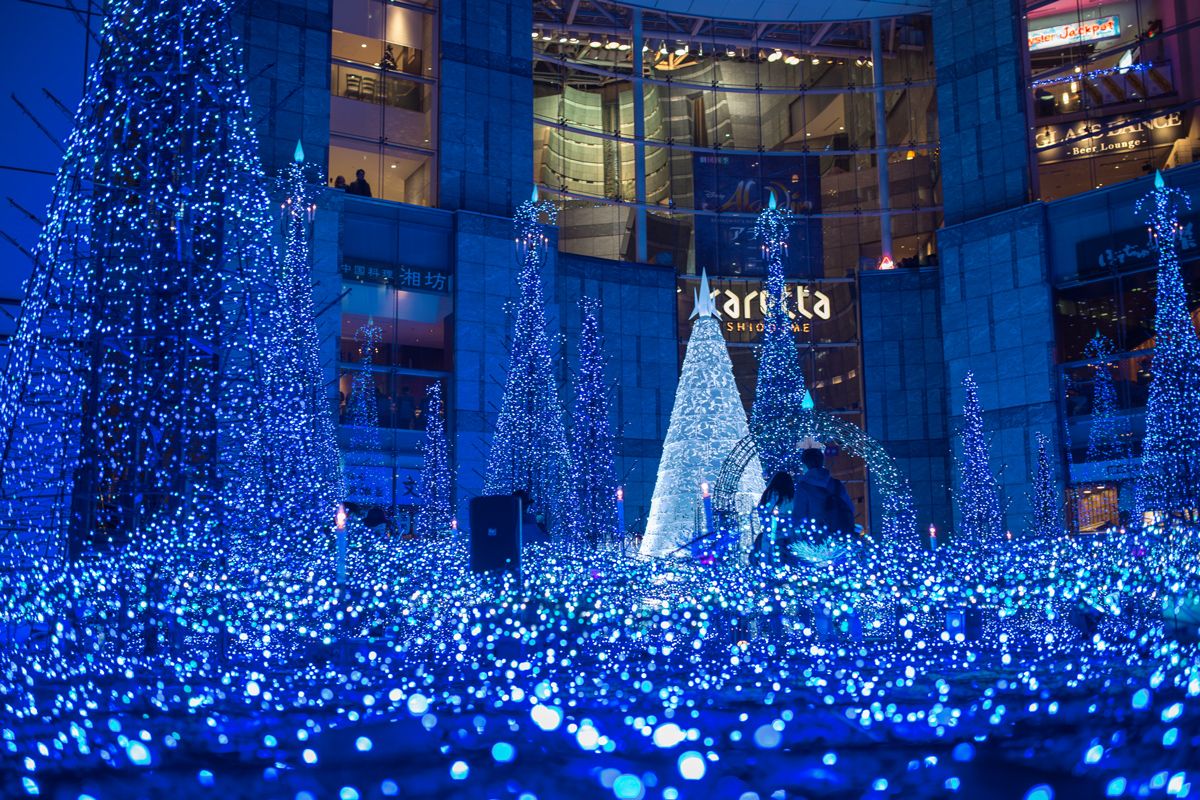 The Caretta Shiodome resembles a Christmas wonderland where Christmas trees are lit up.  Although Caretta Shiodome illumination site is hidden behind tall buildings, this place never fails attracting audience.  The llumination show is held at every 20 minutes runs for less than 5 minutes.
Illumination period: 17 November 2016 – 14 February 2017.
Getting there: exit no 6 of Shiodome Station on Toei Oedo Line (E19) and Yurikamome or 5 minutes walk from JR Shimbashi Station.
Roppongi Hills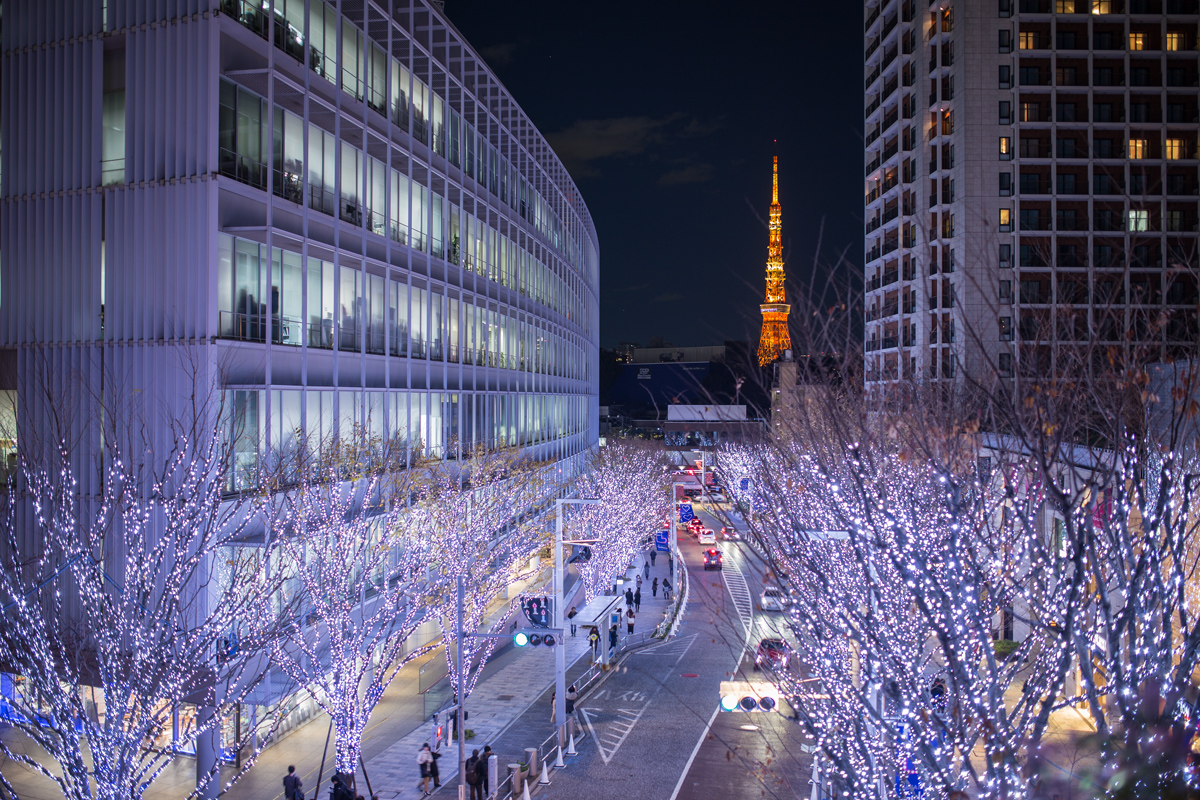 Roppongi Hills is known for its stunning illumination site along Keyakizaka street. This year's illumination theme is Artelligent Christmas. The main colours of the light are white, blue and red to resemble the white snow and Christmas celebration. What makes Roppongi Hills' illumination spot different from other places is the Tokyo tower at the end of the street. That's represents Tokyo well. The best spot to take picture is from the connection bridge of the Roppongi Hills. The illumination starts from 0500pm.
Illumination period: 14 November – 25 December 2016.
Getting there: 5 minites walk from no 4 of Roppongi Station on Tokyo Metro Hibiya Line (H04), or 7 minutes walk from exit no 3  of Roppongi Station on Toei Oedo Line (E23).
Marunouchi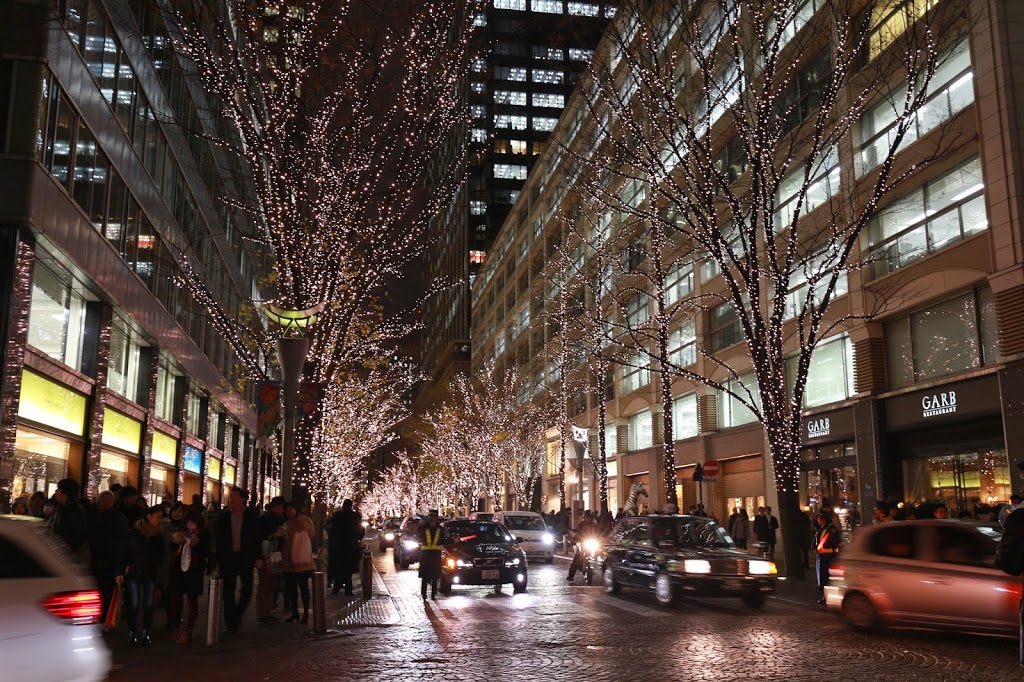 Winter illumination is an annual  festival in Marunouchi. The cobblestone streets, shops, cafes/restaurants, sculptures, public sitting benches and of course trees are to name number of things that make Marunouchi a must see illumination spot.
Illumination period: 10 November 2016 – 19 February 2017.
Getting there: 5 minutes walk from Marunouchi South exit of Tokyo Station.
Gotanda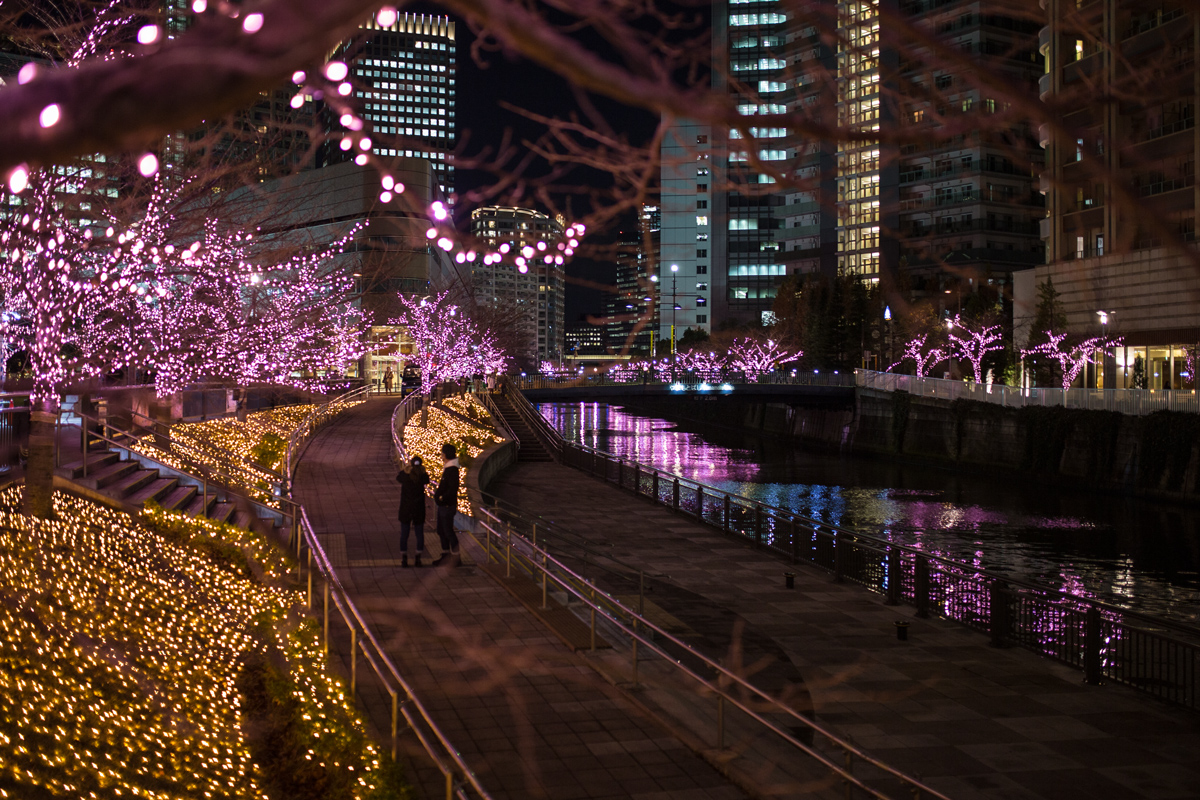 Compare to other places, Gotanda illumination spot is relatively quiet overshadowed by the Nakameguro main illumination site. Gotanda is still part of Meguro river bank but slightly far from the popular spot of Meguro river. For this reason alone, this is a place where you can take as much time as you like for pictures taking or stroll along the river bank or have that private talk with your partner without bothering about the crowd.
Illumination period: 18 November 2016 – 9 January 2017.
Getting there: 4 minutes walk from Gotanda Station on JR Yamanote Line and Toei Asakusa Line (A05).
Tokyo Midtown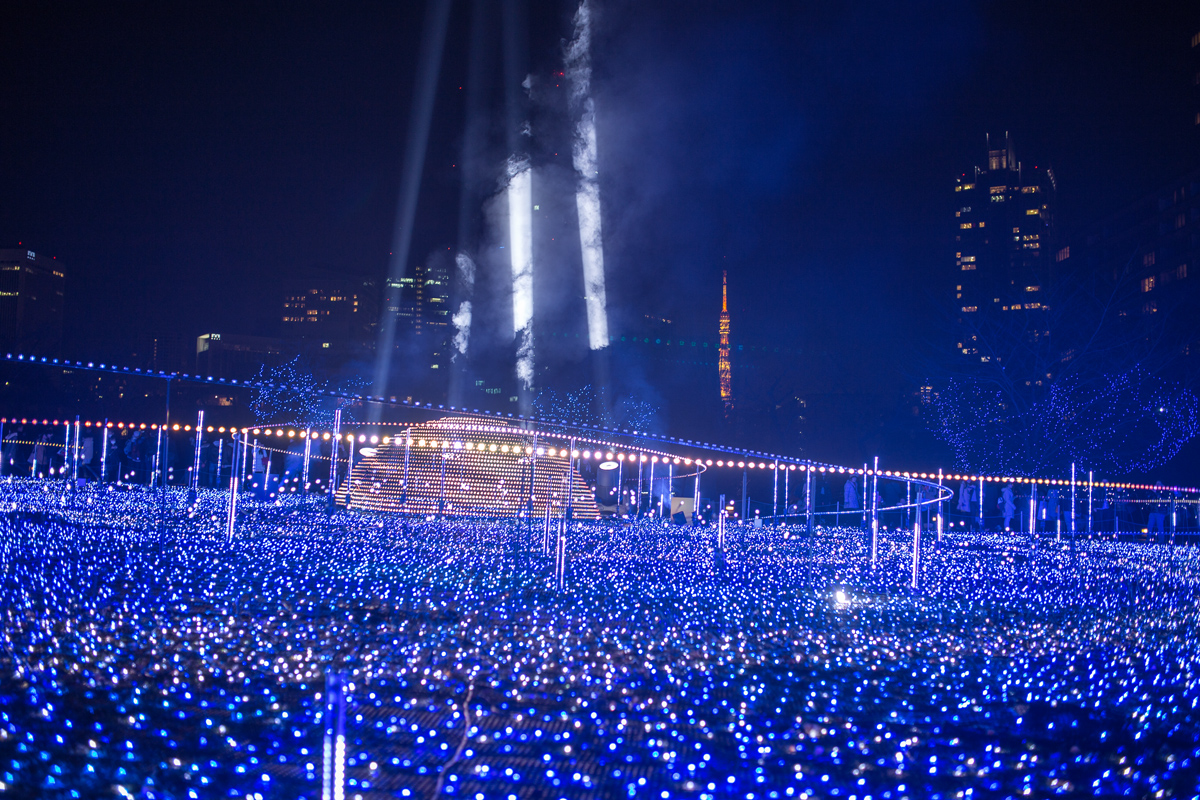 The Tokyo Midtown's illumination is held annually starting from early winter to Christmas day. There are two illumination spots within this area the most popular one is located inside  the Tokyo Midtown's park. The size of the park does not keep people away especially on 24 to 25 December when Christmas spirit is everywhere, everyone comes to see the illumination. The best time is to come before December 20th to avoid a horde of people.
Illumination period: 15 November -25 December 2016.
Getting there: 5 minutes walk from exit no 7 of Roppongi Station on Toei Oedo Line (E23) and Tokyo Metro Hibiya Line (H04).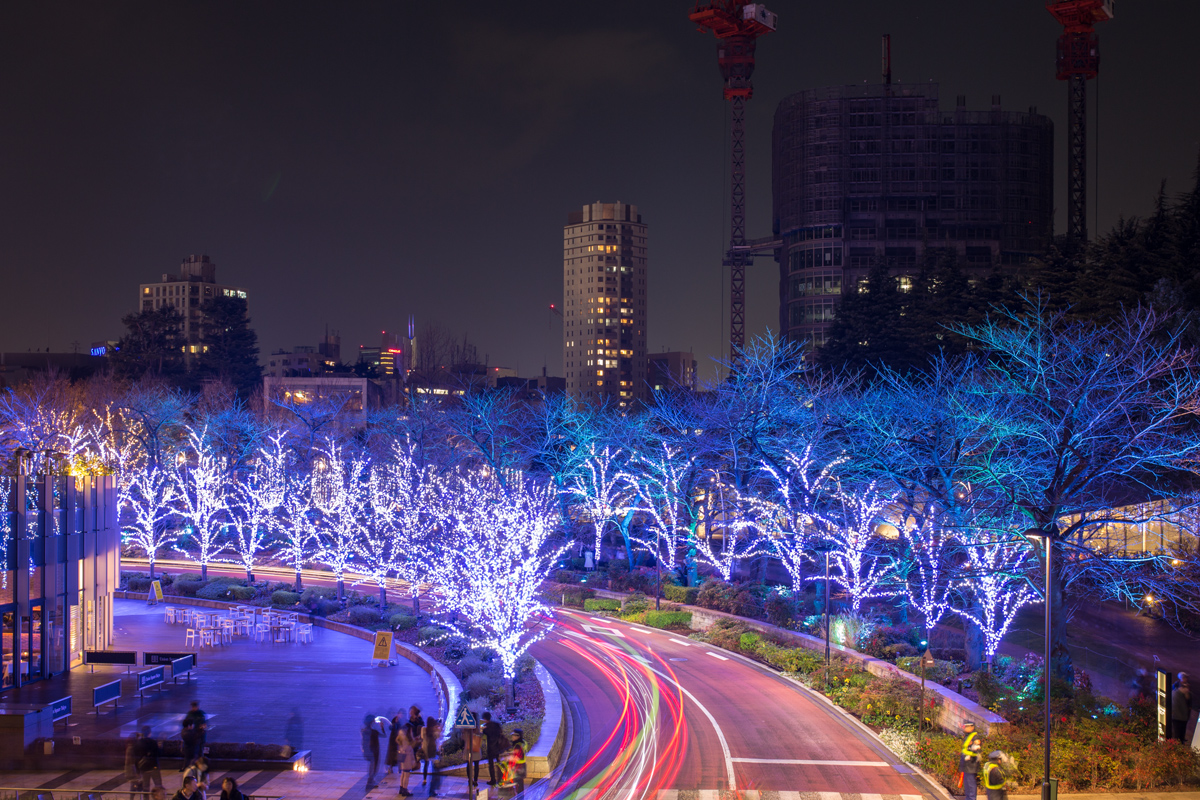 Ueno Park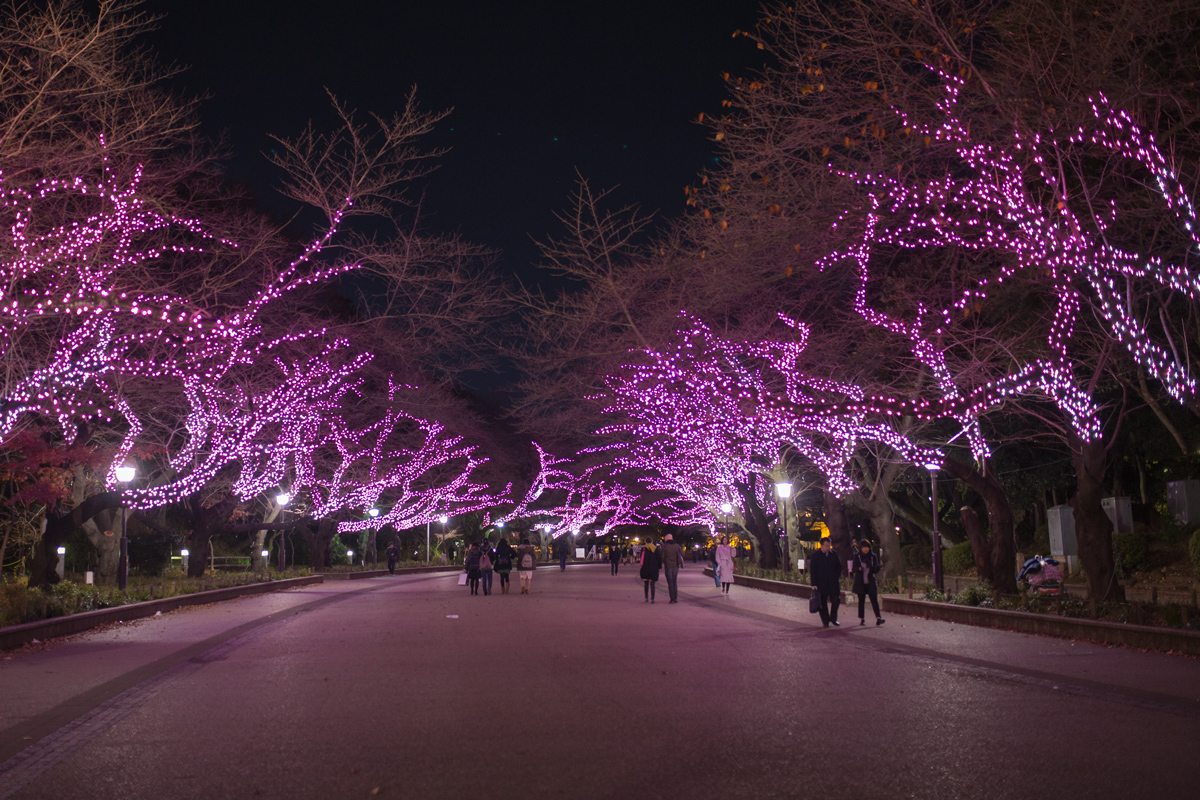 The Ueno Park joins winter illumination this year. Unlike many other illumination sites, The Ueno Park illumination is still underrated and unheard of. When we visited the Park, there were only passerby enjoying the illumination. We were probably the only people who intentionally came to see the illumination. It does not mean that Ueno Park cannot compete with other illumination spots in Tokyo. It takes time to gain a reputation. When visiting Tokyo in winter, why not spend time to see sakura trees sparkle pink colour from the LED lights. After all Ueno Park is a famous and popular place in Tokyo.
Illumination period: 21 October 2016 -15 January 2017.
Getting there: 4 minutes walk from Shinobazu exit of Ueno Station.
Which illumination spot you like the most in Tokyo?