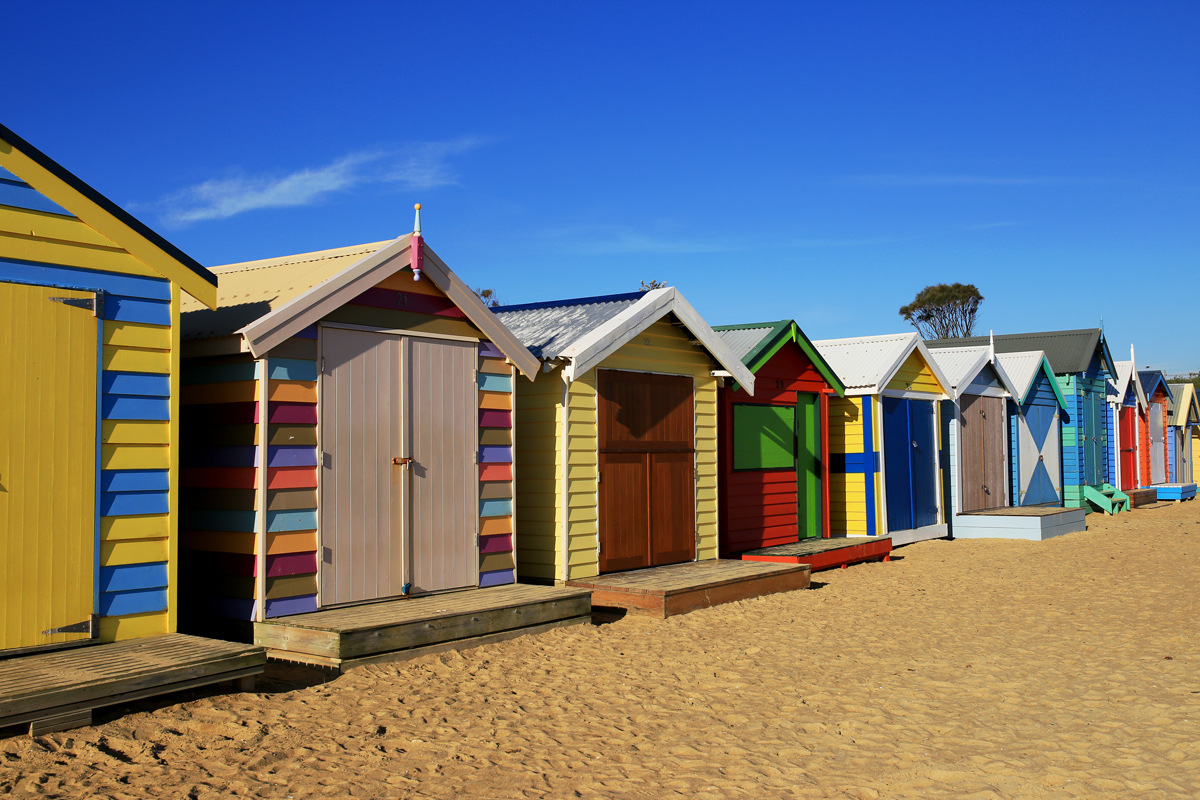 Melbourne is world's most liveable city for strong reasons. From travellers' point of view, visiting the world's most liveable city will always be great adventure worth paying for. Street arts, the cafe culture,  city tram, the market, the beaches, lanes and arcade will always make Melbourne an exciting city to explore. Going around the city is easy either by walking or taking trams. Historical buildings stand side to side with modern skyscrapers makes it difficult to simply pass by without admiration.
We visited Melbourne by end of Autumn. The city easily captured our heart led us to plan to visit Melbourne before we even left the city. There were so many things to do within the city while the nearby suburb calling for adventures.
The streets of Melbourne was quiet by the time we hit the city. The trail of autumn was still in sight although had passed its peak the golden leaves were still there. We missed the autumn peak by weeks. Why Melbourne so quiet we asked the taxi driver. He said because of high living cost in city center, people prefer live in suburban area, drive or ride tram to the city center for work. Melbourne city is always quiet over the weekend, almost like a deserted city compare to weekdays, he said. We could not agree more with what he said for the time being.  Later you will understand how expensive living cost in Melbourne is, he cautiously warned us. We nodded in agreement but feeling happy looking at the taxi meter. As much as we agreed to what the taxi driver said, taxi meter in Melbourne was no where near to what we would have paid if it was in Japan.  We only paid AUD 60  for a 30 minutes taxi ride which would had been more or less AUD 200 if it was in Tokyo.
The surge of adventure and curiosity hit us as soon as we checked in the hotel. We did not want to rest yet, Melbourne called. Tomorrow rain might pouring down, wind might discourage us from strolling along the street so better hit the road as soon as possible. And these stiff legs could breath again after the long flight. So there we were walking by the streets of Melbourne on one fine afternoon. Then the next day and the following day were about grasping the quintessential of Melbourne.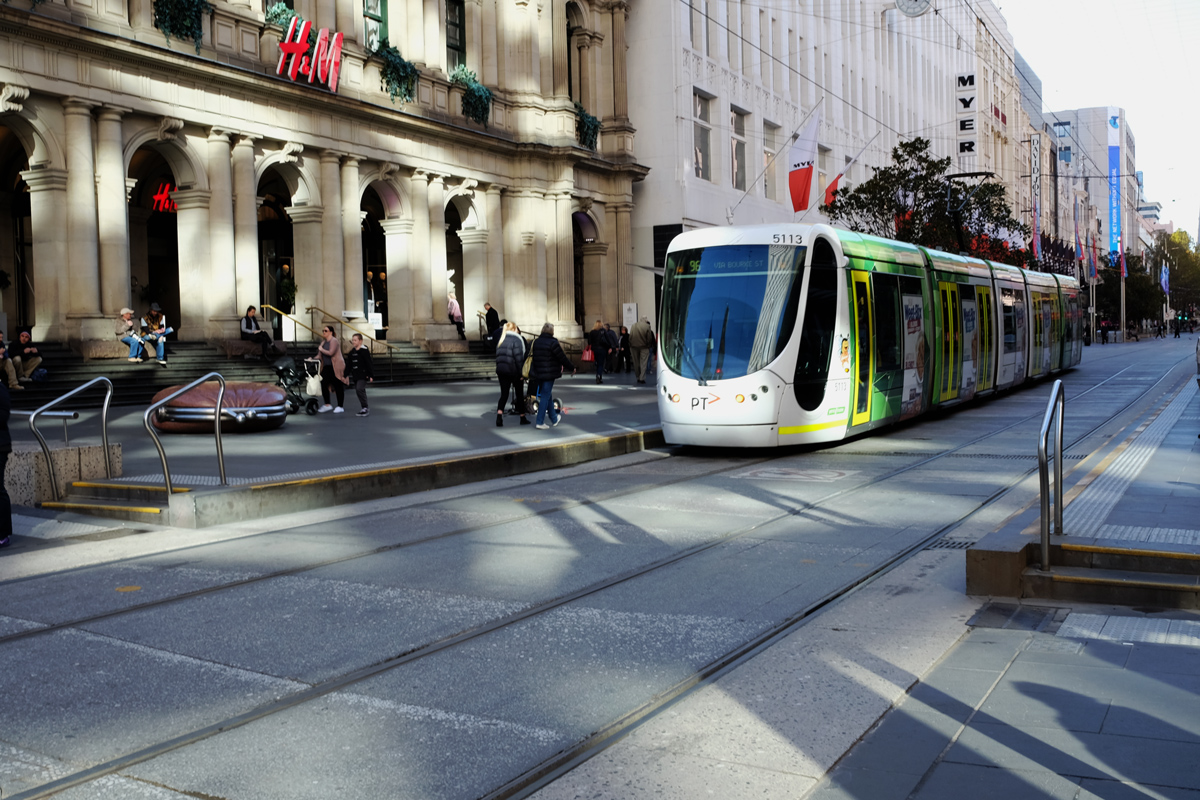 There were number of things we observed while in Melbourne:
Melbourne offers free tram within the city center which stops at many point of interests.
Money changer is rare to find. The best way is to withdraw money from ATM machine, commission fee applicable differently from one bank to another. Taking traveler check may not be the best option as not all stores can accept it.
There is always surcharge (2.5 to 3%)  for payment with credit card especially at hotels.
People can smoke openly by the street while walking but not inside any building. There is no designated smoking room but cigarette bins available in many public areas.
Driving in the city is quite confusing especially when performing a hook turn.
The great thing about Melbourne is its point of interest is located adjacent one to another which make it easy to grasp the quintessential of the city. For us strolling along the city of Melbourne was more interesting than riding tram. It allowed us to easily observe the beat of the city, the people, the dining culture, street arts and any other things that made the city alive. We did ride the tram eventually on the last day of our stay in Melbourne.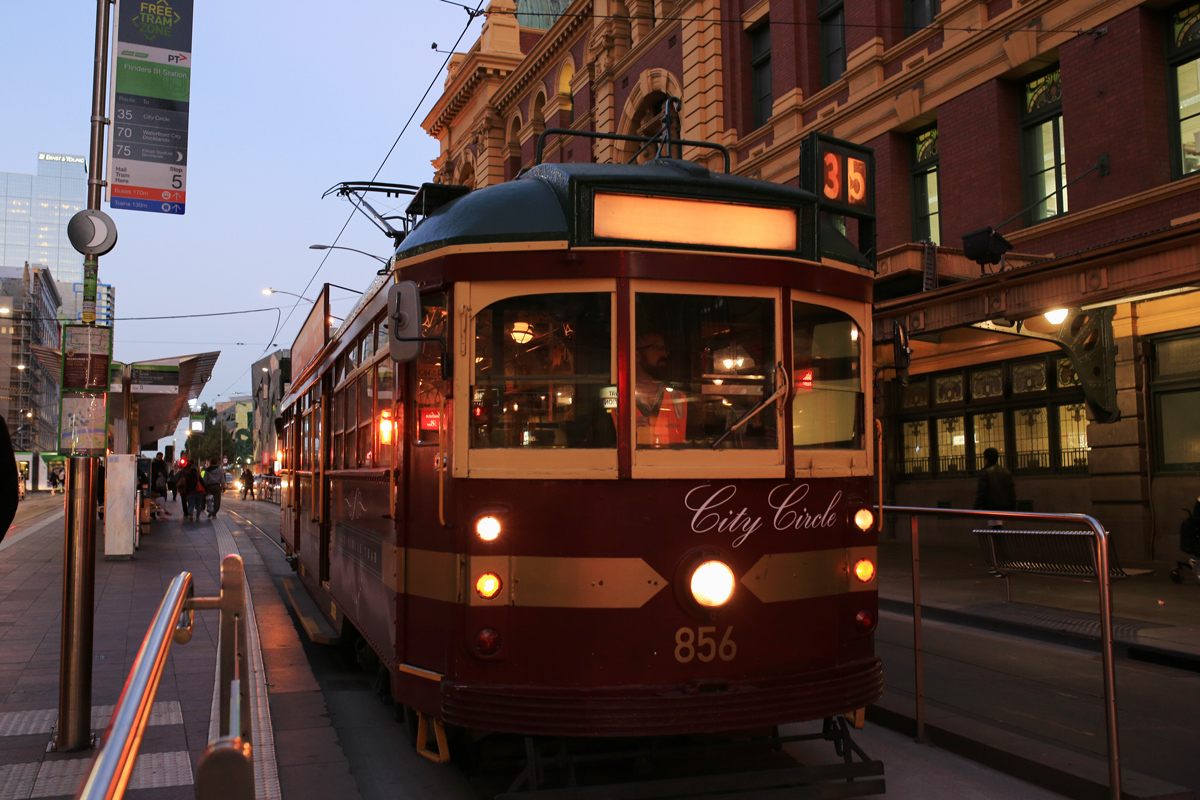 Staying within Melbourne's central business district allowed us to roam around the city easily, taking pictures as many as we wanted to and sipping Melbourne's most loved coffee. Melbournians are caffeinated society who take their coffee seriously. Coffee shops are at every corner of the city, start brewing as early as 7am.
The Market Lane coffee pretty much powered us up getting through the day. The latte was great, smooth and velvet texture. Black, bold and strong what Market Lane's espresso was.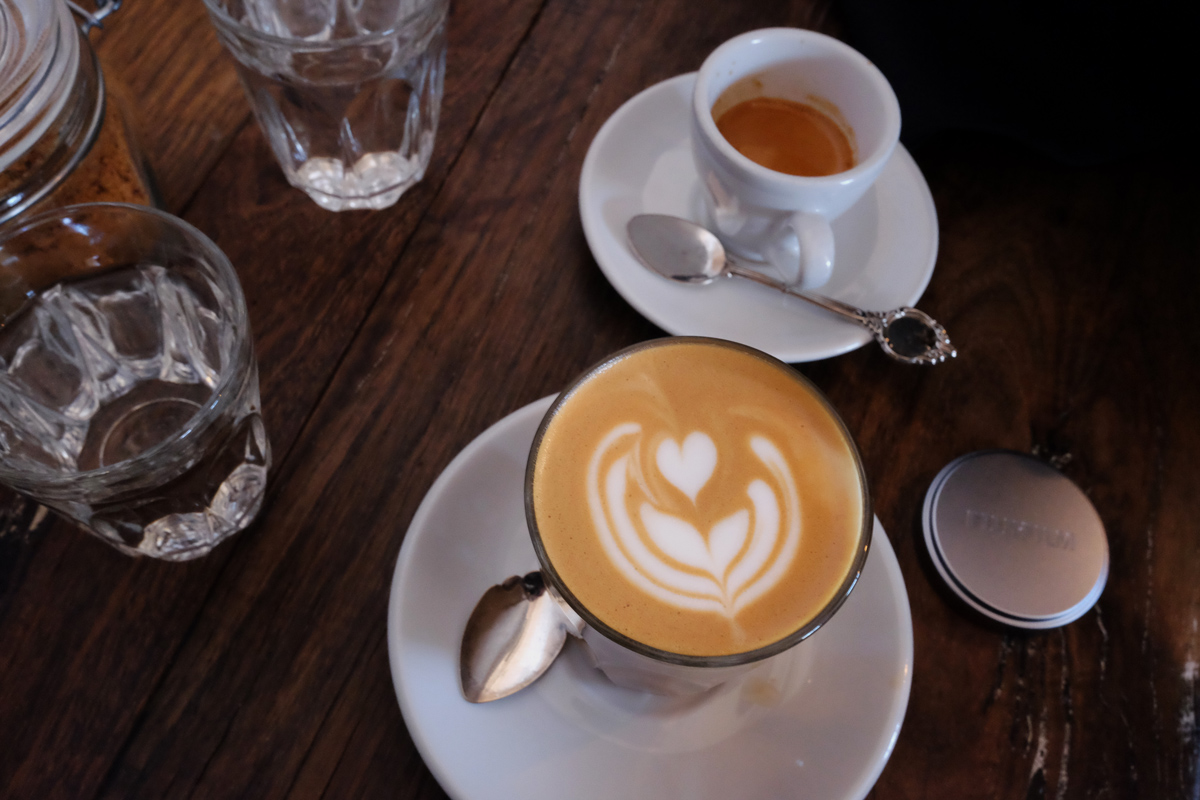 Kinfolk latte was equally tasty but it was its fully raw cake that made us stop for a bite.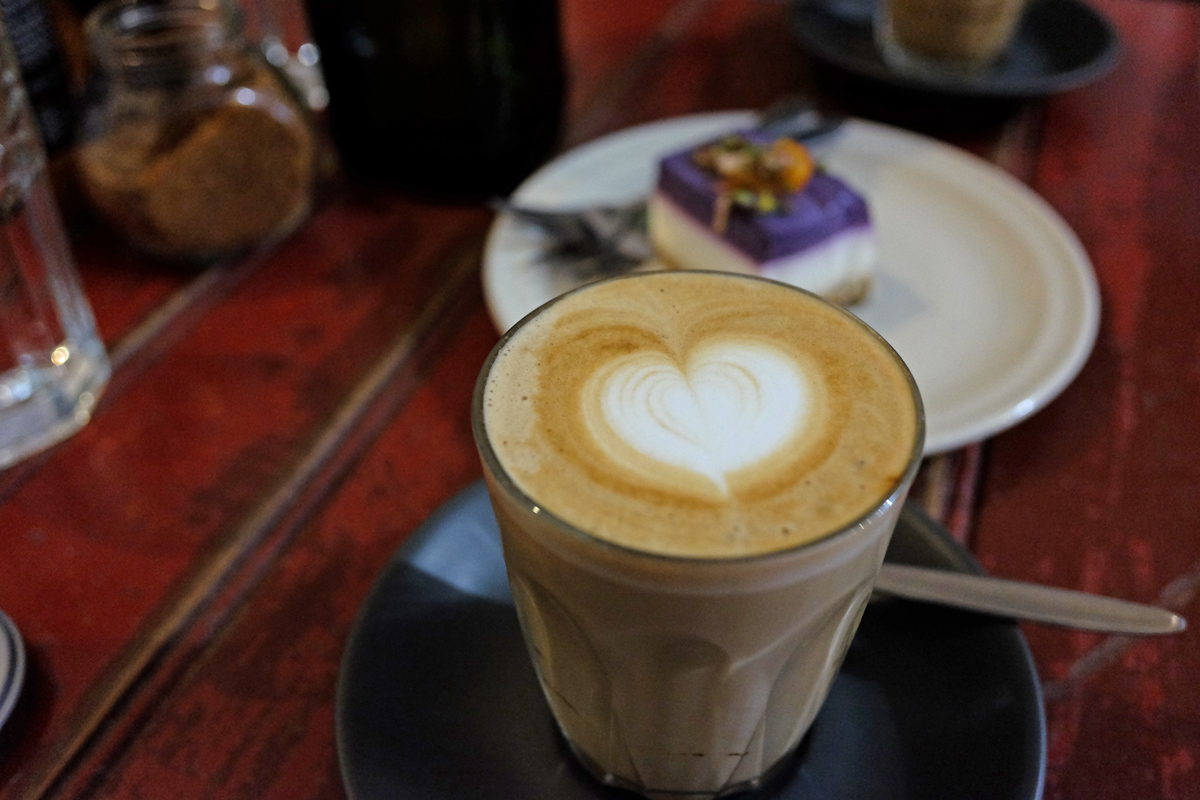 Popular coffee like Brother Baba Buban was always crowded in morning rush hour.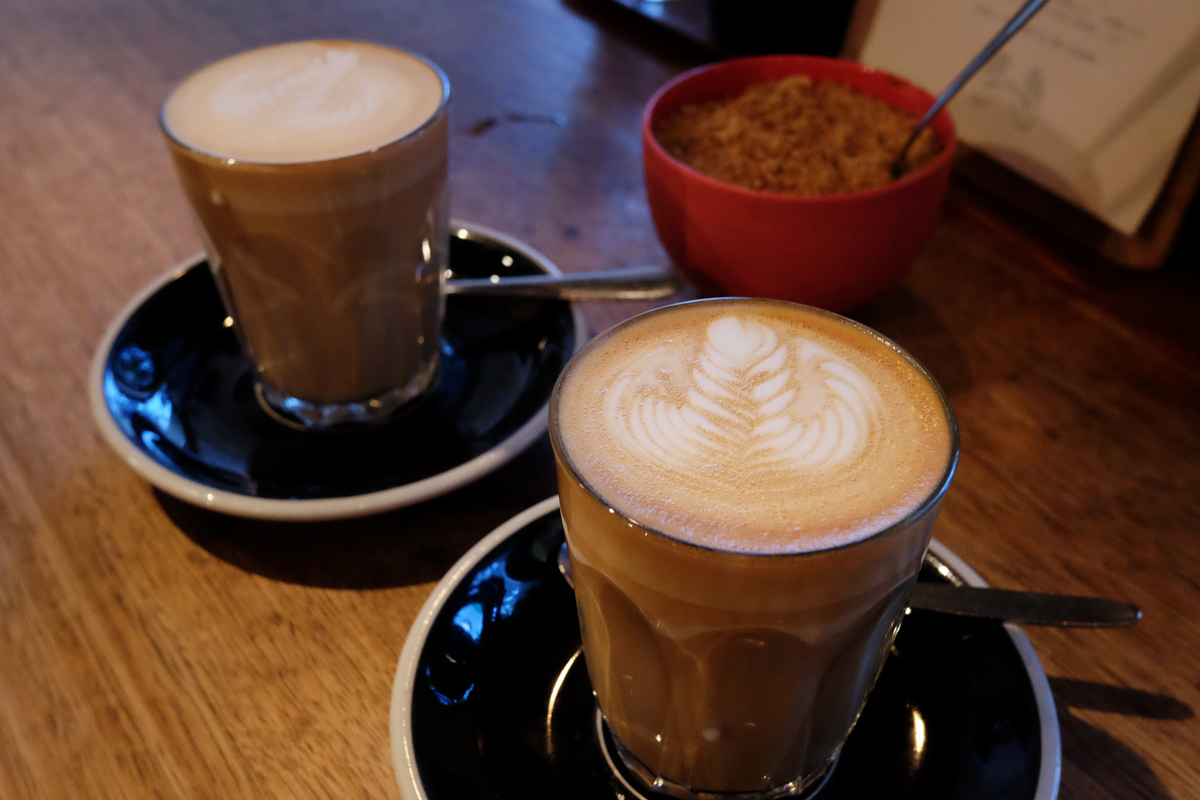 Melbourne is a home to many places of interest. Here are the most famous ones:
 Lanes and Arcades
Lanes and arcades of Melbourne are the most interesting sites of the city to explore. They are reminiscent of the old days and also a home to city/urban arts, historical landmarks, shops and dining places. Lanes and arcades of Melbourne are not only popular for tourists but also for the local. There is no better place to get the beat of the city than lanes and arcades of Melbourne.
City/Urban Arts 
The alleyways in Melbourne are far from boring. They are full of imaginations and creativity of young artists coloured in different tones. There are some places to observe Melbourne's city arts. The most famous one is located at Hosier Lane, a place known as a youth project.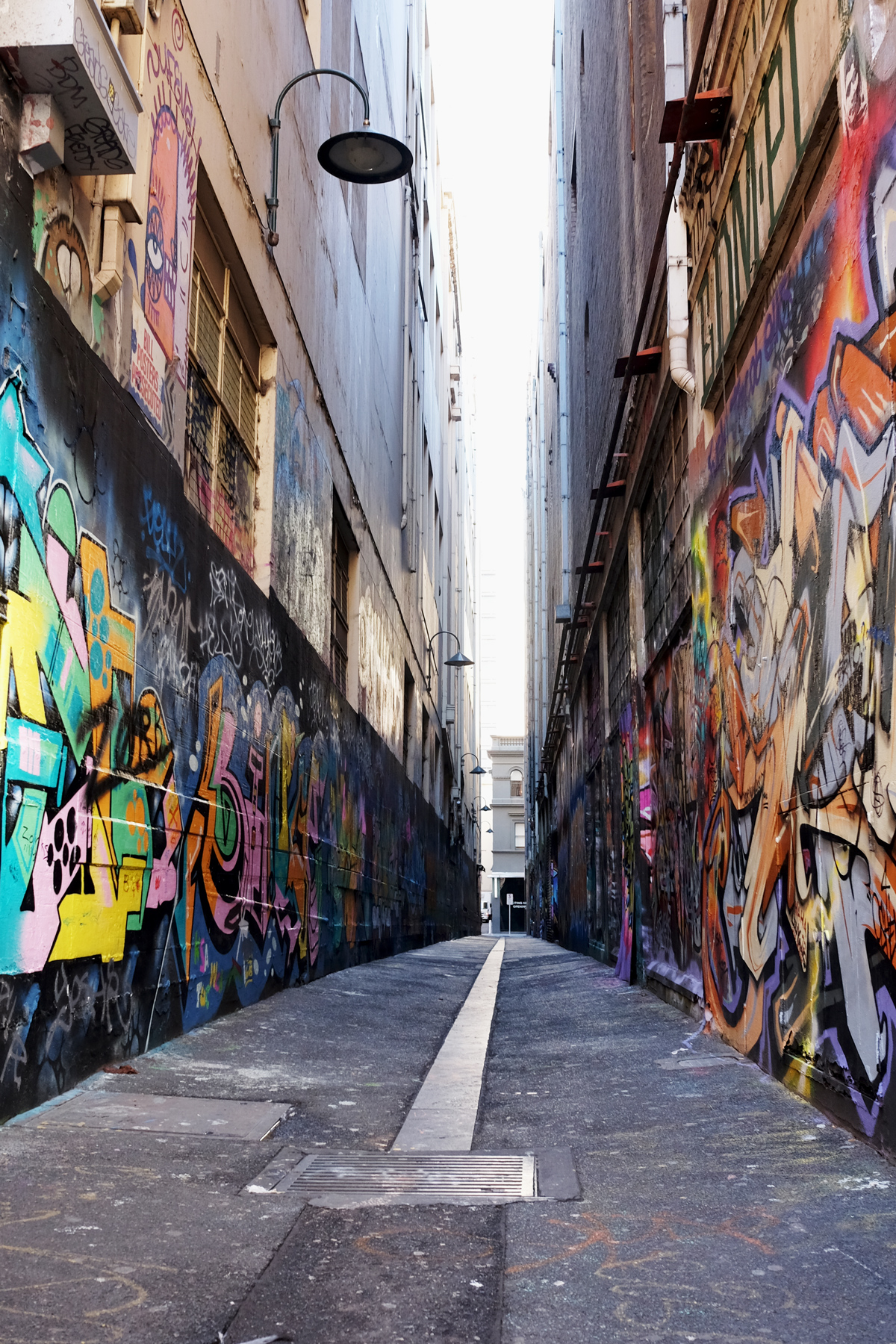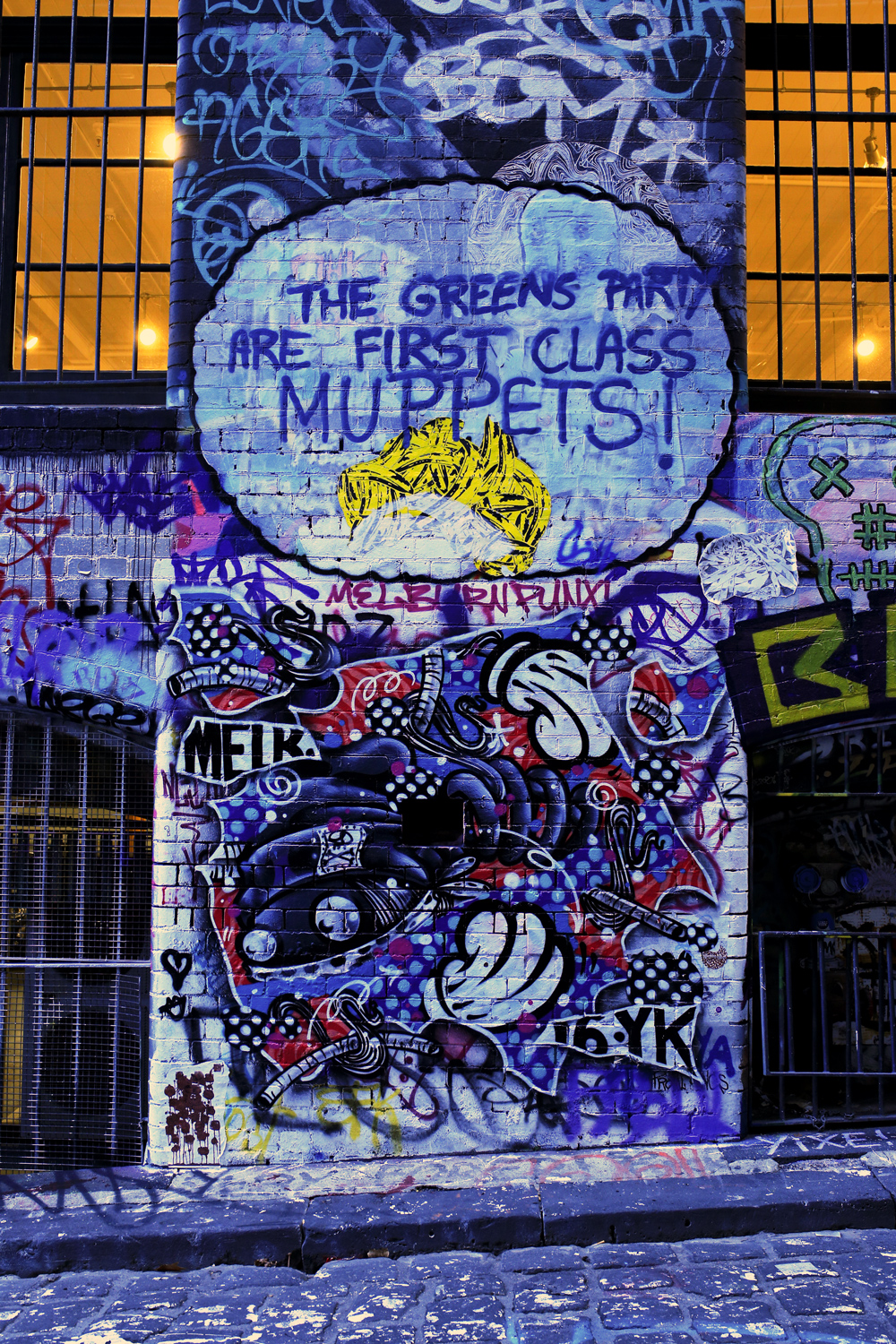 We unexpectedly found this city art as we strolled along the main street and spotted out a group of people taking picture of the building. Melbourne's alleyways truly are home to street arts even at the unheard part of the city.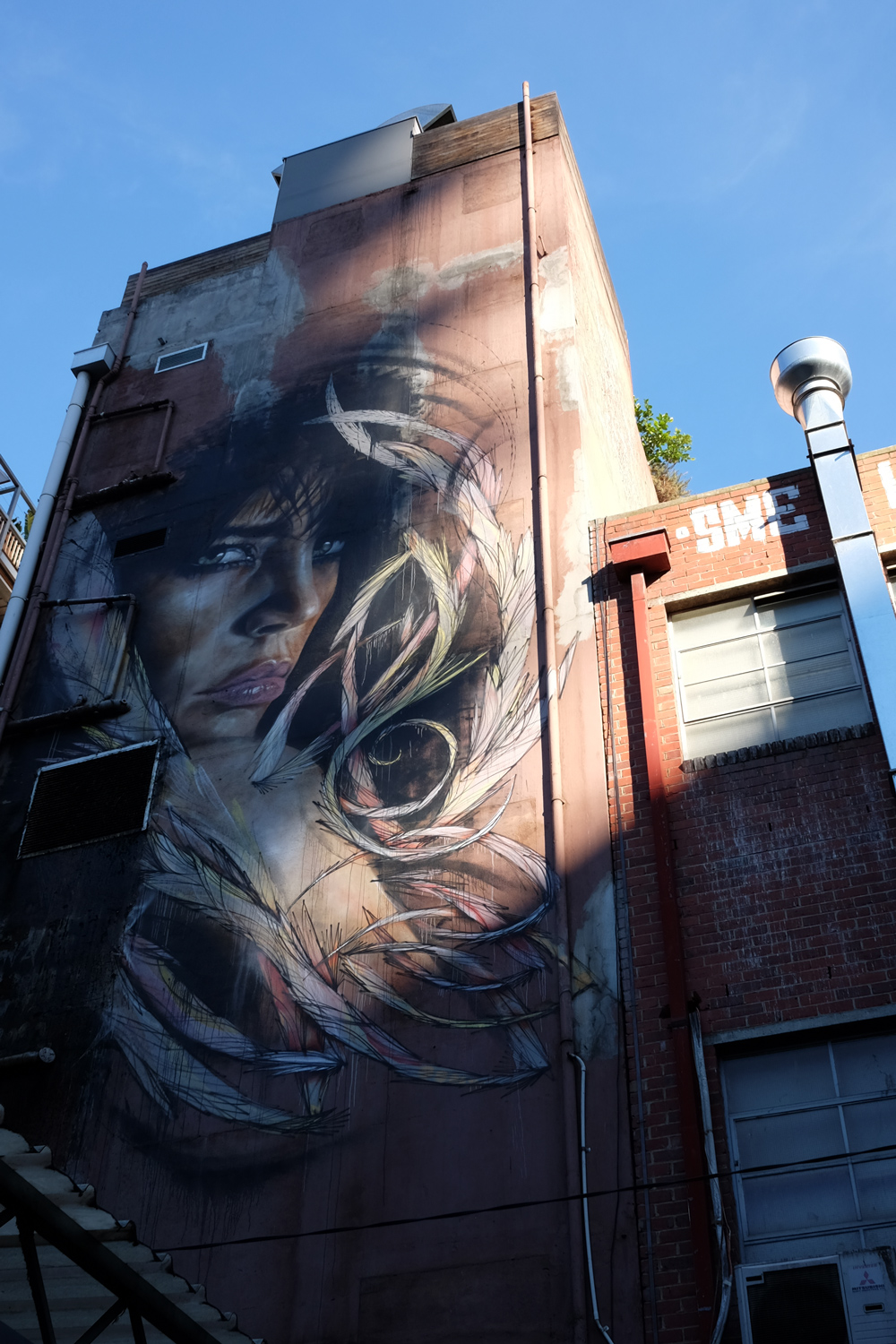 These popular life-sized sculptures "Three Businessmen Who Brought Their Own Lunch: Batman, Swanston and Hoodle" by Alison Weaver and Paul Quinn are located at Swanston and Bourke Street.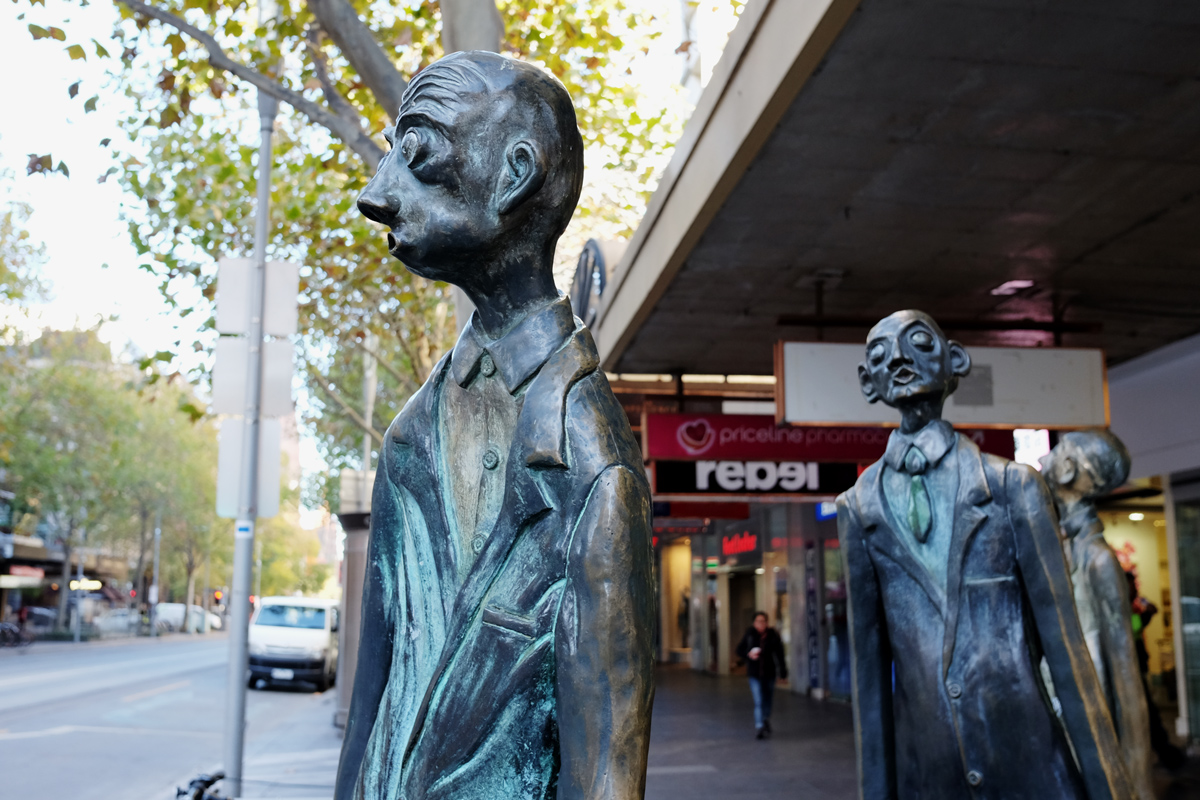 Flinder Street Railway Station 
It is not just a railway station, it is Melbourne's cultural icon building. The dome, the clocks and tower are one of Melbourne most famous landmarks. When Melbournians say "I'll meet you under the clocks" the Melbournians idiom that refer to the clocks at Flinder Street Railway Station entrance. Each clock indicate the train departure time.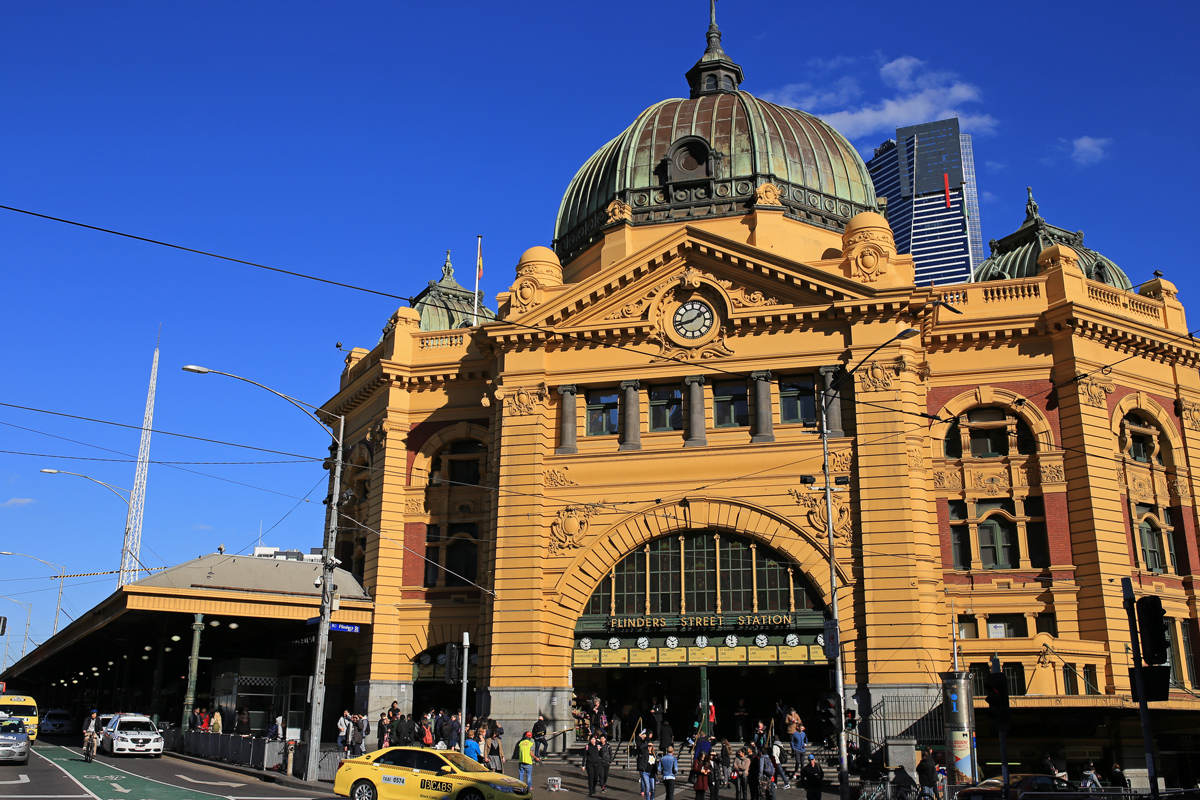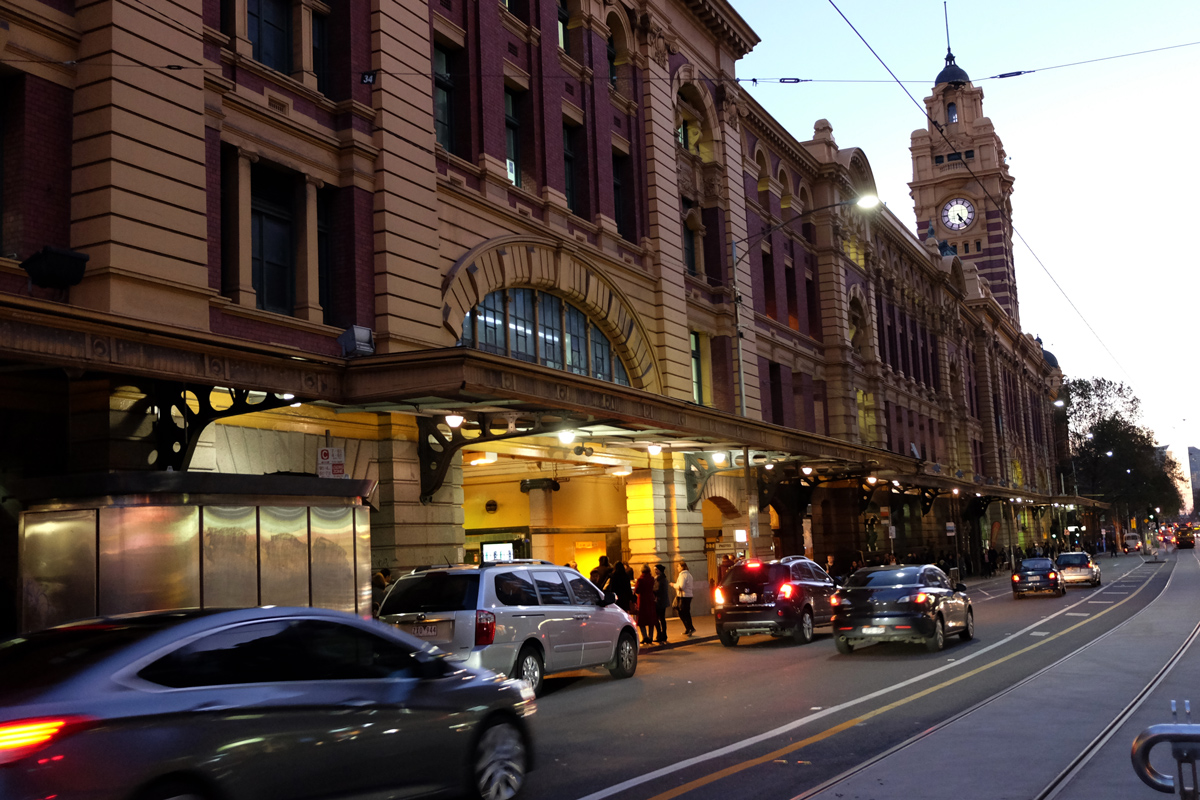 Whenever feel worn out to continue walking, riding a bike can be good option. A bike share station is located across the Flinder Street Railway Station, rental costs start at $3 a day for 30 minutes unlimited ride between station.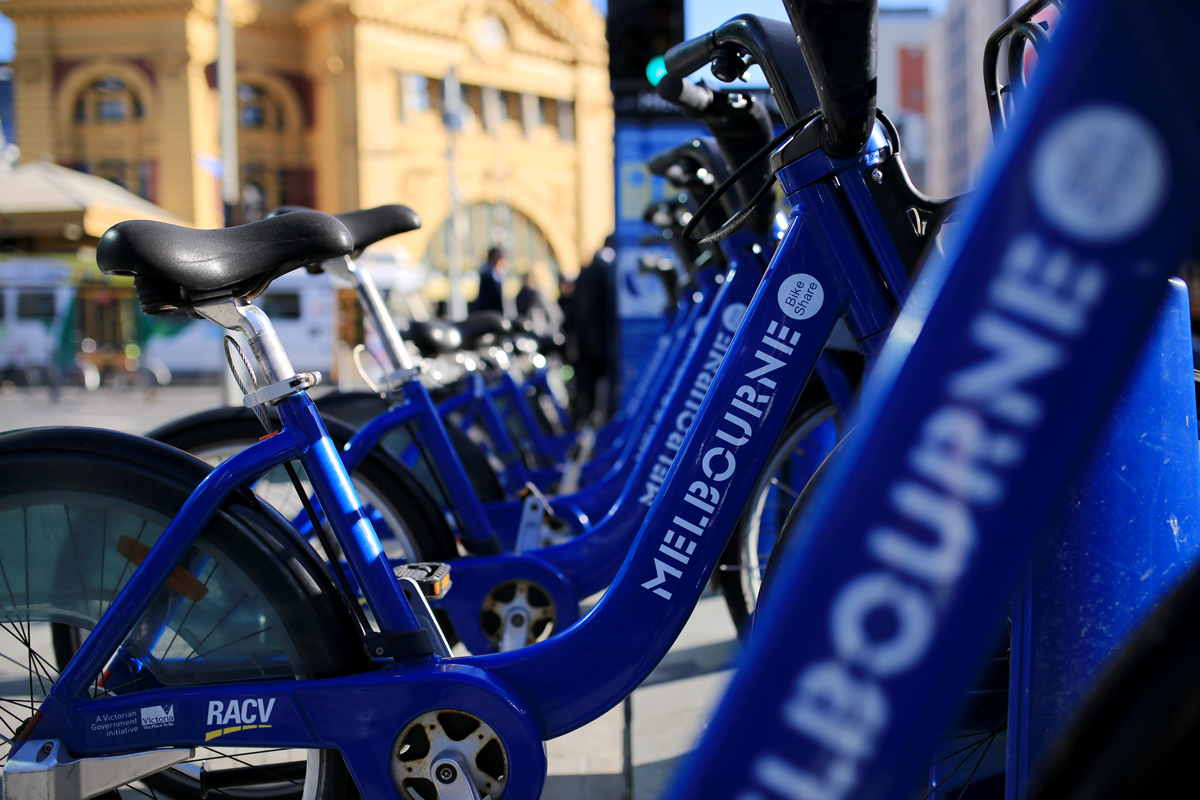 Yarra River 
The most famous spot of Yarra River is just behind the Flinder Street Railway Station. As Melbourne's icon Yarra River never shy away from visitors. Passerby, cyclists, joggers and the buzz from cafes and restaurants by the river bank are regular sight of Yarra River.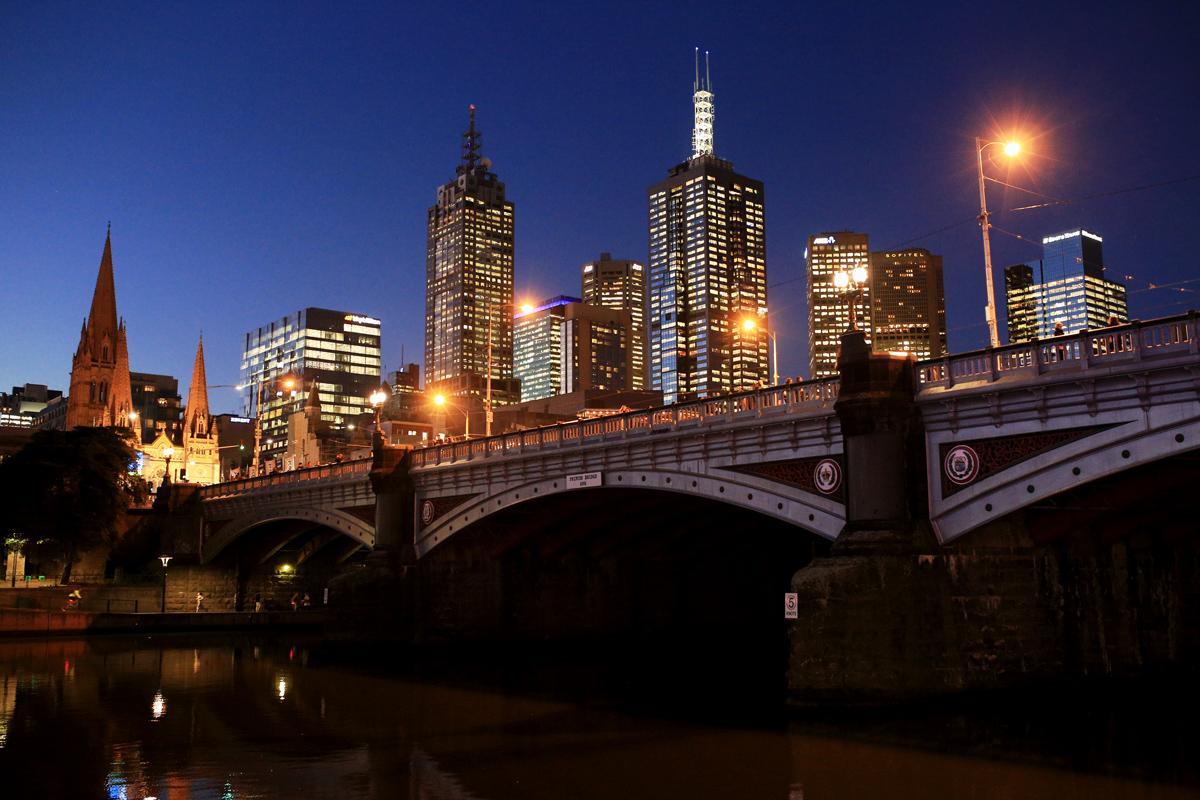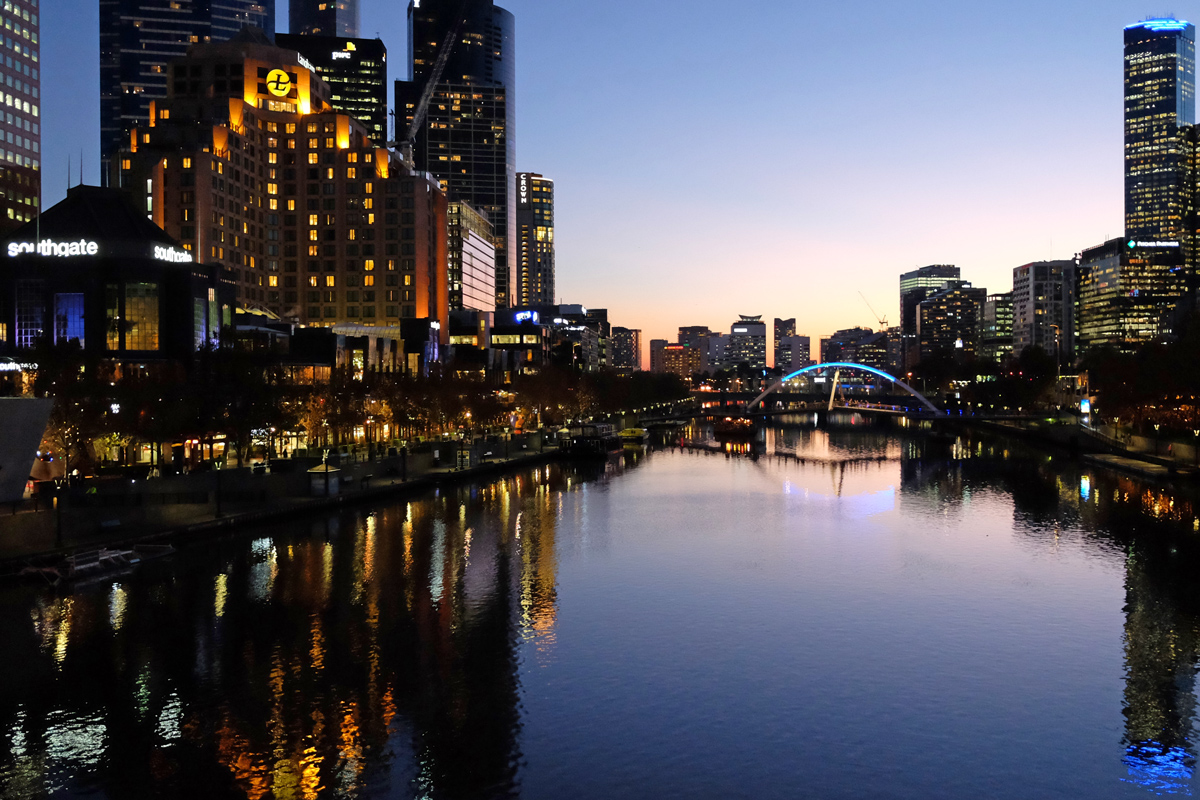 Eureka Deck 
Melbourne from above is what Eureka Deck can offer. The city is strikingly beautiful while sunset and in the evening from 88th floor of Eureka Deck. Admission fee is AUD 20/adult. AUD 11.5/child.  There is additional fee to enter the Edge, glass-bottomed floor.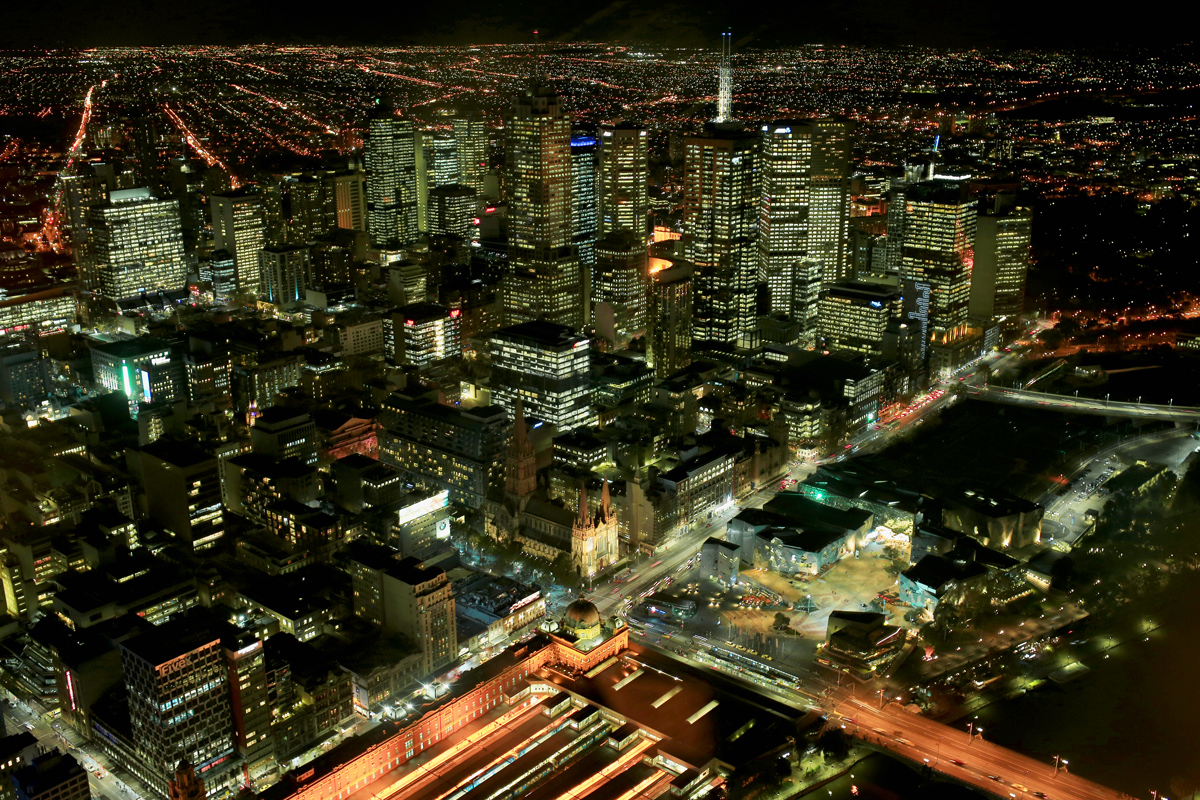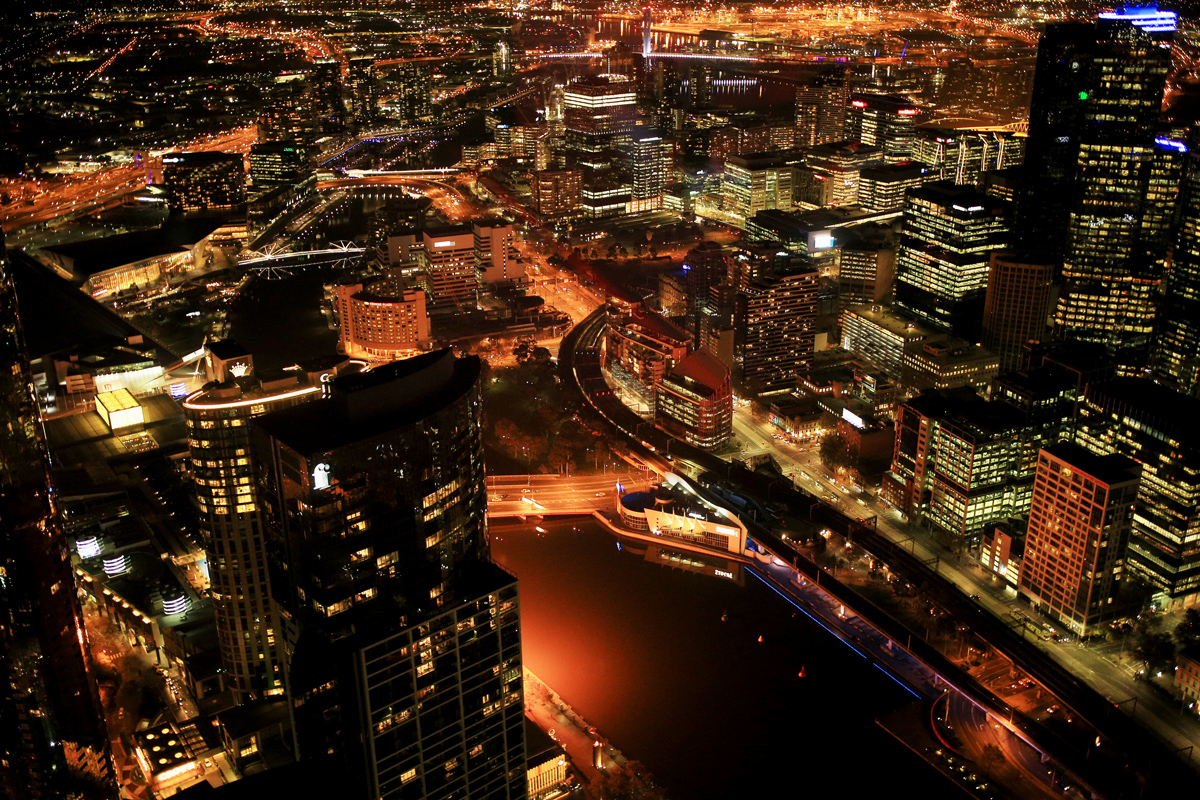 Queen Victoria Market 
Queen Victoria Market hall is packed with wide variety of items from fishes, meats, ready to eat food, cheese to spices. Yet everything is neatly organized giving any visitor a feeling of having a tour into the market. Fresh produce like vegetables and fruits is located at the outer market, neatly and cleanly organised.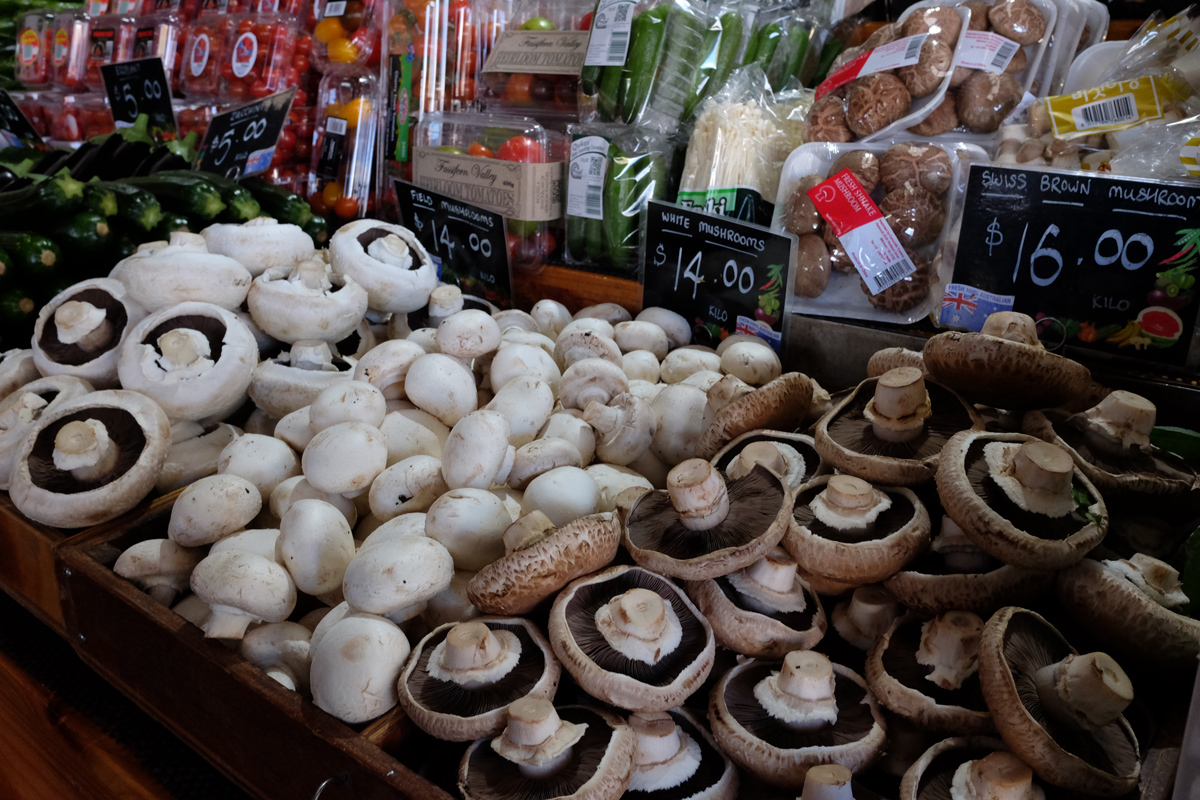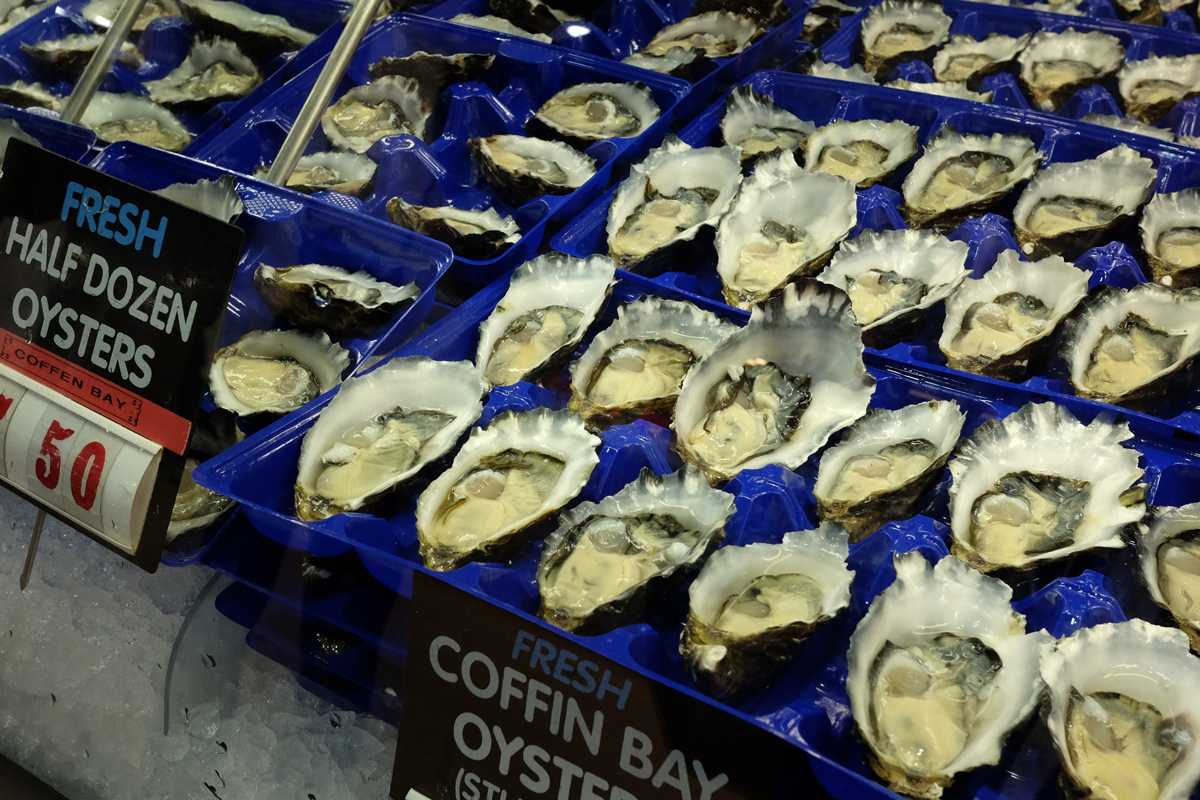 Brighton Beach 
This beach-side suburb of Melbourne is popular for its colourful wooden bathing box. It is one of Melbourne's most famous photography site. The beach is far more quiet in late autumn/early winter than it is in summer time.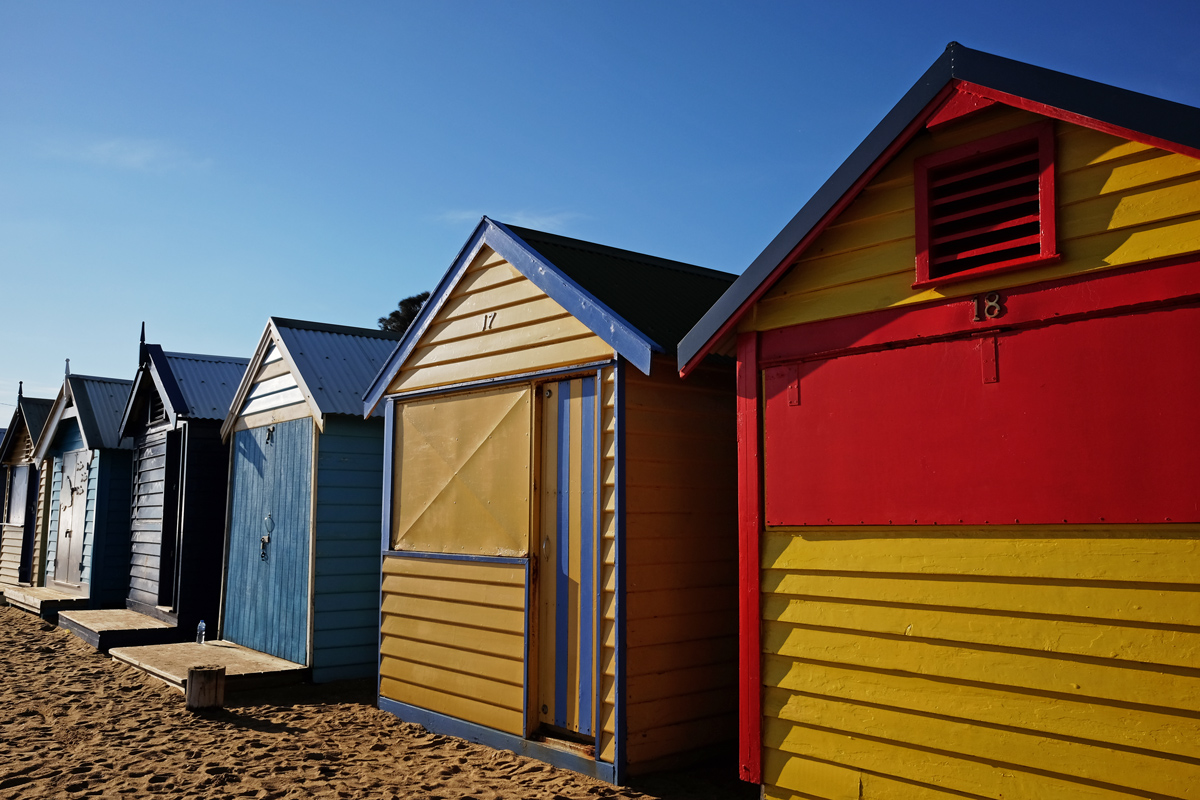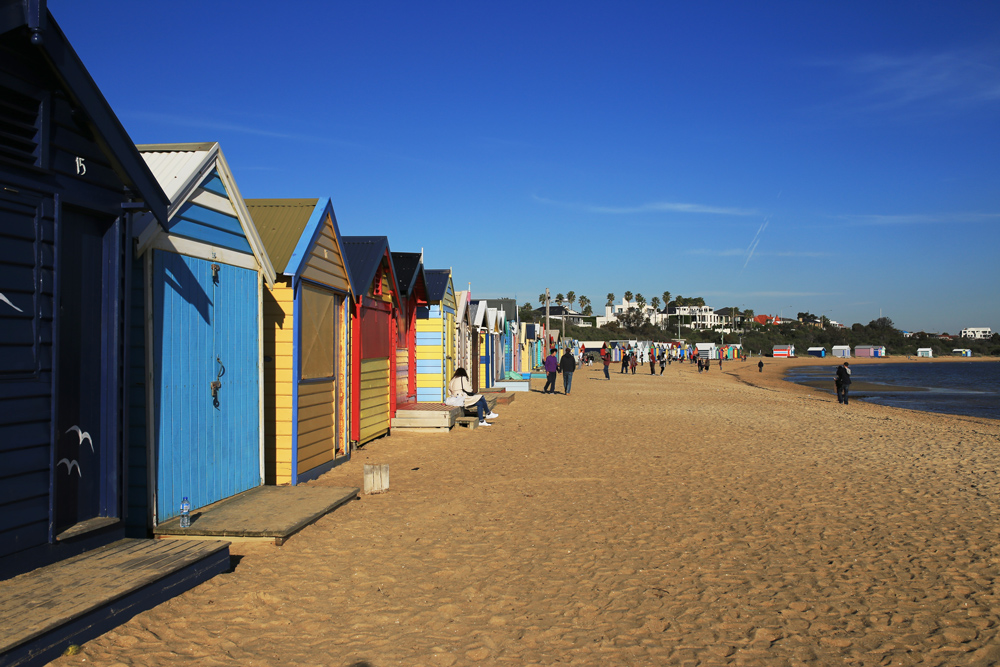 St Kilda Beach 
This most famous Melbourne's beach is located only few  kilometres away from Melbourne central business district and can be easily be reached by city tram.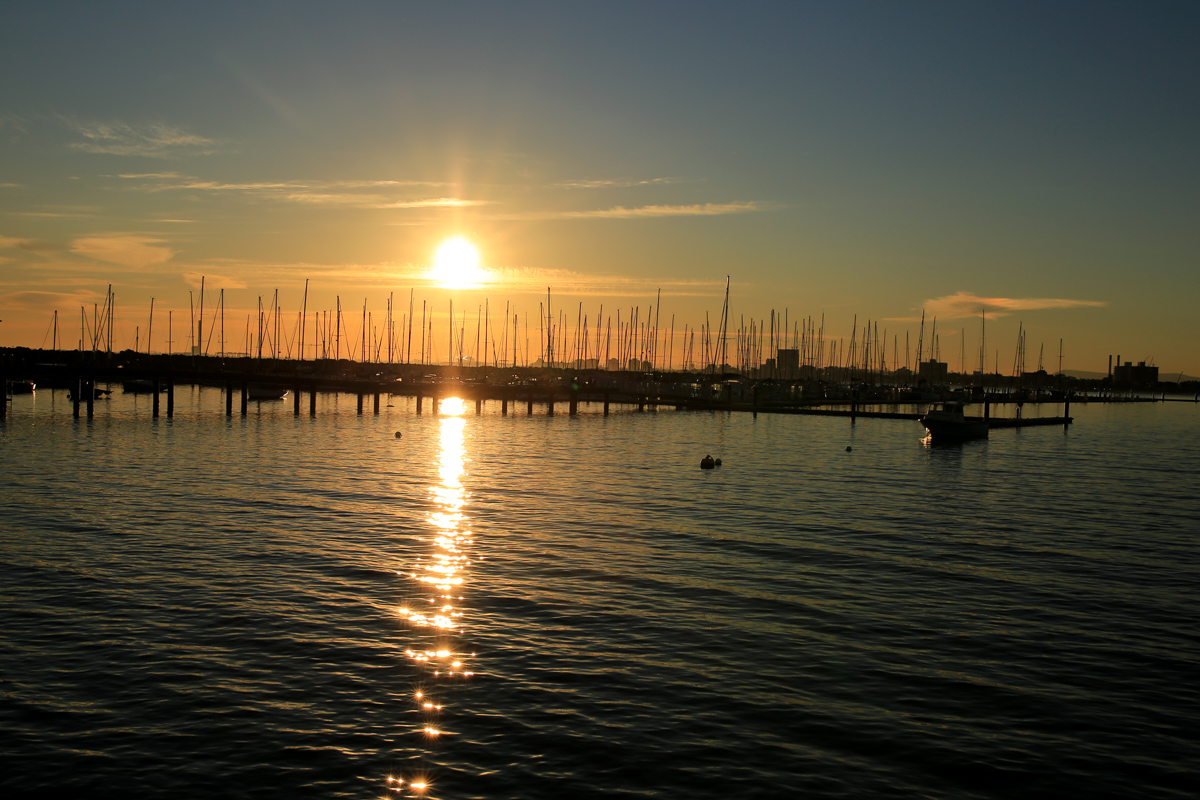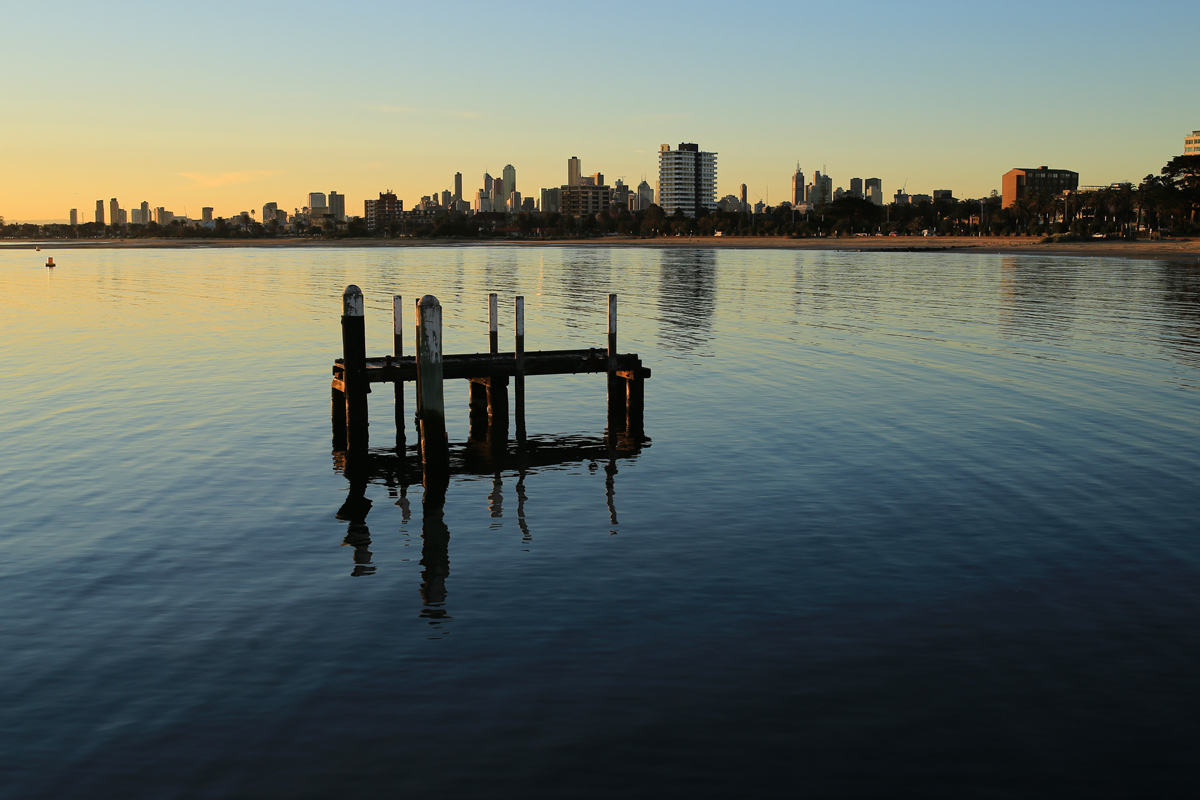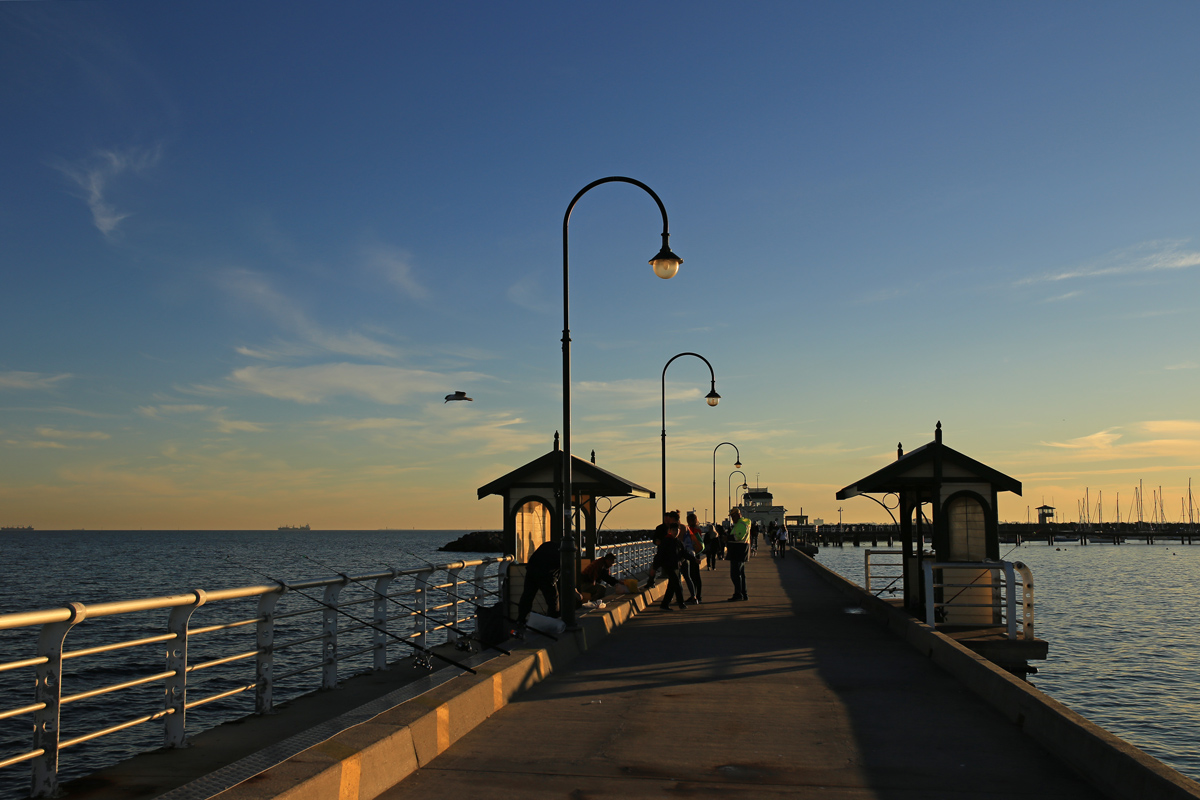 What is your most favourite place of interest in Melbourne?