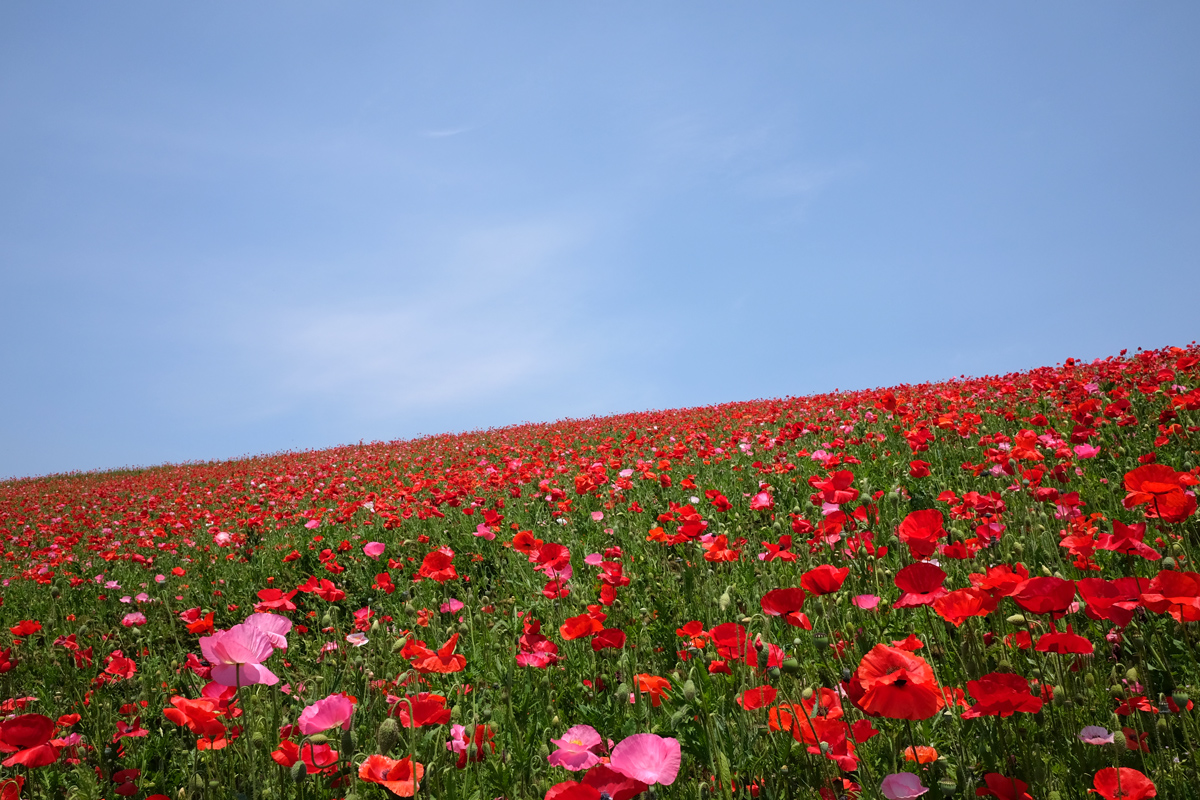 Spring is about to leave, taking away all flowers once colouring our days with their beauties. The icon of Japan, Sakura, is well known for its short-lived. Nemophila blue and Pink Moss Shibazakura are too tiny to stand up against the heat of the sun. Then, Wisteria can never survive the rain and strong wind. Just as I thought it would be awhile to welcome the flowers of summer, hydrangea and sunflower, there was a news of Poppy garden hidden up on the hill of Chichibu, shied away from wunderlusters seeking beautiful places. There was still mother nature's colour before summer. So, we did our research, checked out weather forecast and decided the best way to see Poppy Garden was on a weekday.
Off we went to Chichibu for some red, pink and white poppies.
Chichibu is not everyone's to-go-to place when in Tokyo. This place is famous for its Shibazakura Pink Moss that blooms in early spring. Now that the pink flowers have long gone, Chichibu is long forgotten by many travelers. Thanks to Poppy Garden the city started buzzing and breathing the air of tourism once again. Poppies in the Sky Garden at Chichibu Kogen Farm started  becoming famous in the last two – three years. It was considered a a new bee of attraction in this late spring, in transition to summer. Local TV aired the beauty of Poppy in the Sky Garden and some train cars displayed the Garden's picture and information.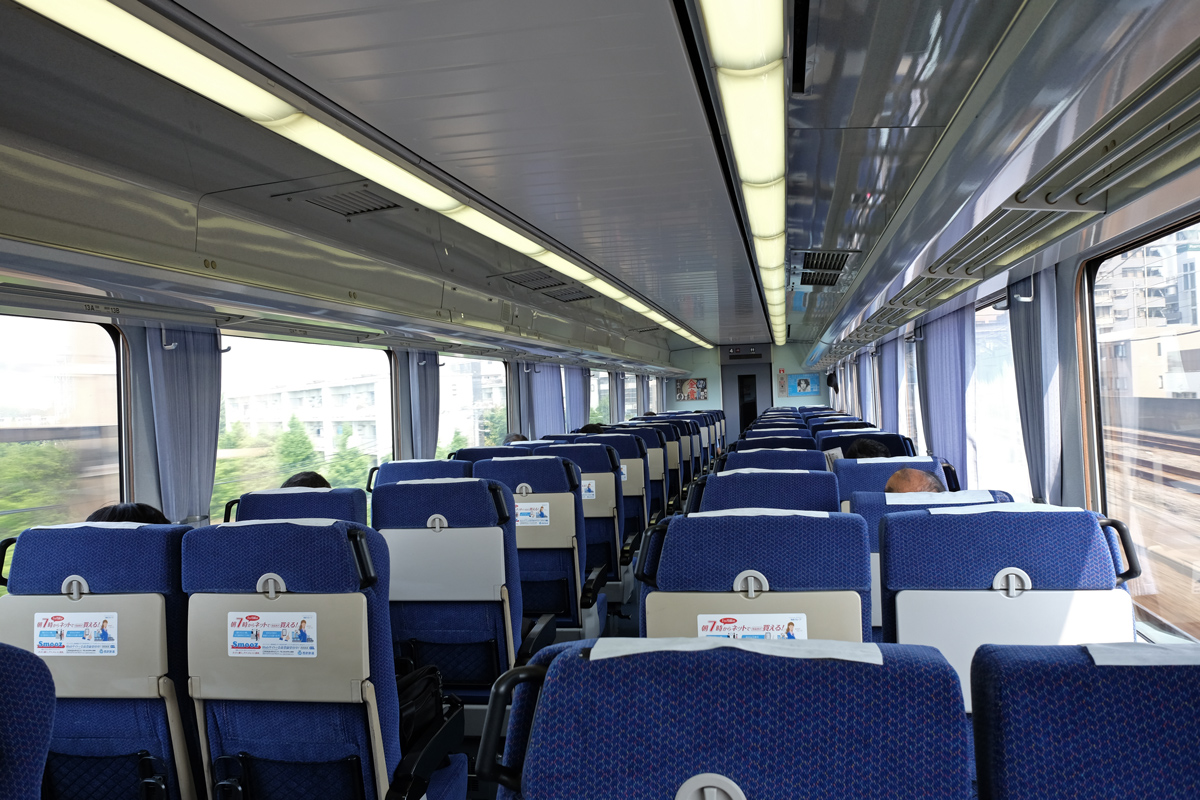 Poppy Garden's popularity is picking up but has not roared that loud just yet. Initially, Poppy Garden was made as an experiment to fill in the date and attract more visitors to Chichibu. Many locals found the beauty of poppy flowers, uploaded the pictures to social media then more and more people started coming. There are not many travelers come for a visit just yet except those joining tour programme because the location. Solo traveler will most likely spending more time on the road, asking for direction, lost in translation and gets stressfull before even reach the place. There is no sign of direction as to which way to Poppies in the Sky Garden.
In principle it took only 1.5 hours train ride from Ikebukuro train station to Chichibu station. Then another 3o minutes bus ride and 40 minutes walk to reach the Poppy Garden. The easier way to reach the Garden without having to endure the long hike to the hill is by taking bus from Ogawamachi station, changing to a shuttle bus then getting off in front of the Garden.We wanted to try both ways, the hardest and the easiest way. If only we knew then a 60 years old man (probably even older) could walked faster than us, we would had taken the bus and saved our ego from a total humiliation.
Like many other suburban areas of Japan, Chichibu is a quiet place. The city is a perfect picture of Japan as an aging society. There were no children on the sight by the time we got there. Majority of people we bumped into were elderly yet they seemed to move at ease, walking and riding bus without any companion of family member. When we were heading to Poppies Garden, the bus stopped for awhile to allow a senior lady securely sat. She looked like at her 90s, moved slowly yet steadily without the help of any stick. Like most of Japanese ladies she did not lose her elegance neither her taste for fashion. She talked very loud most likely because of hearing problem but none in the bus bothered at all. It took nearly 2 minutes stop to let her got off from the bus. Kudos to the driver who had patient to wait and still had the courtesy to great the senior lady. She bowed in grateful the bus driver as soon as the bus left. I watched her closely with admiration and prayed she would be strong and healthy enough to carry on her journey. The Japanese people do not know the word "aging". Majority of senior people never want to be called senior, refuse being labeled at old, stay active and move a lot here in Japan. It is not a rare view of senior people hiking and walk faster in Japan. We once forgot this when we took the hardest way to reach Poppies in the Sky Garden.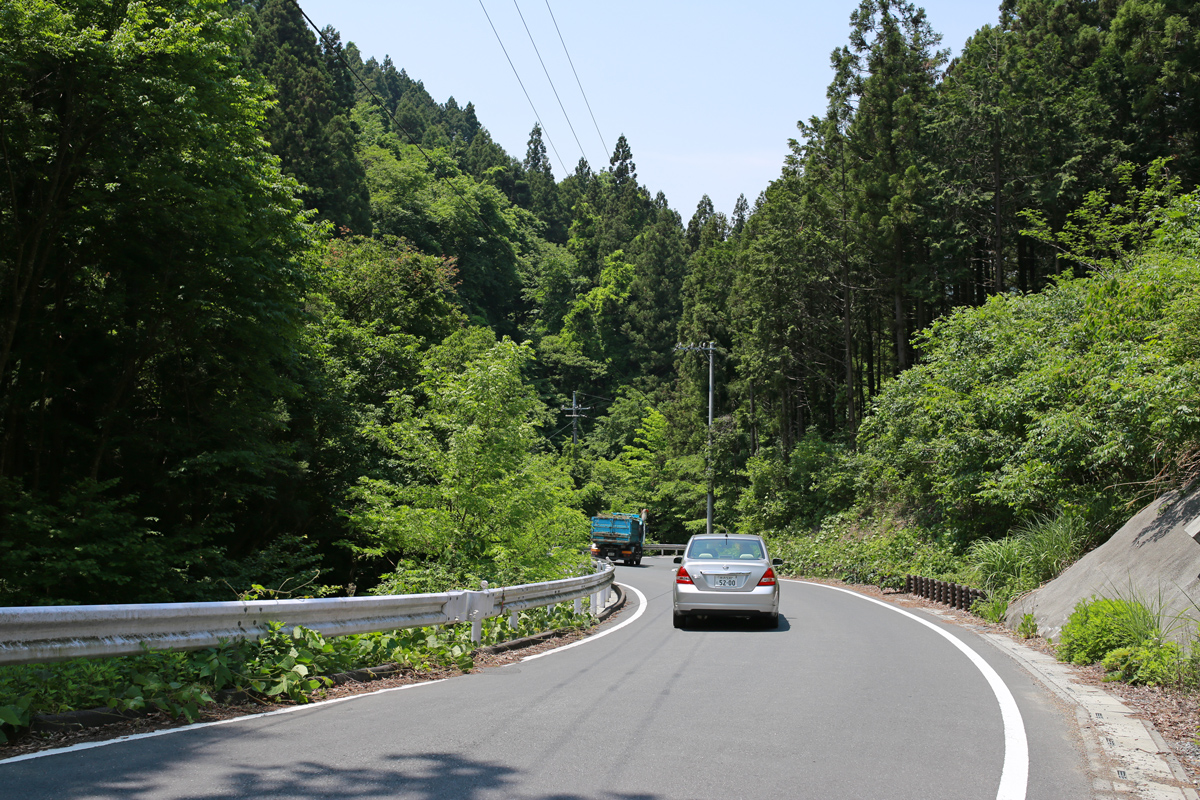 After getting off from the bus we carried on by walking to the Garden, taking the hardest part of the trip. The road is mainly for cars and motorbikes with a narrow space for walking. It is safe to walk by the road, of course. There was not any other person than the senior man on the road. Cars kept coming, none honked asking us to move aside. We finally saw a massive land of red colour up the hill. Nothing but a stunning of million poppies.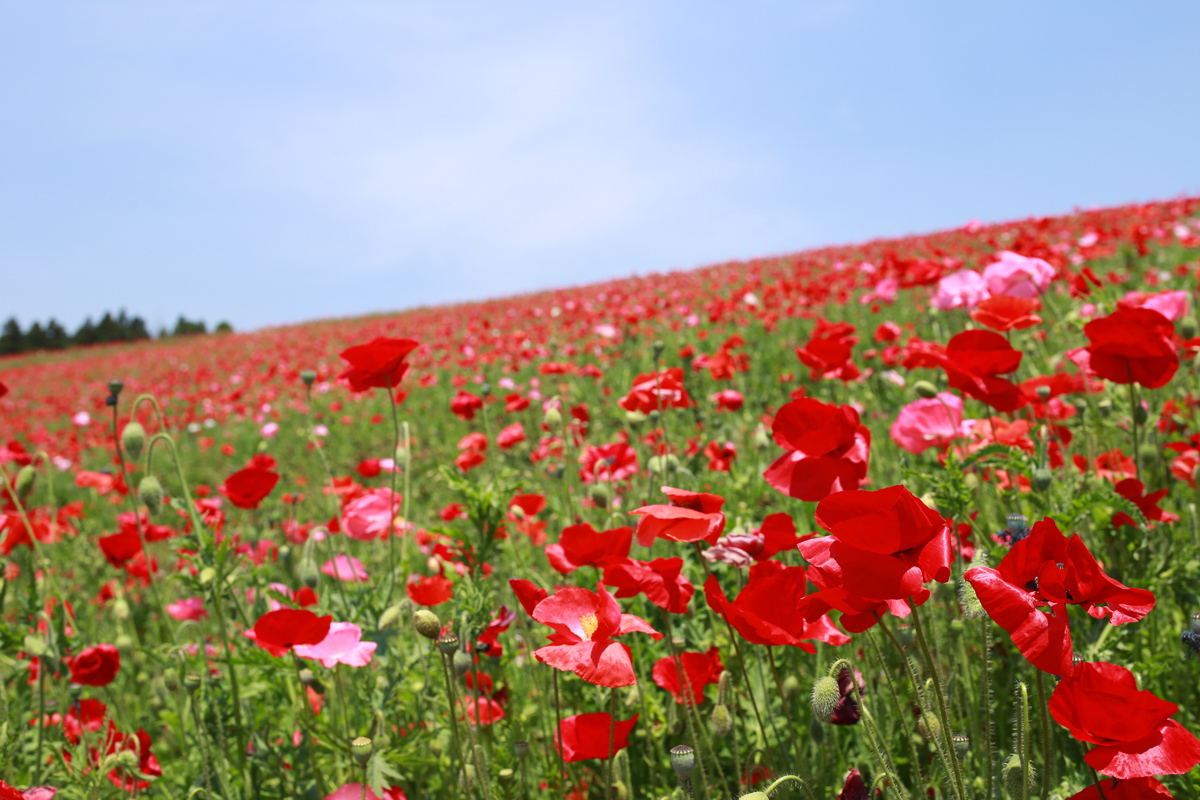 A guy approached and greeted us as soon as we arrived at the Garden. There was a small tent that served as an entrance point. Two hundreds yen per person, please, he said in Japanese. We were slightly surprised, a breathtaking landscape such as Poppy Garden only charged 200 yen. That was insanely cheap. He said today was quiet, weekend was crazy. It took 20-45 minutes to get to parking space, he said. Without waiting for another second we asked were there many foreign visitors. He said the majority of foreign tourists was coming from China and Taiwan. They could find out the place because of the tour programme. We bid farewell as he said "be careful with the heat".
It only took several steps from the entrance point to the Poppy Garden. Nothing but a sea of red poppy flowers and green spread on a massive land.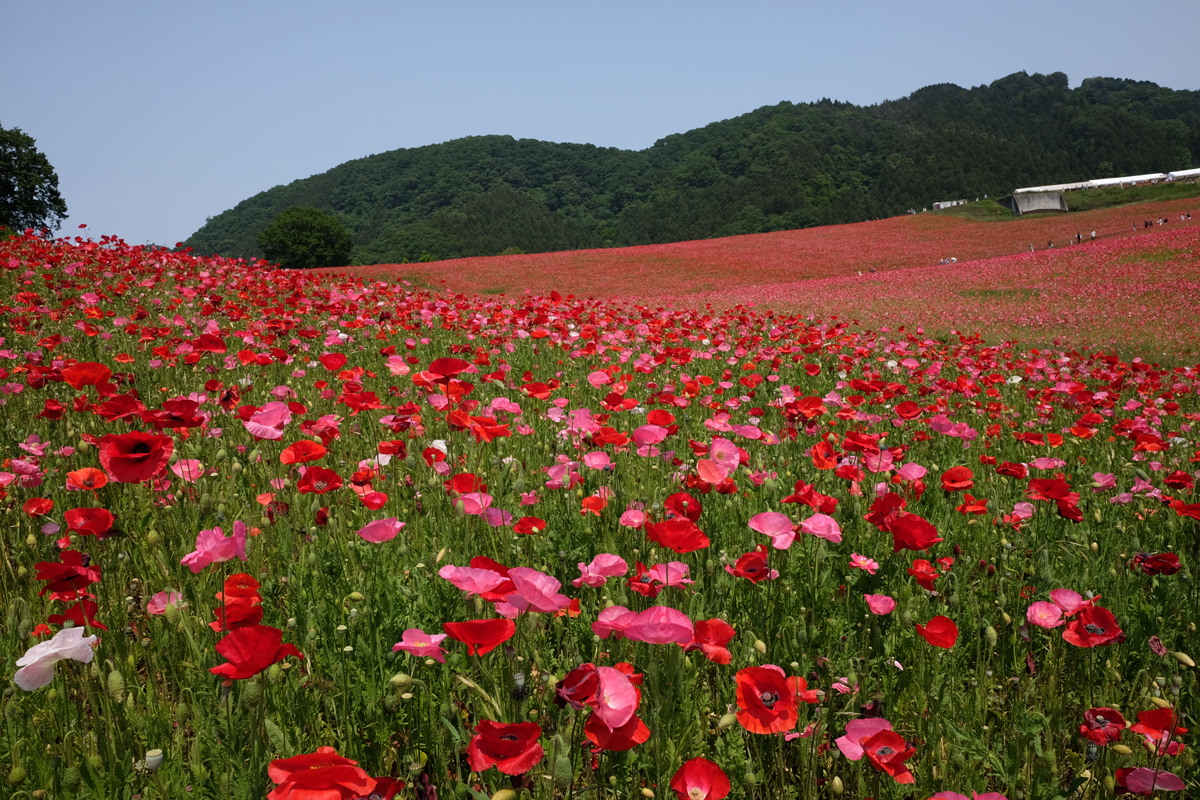 The poppies looked slightly tired and some had gone. Many were still sleeping in their buds, probably were still too young to see the world.
Photography enthusiasts lining up taking pictures of the flowers. Like we always did, those with DLSR camera, long lens, strong-looking tripod and looking serious were the ones too follow. They knew which angle was best in many cases. So we stood next to one and left as soon as he felt our shadows distracting his focus.
The inner side of the Garden was even more stunning. There were two sides of the Garden with a walking path in the middle. From a higher ground the path looked like a giant snake sandwiched between millions of poppy flowers. It was the path everyone didn't want to leave. No other word spoken than "kirei" which means beautiful in Japanese. Everyone took time moving inch by inch observing the flowers.
There was not any solid structure fencing the Garden. The only limit was plastic rope tied to wood alongside the Garden. For many Japanese, with or without any fence they would never ever step on flowers. I could not imagine what would happen if the Garden popularity start soaring. inviting hundreds thousand of foreign visitors with nothing but taking selfie with the flowers as close as they could. In my heart I wish this place never be found by many. Let her beauty hidden and be sought only by those appreciate the beauty of the nature.
Getting There:
Getting to Chichibu city from Tokyo is always easy. Trains depart every one or two hours from Ikebukuro station to Seibu Chichibu in a day. From Ikubukuro station take Seibu Ikebukuro Line then get off at Seibu Chichibu station then take a Seibu bus towards Minano Station direction.  This bus does not operate frequently, only six times in a day. It will takes 35-40 minutes bus ride to reach Misawa Yubinkyoku bus stop. From Misawa Yubinkyoku bus stop continue by walking toward the bridge direction then follow the road. It will take 40 minutes to an hour walk to reach the Garden.
By the time this blog post is written in 2016, there are two free shuttle buses provided by the local government only onweekends. The free shuttle bus departs from Minano Station and Washi-no-sato. Minano Station. To reach Washi-no-sato station, take Tobu Tojo Line from Ikebukuro to Ogawamachi station, take an Eagle bus for Shiraishi Shako direction, and get off at Washi-no-sato bus stop. Routes of shuttle bus are subject to change.