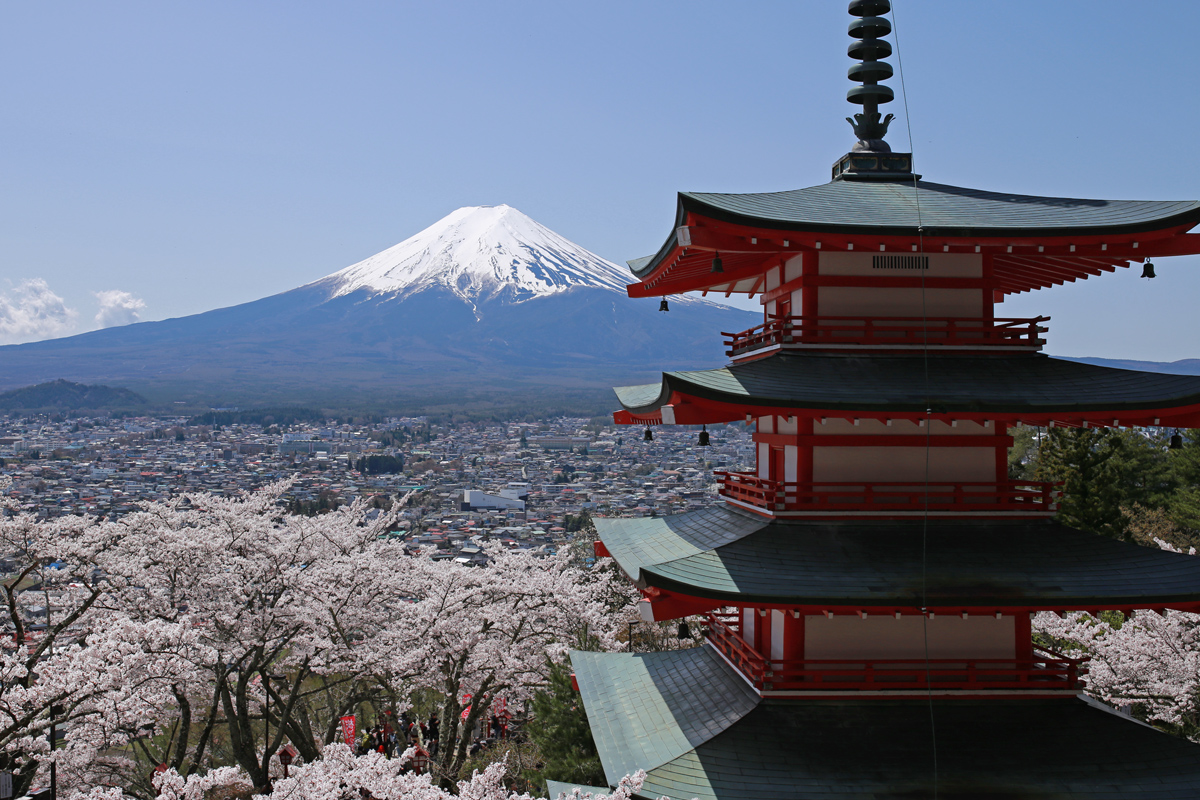 Mount Fuji, Cherry Blossoms and temple are the quintessential of Japan in spring. No other place can capture Japan's quintessential than Arakurayama Sengen Park. This park is famous for the sight of Mount Fuji, temple-like pagoda and cherry blossoms in spring.
Arakurayama can be easily reached from Tokyo by train. The best time to visit Arakurayama is early morning or before noon on a clear weather on the third week of April. It is always a challenge for taking great pictures of Arakurayama five stories pagoda, Mount Fuji and cherry blossoms even on a bright sunny day. It is often the case strong wind blows clouds around Mount Fuji and there is nothing or so little of Mount Fuji to see henceforth.
It takes two hours Chuo line ride to reach Otsuki station from Tokyo station. Chuo line is not express neither rapid train, so it stops at every station it passes in the morning. There is no other way to secure seat than getting on the train from Tokyo station, the last stop of Chuo line. It's unpleasant to stand up in rush hour as the train is packed with people.
We went to Arakurayama on a bright warm sunny morning. It took one hour to Takao station where we had to changed to another Chuo line heading to Otsuki station. There was only two minutes to change platform to get on the next Chuo line. We made it thankfully. After arriving at Otsuki station, we again had to change to Fujikyu railway heading toward Kawaguchiko station.
Train moved smoothly like it always has been in Japan. In forty minutes we nearly reached Shimo Yoshida station. Mount Fuji was on the sight. The train driver seemed to understand well his passengers needs of taking picture of Mount Fuji. He slowed down the train and explained this was the best spot to take picture of Mount Fuji from the train. Everyone was excited and moved to the left side of the train to capture Mount Fuji. Only in Japan, train drivers are willing to slow down the train, explaining to passengers via microphone when passes popular site. Happy and grateful passengers we all were.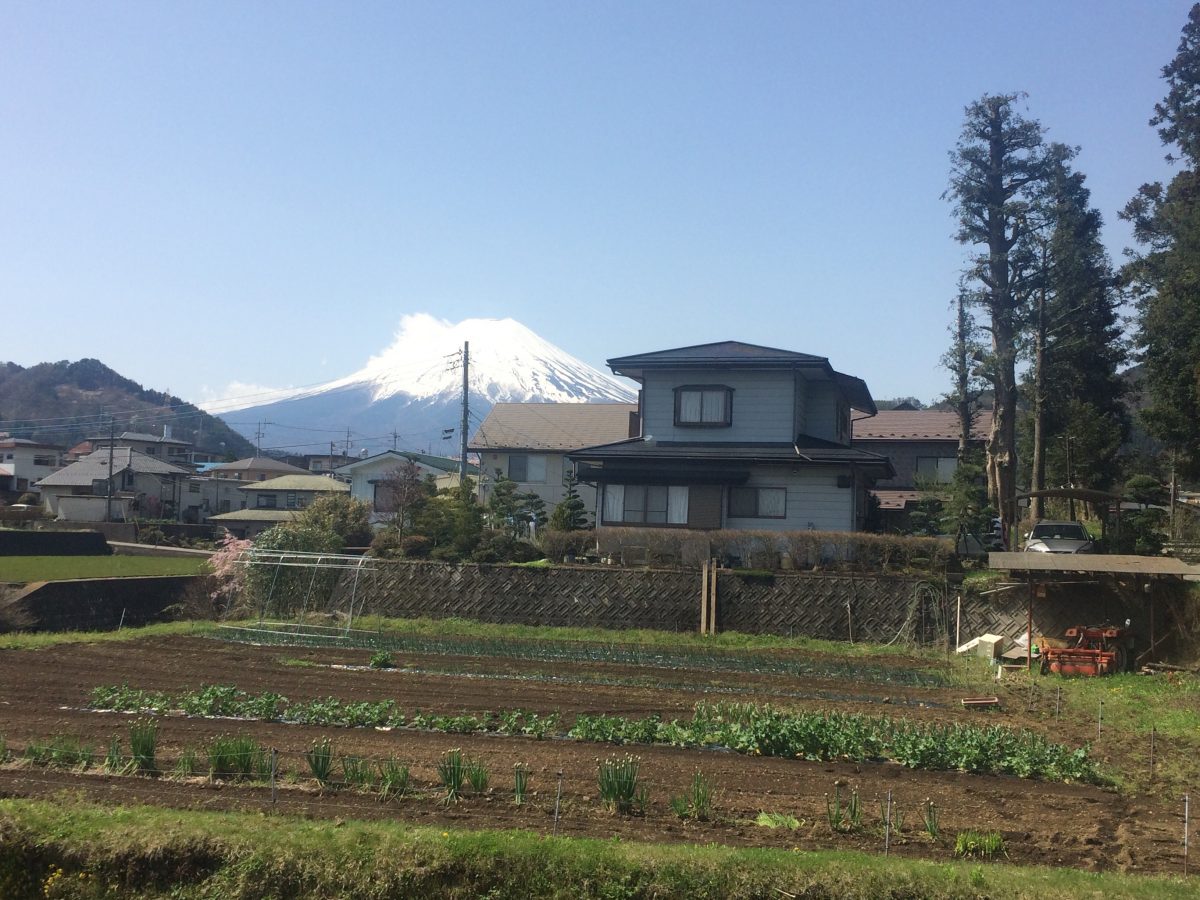 Then we arrived in Shimo Yoshida station. We had suica card in hand, a touch to IC card panel was what we needed to do to get out from the platform. The station turned to live after we arrived and suddenly packed with people especially toilet. Shimo Yoshida is a small station yet very tidy and modern. It looks like a new station.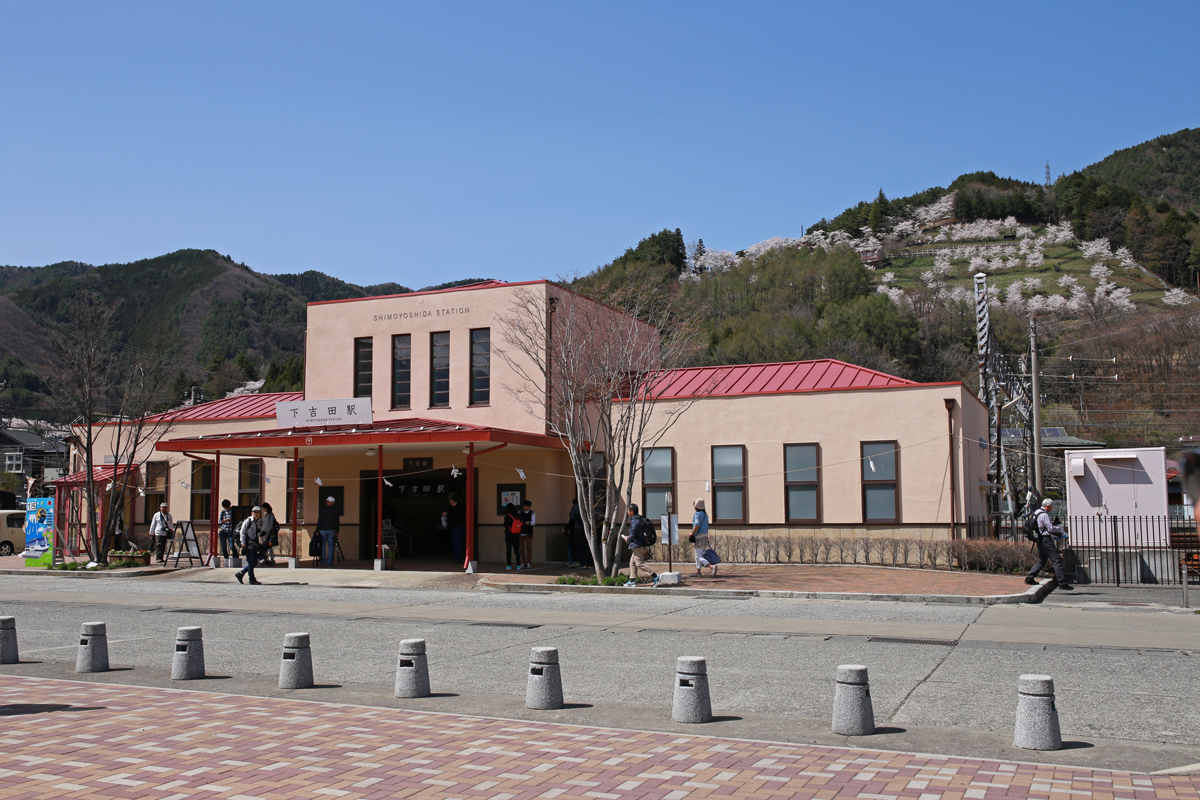 The weather was still sunny. Mount Fuji was still vividly in sight, thick snow covering its top.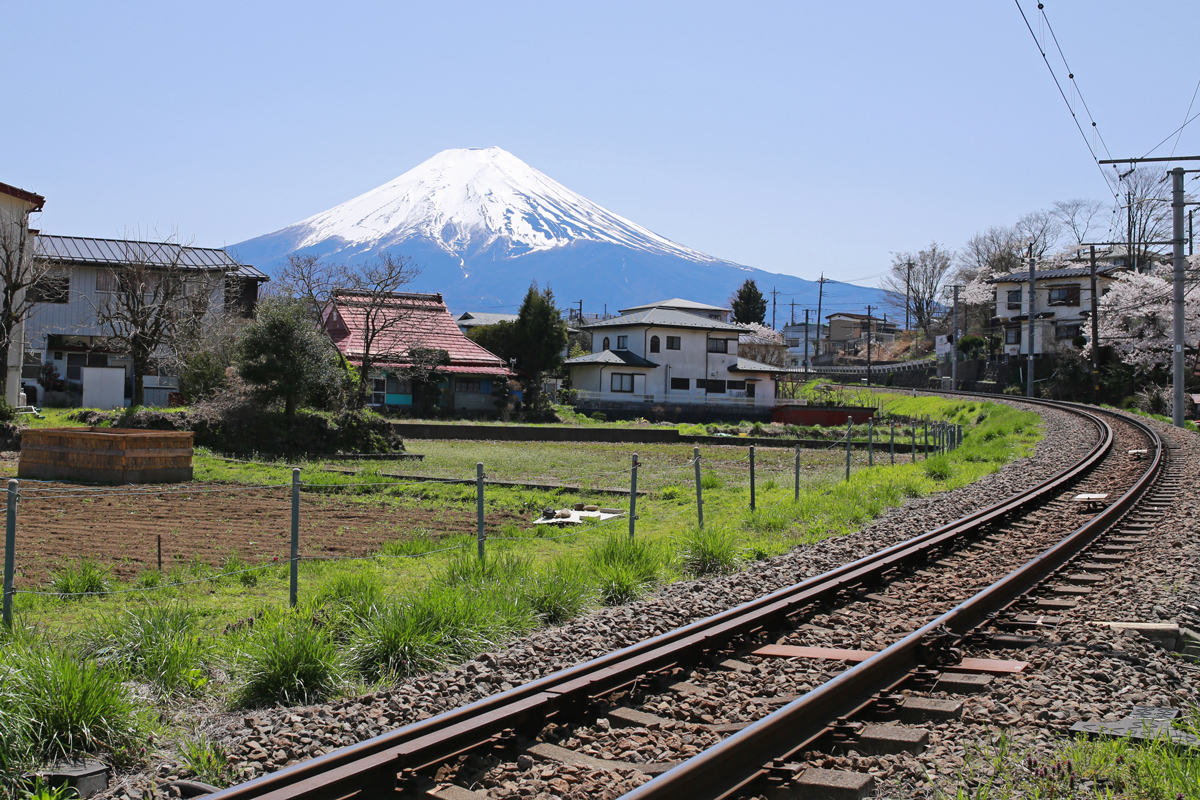 After browsing through the area, we took a ten minutes walk to Arakurayama Sengen Park's entrance gate. There are two options to reach top of Arakurayama Sengen Park: by stairs or by normal road.  On peak season like this, normal road can be accessed by cars for special purpose: giving easy access for people on wheelchair.
We preferred taking stairs because of these cherry blossoms trees.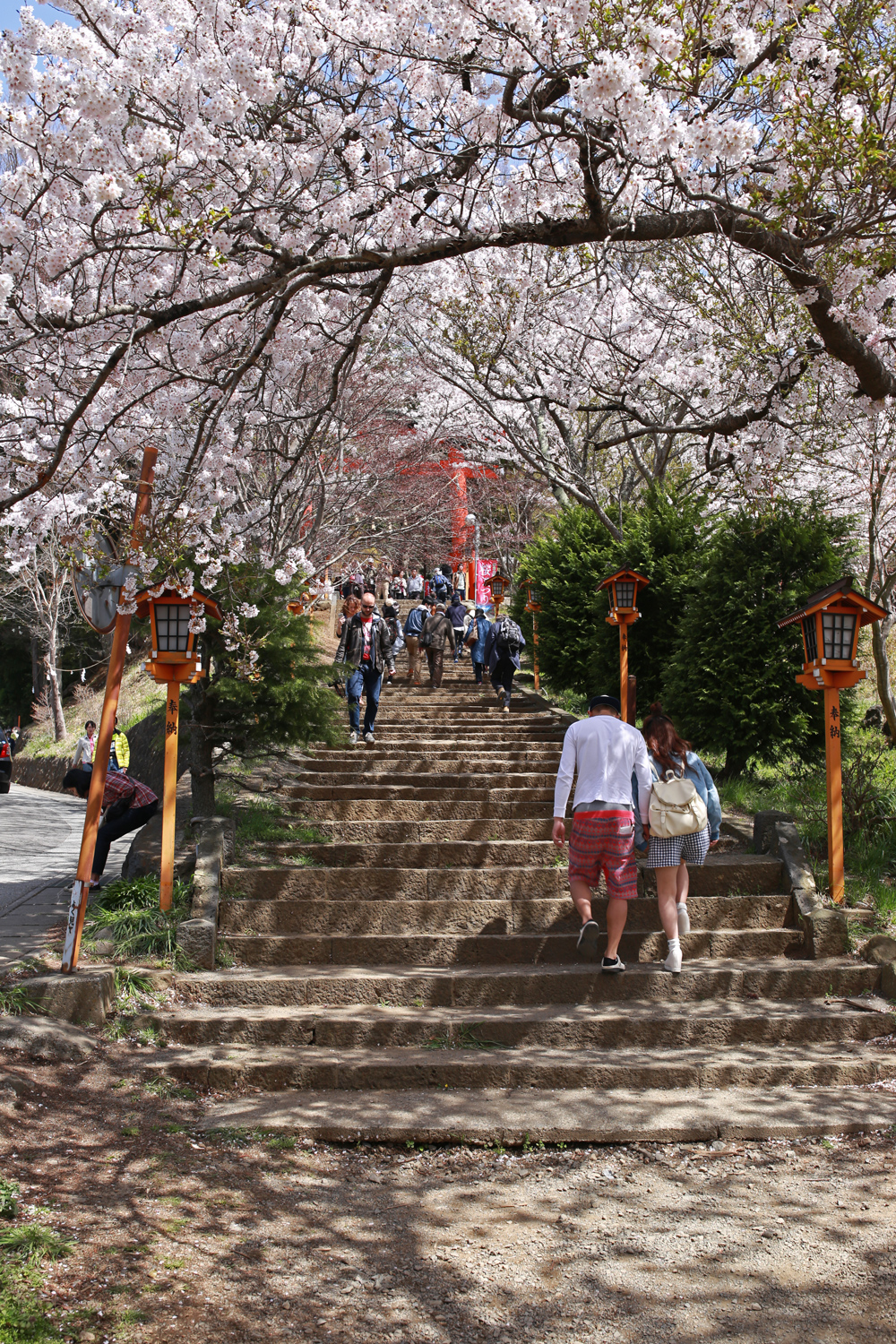 The higher we climbed the stairs the better the view was: cherry blossoms and Mount Fuji.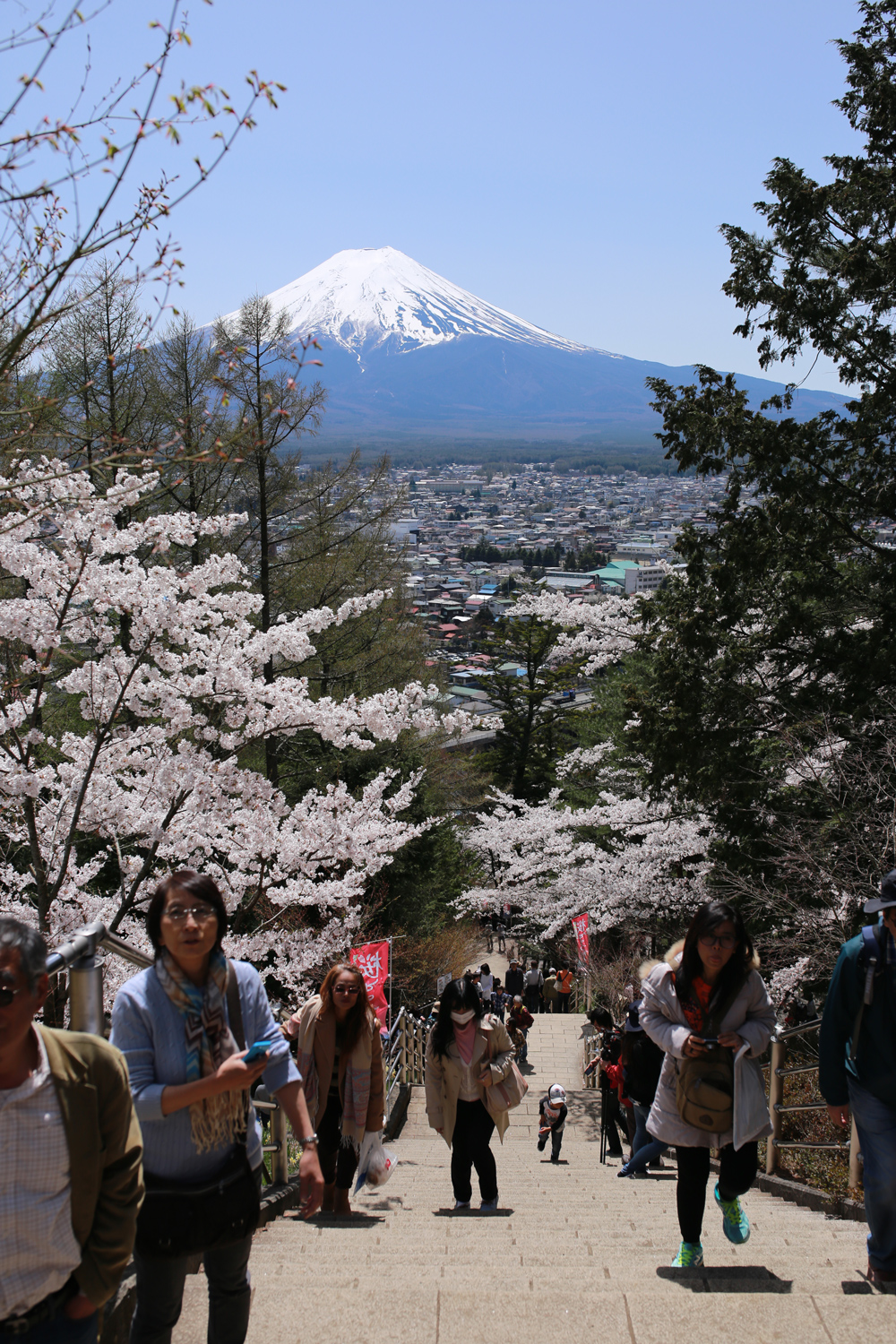 Then we saw the famous Arakurayama five-story pagoda and cherry blossoms. Frankly, I initially thought this was a temple but it was not. The shape does look like a temple but it is a pagoda. I only discovered the difference between temple and pagoda after staying for quite some time in Japan.
This pagoda is called Churei-to, a monument to war victims.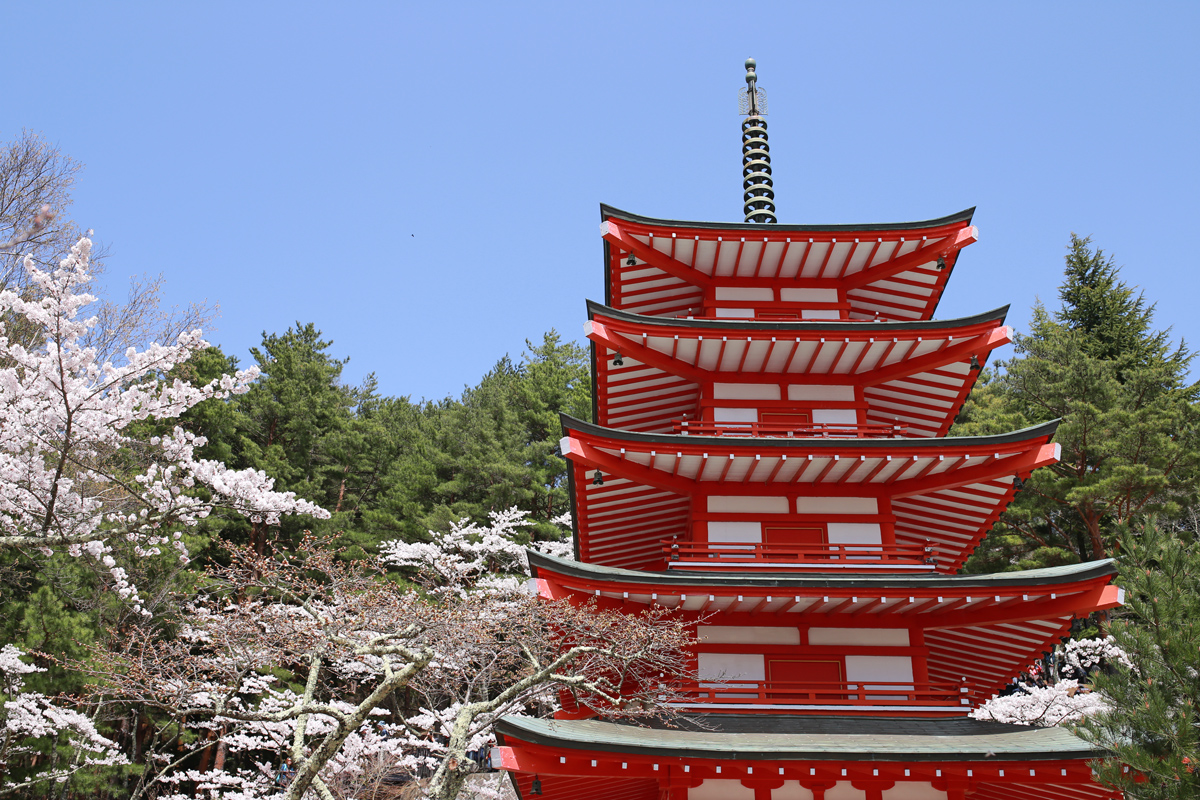 In no time we went to Mount Fuji viewing deck, a dedicated space to take pictures of Mount Fuji, Churei tower and cherry blossoms. Initially we wanted a wefie but when it was crowded like this, no thank you. May be some other time.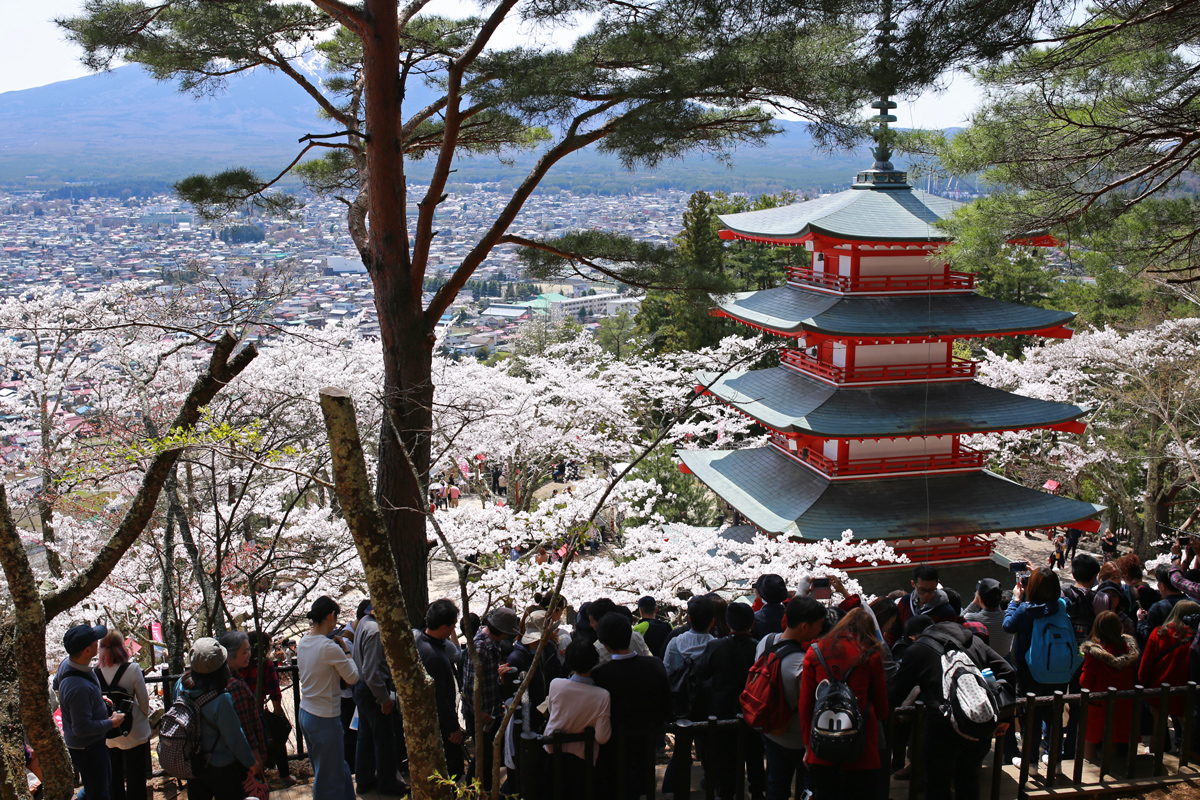 We did not leave our tiny space, waiting for some to leave theirs.  Finally, our patience bore fruit, some people left so we managed to move to the front side of the viewing deck. And clicked the camera for a real great picture with minimum editing.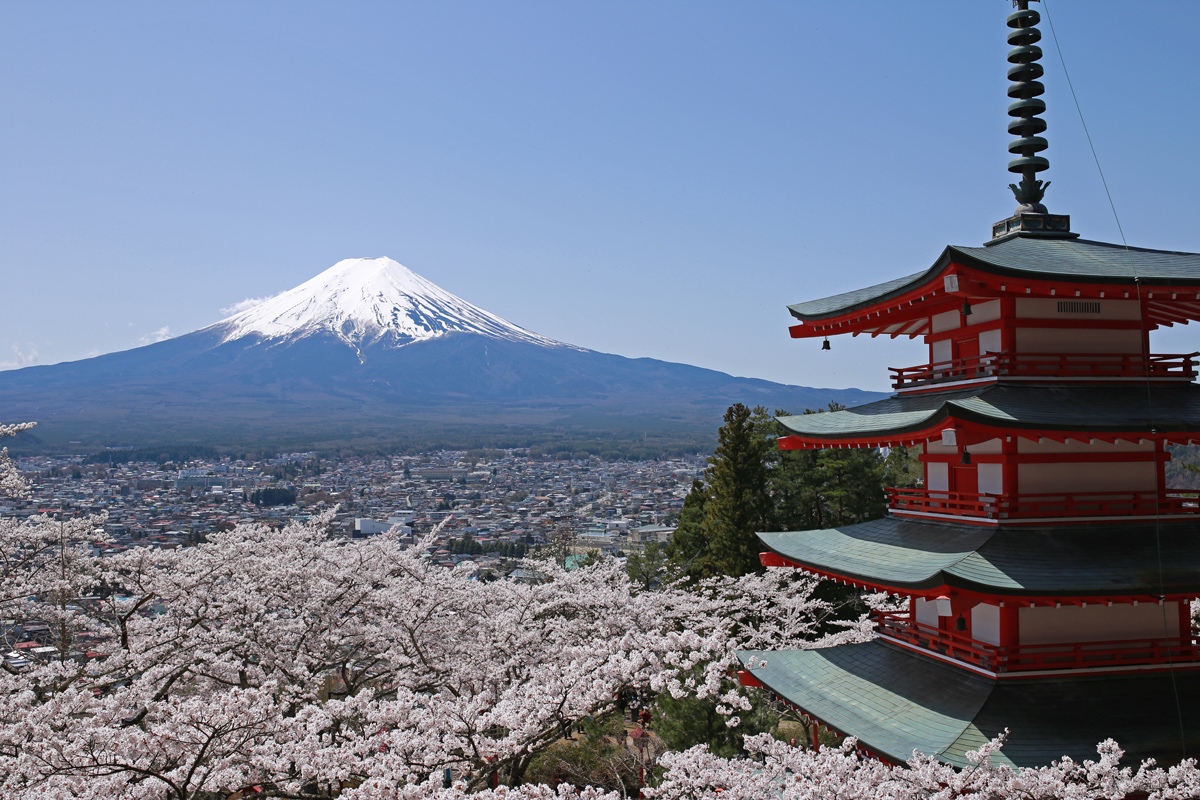 It was a perfect sunny day, nothing but clear blue sky. We initially thought the sun would be fierce that it would be difficult to adjust the exposure for taking pictures of Mount Fuji, temple and cherry blossoms. We wanted to stand still, relax and enjoyed the view but some people were waiting for us to leave just like what we did to the people before us. We left right after taking pictures, changing smiles with the people who would take our space. And they said "arigatou gozaimasu" means thank you. In Japan, courtesy always matters.
We then headed to the other side of Arakurayama Sengen Park and discovered another gorgeous view. Mount Fuji, sakura and Fuji-Yoshida city.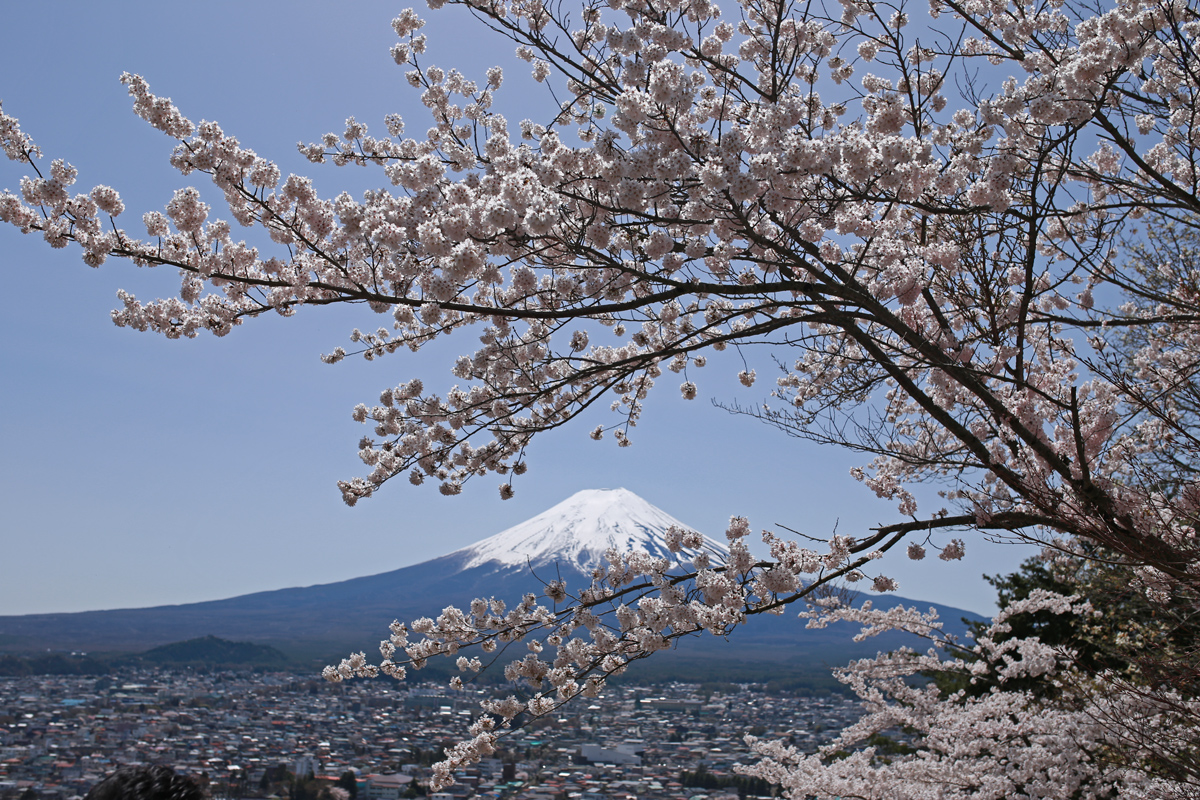 Great thing was there were enough space to sit under cherry blossoms tree. It was time to sit still, relax and enjoy the view.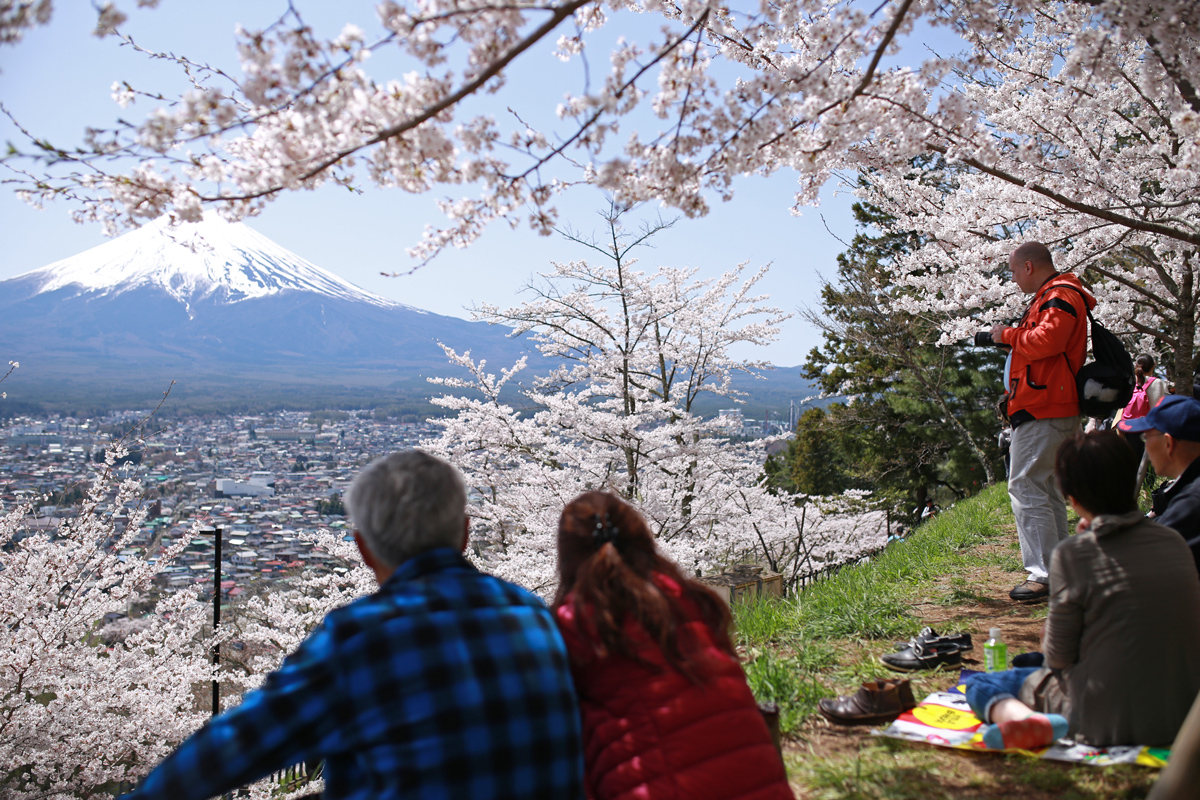 Only local were in picnic prepared mode. They had mat, food and drinks in hand. At this part of the park, one could easily lost in time, feeling like staying forever.
This is Arakurayama Sengen Park's best selfie spot.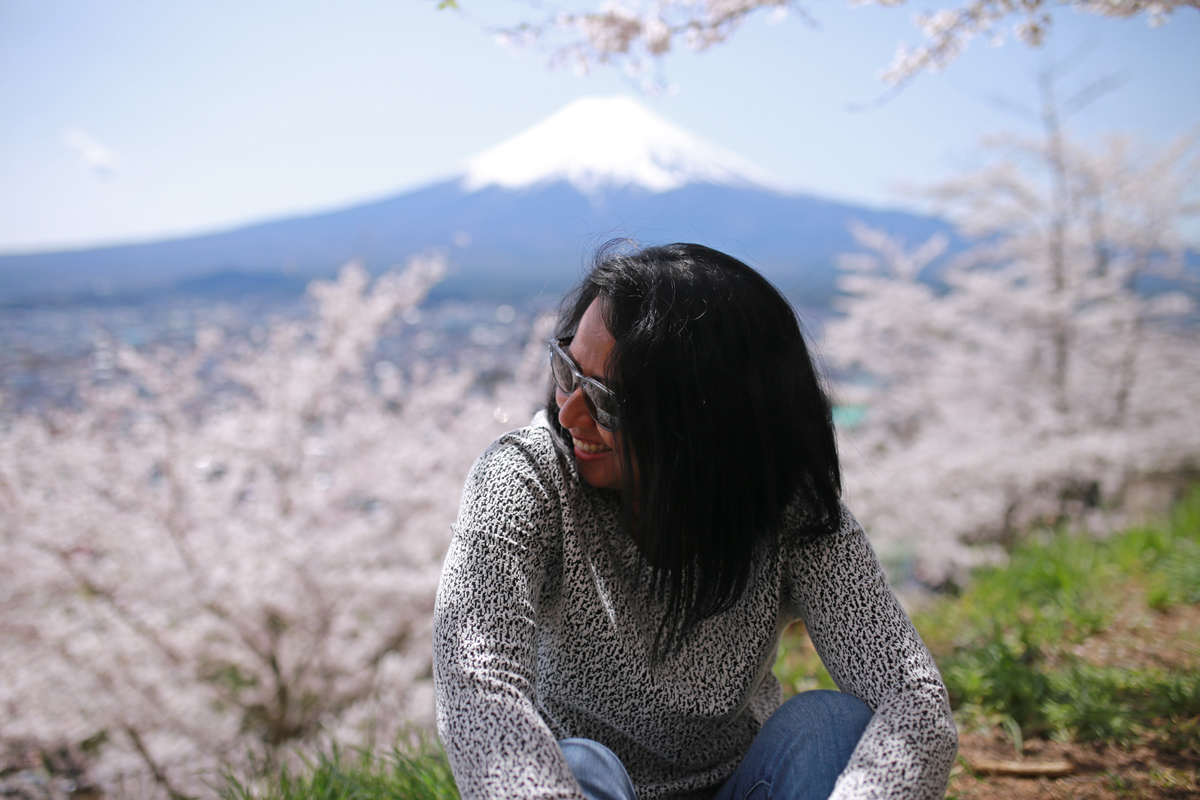 Spring will last for another few more months but these sakura soon will be gone. So what was the rush when they were still around, we thought. We sat here for two hours, pampering our eyes with stunning view. The weather was really nice, no cloud blocked Mount Fuji. It was a lucky day for anyone coming to Arakurayama Sengen Park today. Those hundred of Thai tourists would come back home happy with great pictures of Mount Fuji, sakura and Churei tower. This time most of the tourists visiting Japan were Thai because of Songkran (Thai New Year) holiday in Thailand.
The sun was getting fierce as hours went by. It was time for us to leave this spot but not without exploring its surroundings further like taking pictures of Churei-to with sakura.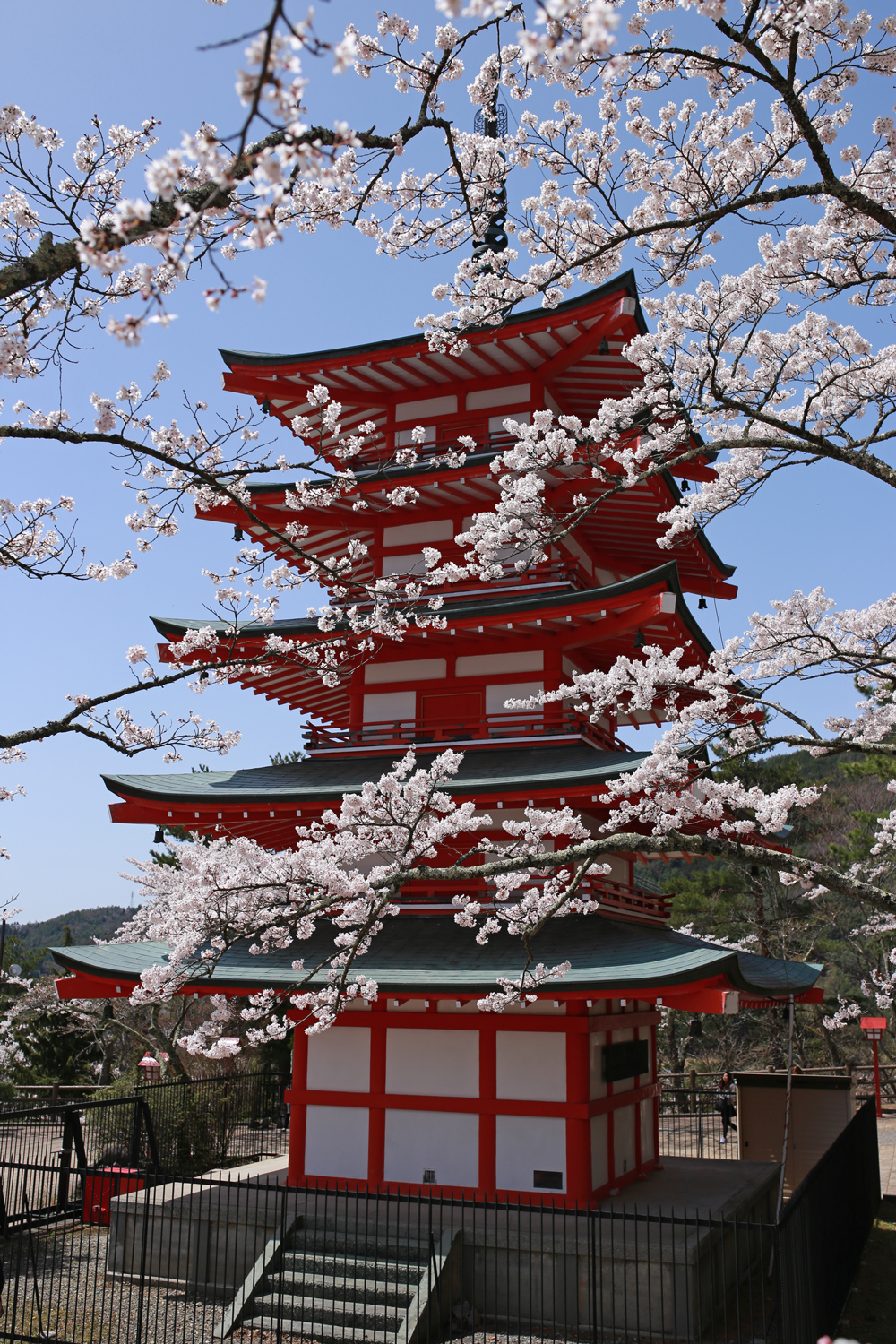 Torii (gate), Mount Fuji and sakura.
We went back to Shimo Yoshida station, waited there for fifteen minutes or so to get on to Fujikyu railway line to Otsuki station. It took forty five minutes to reach Otsuki station. Then we changed to Chuo line toward Tokyo station.
This was one of those perfect trips thanks to the weather.
Have you ever been to Arakurayama Sengen Park? If not, will you include this Park in your itinerary when in Japan?