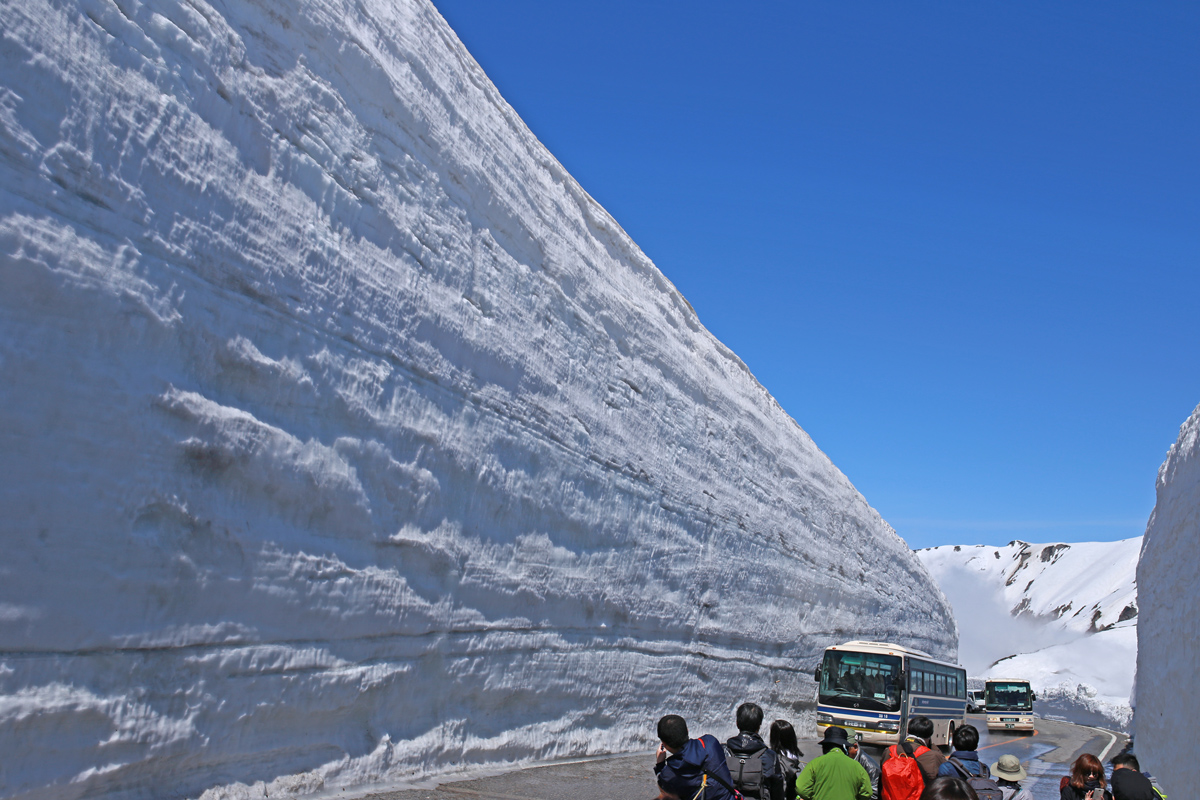 Temperature rises fast as spring settling in. As much as I love colourful flowers, chirping birds and laughter at the park in spring, the memory of winter seems won't go away that soon. I want to embrace the spring but unwilling to let go the cotton white snow, frizzing wind and slow rhythm of winter. A tropical girl like me always has a heart for snow. Had been living in a tropical country for almost my lifetime, playing with snow will always be appealing. In Tokyo snow is hard to come by but in Japan there is still a place up in the mountain where snow is still abundance, shielding the mountain from the fierce heat about to come. Many of mountainous places in Japan are still covered in snow in April but there is one place excels amongst many others mountains in Japan: this early spring. Tateyama Kurobe Alpine Route is world's famous for gigantic Snow Walled.
We decided to visit Tateyama Kurobe Alpine Route as soon as it is opened for visitors. We chose the date two months ago without knowing how the weather would be like. What we only knew that a trip to Tateyama Alpine Route would be one of those hard to forget trips, judging from all information we read online. Initially, we could only think of Tateyama Snow Walls before embarking on the trip. Only then we discovered Tateyama was more than the  Snow Walls and the Alps. Traversing within Alpine Route itself was quiet an experience. From trolley bus to ropeway, every means of transportation to reach the Snow Walls offer impressive views. Like this tunnel, for instance.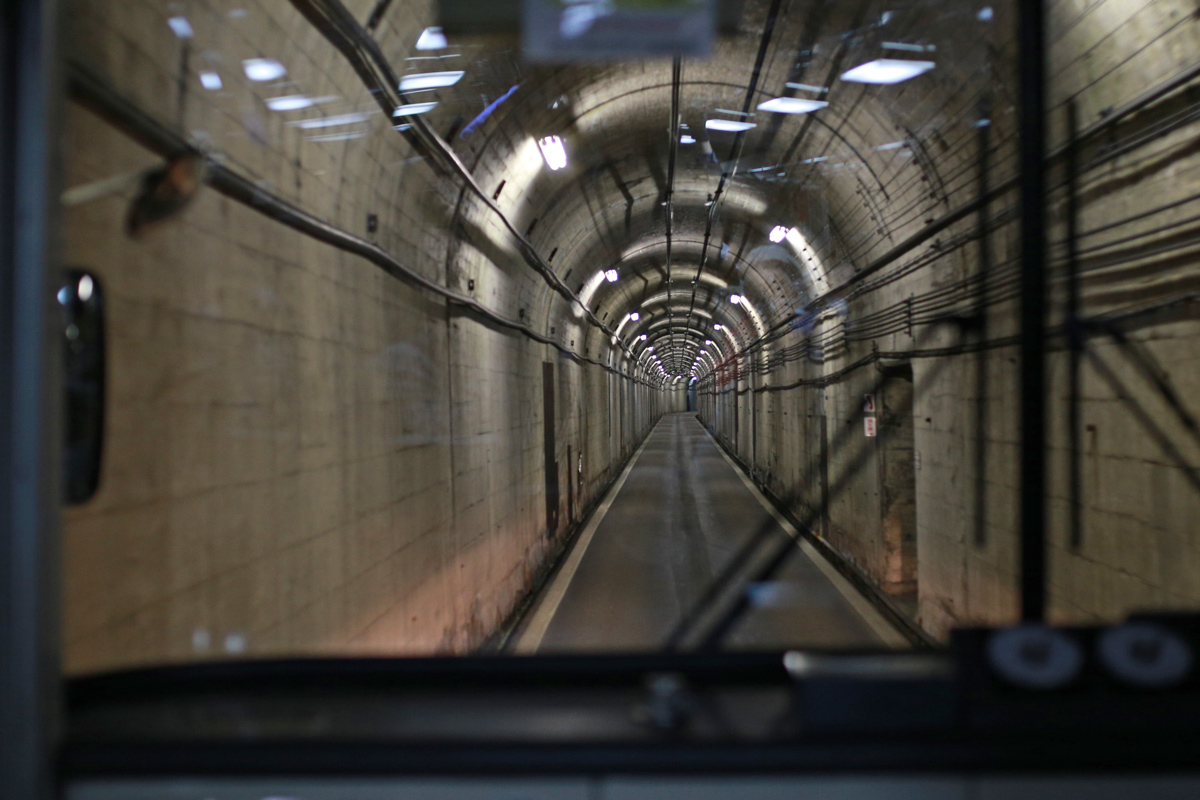 Here are things you need to know about Tateyama Kurobe Alpine Route Snow Walls:
The Fact 
The Tateyama Kurobe Alpine Route sits between Toyama and Nagano. The route opens for public since 1971 and is famous of its Snow Walls. The Snow Walls stand in Murodo which is situated at 2.450-metres altitude. Murodo has the heaviest snowfall in the world which makes it impossible to access the area from mid of November to early April. It takes three months to open up the Snow Walls trail for visitors. Tateyama Kurobe Alpine Route is accessible for public starting from mid of April to November. The Snow Walls however will only last up to early June.
The Tateyama Snow Walls can reach more than  20 metres high at its highest point depending on the snowfalls. It is best to take pictures of the Snow Walls with the passing by bus or trucks at the highest point of the walls.
The Snow Walls opens from 10am to 4pm daily. However, visitors staying in Hotel Tateyama are allowed to visit the Snow Walls with a local guide at 5pm. By this time, there will not be any other visitors than Hotel Tateyama's guests.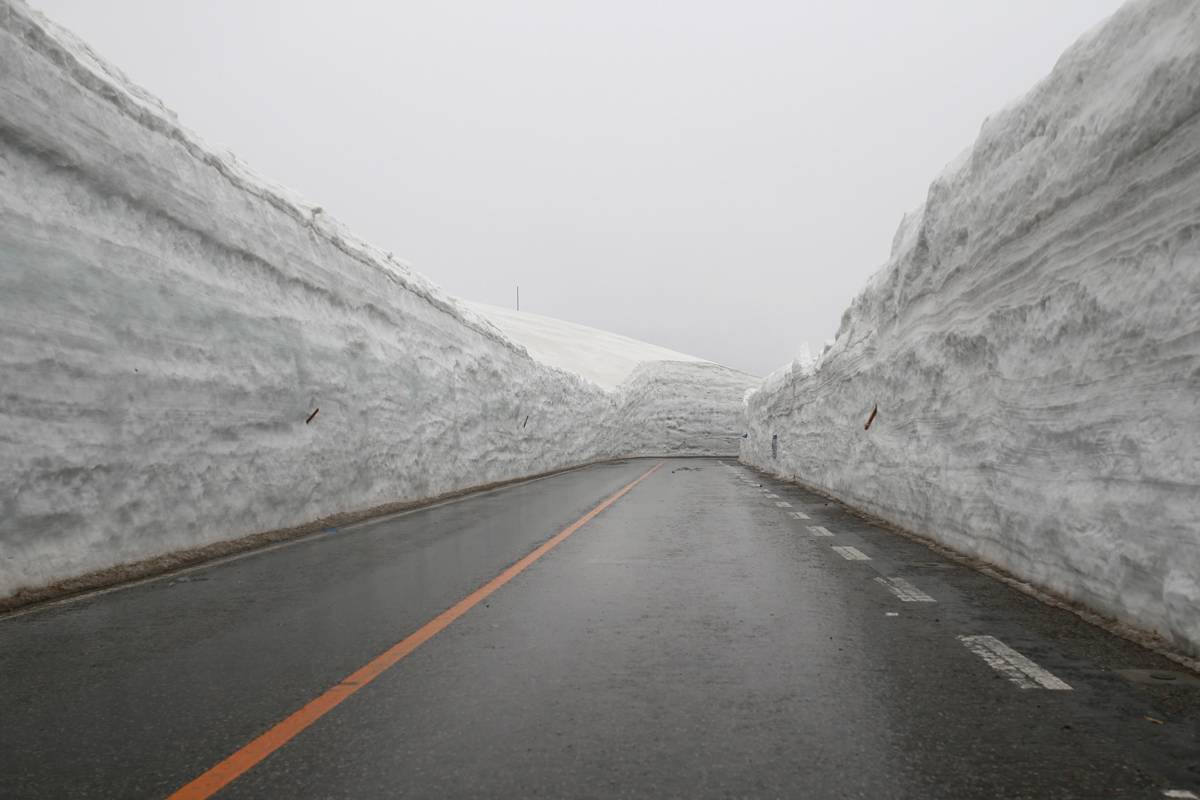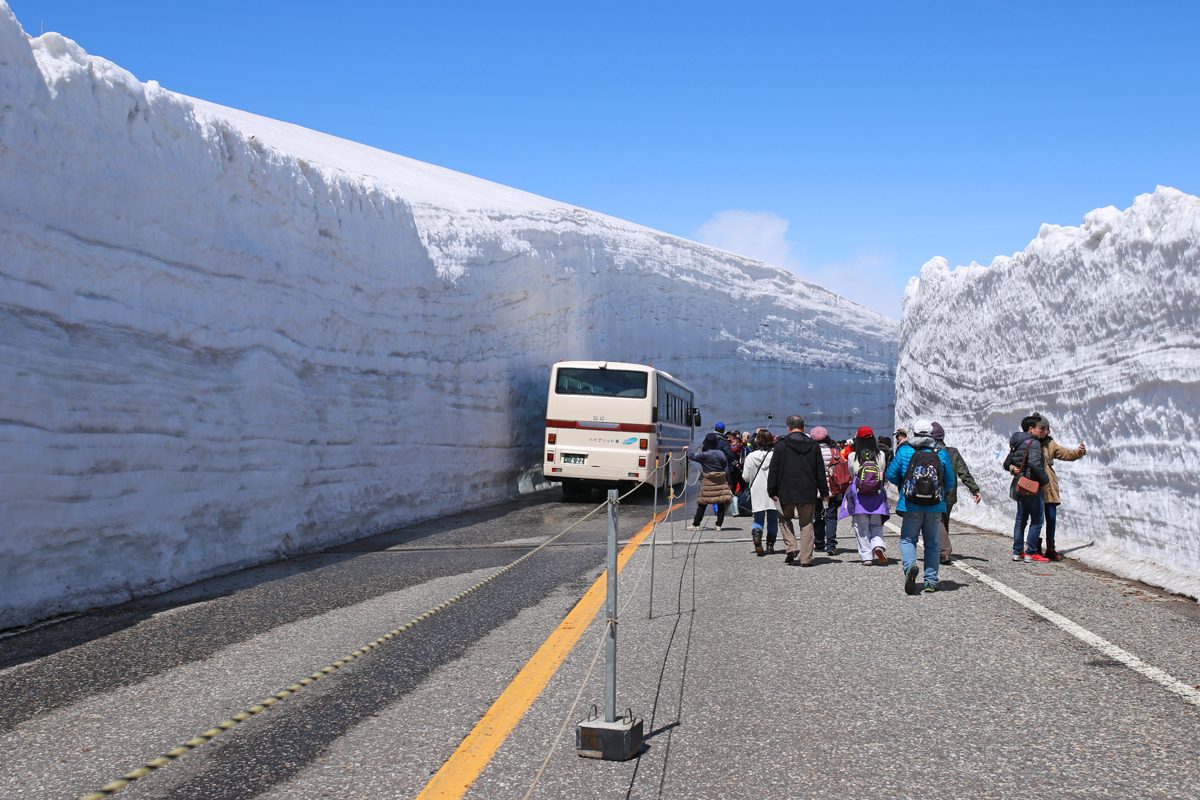 Best Time To Visit
Tateyama Kurobe Alpine Route is stunning all year long. It is closed for public from mid November to early April. The best time to view Snow Walls is by early spring when the Route first open for visitors  (mid April to May). As the earth is getting warmer, the Snow Walls will not last long and may not reach fifteen metres high by June. This year, the snowfall was not as heavy as many years ago. The highest point of the Snow Walls was only thirteen metres high and the road inside the Walls was not covered by snow.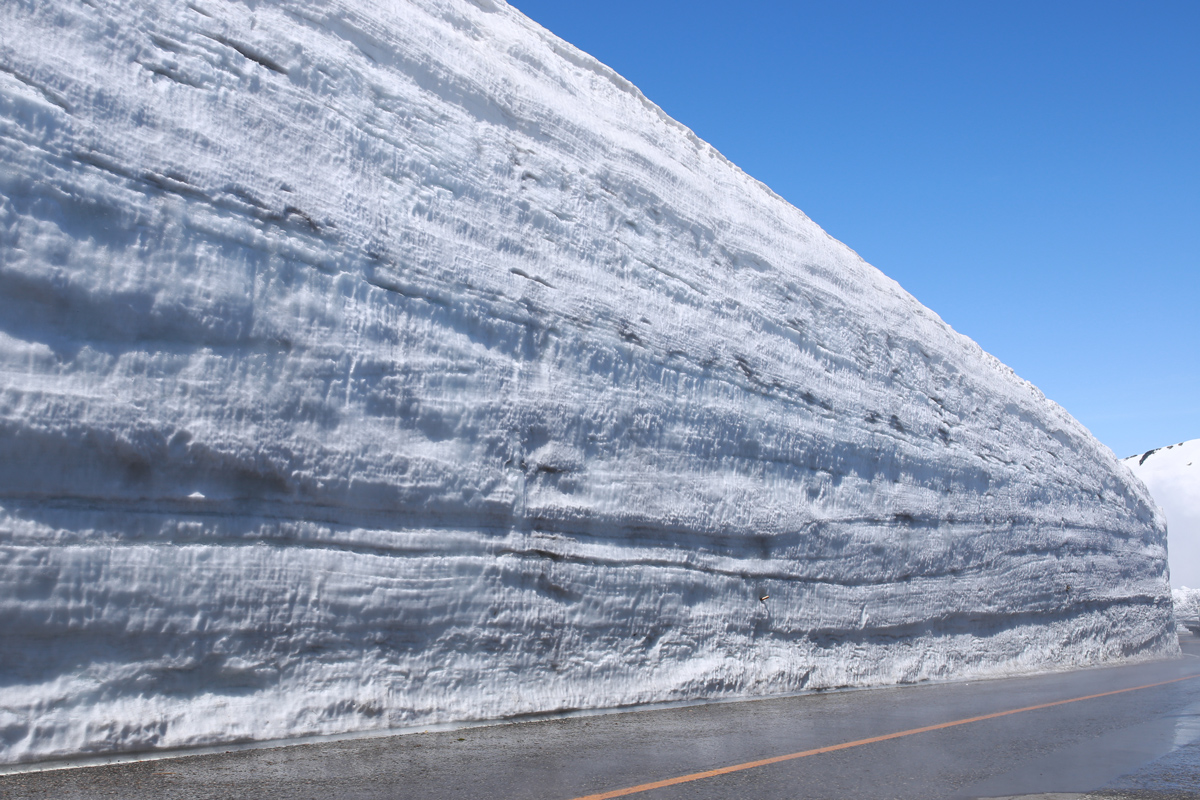 In summer, Tateyama Alpine Route is popular for hikers.
Autumn comes early in Tateyama Kurobe Alpine Route. By end September or early October, leaves within this vicinity will start turning red.
Getting There 
Traveling to Tateyama Kurobe Alpine Route then coming back to Tokyo just to see the Snow Walls in a one day trip is insane. As much as we all want to save time and money while travelling, Tateyama Alpine Route will never be a one day trip in April to May or end or September to October.
You may reach Murodo where the Snow Walls are in early spring but you will find difficulty to return back to Ogizawa or Toyama in time. There will only be crowded and extremely crowded in Tateyama when the Snow Walls are opened for public. When it gets extremely crowded the queue can reach up to 300 metres or even more in Golden Week. It takes more than 3 hours queue to get into a trolley bus then another hour or more for ropeway during that period of time.
Staying in Tateyama or the nearby area: Toyama or Midogahara is the best way to make the most of the trip.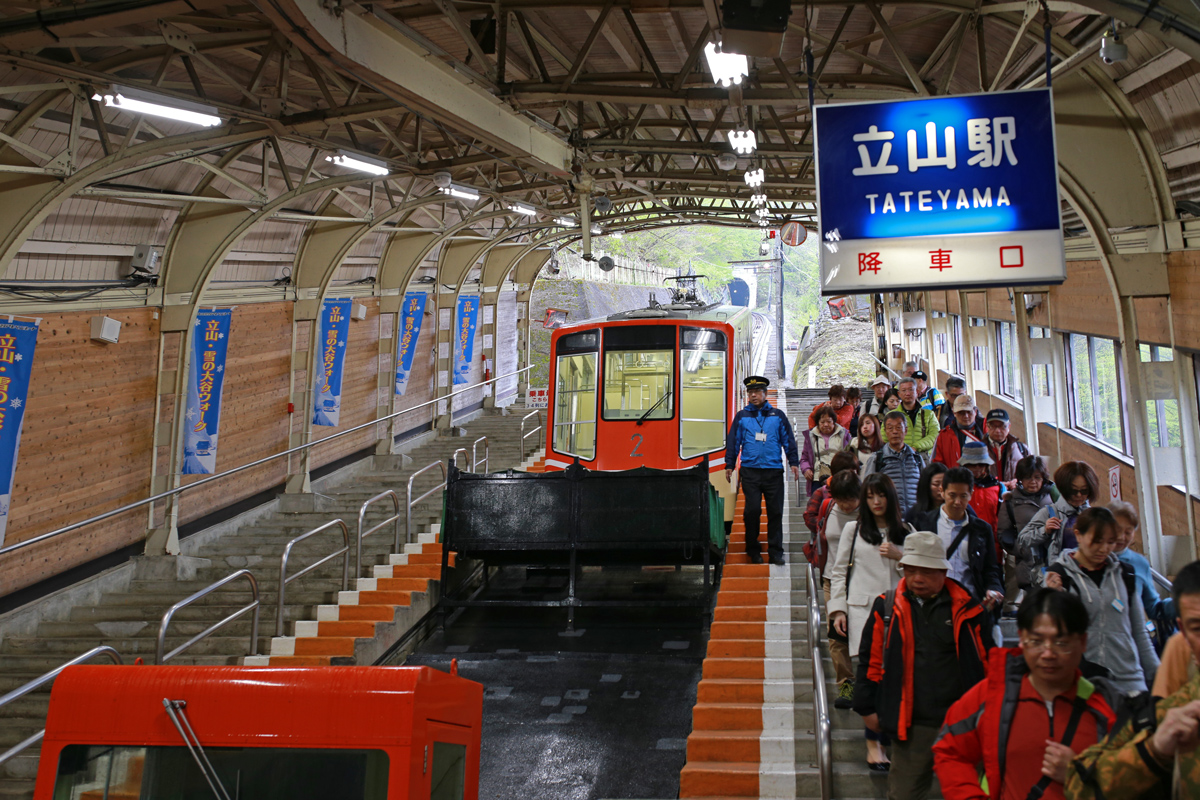 Murodo can be reached from two directions:
From Tokyo to Tateyama Station by JR Hokuriku Shinkansen to JR Toyama Station (2 hours 10 minutes) then continue from Dentetsu Toyama Station to Tateyama Station (1 hour). Then continue by cablecar to Bijodaira then by bus to Murodo
From Tokyo to Ogisawa by JR Hokuriku Shinkansen (1hour 45minutes) then continue by bus from Nagano to Ogisawa (1hours 45minutes). From Ogizawa to Murodo by tunnel trolley bus to Kurobe Dam then by cable car to Kurobedaira then by ropeway Daikanbo then continue to Murodo by tunnel trolley bus.
Or by taking evening bus from Shinjuku Station to Ogizawa (6 hours journey). The bus ticket must be purchased way in advance.
The fastest way to reach Murodo from Tokyo is by taking shinkansen to Tateyama Station then continue to the next means of transportation. Murodo can be reached within an hour from Tateyama Station.
It is best to go there by joining a pre-arranged tour programme and spend one night in Tateyama rather than organise the trip individually. Pre-arranged trip has organised transportation tickets in advance which save time to queue. By the time this article is written, the Tateyama Kurobe Alpine Route announces that it is not possible to visit Tateyama Alpine Route Snow Walls in a one day trip due to large numbers of visitor from 22 April to mid May 2016.
Weather 
Like weather in any other mountainous places, weather in Tateyama Kurobe Alpine Route is unpredictable. It changes in a matter of hour or even minutes count. Strong wind will sweep away the clouds and turn the day into a bright blue sky. In a matter of minutes strong wind can either stop the rain from falling or even makes it even worse.
Early spring weather tends to be frizzing and rainy with fierce wind. Raincoat, hand gloves and snow/rain boots (never sneakers) are needed for a visit in April to May. Umbrella will never work in fierce wind.
On a bright sunny spring day, the snow reflects the sunshine which makes us get sun burnt easily. Having sunscreen in hand really helps to prevent sun burnt.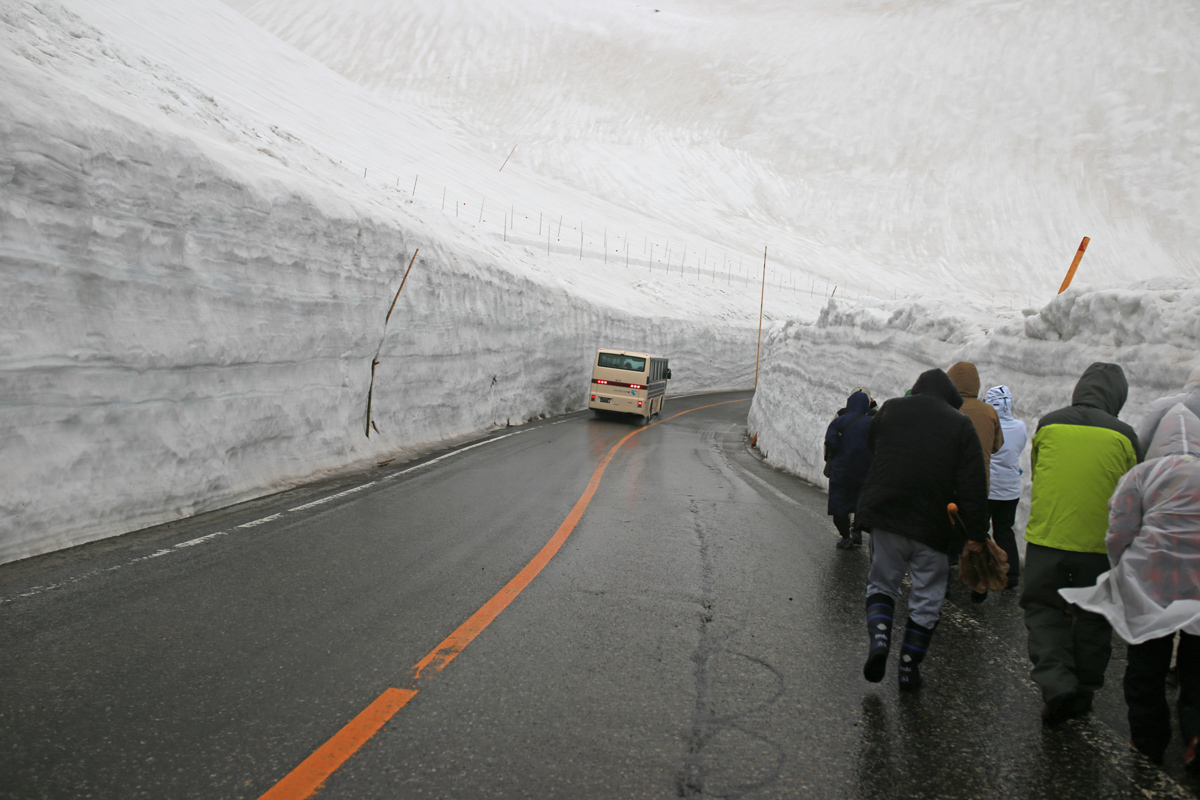 Stays
No better alternative than staying in Hotel Tateyama in Murodo. Not only this hotel is located right in front of the Snow Wall within five minutes walking distance, it also has a privileged access to the Snow Walls after the trail close for public at 4pm.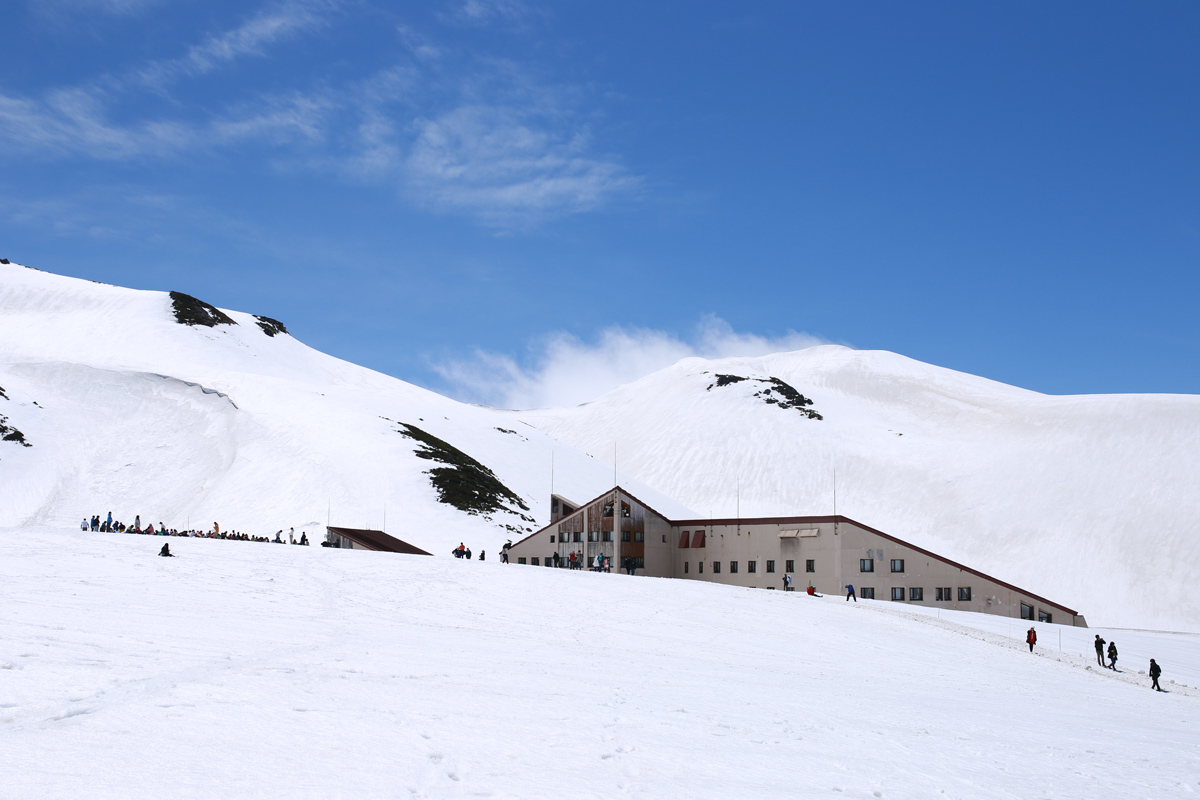 On a fine weather Hotel Tateyama organises sunrise walk for hotel occupants. We were a bit unfortunate that it was raining heavily since we arrived at the hotel until the next morning.
We would never be able to take this picture at exactly 10am if we stay outside Murodo.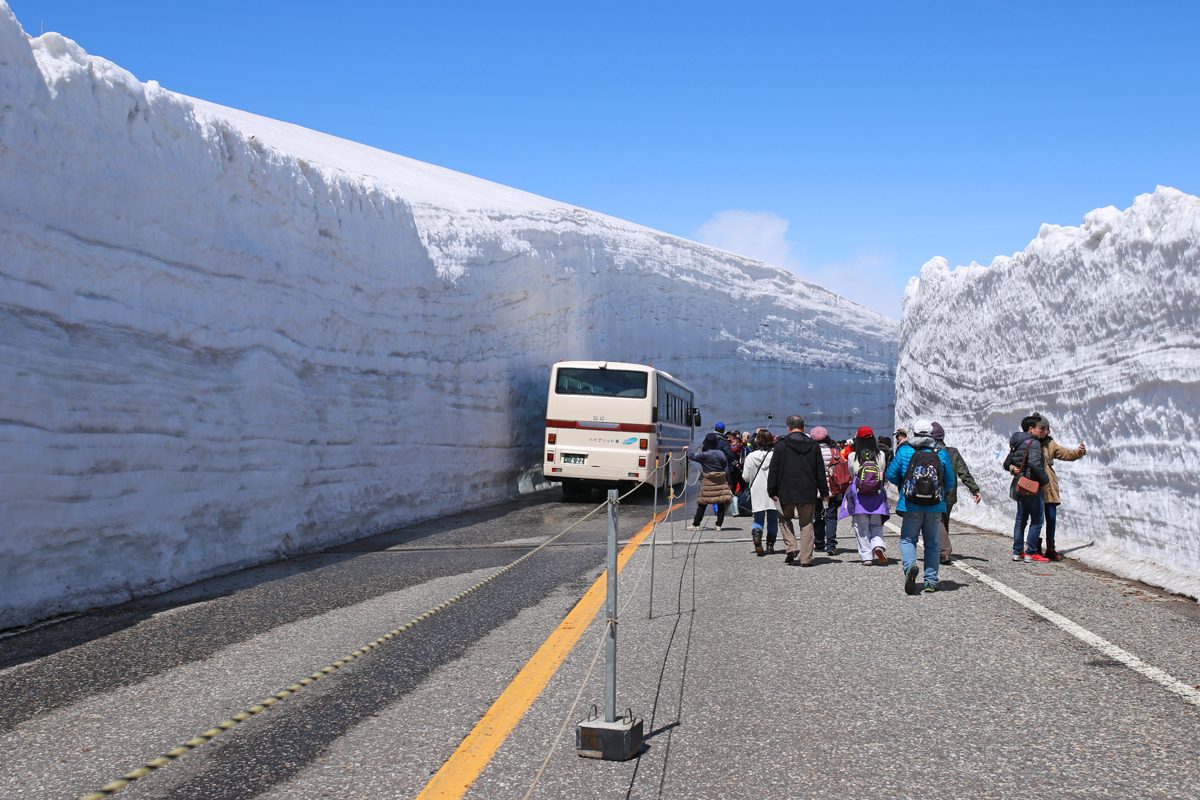 Eats
There are two restaurants and a cafe inside Hotel Tateyama in Murodo. Other restaurants are available at ground floor of Murodo station. It takes hours to queue for a table in the restaurant in peak season especially on weekdays. It is wise to get bento (meal box) or sandwich in hand before heading to Murodo and avoid the long queue at the restaurants / cafe.
There is also restaurant in Ogizawa station where you can have brunch or lunch before heading to Murodo. It is less crowded than any restaurant / cafe in Murodo.
Those joining tour programme will have option to reserve bento from the tour agent.