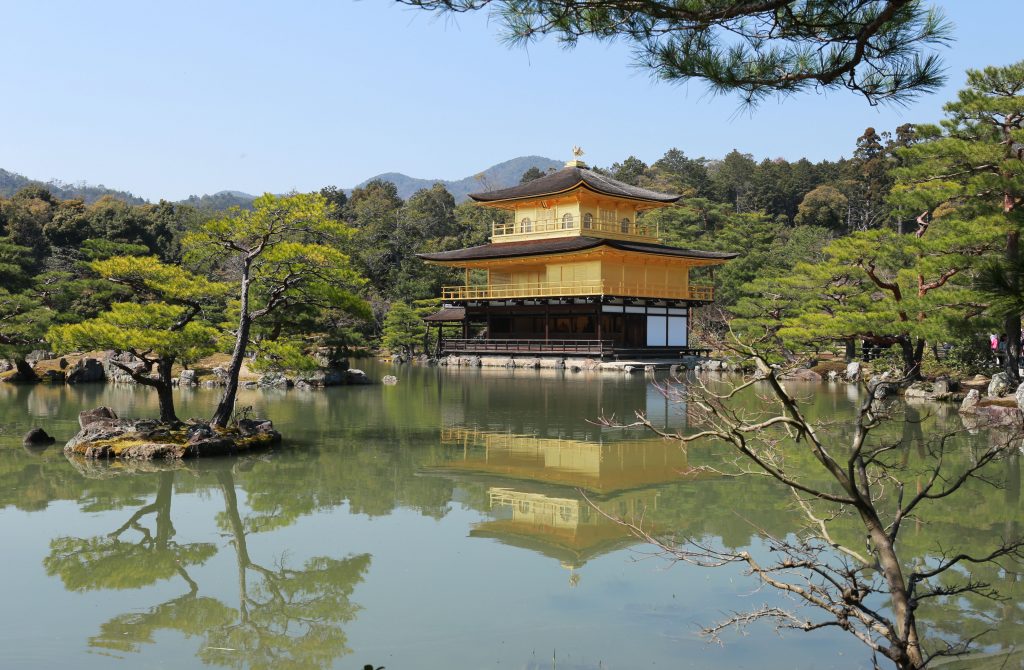 Travel and Leisure magazine recently released a list of world's best cities. Kyoto is named as the best city in the world based on responses from thousands of experienced travelers in the magazine's annual survey. It is the second year in a row for Kyoto to be on top of the list. A second year for Kyoto to feel proud about the city that once was the capital city of Japan.
I could not agree more with the respondents of the survey that Kyoto is world's best city. It is world's best city for strong reason: the historical places, ease of transportation and safety is never an issue. Bus and train operates regularly to reach famous places. Taxis are available in many places in the city. Hotels from luxury to modest type are everywhere with easy access to the station. All in all, Kyoto is a place for all types of travelers, be it those who are traveling with style or backpackers. With the news of being voted as world's best city, Kyoto will be even busier with tourists than it already is.
Visiting Japan without spending time in Kyoto is an incomplete journey, I must say. The city, which was a capital of Japan for over 1,000 years, is a quintessential of Japanese culture. From splendid temples and shrines, geisha old district Gion, soaring high bamboo stalks to traditional Japanese cuisine, Kyoto charms visitors from every corner of the world.
Here are things to consider before planning your travel to Kyoto:
Getting There
Kyoto is accessible from everywhere thanks to Japan's robust transportation system. The most preferable way to reach Kyoto is by bullet train/shinkansen if you plan to stop in a different city than Kyoto. Riding shinkansen itself is quite an experience especially if you visit Japan for the first time. If your first stop is Tokyo:
Tokaido shinkansen operates regularly  between Tokyo and Kyoto stations: Nozomi shinkansen (2hours, 18minutes), Hikari shinkansen (2hours, 45minutes).  If you have a JR Pass, you can only ride Hikari shinkansen. Shinkansen price is higher compare to bus.
Bus is most preferable for those who are on budget. A night bus like Willer Express is way much cheaper than taking shinkansen. It takes 7 to 8 hours and there are a lot of choices of night bus between different stations in Tokyo and Kyoto.
From Osaka:
By train: JR, Hankyu or Keihan line. Taking JR line is a better option for those who have JR Pass as you do not need to purchase Osaka – Kyoto ticket anymore. JR/Hankyu/Keihan line connects different point of Osaka and Kyoto: Hankyu from Umeda station Osaka to Kawaramachi station on Shijo Street takes 42minutes ride,  Keihan reaches Gion-Shijo station from Yodoyabashi Station in 53 minutes, JR line from Osaka station can reach Kyoto station in 30 minutes.
From Kansai Airport:
Limousine bus is the best way. There are three different companies operate limousine bus to choose from the airport to Kyoto.
JR express Haruka can reach Kyoto station in 80 minutes. It is more preferable option if you have a JR Pass, otherwise the price is more expensive.
Best Time to Visit 
Autumn brings out the best of Kyoto. Golden and red leaves turn Kyoto into a stunning picturesque than it already is. Second best time is in spring when Japan's iconic flower: sakura is in full bloom. However, sakura is always unpredictable as it relies so much on temperature for the flower to bloom and the peak only last 2 to 3 days.  In winter, some famous places like Golden Pavilion makes a breathtaking view with snow on its roof.
Duration of Stay
Kyoto has so many famous places to visit. It has 17 World Heritage Sites, 38 national treasures and 160 important culture properties.  It is best to decide what are you interested in or want to see the most. Are you interested in cultural sites plus food adventure or exploring the nature.
A two-days of stay you can get around the most famous World Heritage Sites temples such as  Kiyomizudera, Kinkaku – ji  (Golden Pavillion), Tenryu – ji and Ryoan-ji and possibly to explore other places of interest in the downtown. In three days you can capture those places and Fushimi Inari shrine but you will spread yourself too thin with this type of itinerary. A four-days of stay you will be able to capture many places in a nice and considerably slow pace.
Where to Stay
When budget permits, staying in Shijo or downtown Kyoto is the best as it is within walking distance to many popular places like Kiyomizudera temple. Second option would be to stay within southern Higashiyama area where many restaurants are. It is also a nice place to stroll along in the evening. If you plan to travel to different city after visiting Kyoto, it would be best to stay close to Kyoto station as it is much easier for you to catch the train. Buses operate regularly to  reach many places in Kyoto.
Getting Around
Getting around Kyoto is mainly by bus and train. It is cheap and convenient as it reaches many famous places. Kyoto city bus One-Day Pass is 500 Yen/adult (250yen/child) for multiple trips to many designated famous places within the city. If you go outside the designated area, flat fare of 230yen/adult (children 120yen) is applicable. Kyoto Sightseeing Pass will allow you to commute by bus and trains for multiple trips within a certain time. Sightseeing One-Day Pass costs 1,200yen/adult (children 600yen), Two Days Pass: 2,000yen (children 1,000yen).
You can buy One-Day or Two-Day bus pass from inside the bus and pay it directly to the driver. Train ticket are available at the station.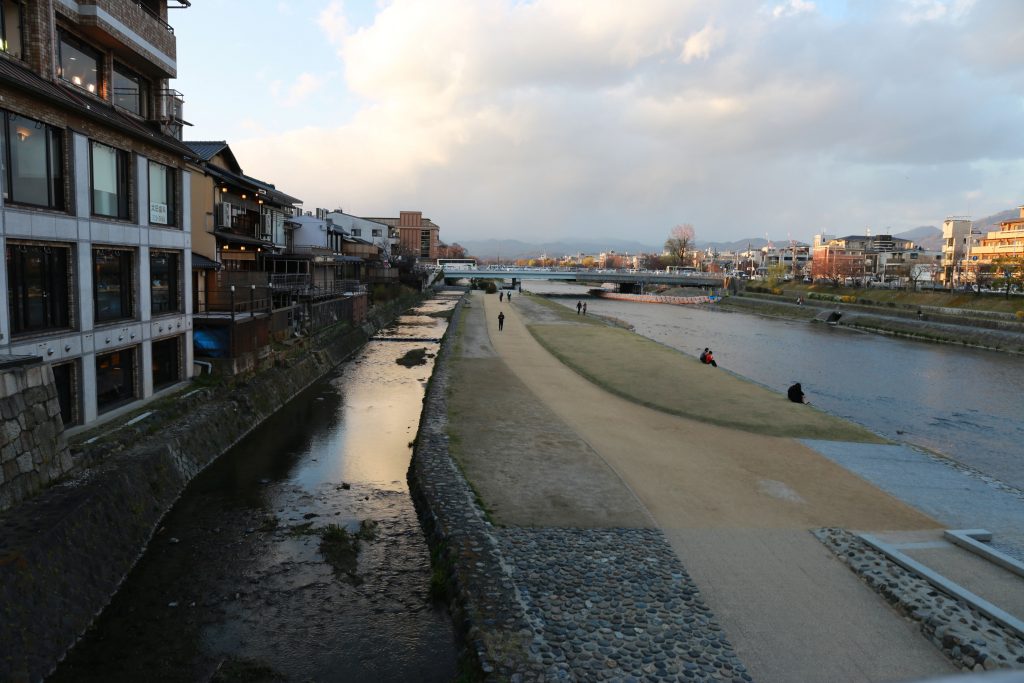 Money Related Thing 
Major credit cards like Visa, Mastercard and UnionPay are widely accepted in Kyoto. In any case you need to withdraw money, ATMs in 7-11 accept different types of international card and  it opens 24 hours.
Things to Buy
Yatsuhashi is a famous product of Kyoto. It is made from glutinous rice flour, sugar and cinnamon and has soft mochi-like texture with red bean paste filling. The most delicious yatsuhashi is the raw/unbaked one but the expiry date is a week from the production date. It is available in Kyoto station and many stores in downtown Kyoto.
Green tea or matcha is a popular gift from Kyoto. It is widely available in many stores in downtown Kyoto but Tsujiri (in Gion area) offers best quality green tea. The price is slightly higher than other stores.
Oil-blotting sheet is also famous gift from Kyoto. It is made from washi or Japanese paper. The most popular brand is Yoji-ya oil-blotting sheet which has a Japanese style female face character on its cover.
General Tips
Japan is no longer expensive due to the depreciating yen. Dine out can be expensive if you choose a sophisticated Japanese cuisine in every meal time. It can cost you more than USD 100/person for a dinner in a famous traditional restaurant. But you can save a lot of money if you eat in chain restaurant , food court or simply buy bento box from convenient stores. Good point is there are so many varieties of bento box to choose from the stores, you can never be bored with the food.
Staying on budget is definitely possible. There are numerous budget hotels and ryokan (Japanese style hotel) in the city. As long as you book a room as early as five months in advance you can always get a cheaper accommodation. Renting apartment may also be cheaper and allow you to cook your own meal (in some apartments) but this option may not always be available because of limited number of apartments for rent.
Are you interested in visiting world's best city, Kyoto? Have you been to Kyoto? what is the best thing you like about Kyoto?