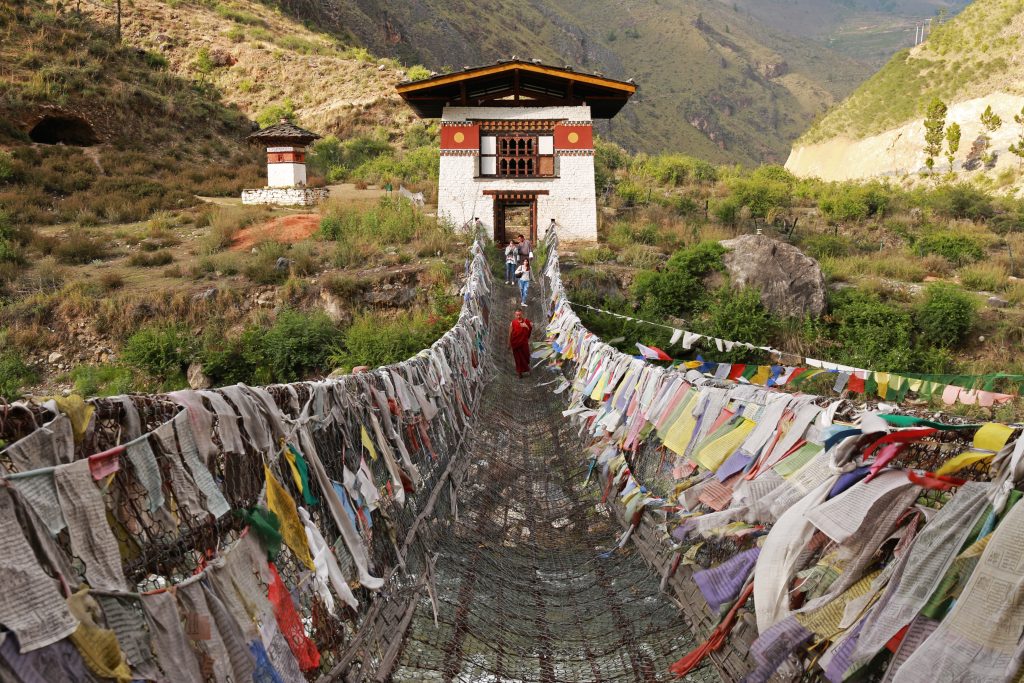 Planning a trip to Bhutan is not like planning a visit to any other country. Bhutan has a very strict tourism law as this country fiercely guards their tradition and local culture. Yes Bhutan is promoting its tourism under certain condition: all arrangement must be done by an authorised local travel agent. Where to get the information of authorised local travel agent? There is a long list of registered local travel agents in Tourism Council of Bhutan website to choose from. Selecting one is a headache, especially there are not many good review available on the internet.
We prepared our trip for quite sometime. I wrote to three or four travel agents without getting proper answers to my questions. I got several emails with attachments on Bhutan tour packages. I felt like talking to a robot instead of finding a person whom I could consult our travel plan with. In a nutshell, I was overwhelmed with the information coming from travel agents on the internet. Some of my emails bounced back because the travel agent was no longer exist. I gave up looking for a travel agent on the internet, back to the old way of doing thing: ask friends. Finally we got travel agent names from Ikumo's colleagues who were in Bhutan: Kumala  and Bhutan Travel Bureau. They helped us a lot, in fact they almost did an entire arrangement of the trip. They saved us from drowning in tons of information.
This post is not a sponsored. I choose to include those two travel agent names because they had done a wonderful job in making our stay in Bhutan memorable. It is a  decent thing to do to share the information with you all.
Let's begin with:
A Pre Departure Arrangement 
As per Bhutan tourism law, all tourists must only organize the trip via an authorised local travel agent. There hassle starts. Finding one, a well experienced and reliable travel agent to organise the trip is not an easy task. To begin with there is an overwhelming list of local travel agents to choose from Tourism Council of Bhutan. The local travel agent will do everything for us from getting a visa, flight booking, hotel reservation and transportation from/to places of our interest. You must have tourist visa number in hand before flying and show the visa number at the immigration officer and pay a visa fee of 2,500 Ngultrum upon your arrival. Money changer is available before the immigration check point.
The cost of visiting Bhutan is not as cheap as you want it to be. If you are traveling on budget, Bhutan may not be an option to visit. I must say this because there is a minimum daily package for tourists $200/person/night for off season (January, February, June, July, August and December). On busier season in March, April, May, September, October and November, the cost is higher, $250/person/night. This cost covers full board (accommodation in motel type and three times meal), transportation to go around Bhutan and a tour guide. The cost is definitely higher if you want to stay in a better hotel like a 4 stars quality hotels.
If you are a solo traveler, additional $40 on top of the minimum daily package will be applicable ($30 for a group of two).
The easiest way to fly to Bhutan is from Bangkok (Suvarnabhumi Airport) where DrukAir  and Bhutan airlines fly frequently. Alternatively, Bhutan can also be reached from Kalkuta, India but there are only several flights in a week. Bhutan can also be reached from Nepal but post earthquake flying from Nepal is not such a good option.
Last, payment must be made to the local travel agent at least three weeks before departure.
When everything is set, get ready for:
Things to Do in Bhutan 
We never let any travel agent design our trip. There is so much joy in designing a travel itinerary. It is almost like  as personal as writing a travel diary, other's involvement should only to support the without making us losing what we want to see the most (that includes off the beaten path). In other words please draft that itinerary by your own then consult it with the travel agent to check if the time is feasible. We created our travel plan by our own choosing things and places we wanted to see. Like going to off the beaten path in Bhutan, we chose Chhuka. After a serious discussion with the travel agent, we managed to go to Chhuka, a place rarely seen by many travelers. Of course we went to famous places in Thimphu, Paro and Punakha. Here are  list of our to do things:
THIMPHU, the capital city. wandering around this main city is such a joy. Rustic buildings, traditional houses, souvenir shops and traffic booth are mesmerising. There is not any single traffic light in this country. At the busiest street, a traffic officer is directing the traffic from the booth. Take a snapshot of traffic officer in working. Points of interests:
Tashichho Dzong  
Tashichho Dzong is located within walking distance of Norzim Lam street. This Dzong serves as government offices. Visitors can only enter some parts.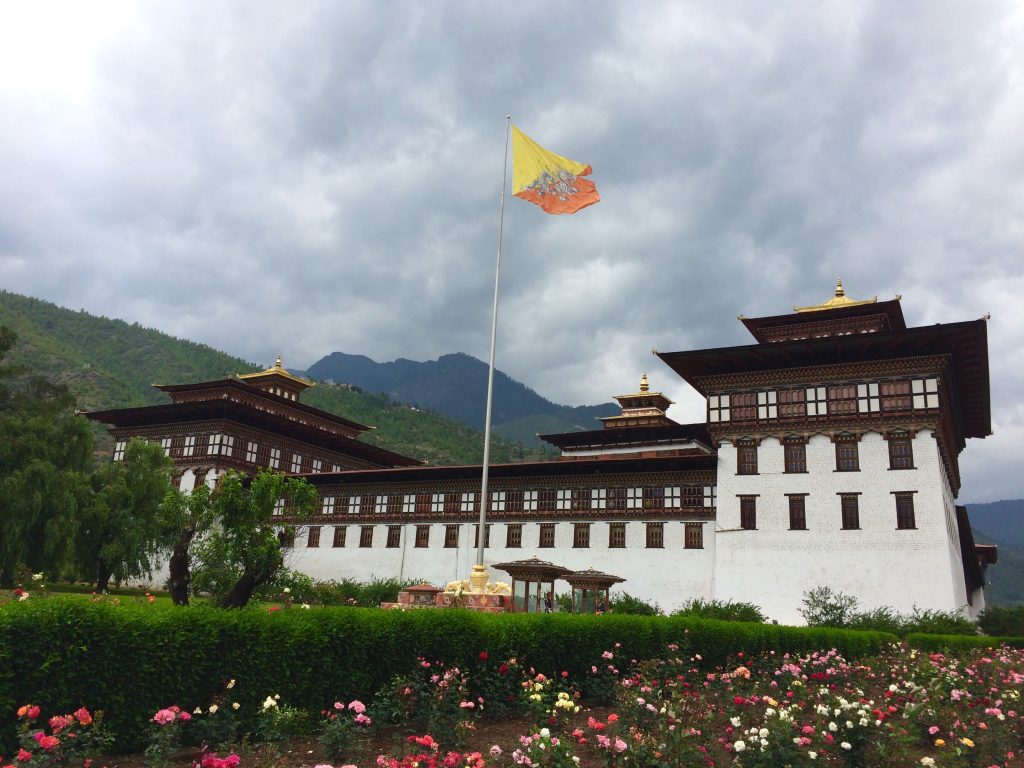 Prayer Flags Bridge 
Bridges in Bhutan generally are adorned with prayer flags.. This one in Thimphu is famous for being colourful and also close to city center.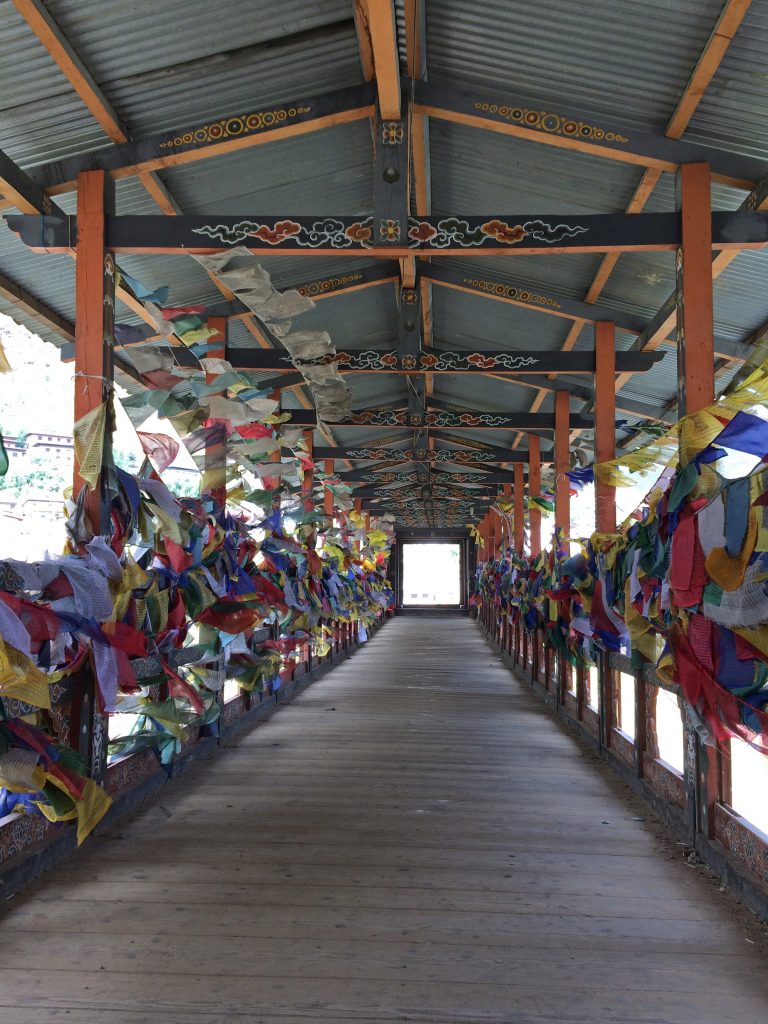 Norzin Lam Street 
The heart of the city is Norzin Lam street where many stores and souvenir shops line up on the street. The famous point is traffic booth in the middle of the road. There is no single traffic light in the country, the only sign to follow at the busiest road of Bhutan is a white gloved traffic officer, giving direction from the booth who can pass first at this intersection. The best time to take picture of this booth is as early as 7 am.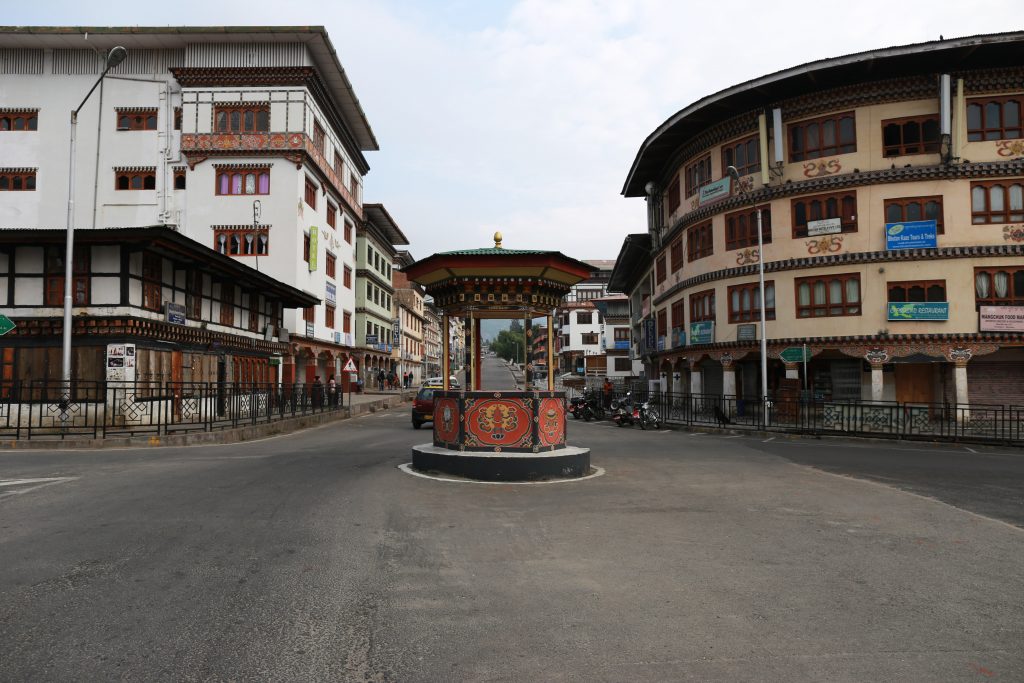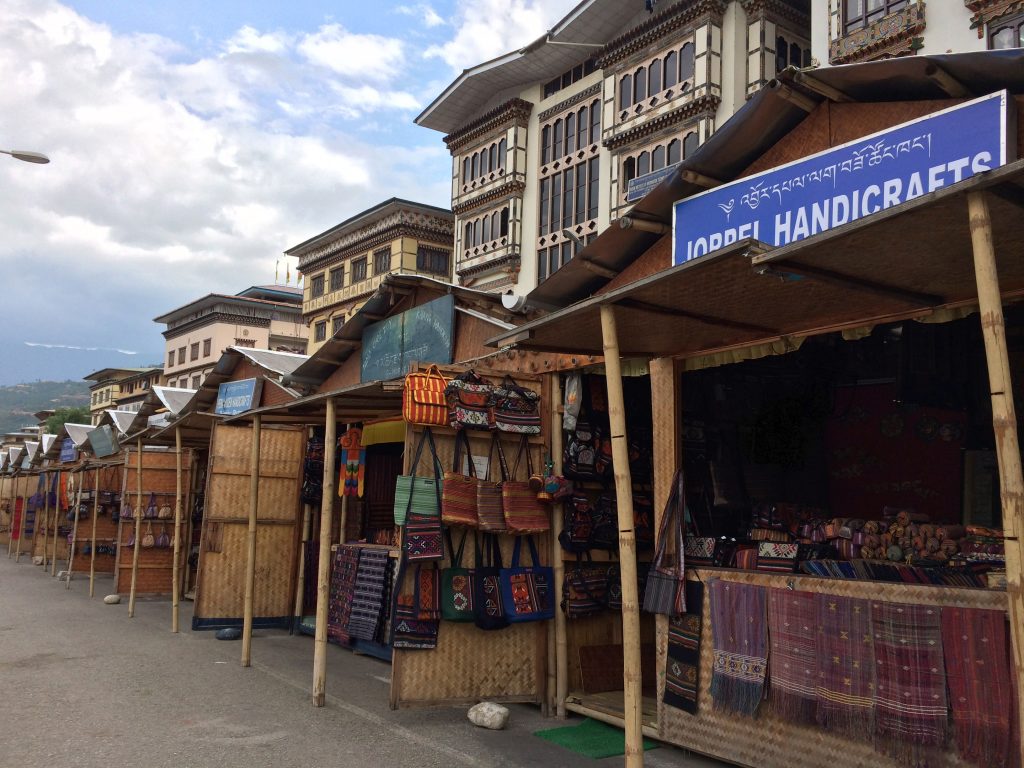 Big Buddha 
Big Buddha is located up the hill, within 5 minutes drive from Norzim Lam street. The view of Thimphu from this point is amazing. By the time we were here, the construction of the deck has not completed yet. It was a bit dusty.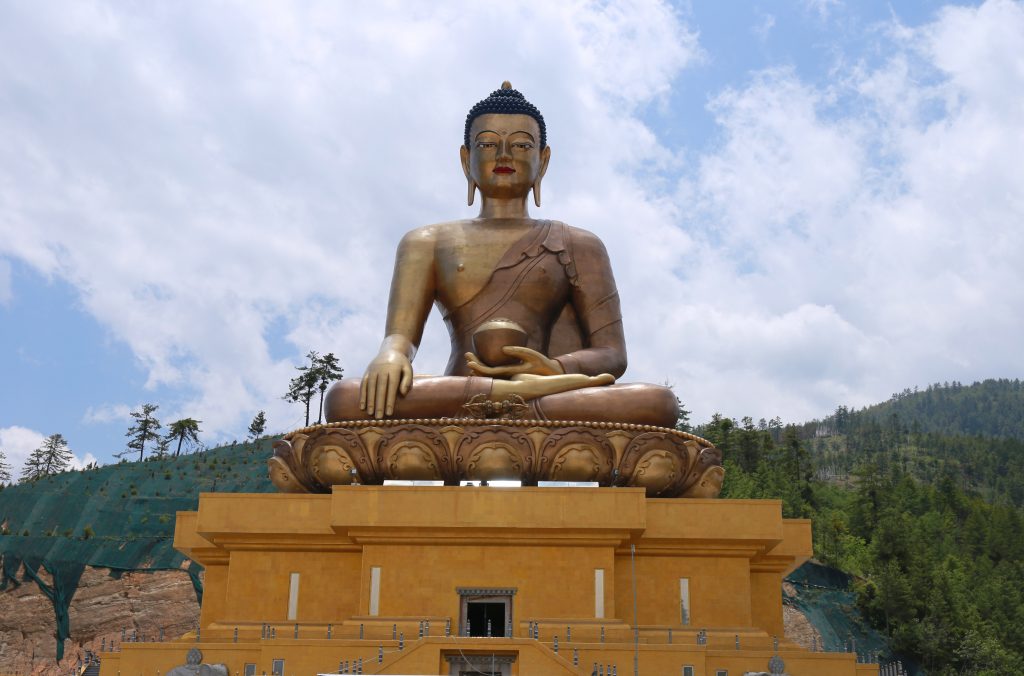 PARO is where the famous Tiger Nest or Thakshang Monastery is. Visiting Bhutan is not complete without hiking to Tiger Nest, one of the most breathtaking view in the world. The hike takes around 2 hours uphill and nearly 2 hours downhill. It worth every single sweat for view is amazing beyond words. If you are not an avid hikers (such us we are) the hike will drain you, leaving no energy left to go around Paro after. It would be better to visit Paro Dzong before hiking to Tiger Nest.
Tiger Nest
An icon of Bhutan, also the most famous spot for both local and foreigners  is Paro Taktsang or known as Tiger Nest Monastery. It was main reason we had Bhutan in our bucket list for a year. We spent 2 hours epic hike uphill, having panting breath and shaking knees before finally got our trophy on top of the hill, the majestical Tiger Nest Monastery. Going downhill is not less epic even though it takes a shorter time. Steep and slippery trek definitely can injure your knees. At this point in time you do not need a hand more than a hiking stick to lean on.
Tips for hiking Tiger Nest: wear a good fit and comfortable shoes, bring enough water to keep dehydration at bay, bring sweets like candy/chocolate/jelly especially if your blood sugar easily drops, purchase hiking stick before the hike (50 Ngultrum), always wear sunscreen.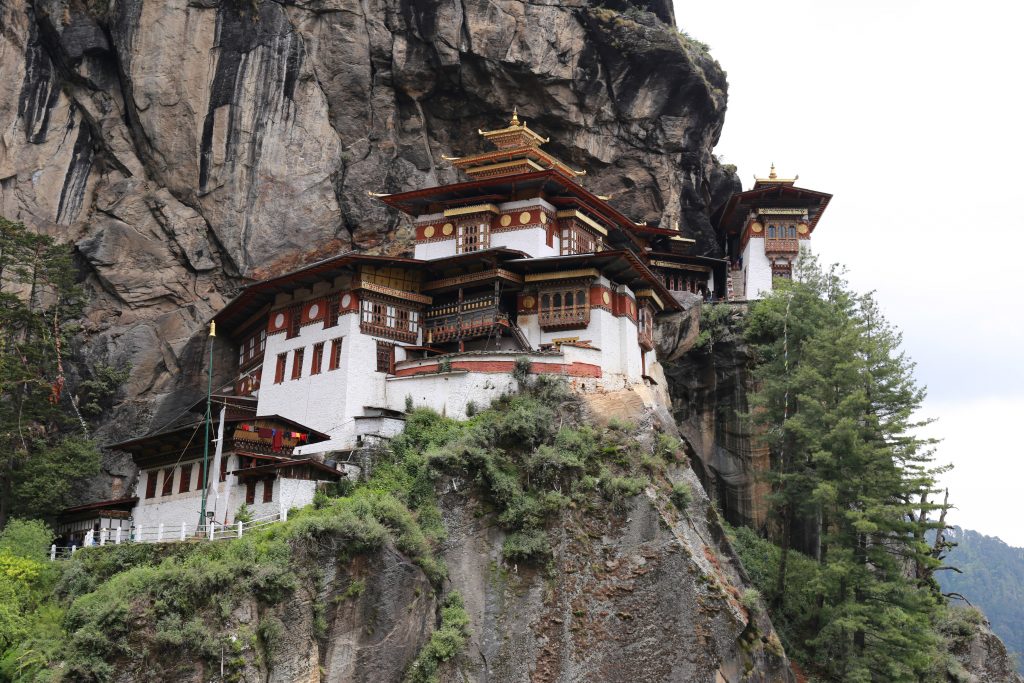 Rinpun Dzong 
One of the largest Dzong in Bhutan serves as Buddhist monastery and fortress.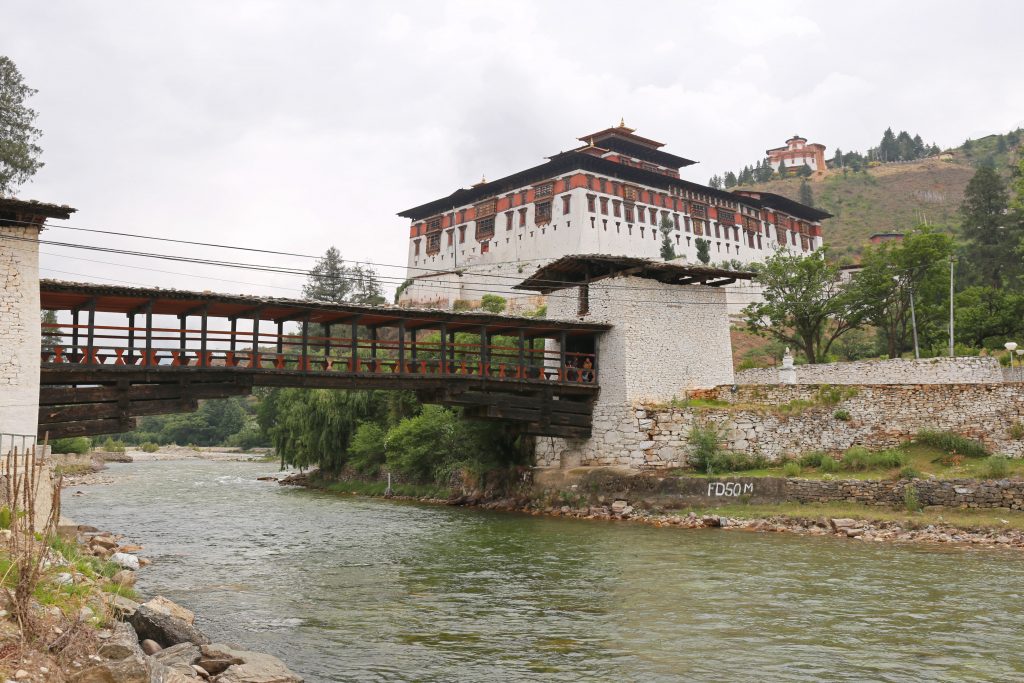 Iron Bridge
Popular because of its structure, made from chain suspension over Paro river. It is located on the side of Thimphu – Paro Highway. It looks scary at first. When you cross the bridge it is even scarier (at least for me). The current down under the bridge really is a killer and the swirling wind adding more drama to what suppose to be less than 4 minutes walk. It took me 10 minutes to cross the bridge. I felt like floating above the river that I could fall at any times. It was the scariest thing I ever did by far.
The bridge is strong, never bend for a second but it shakes when more than three people cross the bridge.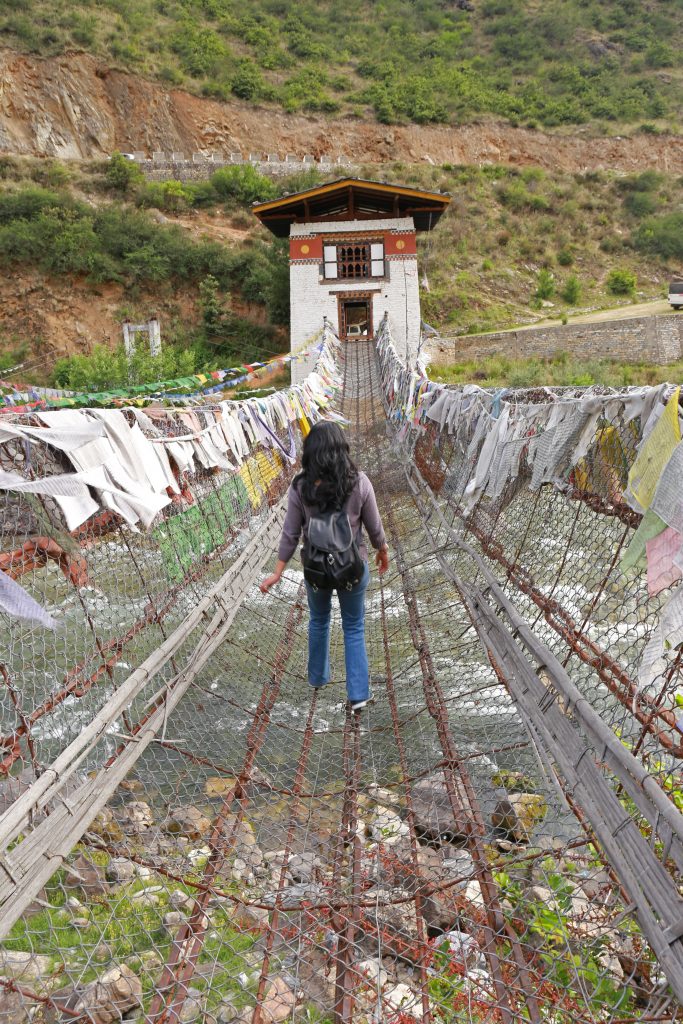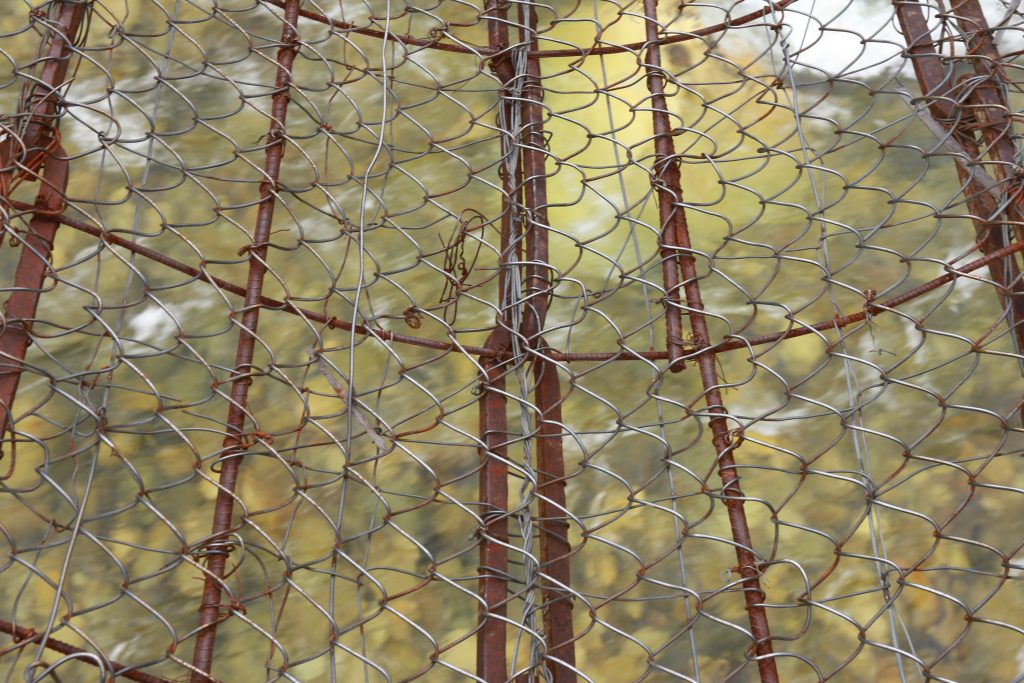 PUNAKHA is nearly 3 hours drive from Thimphu. Entering Punakha is not allowed without a permit so be sure your tour guide has  your permit in hand and give it at the security point when entering Punakha. Point of interests:
Punakha Dzong 
Other name: Pungtang Denchen Photrang Dzong which means "palace of great happiness".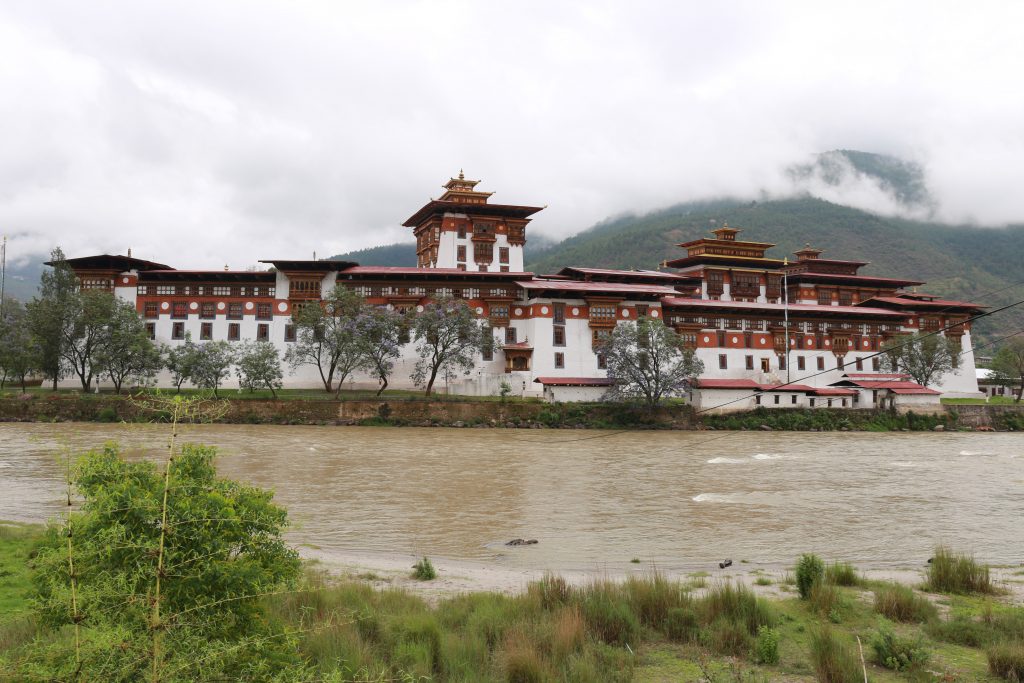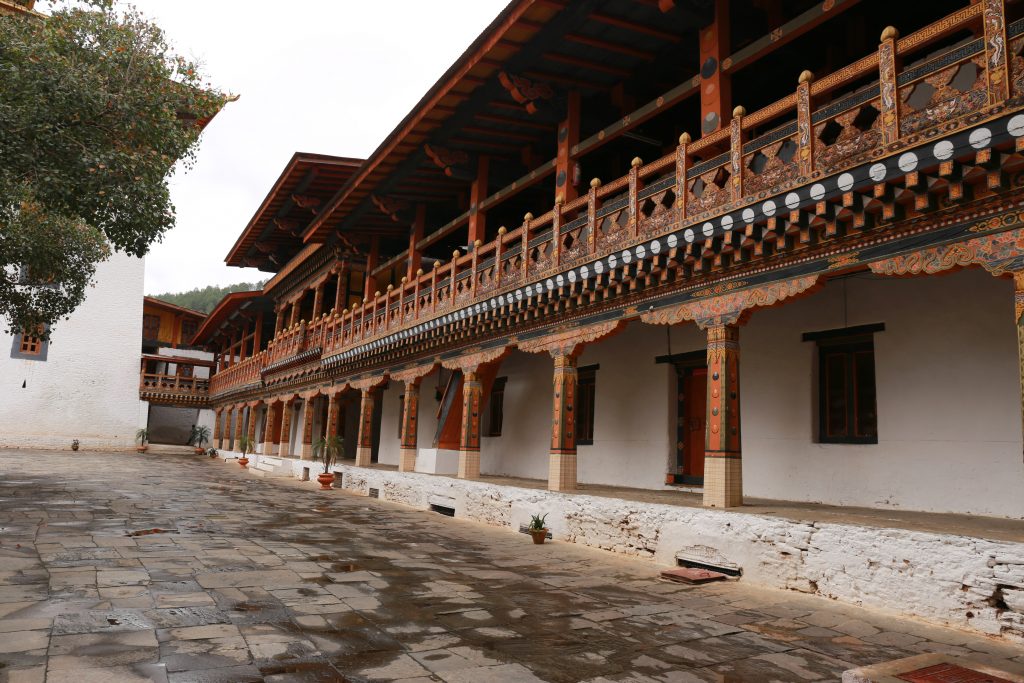 Dochula Pass
Dochula Pass is located on the way to Punakha from Thimphu. What makes it famous: the 108 stupas and 360 degree view of Himalayan mountain range are photographers heaven (when the weather is clear). It was foggy and raining when we reached Dochula Pass early in the morning and still foggy when we reached there again on our way back to Thimphu from Punakha. The second time we were there, we stopped, waited for the fog to clear up and finally could capture the beauty (and the fog).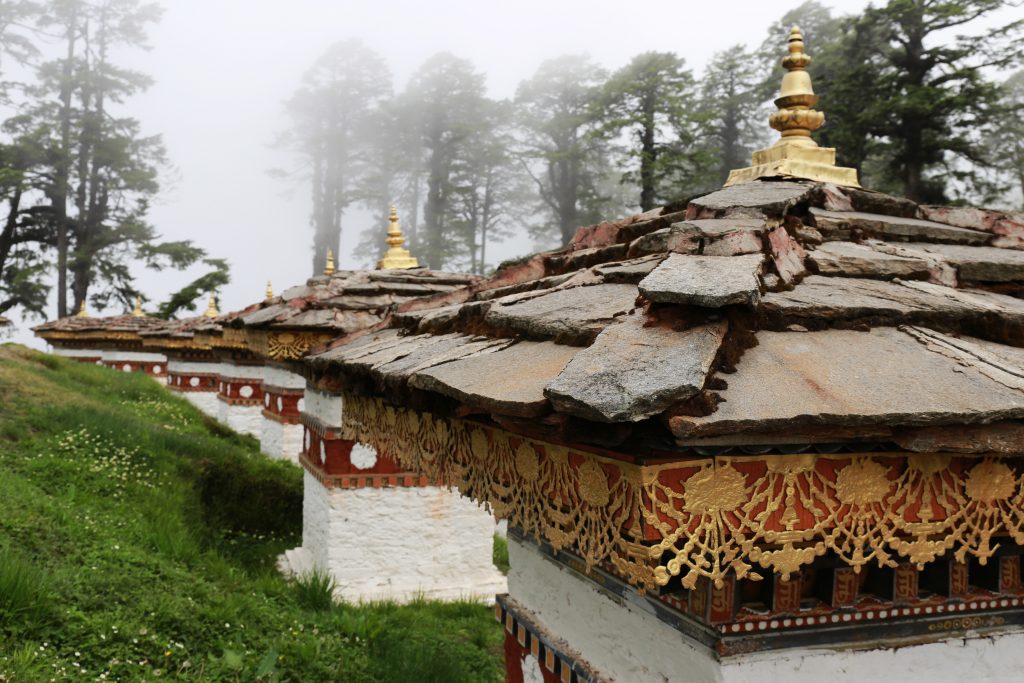 CHUKHA is really off the beaten path but the view overlooking the valleys are gorgeous. It takes 3 hours drive from Thimphu to Chukha. We stopped at several points to pamper our eyes with lush green valleys. And we managed to take picture of Chukha Dzong.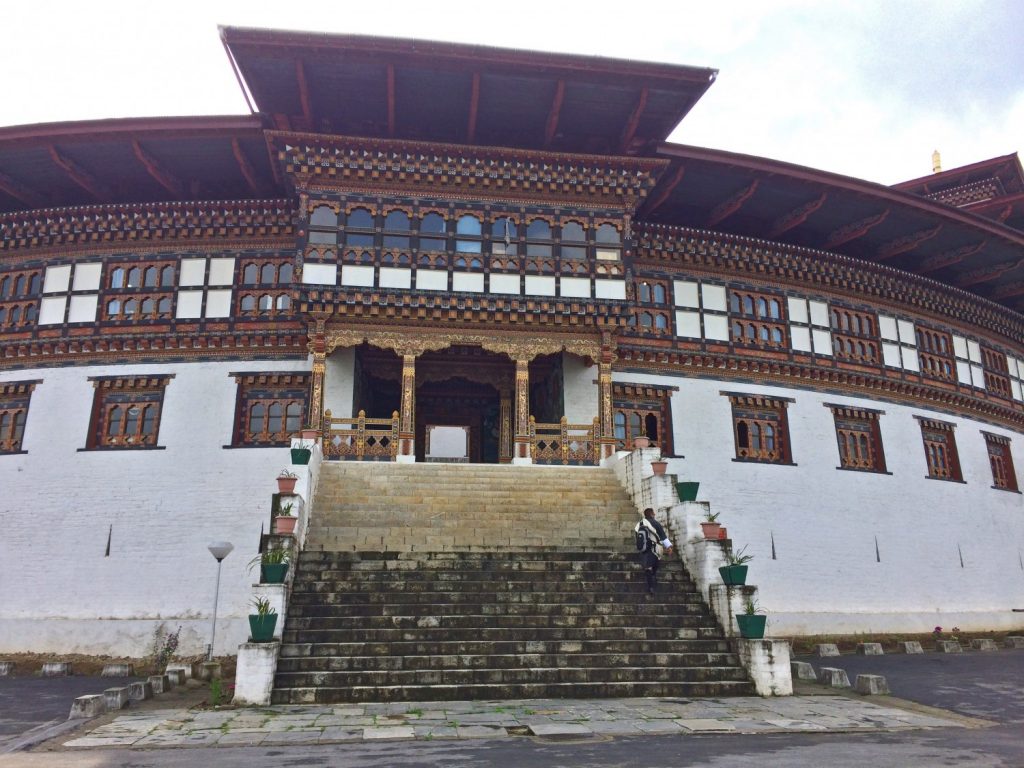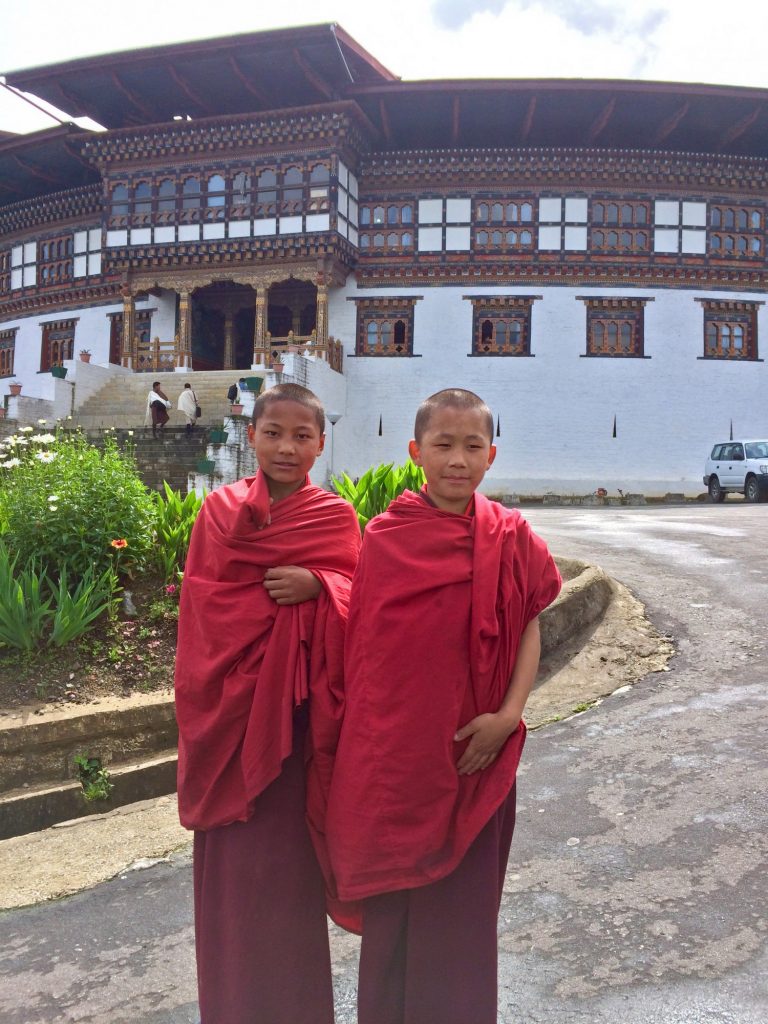 What to Eat
We always hunt for local food whenever we travel. When in Bhutan eats like Bhutanese do. Try "ema datshi" a famous local cuisine which is made from green chili and melted cheese or datshi. There are several version of ema datshi. I like the one with button mushroom the most compare with that using beef jerky. And I think the thin datshi is way much better than the thick soup which is a little bit over cheesy for rice companion. Ikumo does not like ema datshi that much, too spicy for a Japanese apparently.
Luxury resort or local restaurant? Without any doubt local restaurant serves a better food in Bhutan.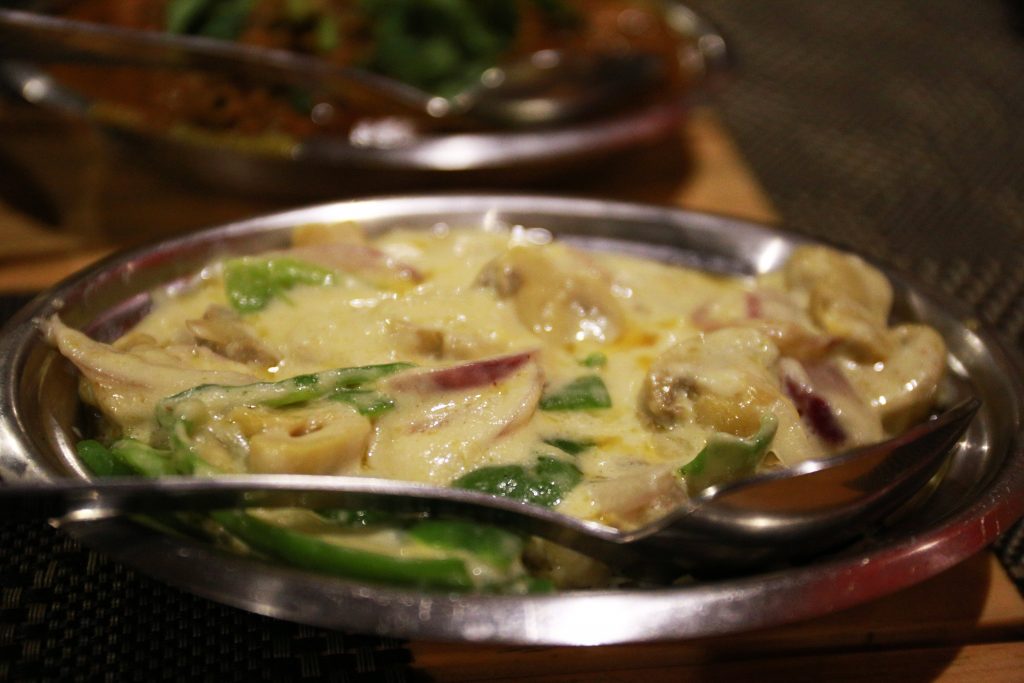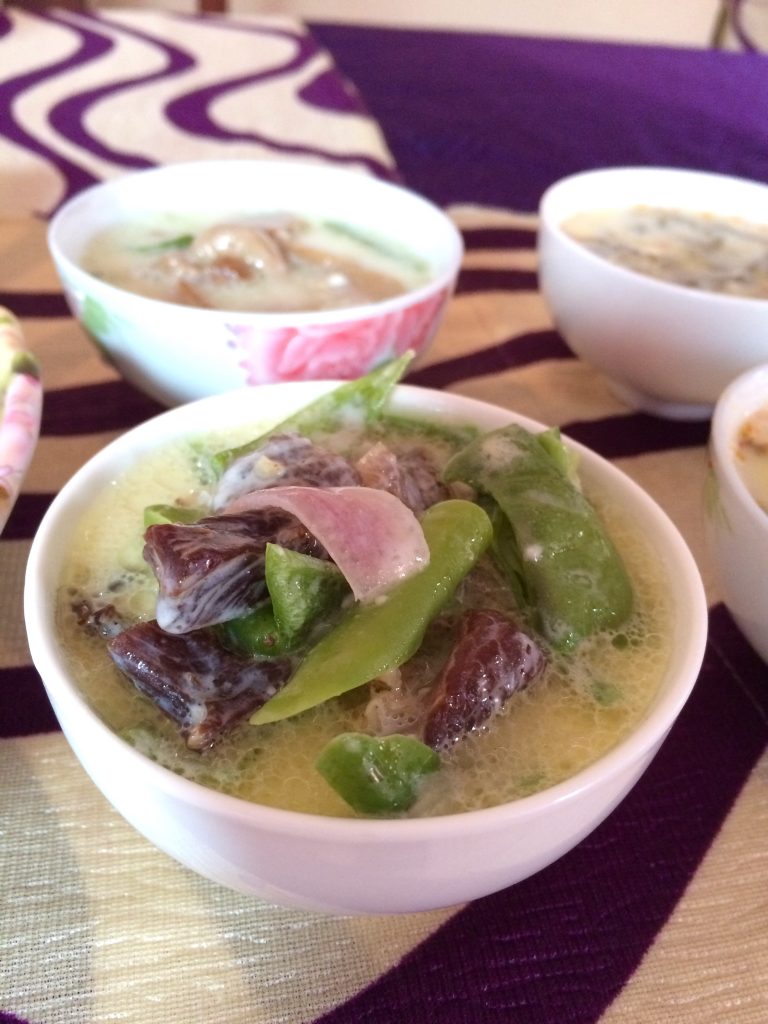 If you are coffee junkies like we are, Thimphu has two cafes offering good Americano and latte: Karma Coffee and Ambient Cafe. Ambient Cafe is more popular amongst the tourists because of the good coffee and its location at the main street of Norzin Lam. Karma Coffee is slightly off the main street but the coffee as tasty as Ambient Cafe and more popular amongst the local.
What would you include in the list of things to do while in Bhutan?