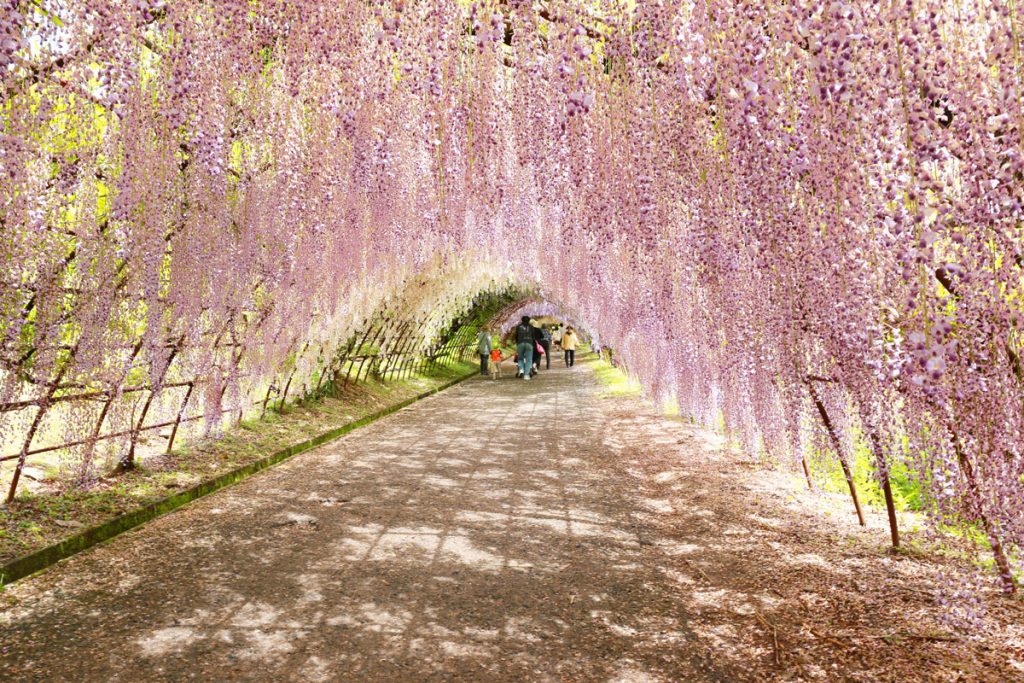 A breathtaking view of approximately wisteria tunnels is the main reason for visitors from all over Japan and the rest of the world flying to Kawachi Fuji Garden in Kitakyushu in spring. The most famous sight of Kawachi Fuji Garden is its two wisteria tunnels: 80m and 220m long.
"I'm sleepwalking through an exquisite wisteria tunnel, I don't want to wake up", it's probably the appropriate words to describe Kawachi Fuji Garden Kitakyushu the first time we stepped into the garden. Purple and white wisterias turn half moon shaped tunnels into most beautiful tunnel I ever seen. And the fresh scent of wisteria really is a reminder the beauty springs ever bring.
We flew first flight from Haneda to Kitakyusu on May 7th, right after Golden Week ended. We landed just in time for airport bus to Yahata station. We decided to take taxi instead of waiting for shuttle bus. Taxi driver could speak proper English, good enough to explain that it took 3 hours drive from Yahata station to the Garden during Golden Week (May 3rd – 6th).  I could not imagine how much money one had to burn for 3 hours taxi trip to reach Kawachi Fuji Garden. We only paid 2,800 Yen for 20 minutes of taxi ride.
Taxi driver told us that Kawachi Fuji Garden started receiving world's attention only three years ago. Foreigners were not even realised there was such beautiful Garden in Japan before. Many of taxi drivers in Kitakyushu then started learning English after so many foreigners visiting Kawachi Fuji Garden. That explained why he could speak English.
It was a little bit too late to see purple wisteria, many of them turned brown. This year spring really is too hot. White and pink wisteria were still fresh and many even still under bloomed. The sun however was hiding behind thick clouds as it was raining since morning, said the Garden's staff. Many of the pictures were taken before the sun shining that bright.
Pink wisteria is located at the upper side of the Garden.
It wasn't that crowded when we arrived. More crowds started flowing into the Garden after 1030am.
We found a walking path to up the hill, another beautiful spot at the Garden.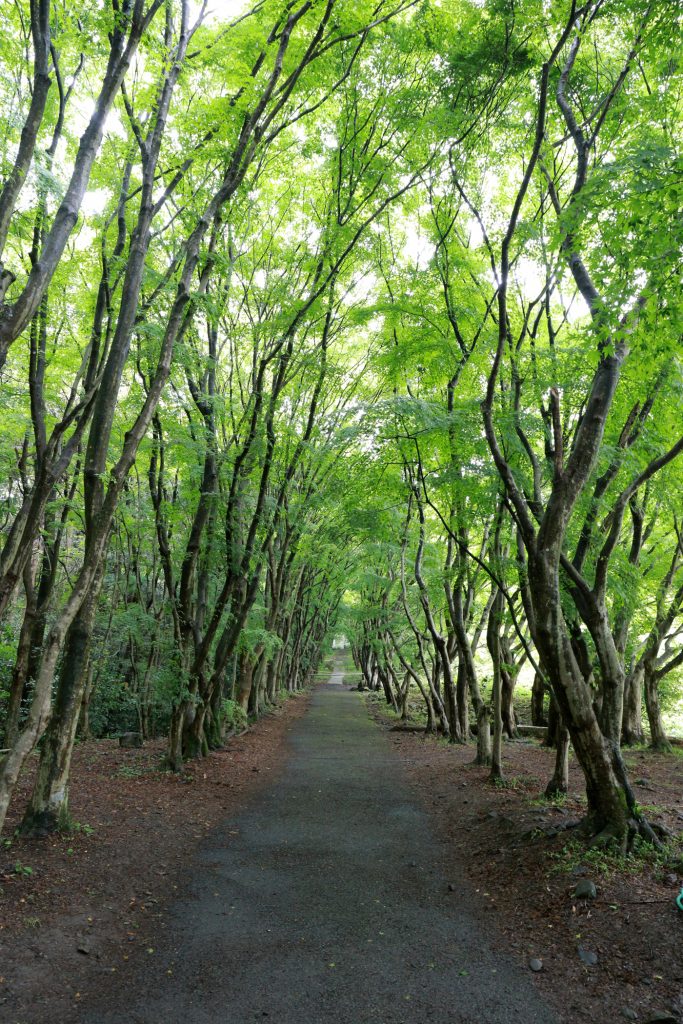 Practical Guide to Kawachi Wisteria Garden, Kitakyushu
Getting there: take flight to Kitakyushu airport then take bus to JR Yahata Station (20 minutes ride), then take taxi if you arrive early in the morning (around 20 minutes ride without traffic). First free shuttle bus to Ajisai no Yu Onsen (which is 5 minutes walk to the Garden) is at 1015am. Alternatively, take flight to Fukuoka then take train to JR Yahata station (around 60 minutes)
Going back: take free shuttle bus from Onsen, no other bus available in the vicinity
Opening Hours: 0900 am – 0600 pm
Best time to visit: end of April to first week of May  (until 5th May)
Avoid taking taxi if you go to the Garden during Golden Week because of traffic jam. Take free shuttle instead
Parking space: available but always packed especially during Golden Week
No picnic space but benches are everywhere. Bringing food & drink to the Garden is allowed
Nearby restaurant: there is only Ajisai no Yu Onsen, limited table and lots of customer
Public toilet: available at the upper part of the hill