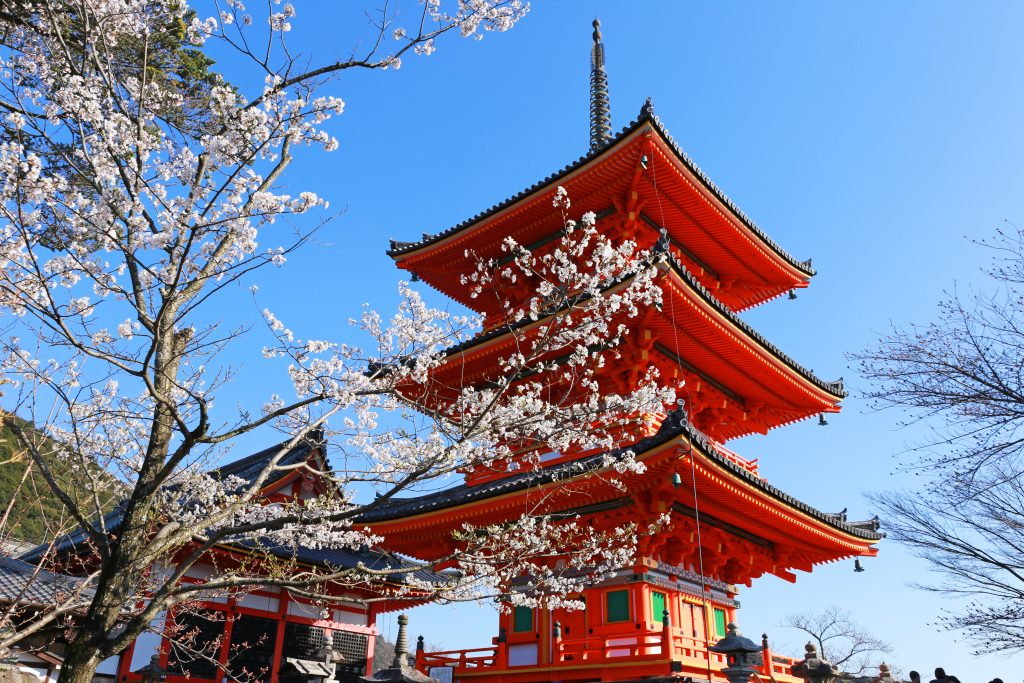 Kiyomizudera or Kiyomizu temple is Kyoto must see attraction, one of the most famous tourists spots in the city and UNESCO World Cultural Heritage.  The most famous spot of the temple is the Main Hall and its wooden stage perches on a hill looking over Sakura, maple trees and city of Kyoto.  The best time to visit Kiyomizudera temple is early spring when Sakura blooms.
When we arrived in Kyoto we knew immediately we came too early as the temperature was not warm enough for sakura to bloom. The temple was still beautiful without Sakura though. We went to the temple by bus early evening just before the sunset. It was not too difficult for us to find the temple although it is located above the hill, thanks to the crowd standing on the street. We immediately knew we were on the right stop after looking at the crowd. It took 15 minutes from the main street to Kiyomizudera given the size of the crowd we could not move that fast. There are many stores lining up on the way to Kiyomizudera selling sweets, snacks and souvenirs. We stopped for a while to get matcha soft cream.
Then we continued walking and found this sakura tree in a small alley. As much as we wanted to approach the tree we could not get our way anywhere near it. People already flocked the area. This type of sakura is called  "weeping sakura" because of its branches fall like willow tree.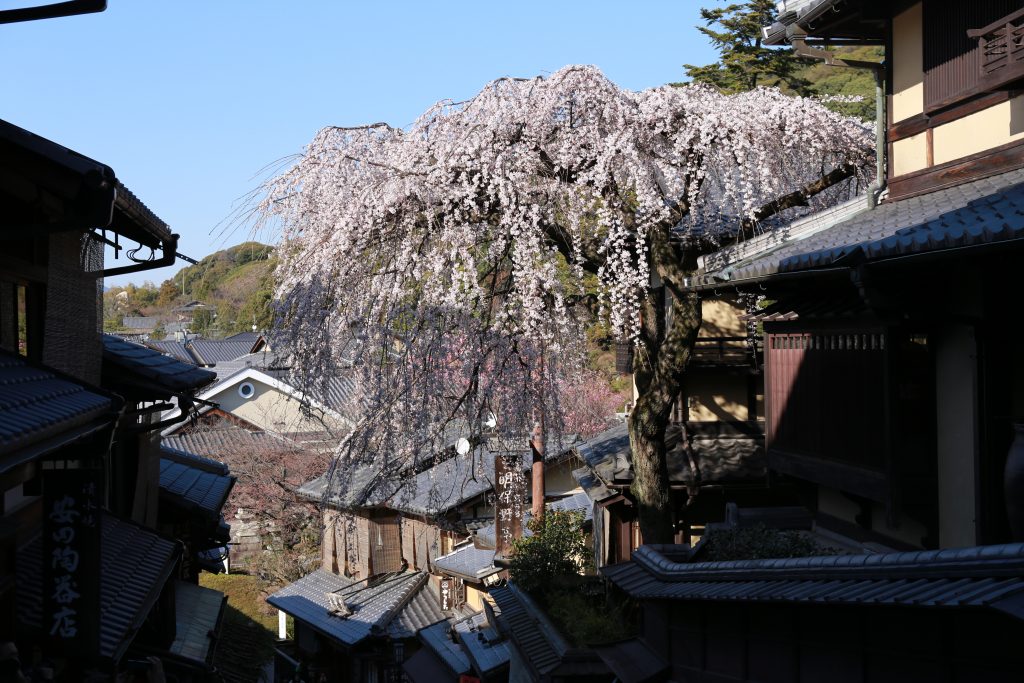 Another type of Sakura right in front of the temple was also in full bloom. This pink sakura has more petals than the previous one we saw on the way to the temple.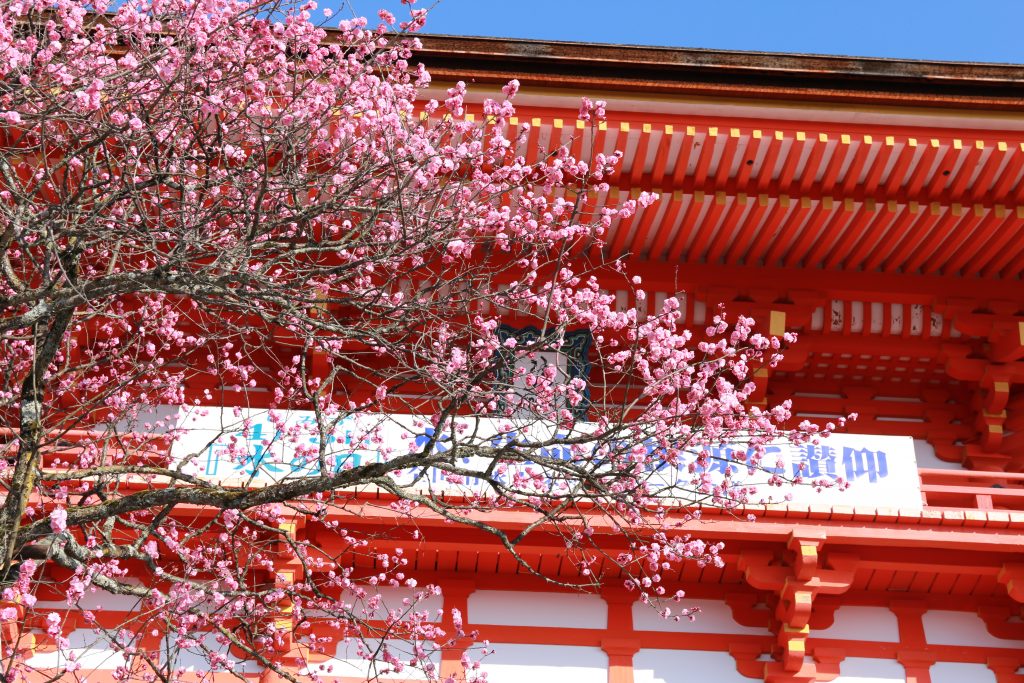 We stopped awhile at the entrance gate, looking back in surprise. Where were all these people coming from? There were just so many of them. It looked like many of them joined a guided tour (in Chinese).
We climbed few stairs and found another sakura bloomed right in front of Sanju no to (sanju no to literally means "three stories pagoda").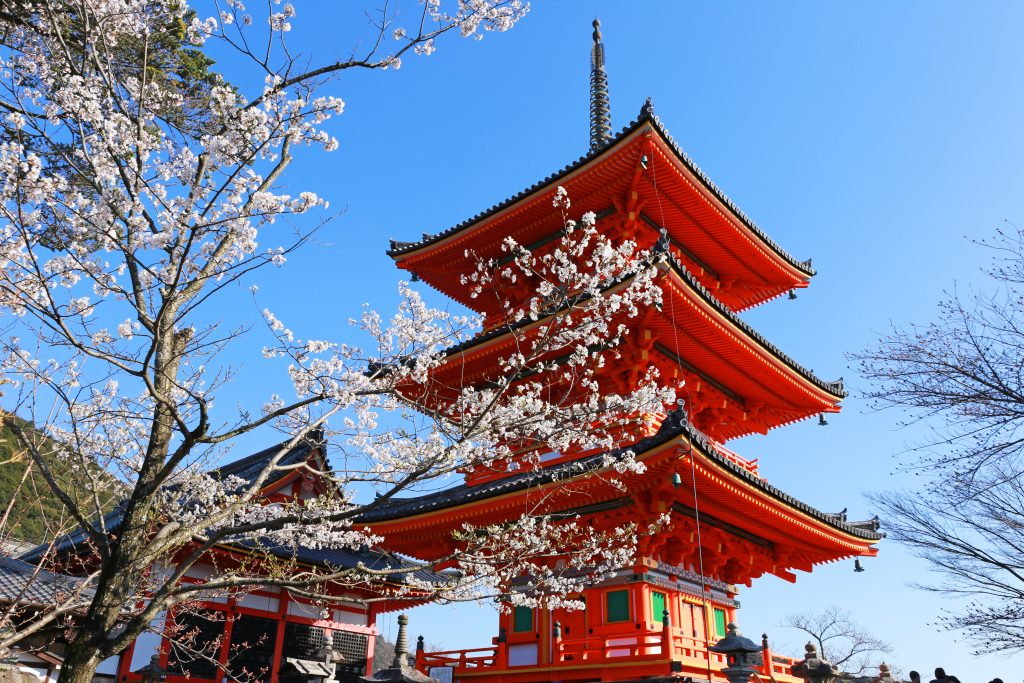 Then we walked to the the Main Hall, finding a spot for picture taking. We could only snapped couple of pictures from this spot before it got too crowded. This Main Hall is main photography spot of Kiyomizudera.
The view from the Main Hall, another sanju-no-to can be seen from here. In my mind I conjured up sakura blooming. It would be a beautiful picturesque.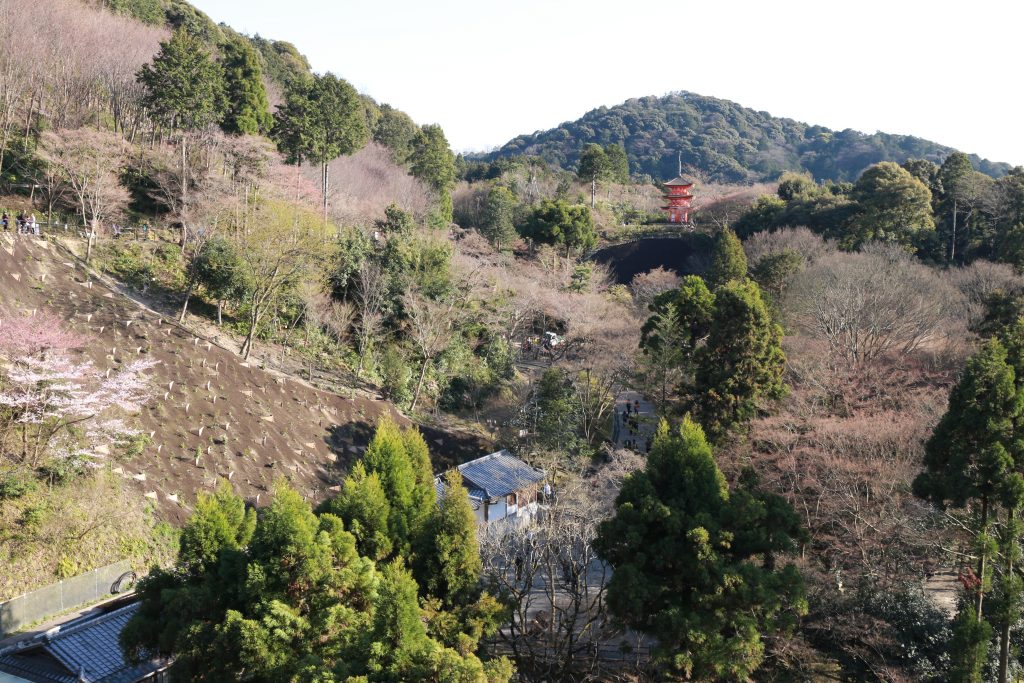 Then we walked on the wooden walking path to take pictures of the Main Hall while conjuring up Sakura again here and there. Some sakura trees had already pinkish colour.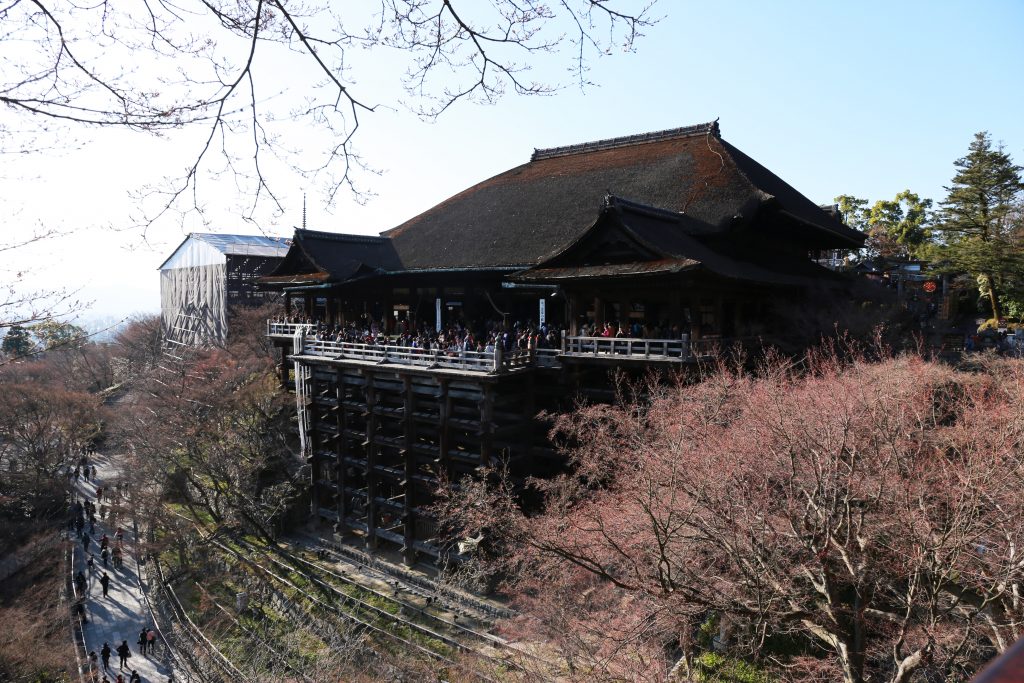 Then we walked down to snapshot another picture of the Main Hall.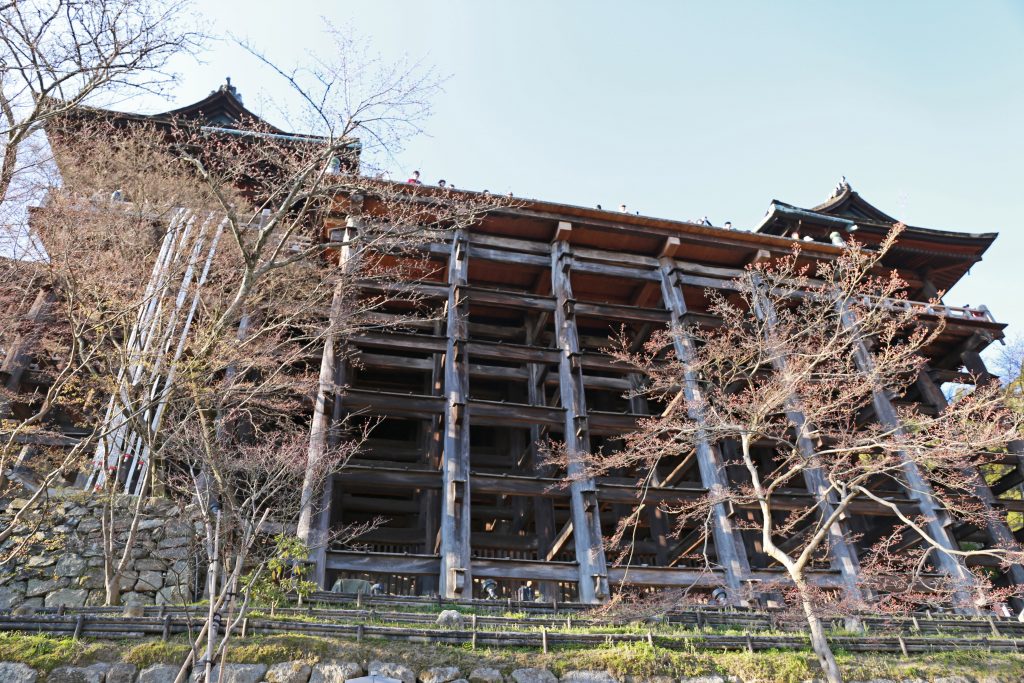 It was so shiny till I had to wear sunglasses in a chilly weather.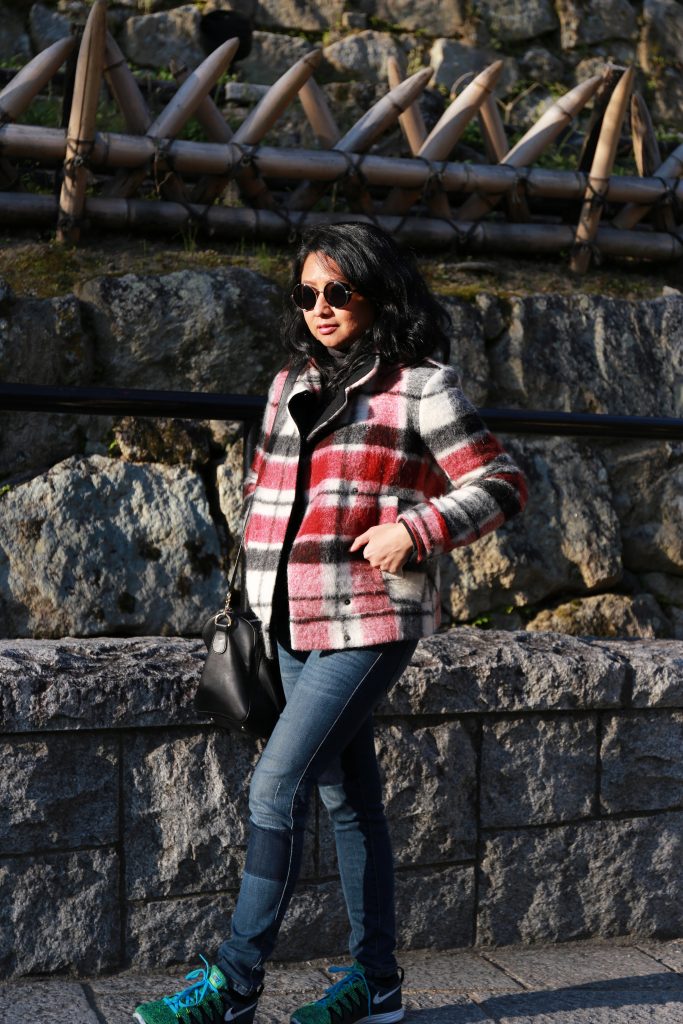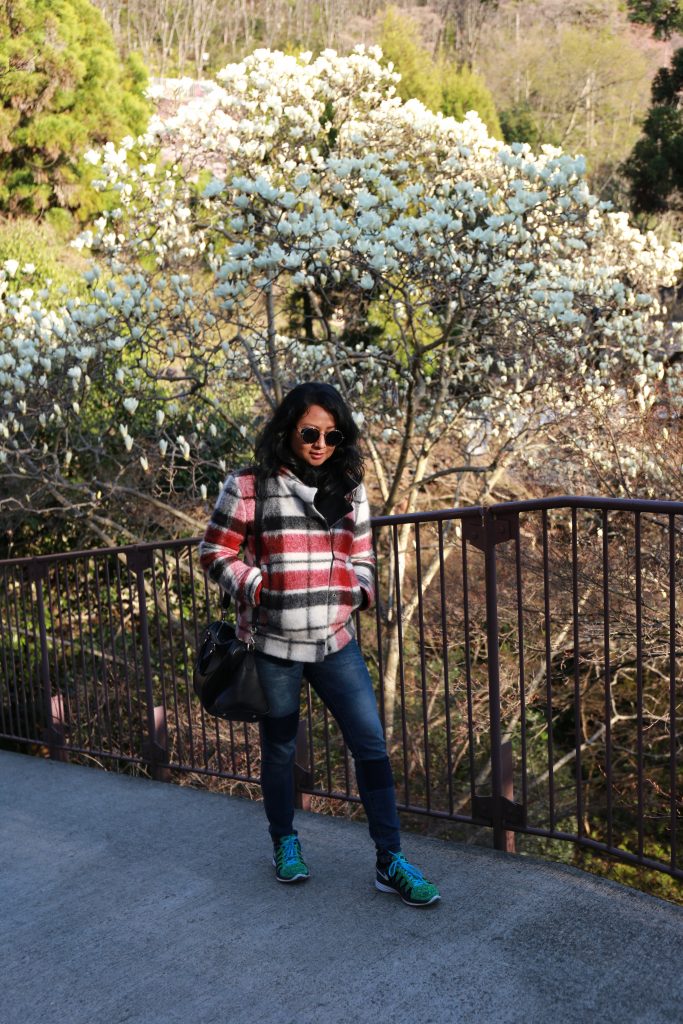 The view from below the hill was so beautiful with Sakura started blooming. This pond is full of big fishes.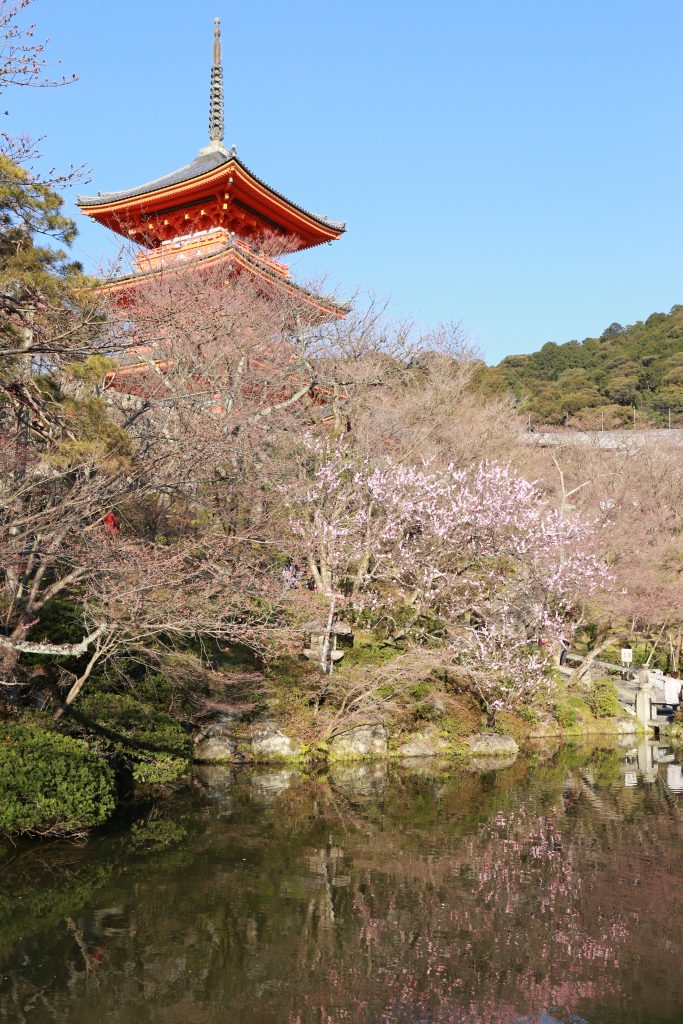 The temple is illuminated in the evening in Spring. But, the illumination started only two days after we left Kyoto. We braised our heart promising to come back here when all leaves turn red in autumn.
TIPS
It takes 20 – 25 minutes walk from Gion to Kiyomizudera temple. Take pictures of old houses at small alleys on the way to the temple.
Temple opens at 0600 am closes at 1800 from April 13 to July 31, entrance ticket 300 yen (adult), entrance ticket during special occasion (illumination) is 400 Yen
Spring special occasion is from March 28 to April 12, opening hours:0600 to 1730 and 1800 to 2100
Autumn special occasion is from November 14 to December 6, opening hours 0600 to 1730 and 1800 to 2100
There are many bus options to go to the temple from JR Kyoto station, Kawaramachi station, Gion Shijo station. The nearest bus stop to the temple is Kiyomizu-michi Stop