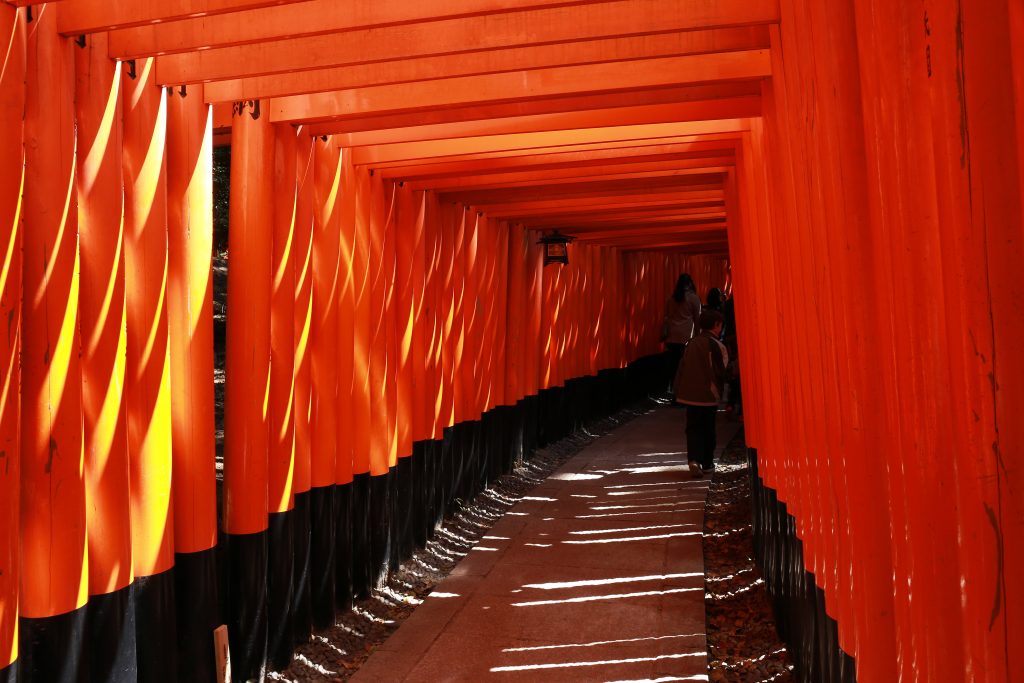 Fushimi Inari shrine is known as shrine of a thousand gates located in Kyoto. TripAdvisor ranks Fushimi Inari as number one tourists attraction in Kyoto. And it was also on top of our must visit list place while in Kyoto.
I first saw Fushimi Inari shrine in a 2005's movie  which was made based on best selling American novel "Memoir of Geisha" by Arthur Golden. Memoir of Geisha is about a life of a retired geisha "Sayuri" (played by Zhang Ziyi), her survival in life and love story with "Chairman" (played by Ken Watanabe). Fushimi Inari shrine appeared in the scene while Sayuri and Chairman strolled along the gates of the shrine. Fushimi Inari stayed in my mind ever since I watched the movie. And finally after so many years I could visit this shrine.
We went to Fushimi Inari before 9am taking Keihan line getting off at Fushimi Inari station. The station looked quite, which made us happy (not for long).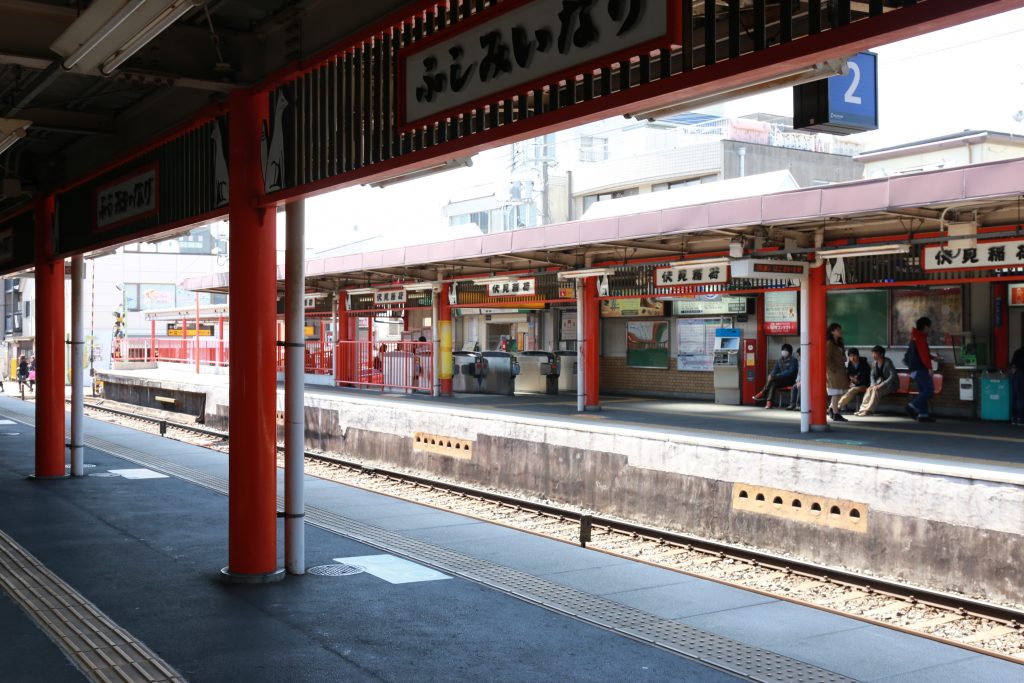 Apparently all tourists had the same thought: arriving early at the shrine. It was extremely crowded when we arrived on the scene. Tourists (such as ourselves) were  more interested in taking pictures of the gates spanning along the hill, while many Japanese were interested in praying. Fushimi Inari is the largest shrine and also serves as head of all shrine in Kyoto. Praying in this shrine is believed to bring luck for business. That explained groups of men in suit praying in the shrine when we were there.
The main shrine is located at the entrance of Fushimi Inari. We climbed the stairs to get to the first series of the thousand gates.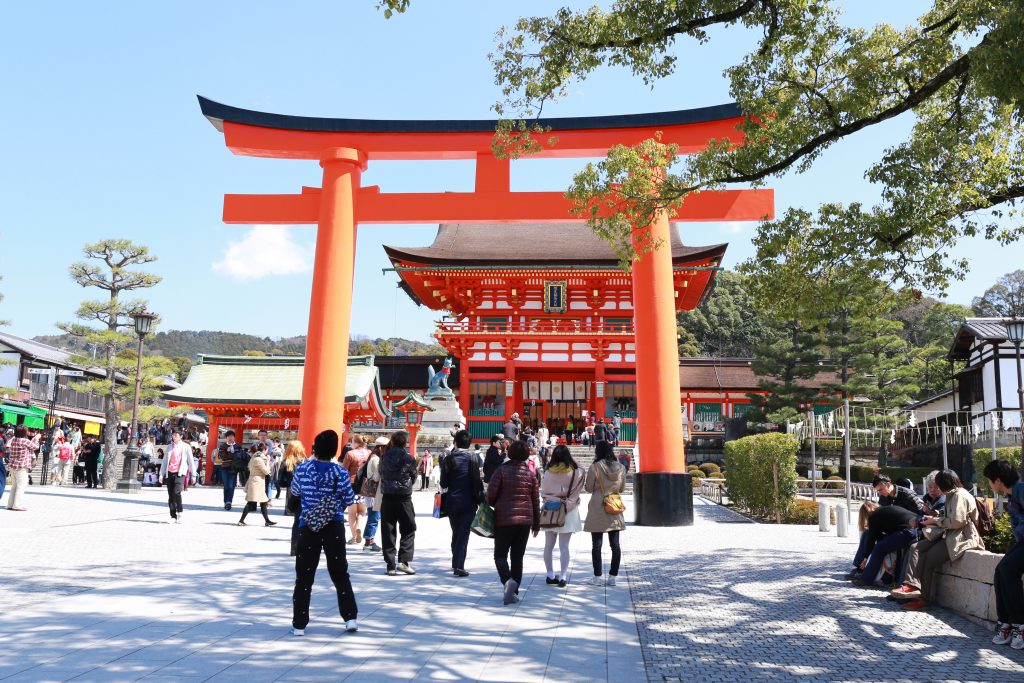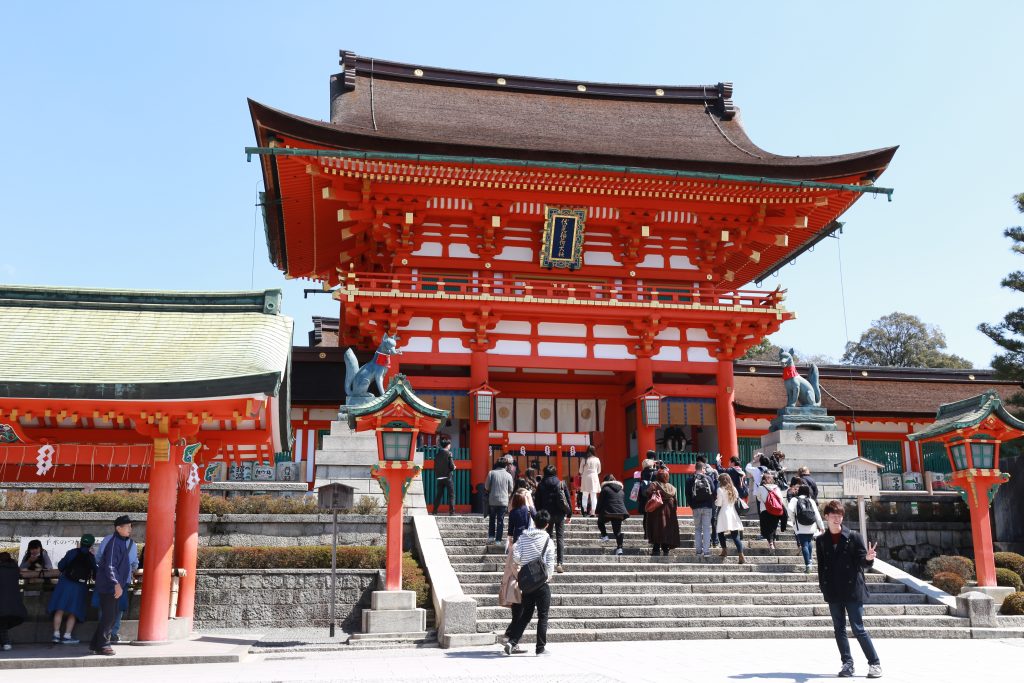 Fox statues at Fushimi Inari lower shrine, resembling guardian dog (kaimanu). The foxes embodied messages from Inari god.
The gates start lining up the hill resembling wonderful picturesque of the shrine. The gate is one of the main reasons for visiting the shrine. Other reasons are hiking and pictures taking (who wouldn't like taking pictures of vibrant colour of thousand gates). It's no entrance ticket, free of charge.
Like many of old shrines in Japan, persons on wheel chair cannot go around the shrine. There is no special path for persons on wheel chair.
Thanks for reading.
TIPS:
Getting there: From Kyoto station take JR Nara line stops at Inari station or take Keihan line from Gion-Shijo stops at Fushimi Inari station or take Kyoto City bus from Kyoto station stops at Fushimi Inari Taisha station and take 7-10 minutes walk on foot
The shrine opens early morning until late. No entrance fee.
Wear comfortable shoes