Shibuya Crossing: A Photography Diary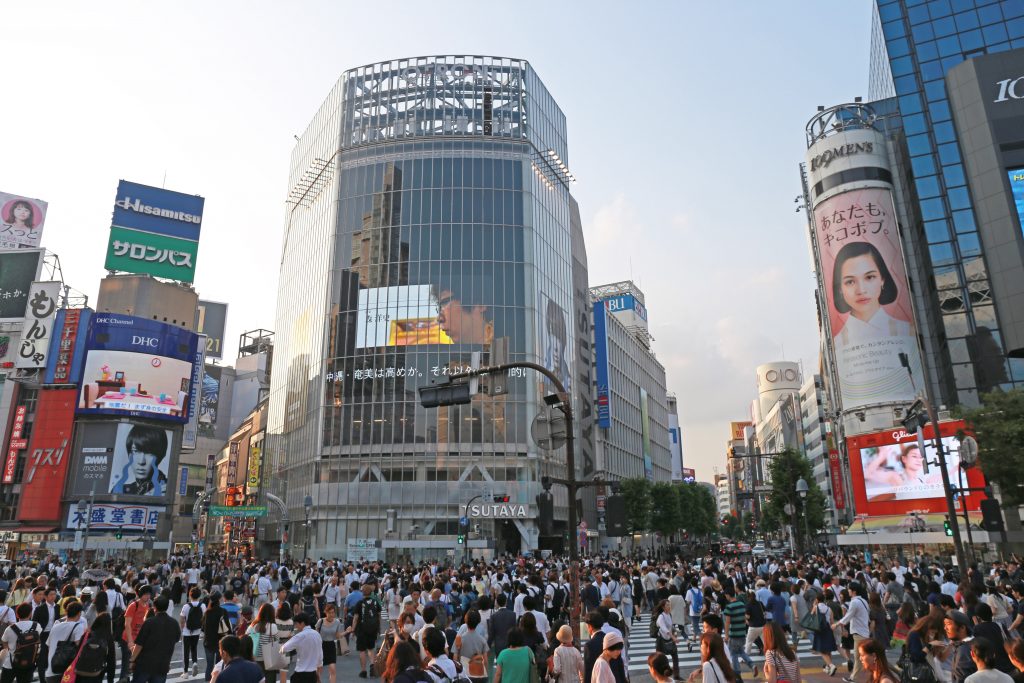 There are two things come to people's mind when hearing Shibuya: Hatchiko statue and Shibuya pedestrian crossing. Nothing represents Shibuya better than these two.
I'm sure you know Hatchiko well from Richard Gere's 2009 movie: Hatchiko. The movie was based  on a true story of unshaken loyalty of an Akita dog, waiting for his master coming back from work at Shibuya station everyday. The master died from cerebral hemorrhage in 1925 and never came to the station. Hatchiko continued waiting for the master each day for the next nine years after the master's death. None ever noticed Hatchiko's presence at the station until a student of University of Tokyo found and developed an interest on Hatchiko. He began writing articles on Akita dogs and Hatchiko's loyalty. Hatchiko became famous as soon as Tokyo Asahi Shimbun published the article. Hatchiko statue was built in 1934 when he was still alive, in fact he was standing next to the statue at the opening ceremony. Hatchiko died on the street of Shibuya in 1935. Initially Hatchiko story was only famous in Japan before the movie. Now the world knows the story behind the Hatchiko statue. Whenever in Tokyo, visiting the legendary Hatchiko statue is in everyone's list, well at least for a first time visitor of Tokyo. For many years Hatchiko statue is used as a meeting point and for tourists, Hatchiko statue is a famous photography spot of Shibuya.
I have been to Shibuya many times but never took time to seriously take pictures of Hatchiko and Shibuya crossing. So I spent few hours to go around just to take pictures of the busiest part of Shibuya. Taking pictures of Hatchiko statue requires a lot of patience especially in busy hour of 5pm. There is never a queue but people look at each other as a way of saying "let me go first".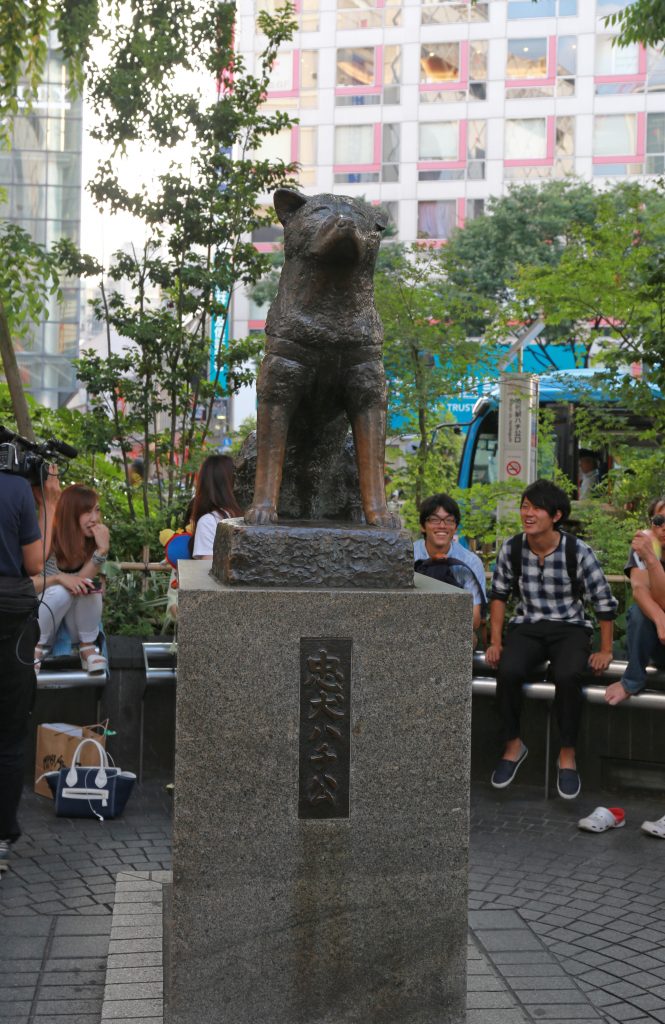 Hatchiko statue is built facing the station, symbolises Hatchiko's waiting for the master to come.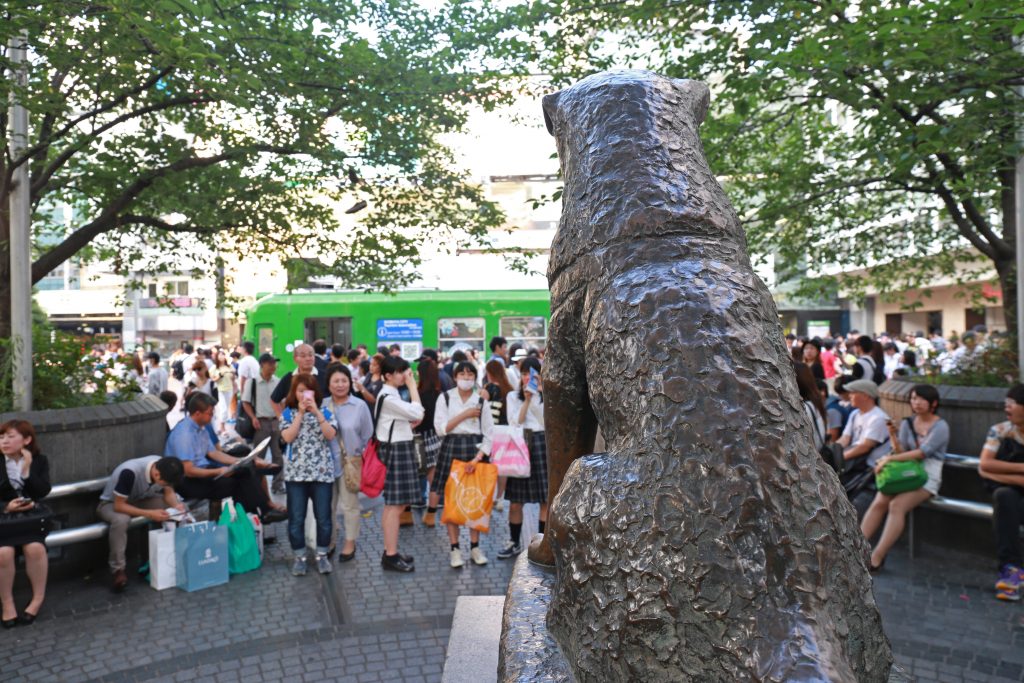 Shibuya crossing is only few steps away from Hatchiko statue. This Shibuya crossing is world's busiest and most famous pedestrian crossing. People never stop coming from all directions then scramble to cross the street as soon as the traffic light turns to green.
The famous spot to take picture of Shibuya crossing is from the outside of Hatchiko statue area facing Tsutaya bookstore and a giant screen. Advertisements continuously played on the giant screen. I waited for the best advertisement on the screen "Tokyo Art Scramble". That said a lot of volume of Shibuya crossing.
Second photography spot of Shibuya crossing is (or was) from Starbucks Tsutaya 2nd floor which offers direct view to the crossing. Sadly, the glass window was blocked with white sticker when I was there. I found it a little bit difficult to shoot from that point. Which made me went straight to the 3rd photography spot: framing Shibuya crossing from the height through a thick glass window.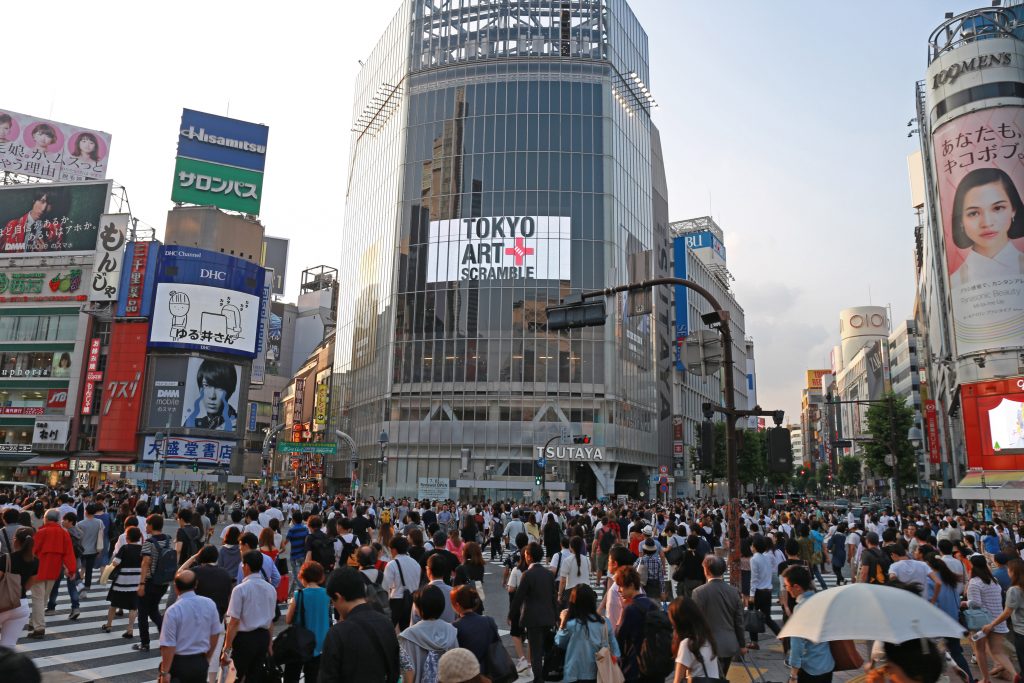 It took me 15 minutes to reach to this point, the crossing was still busy as ever.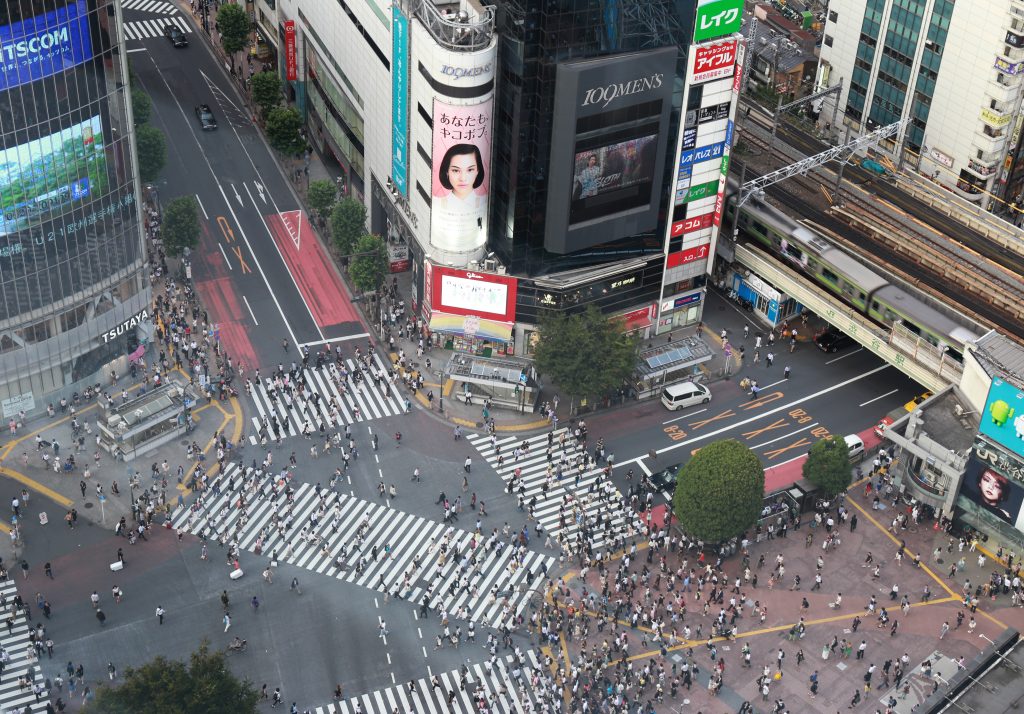 It is said Shibuya houses Tokyo busiest pedestrian crossing even its less famous corner is a sea of people.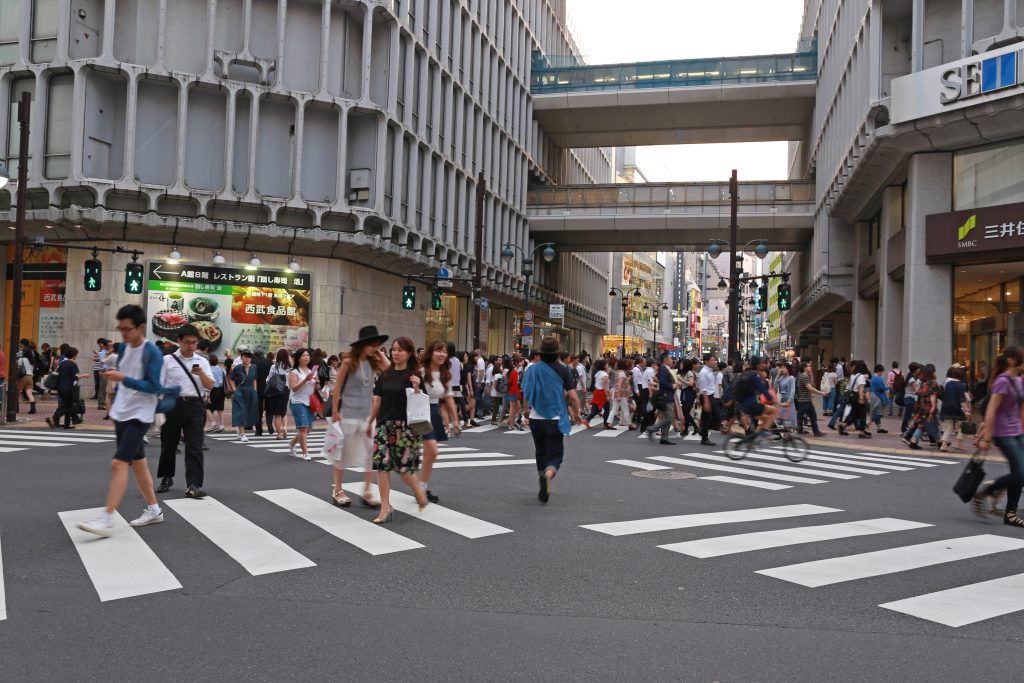 When the sun faded away, more people inundated small alleys of Shibuya. Sentagai or Central Avenue is a famous alley of Shibuya where the young hangs out. For the first time in Tokyo I felt a little bit unsafe. People talked so loud and some seemed drunk too early. I tried hard not to pay attention, focused only on taking pictures. Suddenly someone next to me screamed so loud nearly hurt my ears, I felt something wrong with the ground. I nearly fell out of balance. It turned out the uneven ground I stepped on was his feet. He looked at me furiously as I ran away after a quick apologize. I felt sorry for his toes. My platform shoes must have hurt him badly. A lesson learnt: never ever step on someone's toes.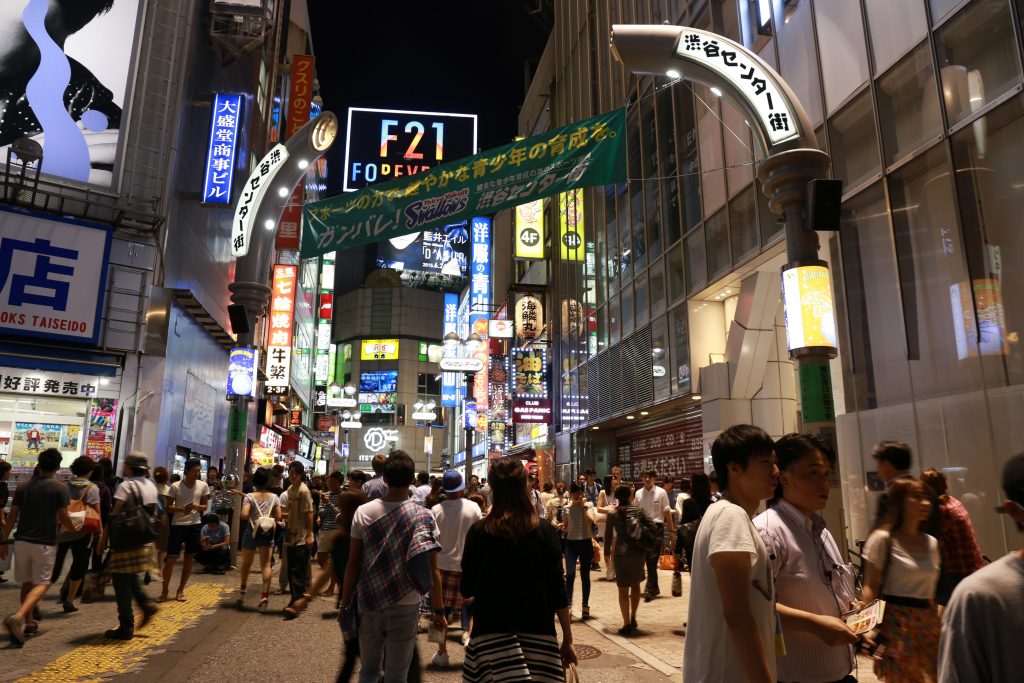 I moved quickly to different alley. There were queue at almost every restaurant in the alley.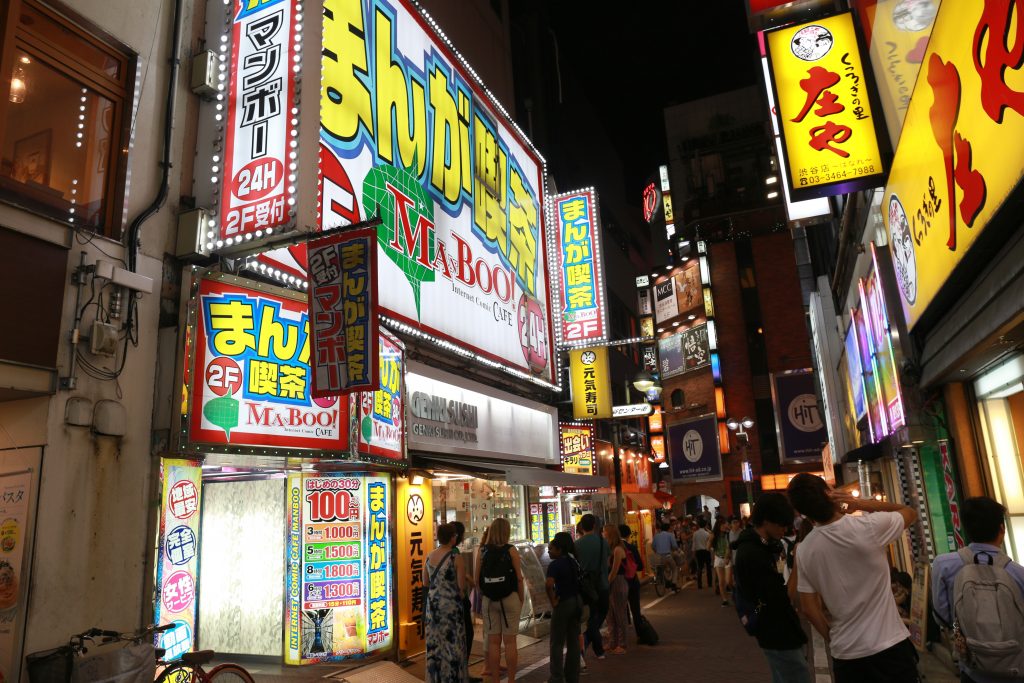 The bright neon sign boards made people failed to notice the time. It felt like the sun just set. It was already over 9pm. I got carried away by Shibuya like many others. I rushed to the station only to find a long queue for Ginza line. Lucky that Shibuya is the last stop of Ginza line I could still get a seat on my way home.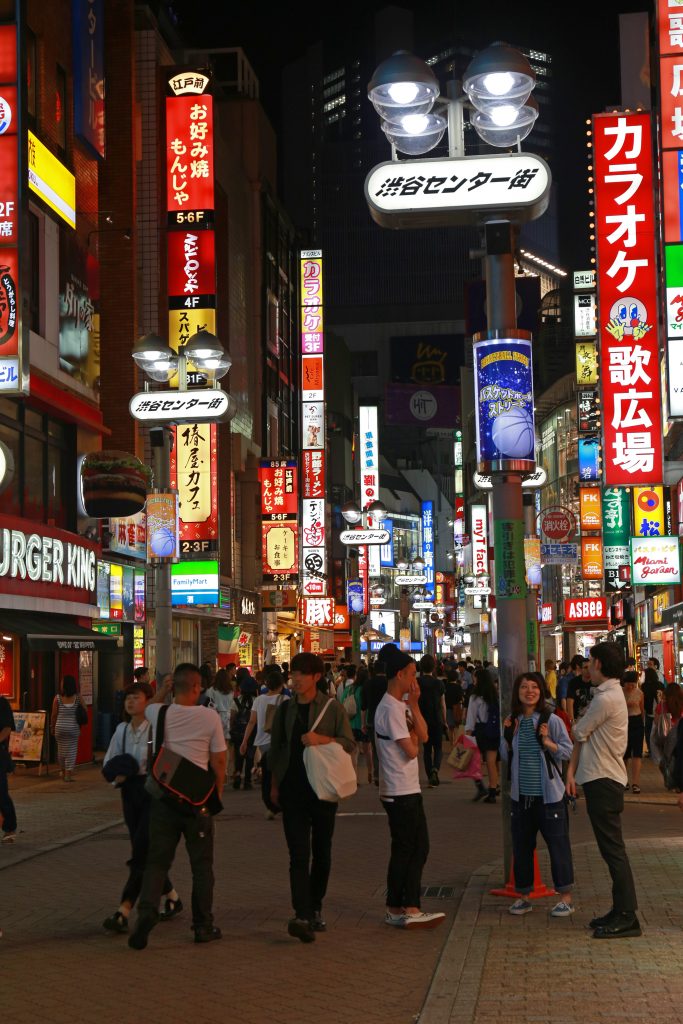 What do you like the most from Shibuya?  Have you ever stepped on someone's toes in Shibuya?