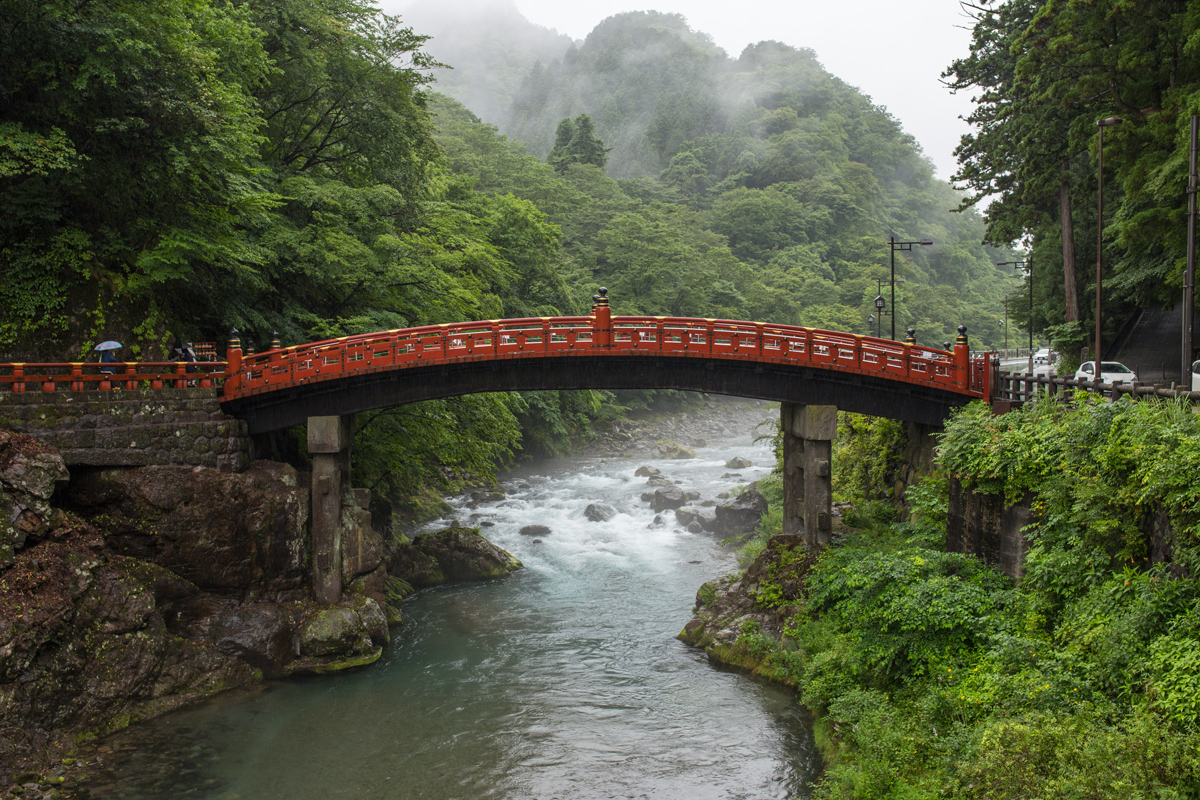 Going to Nikko is favourable by many not only because of it is a home to world heritage sites but also it has great nature surroundings. Nikko is famous for its exquisite sightseeing spots and onsen (hot spring). It is extremely popular for autumn foliage. The world heritage city of Nikko is located only 2 to 2.5  hours train ride from Tokyo. Although a one day trip is possible an overnight stay will give ample opportunities to grasp the quintessential of Nikko.
I always love  to overnight in Nikko, enjoy the stay, eat local food and explore off the beaten path. When the city is as gorgeous as Nikko, I have no urge to rush back home. This early summer we visited Nikko again, right before summer holiday starts in Japan. My brother, Aditya was very excited going around Nikko for the first time. He chose Nikko over Lake Kawaguchi without hesitation. He preferred a less popular sightseeing spot to get away from horde of tourists. Nikko is less popular than Lake Kawaguchi for many Indonesians.
In reality, Nikko is more famous for Japanese and travellers from around the globe. Majority of Indonesian travellers prefer exploring Lake Kawaguchi to catch a glimpse of Mount Fuji in a close distance. In a transition month, from rainy to summer season like this, a sight of Mount Fuji would be an empty dream. I was glad my brother made the right choice (I lured him to Nikko without any suspicion but that's what big sister did, always). In his mind he could brag about his Nikko's trip when he went back to school (he honestly admitted this).
What are the most famous sightseeing places in Nikko? Can we see all famous places in Nikko in a two days trip? Those were my brother questions before we purchased the train tickets. I asked the exact same question to Ikumo on our first trip to Nikko. When we have time at our disposal, a two-days trip definitely is much better than a round trip. 
It's possible to visit Nikko in a day trip by taking the earliest train from Tokyo then catch the latest train to come back. A day trip, however, most likely will only get us to see the World Heritage Sites, Shinkyo Sacred Bridge, Ojizosama Statues, Kegon Waterfalls and probably Lake Chuzenji if we are extremely strict with time. For this reason foreign tourists are mostly concentrated on the World Heritage Sites, Shinkyo Bridge and Ojizosama Statue and Kegon Waterfalls. A two days trip to Nikko will allow us to go extra miles and explore off the beaten path.
These are things to consider before heading to Nikko:
It takes two to three hours to reach Nikko by train from Tokyo.
JR line operates regularly from/to Tokyo – Nikko. It is more expensive than taking Tobu line unless for JR Pass holders. Tobu line is cheaper but runs slower than JR line.
Like most of places in Japan, getting around Nikko is easy. Bus operates regularly and stop at famous sightseeing sites.
Toshogu Shrine, Kegon Waterfall and Sinkyo Bridge are the most famous sightseeing sites in Nikko. It takes at least 30 to 45 minutes by bus from Toshogu shrine to Kegon Waterfall.
Sightseeing places in Nikko scatter around which make it unrealistic to see explore nature surroundings in a day trip. Nikko day trip will most likely allow you to explore World Heritage Sites only.
Avoid train reservation to return back to Tokyo unless you can be extremely strict with time. Buses tend to come later than the schedule.
The cheapest way to get around is by getting a two days bus pass. Don't get the pass if you only plan to visit Toshogu Shrine and Kegon Waterfall.
Autumn is the busiest time in Nikko when autumn foliage starts showing up. Nikko in summer is less touristy but roads are slightly busy on weekend afternoon.
Restaurants and cafe are mostly close by 5 pm. Many hotels in Nikko offer accommodation package which include dinner. Izakaya (Japanese type of bar or a place to drink) are the only choice for dinner after 6 pm
Here are things to do in Nikko from the most popular to less touristy things to do:
See Toshogu Shrine

Nikko has several World Heritage Sites. Toshogu Shrine is the most famous amongst all. The opulent Toshogu Shrine is popular for its animal decorative ornaments which represent peace. The most famous ornament is Three Wise Monkeys depicting the maxim "see no evil, speak no evil, hear no evil". The Three Wise Monkey was under maintenance when we were there. This picture was taken from our previous visit last year.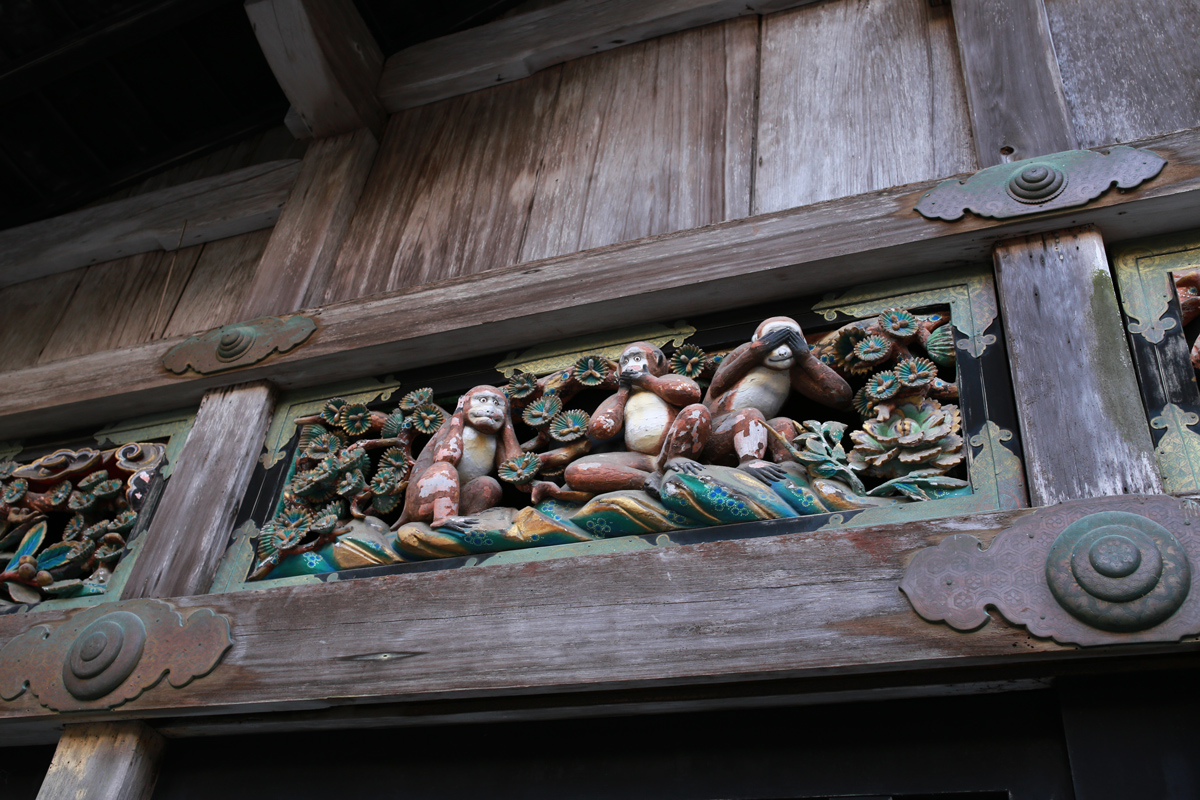 The Sleeping Cat or "Nemuri Neko" is also an important ornament of Toshogu Shrine. Nemuri Neko represents medicinal remedies, cure illness and provide nourishment to mind, body and spirit. It's easy to miss Nemuri Neko because it is slightly hidden and small. Be sure to look up at the gate to find the Sleeping Cat.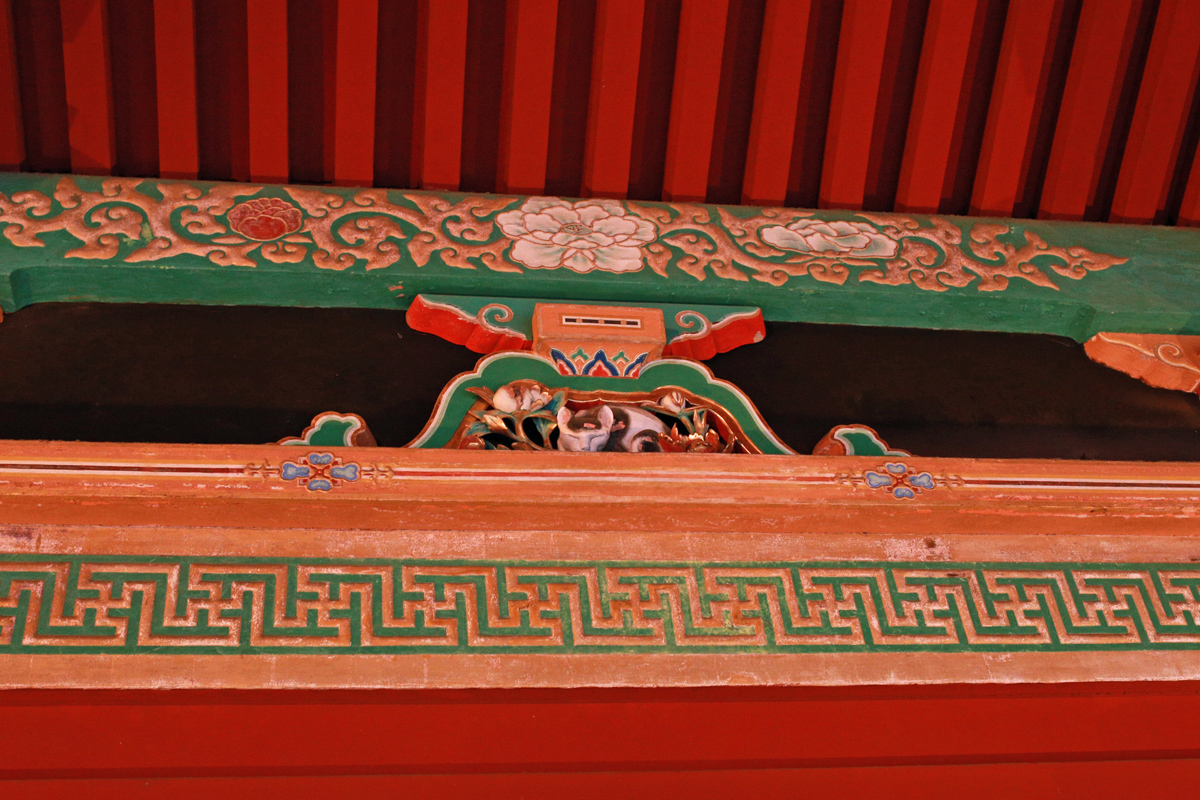 Indulge Your Senses in Kegon Waterfall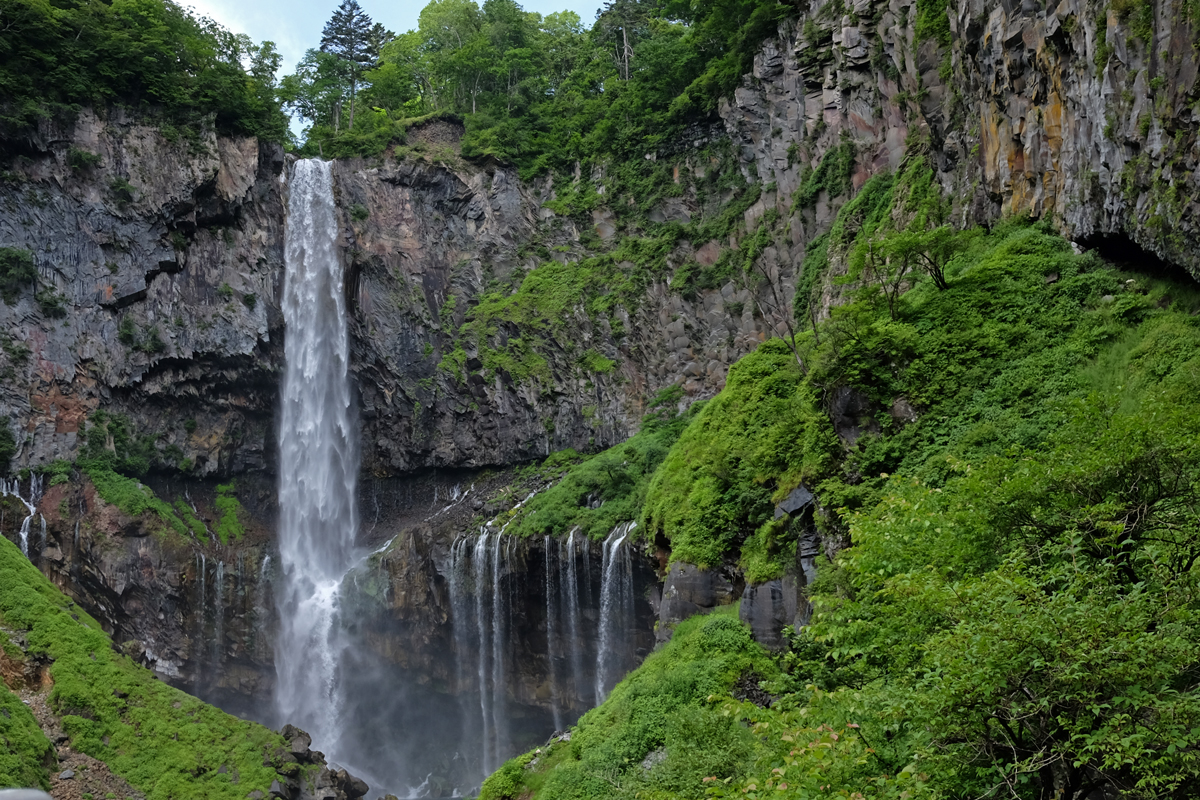 Second to none, Kegon Waterfalls is the most famous waterfalls  in Nikko. It is also one of the most beautiful waterfalls in Japan. We can only view Kegon Waterfalls from two observations decks. One is located at a higher ground easily accessible for free. The other one is the closest deck to Kegon Waterfalls. It's best spot to view the waterfalls. There is an admission fee of 550 yen needs to be paid before entering the elevator that will take you to the base of the waterfalls.
Take Picture of Shinkyo Bridge (the Sacred Bridge)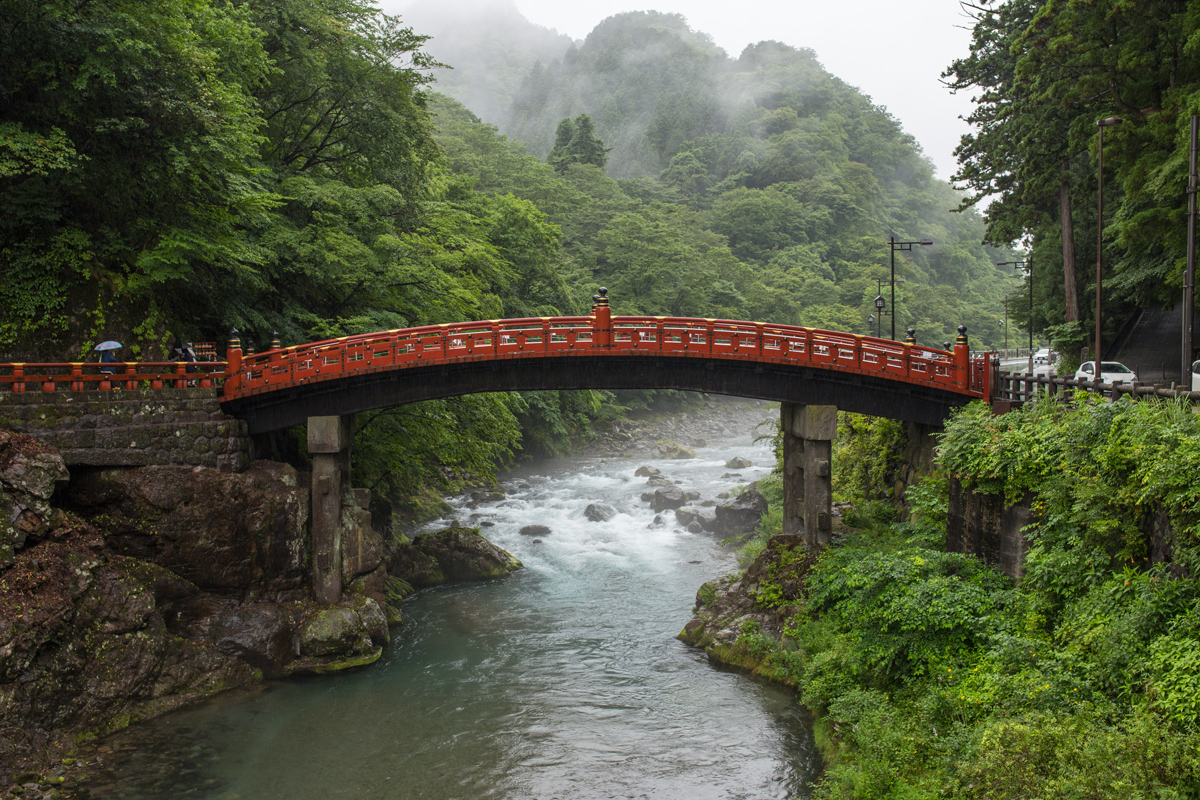 The green lushes and crystal clear river turn this bridge into one of most photograph sites in Nikko. The best time to visit is autumn but summer is equally beautiful. The Shinkyo Bridge is located fifteen to twenty minutes walk from Toshogu Shrine. Entrance to the bridge is permitted with admission fee of 500 yen/adult, 300 yen/high school and 200 yen/junior and elementary school.
Visit Taiyuin Temple (Iemitsu Mausoleum)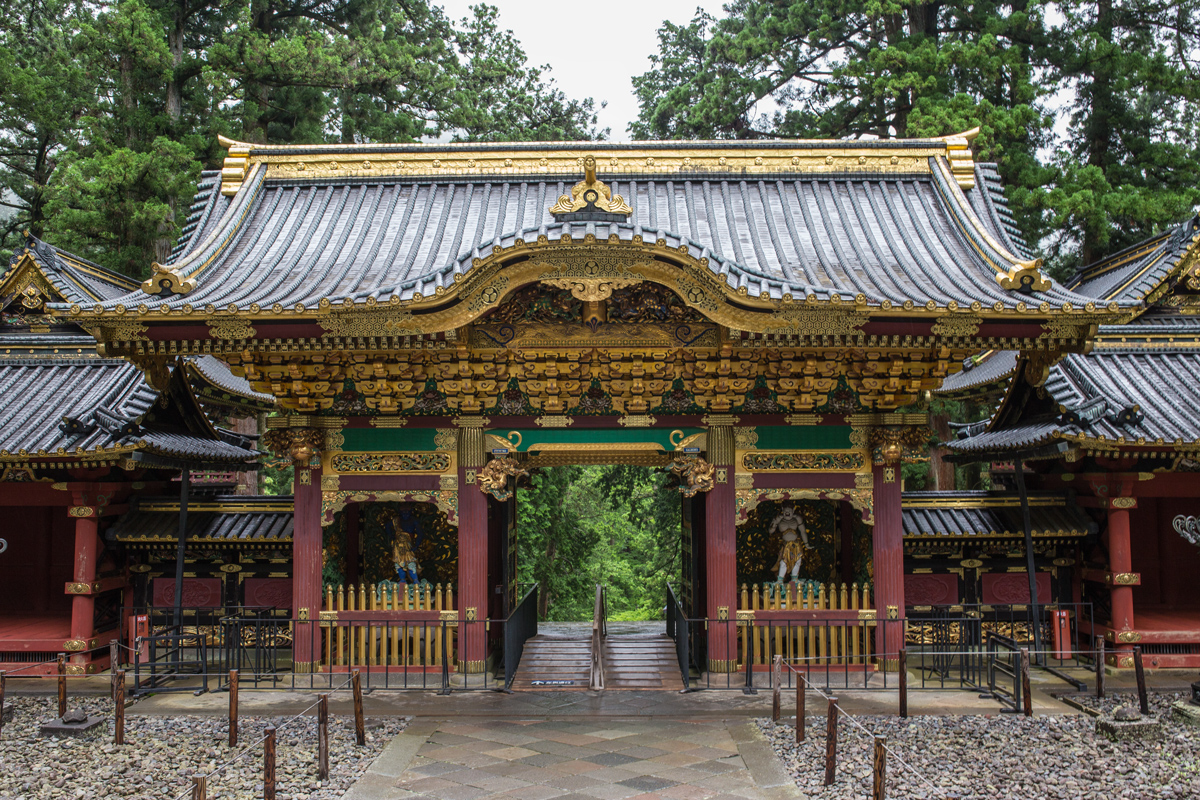 Taiyuin Temple is one of World Heritage Sites. It is located within few minutes walking distance from Toshogu temple. It nestles on a quiet hill with beautiful surroundings. The most photographed parts of Taiyuin Temple are:
Honden and Haiden (Praying Hall), and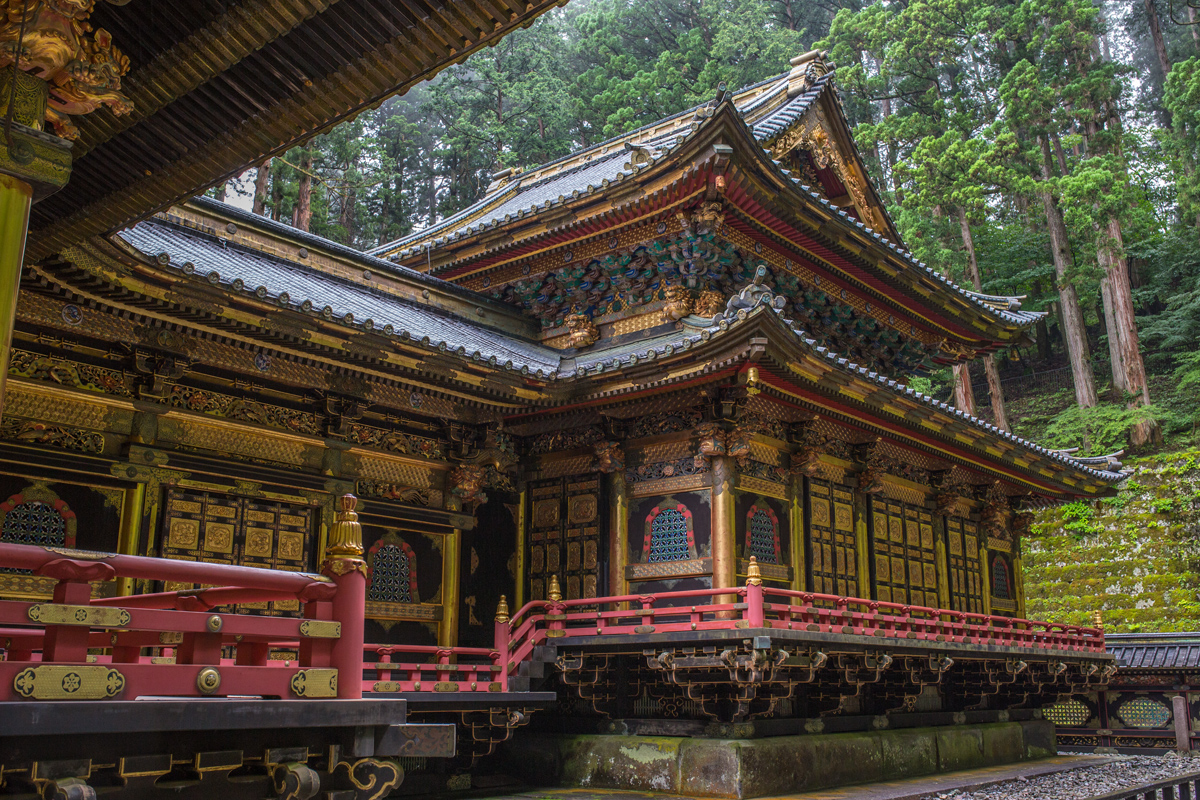 Tokugawa Iemitsu Mausoleum
The Nitenmon Gate is also famous part of the temple. It was still under renovation by the time we visited the temple.
See Ojizo-sama Statues at Kanmangafuchi Abyss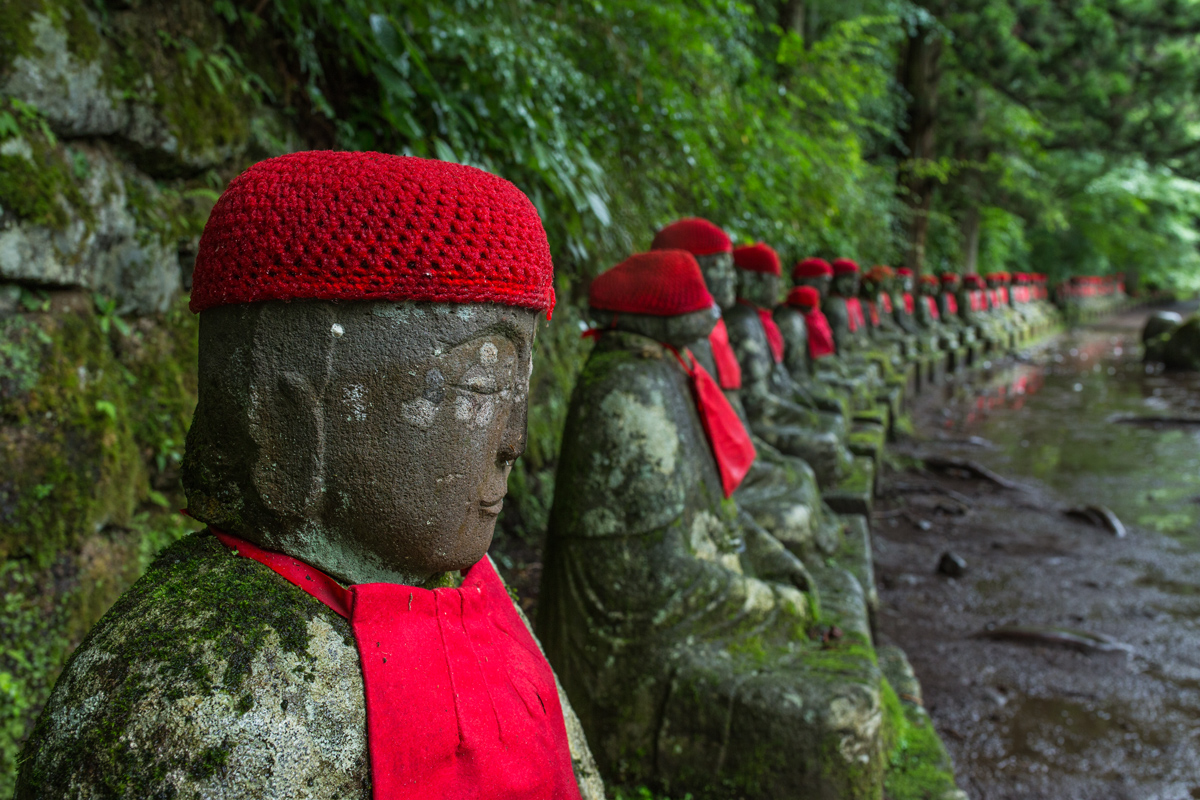 Ojizo sama is the respectful name of Jizo, the protector of travellers and children. The Ojizo sama statues are often found on temples, cemeteries, gardens and on the road sides. Ojizo sama statues in Nikko are hidden inside Kanmangafuchi Abyss, 15 minutes walk from the main road. The Ojizo sama statues are popular photography spot in Nikko in any season of the year. There are many Ojizo sama statues but those sitting in curve formation is the most famous amongst all statues in Kanmangafuchi Abyss.
Ride A Bus to Irohazaka Winding Road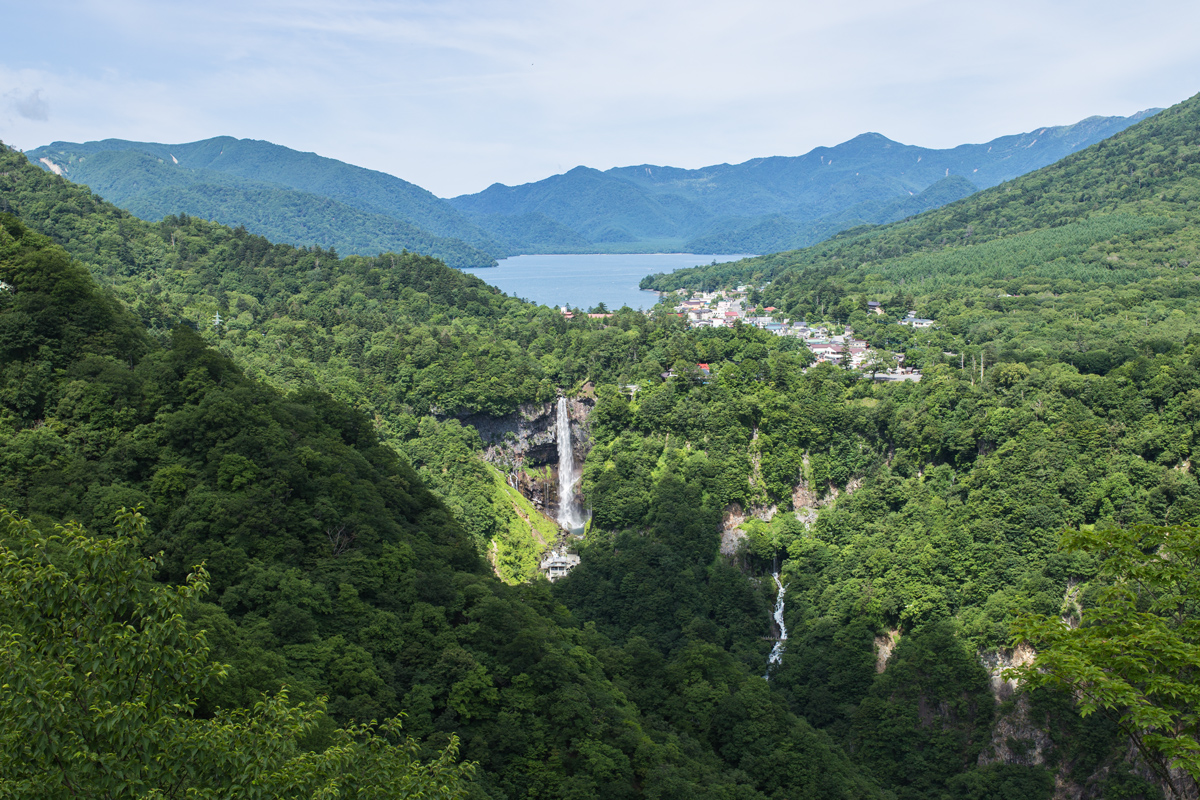 The Irohazaka Winding Road connects Nikko lower ground to the higher elevation. Irohazaka Winding Road  is named to represent the 48 curve turns in total.
Several sightseeing spots are located along Irohazaka Winding Road like Akechidaira Plateau Observation Deck.
The bus does not pass Akechidaira Plateau Observation Deck. We must take rope way to reach the observation deck (730 yen/round trip).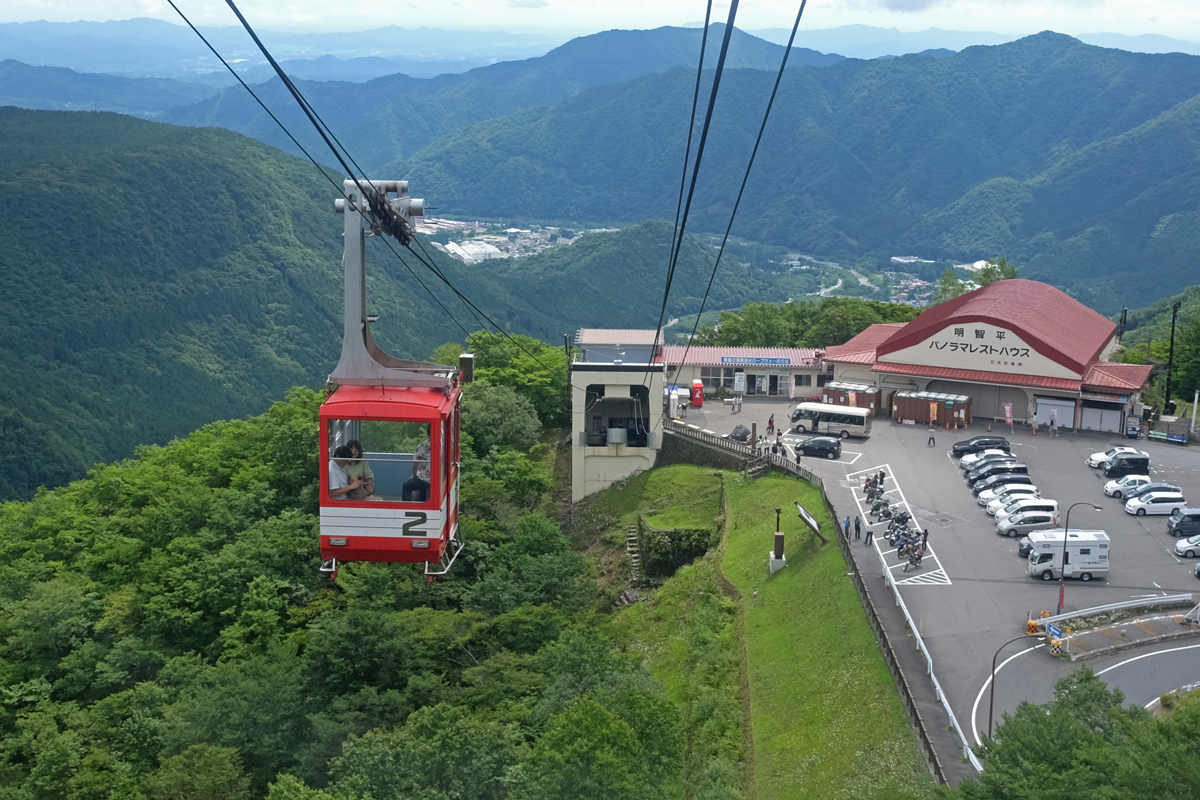 Check out Ryuzu Waterfalls
Ryuzu waterfall is often overlooked, overshadowed by Kegon Waterfall. Ryuzu waterfall can match the beauty of  Kegon Waterfall in a different way. There is a bus stop nearby Ryuzu Waterfall. It is better however to take a short trek all the way from Senjogahara Trail.
Explore Lake Chuzenji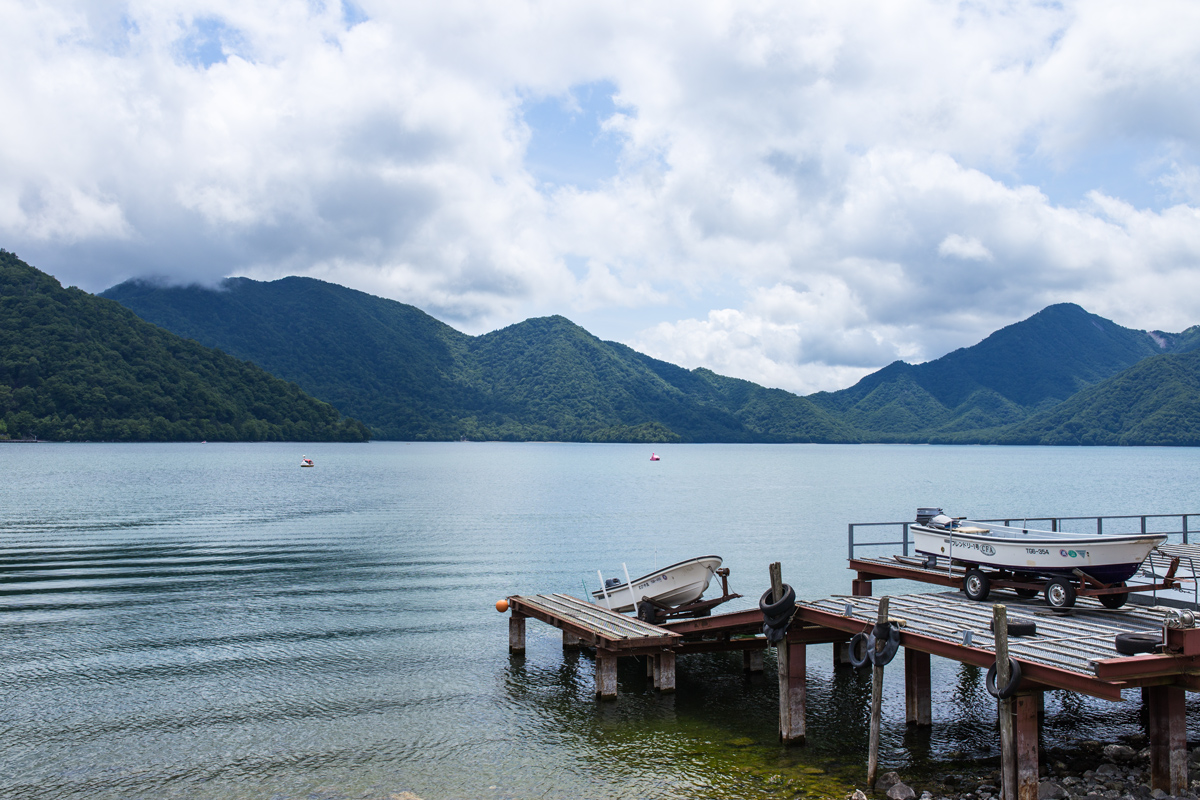 The scenic Lake Chuzenji is  located within few minutes walking distance from the famous Kegon Waterfalls. It is  formed by a volcanic eruption 20,000 years ago.  There are number of things to do in Lake Chuzenji like cruise, duck boat or simply stroll along the lake to wallow in a splendid nature surrounding.
Explore Nikko Off the Beaten Path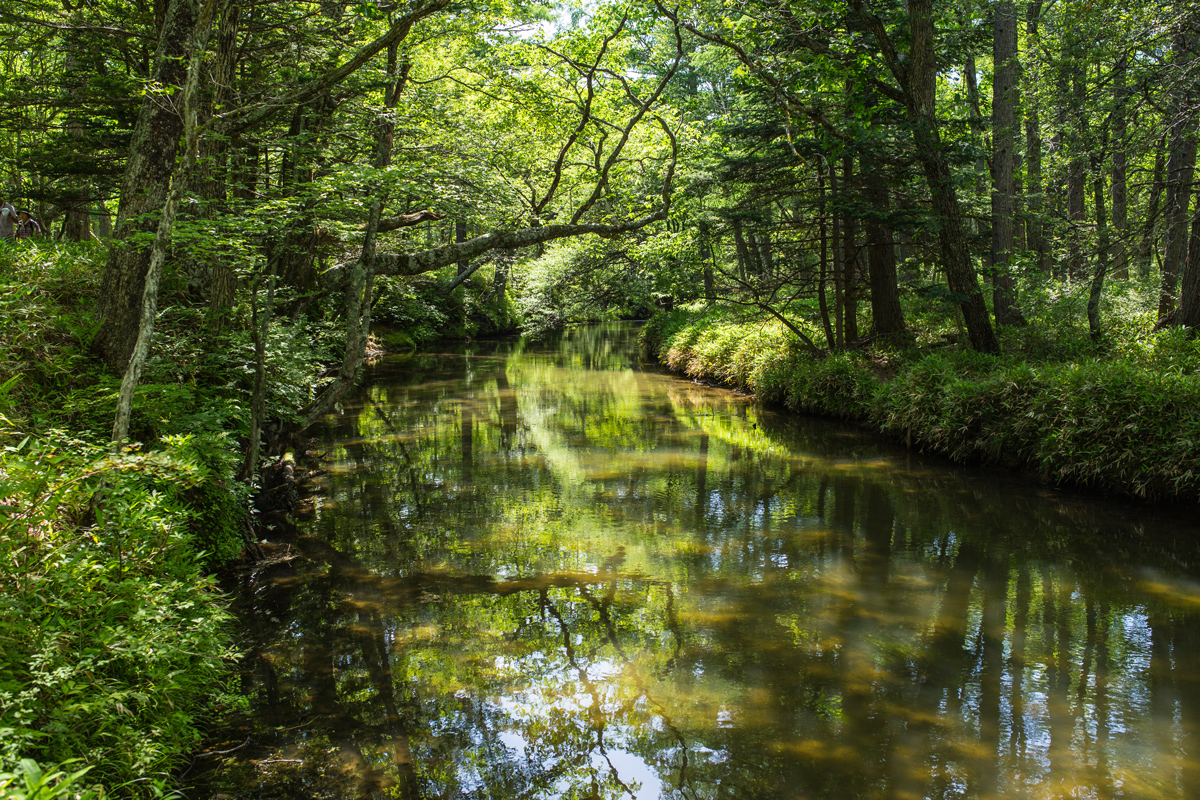 We all have different reasons to travel. When  the reasons are to escape from a mundane routine, far away from the city buzz and people, look no further than explore off the beaten path. Nikko is a place where off the beaten path seem never ends.
One of Nikko's stunning off the beaten path is Senjogahara Plateau Nature Trail. It's not quite an off the beaten path for the local but tourists rarely explore this area. It takes 3 to 4 hours to complete the trail. A short trek by Yukawa River bank will lead to Ryuzu Waterfalls.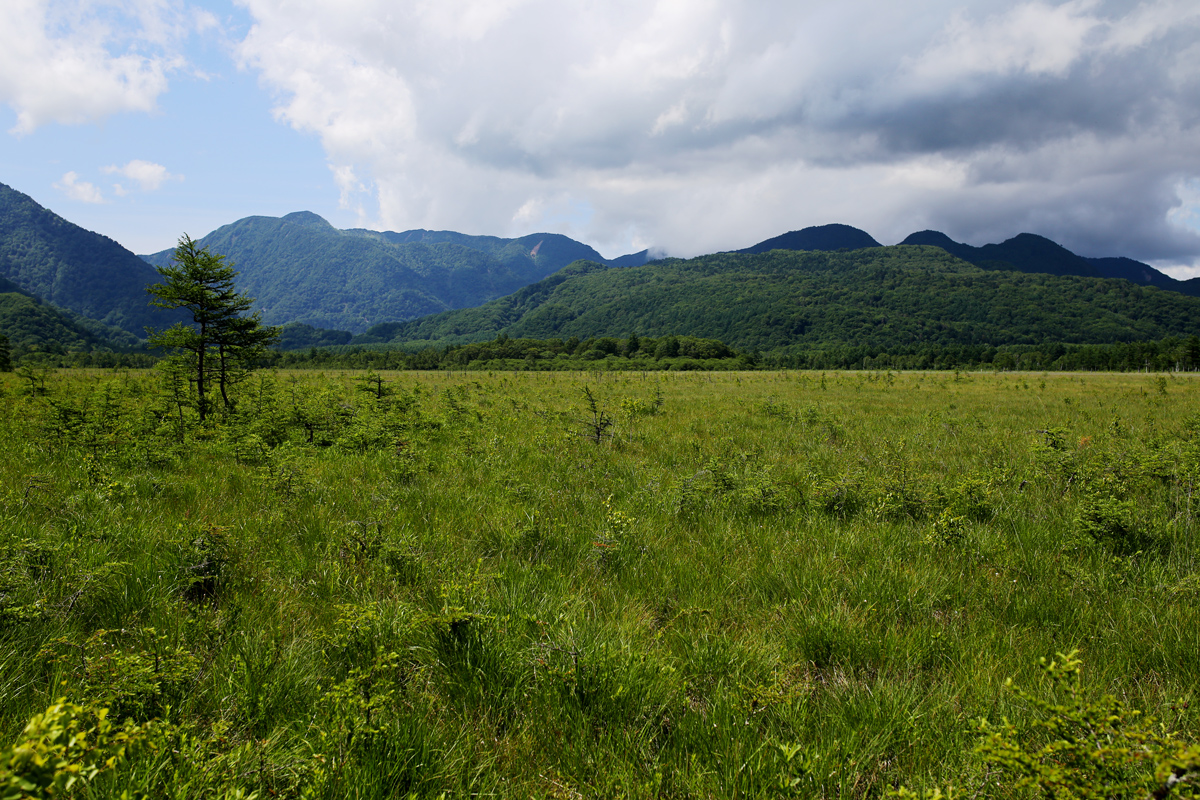 Feast on Local Food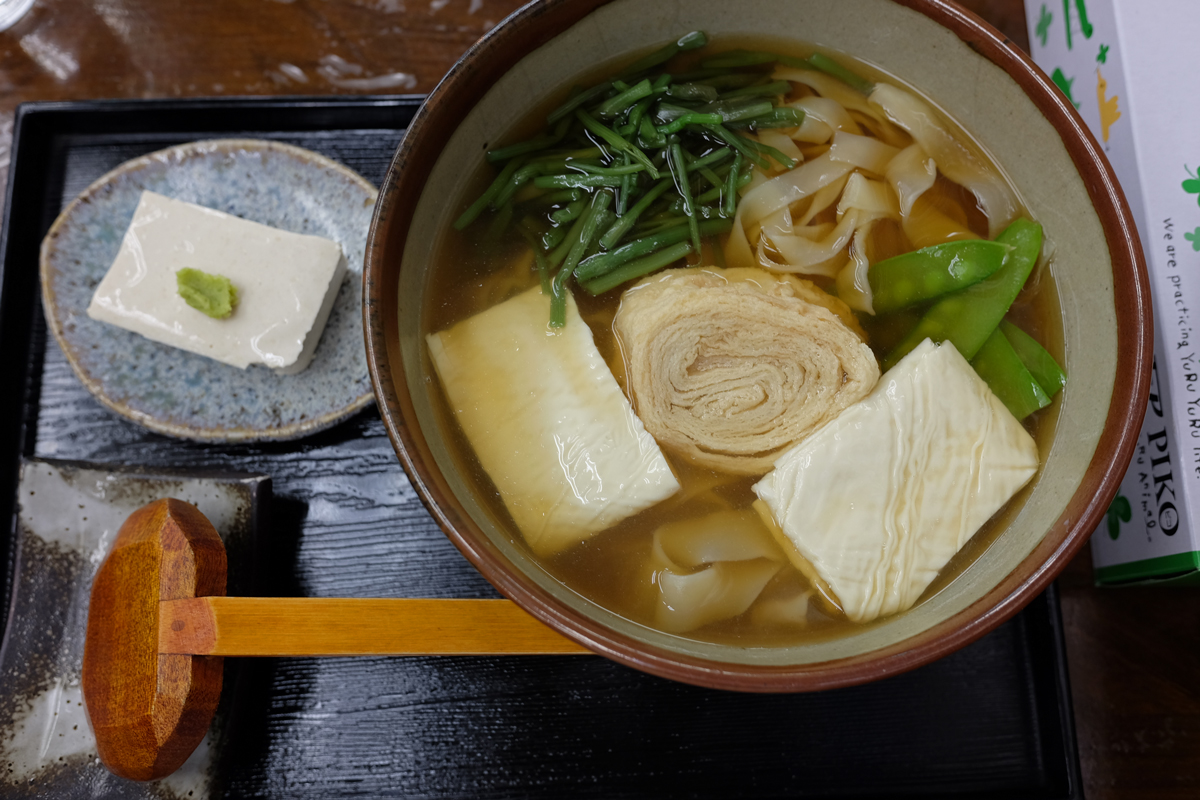 I am all about trying local food whenever I travel. Eating local food is part of travel experience. When in Nikko try Yuba which is made from soybean. In principle, yuba is tofu but since the producing process does not use coagulant, yuba cannot be considered as tofu. Yuba skin, yuba sashimi, yuba udon and yuba manju are popular food to try while in Nikko.
Soak in Onsen (hot spring)
Nikko is well known site for onsen. Japanese love to soak in onsen. It is believed that the onsen has therapeutic benefit for the stiff muscle and painful joints. Many hotels in Nikko have in-house onsen facility. Nikko Classic Hotel for instance offers public onsen for in house guests which opens until mid night.
Getting There: 
By Tobu train from Asakusa station in Tokyo.
By JR Tohoku Shinkansen from Tokyo or Ueno station to Utsunomiya station then change to JR Nikko Line at Utsunomiya. This train is inclusive at JR Pass otherwise a more expensive choice of travelling to Nikko (5,000 yen/person/one way). One way trip to Nikko/Tokyo will take about 100 minutes train ride.
By Limited Express from Shinjuku station (4,000 yen/person/one way). It will take around two hours ride from Shinjuku to Nikko.
Getting Around Nikko: A two days bus pass (2,650 yen/person)covers unlimited access to World Heritage Sites and many sightseeing places in Nikko. Otherwise Tobu bus line from bus stop No 2C outside Tobu Nikko train station will take you to World Heritage Sites and Shinkyo Sacred Bridge.
Have you ever been to Nikko? Are you interested in visiting Nikko?