I am a history lover, which place I should go to see and learn about Tokyo's old days? 
Temples and shrines alone can never satisfy the curiosity of history lovers when visiting Tokyo. Many include visiting museum in their travel itinerary to get a glance on the way people live in the old days. I am amongst those curious wanderlusts who always see museum as an interesting place to go to. I had visited some museums here after first few months of our stay in Tokyo. Blogging was never crossed my mind back then. Now, I am planning to upload more blog posts on museums in Tokyo.
There is no other museum in Tokyo I wanted to tell you about than Edo Tokyo Open Air Architectural Museum. This museum is built to show Tokyo in the old days when it was still called "Edo" or "Yeddo". We went there when there was a festival in the evening therefore the museum opened until evening.
Let's start with a little bit of history background. Japan was ruled by Tokugawa Shogunate from 1603 to 1868, an era that was called "Edo". Edo was the center of political power where Tokugawa Shogunate resided although Kyoto remained the capital city of Japan back then. During the Edo era the economy grew and people took great interest in arts and other cultural activity. Samurai system was still part of people's life and culture in Edo era. When Edo era came to an end at the beginning of Meiji Restoration in 1868, samurai was banned from social life. The Meiji Restoration laid solid foundation for the development of Tokyo and entire Japan until it could turn as one of developed country. It was in Meiji Restoration period Japan started opening up itself to the world and industrialisation started taking place. Japan in Meiji Restoration era was led by an emperor, shogunate was no longer had power in the political system and completely banned.
It is said many historical buildings and houses were destroyed by war, fire or natural disasters withing those eras leaving no trace of what the old days look like. The Edo Tokyo Open Air Architectural Museum was then built in 1993. Like this house was a resemblance of a samurai's house in Edo period. There is a kitchen, living room and bedrooms inside the house. May be I should not say bedroom because there was no bed at that time yet. People slept on a thin mat or on the wooden floor.
Western influence in architecture and interior design could be seen in some houses and buildings within the museum.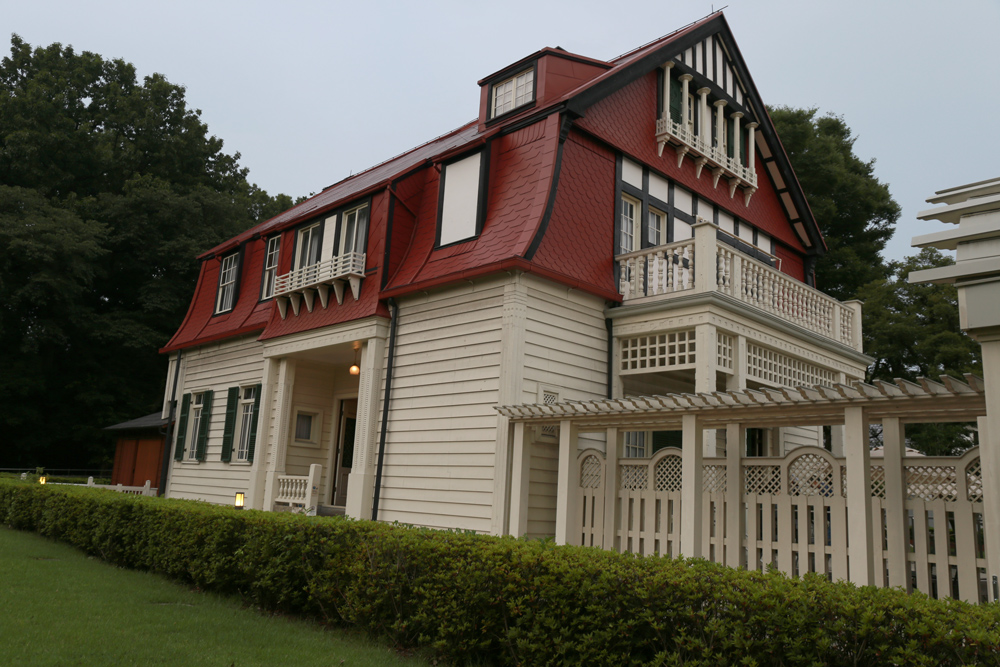 Telephone and TV are displayed in a modern house that belonged to the upper class from that era.
There is an izakaya or drinking place too. It is allowed to enter and sit at the counter but touching items behind the counter is prohibited. In the old days izakaya only served sake, Japanese rice wine. Izakaya is very much still alive these days serving various alcohol drinks from sake, whisky and beer.
Santory whisky is part of history too. The first single malt whisky was sold in 1929 in Japan after Torii Shinjiro opened the first single malt whisky distillery in 1923.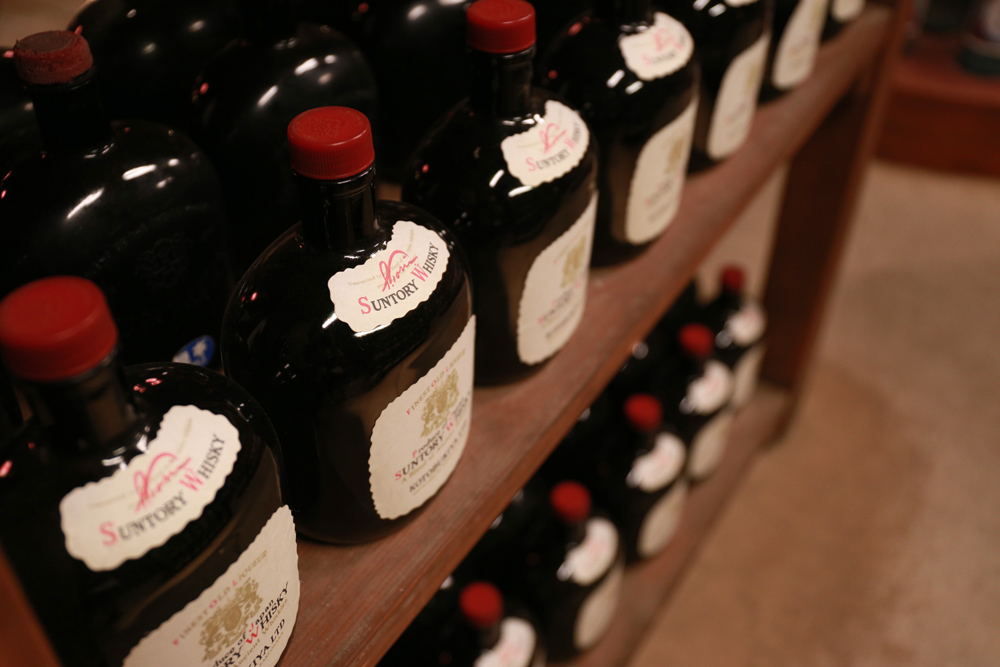 Public bath is always part of Japanese way of life since a long time ago.  It has been there since ages like this one resembles old public bath with a separate section for men and women. It is said in Edo era men and women bathed together.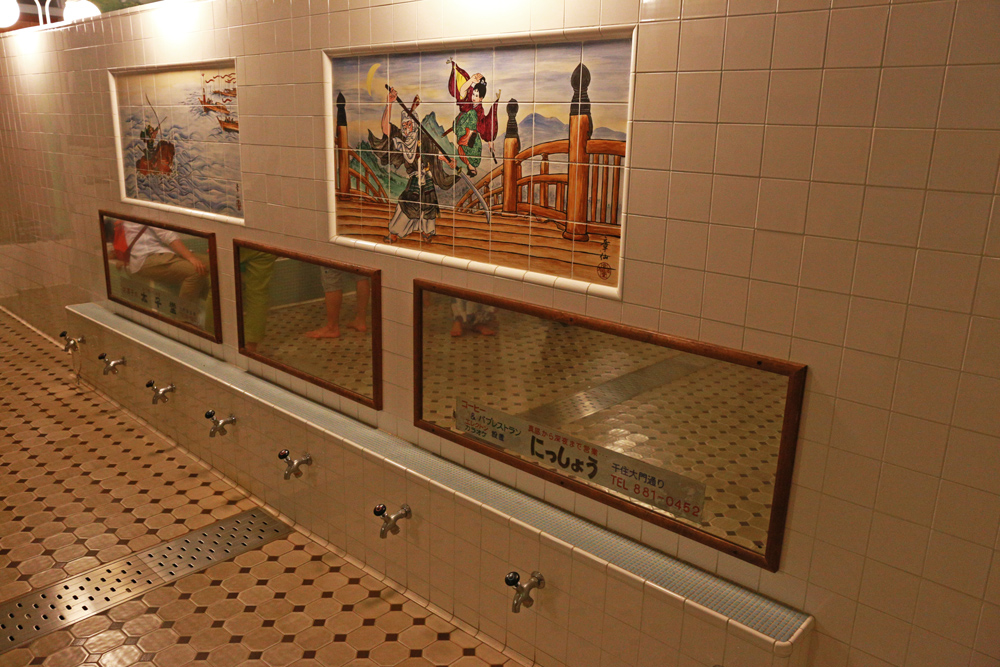 The wall was so low that anyone could take a peek to the other side of the room. May be it was intentionally built this way in the past.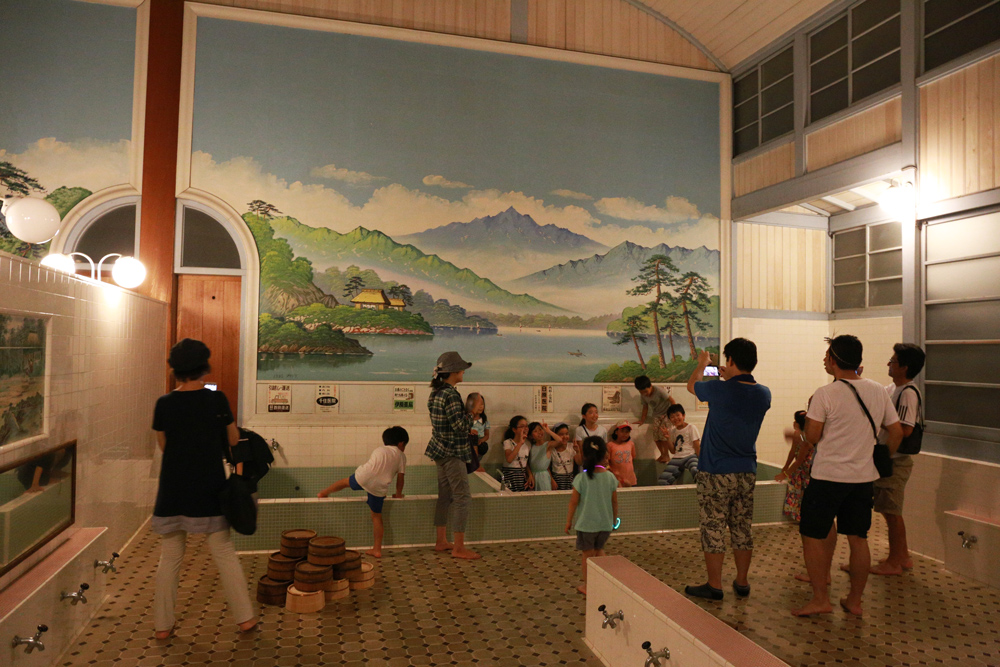 A part of daily life since ages is groceries shopping. This shop resembles groceries store after Meiji Restoration. It does look modern.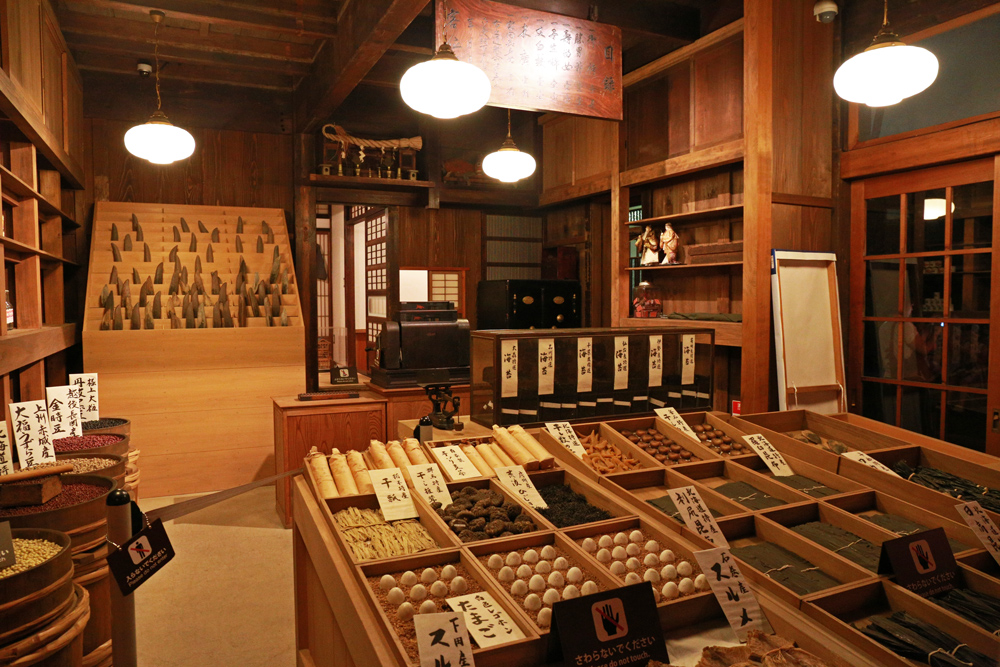 A modern stationery store after World War II is also display at the museum. People are allowed to write on a notebook using pencil and eraser. I was thinking to write but children were queuing up to try those pencils. I did not feel like queuing up with those children so I skipped and simply watched them writing words, erasing it and  wrote again.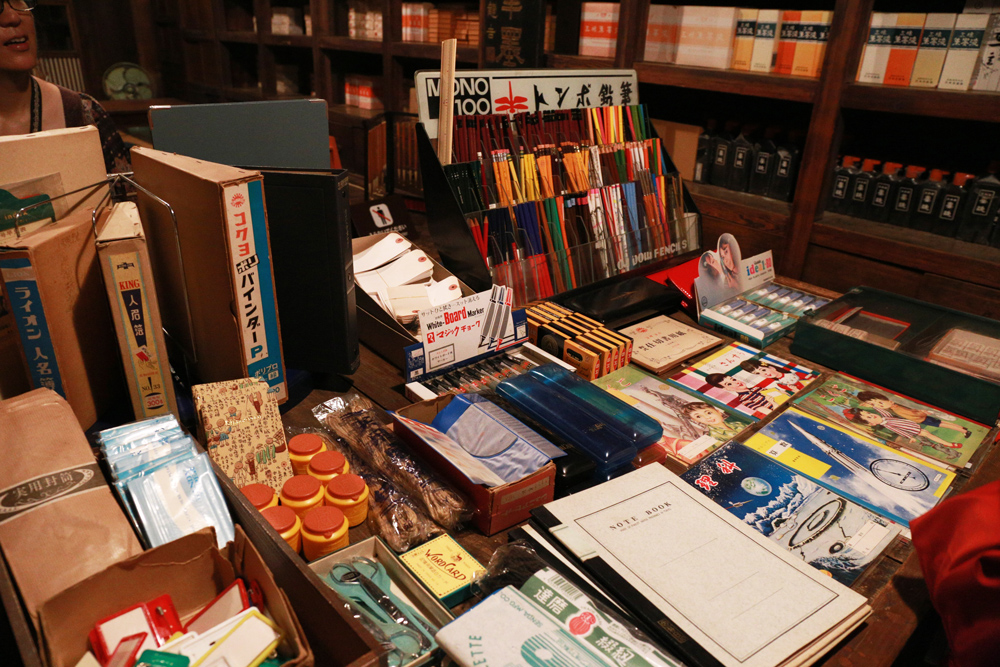 Edo Tokyo Open Air Architectural Museum usually opens until 0530pm but today was special. It opened until 0800 because of Bon Odori or summer festival.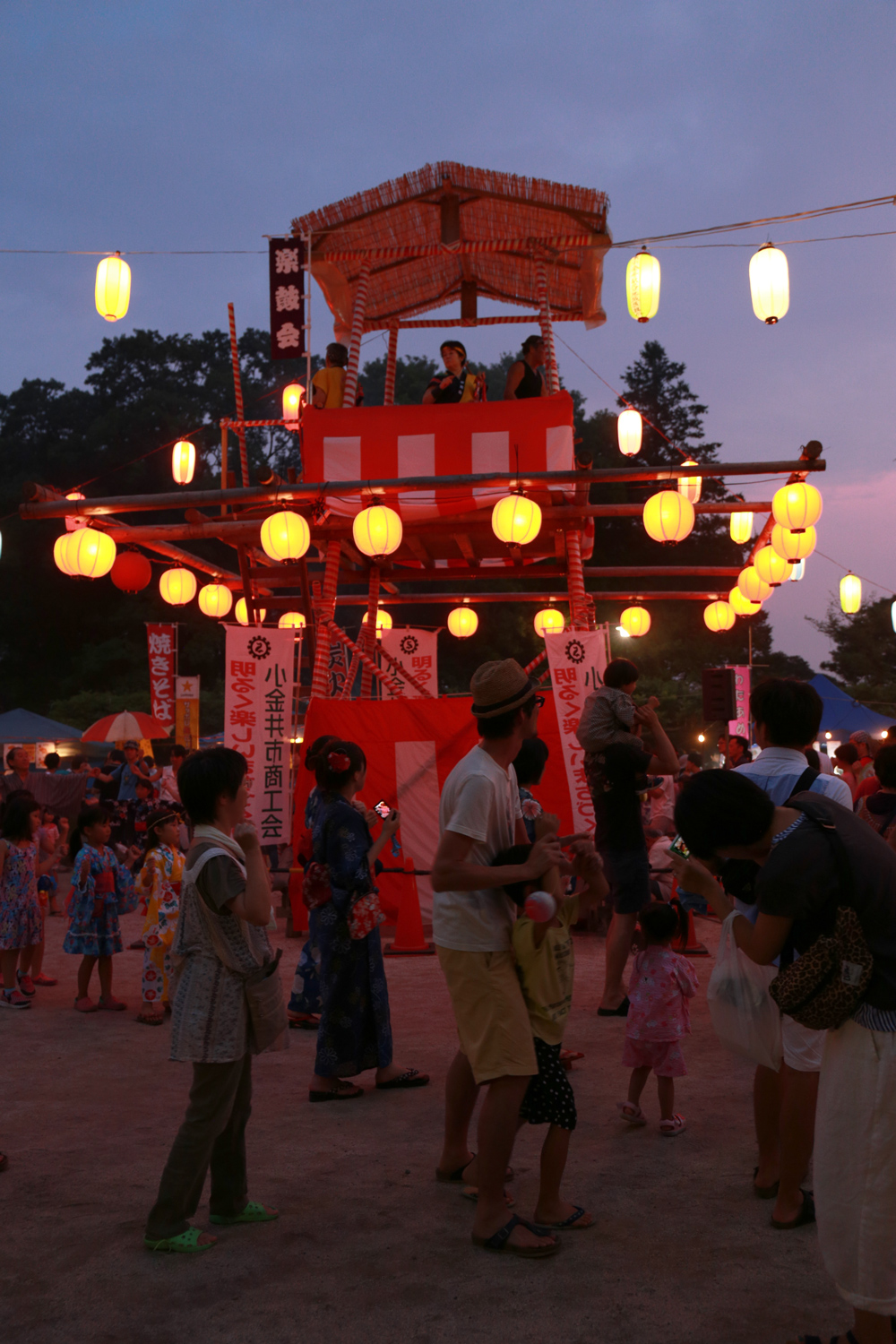 Bon Odori is a traditional Japanese dance that was originally dedicated to welcome ancestor spirits in Obon season or mid of August. People dance together following the music played from the wooden scaffold. Here is a quick look of Bon Odori:
PRACTICAL INFORMATION:
Opening Hours: 0930am – 0530pm (April to September), 0930am – 0430pm (October to March)
Admission Fee: 400 Yen/adult, 200 Yen/junior high & school students outside Tokyo (free for students from Tokyo). The museum is busy in summer it is best to purchase the ticket in advance to avoid long queue at the ticket counter.
Getting there: take Seibu Shinjuku Line to Hana Koganei Station or JR Chuo Line to Musashi Koganei Station then take  Seibu bus at platform no 2 or 3 and get off at Koganei-koen Nishi guchi and walk for about 5 minutes. Alternatively take Kanto bus for Mitaka station at platform no 4 and get off at Edo-Tokyo Tatemono en mae, then walk for about 3 minutes.